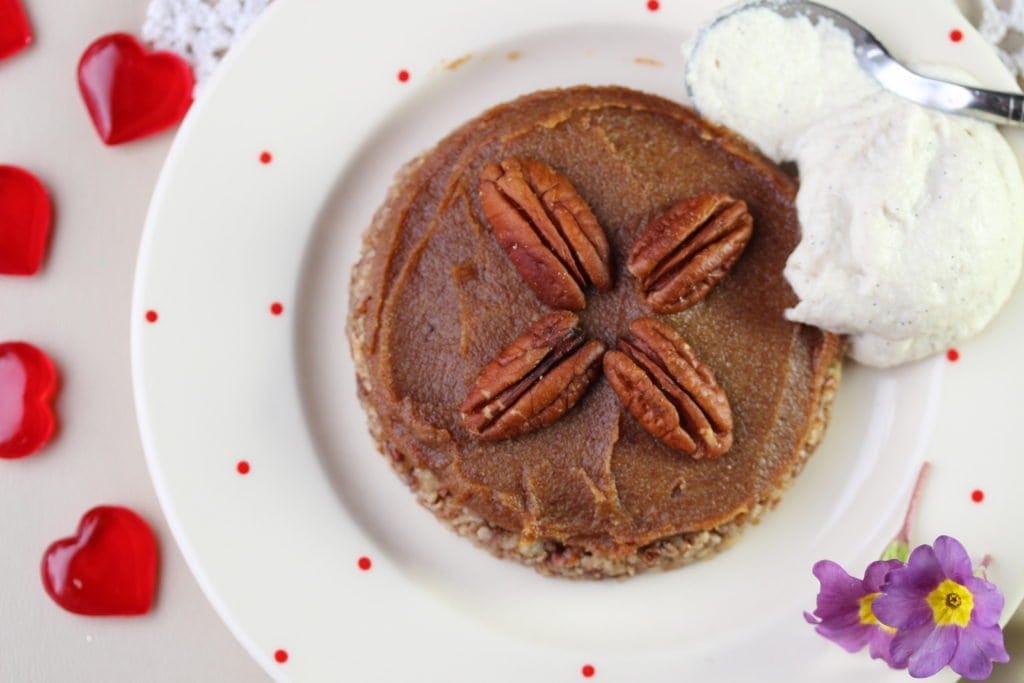 I admit to thinking that Valentines Day is a bit naff. However, there is an element of excitement about it too; will I get some flowers (it generally only happens once a year!)? A pretty card? Breakfast in bed?
I remember in my younger days being very excited by Valentines Day.
One year, the postman who had a crush on me, gave me a card and a necklace. To be honest, it was rather embarrassing!
Another year I received some flowers from an unknown gentleman…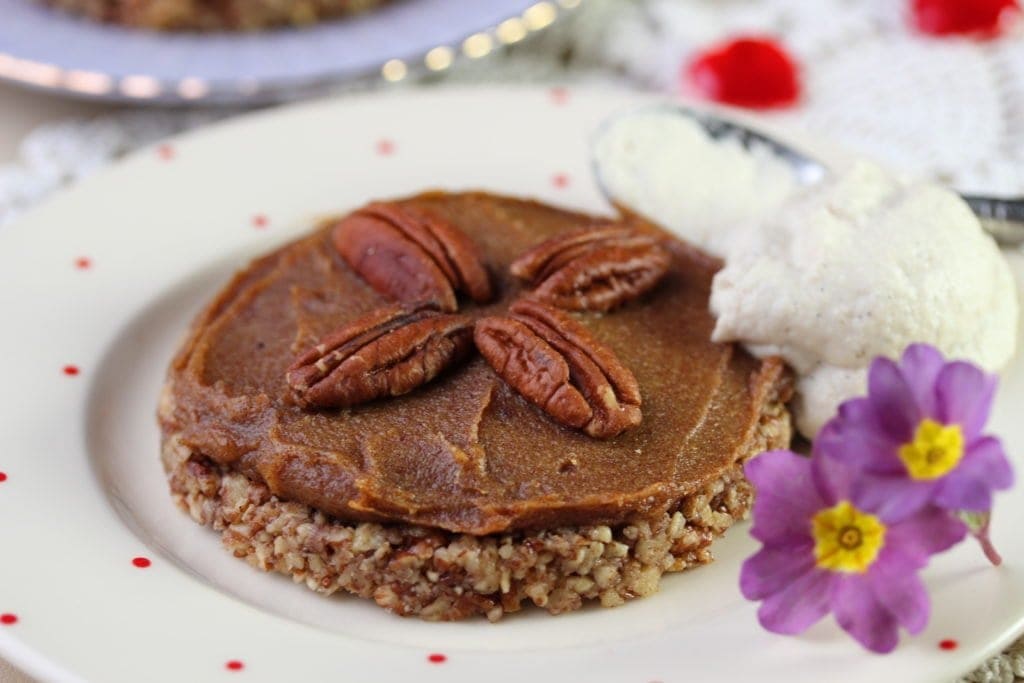 This year I've devised a new recipe for the man in my life. Unfortunately because I own a blog, he'll get it today rather than on Valentines Day itself!
It's a simple recipe, and to be honest, it is more for me than him. He can pretty much eat whatever he likes. But he loves me, so he'll be happy that I've devised a pudding that we can both enjoy together (she says with confidence).
He did get a taster last night and seemed pretty pleased (there are no surprises in this house any more!). Pecan pie is one of my favourite recipes but it is so crammed full of sugar and carbs that it is certainly a no-no for me at the moment.
My version is far more virtuous but still decadent. You can serve it any way you like. I decided to make 4 small tarts, but you could make one big one.
If I could have found my heart shaped tin, it would have been made it that. Alas the state of my cluttered cupboards mean that it could not be found.
If you have any leftover caramel sauce it is pretty darn amazing on a spoon.
I digress. Serve it with vanilla cashew cream like me, whipped coconut milk (the thick part only), dairy-free ice cream or, if you tolerate dairy, clotted cream, double cream or ice cream.  My mouth is watering at the thought.
Happy Valentines Day friends. I hope it's an exciting one.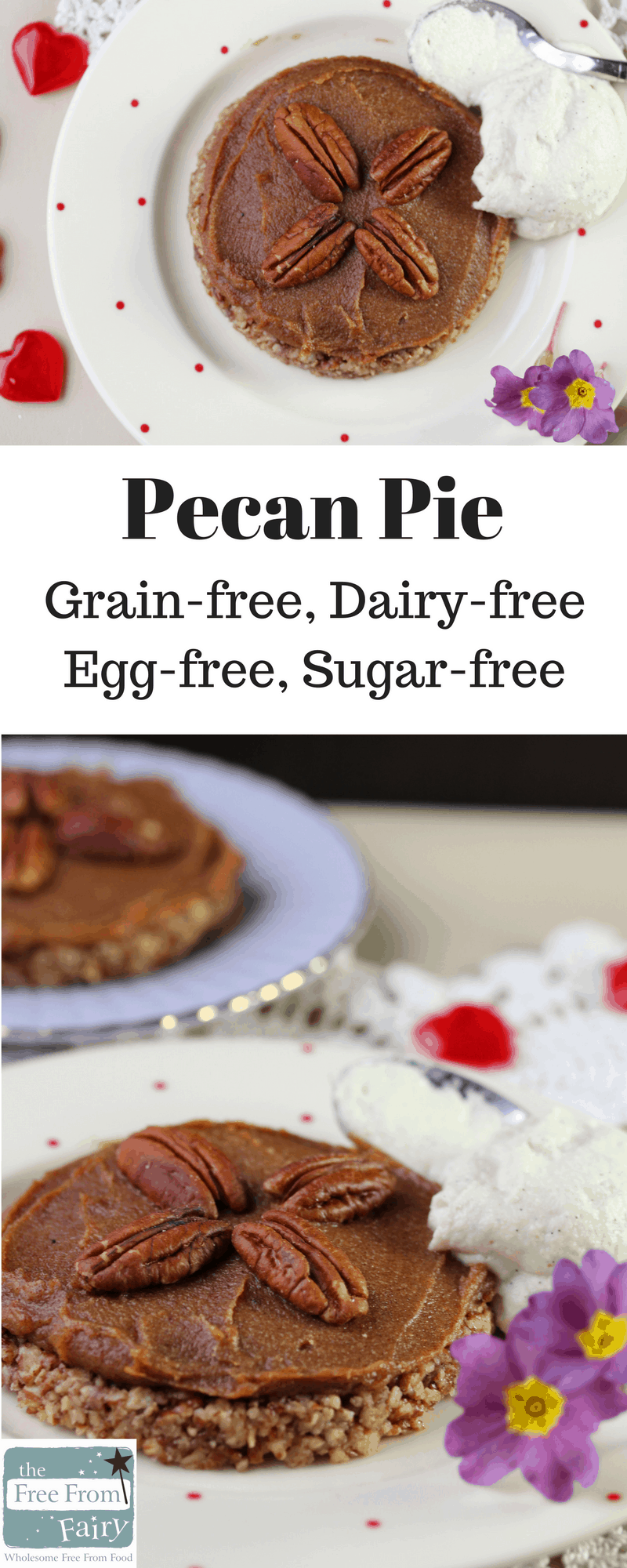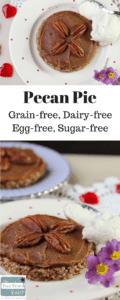 Pecan Pie With A Difference (Grain-Free, Dairy-Free, Egg-Free, Refined Sugar-Free)
Gluten-free, Dairy-free, Egg-free, Soya-free, Refined sugar-free, SCD, GAPS, Paleo
Ingredients
FOR THE CARAMEL:

350

g

dates

-

soaked

60

g

almond butter

-

I make mine in my blender

30

g

melted coconut oil

-

I use Coconut Merchant

2

tsp

good quality sugar free vanilla extract or powder

Sea salt of rock salt to taste

FOR THE BASE:

200

g

pecan nuts

-

toasted

40

g

coconut oil plus a pinch of salt OR 50g salted goats butter both melted

20

g

runny honey

-

maple syrup if you're not on the SCD or GAPS diet

1

tsp

ground cinnamon
Instructions
To make the base toast the pecans in a dry frying pan until just turning colour and smelling delicious

Place the pecans in a small food processor or chopper along with the melted oil or butter, runny honey and cinnamon

Blend until the pecans are finely chopped and sticking together

Press the mixture into your desired dish and place in the freezer to set (or fridge if you have longer) for around 45 minutes.

Meanwhile make the topping.

Soak the dates in boiling water for around 30 minutes

Once soaked, drain and add to a blender with the topping ingredients. Add a little water and blend until smooth. You want the mixture to be like a thick caramel so adjust the amount of water accordingly

Spread the caramel sauce onto the base, decorate with pecans and serve with your choice of topping...vanilla cashew cream, whipped coconut milk, dairy-free ice cream or dairy cream or ice cream
Pin the recipe so you don't lose it!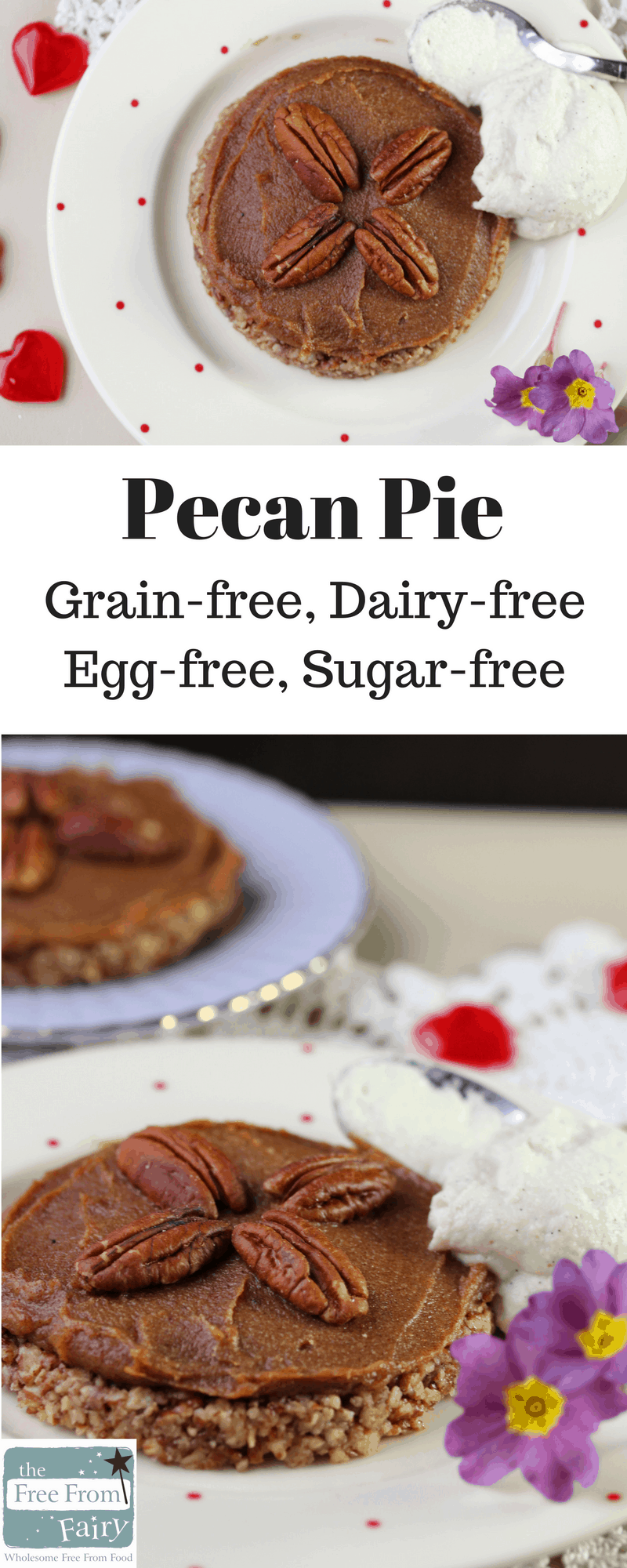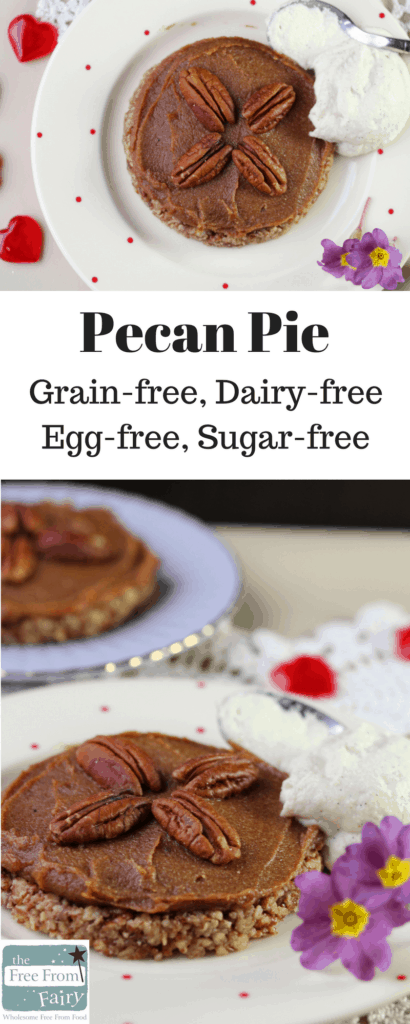 I shared this with: