This gluten free dairy free chocolate cake recipe is one of my most popular free from cake recipes. It's suitable for people who have to avoid all top 14 allergens and is the perfect gluten and dairy free party food.
This post contains Affiliate links. As an Amazon Associate I earn from qualifying purchases.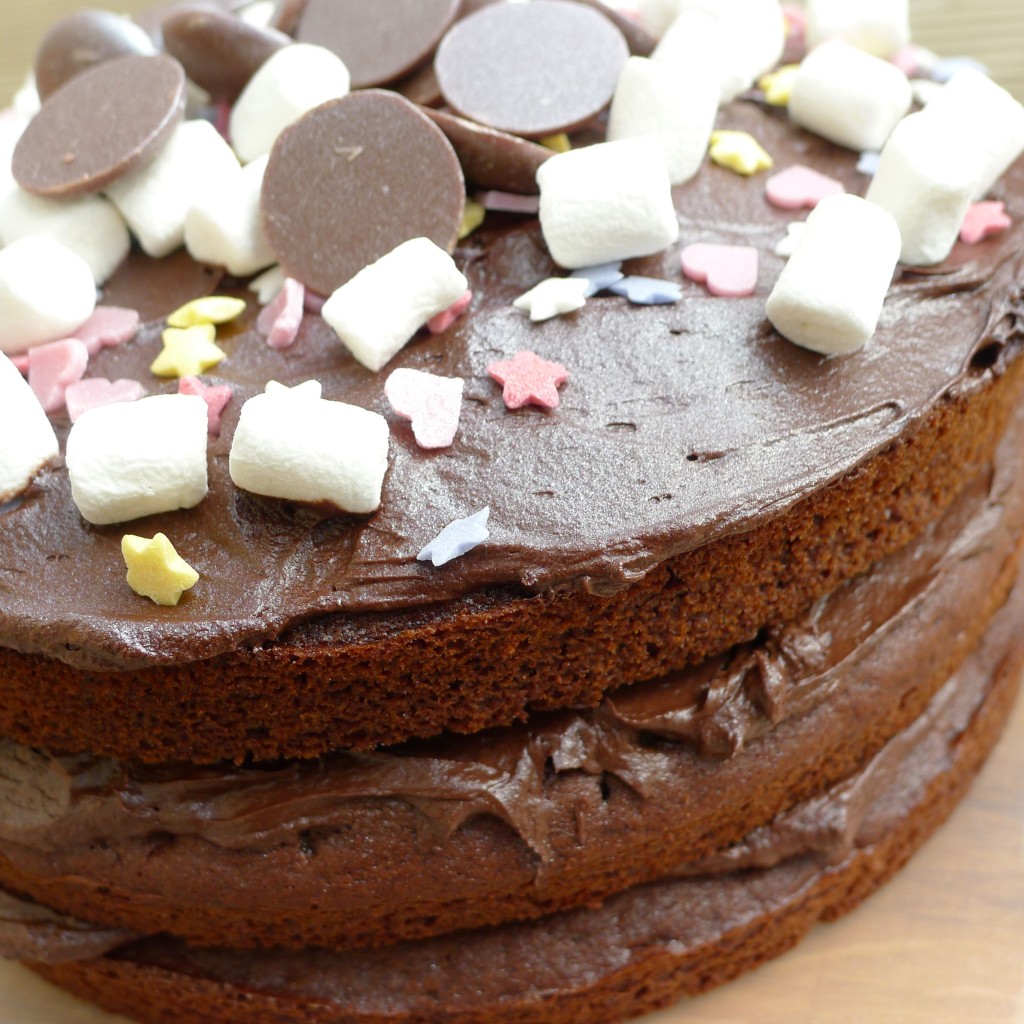 The story behind this gluten and dairy free cake
At the weekend we were privileged to witness and be involved in something very special. The baptism of my very special friend, Mel's (of Le Coin De Mel) littlest girl.
It was a beautiful occasion, and despite not being religious, I found it very moving.
The kids learnt all about what happens at a baptism (and have been sharing their new-found knowledge at school) and we all got to meet some truly lovely people.
All in all it was a fabulous day!
Of course for me, no celebration is quite complete without a cake so given the allergies of one of Mel's girls, and Roo's dietary requirements, I set about making a cake that was gluten-free, wheat-free, nut-free, seed-free, egg-free and dairy-free.
It just so happened that I had some amazing products from Coconut Merchant, so I made the cake refined sugar-free too. Except for the decorations.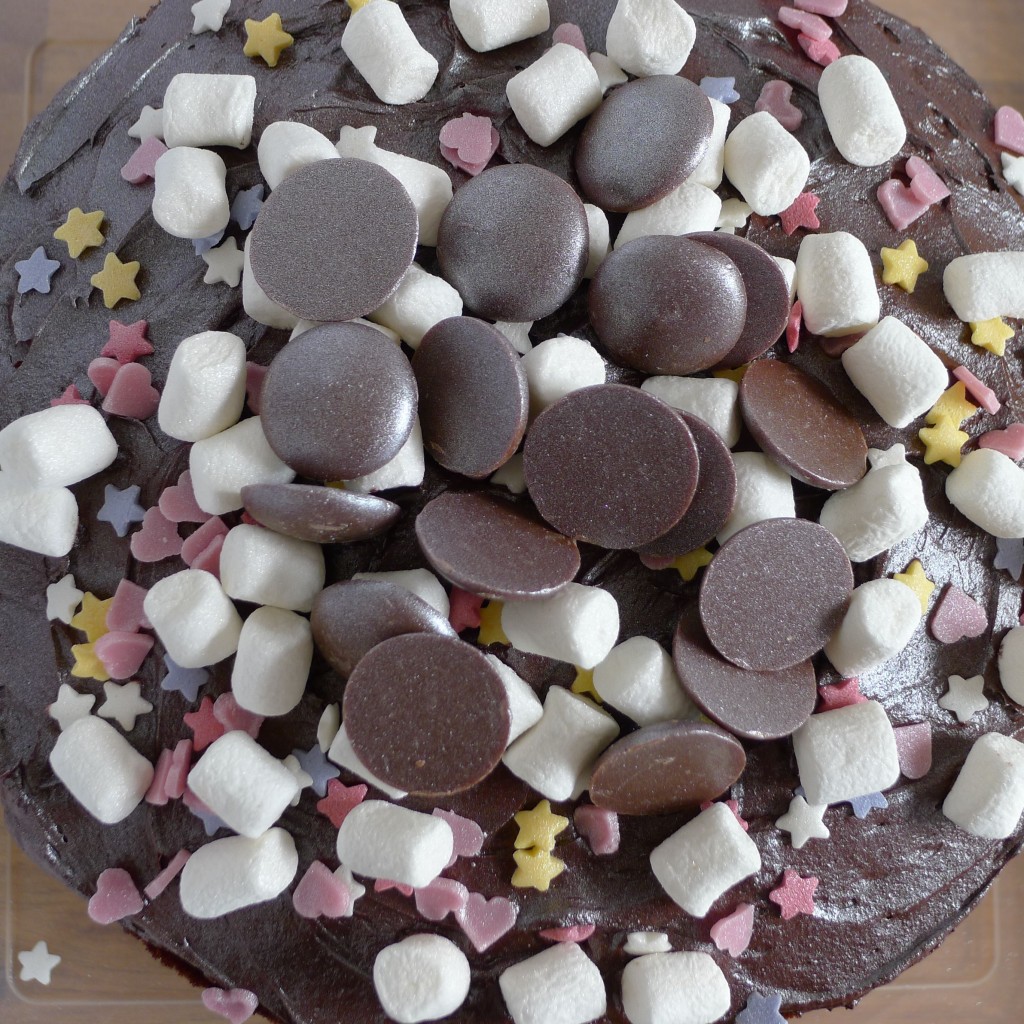 Pre-planning is not my forte, so on the morning of the baptism I gathered the ingredients and set about baking whilst everyone ate their breakfast!
One thing I had failed to pre-think was the dairy-free milk.
We always use almond milk…which of course is no good in a nut-free cake.
I therefore had to include dairy milk in my version. Luckily small amounts don't seem to bother 'Roo' provided she doesn't have it very often.
Being early, there were other mistakes too…like dropping one cake and having to start again.
That just meant that instead of a 2 tiered cake, it turned into a 3 tiered cake.
If you make it you could either follow the recipe below and make 2 tiers, or double the recipe to make 4 tiers. If you don't want 4 tiers you could freeze one tier to use at a later date. Or use fancy maths to work out how to make 3 tiers.
How do you make a gluten free dairy free chocolate cake?
This was a question I often pondered until I had to do it. Surely chocolate is made from dairy is what I thought?
Well, yes, lots of chocolate does has dairy in. But there is also a lot of dark chocolate, and more specialist milk chocolate, that is dairy free.
Cocoa powder is also dairy free (although it may be contaminated so check your packets carefully if you have an allergy).
In this recipe I use cocoa powder because it's something I always have in the cupboard.
Rather than butter, I've used margarine. However, as I update this is 2019, I'll tell you that I try to avoid that as much as possible these days. In my more recent recipes I use coconut oil rather than margarine.
For example, my gluten free vegan chocolate cake recipe uses coconut oil in the cake and cashew nuts to form the basis of the icing.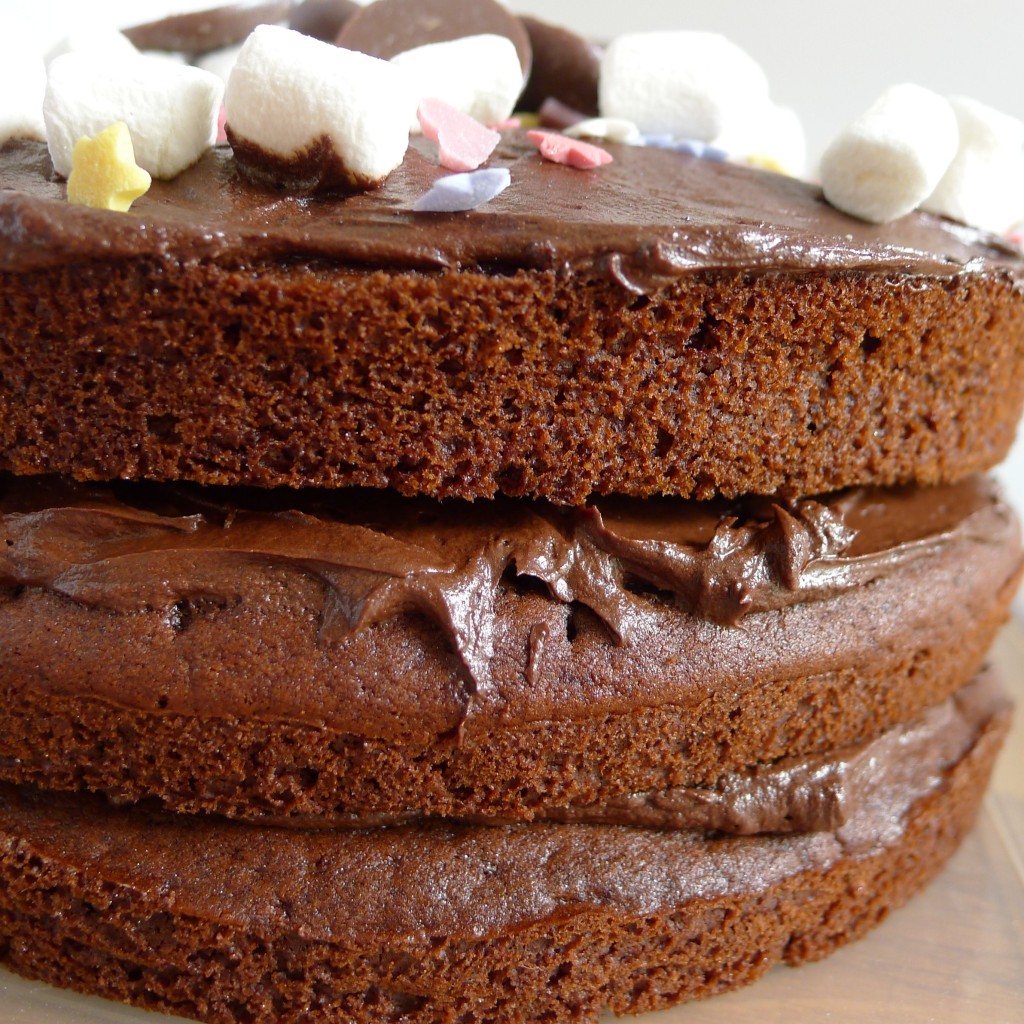 In order to make the cake gluten free I just use my wholegrain gluten free flour blend instead of wheat flour.
It's a multipurpose gluten free flour that can be used for everything. From cakes to bread, biscuits to pastry. Only one bag of flour required with lots of recipes and support right here.
And unlike lots of other gluten free recipes, when you use my gluten free flour blend there's no need to use xanthan gum or other gums. Lots of people are sensitive to xanthan gum which is found in many other flour blends. So if its important, this is a gluten free chocolate cake without xanthan gum too!
If you've had lots of baking disasters since using gluten free flour then I suggest you read What on Earth is…A Gluten Free Flour Blend. In that article I explain that there is no such thing as gluten free flour which in turn will help you understand gluten free baking.
The recipe really is simple and doesn't need further explanation.
What equipment will I need?
I use my Sage stand mixer to make cakes in these days. It means I can make a cake at the same time as clearing up, or unloading the dishwasher! And the end result is always a lovely light bake.
Alternatively you could use a hand held electric whisk for beating the ingredients together. In which case you'll also need a large bowl.
Finally, you'll need two 15cm round cake tins (or 3 or 4 depending upon how many tiers you require). I like these springform ones because it makes getting the cooked cakes out much easier.
Free gluten free recipe book
If you like the sound of this recipe and would like to know how to make gluten free scones, Victoria sponge, Yorkshire puddings and more then enter your details below.
In addition to getting my free gluten free recipe ebook you'll get my weekly newsletter of recipe inspiration, tips and news.
Pin my free from chocolate cake recipe to Pinterest so you don't lose it: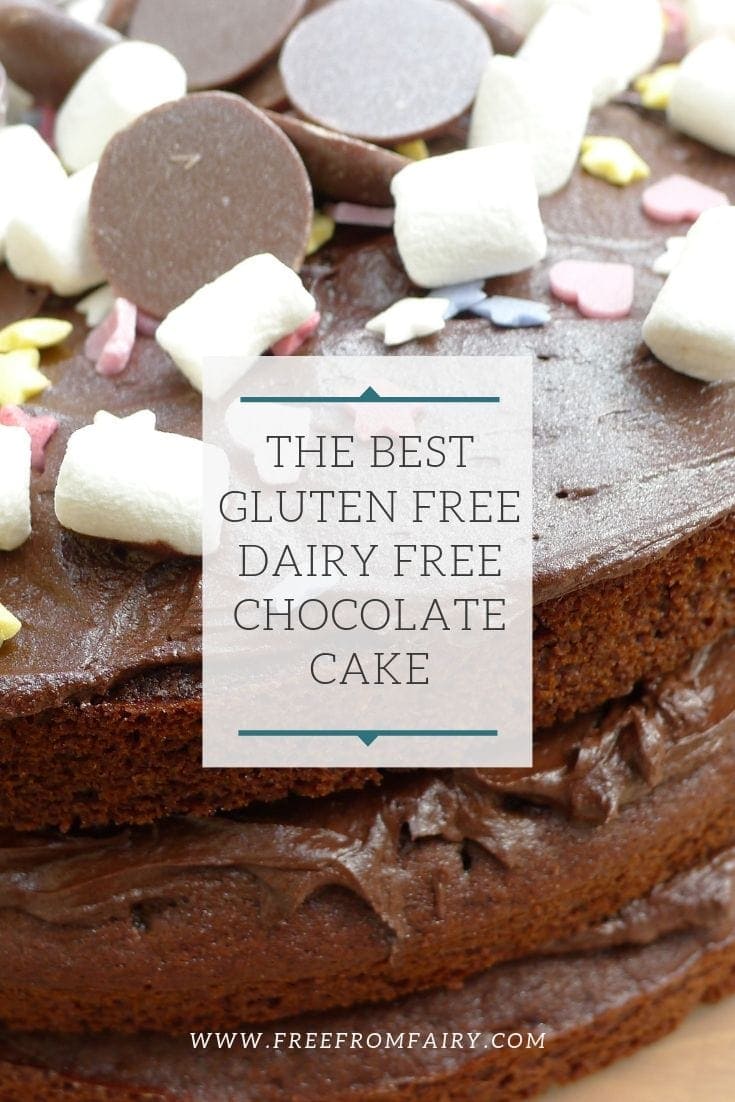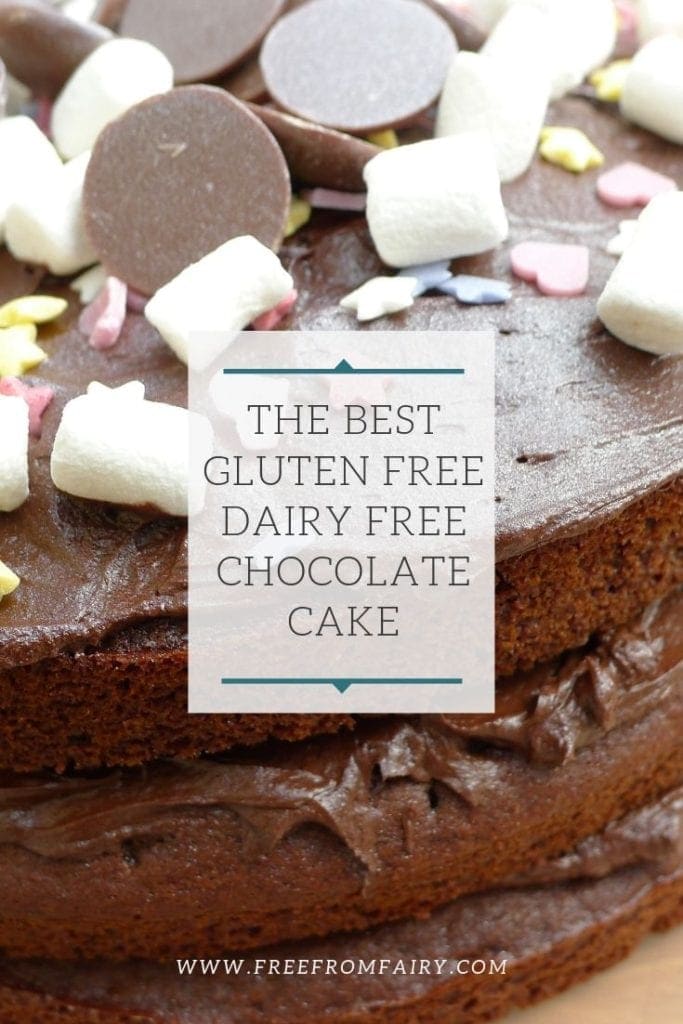 Gluten Free Dairy Free Chocolate Cake
Gluten-free, Wheat-free, Nut-free, Egg-free, Dairy-free, Vegan
Ingredients
FOR THE CAKE:

3

tsp

baking powder

-

(make sure it's gluten free)

30

g

cocoa

70

g

margarine

-

I used dairy free Vitalite

60

g

coconut sugar -

I used Coconut Merchant - you could use 'ordinary' sugar

1

tbsp

syrup

-

I used Coconut Merchant coconut syrup but you could use golden syrup

150

ml

coconut milk

-

(or other dairy free milk)

FOR THE ICING:

100

g

margarine

-

I used Vitalite again

100

g

icing sugar

-

sifted

50

g

cocoa

-

sifted

Splash of water - enough to make a spreading consistency
Instructions
Place the sugar, syrup and dairy-free spread into a large bowl and beat with an electric whisk, or stand mixer until pale and fluffy in appearance. This will take about 2 minutes.

Add all the other ingredients and carefully fold them into the mixture until the dry ingredients are combined with the wet.

Whisk together for a further minute or so until nice and fluffy.

Transfer the mixture to two well greased 15cm round tins, and smooth the tops.

Bake in the centre of a pre-heated oven at 190 degrees (170 degree fan, gas mark 5) for 15 - 20 minutes until a skewer comes out clean and the top springs back when you touch it.

Cool for 5 minutes before turning out on a wire rack to cool.

While cooling, make the icing by mixing all the ingredients together until combined, then whisking for approx. 2 minutes until light and fluffy.

Decorate how you like...checking the ingredients of everything you use!
Notes
Nutrition data is for guidance only.
Nutrition (Approx)
Calories:
363
kcal
|
Carbohydrates:
42
g
|
Protein:
4
g
|
Fat:
23
g
|
Saturated Fat:
8
g
|
Sodium:
223
mg
|
Potassium:
411
mg
|
Fiber:
4
g
|
Sugar:
20
g
|
Vitamin A:
760
IU
|
Vitamin C:
0.2
mg
|
Calcium:
106
mg
|
Iron:
2.5
mg
If you want to buy my wholegrain gluten-free and rice-free flour blend click on the link below: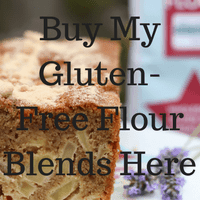 I shared this with: