Hi and Happy Tuesday to you!
Having felt rather rotten yesterday I have woken up today with a bit more energy and even managed a little run around the lanes!  The sound of the birds singing put a spring in my step and I am now all ready to share my birthday cake recipe with you!
Last week, as some of you will have picked up on social media, it was my birthday.
Rather than attend the glitzy Free From Food Award ceremony in London, I chose to spend my birthday at home on the sofa with the lovely Mr M…trying to avoid drinking the cava that he had bought me (I failed by the way!).
The SCD diet is certainly not one for the faint hearted and there have been days lately when I have just wanted to pack it all in.  I mean, who wants to spend their birthday avoiding eating out, avoiding drinking fizz, avoiding socialising because that means food and avoiding chocolate!?
Well me, clearly…but only because I so desperately want to rid myself of all my tummy problems once and for all!  And I hope that I won't have to avoid all those things this time next year (or maybe the year after).
And hey, I'm only 'young'; well, approaching those dreaded mid-life crisis years, but hey, there's still plenty of life in the old bird yet!
Anyway, one thing I was not going to forego on my birthday was a flippin' cake!  So, I spent most of the day thinking up what to make and then creating it.  Oh, and making myself a 'special' birthday meal of Greek burger in a hazelnut bun with tzatziki, butternut squash chips and salad!  I know how to rock it don't I?!  (Excuse the photo but I was so excited that I only took a quick snap on my phone!).
So, here it is anyway…for any other 'crazy' people out there that need a gluten-free, grain-free, dairy-free, soya-free, starch-free, refined sugar-free cake!  I will include it in my recipe book so please don't shoot me down for sharing it here first!  I decided that it was too good to keep back!
I made it deliberately small…so that I couldn't eat it for days and days afterwards. If you wanted to make it bigger, just double the cake mixture and cook it for 10 minutes or so longer…that would make a more 'impressive' looking cake!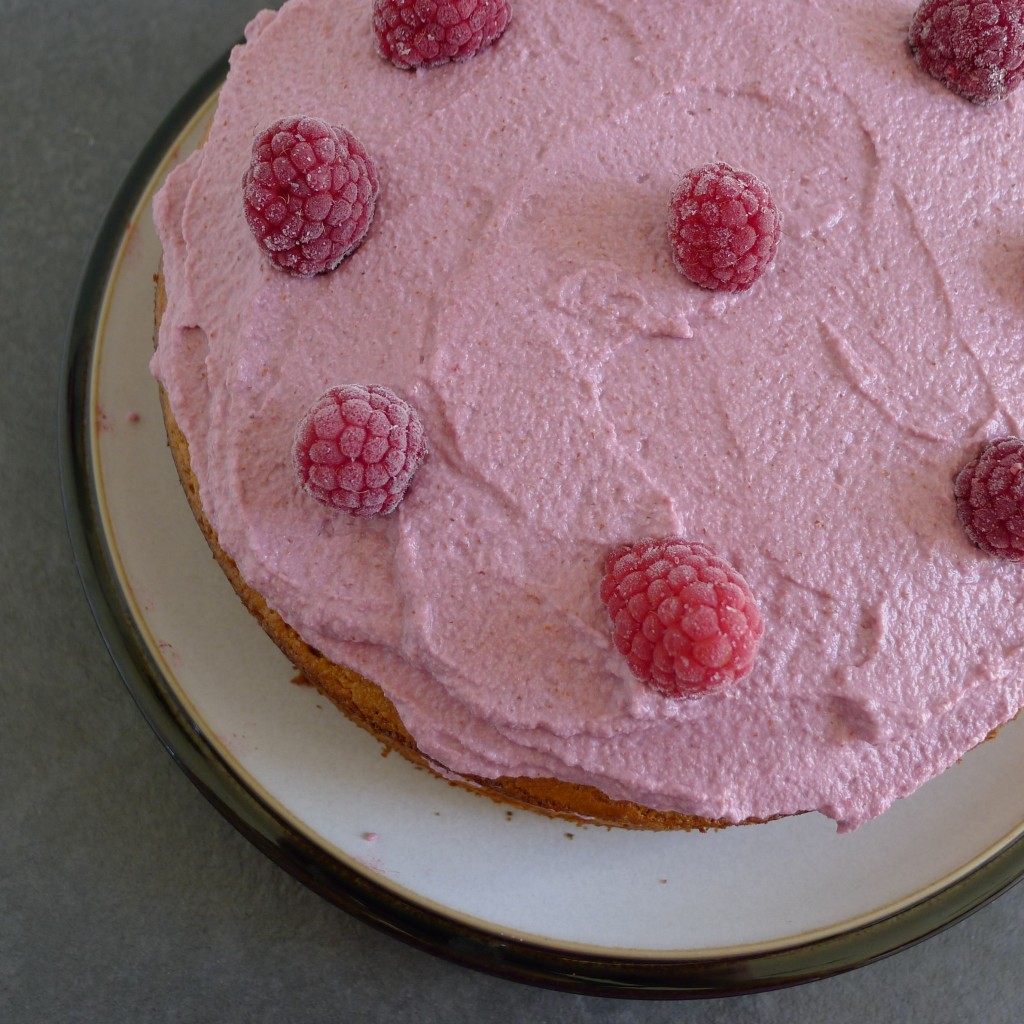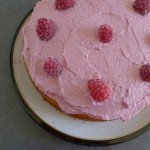 Guilt-free Raspberry & Almond Birthday Cake
Gluten-free, dairy-free, soya-free, grain-free, refined sugar-free, starch-free
Ingredients
For the cakes:

3

medium free-range eggs separated

2

tbsp

acacia or other mild honey

1

tbsp

vanilla extract -

homemade - alcohol and vanilla pods

1/2

tsp

bicarbonate of soda

1/4

tsp

apple cider vinegar

-

raw if possible

2

tbsp

light olive oil or other vegetable oil

4

tbsp

almond milk -

or other dairy-free milk

150

g

ground almonds

For the raspberry cream:

200

g

ground almonds

Boiling water to cover

1

tbsp

homemade vanilla extract

-

or some with no sugar

2

tsp

acacia or mild honey

200

g

raspberries

-

fresh or frozen, plus a few more for decorating

50

ml

water

1

tsp

mild honey
Instructions
First prepare the cake by separating the eggs into two bowls with the white in one and the yolks in another.

Whisk the whites with an electric whisk until they are stiff and wouldn't fall out of the bowl if you turned it upside down! You can do this by hand but it is hard work!

Add 2tbsp honey to the egg yolks and whisk until pale and thickened, then add the vanilla, bicarbonate of soda, vinegar, olive oil, milk and almonds and whisk well to incorporate.

Finally, fold in the egg whites, a few tablespoonfuls at a time until incorporated...don't worry if you can see some egg white still.

Place the mixture into two greased sandwich tins (mine measure about 15cm, 6inch in diameter) and spread evenly.

Place them in the middle of a pre-heated oven at 170 degrees (150 degree fan, gas mark 3) for about 15 minutes until a skewer inserted into them comes out clean.

Leave the cakes to cool in their tins for 5 minutes before turning them out onto a cooling rack.

While the cakes are cooking prepare the icing by pouring enough boiling water over your almonds to cover them. Mix well to give you a mixture that is the consistency of porridge and leave for about an hour to soften.

Once the hour is up add the vanilla extract and honey and mix well before placing in a blender and blending until smooth and creamy.

Meanwhile place your raspberries (I used frozen as you can see from the photos!) and water into a small saucepan and bring to the boil. Once boiling turn the heat down and allow to simmer with the lid off for approx. 20 minutes until the fruit has broken down and the sauce has thickened.

Sieve the raspberries if you want to get rid of the pips and add to the almond 'cream' along with honey to taste (I added just 1tsp, you may want to add more). Place in the fridge to chill and harden.

Once the cakes are completely cold and the raspberry cream is cold, add the cream and decorate with more raspberries.