This gluten free Barm Brack recipe is a traditional Irish one that is often eaten around Halloween.
It's very simple to make with very few ingredients.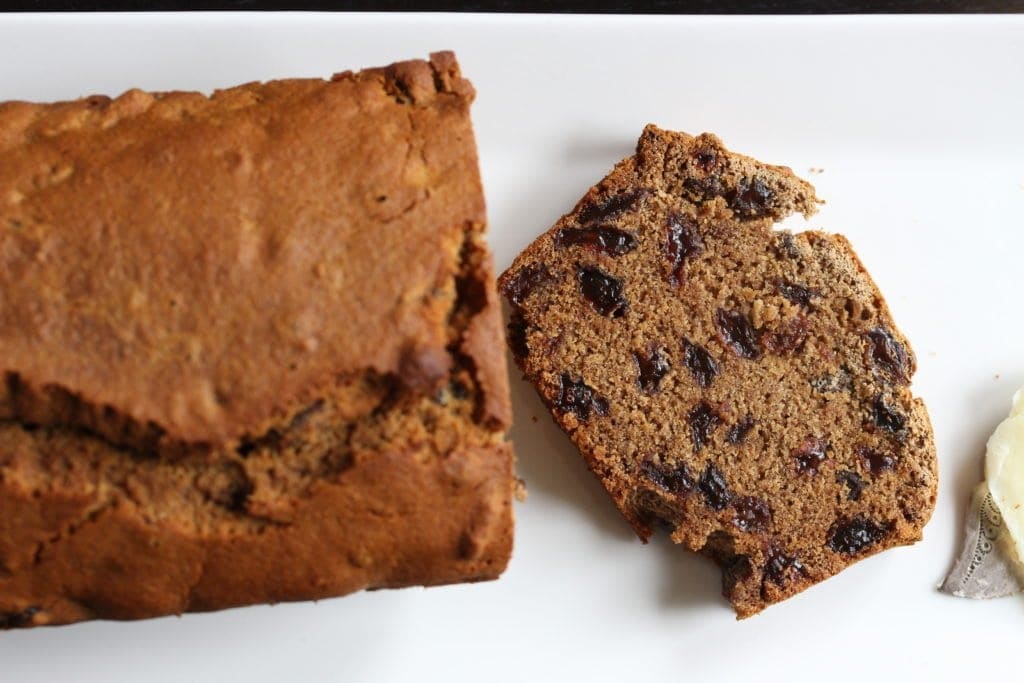 A few weeks ago I was contacted by one of my flour customers asking if I had a recipe for gluten free barm brack.
I'd vaguely heard of this but have to confess to never having made it.
Barm brack is a traditional Irish fruit bread that is usually made around Halloween.
The tradition was to hide objects in the bread to be used as a fortune telling game.
When my customer told me that she had been unsuccessful in making the bread gluten-free I felt a challenge come on.
I asked her to send me her 'usual' recipe and I set about 'deglutening' it. Is that a word? Well it is now.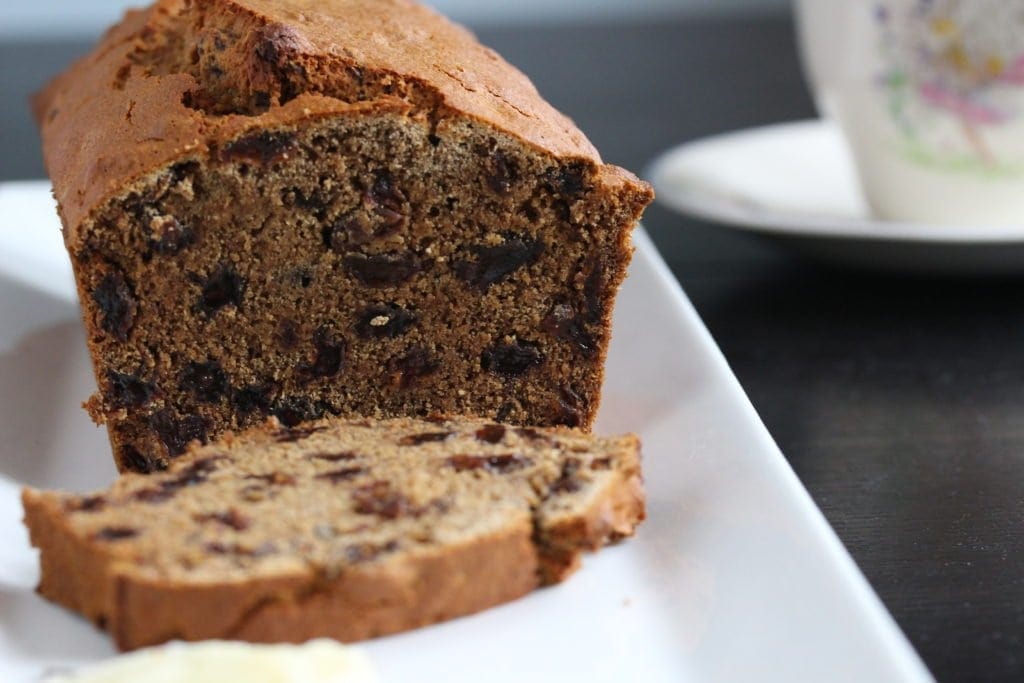 The best thing about this bread is that it is incredibly simple. Much like a soda bread, it relies on bicarbonate of soda for its rise and thus is a yeast-free bread.
In addition to that, I think you could soak the dried fruit in whatever you liked. I chose to soak it in chai tea for added flavour, but I have a feeling that a little alcohol would be rather yummy too! You can of course, just use water.
Making the recipe literally took 5 minutes and the result was a rather satisfying tea loaf. I served mine with a little slather of butter, but it was equally delicious without.
Like soda bread this gluten free Barm Brack doesn't last so any bread uneaten on the day you bake it is best sliced and frozen. A quick blast in the microwave is all it will need to bring it back to full glory.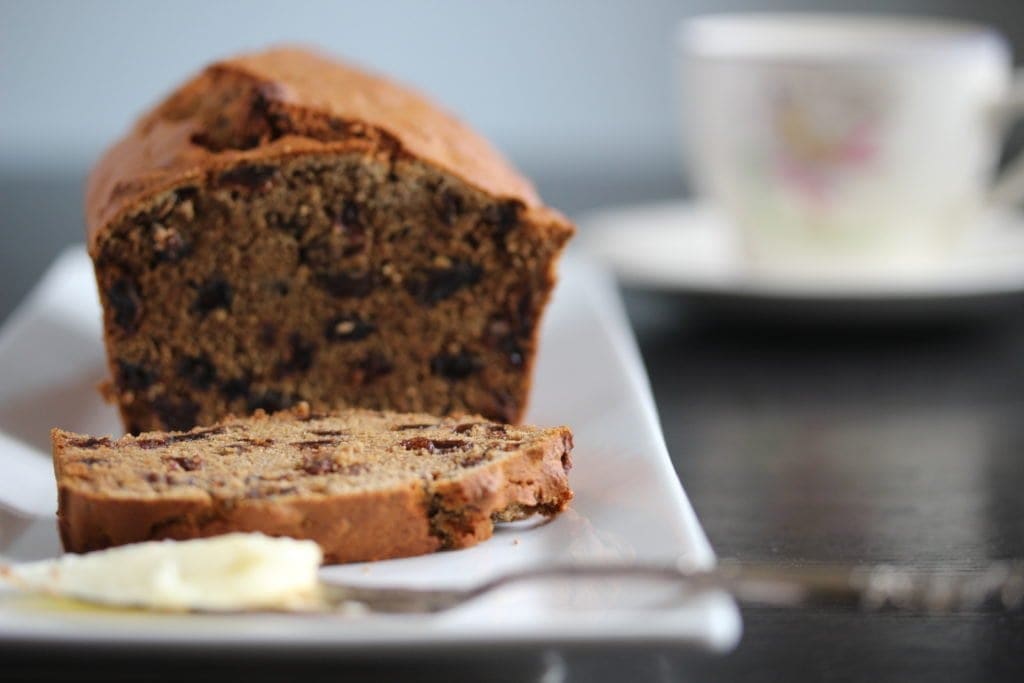 Pin the recipe for gluten free Barm Brack so you don't lose it.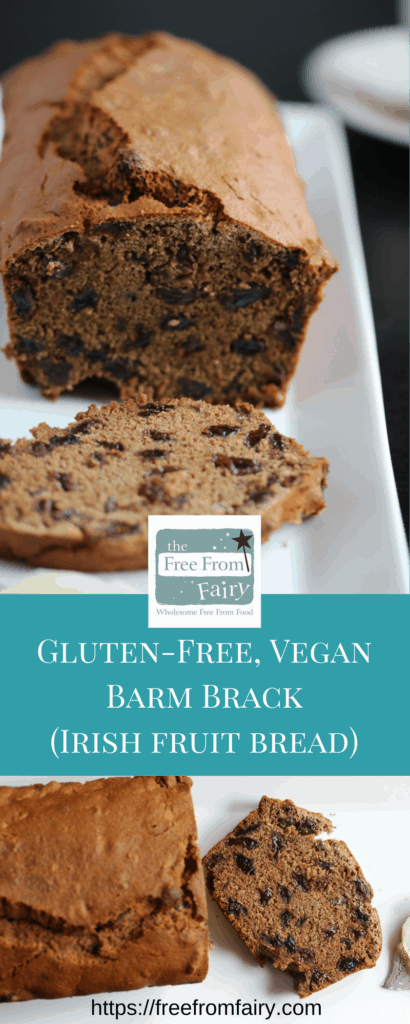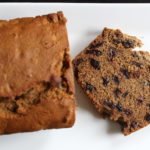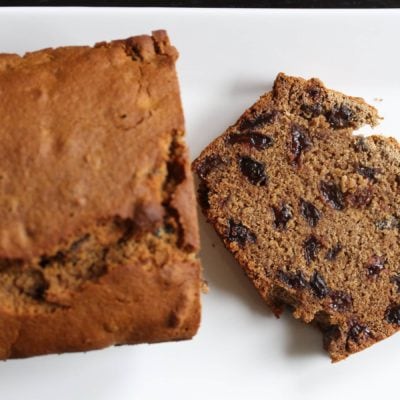 Gluten Free Barm Brack: Irish Fruit Bread
Gluten-Free, Dairy-Free, Egg-Free, Nut-Free, Soya-Free, Refined Sugar-Free, Vegan
Ingredients
225

g

raisins or mixed dried fruit

1

tsp

salt

1

tsp

bicarbonate of soda

225

ml

boiling tea or water

225

g

Gluten-Free Plain Flour

I used my Free From Fairy blend

2

tsp

psyllium husk

or 1 tsp xanthan gum

50

g

coconut sugar

I used Coconut Merchant

1

tsp

cinnamon

not required if using chai tea like I did
Method
Place the raisins, salt, bicarbonate of soda and boiling tea or water into a large bowl and leave to soak for around 20 minutes

Add the flour, psyllium, sugar and cinnamon and mix until well combined

Place into a greased 1lb loaf tin and bake in a pre-heated oven at 190 degrees C (170 degree fan) for around 40 minutes until golden

Allow to cool in the tin for 5 minutes before turning out onto a wire rack and allowing to cool completely

Alternatively slice and enjoy while hot
I've shared this with: