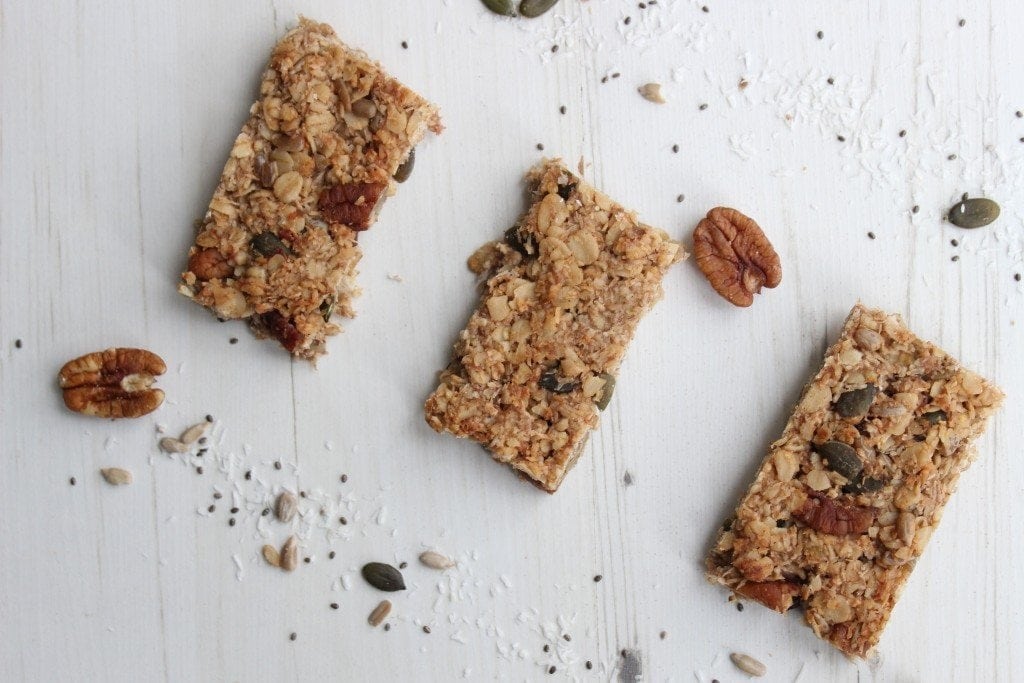 I'll start with the woe…
For the third time in a week Pickle stared at me with his big sad eyes and moaned in pain.  "My tummy hurts" he complained as he flaked on the sofa looking pathetic and aiming for the TV to go on before school.
Now I never know quite when to believe Pickle. He is a fabulous actor and has been known to tell the odd little lie! So, the TV went on and I went about getting things ready as per every normal morning.
And then it was time to go to school.
He was still moaning so I suggested that if he wasn't feeling better by the time we got to school he could come home again for a while until it was better; cue standing up to get shoes on and mummy shutting his little finger in the living room door.
The piercing yell that he let out let me know pretty damn quick that this was bad.  Then there was the blood.
I scooped him up in my arms and rushed to the kitchen fearing the worst.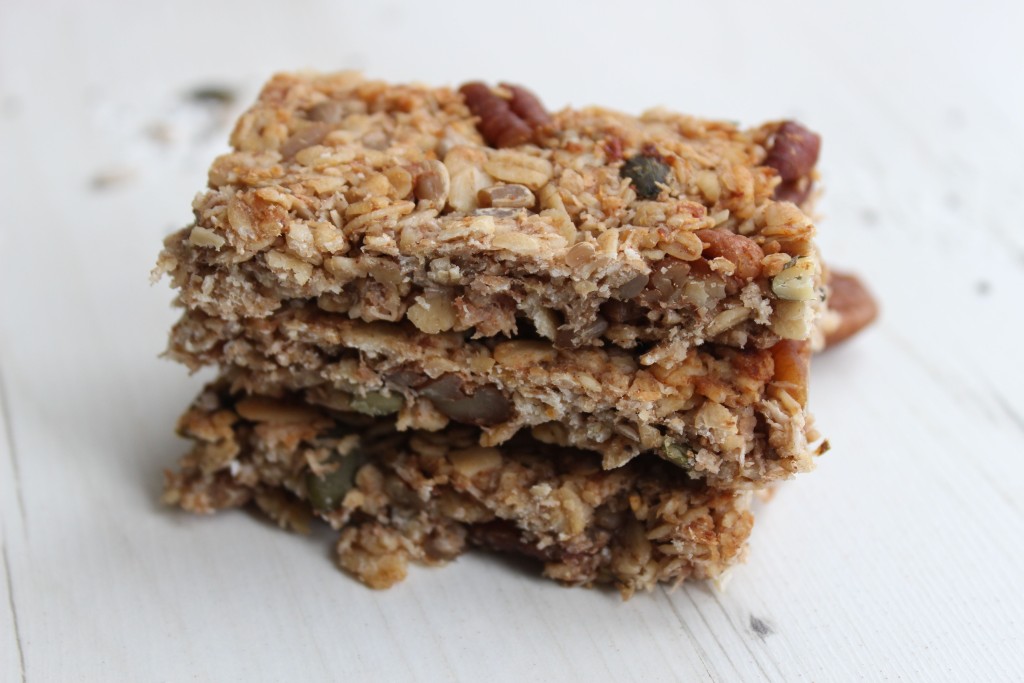 Thankfully when I got him there and took a good look at the finger I could see that it was still all there, albeit with a big chunk taken out the top.
Heart racing I grabbed some kitchen towel, wrapped it around the finger and stuck it up in the air.  At the same time I instructed Roo to get my homemade 'boo hoo bag' (a material bag filled with rice) out of the freezer.
Of course by this time we were running late to get Roo to school!
I ushered the little man into Rosie (our VW T25 van for those of you who don't know…the mechanical love of my life!), defrosted the wind screen and drove around to school just in time to get Roo there!
There is a happy ending.
After about 30 minutes in front of Madagascar, Pickle declared himself to be "fine to go to school now" so, an hour late, I delivered a brave little man to his classroom!
With the woeful story out-of-the-way, I can move on to chunky monkey granola bars and the flash of inspiration that hit me at approximately 2.30pm a few days ago.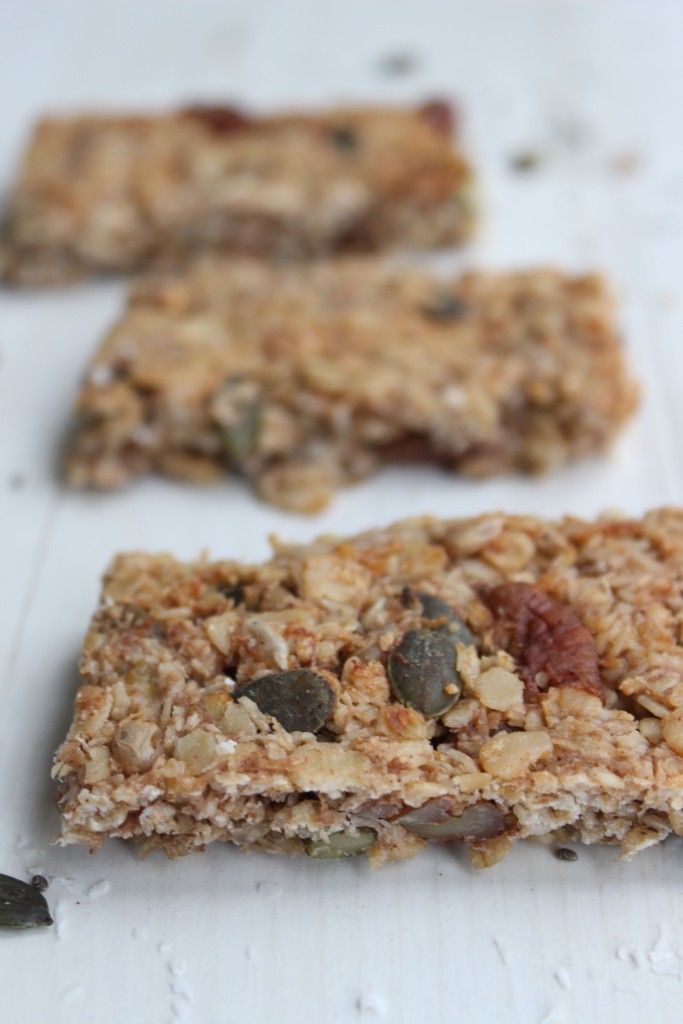 The kids finish school at 3.15pm and the normal way of things is that I look at the clock at 3.10pm take a sharp intake of breath, grab my coat, yank my boots on and rush out of the house.  I then arrive home at 3.30pm with two hungry kids in tow having given no thought whatsoever to what they will eat when they get home.  This generally means mum's arm gets twisted into them having their pudding early or them eating some rubbish like crisps!
Not on Tuesday.  I looked at the clock at 2.30pm and had a flash of inspiration.  Healthy, protein filled, sugarless granola bars that would surely satisfy their sweet needs whilst also keeping them going till tea time without any moans.
This is what I came up with.  Ingenious I think and I'm pleased to say that they got the thumbs up all round! Toasting the dessicated coconut brings out its natural sweetness and that combined with the banana provides you with a 'sweet' treat without adding sugar.  For those of you worried about them tasting too much of coconut, fear not…Mr M has been enjoying them and he hates coconut!
If you make them for yourself or your little monkeys let me know what you think. I love to get your feedback.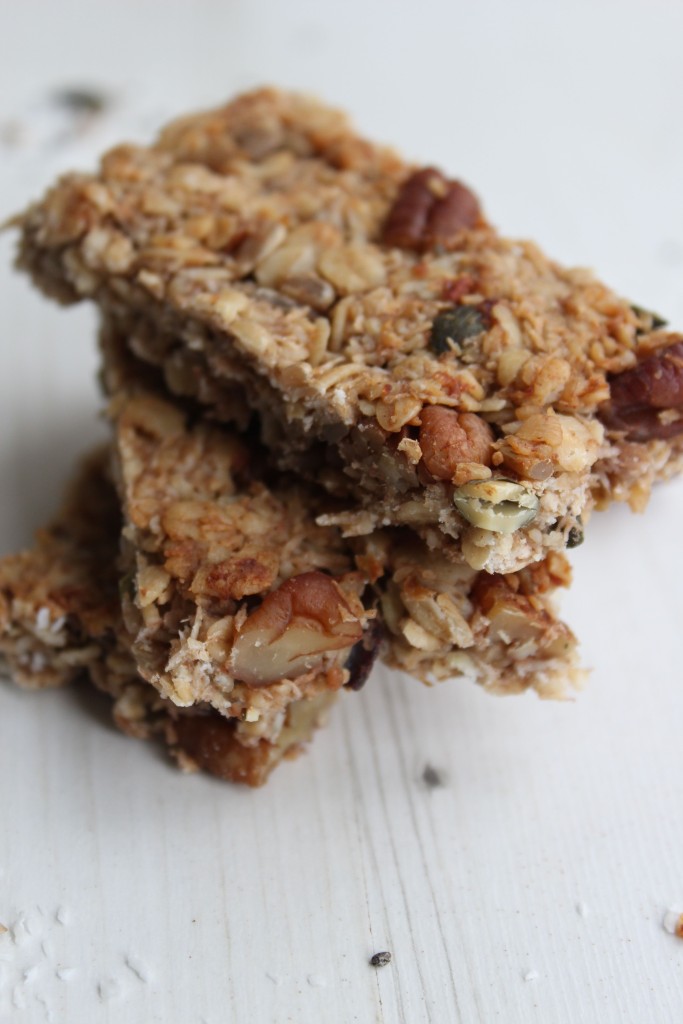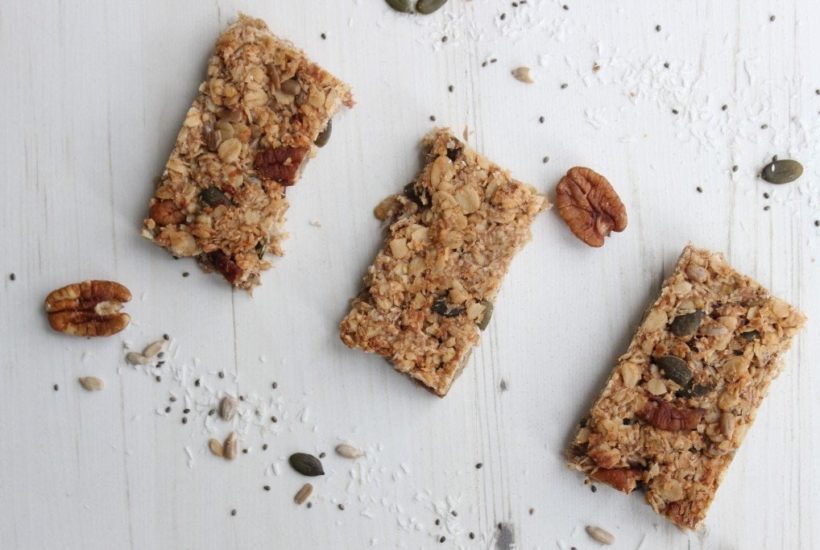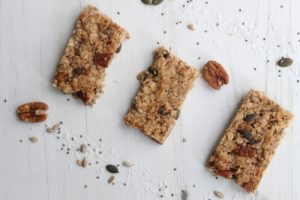 Banana & Coconut Granola Bars AKA Chunky Monkey Granola Bars
Gluten-free, Dairy-free, Egg-free, Soya-free, Refined Sugar-free
Ingredients
100

g

nuts of your choice

50

g

dessicated coconut

25

g

sunflower seeds

25

g

pumpkin seeds

80

g

coconut oil -

melted

175

g

gluten-free oats

2

bananas

-

mashed (weighing about 300g when peeled)

1

tsp

ground cinnamon

3

drops stevia or a sweetnener of your choice to taste

-

optional
Instructions
Place the nuts, seeds and coconut on a small baking tray and roast in a pre-heated oven at 180 degrees (160 degree fan) for 5-10 minutes or until turning brown

Meanwhile in a large bowl, mash or puree the bananas along with the cinnamon and sweetener if using

Add the melted coconut oil to the banana mixture along with the oats. Stir well

Once the nut and seed mixture is toasted, add it to the mixture and stir to combine

Line the baking tray with greaseproof paper and spread the mixture out, pushing it firmly down to make sure it sticks together

Bake for 15 - 18 minutes until golden

Leave to cool before cutting into slices and storing in an airtight container
Pin the recipe now so you don't loose it.