This delicious creamy vegan butternut squash soup is simple to make and perfect for cool Autumn days. Serve with my gluten free garlic bread, gluten free bread mix or gluten free soda bread.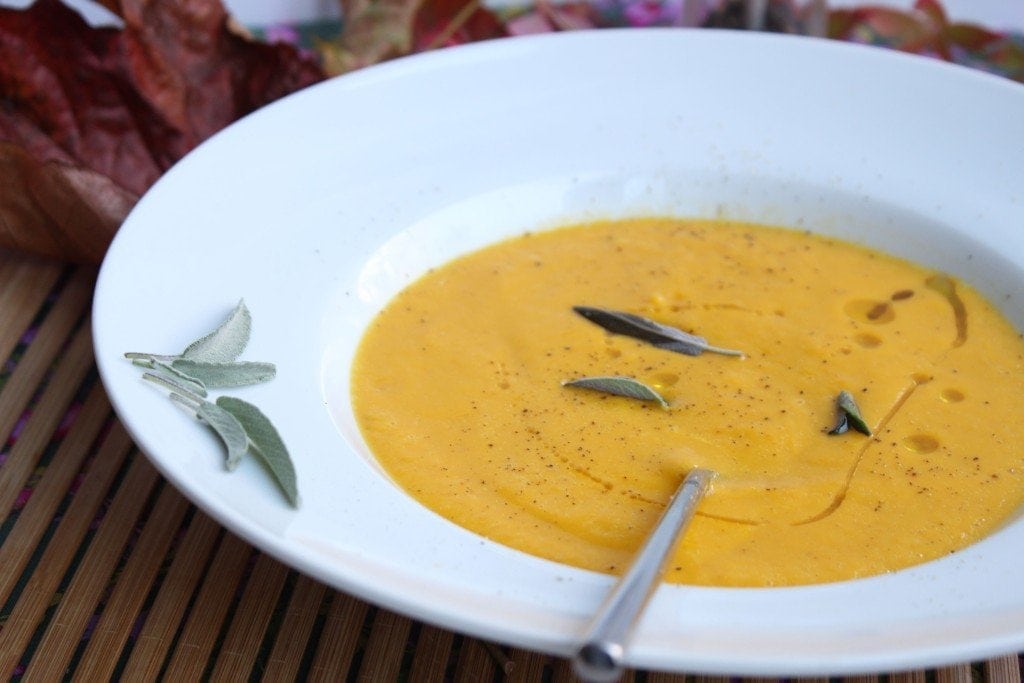 This post contains Affiliate links. As an Amazon Associate I earn from qualifying purchases.
The weather is confused. It's late Autumn, the leaves swirl around your legs and crunch underfoot unyet it's 17 degrees!
With no need for a fire or the central heating I am pretending it is cold by switching my salad lunch to a soup lunch.  But some days I am confused too and have a salad just for the hell of it!
Avoiding all sugar (bar that in vegetables), dairy and egg whites and finally in deperation, trying out the low FODMAP diet, means that soup is the perfect thing for lunch.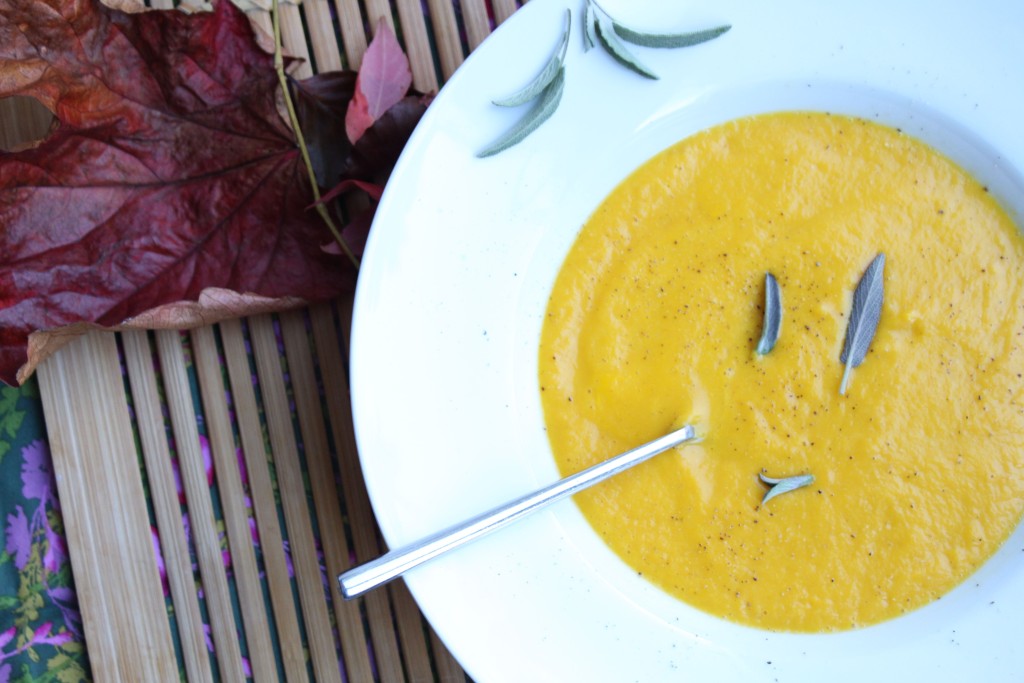 How do you make soup?
Normally my soup consists of a few leftover vegetables, or the meal from last night, being whizzed up in a blender with some homemade chicken stock.
Thus I have very little to share with you on the 'proper' recipe front.
This soup, however, I actually wrote down when I made it a few months ago.
Up until the last few days (when I started trying to avoid high FODMAP foods – of which butternut squash is medium and thus best eaten only in small quantities, and garlic and onion is high and therefore avoided) it has served me very well.
Particularly as butternut squash is cheap and readily available at the moment.  
You could of course use pumpkin instead if that is what you had to hand.
I use the pressure cooker to make my soup in.  It takes about 5 minutes at high pressure to cook and thus within 15 minutes of setting out to make lunch you have a beautiful bowl of hot steamy soup in your plate!
What if I don't have a pressure cooker?
I have given instructions for how to make this without a pressure cooker. However, if you can afford to buy one they are fantastic. Not only can you make soup really quickly but things like stews and casseroles too.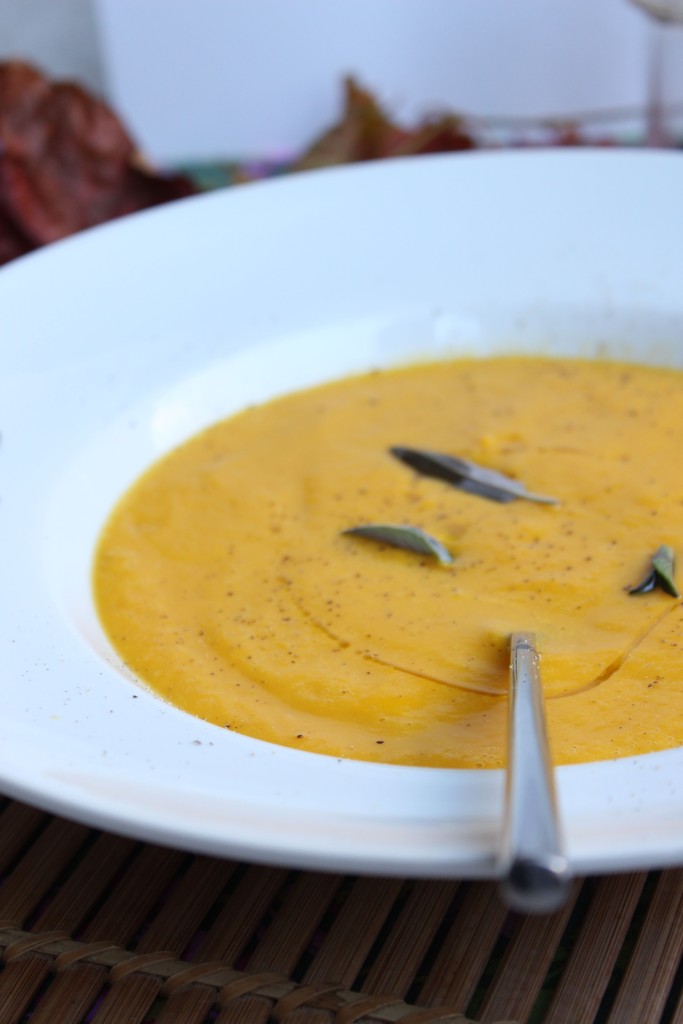 Serve with:
If you would like to try this vegan butternut squash soup another day, why not pin it to a Pinterest board:
The full recipe: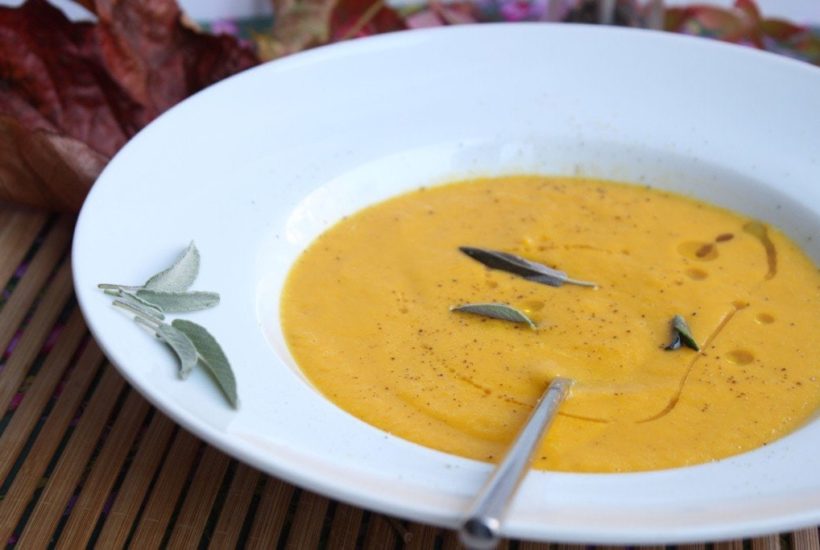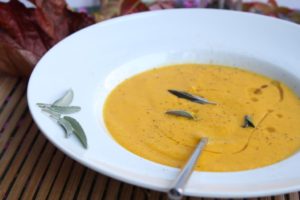 Vegan Butternut Squash Soup
This Vegan Butternut Squash Soup is also Gluten-free, Dairy-free, Egg-free, Nut-free, Soya-free, SCD, GAPS, Paleo
Ingredients
600

g

butternut squash peeled

-

deseeded and roughly chopped

2

carrots peeled and roughly chopped

1

onion

-

peeled and roughly chopped

1

clove

garlic

-

peeled and roughly chopped

1

pint

chicken

-

or vegetable stock – preferably homemade

50

g

coconut butter or creamed coconut

-

chopped (I use Coconut Merchant coconut butter)

1

tsp

ground cumin

1

tsp

ground coriander

Salt and black pepper to taste
Instructions
If you are using a pressure cooker, place the spices in the dry pan and place on a medium heat. Stir for about 1 minute until you smell the spices starting to cook

Add the remaining ingredients and cook on high pressure for 5 minutes. Release the pressure, blend and serve.

If you are using a saucepan add the spices and dry fry for about a minute until you smell them.

Add the onion, carrot, squash and a splash of stock and cook for about 5 minutes with the lid on, until the onion is softened

Add the remaining ingredients and leave to simmer with the lid on over a low heat for approx. 30 minutes or until the vegetables are very soft

Blend the mixture then serve