This gluten free garlic bread is far better than the baguette type in my opinion. It reminds me of the garlic bread that is served in pizza restaurants that is never gluten free. Of course you can use the same recipe to make garlic flatbread or gluten free garlic naan.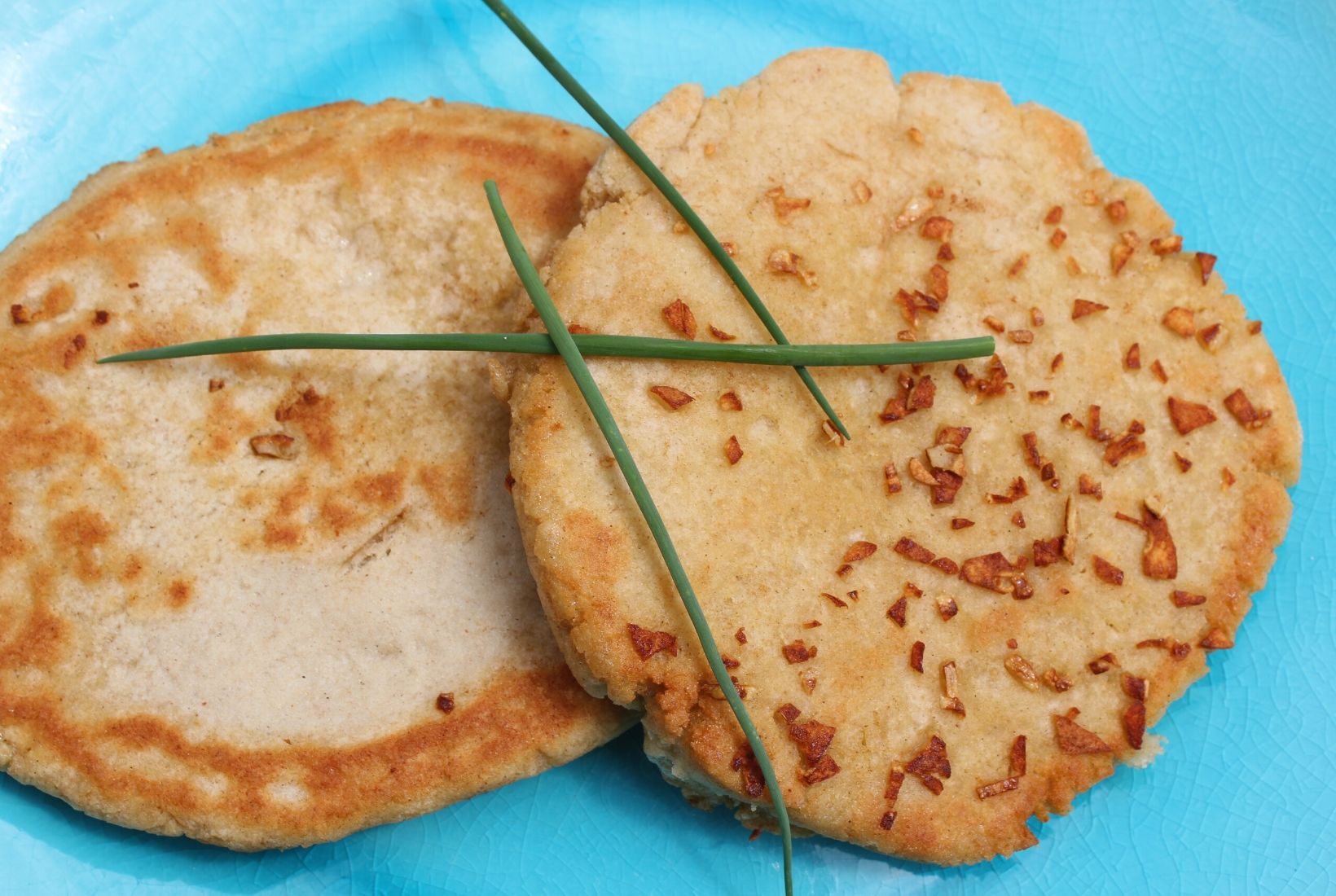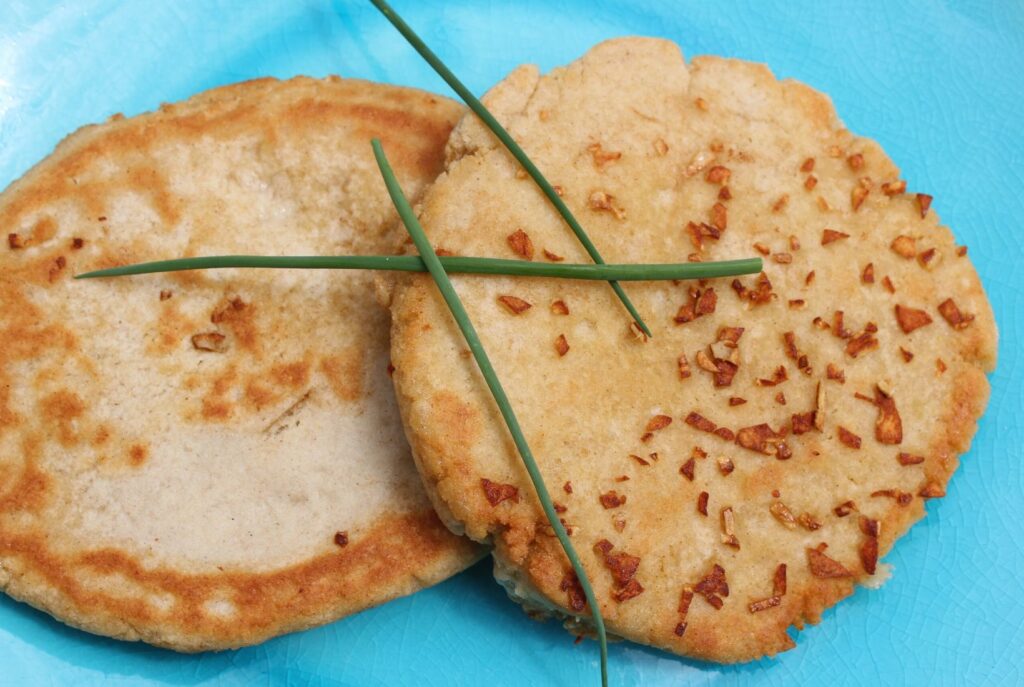 This post contains Affiliate links. As an Amazon Associate I earn from qualifying purchases.
I adore garlic bread so when I came up with this simple gluten free garlic bread recipe I was really happy. It's not only perfect with meals such as my easy Moroccan fish recipe and gluten free spaghetti bolognese, but also on its own for lunch. You could also serve it with a lovely bowl of soup.
What's the difference between this gluten free garlic bread recipe and traditional garlic bread?
The first obvious difference is that this is a garlic flatbread or pizza garlic bread rather than the traditional baguette-based garlic bread.
Of course if you wanted to make a traditional baguette-based garlic bread you could use this recipe for gluten free baguette.
Then you could follow a traditional garlic bread recipe like this one on BBC Good Food.
Another difference is that this recipe is made with gluten free flour rather than wheat flour.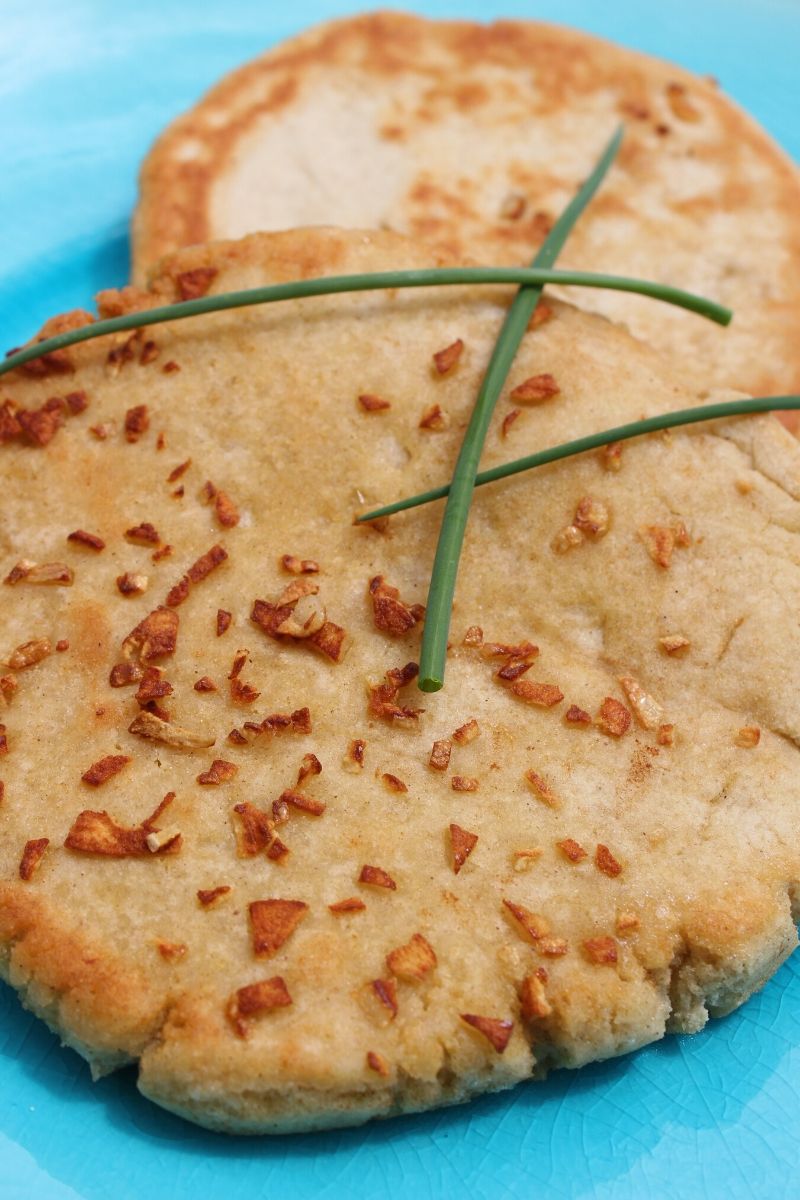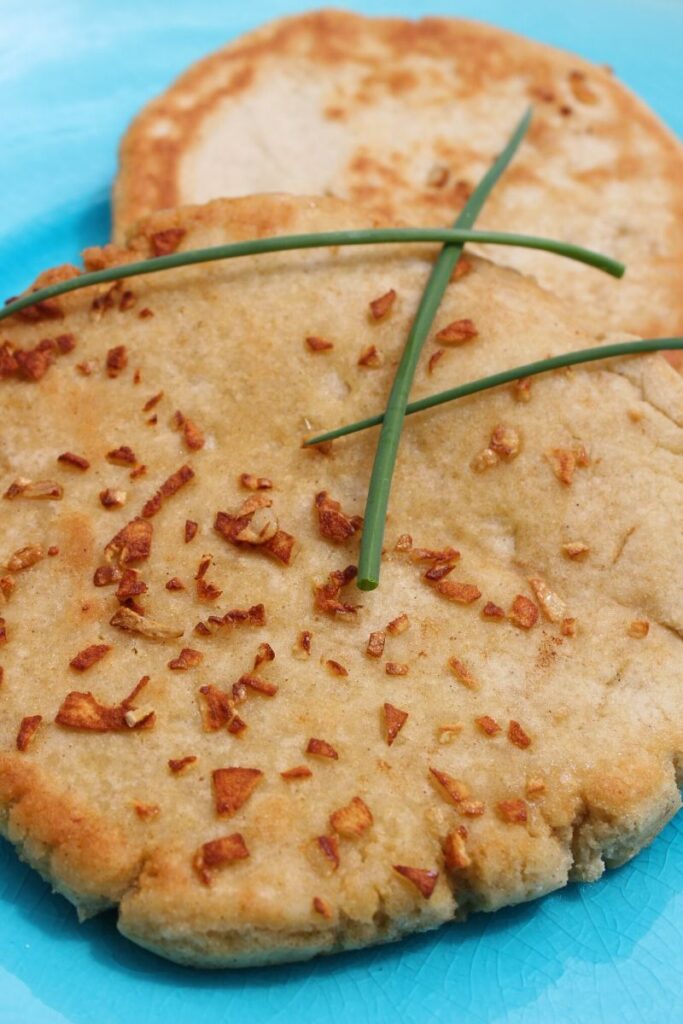 What gluten free flour do you use?
Back in 2014 I started experimenting with gluten free flours to create a blend for my family that I could use in all my baking.
After two years of researching, experimenting and testing I created a wholegrain gluten free flour blend.
I always use it in my baking and cooking now because it doesn't contain any rice (something that contains arsenic and is found in most gluten free food) whilst being full of nutrients.
If you don't know anything about gluten free flour then I suggest you read my article, entitled what on earth is a gluten free flour blend. It will save you lots of wasted money on ingredients, not to mention your time.
How can the recipe be made suitable for vegans?
The recipe uses just six ingredients. One of them is yoghurt. By swapping the yoghurt for dairy free yoghurt you would have a naturally dairy free and vegan garlic bread.
To cook the flatbreads you'll also need to swap the butter for coconut oil to make it suitable for the vegan diet.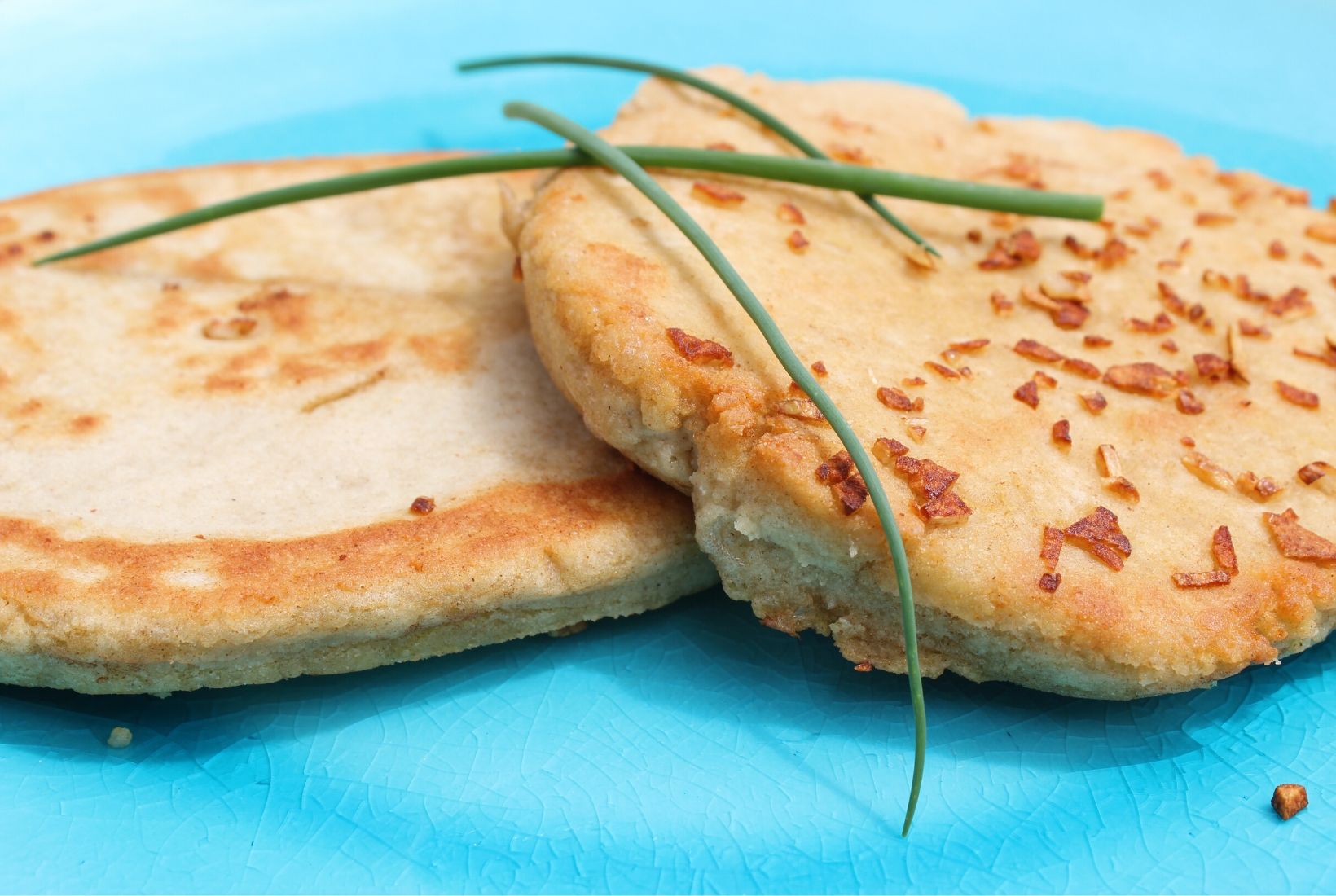 What equipment will I need to make these garlic pizzas?
I'm sure you'll be delighted to hear that you won't need anything special to make this recipe.
These mini gluten free garlic breads are so easy to make because all you need is a mixing bowl, a spoon and a frying pan.
If you want to top or fill them with cheese then you'll also need a cheese grater.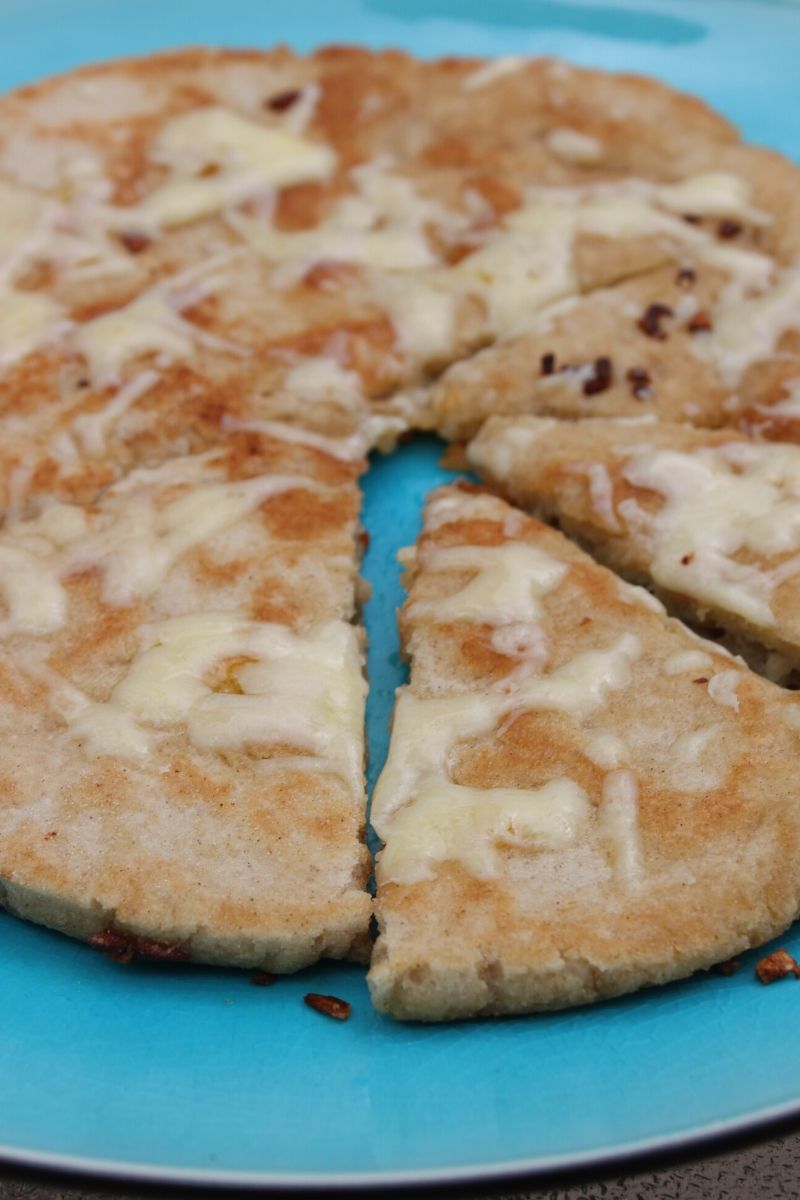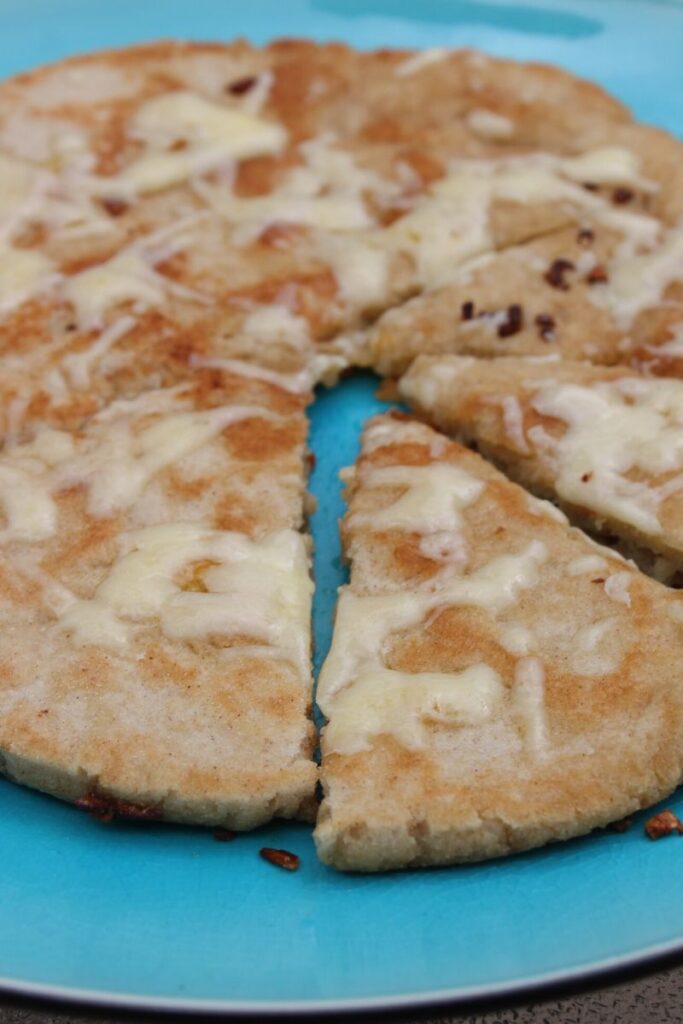 How do you make gluten free garlic bread?
There's a very straight forward method for making these gluten free garlic flatbread.
Firstly the dry ingredients need to be mixed well. This ensures that the psyllium husk powder, which acts as a gluten replacer, is distributed evenly. It's also important to ensure that the baking powder (raising agent) is well combined.
One the dry ingredients have been thoroughly mixed the plain yoghurt is added to create a soft, but not sticky, dough.
This dough is then divided into four pieces and shaped into small circles approx. 5mm thick. If you'd like to stuff the dough with grated cheese you can do it at this point. Otherwise you can sprinkle the cheese onto the dough after one side has cooked.
Once the dough is shaped it's time to cook it.
The butter (or coconut oil) and chopped garlic is added to the frying pan along with two of the four circles of dough.
After 2-3 minutes of cooking the dough can be flipped and cooked for a further 2-3 minutes on the other side.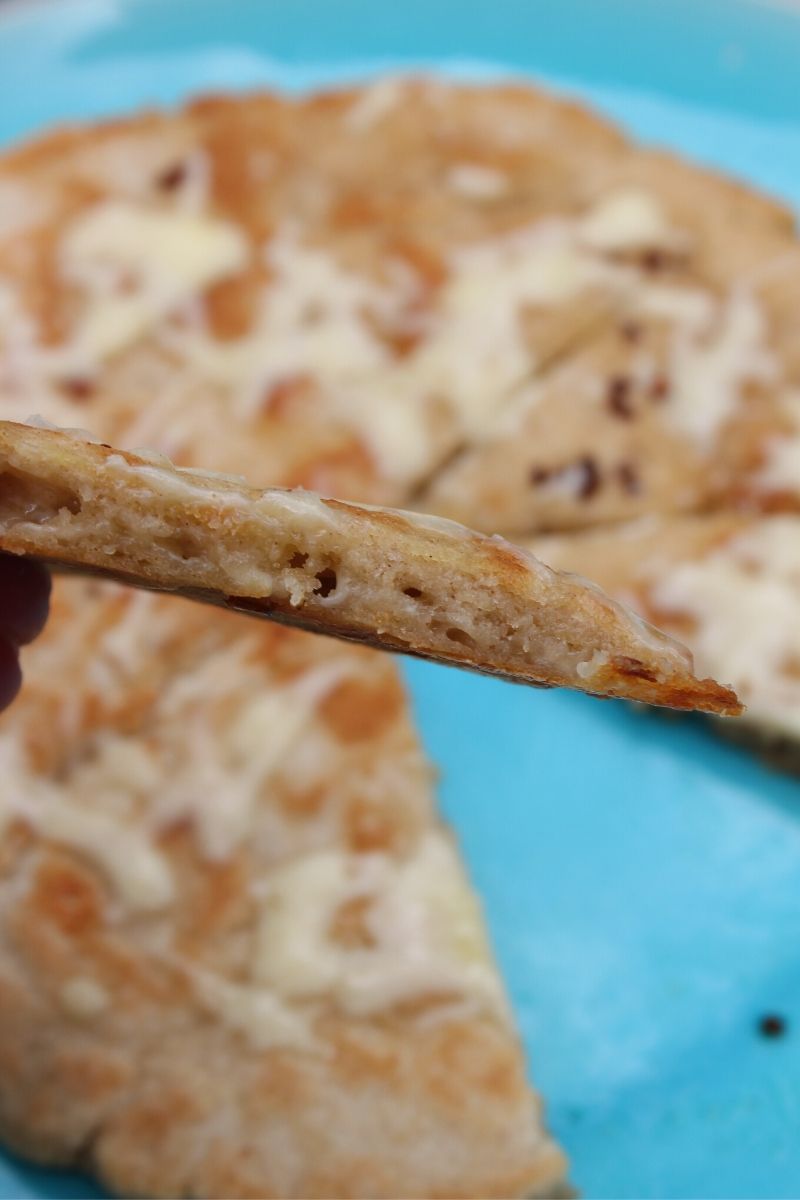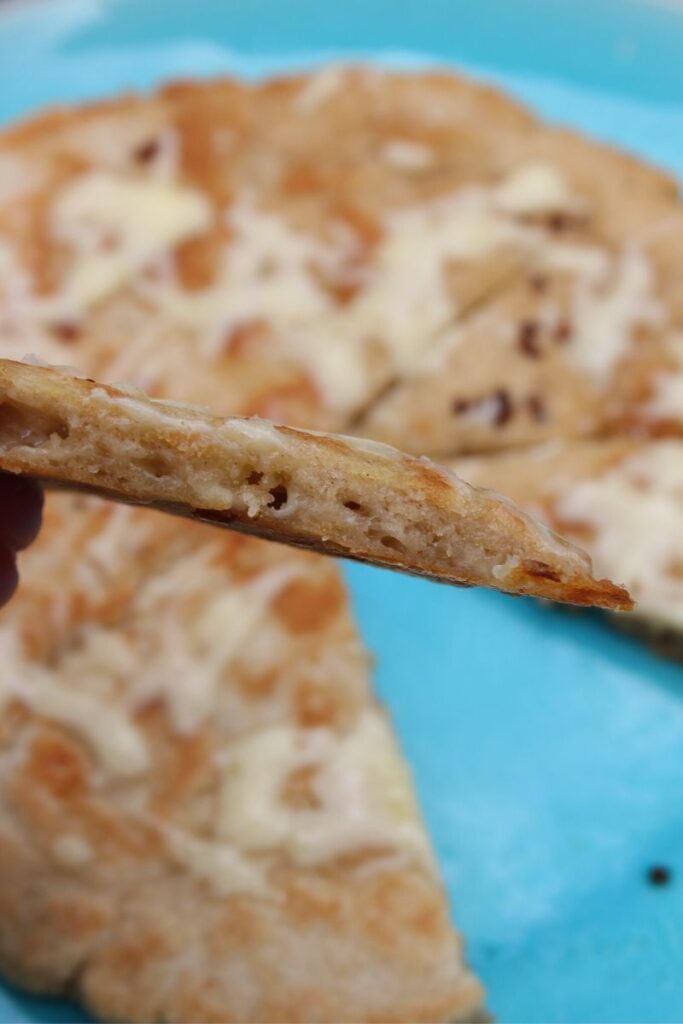 Can you store this gluten free garlic bread?
I wouldn't suggest trying to store these garlic flatbreads. Instead I would recommend cooking them fresh when you want them.
If you did want to store them I would suggest freezing them as soon as they are cool. Then either heat them in the microwave or splash with a little water and heat them in a medium oven.
Online cookery course
If you'd like to learn how to make this gluten free garlic bread, along with a huge array of other delicious gluten free bakes then check out my gluten free savoury bakes online course here. I will also teach you how to make my gluten free flour blend so that you can make my recipes where-ever in the world you live.
Alternatively if you are interested in learning more about gluten free bread making, sign up for my free guide below:
Pin the recipe for gluten free garlic bread: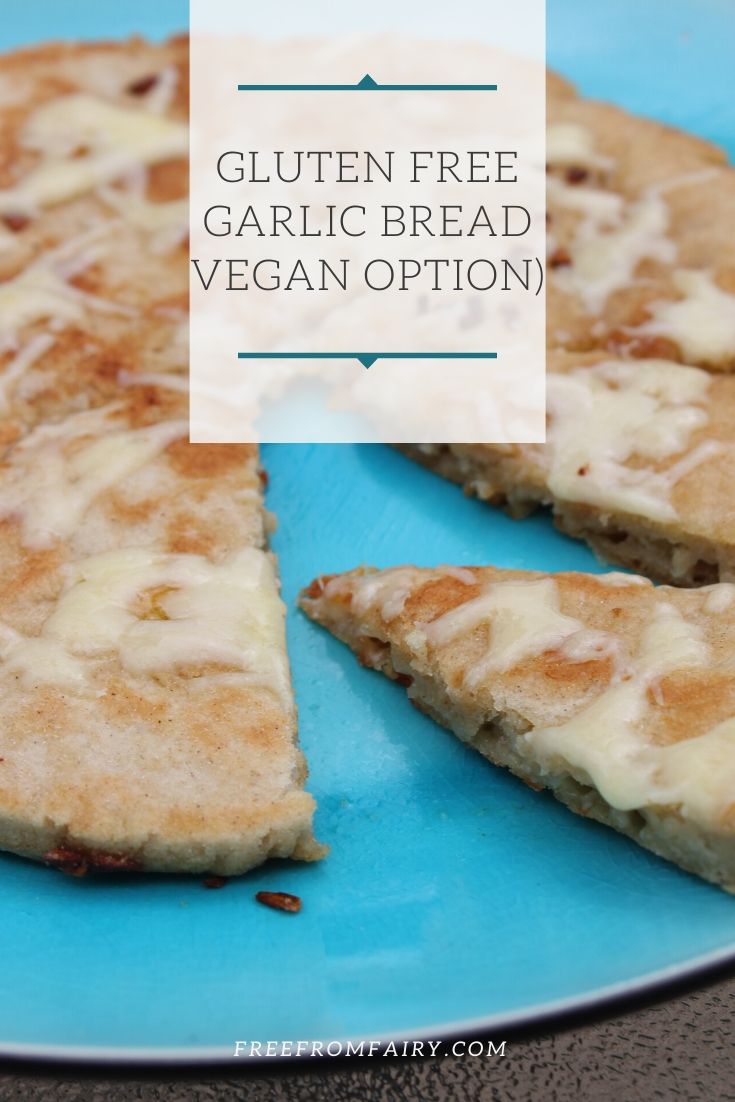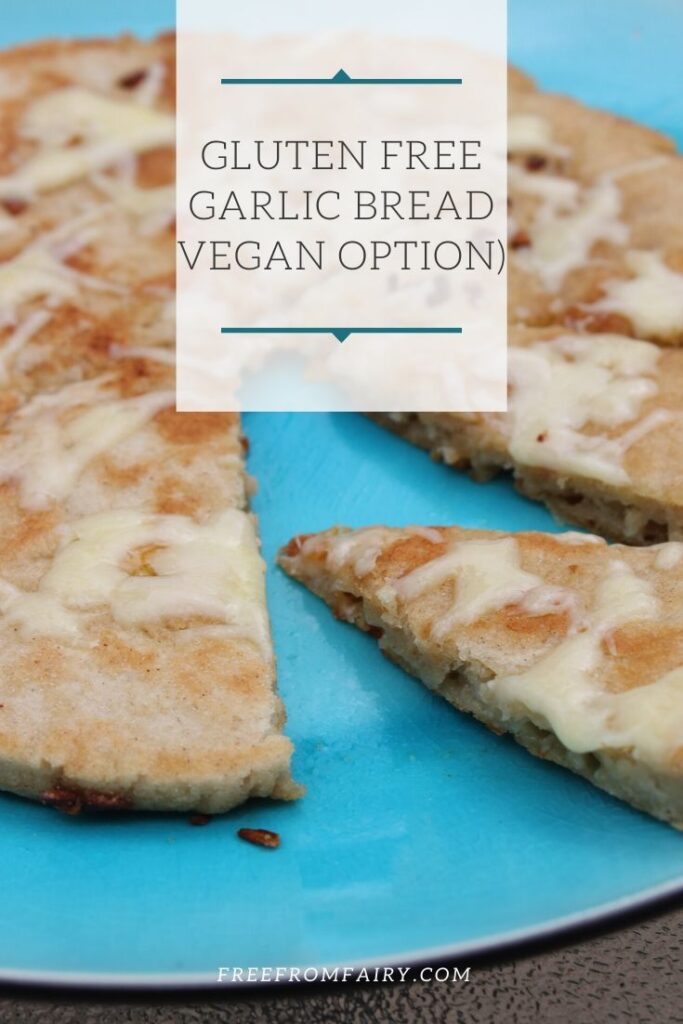 More gluten free bread recipes
The full recipe…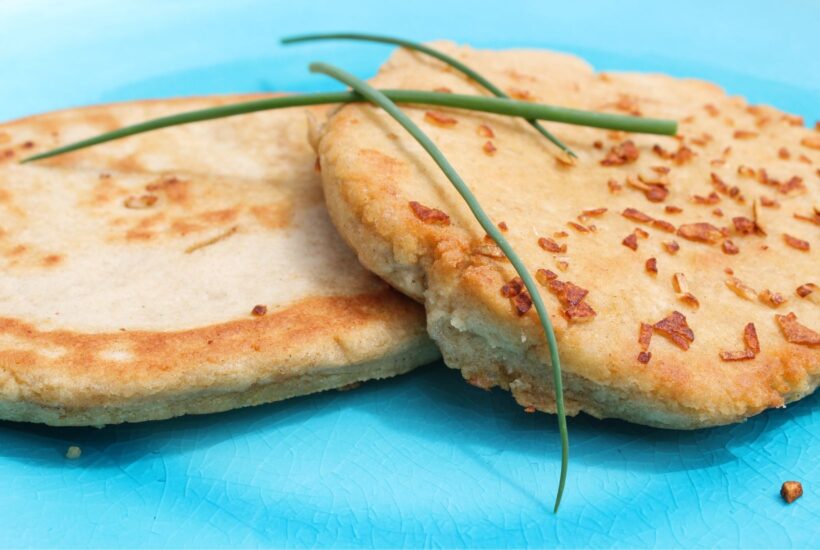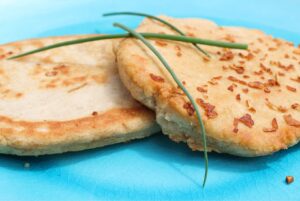 Gluten Free Garlic Bread (Dairy Free, Vegan Option)
A simple-to-make gluten free garlic bread that doesn't require yeast and can be made dairy free and vegan too. Just six simple ingredients and you'll have the best gluten free garlic bread you've ever eaten.
Ingredients
200

g

Free From Fairy plain flour blend -

(if you use other gluten free flour blends check the ingredients. If xanthan gum is present do not add psyllium husk).

2

tsp

Gluten free baking powder

1

tsp

Psyllium husk powder

200

g

Yoghurt

-

(plain – can be dairy free)

50

g

Butter

-

(use coconut oil if dairy free/vegan)

2

cloves

Garlic

-

(finely chopped)

50

g

Cheese

-

(optional)
Instructions
Mix together the gluten free flour, baking powder and psyllium husk powder until well combined

Add the plain yoghurt to the dry ingredients, a little at a time, mixing until you have a soft dough. The amount you require will depend on the flour and yoghurt you use

Divide the dough into four pieces and roll each into a ball

Place your frying pan onto a medium heat

Add the butter and chopped garlic, allow the butter to melt then add two of your flatbreads

Cook for 2-3 minutes before flipping over

If you'd like to, once flipped, sprinkle the flatbread with grated cheese and cook for a further 2-3 minutes until golden and firm

Repeat the cooking with the remaining flatbreads
Notes
Nutrition information is for guidance only.
Nutrition (Approx)
Calories:
362
kcal
|
Carbohydrates:
42
g
|
Protein:
9
g
|
Fat:
17
g
|
Saturated Fat:
10
g
|
Cholesterol:
47
mg
|
Sodium:
190
mg
|
Potassium:
153
mg
|
Fiber:
3
g
|
Sugar:
3
g
|
Vitamin A:
487
IU
|
Vitamin C:
1
mg
|
Calcium:
157
mg
|
Iron:
5
mg