These gluten free cheese bread rolls were declared the best thing 'Roo' my 11-year-old daughter had ever eaten. They are very easy to make with either shop-bought or home-made milk kefir. The milk kefir provides the rise without the need to add extra yeast.
This post contains Affiliate links. As an Amazon Associate I earn from qualifying purchases.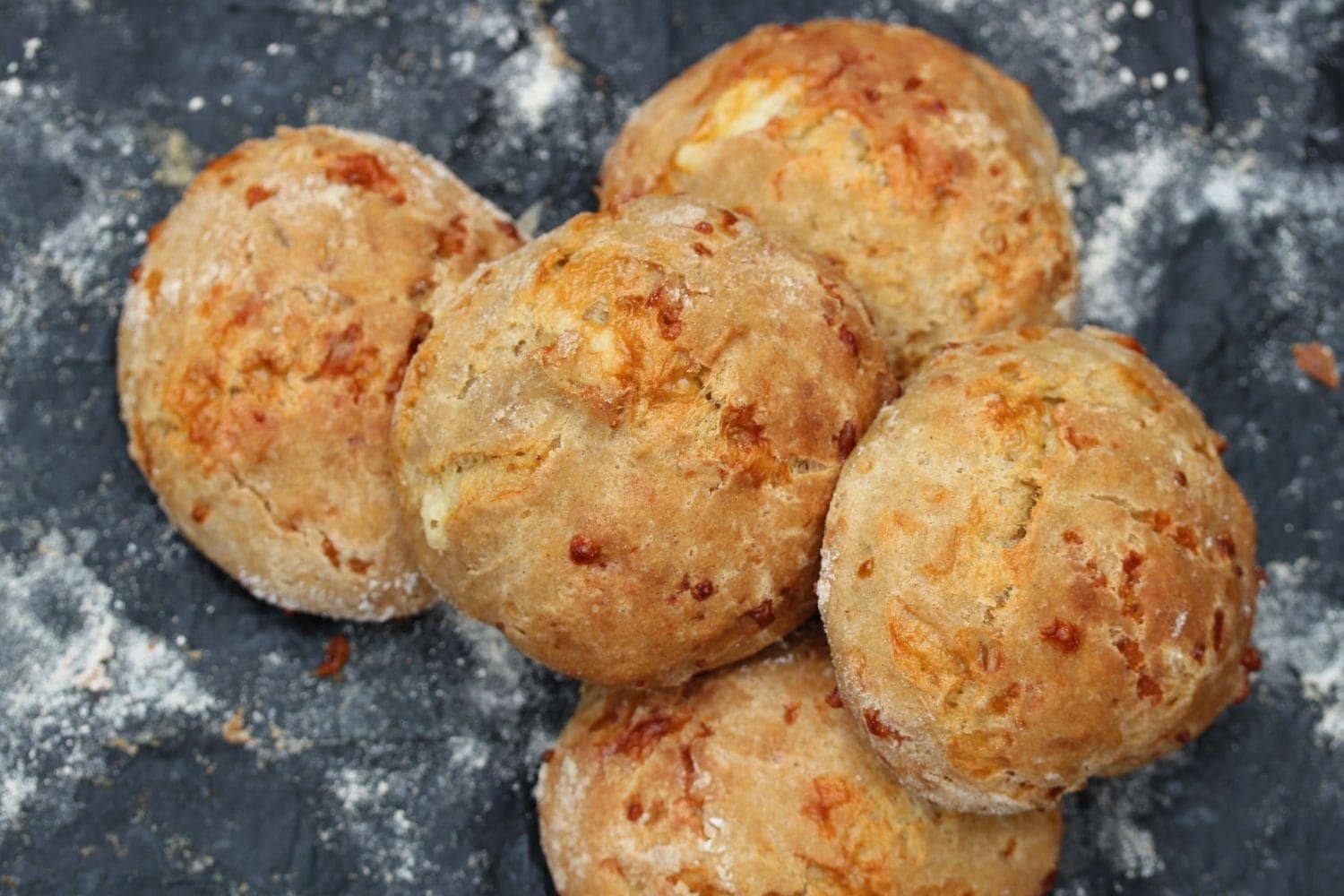 The basis to this recipe is my gluten free buns. That is the base recipe that contains no dairy if you're looking for something dairy free.
The original recipe came about when I first started making milk kefir in a bid to help my Irritable Bowel Syndrome (IBS). At that time I couldn't tolerate drinking the milk kefir so started to experiment with baking with it.
If you're interested in knowing more about how to bake with milk kefir then read this article: Milk Kefir Recipes & How To Make Milk Kefir. You'll also find out how to make milk kefir if you would prefer to do that rather than buying it. It can be made with both dairy and non-dairy milk.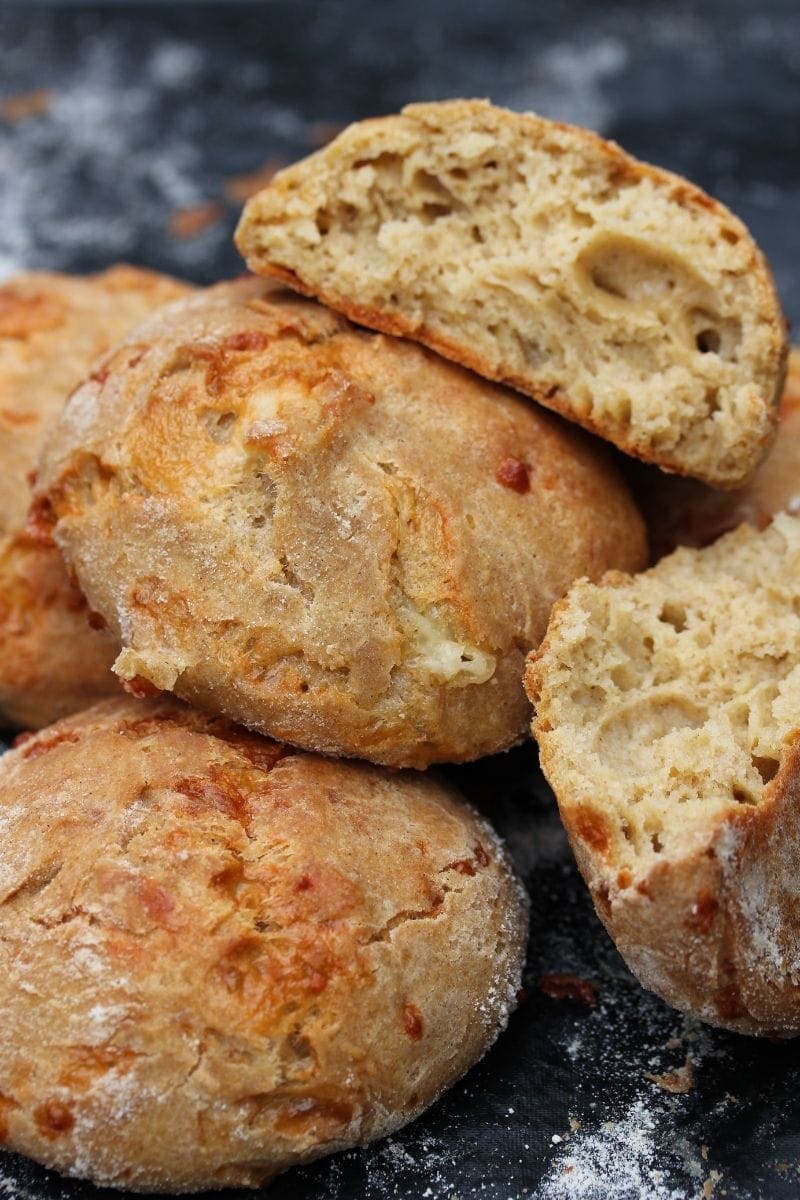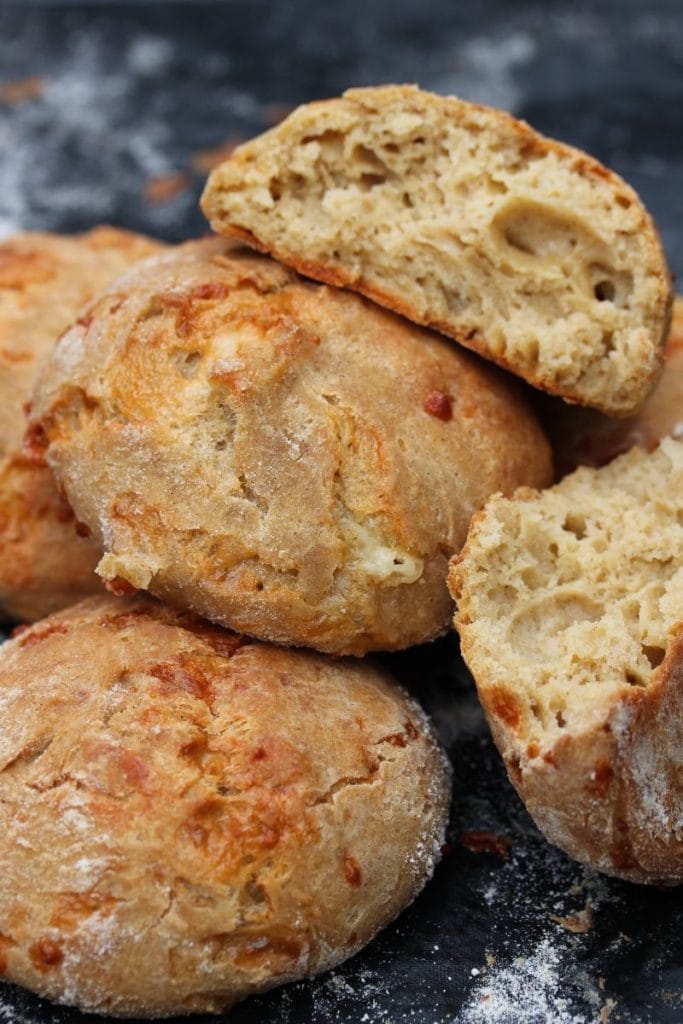 What does milk kefir do in this recipe?
The milk kefir acts as a brilliant raising agent. Being a powerful probiotic it contains both beneficial bacteria and yeast.
When I first started experimenting with baking with it I quickly discovered that the yeast in it was sufficient to create a lovely rise. Not only that, but it made wonderful light, soft bakes.
The important thing to consider is that the kefir you use is active. That means that the bacteria are alive and haven't been killed through pasteurisation. Some of the milk kefir you can buy in the shops has been pasteurised and won't work in this recipe.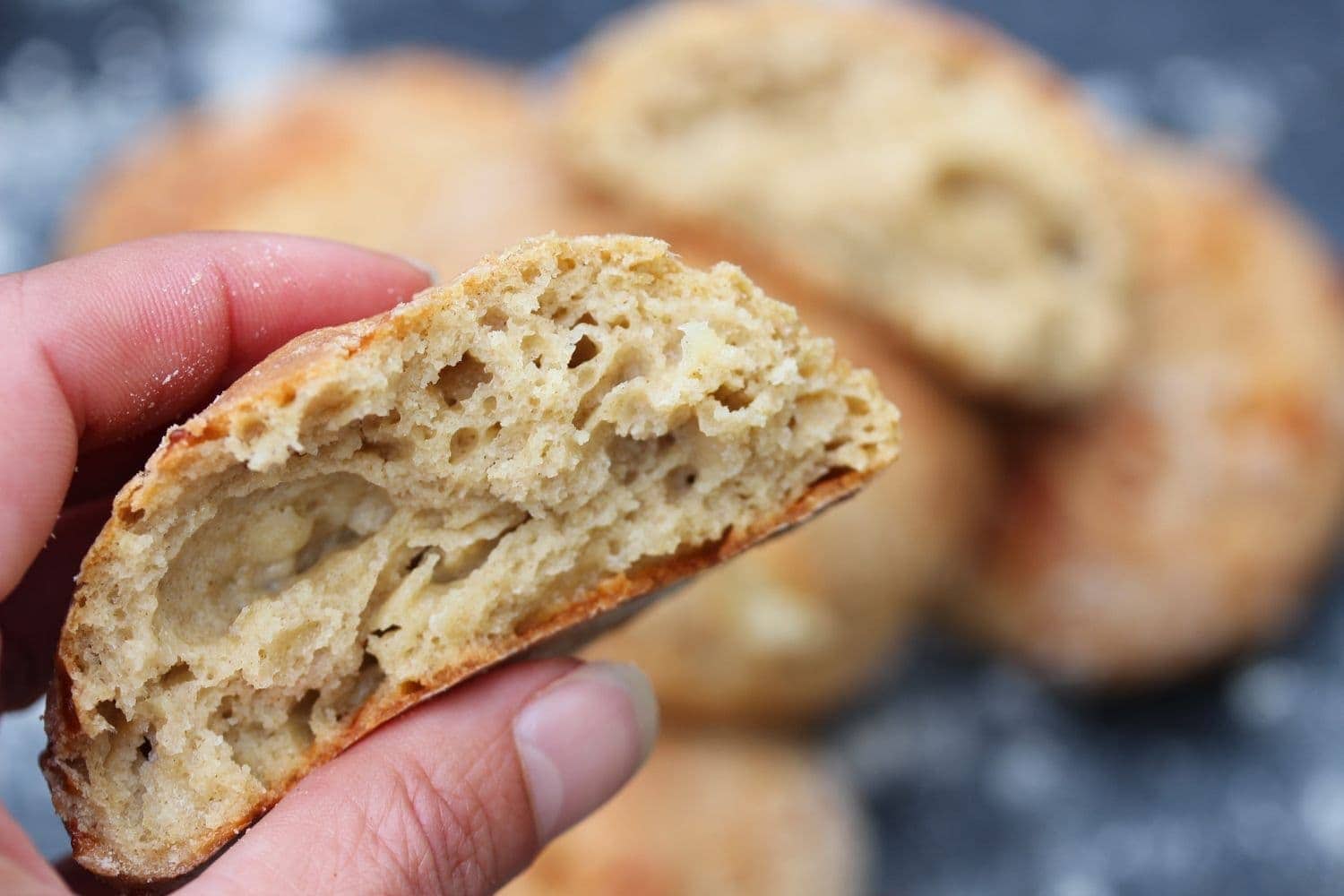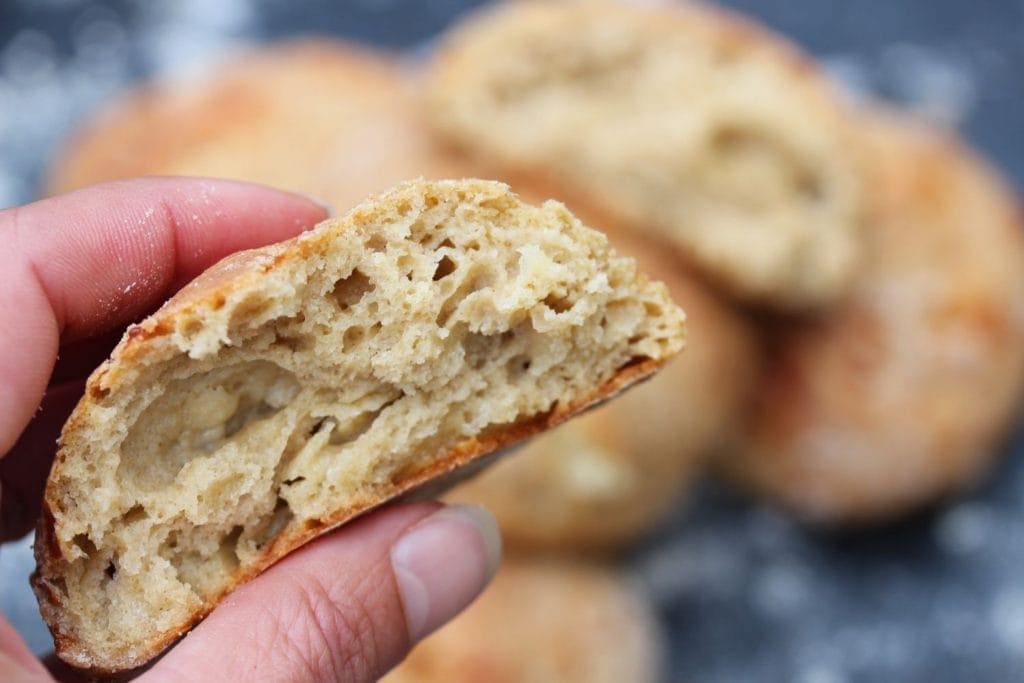 How do you make gluten free cheese bread?
Very easily is the answer.
There are two options with this recipe.
The first creates a sourdough like bread. The milk kefir acts in the same way as a sourdough starter does. In order to get this benefit the initial dough needs to be left at room temperature for up to 24 hours before continuing with the recipe. Not only will this develop a more sour flavour but it makes the grains more digestible.
The second method involves adding all the ingredients to create a dough, shaping the rolls then leaving them to rise for an hour. This will obviously give you your gluten free cheese bread rolls more quickly but you won't have the benefits outlined above.
Both options will create a wonderful springy and soft roll. You can see from the photo below where I'm squishing it…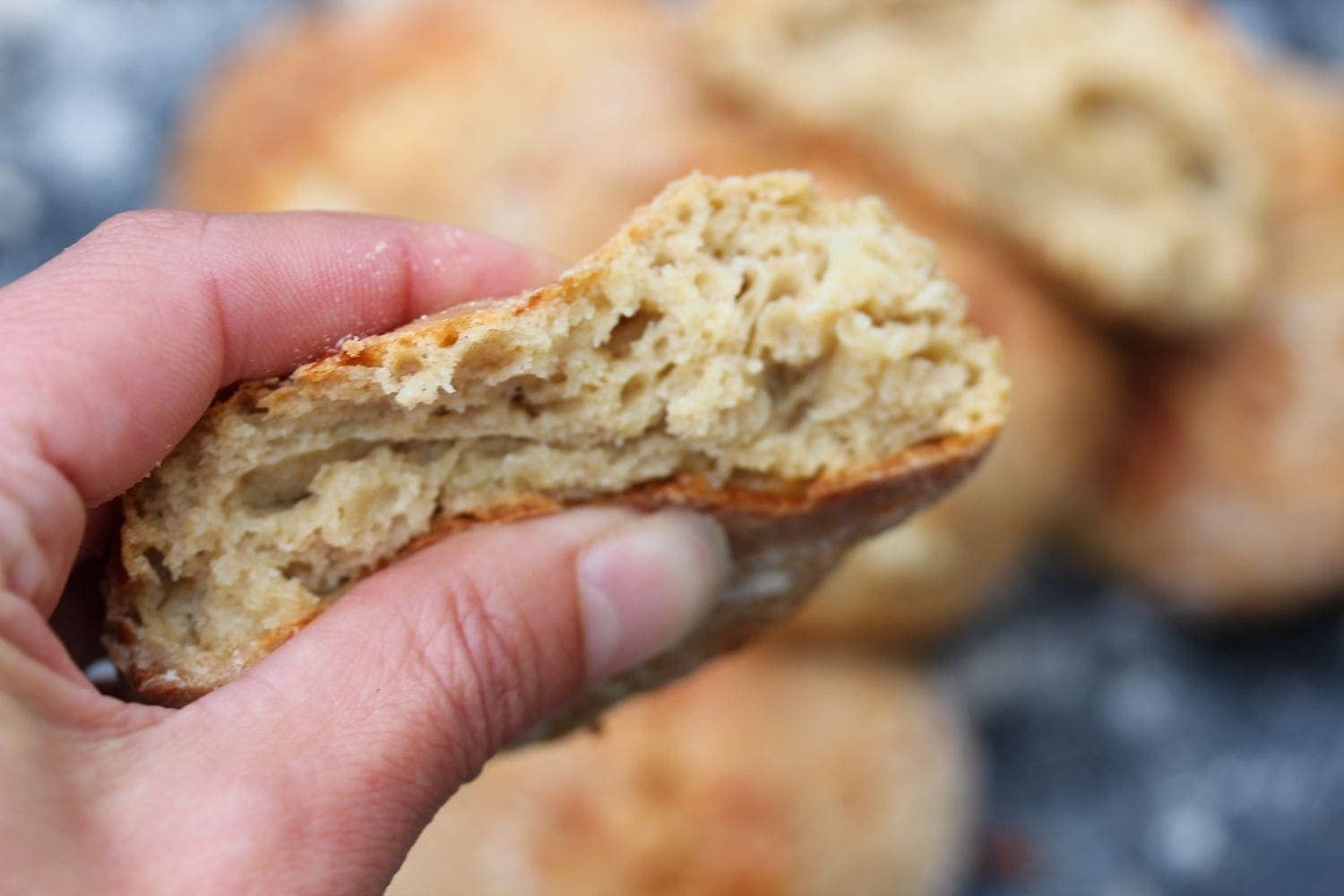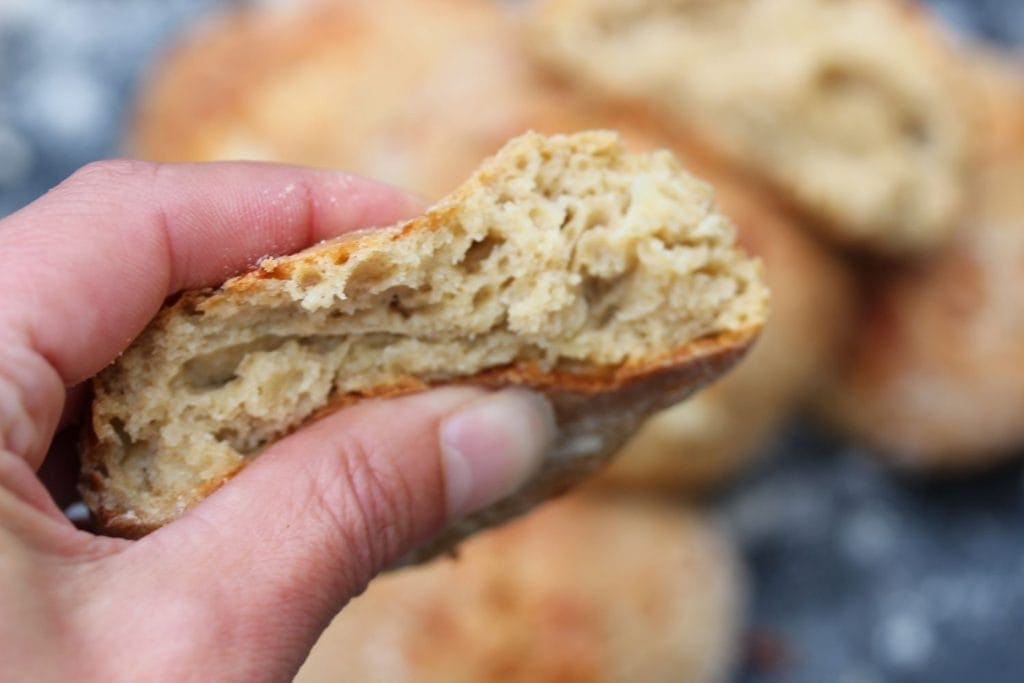 What ingredients will I need?
The milk kefir is obviously important in this recipe but the other important ingredient is the flour.
If you don't know anything about gluten free flour blends or what gluten free flour really is when it's referred to in a recipe, then check out this article. What On Earth Is A Gluten Free Flour Blend?
It will save you lots of money on failed bakes.
For this recipe I use my wholegrain, rice free, gluten free flour blend. I developed it specifically because I couldn't find a healthy gluten free flour blend on the market. I also wanted one bag of flour that I could use in all my baking. It took two years to develop and test but is now available to buy in my gluten free flour shop.
Other gluten free bread recipes
Easy gluten free sourdough bread with no starter
Gluten free vegan bread for a bread maker
Alternatively if you'd like a free recipe e-book sent to your inbox put your details in the box below. In the book I share recipes for gluten free scones, pancakes, shortcrust pastry, Yorkshire puddings and more.
In addition to the book you'll get my weekly newsletter of recipe inspiration, tips and news.
Pin the recipe for gluten free cheese bread to a Pinterest board so you don't lose it: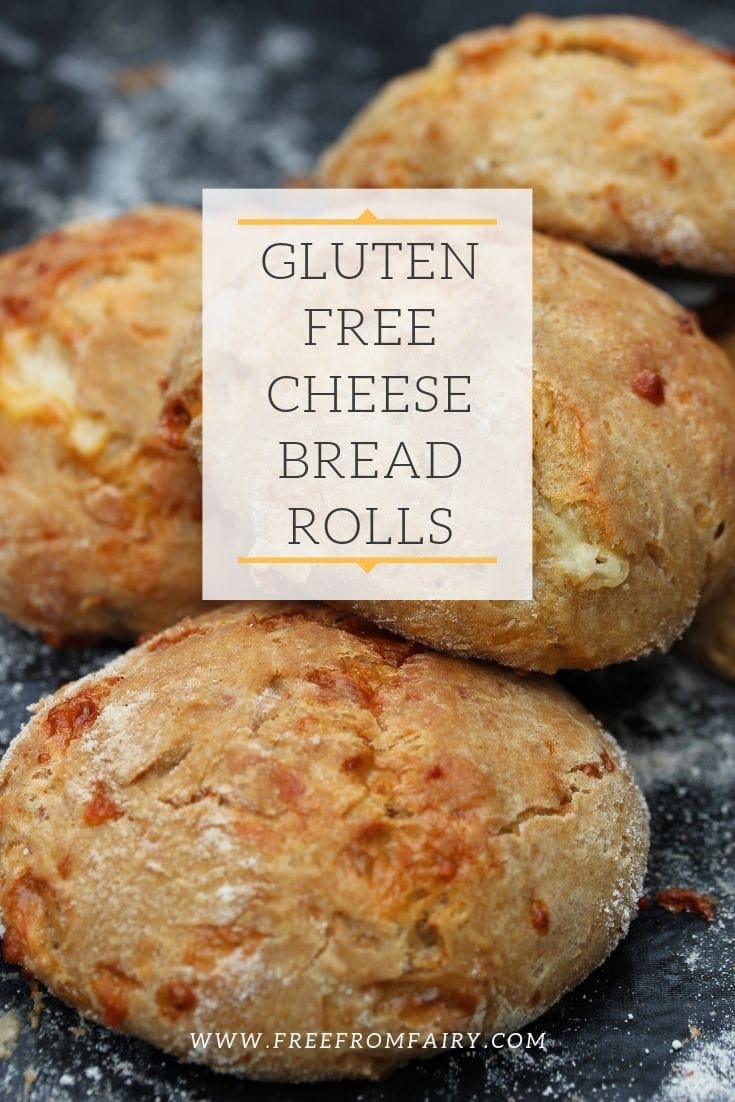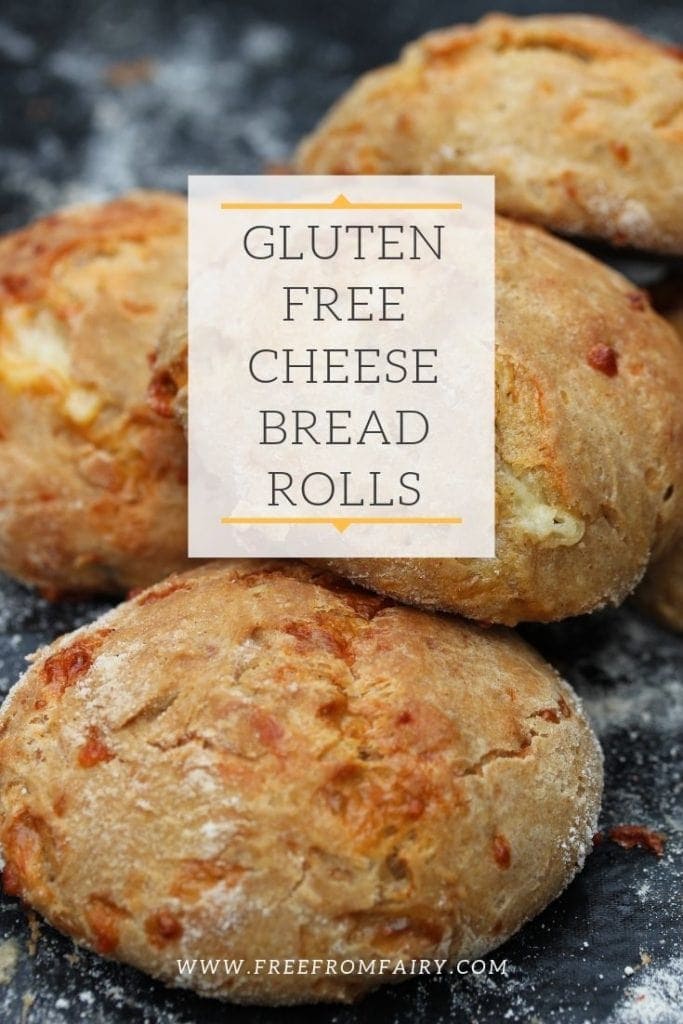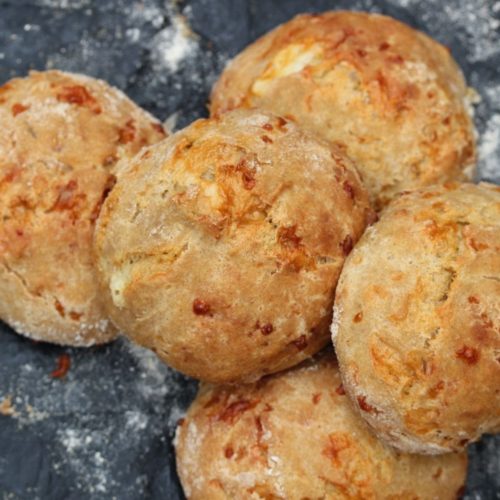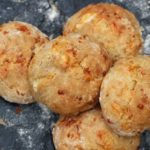 Gluten Free Cheese Bread Rolls
Gluten-free, Nut-free, Soya-free, Yeast-free (uses natural yeasts), Refined Sugar-free
Resting time - up to
1
day
1
hour
Total Time
1
day
1
hour
30
minutes
Method
Place the flour and psyllium in a bowl and add the milk kefir. Stir well until a sticky dough forms. I use my Sage stand mixer for this.

Optional step to develop flavour & create a 'sourdough' - cover the bowl with a clean T-towel and leave on the kitchen side for between 20-24 hours by which time the dough should have risen very slightly.

Mix the baking powder into the beaten egg and mix well.

Add the egg mixture to the dough along with coconut oil (cooled slightly if very hot) and cheese.

Combine the dough with a wooden spoon (better still in a stand mixer) and beat well.

Remove a large tablespoon of the very sticky dough and place it on a greased or lined baking tray. With floured fingers shape into a rough bun shape. Repeat with the remaining mixture to make 10 medium sized rolls.

Place a damp clean T-towel over the baking tray and place somewhere warm. If you don't have a warm place put a cup of boiling water in your cold oven along with the tray of buns and close the door.

Leave to prove for an hour.

Bake the buns at 220 degrees, 200 degree for a fan oven, gas mark 8, for 10 minutes then reduce the temperature to 200 degrees, 180 degree for a fan oven, gas mark 6 and cook for a further 10 minutes or so until they sound hollow when you tap the bottom.

Serve immediately. Freeze any that are left over at the end of the day or warm through in the microwave to 'refresh' them to full softness.
Recipe Notes
Nutrition data for information only
Nutrition Facts
Gluten Free Cheese Bread Rolls
Amount Per Serving
Calories 211
Calories from Fat 81
% Daily Value*
Fat 9g14%
Cholesterol 50mg17%
Sodium 90mg4%
Potassium 163mg5%
Carbohydrates 25g8%
Protein 7g14%
Vitamin A 205IU4%
Calcium 155mg16%
Iron 0.9mg5%
* Percent Daily Values are based on a 2000 calorie diet.