I created this recipe for low carb, gluten free pumpkin pie while I was following the SCD and GAPS diet. I had to avoid carbs and dairy along with refined sugars so this was the solution. The base is an almond crust and the topping uses coconut milk; although you'd never know from the taste!
Because here in the UK it can be hard to get pumpkin puree I made my recipe with butternut squash.
This post contains Affiliate links. As an Amazon Associate I earn from qualifying purchases.
Jump to Recipe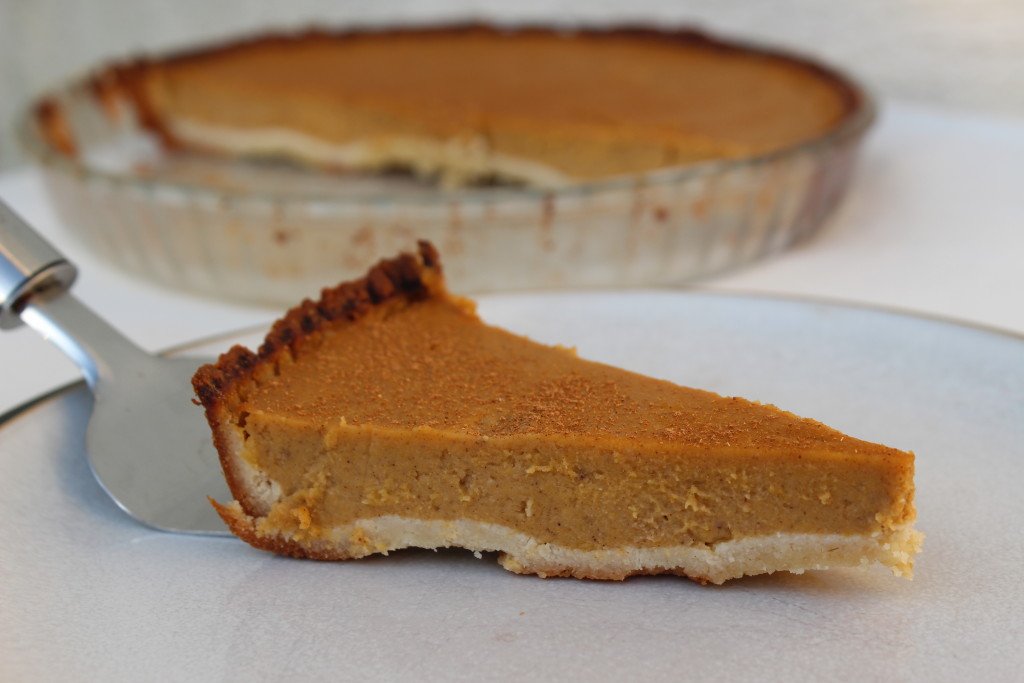 With a wet weekend coming up what better way to spend it than using up the pumpkin you have left over from Halloween?
Or, if like me, you have no pumpkin left, then how about using butternut squash instead? I find that much easier to get hold off and much easier to work with too. It also produces a lovely creamy, smooth pie that I like more than pumpkin.
This coconut based pumpkin pie contains no grains (thus no gluten and suitable for people with coeliac/celiac disease), no dairy and no refined sugar so it really is a treat that you can indulge in. Especially if you are following a gluten free, dairy free, refined sugar free, low carb, paleo, GAPS or SCD diet.
And if you are worried about the taste of coconut, don't be because even my coconut hating husband loved it.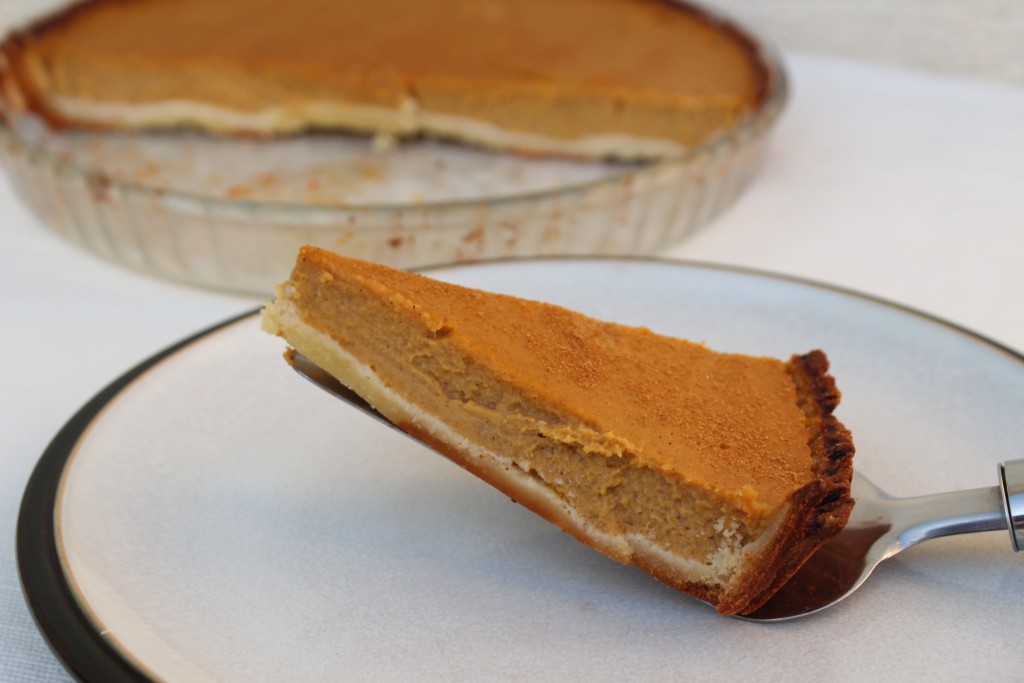 What is pumpkin pie?
Pumpkin pie might sound strange but trust me, it's delicious.
Up until a few years ago I'd never tried one considering them to be a 'strange' pudding. Now, having tried it I'm converted.
Pumpkin pie is a sweet pie with a spiced custard filling. Because the pumpkin is associated with harvest time it is traditionally eaten in the Autumn.
Since these days many people carve pumpkins for Halloween it seems like the perfect Halloween dessert.
In the USA it is traditionally eaten around Thanksgiving.
The spiced custard filling sits within an open pie crust; pumpkin pies rarely have a pie top.
In my version I have chosen to replace the traditionally high-carb pastry base with a low-carb version that uses ground almonds. This is naturally gluten free so suitable for anyone who has coeliac/celiac disease.
To sweeten the dessert I've chosen to use honey but any liquid sweetener will be fine. Because I've used coconut cream rather than dairy cream the recipe is also dairy free.
What is a low carb pie crust?
Normally a pie crust is made from pastry that consists of flour and butter (or shortening) along with water.
I discovered some years ago that to make successful gluten free pastry an egg is required to bind the gluten free flour with the butter or shortening.
If you'd like to make a gluten free pie crust rather than this low carb one then you'll find my never fail gluten free (dairy free) shortcrust pastry recipe here.
However for this recipe I've chosen to make a very simple low carb pie crust that is suitable for anyone following a paleo, GAPS, SCD or Keto diet. If you are following a Keto diet you'll need to follow my instructions below to adapt it.
To make the crust all you have to do is combine the ground almonds with the melted coconut oil, honey and egg.
It can be tricky to make into a crust so I highly recommend dividing the mixture into four pieces and pressing those into your pie dish until they all join up into one. Make sure there are no gaps or the filling will leak!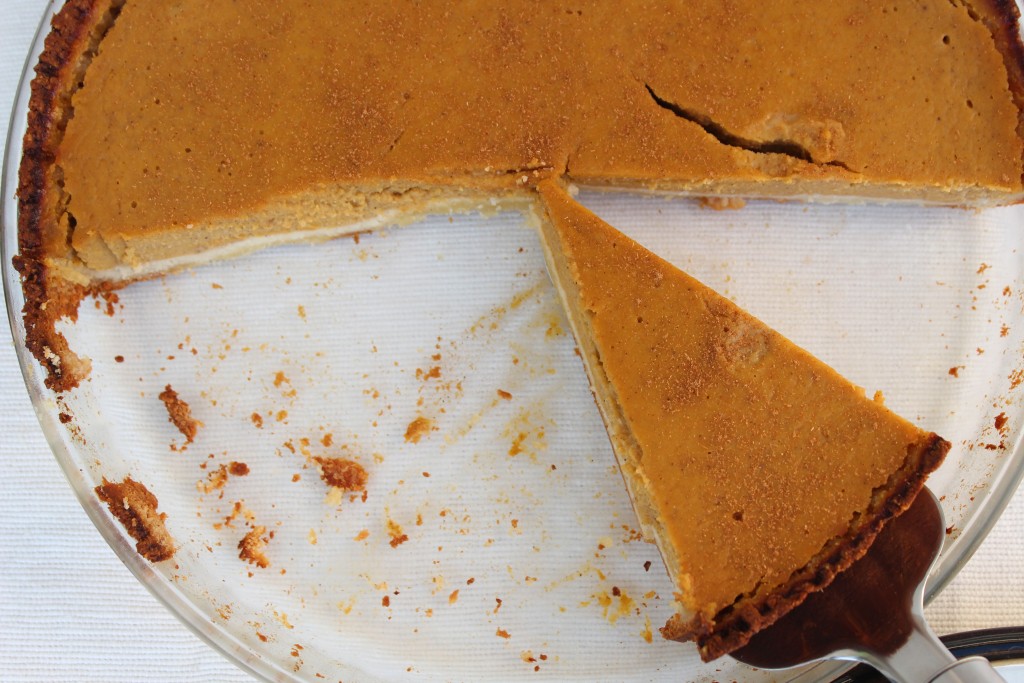 Equipment you'll require for your gluten free pumpkin pie
In order to make this pumpkin pie recipe it's easiest if you have some specific equipment. However if you don't have this equipment don't despair as I have some alternatives for you.
Ideally you'll use a good food processor or high powered blender to make both the crust and the filling.
If your blender is not powerful enough you may end up with a filling that isn't quite a smooth as it should be. In that case, if you can get hold of pumpkin puree, then use that and you won't need the blender (see below question).
If you don't have a blender or food processor you can still make the base. Just combine the ingredients together in a large mixing bowl and use your hands to 'squidge' the ingredients together.
FAQ's about making the gluten free pumpkin pie
Can I make this paleo pumpkin pie suitable for the keto diet?

If you are following a keto diet then you won't be able to use the honey in this recipe.

I recommend that you substitute honey for a sweetener such as stevia. The amount you require will be dependant on how sweet you like your desserts. I suggest adding a little and tasting before you bake.

In order to adapt the pie crust you may need to add a little water to bind the ingredients together to make up for the lack of liquid honey.

To adapt the filling you can just add stevia instead of honey and taste for your desired sweetness before baking.
Can this pumpkin pie be made with dairy?

If you don't need to avoid dairy then there are a few substitutions you can make:

1) Replace the coconut oil in the pie crust with melted butter.

2) Replace the coconut cream and boiling water with 250ml single cream or half and half

Can I make a standard gluten free pie crust, rather than this low carb one?

Yes!

In the text above this section I link to my never-fail gluten free shortcrust pastry recipe but you'll also find that here. If you want to make that dairy free there is an option for that.
Can I use tinned pumpkin puree?

Yes you can. Here in the UK it is often hard to find which is why I've chosen to make my own puree with butternut squash (which is very similar to pumpkin but easier to find all year round).

Just replace the butternut squash with the same weight of pumpkin puree.
---
As always please do let me know if you make it. It makes my day to have your feedback (good or bad because then I can improve!).
And do share any photos you have on your favourite social media channel tagging with #freefromfairy.
Other gluten free, low carb and paleo recipes:
Pin the recipe for gluten free pumpkin pie so you don't lose it: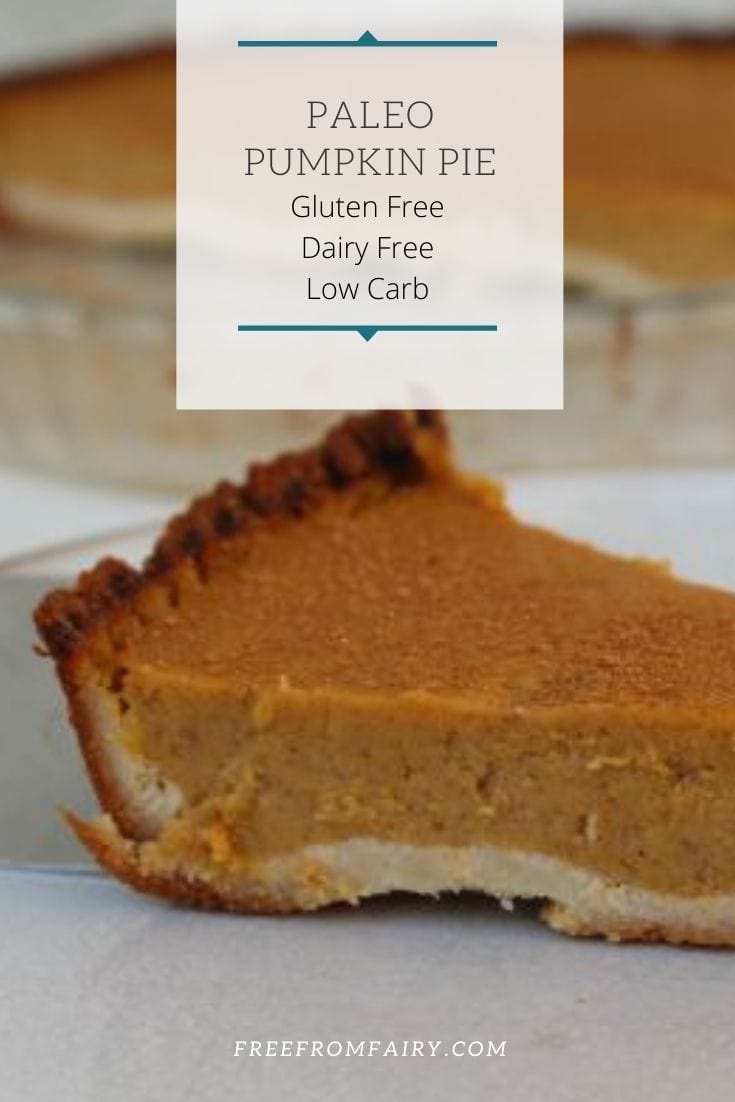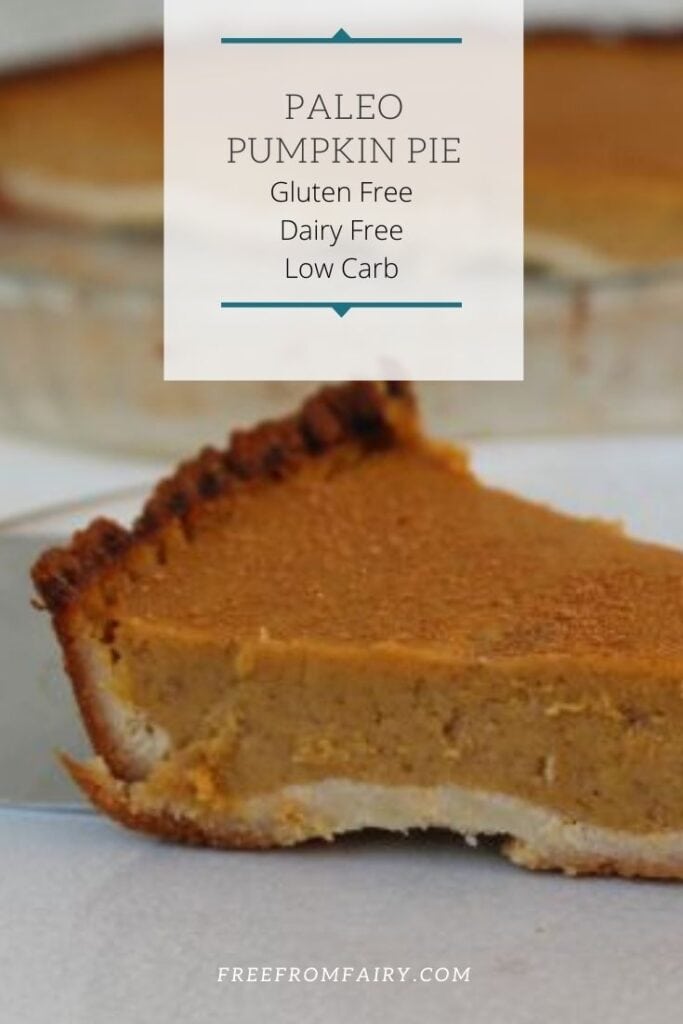 Paleo pumpkin pie recipe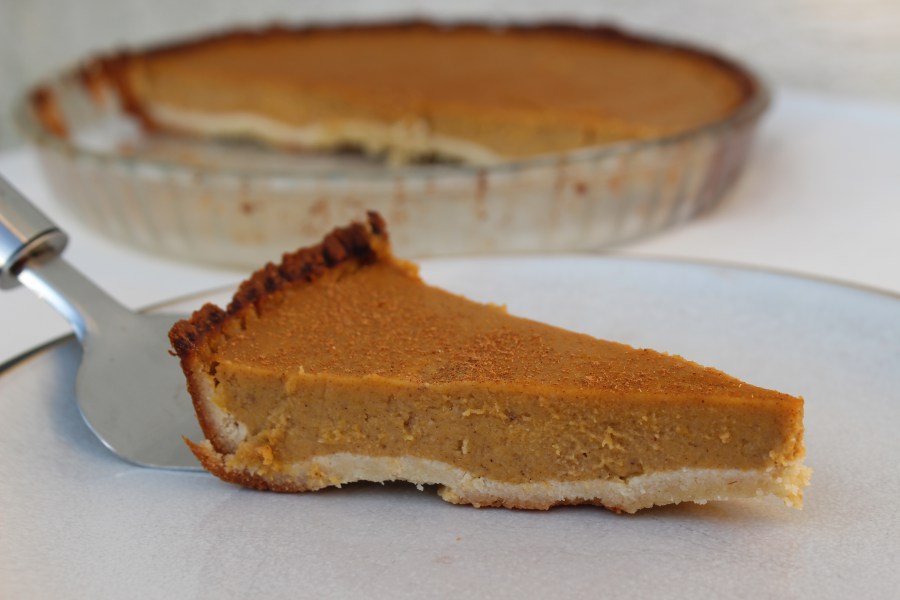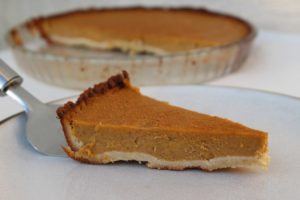 Gluten Free Pumpkin Pie (Paleo, Low Carb, Dairy Free, Refined Sugar Free)
A gluten free, dairy free, pumpkin pie suitable for anyone on a paleo, refined sugar free, low carb, SCD or GAPS diet or has coeliac (celiac) disease.
Ingredients
For the filling:
450

g

butternut squash

-

or pumpkin – peeled, de-seeded and chopped into small pieces

3

medium

egg yolks

100

g

coconut cream -

– the solid variety (sometimes called coconut butter)

200

ml

boiling water

5

tbsp

runny honey

1/2

tsp

grated nutmeg

-

(or ground cardamom)

1/2

tsp

ground allspice

1/2

tsp

ground ginger

1

tsp

ground cinnamon
Instructions
Cook the prepared pumpkin or squash by steaming or boiling it for 30 minutes until very soft.  Leave to one side to cool while you prepare the base.

Turn your oven on to 180 degrees C, gas mark 4, then place the base ingredients into a food processor or blender and combine until a dough forms.  Divide the dough into four and place into a lightly greased 23cm flan dish, spaced apart.

Gently press the dough into the flan dish and up the sides making sure there are no gaps.  Then, with a fork gently press around the edges of the case to create a pretty pattern and place in the fridge until the filling is ready.

To make the filling you first need to make some coconut milk.  Combine the boiling water and the solid coconut cream and stir well.

Once you have the warm coconut milk, add all the spices and the honey and mix well.

Beat the egg yolks in a medium-sized bowl then carefully pour in the hot coconut milk mixture, stirring all the time.

Place your cooled cooked pumpkin or squash into a food processor or blender and combine until a smooth puree is created.  Pour this into your coconut milk and egg mixture and stir well.

Finally remove your pie crust from the fridge and pour in your pumpkin mixture.  Place in your pre-heated oven for 35 – 40 minutes until there is a slight wobble in the centre.

Serve either hot or cold with a sprinkling of ground cinnamon on top.
Notes
Nutrition facts for guidance only.
Nutrition (Approx)
Calories:
234
kcal
|
Carbohydrates:
20
g
|
Protein:
7
g
|
Fat:
16
g
|
Saturated Fat:
5
g
|
Trans Fat:
1
g
|
Cholesterol:
75
mg
|
Sodium:
12
mg
|
Potassium:
214
mg
|
Fiber:
3
g
|
Sugar:
11
g
|
Vitamin A:
4887
IU
|
Vitamin C:
10
mg
|
Calcium:
79
mg
|
Iron:
2
mg