These paleo ginger cookies are made with coconut flour. They are delicious soft, chewy ginger biscuits that are sweetened with honey. If you're following the paleo or GAPS/SCD diets then these are suitable for you.
This post contains Affiliate links. As an Amazon Associate I earn from qualifying purchases.
Busy sums up my week, and I'm sure it sums yours up too?
What in the world is going on? I'm too busy, you're too busy, everyone is too busy.
We all need to just slow down!  I'm writing that down in case it sinks in and I actually do it.
Anyway, onto today's recipe which is for paleo ginger cookies or coconut flour cookies. If you'd like to find out more about the paleo diet then check out this link. I'm currently following the SCD/GAPS diet which is very similar.
Baking with coconut flour
A few weeks ago I was sent some coconut products from Biona.
I always use Biona cuisine coconut oil when I don't want the flavour of coconut in my recipes, but want the benefits of coconut.
In this recipe I used their 'ordinary' coconut oil.  If you don't like the flavour of coconut then don't worry. The ginger shines though and I challenge you to detect that there's even coconut in them.  Even Mr M can't detect it (and he hates coconut).
Coconut flour is a popular flour to bake with because it's low carb, high in fibre and protein, and gluten (grain) free. It's also suitable for people following the paleo diet.
However, coconut flour can be tricky to bake with. It absorbs a lot of moisture so if you're ever using it to make cakes then you'll find you will need an awful lot of eggs, and ideally liquid sweeteners. In my experience for every one tablespoon of coconut flour you use, you'll need one egg in cake making.
What sweetener is used for these coconut flour cookies?
For these gluten free and refined sugar free cookies I've used honey as a sweetener. There are a number of reasons for this.
Firstly, as I mentioned above, when baking with coconut flour it's necessary to use a liquid sweetener. This is because the coconut flour absorbs lots of moisture.
Secondly I like to use honey as a sweetener where I can. It is 'allowable' on the GAPS/SCD diet (which I am currently following for my IBS) and it's generally unprocessed.
Finally, because honey is hygroscopic (it absorbs moisture from the air) it helps create these soft, chewy gluten free cookies which is the result I was looking for.
For this reason I have kept the quantity of cookies to a minimum because they don't keep for very long.
It also means there's less temptation in the house.
Of course if you wanted to make more you could easily double or quadruple the ingredient quantities.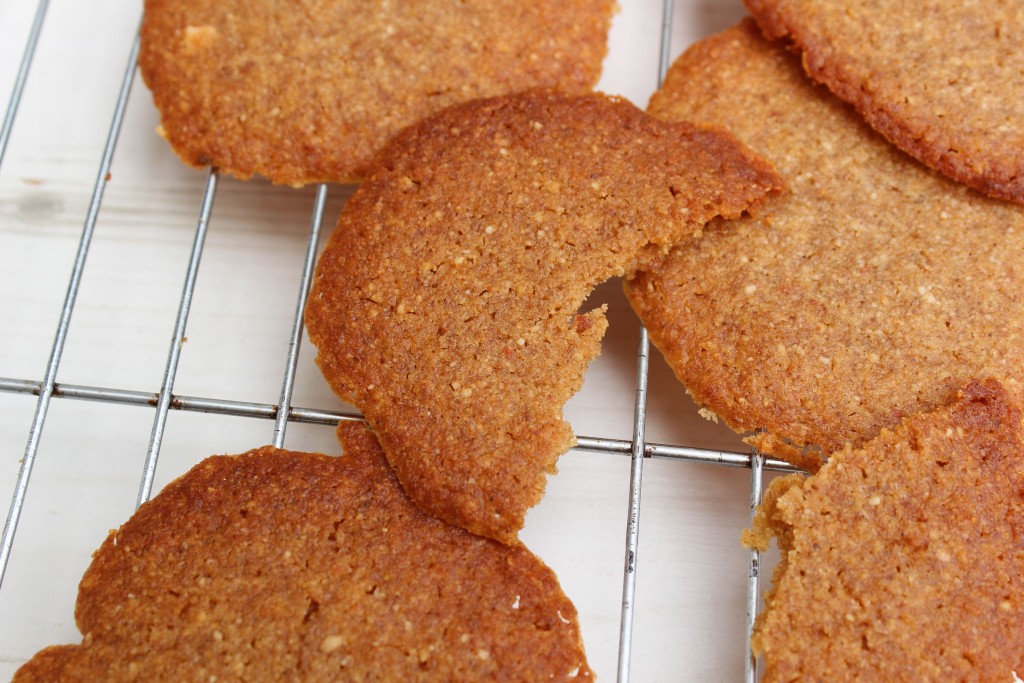 How to make paleo ginger cookies
It's so easy to make these cookies. You'll need soft (but not liquid coconut oil) and into that you mix the coconut flour, honey, almond butter and ginger. I like my cookies really gingery (is that a word?!) but I know some people find it too much.
The ground ginger acts a bit like flour in this recipe so you don't want to cut it down too much. Trust me, because the coconut flavour is quite strong you need a lot of ground ginger to get a full ginger taste.
One last tip, make sure you leave a large gap between the cookies. They spread a lot in the baking process and otherwise you'll end up with one, very large, cookie!
Free recipe booklet
If you like this recipe and would like to learn how to make other delicious gluten free treats then sign up for my free booklet below. In the book you'll find recipes for gluten free pastry, bread, pizza, Yorkshire puddings, Victoria sponge, pancakes and gingerbread.
You'll also get my weekly newsletter of recipe inspiration, tips and news.
And if you like this recipe you'll probably like this one for gluten free ginger cookies too. Rather than using coconut flour, that recipe uses almond flour.
As with all of my recipes…if you try them please do post a picture on your favourite social media site, tagging @freefromfairy.  It makes my day to see you enjoying my recipes!
Have a great weekend.
Save the recipe to Pinterest: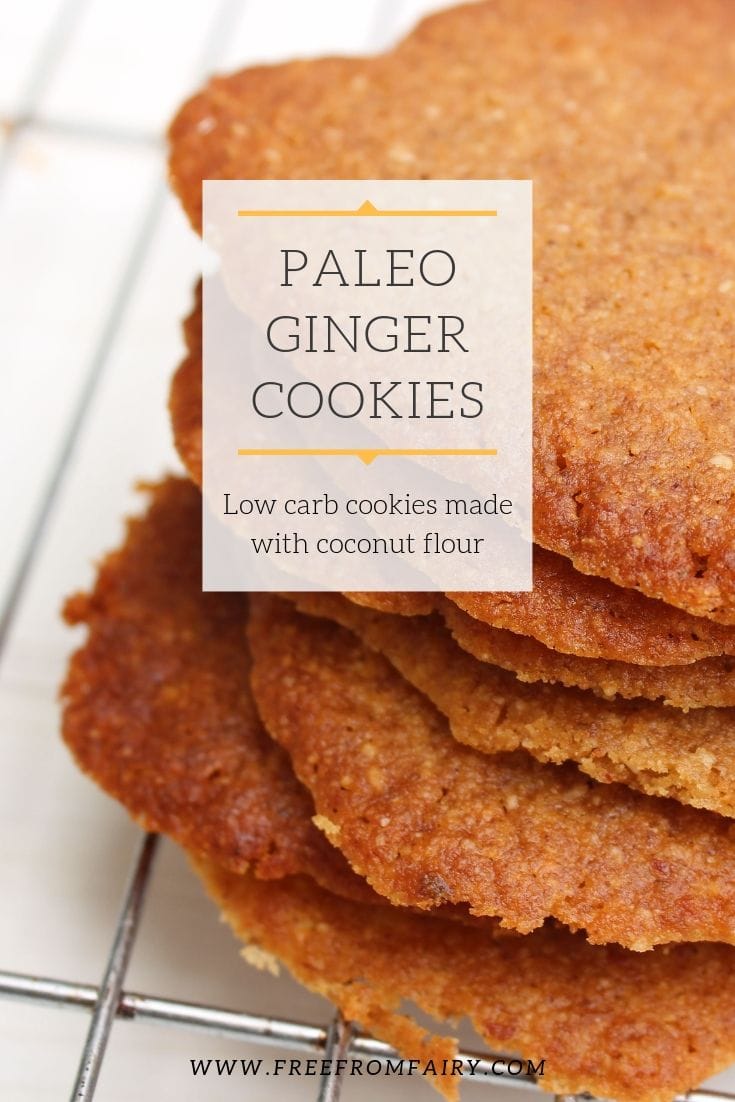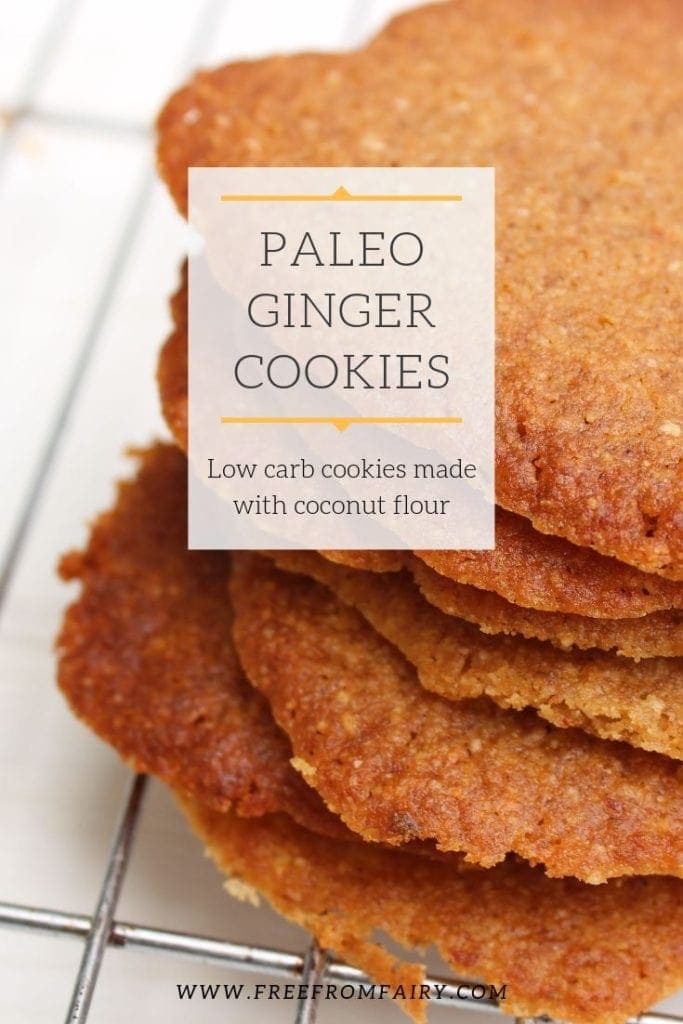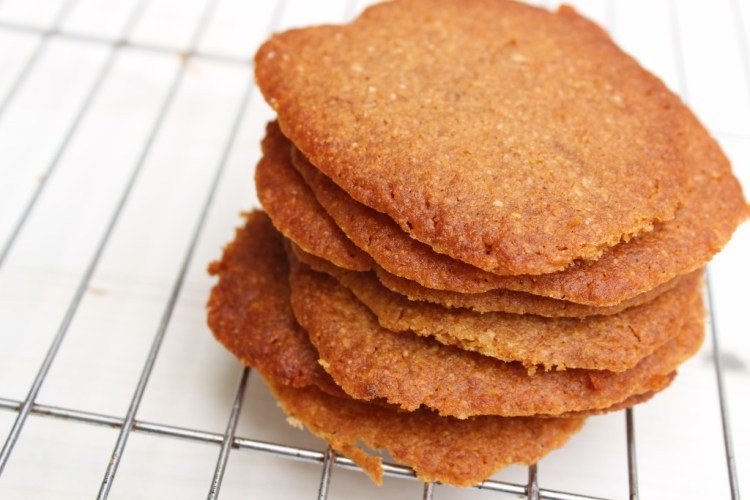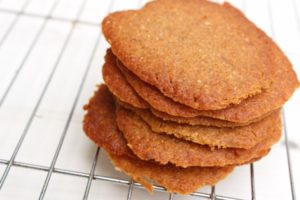 Paleo Ginger Cookies (Gluten Free, Refined Sugar Free)
These paleo ginger cookies are made with coconut flour. They are delicious soft, chewy ginger biscuits that are sweetened with honey. If you're following the paleo or GAPS/SCD diets then these are suitable for you.
Ingredients
3

tbsp

coconut flour

2

tbsp

coconut oil

2

tbsp

runny honey

1

tbsp

almond butter

-

you can make your own by 'whizzing' almonds in a blender or food processor with a little flavourless oil

1

tbsp

ground ginger
Instructions
Place all the ingredients in a bowl and mix until a sticky dough forms

Grease or line (with baking paper) a large baking tray

Remove 1tsp of the mixture from the bowl and flatten to about 5cm in diameter. Repeat with the remaining mixture leaving big spaces between each biscuit (the mixture spreads when cooking)

Bake in a pre-heated oven at 180 degrees C (160 degree fan, gas mark 4) for approx. 5 - 10 minutes until golden

Leave to cool on the baking tray, then store in an airtight container, or eat immediately!
Notes
Nutrition data for guidance only
Nutrition (Approx)
Calories:
71
kcal
|
Carbohydrates:
7
g
|
Protein:
1
g
|
Fat:
5
g
|
Saturated Fat:
3
g
|
Sodium:
6
mg
|
Potassium:
24
mg
|
Fiber:
1
g
|
Sugar:
5
g
|
Calcium:
7
mg
|
Iron:
0.3
mg