Busy.
That sums up my week, and I'm sure it sums yours up too?
What in the world is going on? I'm too busy, you're too busy, everyone is too busy.
We all need to just slow down!  I'm writing that down in case it sinks in and I actually do it!
So why have I been so busy?
Well, before the school's break up next week I have seven recipes to develop and test for Nature's Path and three recipes to develop and test for the Zero Gluten Baker.  Yes!  Exciting stuff!!!!
So now I am officially creating recipes for Nature's Path, using their wonderful gluten-free, organic breakfast cereals, the Zero Gluten Baker (the only bread maker that has a multitude of specific gluten-free bread programmes) and Coconut Merchant (using my favourite coconut products!).
I am in freefrom heaven and my dream job is slowly becoming a reality thanks to my lovely little blog!
I gave some of you a sneaky peak of my new Nature's Path recipes earlier in the week on Facebook and Instagram.
If you want to see what new creations I have then those are my accounts to follow!
For those of you who missed them then here are a few photos to whet your appetite.  Keep your eyes peeled on the Nature's Path website for the recipes!
In addition I have created a delicious balsamic roasted strawberry crunch jar (perfect for breakfast on the go, or a healthy pudding), a layered apple and blueberry breakfast crisp, some salted caramel crispie slices and lentil and cashew nut cutlets.
All of them are gluten-free and egg-free and most are dairy-free too!
I have to say, however, that the weather has not been helping in my recipe developments.
Gluten-free bread and humidity do not get on!!
After a lot of trial and error I am pretty much there with two gluten-free and dairy-free loaf recipes for the Zero Gluten Baker that use ingredients you can get in your supermarket.
In addition I have perfected a gluten and dairy-free sticky toffee pudding that went down rather well with the family!
The right amount of sticky and sweet to satisfy any pudding lover, and being created in the bread maker means the oven is free for the main course!
Anyway, because I have such a backlog of recipes to post on here I thought I would share another one today (two a week at the moment!).
A few weeks ago I was sent some coconut products from Biona.
I always use Biona cuisine coconut oil when I don't want the flavour of coconut in my recipes, but want the benefits of coconut.
In this recipe I used their 'ordinary' coconut oil but don't worry…if you don't like coconut, the flavour of ginger shines though and I challenge you to detect the coconut.  Even Mr M didn't detect it (and he hates coconut!).
I hope you enjoy the recipe!  They take a matter of minutes to whip up and bake but beware…they take the same amount of time to demolish!  Even I can eat these on the GAPS/SCD diet which makes me very happy!!!
The recipe is for a very small quantity for two reasons…so that I don't eat too much sugar (and so you don't either!), but also because they go soft very quickly.
The honey acts as a moisture absorber so they don't last long (on either front…because they are too nice to be left alone and because they go soft!).  Best to make a small batch and eat them straight away!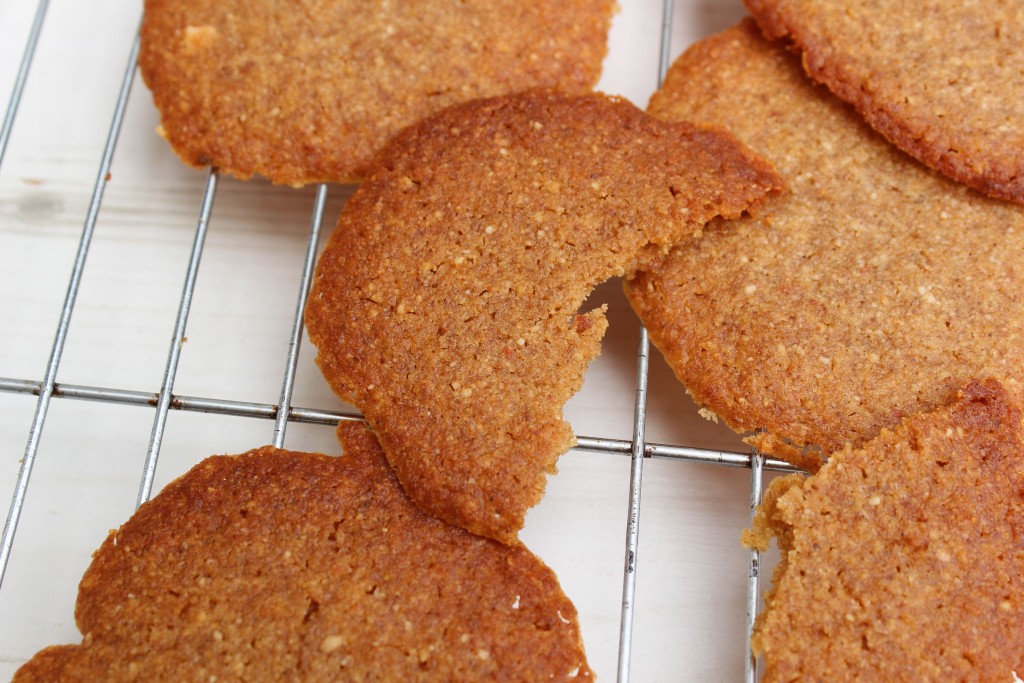 As with all of my recipes…if you try them please do post a picture on your favourite social media site.  It makes my day to see you enjoying my recipes!
Have a great weekend.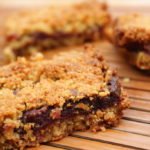 Ginger Biscuits
Gluten-free, Grain-free, Dairy-free, Egg-free, Soya-free, Refined Sugar-free, GAPS, SCD, Paleo
Ingredients
3

tbsp

coconut flour

2

tbsp

coconut oil

2

tbps honey

1

tbsp

almond butter

you can make your own by 'whizzing' almonds in a blender or food processor with a little flavourless oil

1

tbsp

ground ginger
Method
Place all the ingredients in a bowl and mix until a sticky dough forms

Grease or line (with baking paper) a large baking tray

Remove 1tsp of the mixture from the bowl and flatten to about 5cm in diameter. Repeat with the remaining mixture leaving big spaces between each biscuit (the mixture spreads when cooking)

Bake in a pre-heated oven at 180 degrees C (160 degree fan, gas mark 4) for approx. 5 minutes until golden

Leave to cool on the baking tray, then store in an airtight container, or eat immediately!