These fruit & fibre flakes are the perfect alternative to shop bought cereal. They are also gluten free.
This post contains Affiliate links. As an Amazon Associate I earn from qualifying purchases.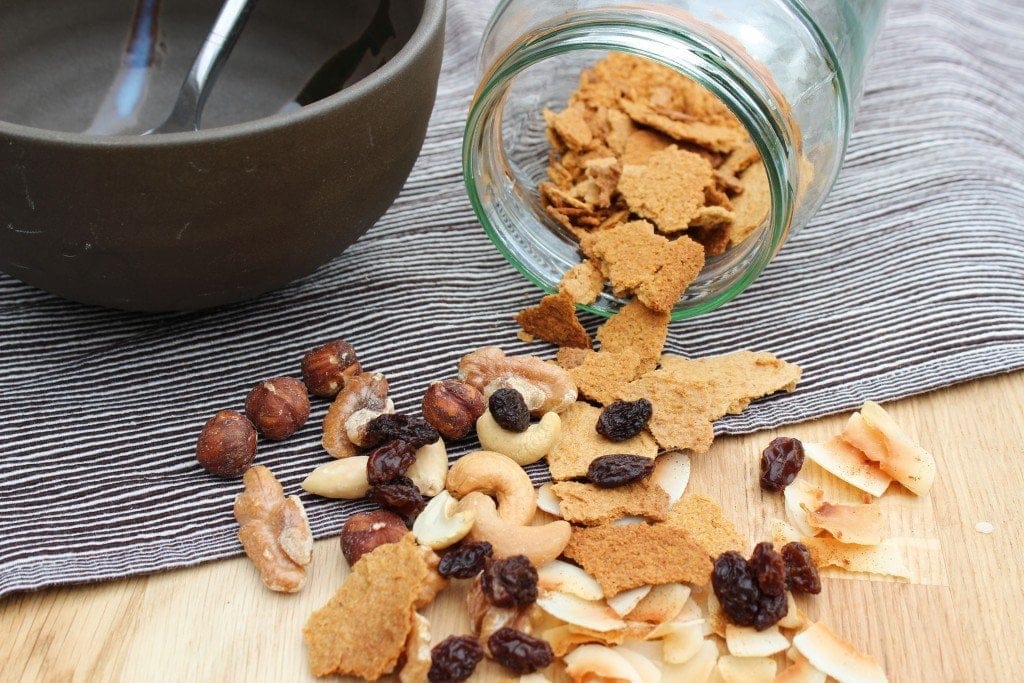 Good morning my lovely reader.  How was your weekend? Ours was great…little Pickle turned 6 yesterday and we had a small party for him on Sunday with a trip to the bowling centre with a few friends.
Some of you will have seen the cake I made for him on social media, but for those of you who missed it then here it is…
I have to confess to being very proud of this one.  I am sure scoffing half a box of Montezuma's chocolates while decorating it, helped no end!  Rather than get bored half way through I rejoiced in seeing 'Bob' coming together as I popped another chocolate in my drooling mouth!  Having been sugar-free since the beginning of March the joy in the sweet, melting, luxurious chocolate drowning my taste buds was magnificent!!
I have alluded in previous posts that I am fed up with seeing minimal benefits to my tummy of the SCD/GAPS diets.  The excuse of running some tests to check for leaky gut and potential 'dodgy' bacteria/parasites was enough to allow myself these delicious chocolates along with trying out my homemade sausage rolls that will feature in my book (yes, the pastry was homemade too using my special flour blend).  Oh boy they were good too!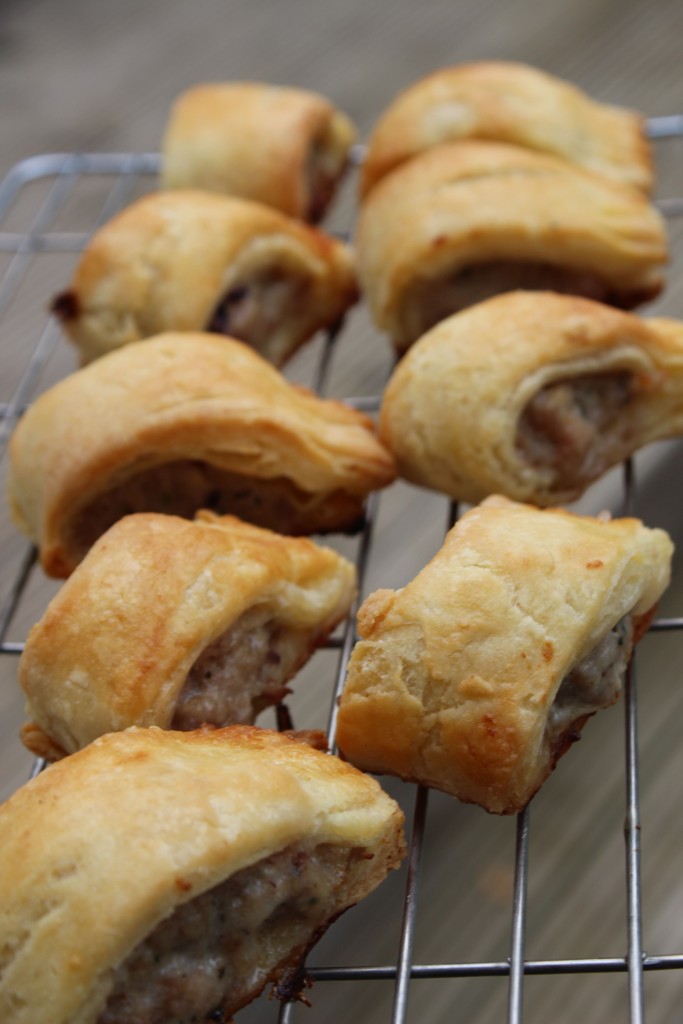 How do you make a gluten free Minion cake?
If you would like to make a 'Bob' cake then make a double batch of my basic cake recipe that I outline in my post 'chocolate cupcakes and the secret to great gluten-free cakes'.
Then cut the edges off to round of the rectangle.
Cover in 'butter' icing then colour some bought fondant icing yellow and cover the whole thing.
Then get creative with the details, colouring the icing as you go before rolling it out and applying it to 'Bob'!
For those of you who know me, I can't be bothered with 'faffing' and long complicated instructions so I'm afraid I will never get around to creating a proper tutorial on how to make it.  Sorry!
Having a birthday on a Monday means going to school and having a 'normal' day, so Mr M and I had promised Pickle a special fish and chip supper sitting in Rosie the campervan.  One thing that we had forgotten? The Darts Farm fish shed does not open on a Monday…so the grilled fish and chips cooked separately from the battered fish (making them safe for Roo) was not available, meaning no fish and chips for Roo.  Cue huge breakdown and tears from Roo and wailing that she hated being gluten-free all the way home.
Ordinarily none of us would have had fish and chips if Roo was unable to have them.  However, on this occasion (I think the only one ever) I decided to tell Pickle that he could still have his fish and chips since it was his birthday, and when Mr M got home he took him off to buy and eat them out of the house.
It pained me to see and hear Roo so upset, but later when she had calmed down and had demolished a big plate of gluten-free fish fingers and chips I explained my decision.  Pickle often misses out on things because of Roo…on this occasion I wasn't going to let that happen.  Roo was her amazingly incredible, strong and philosophical self and took it in her stride.  My love for her just grew a little bit more!
Anyway, it leads me to plead with Greendale Farm who do gluten-free fish and chips once a month, to just do them every day!  Why not? It makes great business sense to me…they would attract people from far and wide and for those who don't need a gluten-free diet…well they don't need to know they are gluten-free do they??!  It won't do them any harm (above all the fat!), in fact the gluten-free batter is better than the 'normal' one!  So please do it and prevent another painful evening for a little girl (I know, entirely selfish, but others would benefit too!!)…
OK, I have waffled on enough I know.  Sorry.  You have been very patient.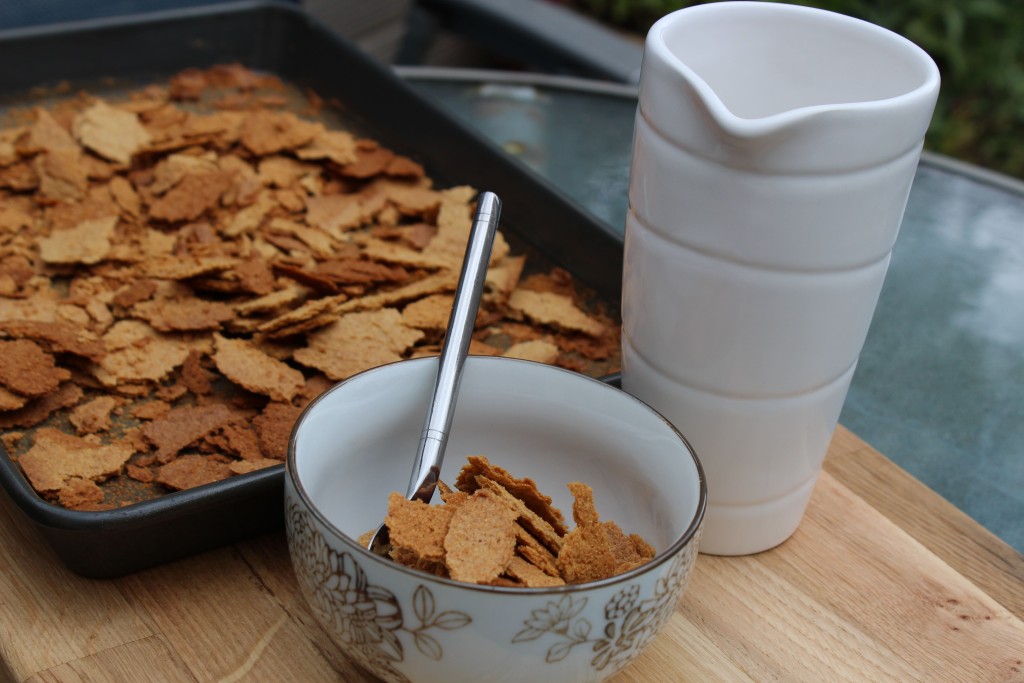 How do you make homemade cereal?
Yesterday I unveiled these wonderful flakes on social media and got lots of interest.
They are so simple to make and incredibly moorish.  I shall be playing with this recipe over the coming months to try out lots of different grains (and non-grains!).
The possibilities are endless and I have no idea why I haven't thought of it before.
Once you have the flakes add whatever takes your fancy…dried fruit, nuts, coconut crisps…the list could go on!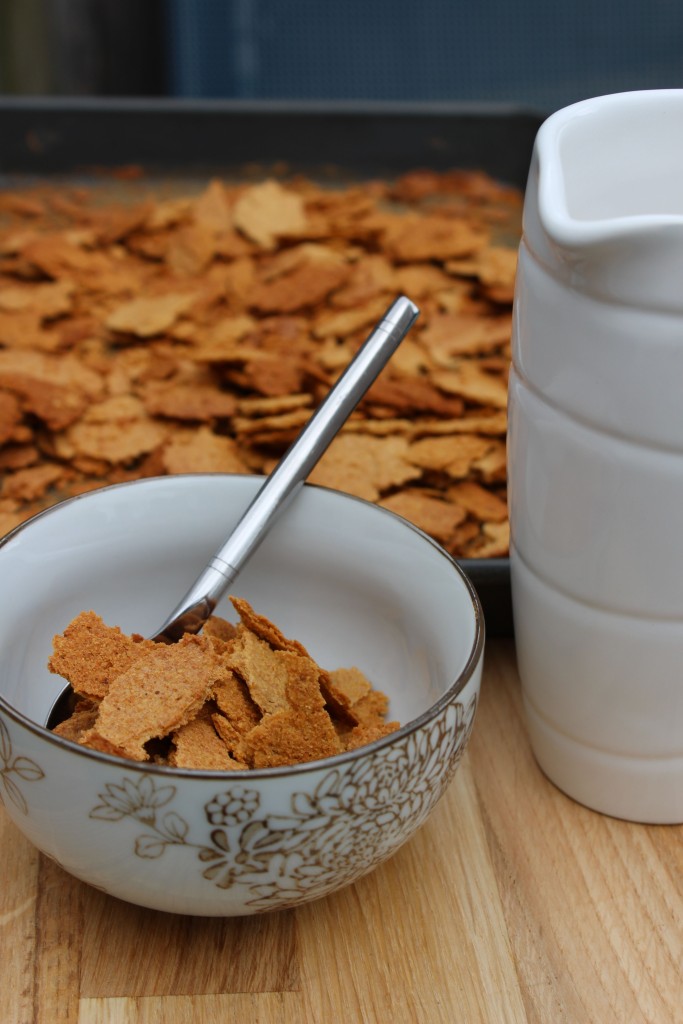 Roo tells me they are not sweet enough so feel free to add more honey (or other liquid sweetener of your choice) although be aware that you might need slightly less water.
Let me know if you make these.
Post a picture on social media tagging me! I love to see my creations being re-created in kitchens across the world!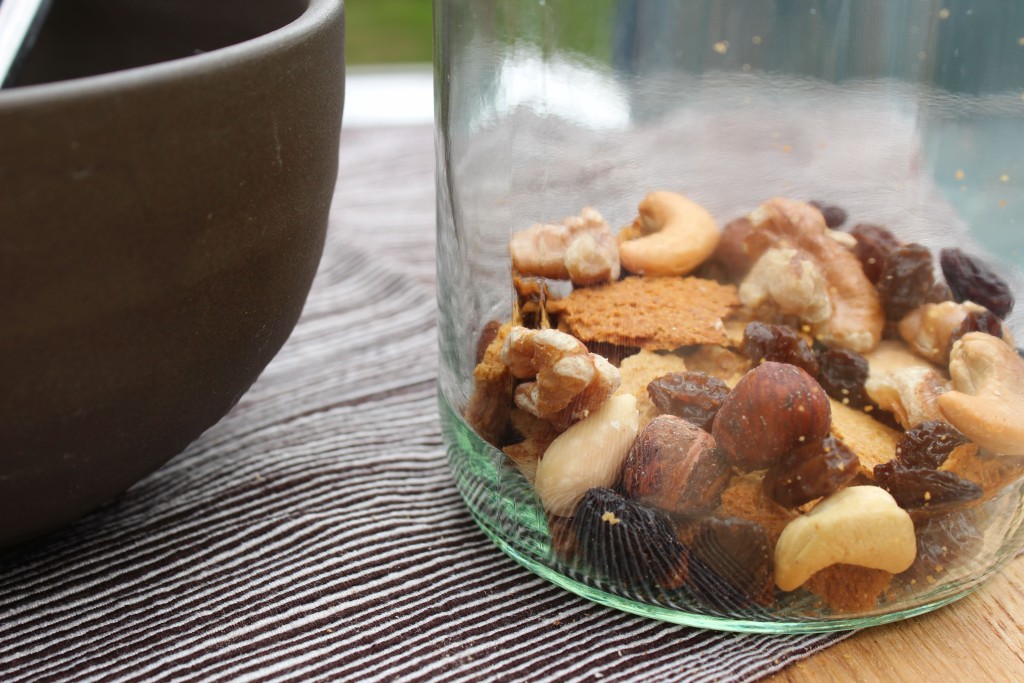 For this recipe you'll ideally need the following equipment:
Or something like this food processor with blender.
Or a small hand held chopper like this one.
I use these kinds of gadgets in lots of my recipes because they make life so much easier.
Pin the recipe so you don't lose it: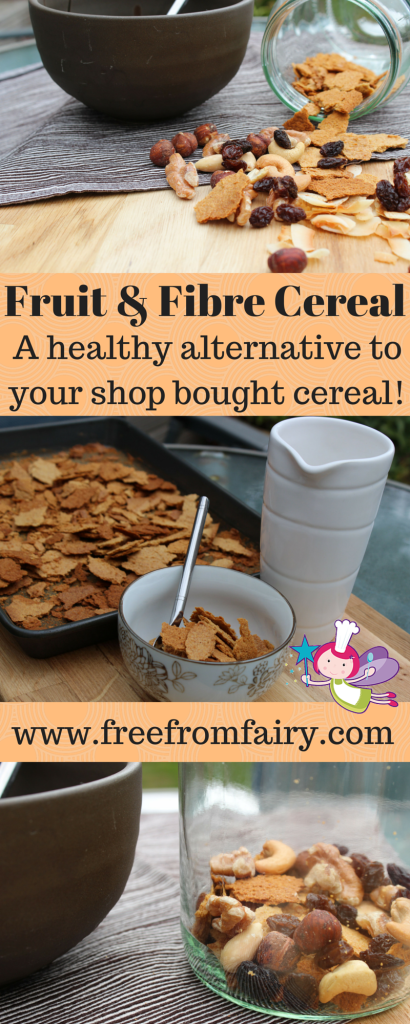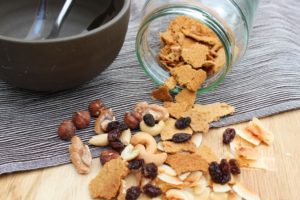 Healthy Homemade Fruit & Fibre Flakes
Gluten-free, Dairy-free, Egg-free, Nut-free, Soya-free, Refined Sugar-free
Ingredients
70

g

buckwheat

-

groats (whole) or flour - make sure it's gluten free

60

g

oats

-

make sure they're gluten free

60

g

polenta -

cornmeal

30

g

flaxseeds

-

whole or ground flaxseeds

Pinch

salt

25

g

coconut oil -

melted (or mild oil of your choice)

2

tbsp

honey

-

or other liquid sweetener of choice

100

ml

water

Optional extras once cooked:

Toasted mixed nuts

Mixed dried fruit
Instructions
Place the buckwheat, oats, polenta, flax seeds, salt and vanilla powder (not the extract if you are using that) in a blender and blend until you have a 'flour'. If you don't have a blender use a handheld chopper or a food processor and use ground flaxseeds.

Transfer the flour to a bowl (or keep in the food processor if using one) and add the melted coconut oil, honey, water and vanilla extract if you are using that

Lightly grease two baking trays then transfer the mixture between the two trays. It will be thick and sticky

Using the back of a tablespoon spread the mixture very thinly across the trays. You want it to be as thin as possible so that you get crunchy flakes

Don't worry about it looking good...after all you are going to break this up when cooked! Just try and make it smooth on top

Place it in a pre-heated oven at 160 degrees (140 degree fan oven, gas mark 3) for 25 minutes, then turn the oven off and leave the trays in the oven to cool

Once cooled, break the mixture into small pieces, add your optional extras and store in a jar or airtight container

Enjoy with milk for breakfast or as a snack any time of the day!
Notes
Nutritional data is for guidance only and doesn't include the extra's in the recipe.
Nutrition (Approx)
Calories:
298
kcal
|
Carbohydrates:
45
g
|
Protein:
7
g
|
Fat:
11
g
|
Saturated Fat:
6
g
|
Sodium:
5
mg
|
Potassium:
216
mg
|
Fiber:
5
g
|
Sugar:
8
g
|
Vitamin A:
30
IU
|
Calcium:
30
mg
|
Iron:
1.6
mg
I shared this with: