Finally, after almost eight years of posting recipes here I've got around to sharing this gluten free fruit cake. As it's Easter I'm giving the option to make it into a simnel cake too.
This post contains Affiliate links. As an Amazon Associate I earn from qualifying purchases.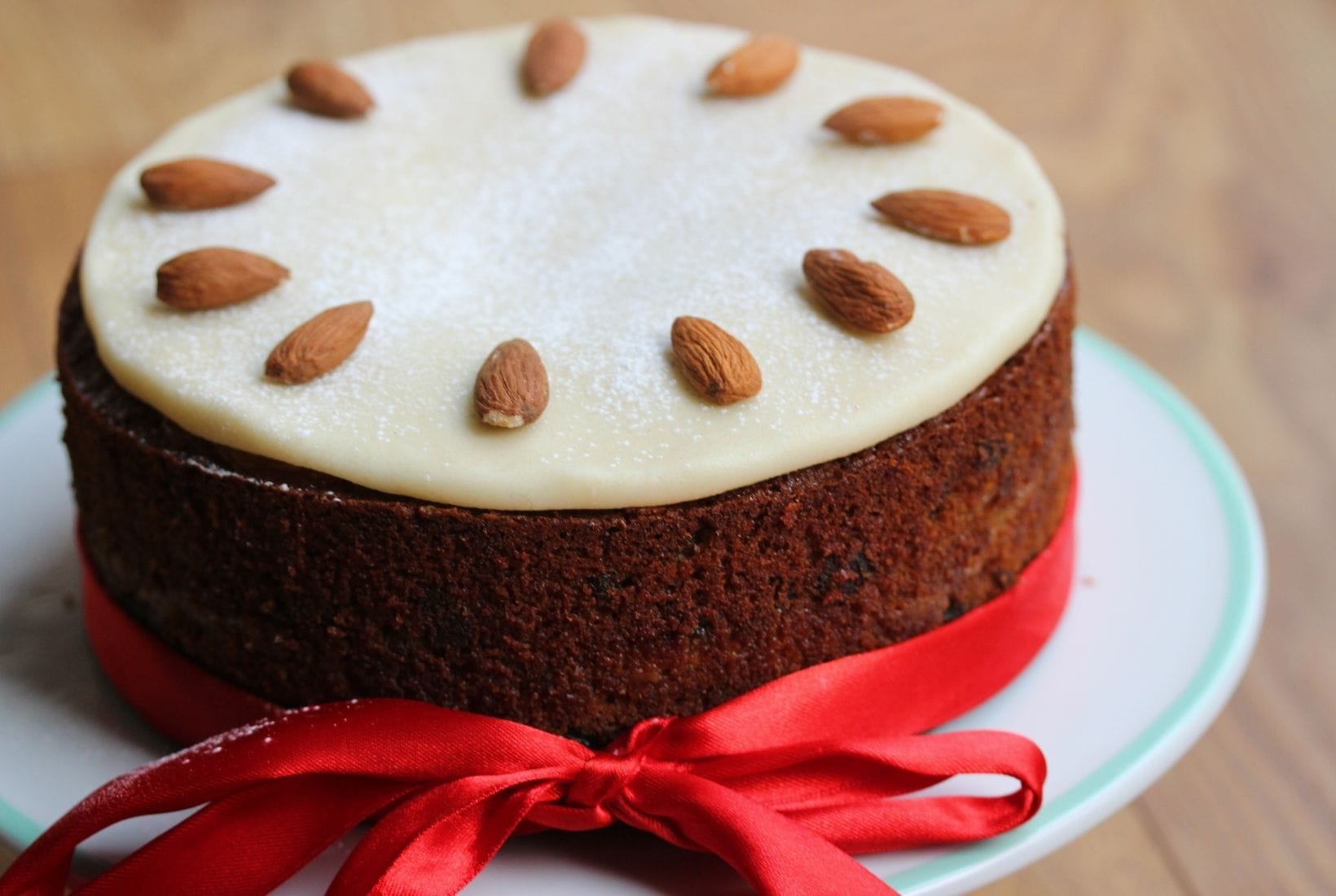 This gluten free fruit cake is moist and rich but be warned it won't last long! I've given different quantities of sugar, leaving it up to you how sweet you make it.
If you are making it as a gluten free simnel cake you may want to use the lesser amount because the marzipan adds a lot of sweetness.
How to make gluten free fruit cake
This fruit cake is much lighter than a rich fruit cake like my Christmas cake. I like to think of it as a sponge cake with lots of fruit in.
I prefer to use a high quality mix of dried fruit. In fact this year I found one in Tesco that had apricots and cranberries in. Of course you can make up your own selection of dried fruits so that you can pick the ones you particularly like. Just make sure if you're using large fruits like prunes and dates that you chop them finely.
It's very straight forward to make. The first step is to cream the butter and sugar together and then all the other ingredients can be added (except the dried fruit).
If you're really short of time you could use the 'all in one method' where you add the butter, sugar, flour, baking powder and eggs all at once. It'll be just fine.
I prefer to use a stand mixer to do this job but you could also use a handheld electric whisk or a wooden spoon and large mixing bowl.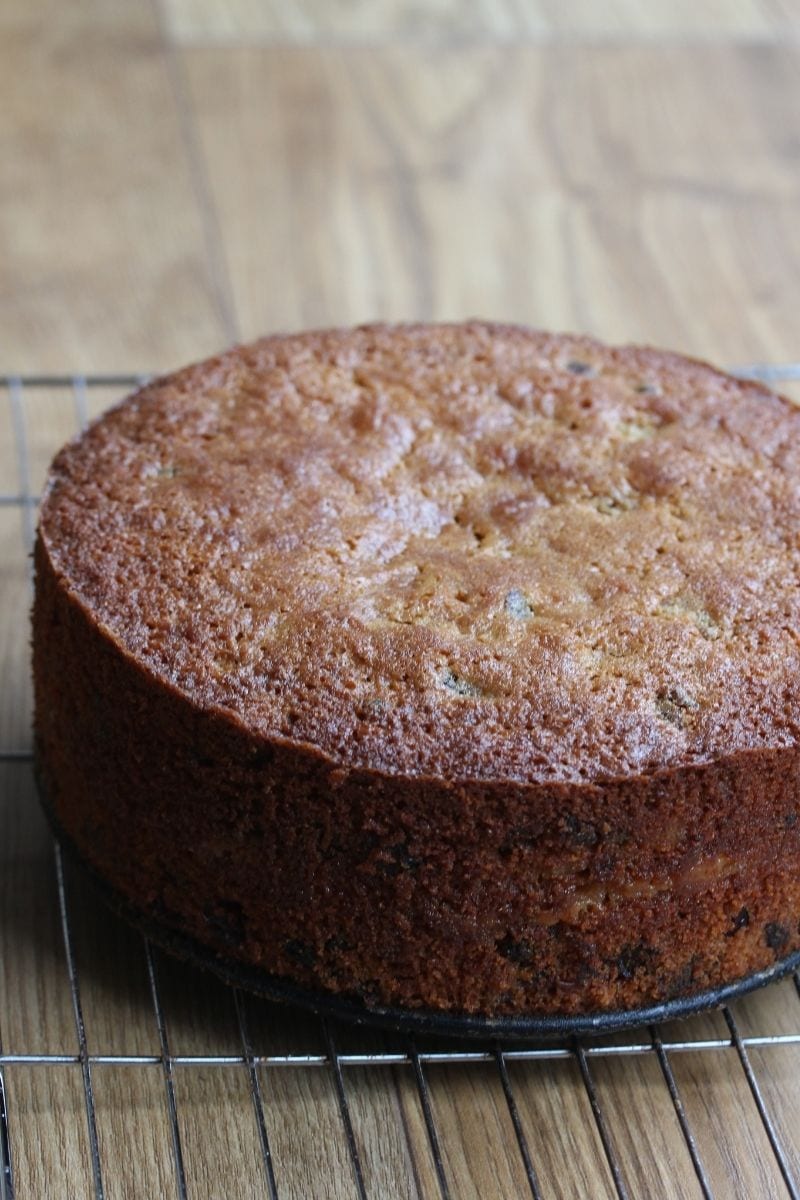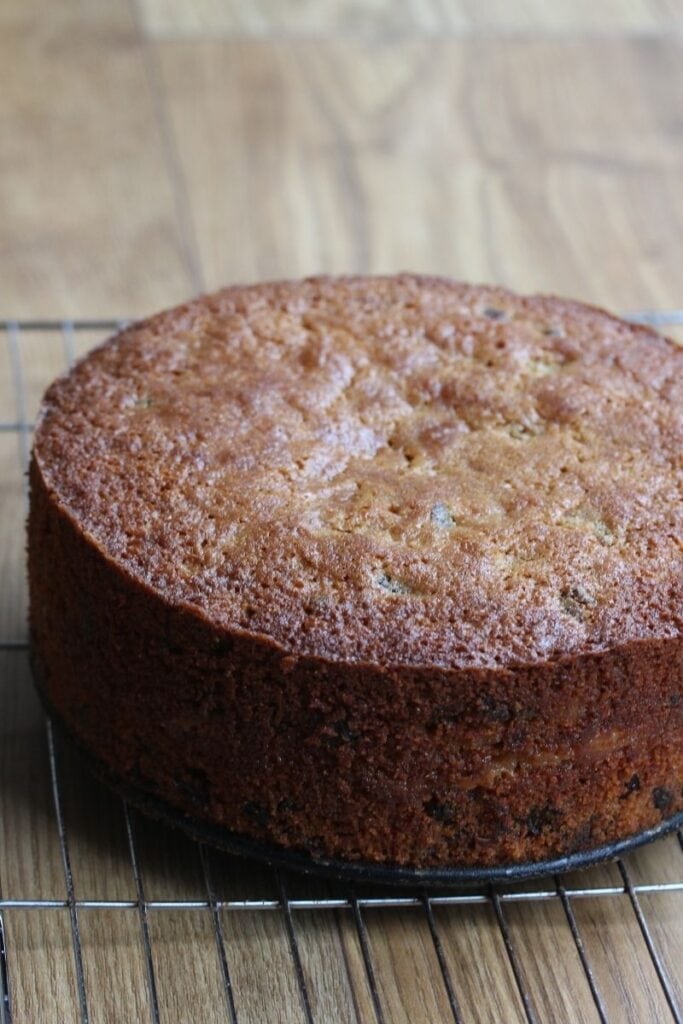 Once all the ingredients are mixed into a batter add the dried fruit and stir to distribute evenly.
Gluten free simnel cake
To make the fruit cake into a simnel cake roll approx. 250g marzipan into a disk the size of the tin.
Then scoop half the cake batter into the tin, followed by the disk of marzipan and then the remaining cake batter.
If making gluten free simnel cake rather than fruit cake I highly recommend using the lower amount of sugar listed in the ingredients.
Once baked and cool, use the remaining marzipan to decorate the top of the cake.
Traditionally there should be 11 marzipan balls on the top of the cake to represent the apostles minus Judas.
I used 11 whole almonds to reduce the sugar load.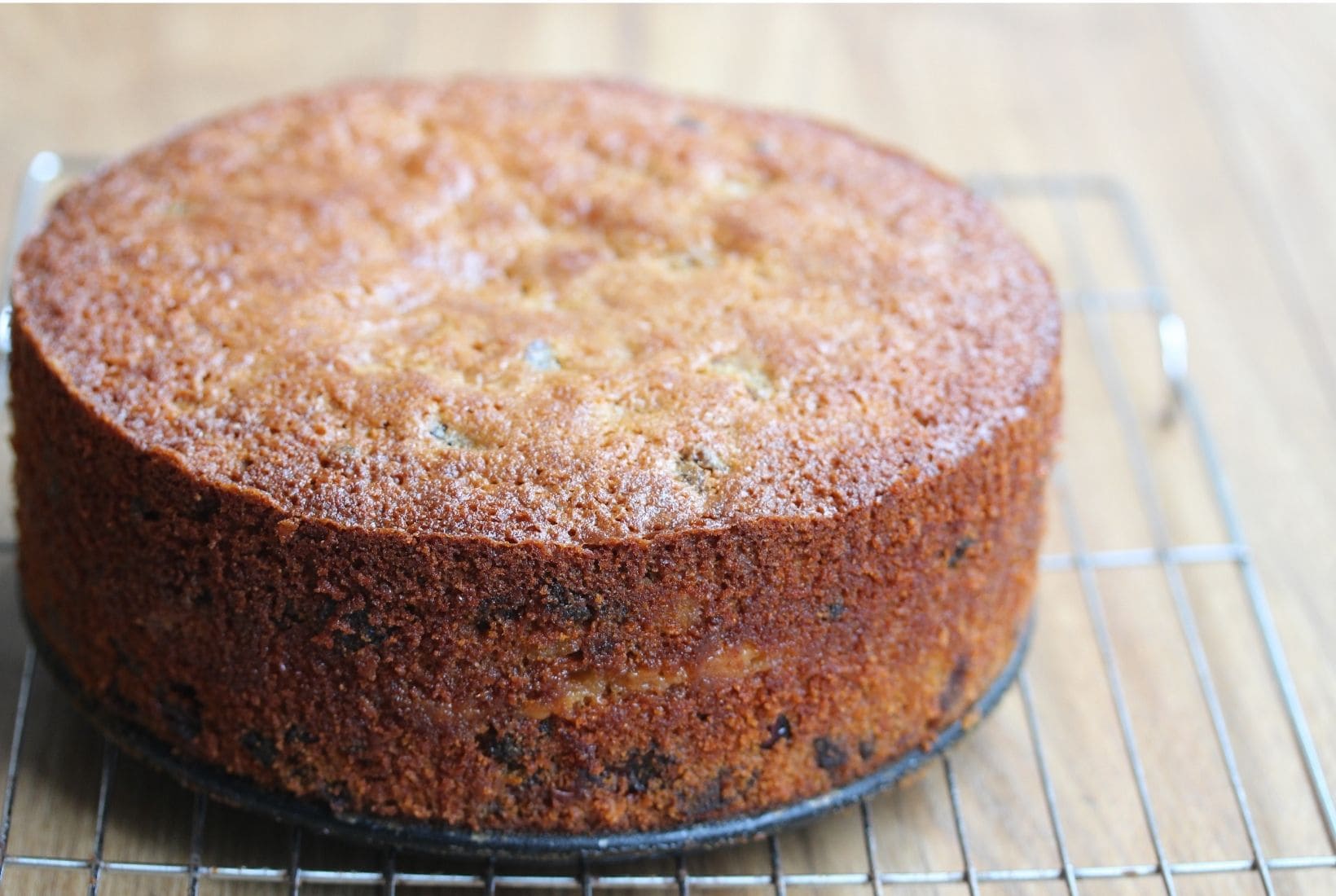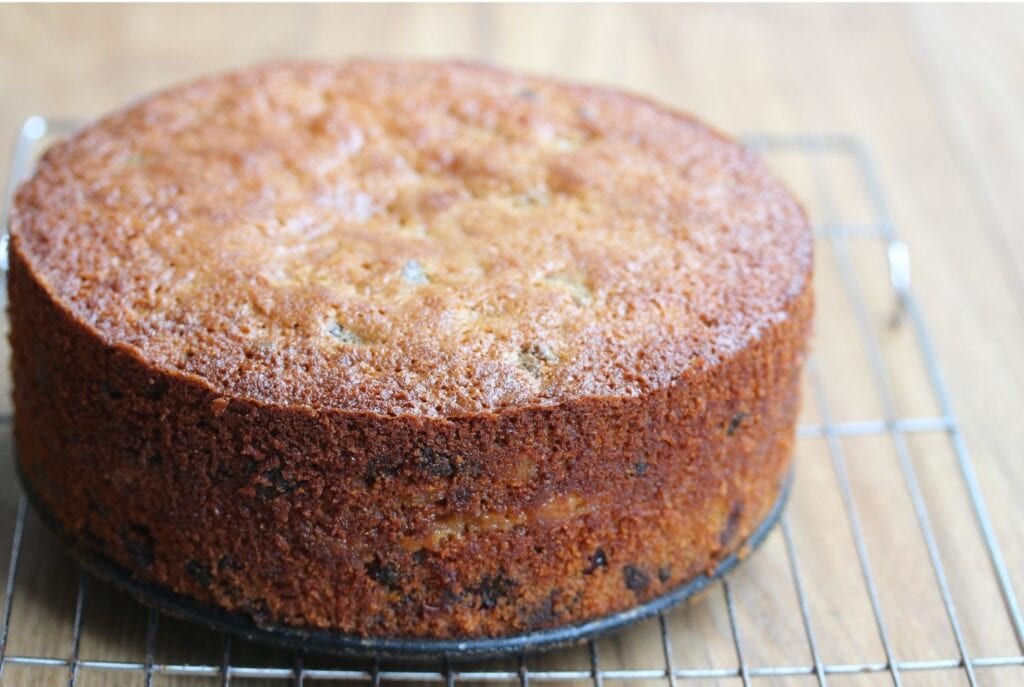 Homemade marzipan
If you feel inclined, and have a little more time, I highly recommend making your own marzipan. It has the most amazing taste and is very easy to make.
When I made the Christmas cake this year I made it for the first time and was surprised how easy it was. I followed this recipe that contains no eggs because I didn't want any problem with the marzipan not lasting long enough.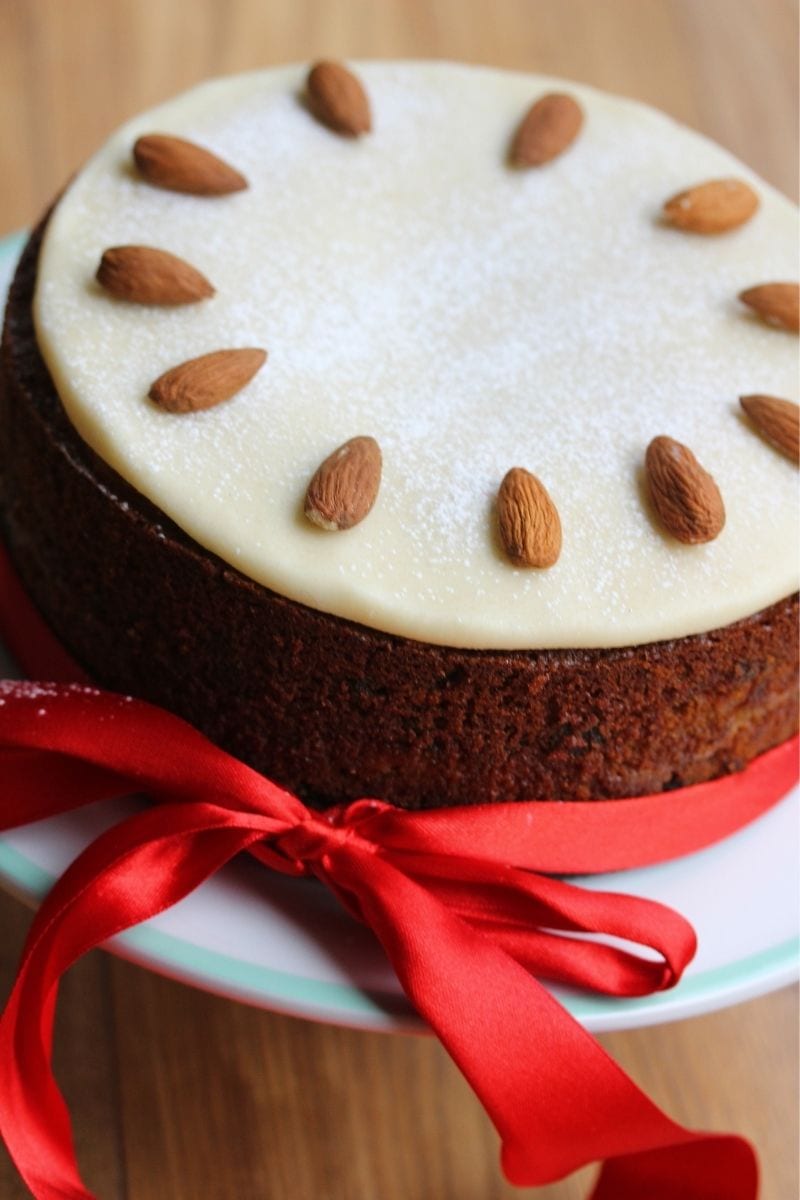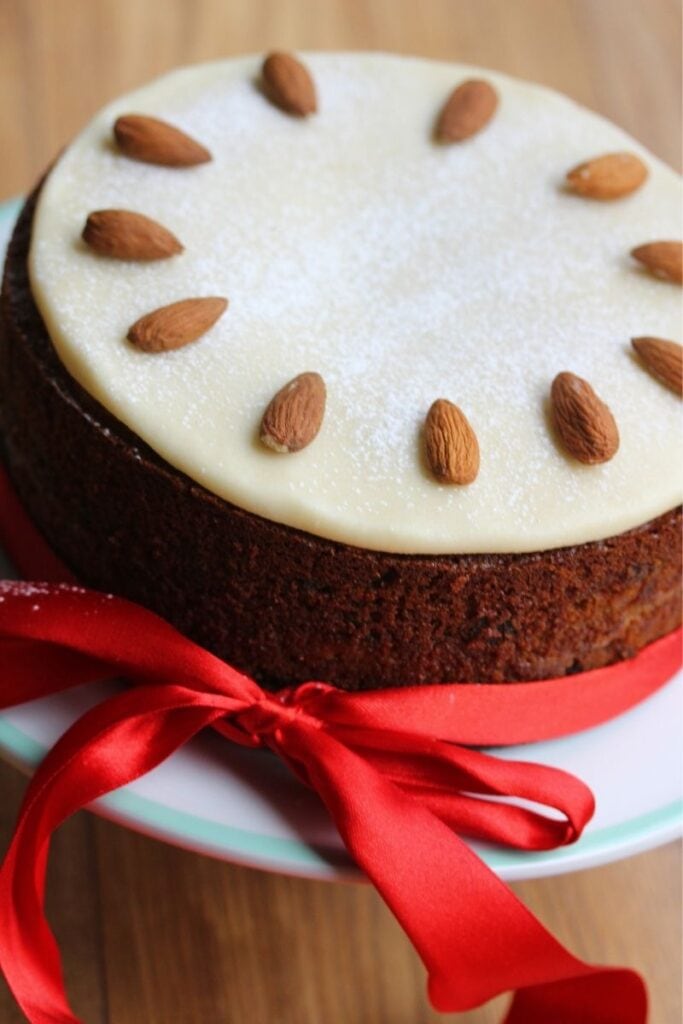 How do you keep a gluten free cake moist?
This is a lovely moist fruit cake but a lot of homemade gluten free cakes don't tend to last very long.
A lot of the problem is with the flour you use. If it is white starch based flour then it dries very quickly. That's one of the reasons why I use my wholegrain gluten free flour blend in all my cooking and baking.
The orange and lemon juice in this cake also help to keep it moist but to preserve it for as long as possible I highly recommend storing it in an airtight cake holder.
The cake will last for a week stored in this way.
If you don't think you'll eat it within a week then fruit cakes freeze well. Just slice it into pieces or cut the cake into chunks and defrost it when you want it.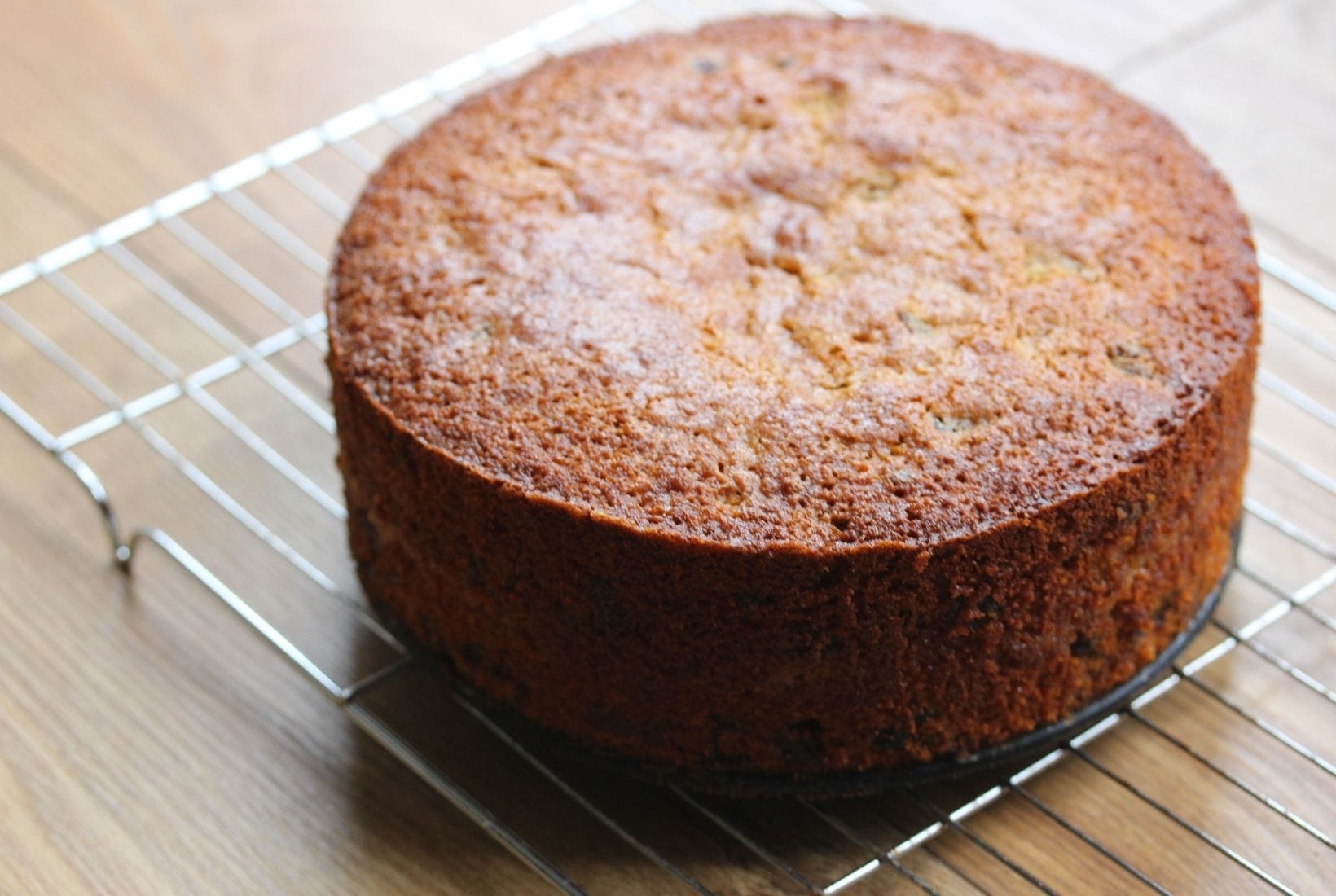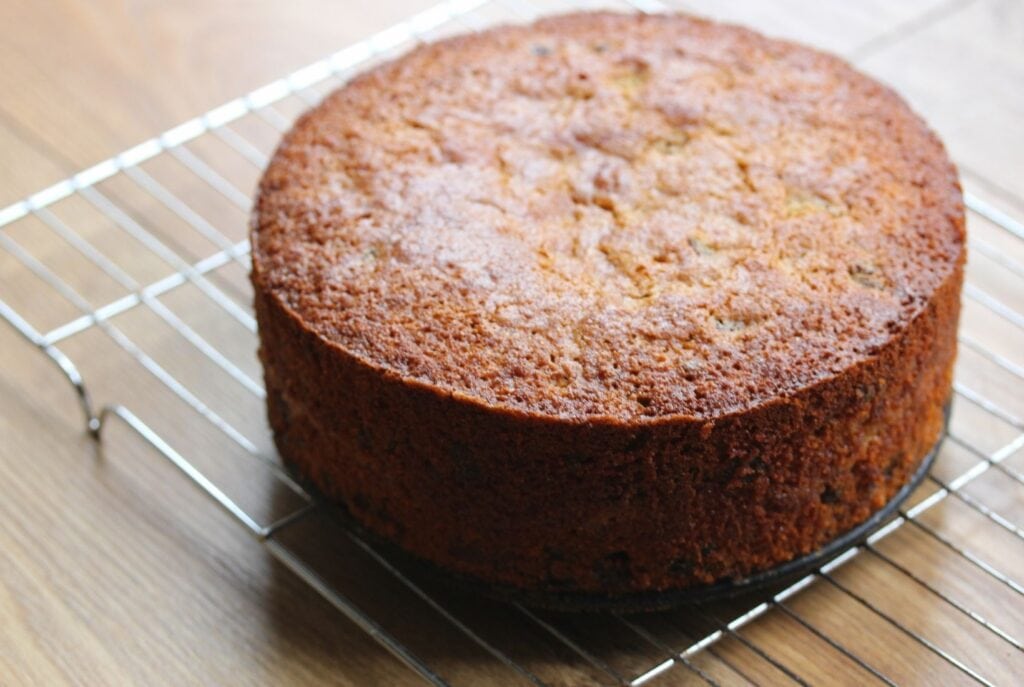 How long does the cake bake for?
If you cook a gluten free fruit cake for too long it will become dry; too short and it will be sloppy in the middle.
To check the cake is cooked insert a skewer into the centre of the cake. If it comes out clean it is ready, if it has any cake mixture on it then it needs to be cooked for longer. I suggesting cooking for a further 5 minutes at a time and checking between each 5 minutes.
Make sure you allow the cake to cool completely before cutting it or you'll likely find the centre is still a bit runny. Once it is completely cold the cake will have finished cooking and be firm in the middle.
Free recipe booklet
If you like the look of this recipe then please sign up below for my free downloadable recipe booklet. In it you'll get all the classic recipes but made gluten free. That includes Victoria sponge cake, scones and Yorkshire puddings.
You'll also get my weekly newsletter of recipe inspiration to help you make time to bake your own healthier gluten free food…
Pin the recipe for gluten free fruit cake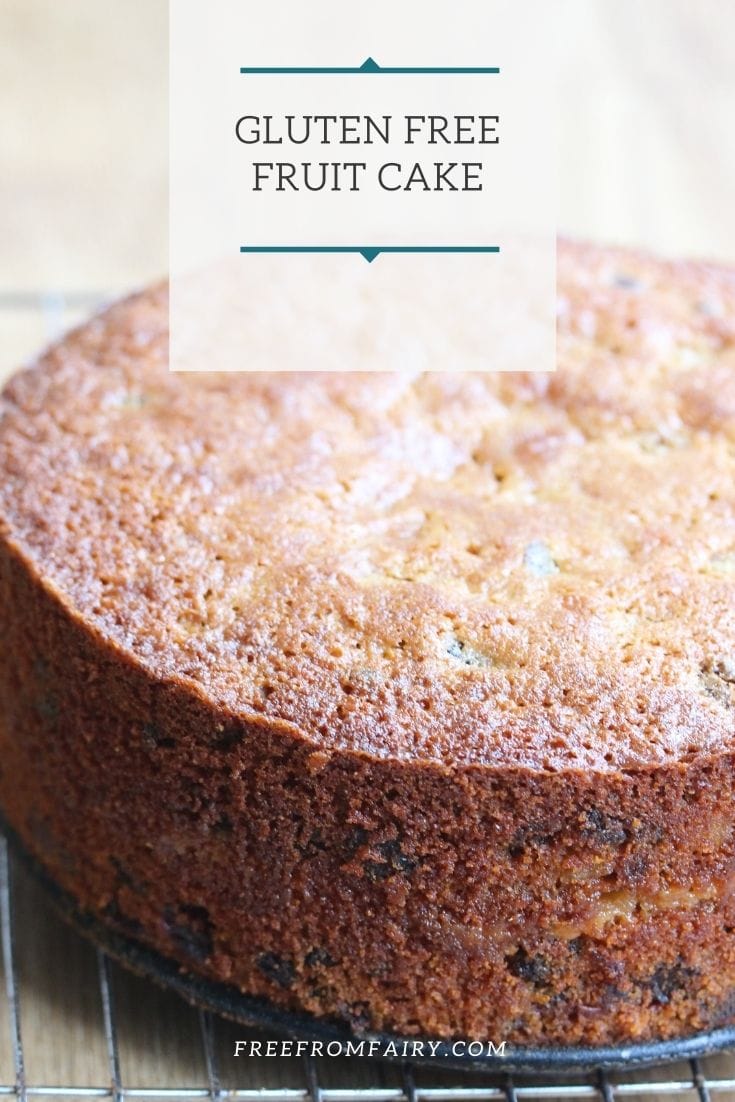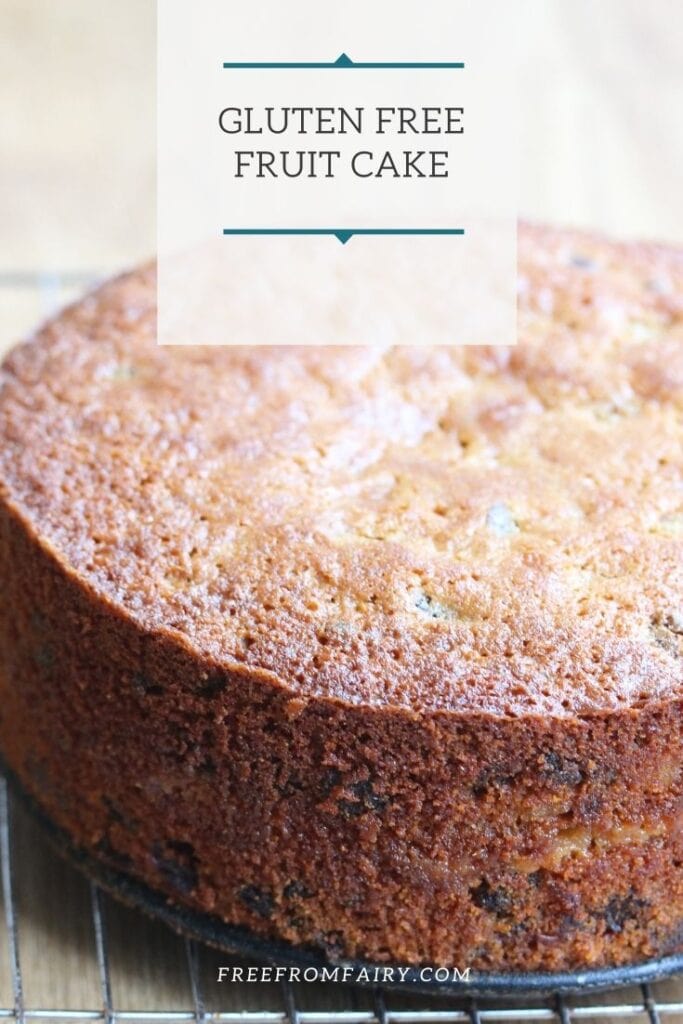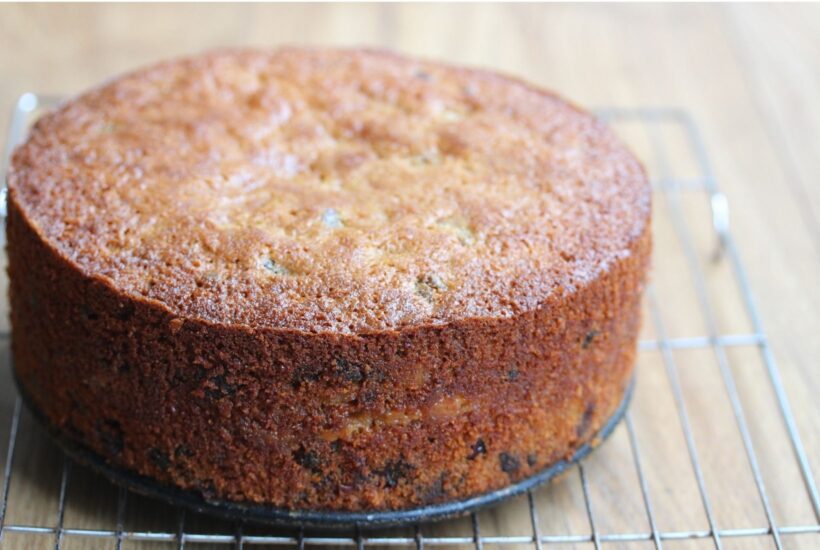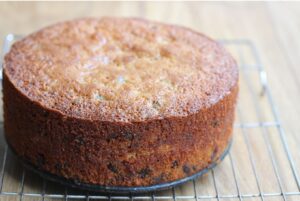 Gluten Free Fruit Cake (Simnel Cake Option)
A delicious moist gluten free fruit cake that can be made into a simnel cake for Easter. It's gluten free, can be dairy free and is suitable for those with coeliac (celiac) disease.
Ingredients
400

g

mixed dried fruit

-

or dried fruit selection of choice

1

orange

-

zest and juice

1

lemon

-

zest and juice

175

g

butter

-

or margarine or coconut oil

75

g

brown sugar

-

can be increased to 150g if not using marzipan

2 1/4

tsp

baking powder

2

tsp

mixed spice

4

medium

eggs

-

ideally organic

500

g

marzipan

-

optional
Instructions
Place the orange and lemon zest and juice into a large bowl with the mixed dried fruit and leave for at least 15 minutes

Turn the oven on to 180 degrees C/160 degree fan

Cream the butter and sugar together before adding the eggs, flour, baking powder and mixed spice. Beat until well combined

Finally add the mixed dried fruit and juice and stir well to combine

Grease an 18cm diameter circular tin and scoop half the cake mixture in if making a simnel cake. If making a fruit cake scoop all the mixture in and skip to step 9

If making a simnel cake divide the marzipan into two pieces and roll into balls

Roll both balls out to the size of your tin

Place one disk on top of the cake mixture and top with the remaining cake mixture

Cook the cake for around 1 hour 20 minutes until cooked through (and a skewer comes out clean)

Allow to cool before brushing with apricot jam and adding the remaining disk of marzipan for simnel cake. Or decorate however you like.
Notes
Nutrition information includes the marzipan and 75g sugar in the cake.
Nutrition (Approx)
Calories:
511
kcal
|
Carbohydrates:
66
g
|
Protein:
9
g
|
Fat:
25
g
|
Saturated Fat:
9
g
|
Trans Fat:
1
g
|
Cholesterol:
86
mg
|
Sodium:
145
mg
|
Potassium:
505
mg
|
Fiber:
6
g
|
Sugar:
40
g
|
Vitamin A:
480
IU
|
Vitamin C:
11
mg
|
Calcium:
137
mg
|
Iron:
4
mg