Last year when I launched my wholegrain vegan gluten free bread mix I made some wonderful gluten free hot cross buns with it. However, I never got round to sharing the recipe except in my private Facebook group. So, here it is. Soft, spicy and easy to make. The perfect gluten free hot cross bun!
This post contains Affiliate links. As an Amazon Associate I earn from qualifying purchases.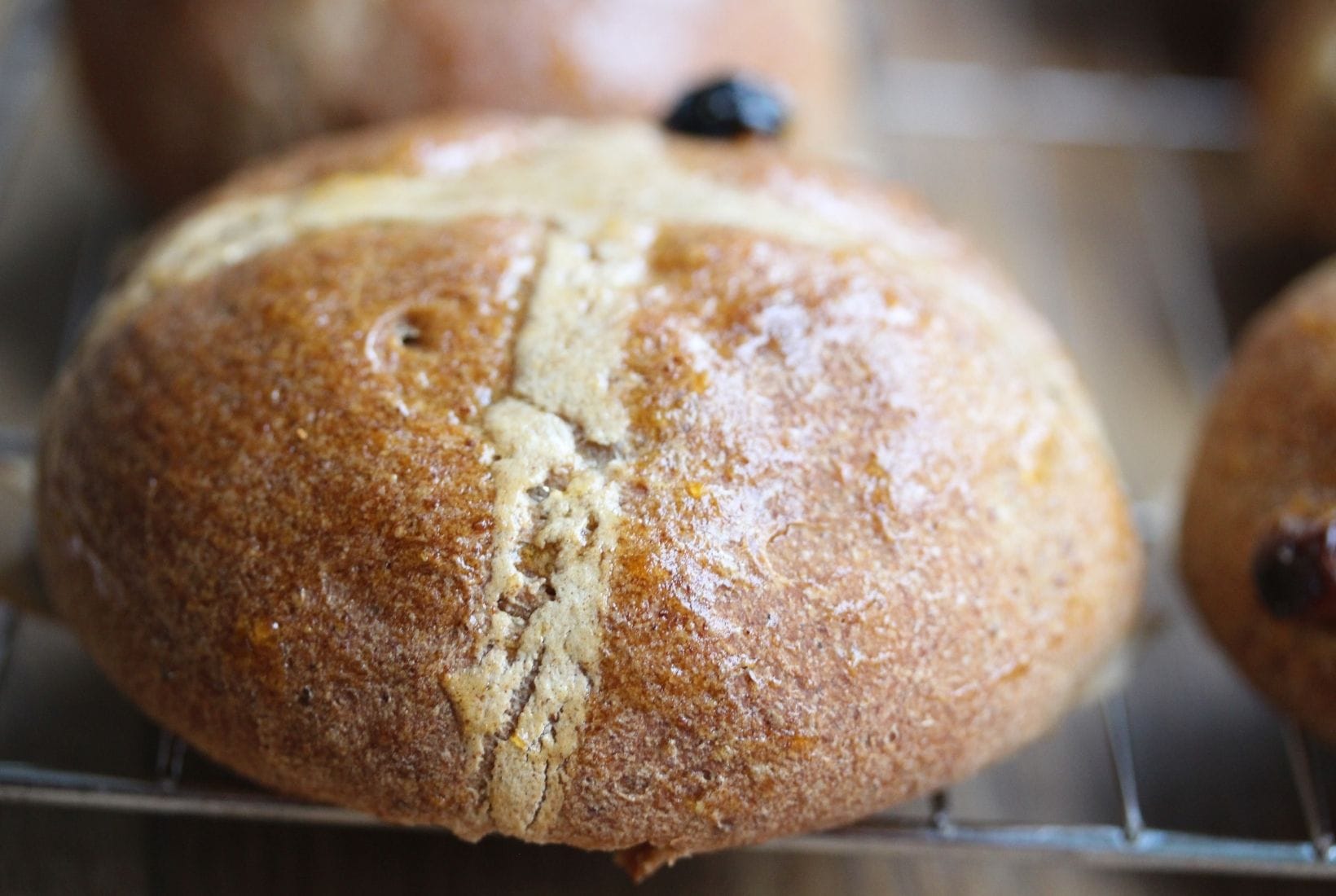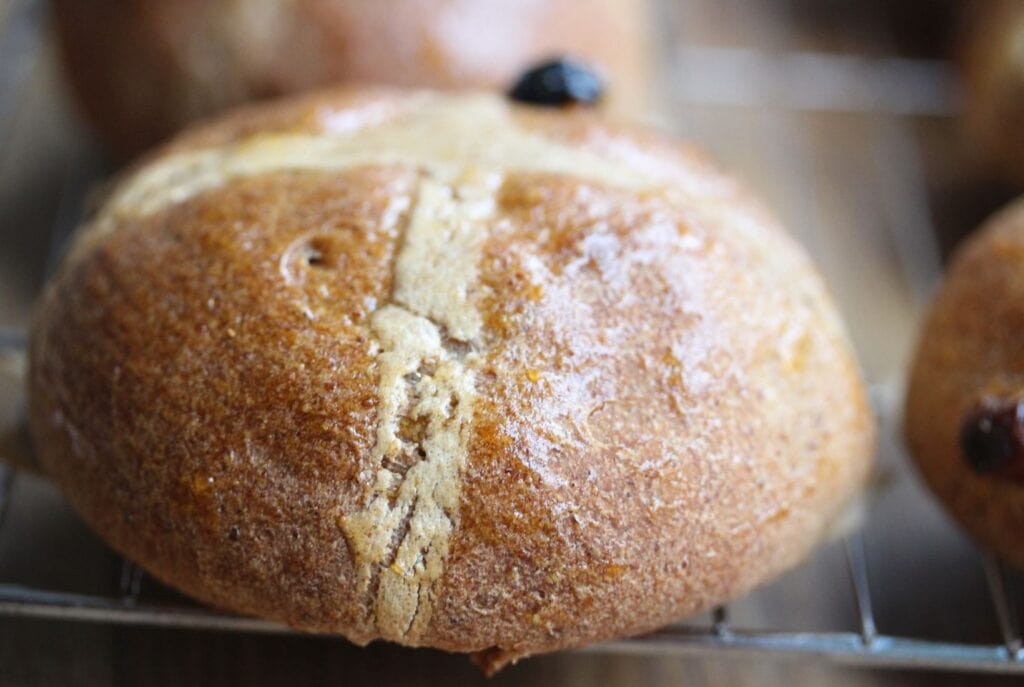 Hot cross buns have always been a firm favourite of mine and this year I've created the best recipe yet.
It uses my wholegrain vegan gluten free bread mix as the base for the most wholesome, soft and delicious gluten free hot cross buns you're likely to try.
If you don't want to buy my gluten free bread mix, or you can't because you live outside the UK you have two options:
Make one of my other hot cross bun recipes – linked to below
Join my How To Make Gluten Free Bread online cookery course where I'll share the recipe for the bread mix along with the recipe for my gluten free flour blend.
What is a hot cross bun?
For those of you who don't know, a hot cross bun is a yeasted, sweet, lightly spiced fruit bun that is traditionally eaten on Good Friday (Easter).
The cross on the top of the bun represents the cross that Jesus was said to be hung from while the spices are said to symbolise those that were put on Jesus' body after he died.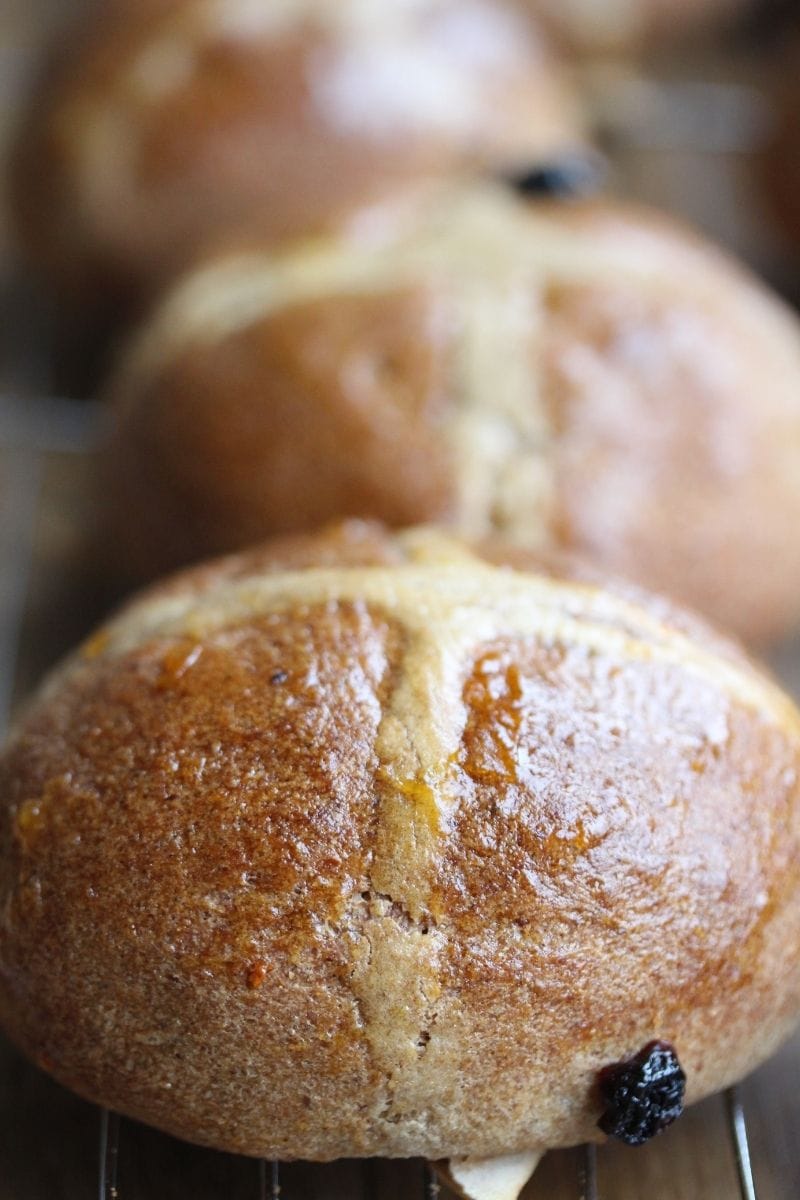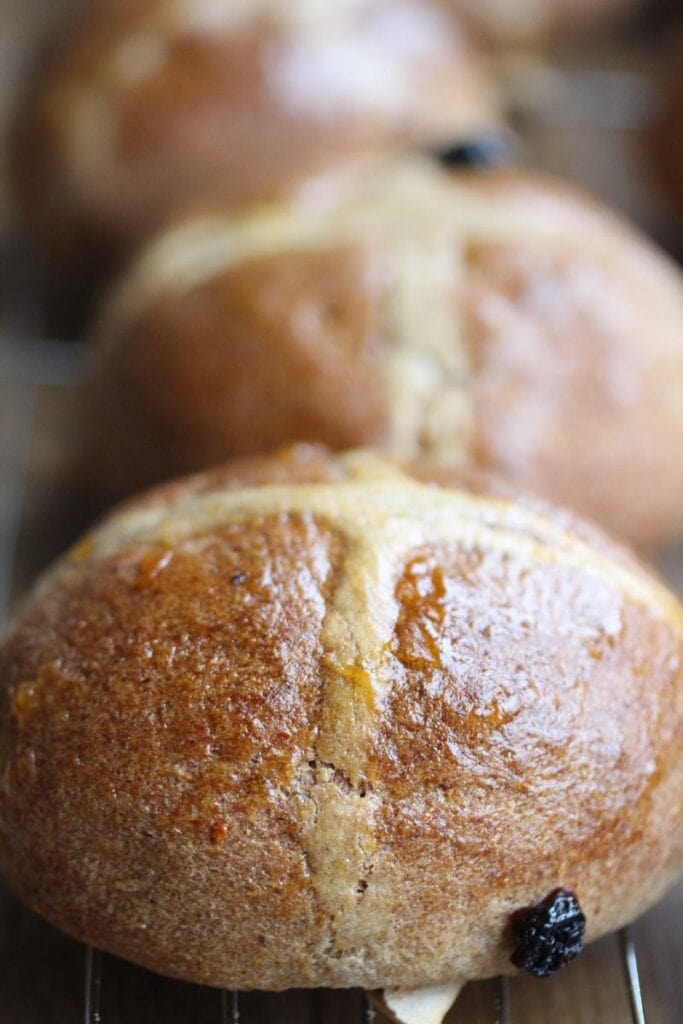 Are hot cross buns healthy?
Hot cross buns do contain sugar but nowhere near as much as a cake.
I use 50g sugar to make 10 buns so that means there is 5g sugar per bun. Of course there is also sugar in the dried fruit that you use.
If you want to keep the sugar content low then I suggest using unsweetened cranberries rather than raisins, currants or other mixed dried fruit.
Alternatively, you could make my refined sugar free hot cross buns.
How do you make the cross?
Believe it or not, the cross on a hot cross bun is made from flour and water.
For this recipe I used 2 tbsp of my gluten free flour blend plus around 1.5 tbsp water. You need to make a paste that is thick enough to drizzle but not too runny that it all falls off!
If you are feeling really fancy you can pipe the paste onto the buns.
However I tend to use a teaspoon and gently drizzle the paste over. Don't worry if it goes over the bun and onto the baking tray because you can snap the extra bits off once baked.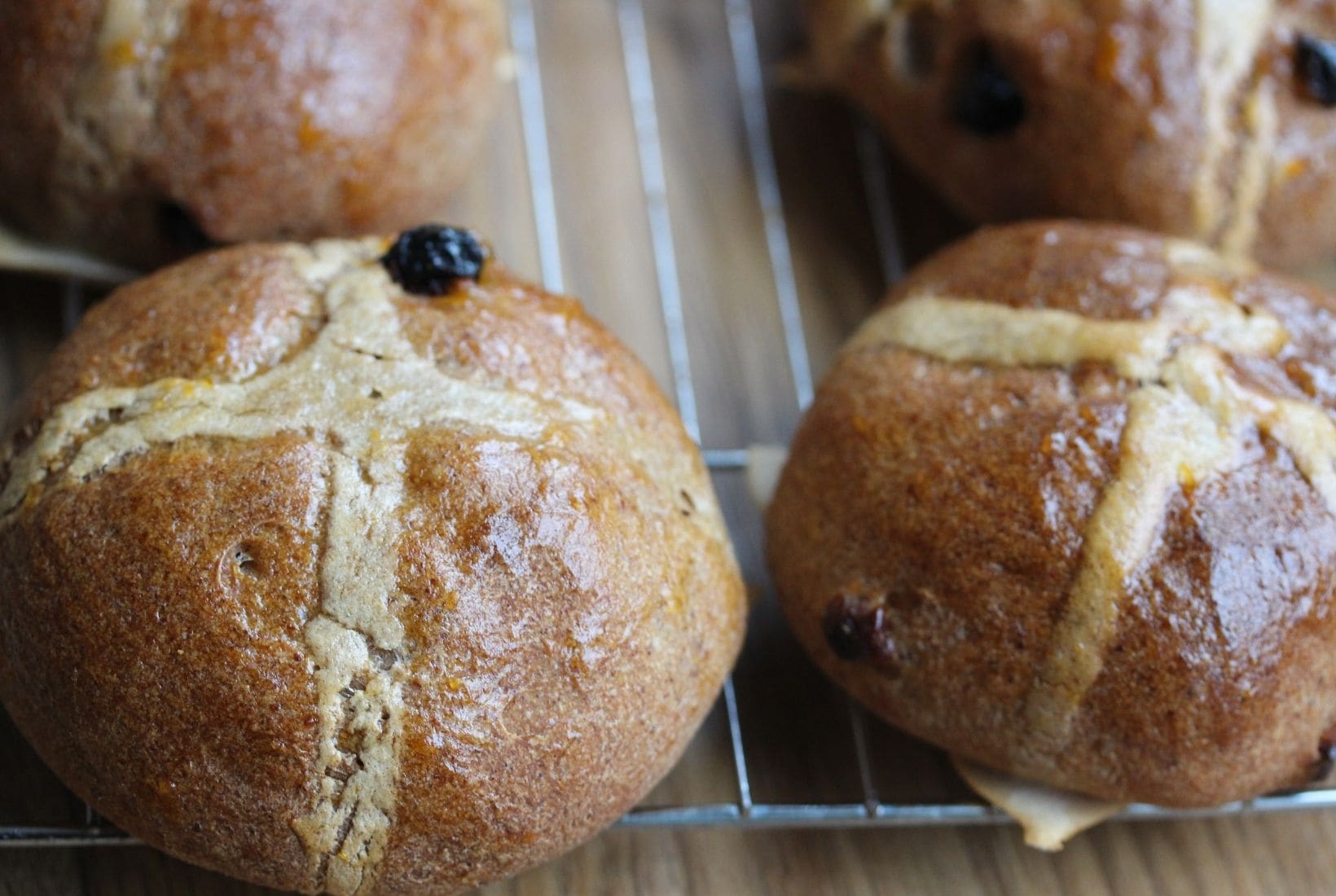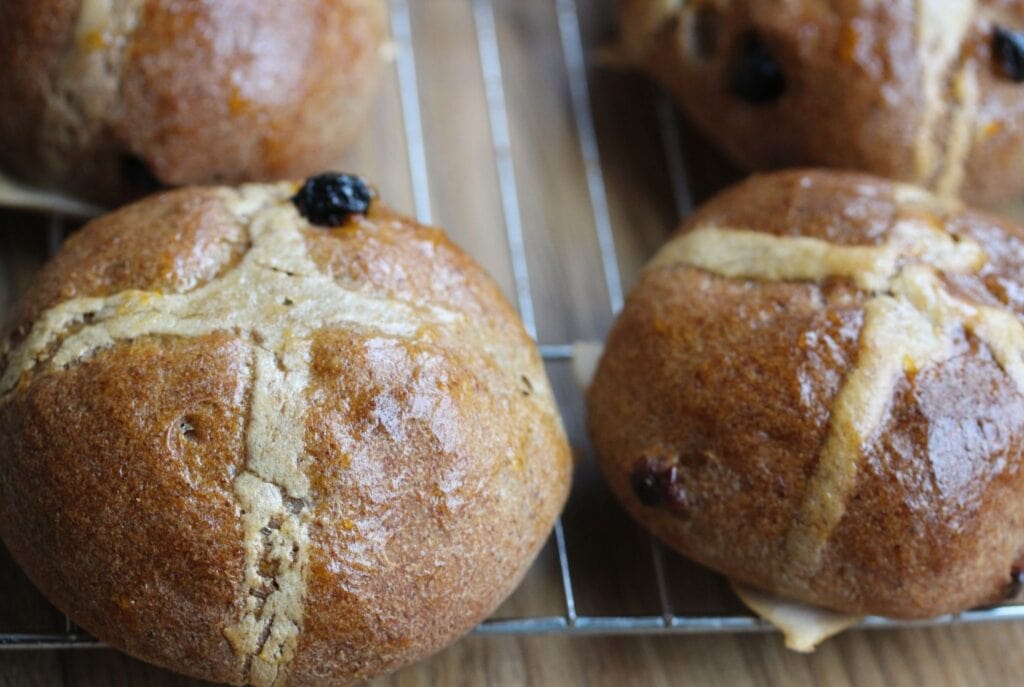 What equipment do you need to make gluten free hot cross buns?
You don't need very much to make these wonderful buns.
One of the great things about my gluten free bread mix is that it can be made with very little equipment.
You'll need a large mixing bowl, some accurate digital scales, two baking trays with non stick liner, a wire cooking rack, measuring spoons, spoons and a couple of smaller bowls.
If you would like no whole flax seeds in your mix then I recommend blending the dry ingredients using a high powered blender.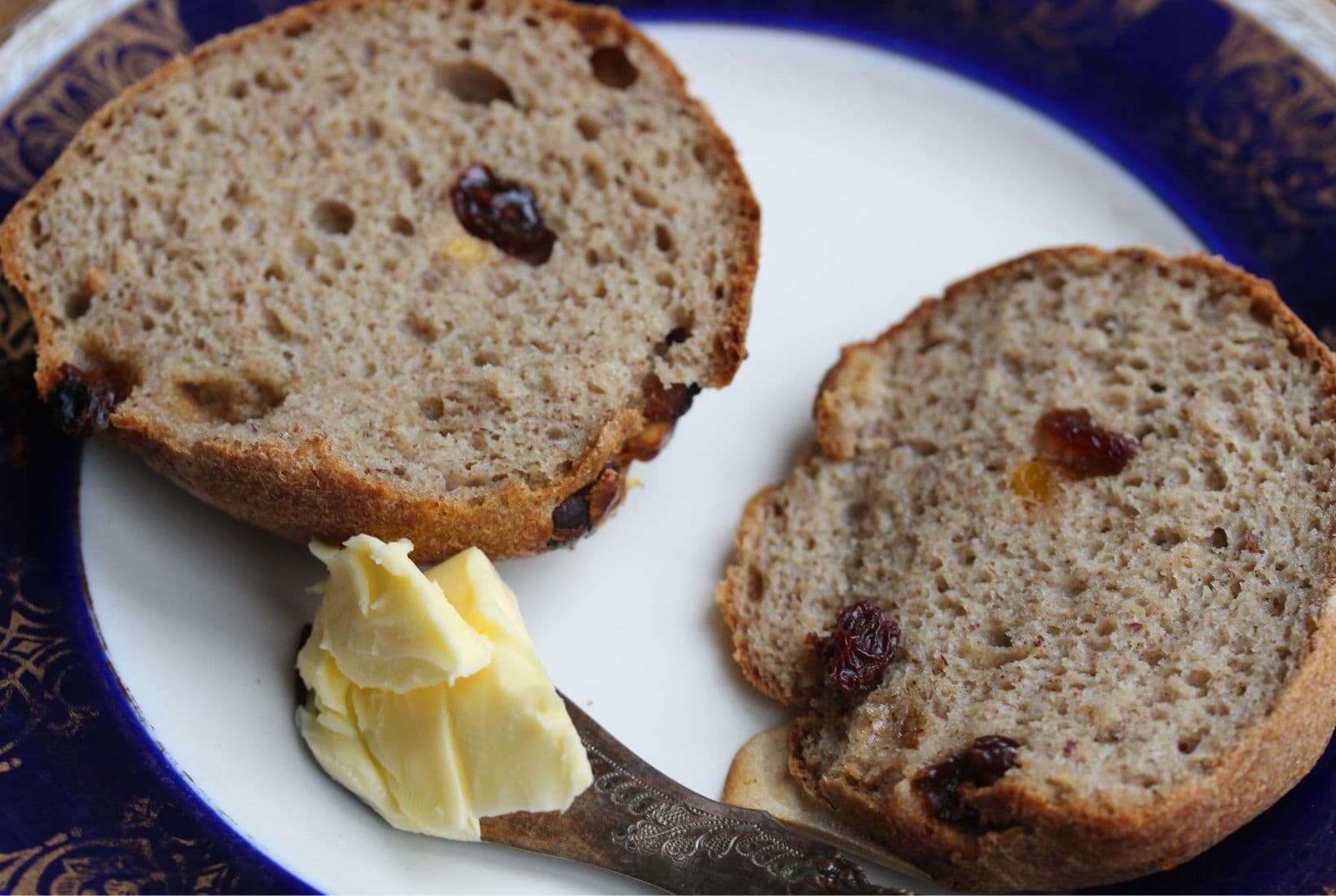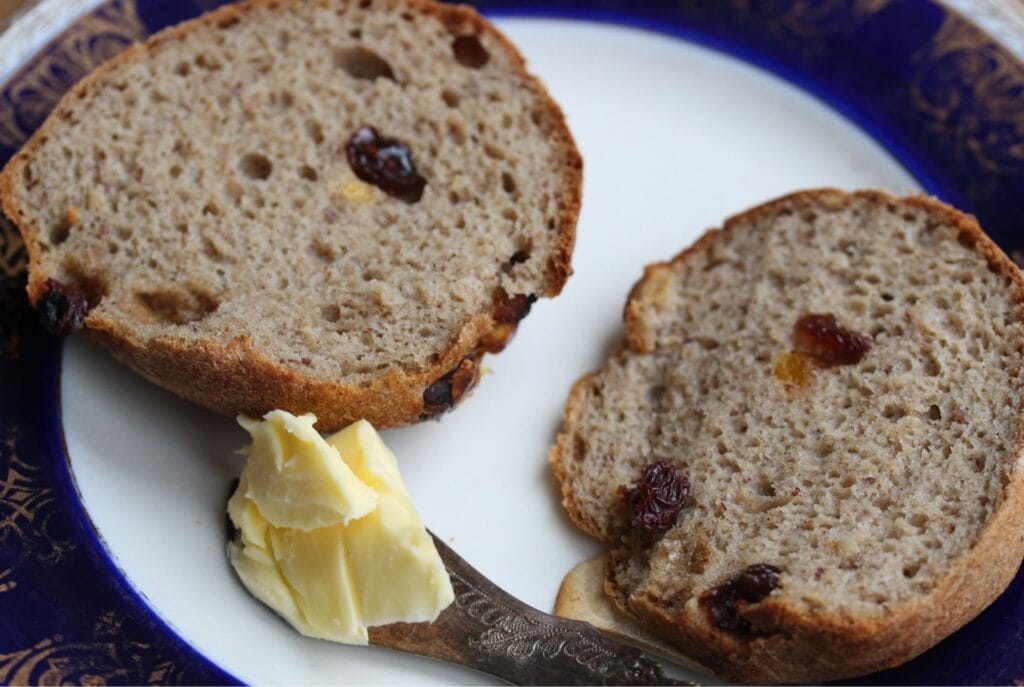 How do you make sure the fruit doesn't 'escape'
One of the problems I had when I first made this recipe was the dried fruit 'escaping' the bun and getting burnt on the top.
The way around this is to take a chunk of mixture and to add some dried fruit into the middle. Then carefully fold the mixture around the fruit so that it's hidden in the middle.
How do you shape the buns?
The easiest way to shape them is to wait around 5 minutes between mixing the ingredients together and attempting to shape them.
This allows the mixture to become less sticky as the psyllium husk powder and flax seeds will absorb some of the moisture.
Once the 5 minutes is up, rub your hands with olive oil and scoop out a piece of dough that fits in the palm of your hard. Around the size of a tennis ball.
Add the dried fruit and gently fold the dough around it, trapping the fruit in the middle of the bun.
Place on the prepared baking tray (lined with non-stick liner) and repeat with the rest of the dough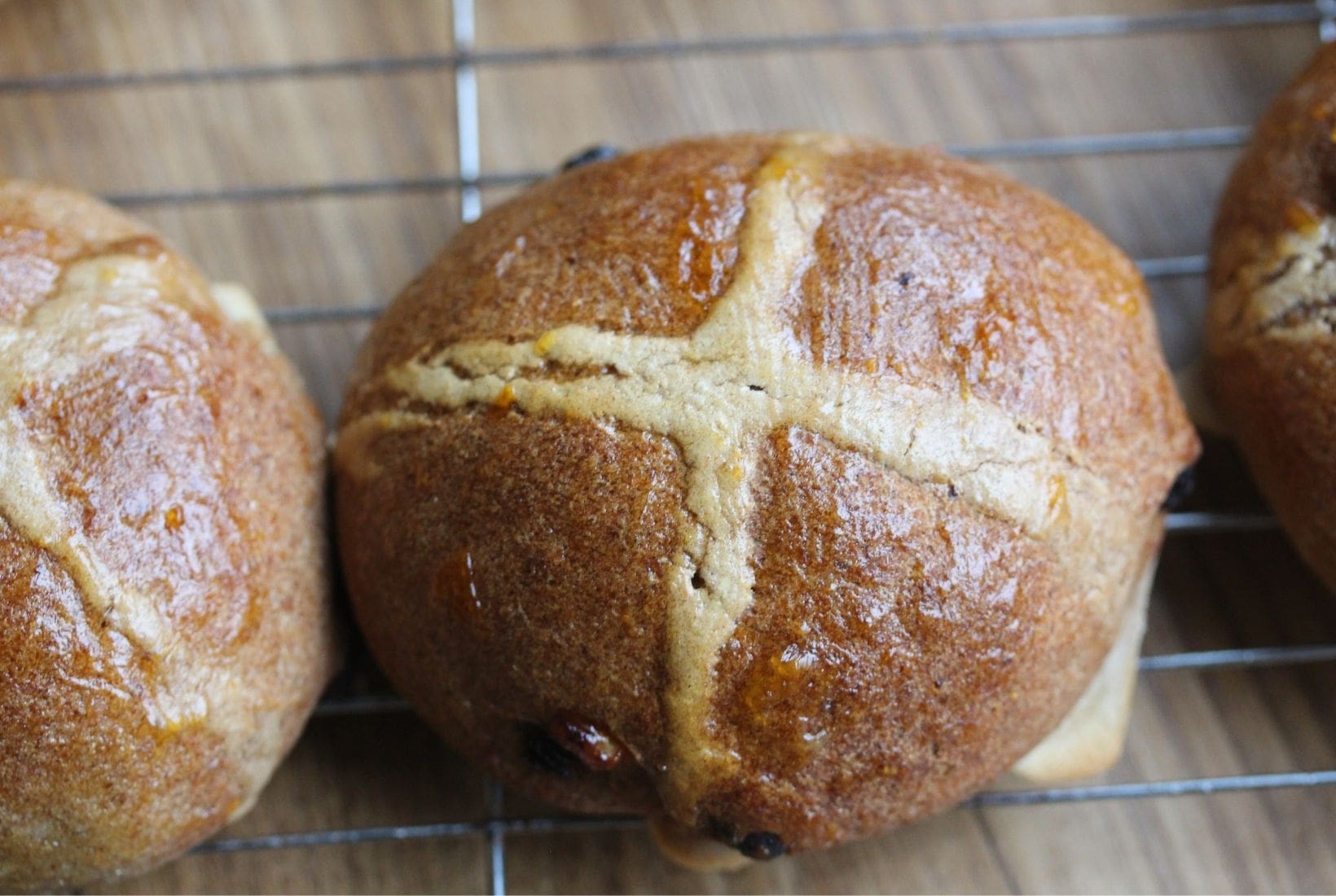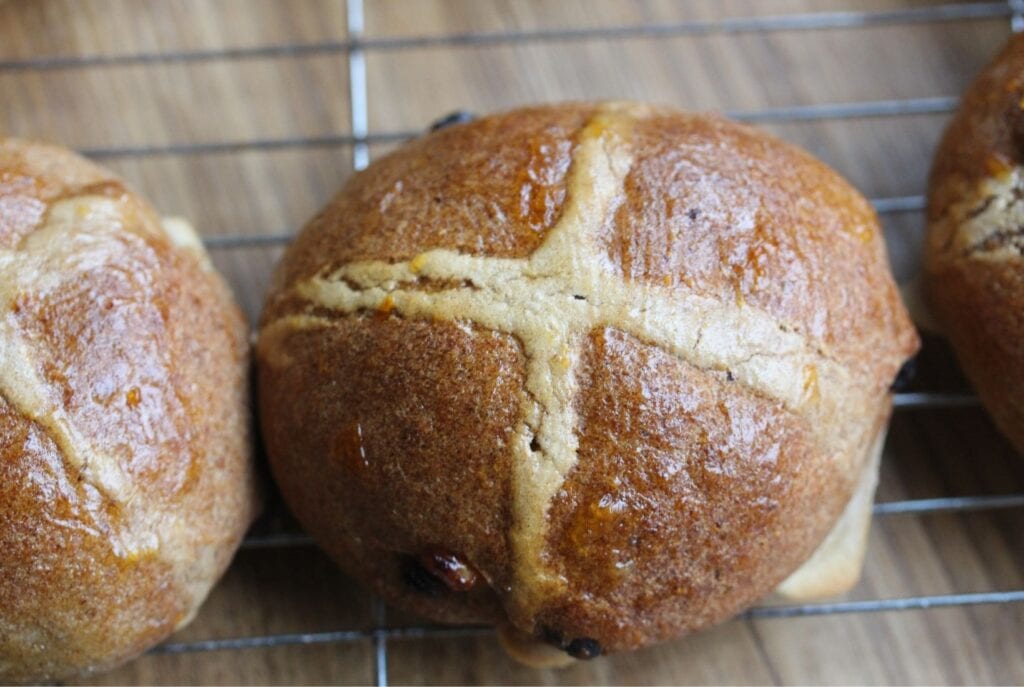 What do you serve gluten free hot cross buns with?
I like to serve mine with butter but if you are dairy free or vegan then you can use dairy free butter or coconut oil.
Alternatively, eat them fresh from the oven all by themselves.
How do you like to serve them? Let me know by leaving a comment below or by tagging me in social media @freefromfairy. I love to see photographs of your creations.
How do you store the hot cross buns?
Cool the buns on a wire rack and once cold transfer them into an air-tight container where they will keep for 3-4 days. If they become dry either heat them in a microwave or split them in half and toast them.
Alternatively, once cold, place the buns in a freezer bag and put them in the freezer.
Confidence with gluten free bread making
If you're not confident with making gluten free bread then check out my gluten free bread making guide. In it I share all my tips for making gluten free bread, learnt over the 20 + years that I've been making it.
You'll also receive my wonderful soft burger bun recipe and my weekly newsletter or recipe inspiration.
Other gluten free hot cross bun recipes
Gluten free Easter recipe book
To make your life easier I've put all my Easter recipes into one downloadable recipe book.
You can buy your copy here:
Pin the Gluten free hot cross bun recipe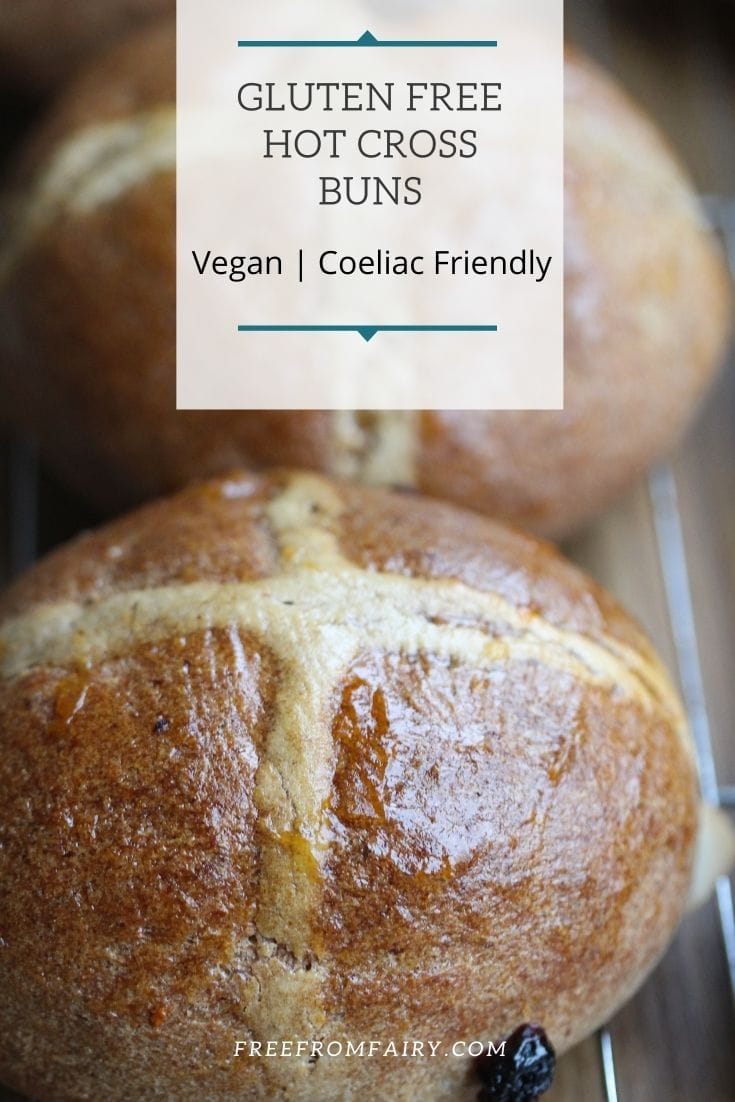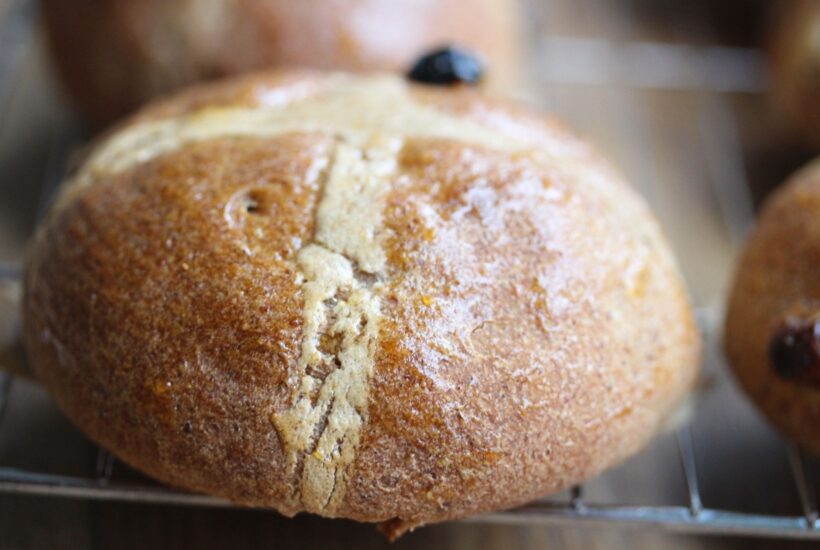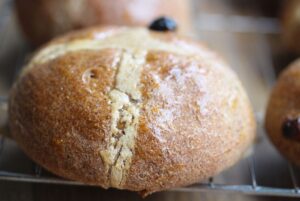 Gluten Free Hot Cross Buns Made With Bread Mix
An easy gluten free hot cross buns recipe made using the Free From Fairy wholegrain gluten free (vegan) bread mix. Suitable for people with coeliac disease or following a vegan diet.
Ingredients
For the buns
50

g

Light brown sugar

-

or granulated white sugar or coconut sugar

7

g

Dried yeast

-

I use the Easy Bake Allinson's brand

5

g

Mixed spice

-

pumpkin pie spice in USA

350

ml

Dairy free milk -

or cows milk if not dairy free/vegan

130

ml

Boiling water

30

ml

Olive oil

-

or melted butter if not dairy free/vegan

1

tsp

Balsamic vinegar

-

or cider vinegar

80

g

Mixed dried fruit

-

or dried fruit of choice
For the crosses and glaze
1.5

tbsp

Water

-

(or enough to make a thick but runny paste)

2

tsp

Apricot jam
Instructions
To make the buns:
If you want buns without whole flax seeds the first step is to empty the bread mix into a blender and blend until the flax seeds are no longer whole. Then follow the next step

If you don't mind whole flax seeds place the bread mix in a large mixing bowl and add the sugar, yeast and mixed spice and stir well to combine. (If you are not using fast acting yeast mix the boiling water and milk together – as in step 3 and add the yeast. Leave to one side for around five minutes before proceeding)

Using digital weighing scales weigh out your boiling water and milk into a jug and stir to combine

Add the milk/water mixture along with the oil and vinegar to the dry ingredients and stir well to make a dough

With oiled hands remove a chunk of dough around the size of a tennis ball and add a 10th of the dried fruit. Following my shaping instructions above to make sure the fruit is within the dough and roll into a ball

Place the ball of dough onto a baking tray lined with non-stick liner and repeat with the rest of the dough. You should get 10 buns. You will need to keep oiling your hands to prevent the dough sticking to them

Place the buns into an oven set to its lowest temperature (or just on with the light). It should be around 50 degrees C

Leave the buns to rise for 20 minutes before removing them from the oven and turning it up to 230 degrees C/ 210 degrees Fan/ Gas 8/446 F

While the buns rise, mix the cross ingredients together – the flour and water – to make a smooth paste

Drizzle the cross paste across each bun and place back in the oven. There is no need to wait for it to get up to full temperature

Bake the buns for 20 – 25 minutes until golden

While the buns are still warm, heat the apricot jam with a little water to make a brushable glaze

Using a pastry brush spread the glaze over the warm buns

Cool the buns on a wire rack before storing, or eat them while warm
Notes
Nutrition data for information only
Nutrition (Approx)
Calories:
247
kcal
|
Carbohydrates:
45
g
|
Protein:
5
g
|
Fat:
5
g
|
Saturated Fat:
1
g
|
Sodium:
250
mg
|
Potassium:
126
mg
|
Fiber:
5
g
|
Sugar:
11
g
|
Vitamin A:
143
IU
|
Vitamin C:
3
mg
|
Calcium:
70
mg
|
Iron:
1
mg