My gluten free cherry pie recipe came about after my lovely neighbours brought around some of their wonderful sour cherries. The combination of sour cherry and almond with not too much sweetness provides a wonderfully satisfying sour yet sweet experience.
If you wanted to make the recipe dairy free just substitute the butter for dairy free butter of your choice in the topping and follow this recipe for the pastry.
This post contains Affiliate links. As an Amazon Associate I earn from qualifying purchases.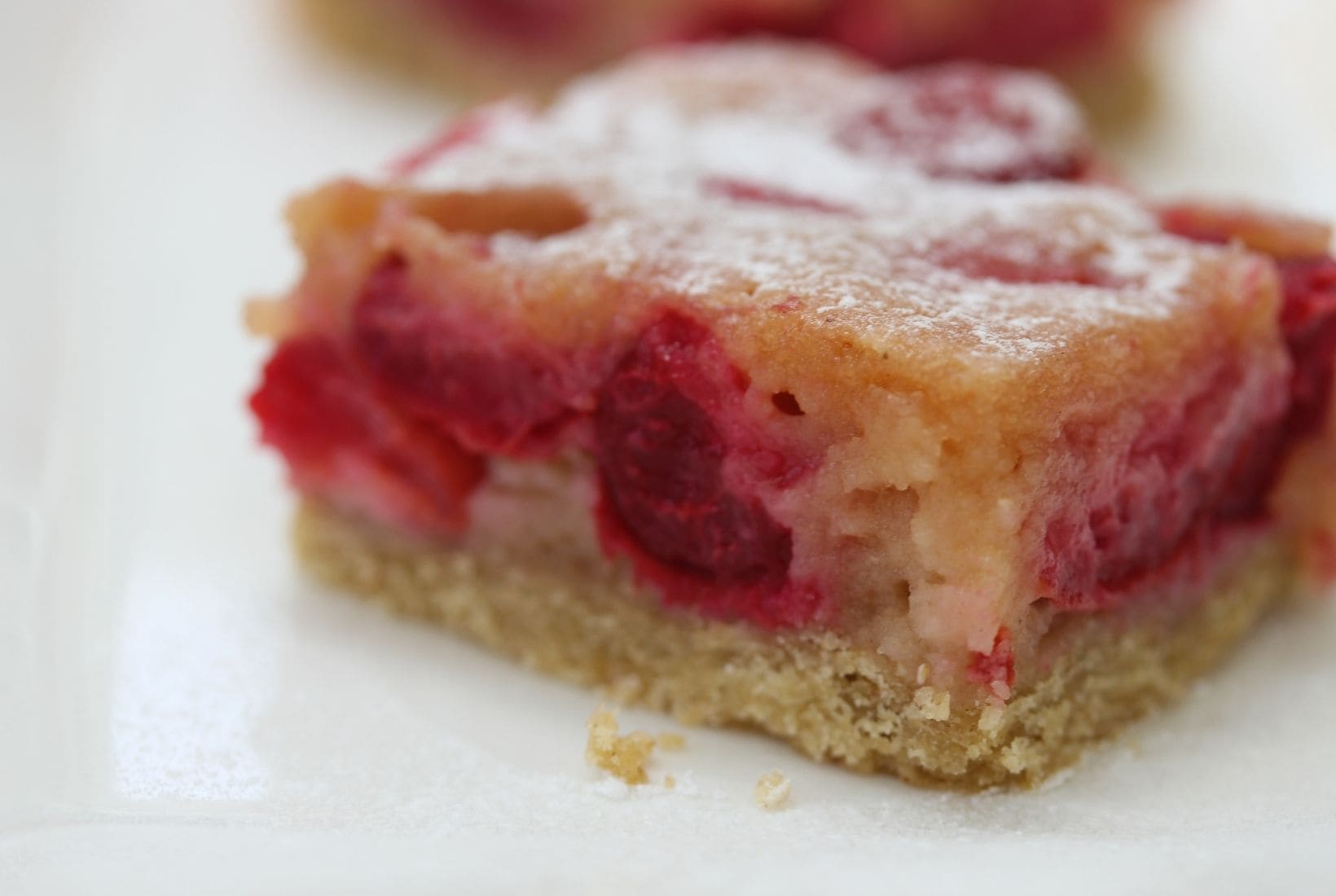 Jump to Recipe
I've created this recipe to be simple and easy like all my recipes. Although it uses fresh sour cherries I'm sure you could use frozen cherries if they weren't in season.
Rather than faff around making the perfect pastry case I decided to make this cherry pie in a square tin with pastry just on the bottom.
I combined the fresh pitted cherries with the almond frangipane cake mixture which results in a moist topping with a buttery, melt-in-the-mouth bottom.
Making gluten free pastry
The first step of the recipe is to make the gluten free pastry. Trust me, this is way easier than you might think so please don't run away now I've mentioned the p word!
The key to great gluten free pastry is simply egg. Rather than using water to bind the flour, butter and sugar together you need an egg. That's it. And if you're following a vegan diet you can use a flax egg.
I use a this food processor to make my pastry. It means that my hot fingers don't heat it up resulting in better, shorter (melt-in-the-mouth) pastry.
If using a food processor it's so simple. The flour, sugar and butter are whizzed together until a breadcrumb-like-texture forms and then the egg is added. The egg binds the other ingredients together to form a dough that can be rolled or pressed into a tin.
For ease (and because it's so darn hot today) I pressed the pastry into the base of my tin that I'd lined with baking parchment.
If you don't have a food processor now is the time to invest. Not only are they perfect for making pastry in but they are also great from chopping and grating vegetables (and cheese), making crumble or my wonderful healthy rocky road.
But if you really don't want to get one then just rub the butter into the flour with your finger tips. Then add the sugar and give it a stir before adding the beaten egg and bringing together into a dough.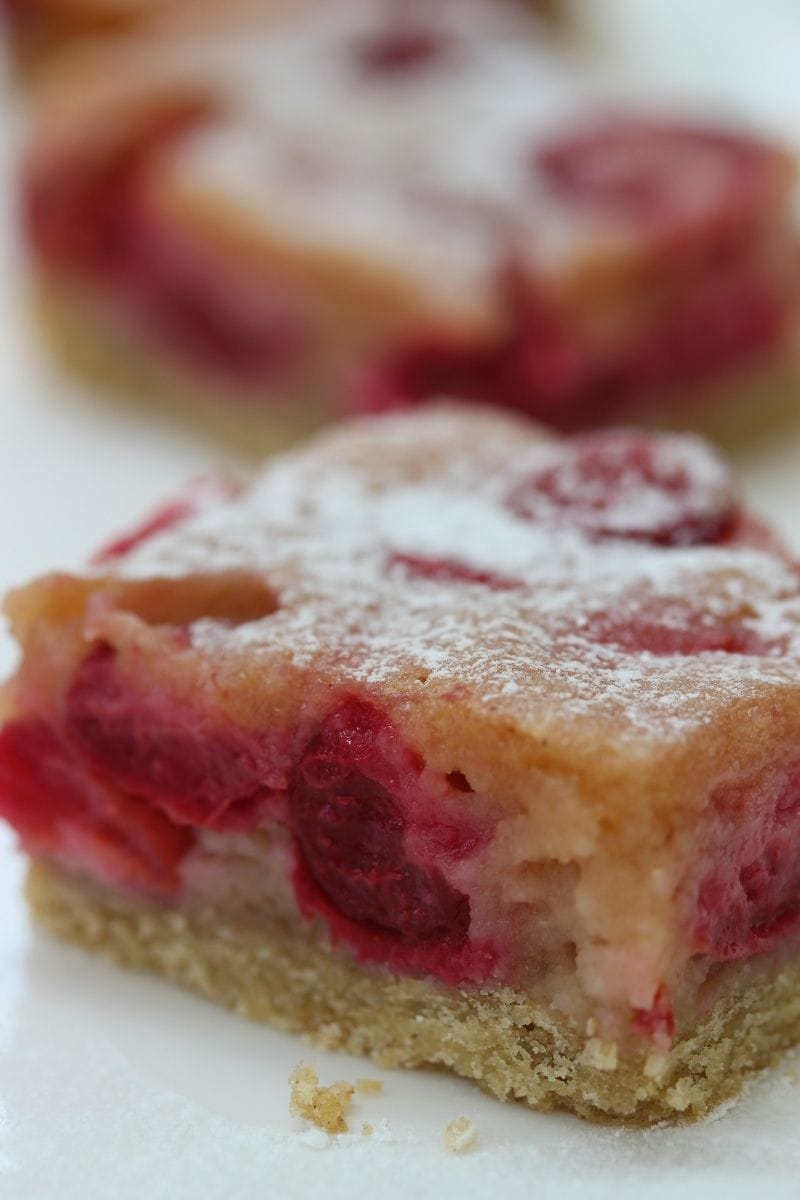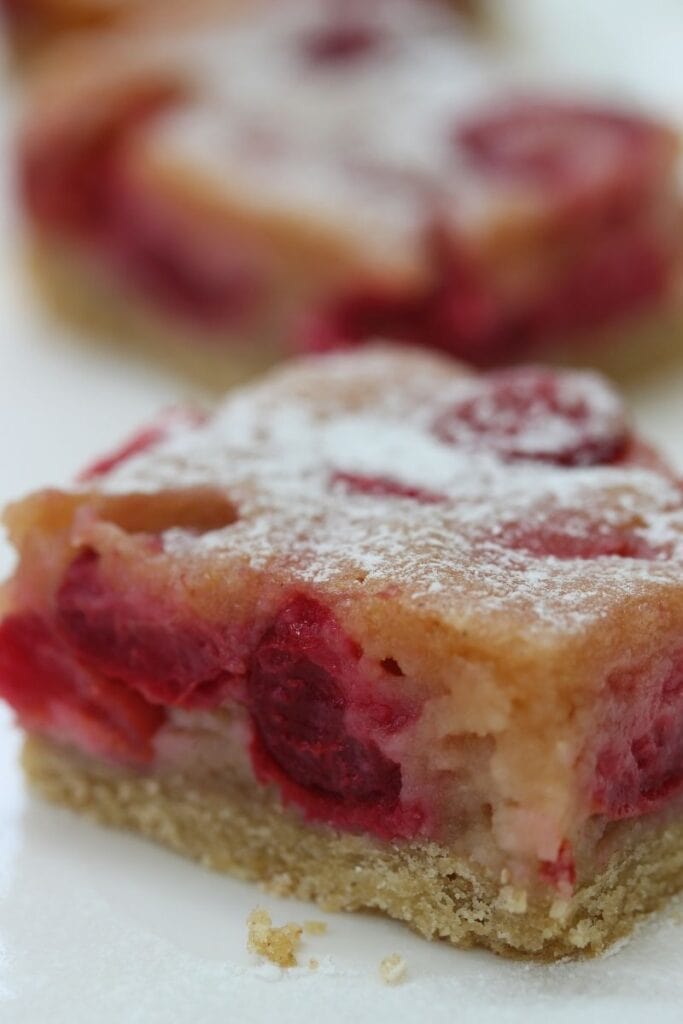 Why use a special gluten free flour blend that isn't easy to buy?
This recipe calls for the Free From Fairy wholegrain gluten free flour blend that can be bought right here. However, it is only available in the UK so I understand your frustration if you're reading this from anywhere else in the world.
However, don't despair, I have a solution, but first I want to explain why you'll want to use this flour over other gluten free flour blends.
I started experimenting with gluten free flours back in 2013 after I discovered that rice contains inorganic arsenic.
When my daughter was diagnosed with coeliac disease in 2010 I set about making everything she missed from scratch. The problem was that every flour blend I used contained vast amounts of rice flour. And all the processed foods I bought, such as pasta and bread, were also made almost entirely from rice.
So when I discovered the health consequences of eating lots of rice I decided to combine my love of cooking with my science background to experiment with non rice flours.
I also wanted to create a blend that I could use in all my cooking that had a high wholegrain content for added health benefits (the gluten free diet is often lacking in fibre).
It took me two years to achieve such a blend and when I did the readers of this blog requested that I started to sell it.
With no background in the food and drink industry I set about trying to work out how to do that and finally in 2016 I launched it.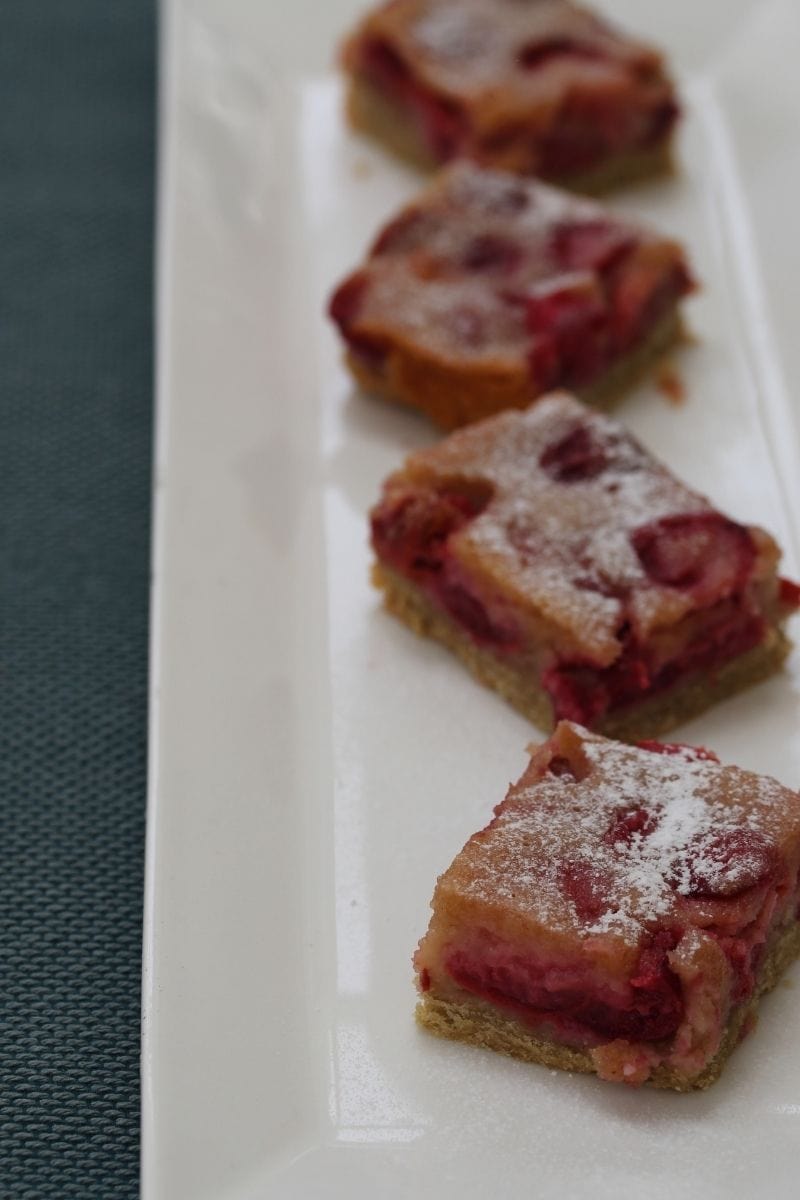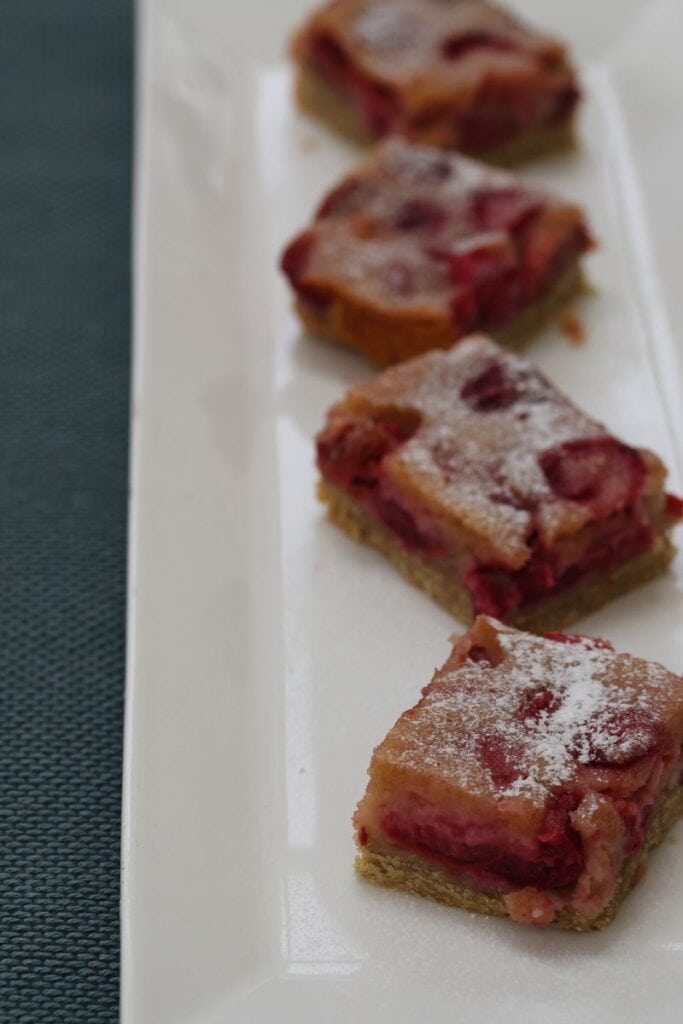 Learn how to make my gluten free flour blend
Last year I created a series of online cookery courses in which I share the recipe for the blend. This means that where ever you are in the world you can make my wholesome recipes that actually work and taste great!
You'll find all the courses that are available here.
Sour cherry pie filling
So onto the filling. And not a tin of processed, sugar-laden gloop in sight.
Instead I used fresh sour cherries in my pie and combined them with a not-too-sweet fangipane cake mixture. If you can't get hold of fresh cherries then use frozen ones.
For those of you who aren't familiar with a frangipane, it's basically a dense almondy cake that is traditionally found on the top of Bakewell tarts.
I adore it so much that I've used it in these raisin Bakewell slices and mince pies with frangipane topping. Not to mention my raspberry Bakewell tart.
It creates a wonderfully moist cake-like topping and the juicy sour cherries pop out of the sweetness spectacularly.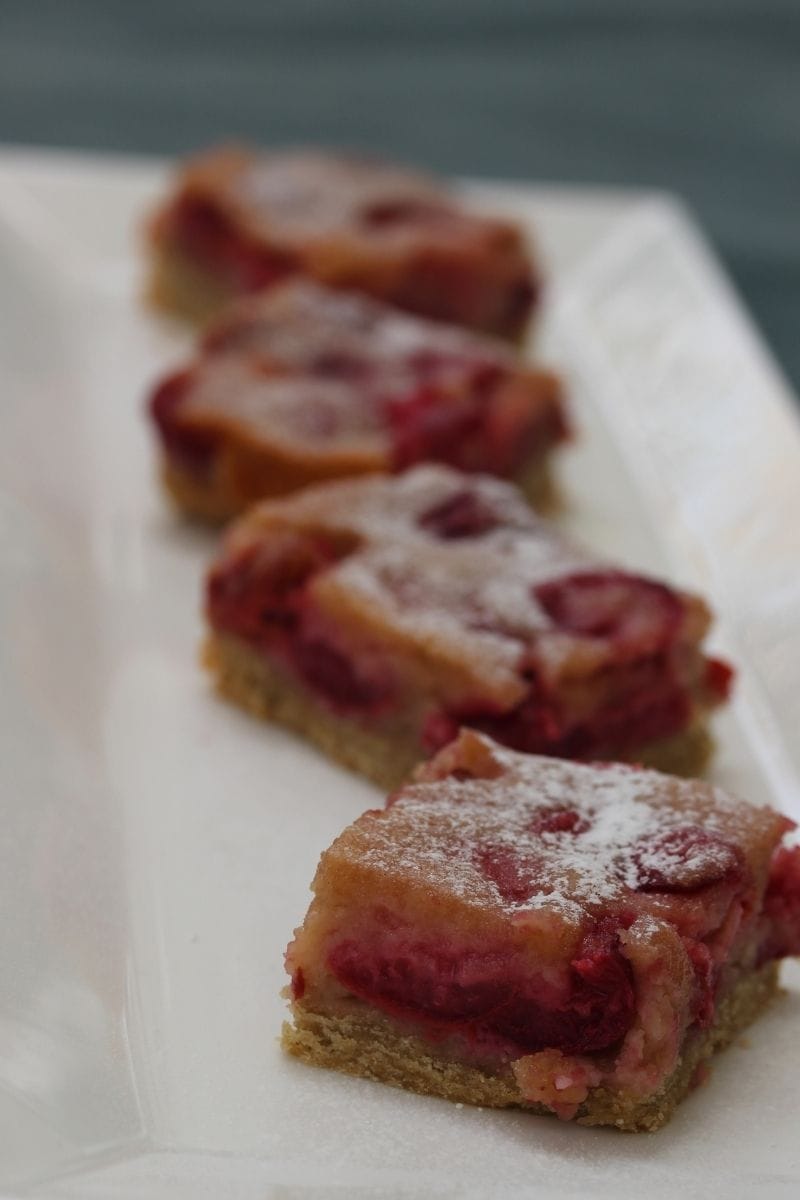 What are sour cherries?
Sour cherries are a type of cherry that are rather too sour to be eaten raw. My neighbours have a tree that produces loads of them every year and I'm lucky enough to be given them. Eating them raw is a lot like eating a sour sweet. It makes you pull a funny face but is kind of addictive!
There are several varieties including the familiar morello cherry.
If you'd like to know more about them, where they grow and what they look like then check out the Woodland Trusts website.
Apparently they have a high melatonin content and may perhaps help with sleep problems. I live in hope that this delicious gluten free cherry pie could help me sleep.
I'm off for another slice just in case!
What should I serve my gluten free cherry pie with?
I have to admit to not getting so far as serving these cherry slices with anything although it would be wonderful with vanilla ice cream, custard (in cold weather which it certainly isn't today at 30 degrees C) or clotted cream.
They are perfect just as they are. Either as a dessert, afternoon tea or in a lunchbox.
I don't feel confident making gluten free pastry. Help!
Trust me, making gluten free pastry is easier than you might think.
To help give you confidence I created a video (it's very old now!), showing how to make shortcrust pastry. You can find it and the bottom of this blog post here.
In the video I use Doves Farm flour which is widely available in the UK. That was before I created my own wholegrain gluten free flour blend which creates a far better, healthier and more tasty result.
If you think you've cracked shortcrust pastry, why not try other types of pastry. I have recipes for rough puff, choux and Danish in my How To Make Gluten Free Pastry ebook.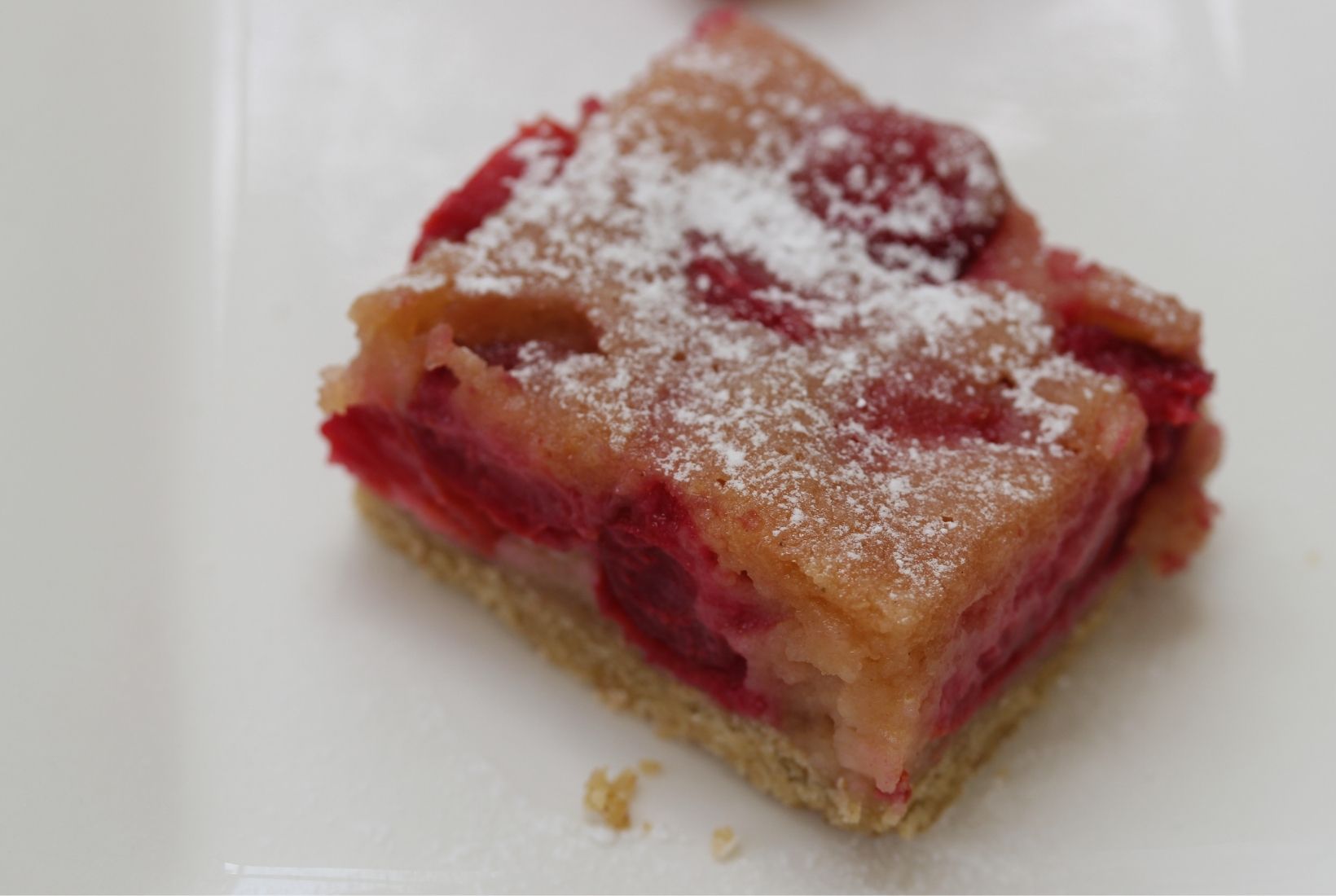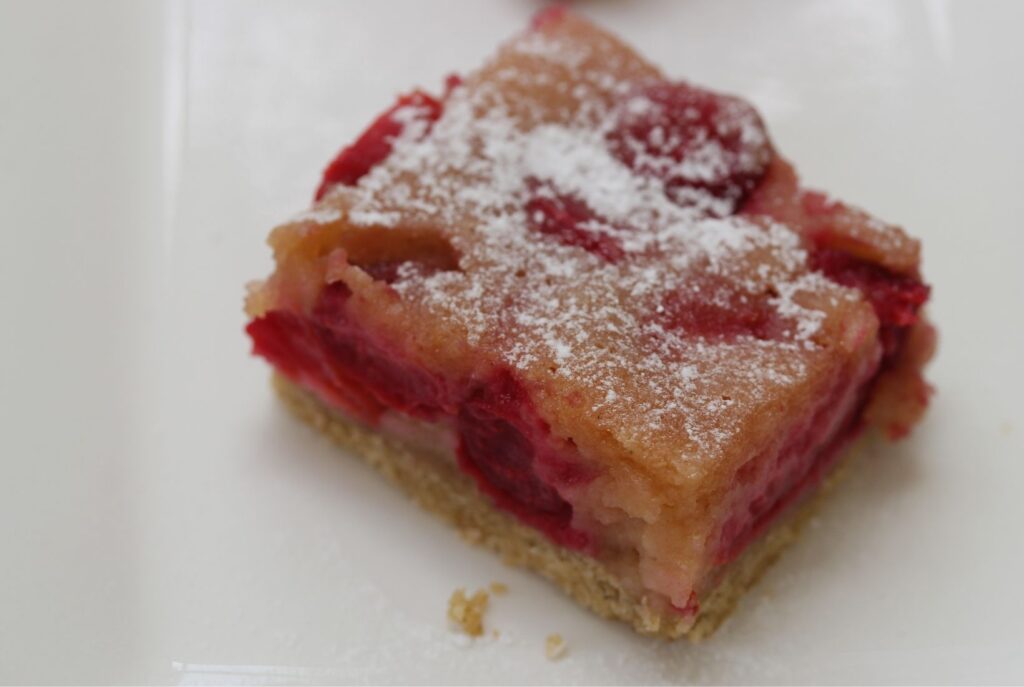 How can I store the cherry pie?
The pie should to be stored in the fridge in an airtight container.
Alternatively, slice the pie into portions and freeze it in an airtight container.
Either defrost the pie slices at room temperature before serving or place in the oven to warm through.
How do you pit cherries?
I personally use my fingers to squeeze open the cherry and pop the stone out. I admit that the occasional one sprays juice out into the kitchen but it's rather fun if you don't mind a little mess.
The alternative is to buy a specific tool for removing the stones. I guess it would make it quicker and you wouldn't get juice in your finger nails!
Gluten free recipe book – for free
If you like this recipe and would like your very own downloadable recipe book for free then enter your details in the box below…
In it you'll find recipes for all your favourite bakes but without the gluten. So expect to find Yorkshire puddings, Victoria sponge cake, scones and other classics.
In addition to receiving the recipe book you'll be added to my newsletter mailing list where approx. once a week you'll be sent recipes to inspire you and encourage you into the kitchen. Of course you can unsubscribe from that at any time.
Pin my gluten free cherry pie recipe so you don't lose it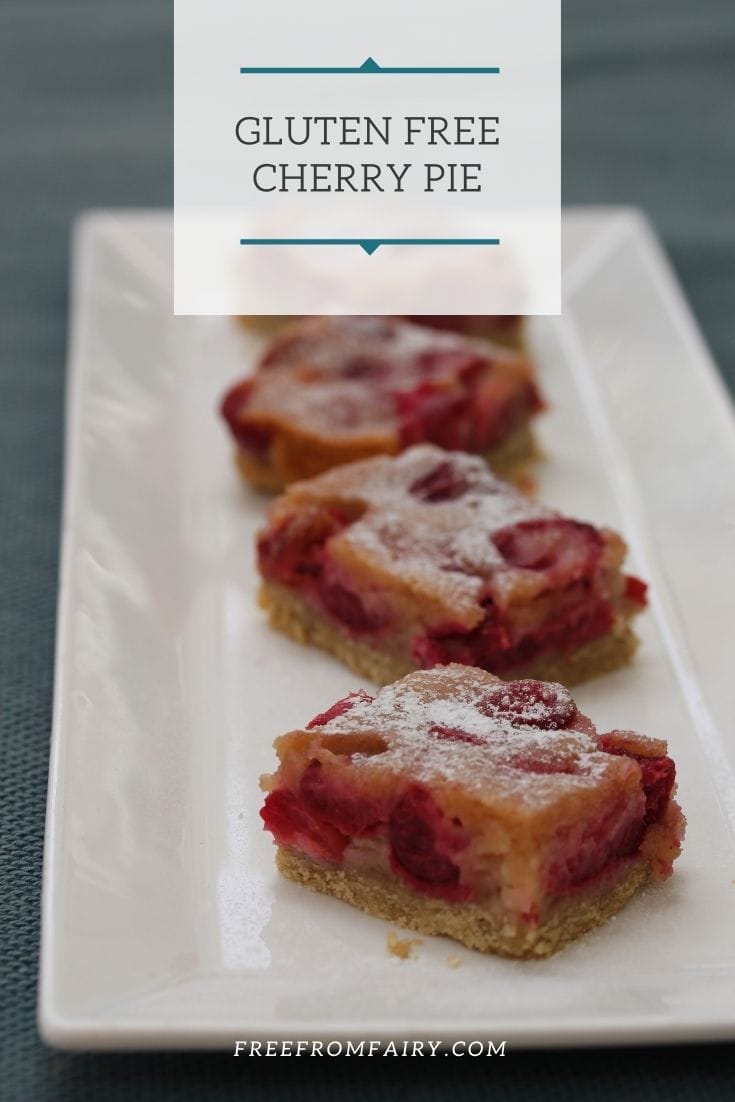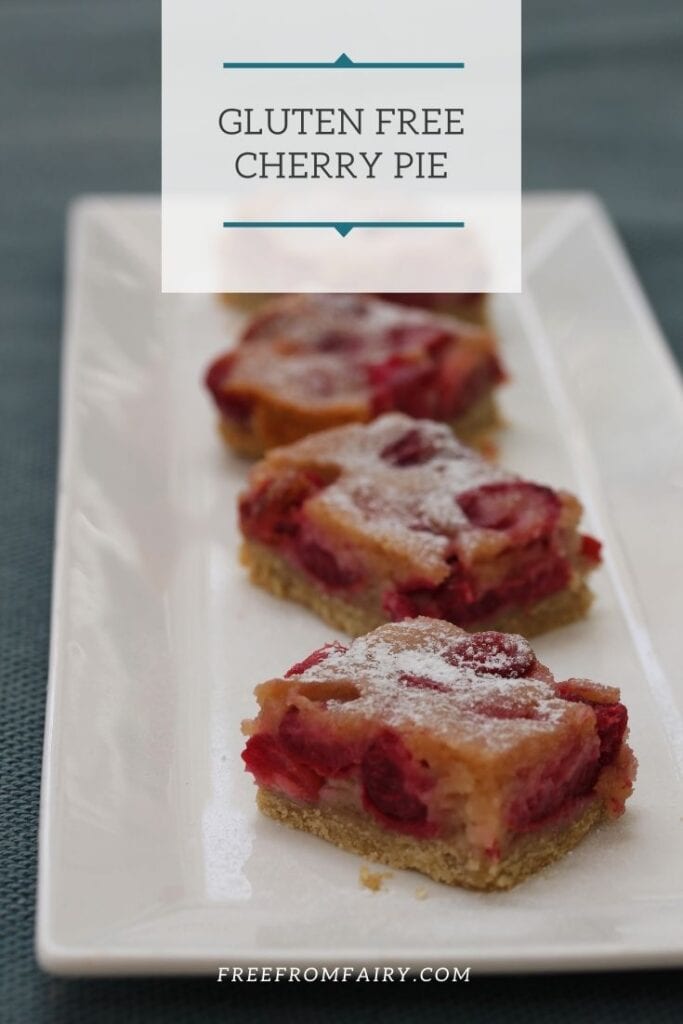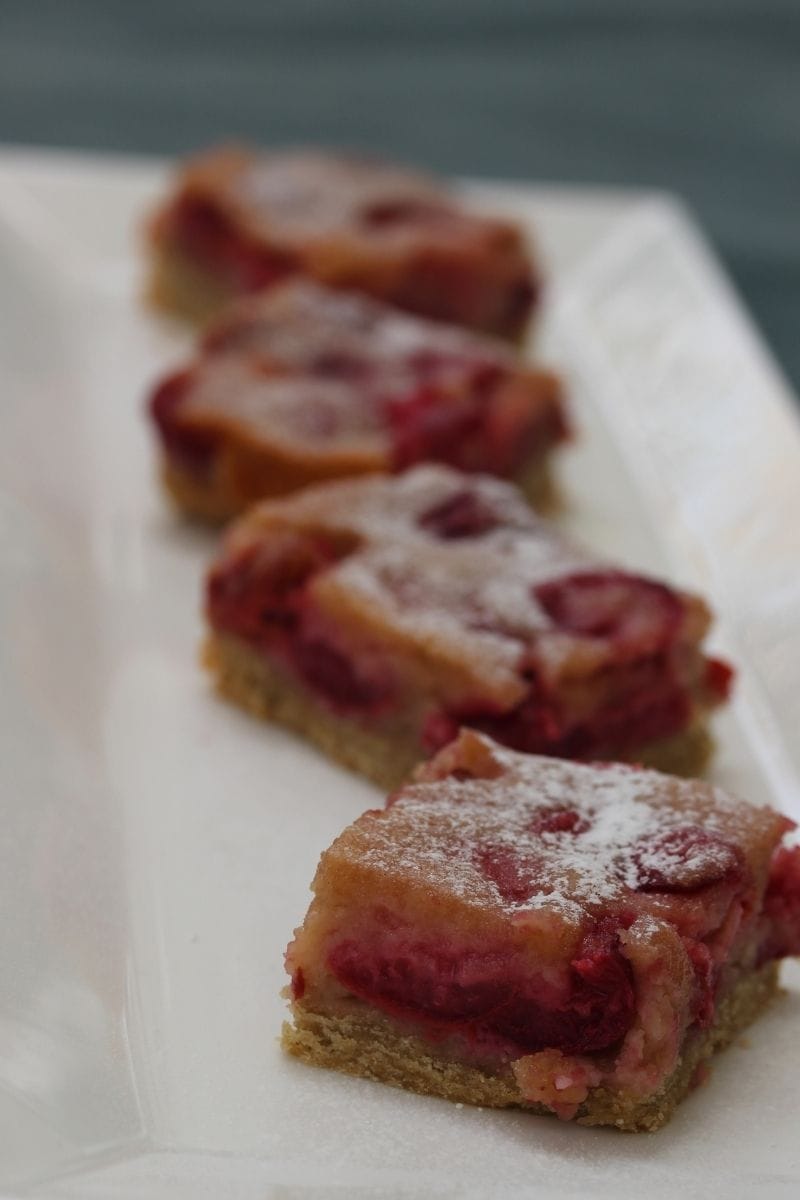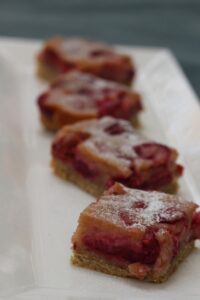 Gluten Free Cherry Pie (Sour Cherry Recipe)
My gluten free cherry pie recipe came about after my lovely neighbours brought around some of their wonderful sour cherries. The combination of sour cherry and almond with not too much sweetness provides a wonderfully satisfying sour yet sweet experience.
Ingredients
For the pastry
100

g

Butter

20

g

Granulated sugar

1

medium

Egg

-

I always use organic where possible
For the topping
100

g

Butter

-

or dairy free alternative

100

g

Granulated sugar

100

g

Ground almonds

1

tsp

Baking powder

2

medium

Eggs

1/2

tsp

Almond extract

400

g

Cherries

-

I used fresh sour cherries; you could use frozen
Instructions
First make the pastry in a food processor by combining the flour with the butter and then adding the sugar followed by the egg

Press the pastry into the base of a 23cm square tin lined with baking parchment and chill for 20 minutes in the fridge while making the topping

To make the topping place all the ingredients minus the cherries into the food processor (no need to clean it out) and whizz until smooth

Add the pitted cherries (mine were in halves) and stir them gently through the cake mixture

Once the pastry has chilled place it in a pre-heated oven at 220 degrees C (200 degree fan) and blind bake for 10 minutes (cover the pastry with baking paper and fill with baking beans). Remove the baking beans and baking paper and cook for a further 2 minutes before removing from the oven

Reduce the oven temperature to 170 degrees C (150 degree fan) and scrape the cake mixture into the partly cooked pastry base, smooth out and bake for a further 40 – 45 minutes until firm to the touch

Allow to cool a little before slicing
Notes
Nutrition data as a guide only
Nutrition (Approx)
Calories:
189
kcal
|
Carbohydrates:
19
g
|
Protein:
3
g
|
Fat:
12
g
|
Saturated Fat:
6
g
|
Polyunsaturated Fat:
1
g
|
Monounsaturated Fat:
2
g
|
Trans Fat:
1
g
|
Cholesterol:
46
mg
|
Sodium:
81
mg
|
Potassium:
91
mg
|
Fiber:
2
g
|
Sugar:
9
g
|
Vitamin A:
298
IU
|
Vitamin C:
1
mg
|
Calcium:
28
mg
|
Iron:
2
mg