These vegan hot cross bun rolls are soft and delicious with chocolate that oozes out with each mouthful. Rather than the traditional bun shape I decided to make them as rolls, much like a cinnamon roll. Only an Easter version.
This post contains Affiliate links. As an Amazon Associate I earn from qualifying purchases.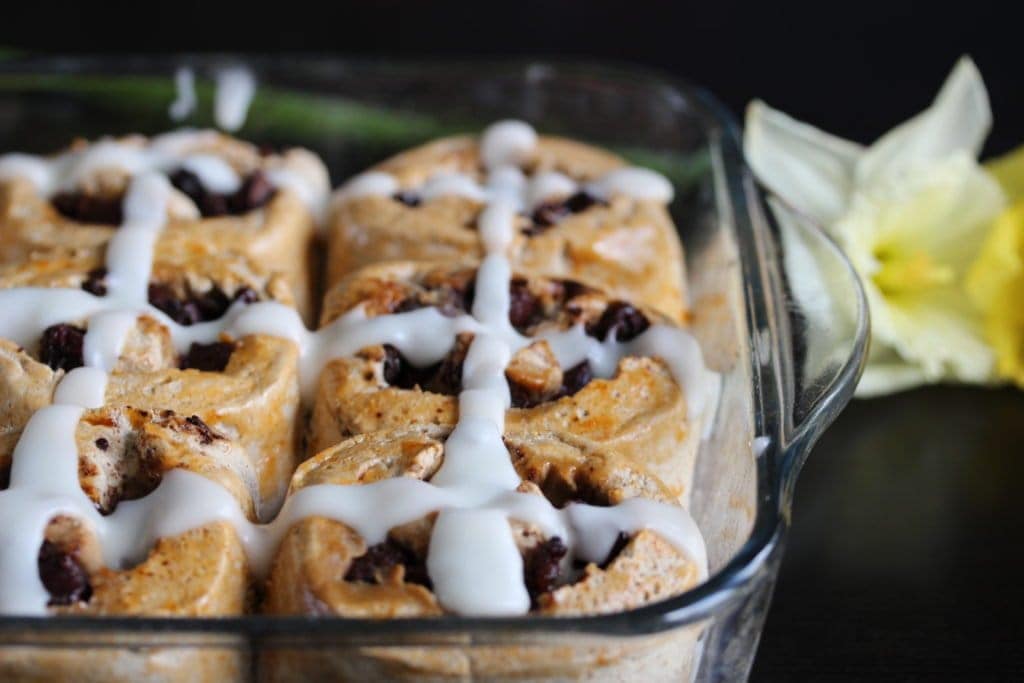 This is an example of my life…perhaps you can empathise?
Get out of bed. Late.
Decide that as I'm out of bed late I'll have a run with Minnie after dropping the kids at school.
Blearily drink my coffee and generally faff around the kitchen.
Look at my calendar at 8.20am to see what excitement the day ahead brings.
Scream.
Realise that I have a meeting with a buyer at a local influential farm shop to showcase my wholegrain gluten free flour blend.
Which means making a selection of samples to take with me to the meeting at 10am.
Run around the house, grabbing ingredients and shouting to the kids to get ready for school.
Bundle kids out of the house at 8.40am…baguettes rising on the side, mixture made for cupcakes.
Metaphorically flog the kids to school, run home (lucky I'm dressed for a run…but not appropriate attire for meeting a buyer).
Get the cakes in the oven. Have a shower. Choose some appropriate clothes. Take cakes out of the oven and put baguettes in.
Run around the garden with Minnie to give her some exercise.
Grab hot baguettes from oven and steam it to meeting at 10am. Get there with 5 whole minutes to spare.
Impress buyer and fix a date for launch. Back home by 10.35am.
Anyway, enough of my crazy morning and onto business…
What is your gluten free flour blend?
Back in 2016 I launched my wholegrain gluten free flour blend.
It's a very carefully selected blend of 70% wholegrain gluten free flours with gluten free starches.
If you don't know anything about gluten free flour then I suggest you check out this article about what I learnt about gluten free flour while making the blend.
I'd also recommend reading this article that tells you what a gluten free flour blend is and why it's so important in successful gluten free baking.
I now almost exclusively sell it here in my gluten free flour shop but I do also have a few select stockists. Including Darts Farm who I mention in my story above.
Free From Easter Inspiration
Once again I've teamed up with a number of brilliant food bloggers to bring you #FreeFromEaster recipe inspiration.
If you're stuck for free from Easter recipes then look no further. They are all listed below.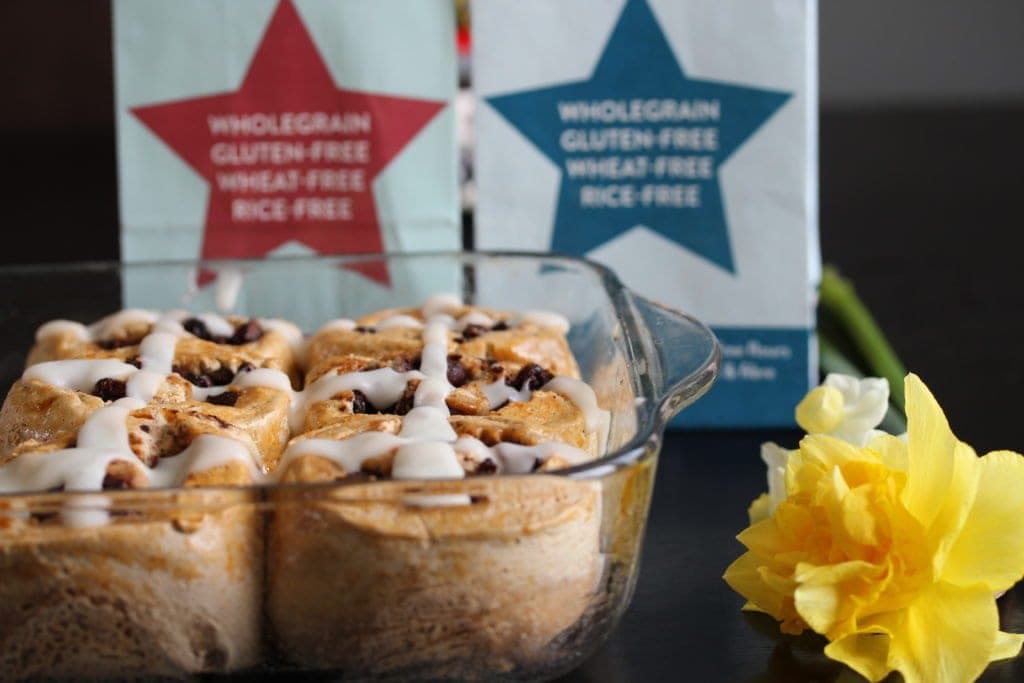 Mel – 'Le Coin de Mel' with Vegan Gluten Free Biscuits
Nathalie – 'Intolerant Gourmand' with chocolate marshmallow crispy squares
Emma – 'Free From Farmhouse' with berry breakfast easter nests
Nova – 'Cherished by Me' with the best Easter rocky road
Laura – 'Dairy Free Kids' with Easter fairy cakes
Rebecca – 'Glutarama' with supersize vegan creme eggs
Eb – 'Easy Peasy Foodie' with gluten free mini egg brownies
Kate – 'The Gluten Free Alchemist' with gluten free hot cross scones
Mandy – 'Sneaky Veg' with vegan Easter chocolates
Grace – 'Eats Amazing' with dairy free chocolates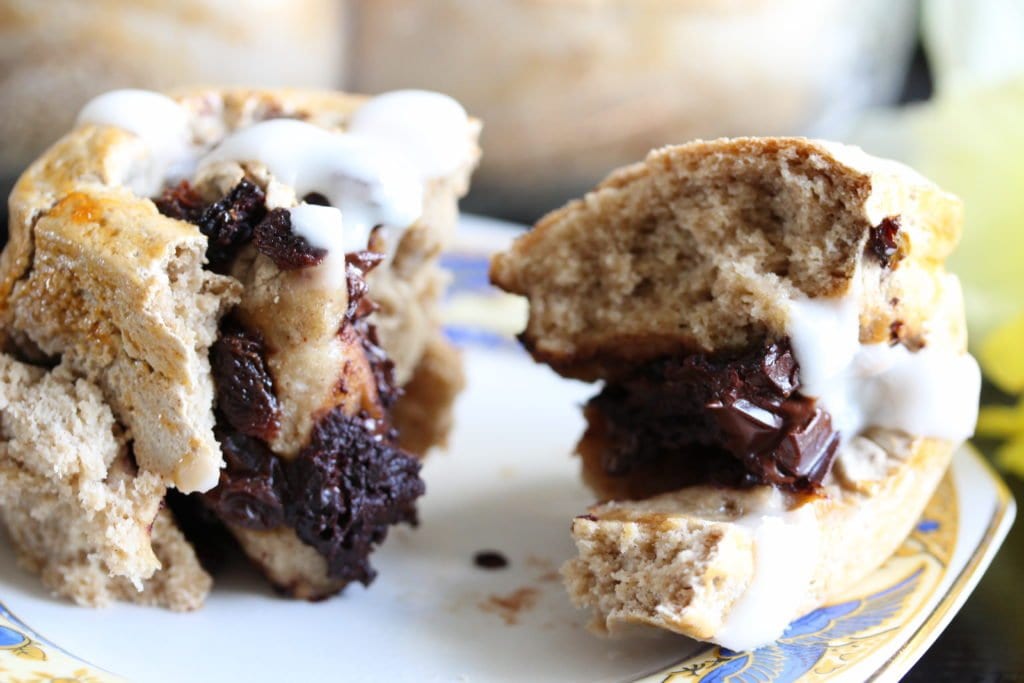 My gluten free vegan hot cross bun rolls
I developed this recipe after the success of my Christmas tree gluten free tear and share bread.
However, this time I decided to have a go with using yoghurt instead of fat and eggs.
The result is a delightfully moist bun that works with both plain dairy free yoghurt and normal dairy yoghurt. That makes it the perfect recipe for gluten free vegans.
Not being vegan, I tend to make these with my homemade goats milk yoghurt (you can find out how to make your own yoghurt here) and it results in a squidgy roll bursting with chocolate.
What chocolate should I use?
I have huge admiration for Chocolate & Love, and as you know, I like to support small businesses.
I've featured them before on the blog and I am again because I love them so much!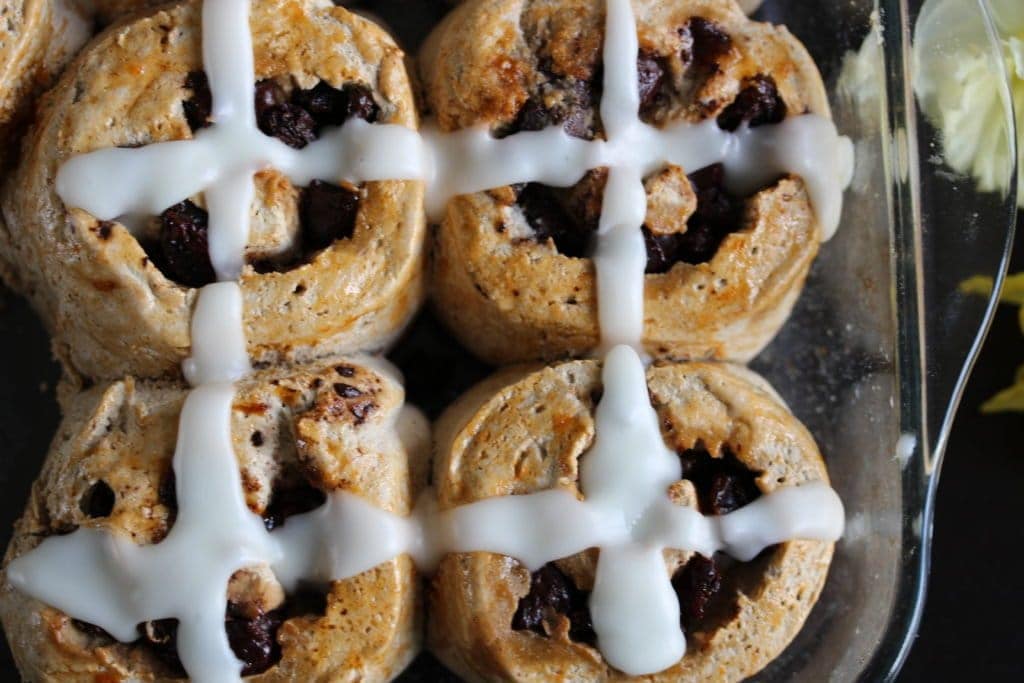 They produce organic, fairly traded chocolate that tastes incredible and is suitable for coeliacs and vegans (although it does carry a 'may contain milk' warning).
For this recipe I've used their chocolate orange variety which is 65% cocoa and beautifully flavoured. It oozes out of the buns when warm, in the most divine way.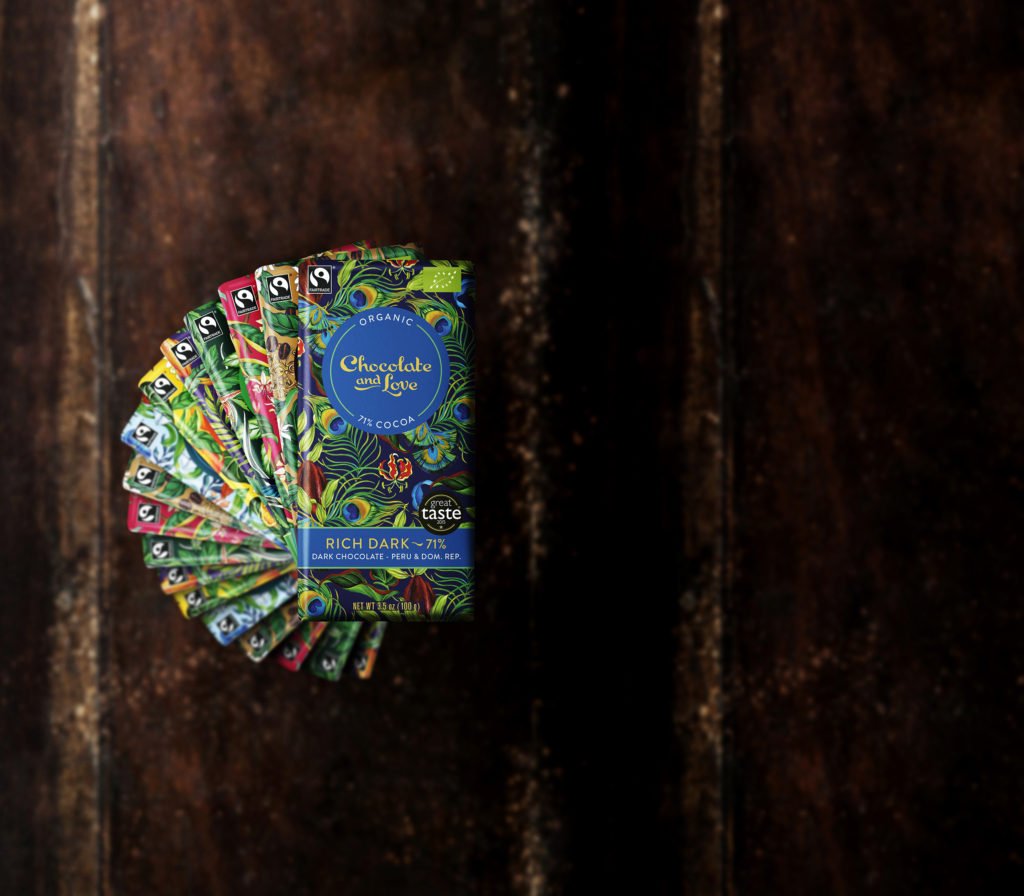 Happy Easter folks.
Pin the recipe for gluten free, vegan hot cross bun rolls…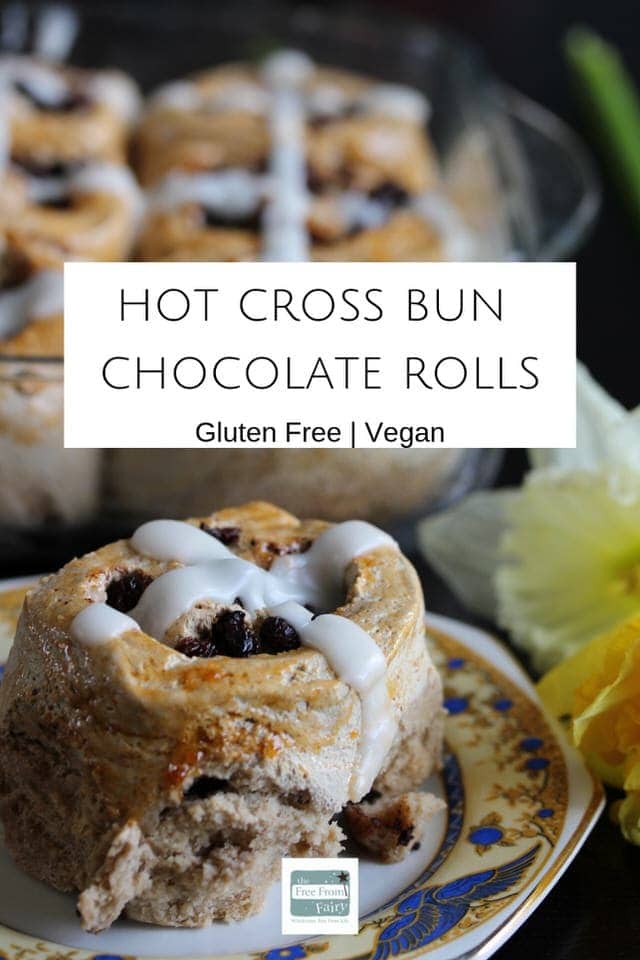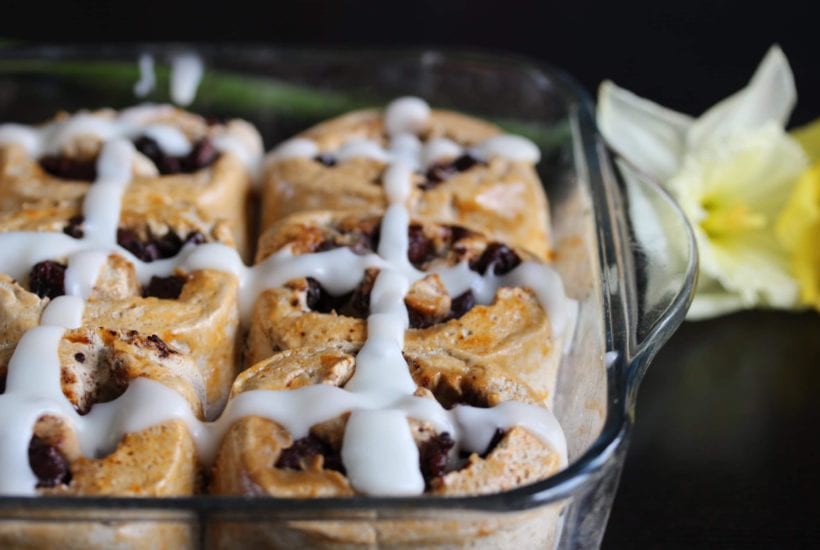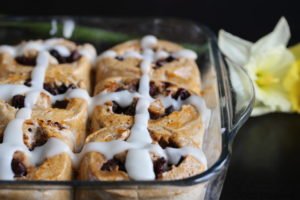 Vegan Hot Cross Bun Chocolate Rolls (Gluten-Free)
Gluten-free, Egg-free, Soya-free, Can be Dairy-free. Low sugar
Ingredients
20

g

sugar

10

g

Yeast -

Easy bake variety (dried)

5

g

psyllium powder

5

g

xanthan gum

1

tsp

mixed spice

1/2

tsp

cinnamon

1/2

tsp

sea salt

200-250

g

almond milk -

,unsweetened, or other dairy-free or dairy milk

150

g

plain dairy free yoghurt

-

, unflavoured, or dairy yoghurt

1/4

tsp

orange extract

-

or 1 drop doTerra orange essential oil

FOR THE FILLING:

80

g

dark chocolate

-

I used orange flavour, chopped into chunks. Check dairy free if important

50

g

raisins

FOR THE GLAZE

Apricot jam

FOR THE CROSSES:

50

g

icing sugar

1/4

tsp

orange extract

2

tsp

water
Instructions
Combine the dry ingredients in a large bowl or the bowl of an electric mixer fitted with the dough hook, and mix well. I use this Sage mixer.

Add the yoghurt and orange extract then warm 200ml milk for 40 seconds on high power in your

microwave

and add that

Beat well to combine and bring the mixture into a sticky dough. The amount of milk will vary depending upon the yoghurt you use so you may need to add up to 50ml more than the 200ml to reach a sticky dough

Once you have the dough, place it onto a large piece of cling film on a clean surface and roll or push it out until you have a rectangle approx. 27cm across x 25cm high

Rub the dough with a little water then scatter all but the top 5cm longest length with the raisins and chocolate chunks

Using the cling film to help, and starting with the longest edge closest to you, roll the dough away from you to create a cylinder

Remove the cling film from the top of the roll then using a very sharp knife and a 'sawing' action, cut the cylinder into approx. 3cm thick slices giving you 9 rolls in total

Grease a 21cm x 21cm dish and place the rolls cut side down inside. There should be a little bit of space between them

Put cling film over the top of the dish and place in a warm spot for around an hour (or use my trick of a cup of boiling water in a tray at the bottom of a cold oven with the dish on the top shelf and the oven door shut - and leave for 30 minutes)

Once risen heat the oven to 180 degrees, 160 degree fan, gas mark 4

Brush the buns with some water and bake in the pre heated oven with a cup of boiling water in the bottom for 30 minutes

Once out of the oven, brush with apricot jam for a lovely glaze and leave to cool

While cooling mix the icing ingredients together and drizzle over the rolls in a cross shape!
Notes
Nutritional data is for guidance only
Nutrition (Approx)
Calories:
329
kcal
|
Carbohydrates:
61
g
|
Protein:
6
g
|
Fat:
6
g
|
Saturated Fat:
2
g
|
Cholesterol:
2
mg
|
Sodium:
186
mg
|
Potassium:
216
mg
|
Fiber:
5
g
|
Sugar:
11
g
|
Vitamin A:
15
IU
|
Vitamin C:
0.3
mg
|
Calcium:
65
mg
|
Iron:
2.3
mg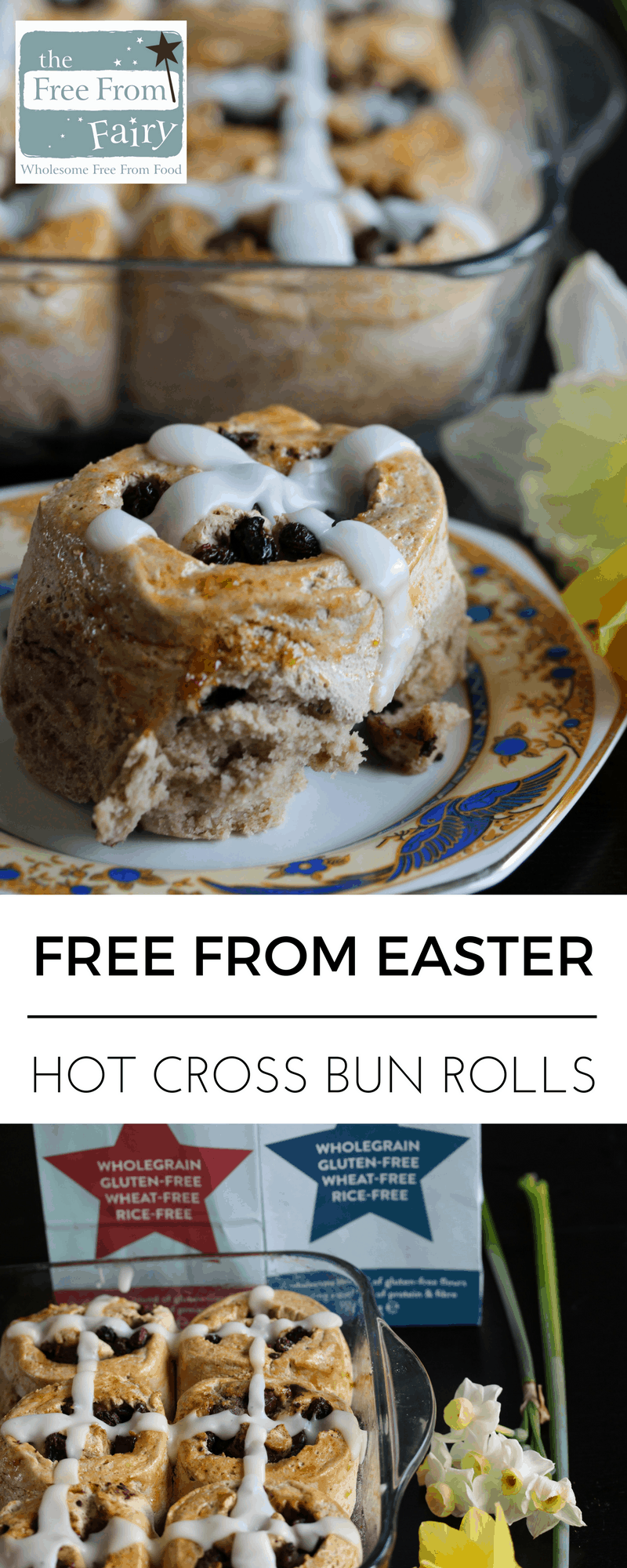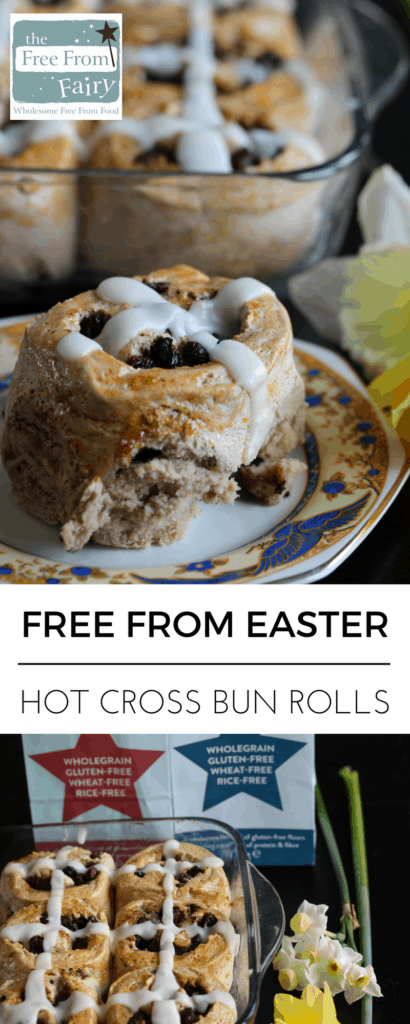 I received a free box of Chocolate & Love chocolate in return for this post. All words and opinions are my own.