My dairy free hot cross buns are also gluten free and sweetened with rice syrup for a healthier Easter treat. You can choose to add dried fruit or dark chocolate chunks to yours. We love the chocolate version here.
This post contains Affiliate links. As an Amazon Associate I earn from qualifying purchases.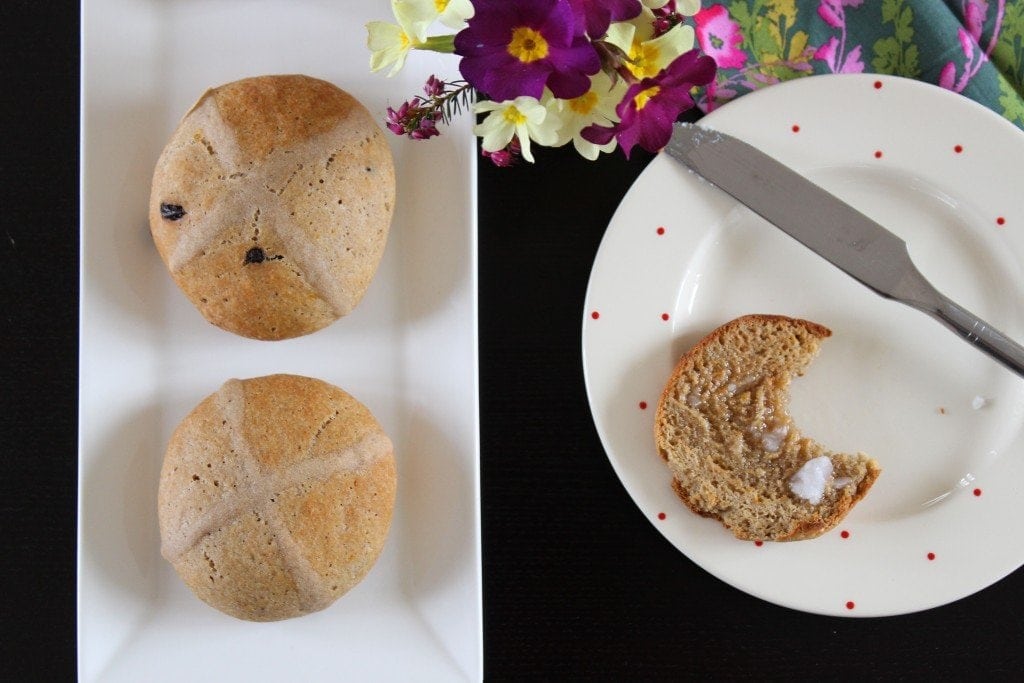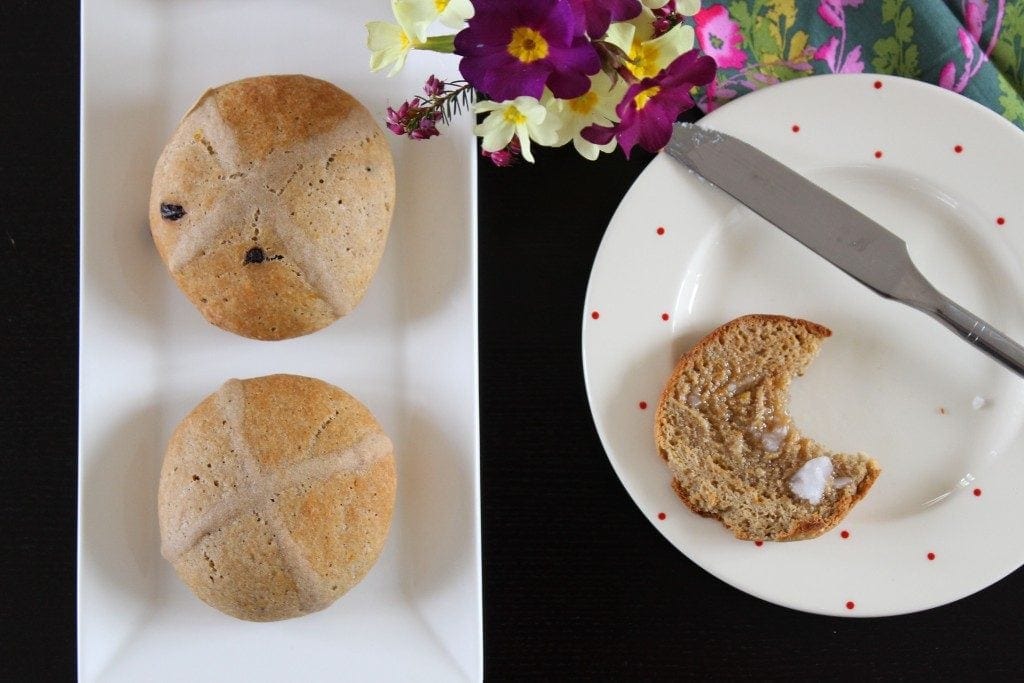 Let me introduce my dairy free hot cross bun recipe but first, a story…
As I washed and polished Rosie, my T25 VW van at the weekend, it occurred to me that it has actually happened…I have hit middle age where it is perfectly acceptable to polish a car on a Sunday afternoon.
If my 30 year-old-self could see me now, she would be laughing herself to tears.
In my defence, Rosie is the first vehicle that I have loved enough to even wash, let alone polish (and name!); and I was escaping from the house of illness and endless rounds of DVD's.
How is it that kids can watch films over and over again without getting bored?
Anyway, since I am approaching the big 4-0 it is no surprise that I find myself doing middle aged things. I don't plan on doing it often though…it was jolly hard work for a start!
Anyway, whilst I was polishing said van, I was also doing my usual thing of letting my mind wander to what I would be creating in the kitchen.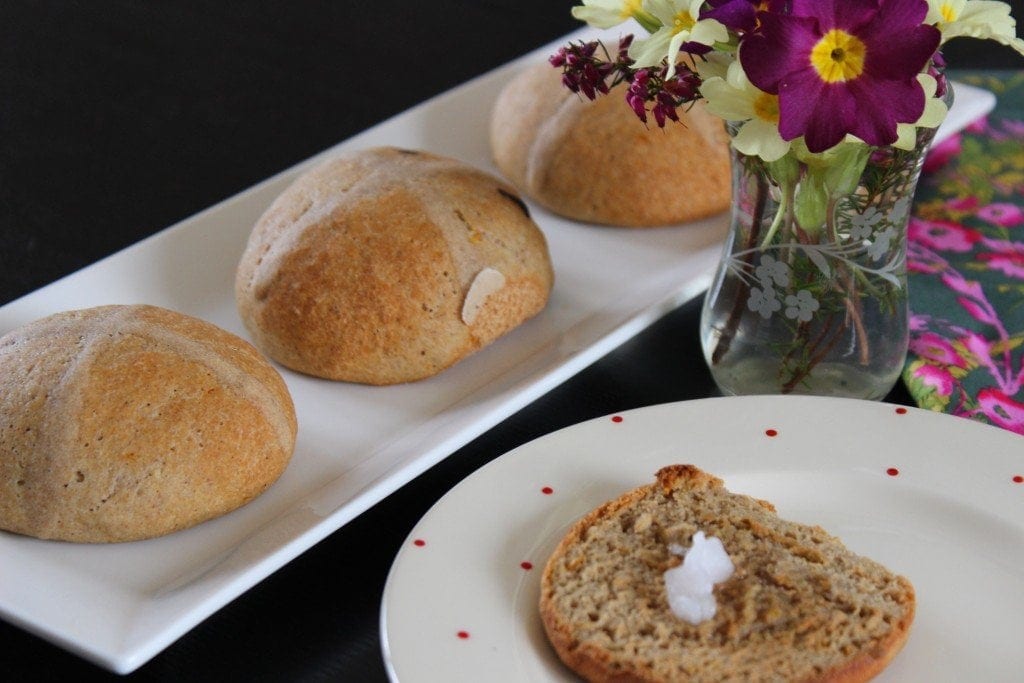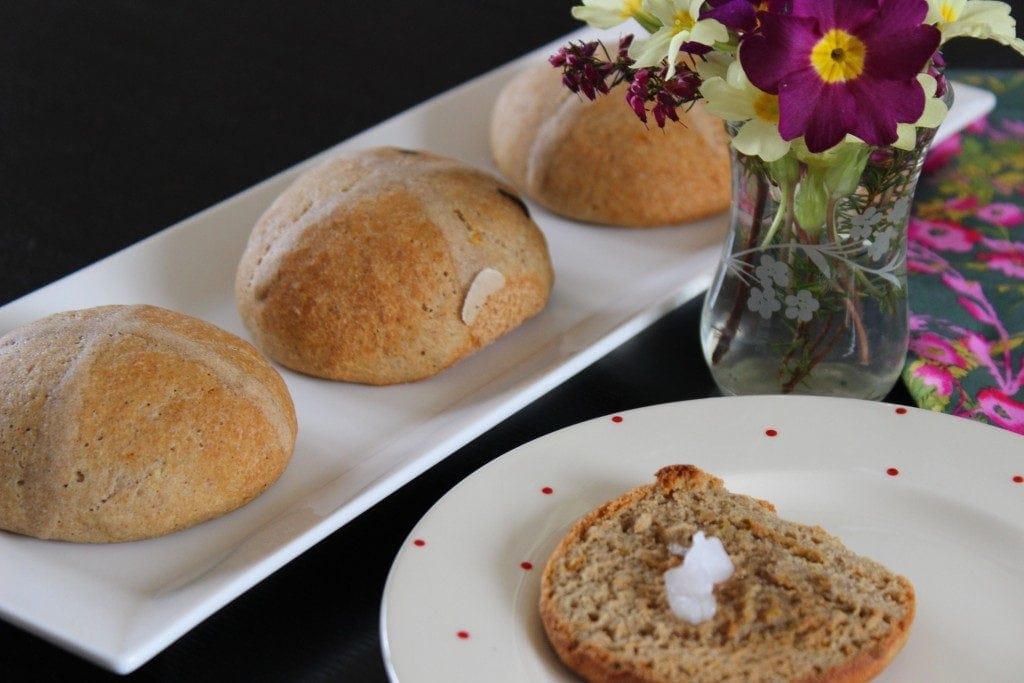 Recently my brain has been rather pre-occupied with child illnesses and new logo designs so not much thought has been given to my next kitchen experiments.
You'll be glad to hear that the kids went back to school this morning. Not quite fit and healthy, but fitter and healthier then they have been for three weeks or so.
And a little space in my brain opened up allowing a thought about Easter…and the all important hot cross buns!
Last year I made a variation of Gluten Free SCD and Veggie's grain-free, yeast-free refined sugar-free hot cross buns.
My version contained a little gluten-free flour and they were delicious.
I wouldn't hesitate to make them again, but I fancied something a little softer and spongier this year.
And since I can eat yeast now (thanks to the wonderful probiotic, Symprove) I decided on a more traditional yeast variety.
What is the white cross on hot cross buns made of?
Believe it or not, the white cross on a hot cross bun is made from flour and water!
Yes it really is as simple as that.
Equal amounts of my gluten free flour blend combined with water makes the perfect consistency for either piping or drizzling over the bun before baking.
To get a really lovely even cross I highly recommend piping them on.
Don't worry. You don't need anything complicated to do this. You can use a sandwich bag and once you've filled it with the mix just snip a tiny bit off the corner.
Of course if you have little piping bags then you can use them too.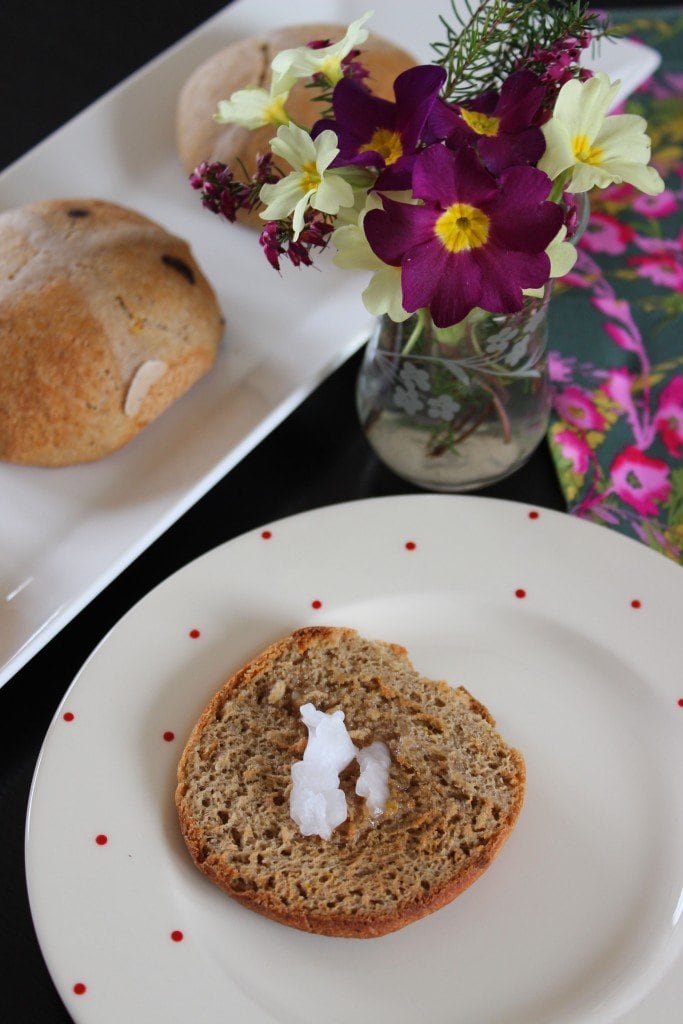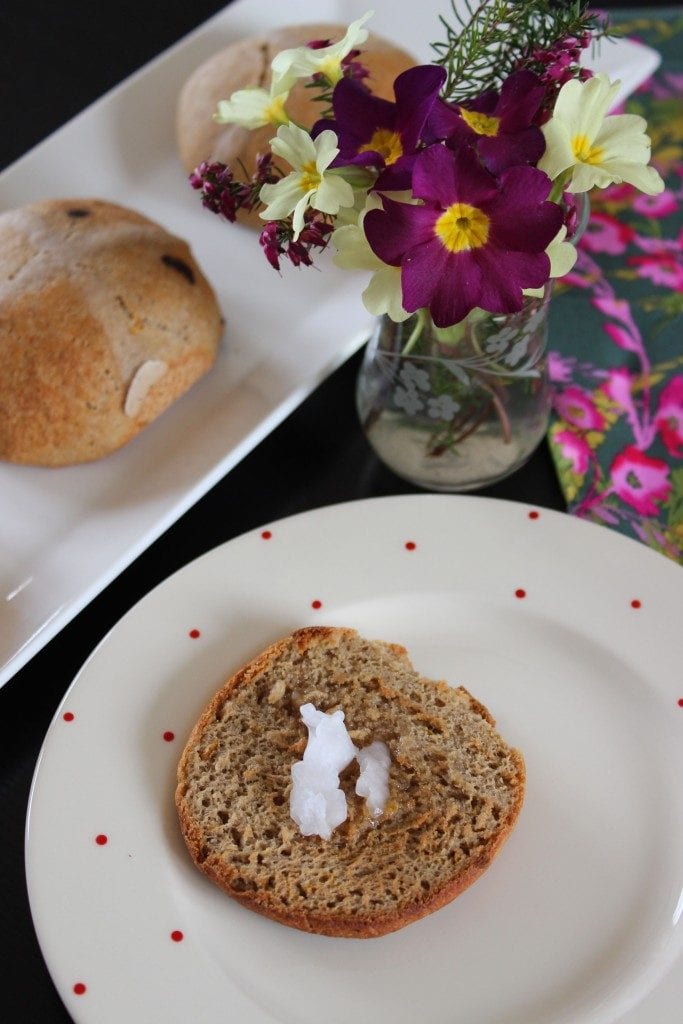 Why are these dairy free hot cross buns refined sugar free too?
We all know that sugar is bad for us. Almost every day we are told that we should be cutting down on our sugar intake. High sugar intake can lead to tooth decay, insulin resistance, obesity and type 2 diabetes amongst other things.
For me personally, I have found that sugar contributes to my perimenopause symptoms. It also exacerbates my Irritable Bowel (IBS) symptoms.
Having now given up fructose (thanks to Sarah Wilson's I Quit Sugar Programme), I created this version of dairy free hot cross buns without sugar-laden dried fruit.
If you fancy a little sweetness in them I suggest adding some chopped up bits of dark chocolate (over 70%). Or if you're not avoiding fructose then add the traditional mixed dried fruit. And glaze with some apricot jam.
I added that to half the batch so that the kids could enjoy a little chocolatey treat mingled with the spicy hot cross bun.
I don't know what they are like, but I can tell you that the plain hot cross bun toasted with a large dollop of coconut oil really hits the spot.
Other gluten free Easter recipes
Why not try my hot cross bun bliss balls. My homemade chocolate Easter eggs, vegan hot cross bun rolls or vegan chocolate truffles?
And if you want my free recipe ebook just enter your details below. You'll find recipes for gluten free pastry, bread, pizza, scones, Yorkshire puddings, Victoria sponge, pancakes and gingerbread.
You'll also get my weekly newsletter with recipe inspiration in…
Don't loose the recipe. Pin it now…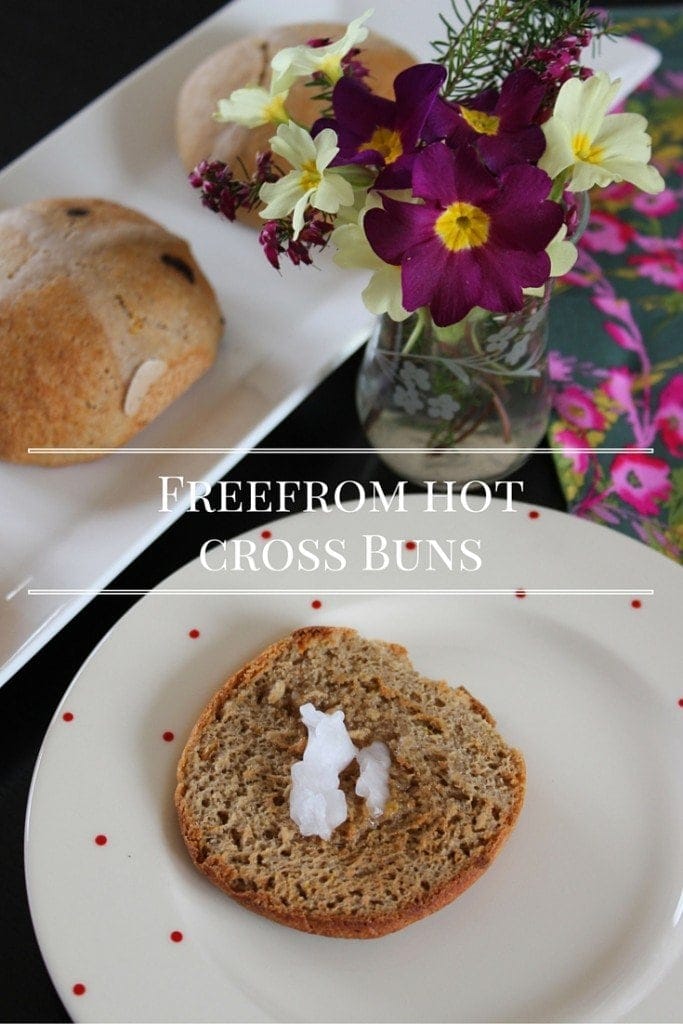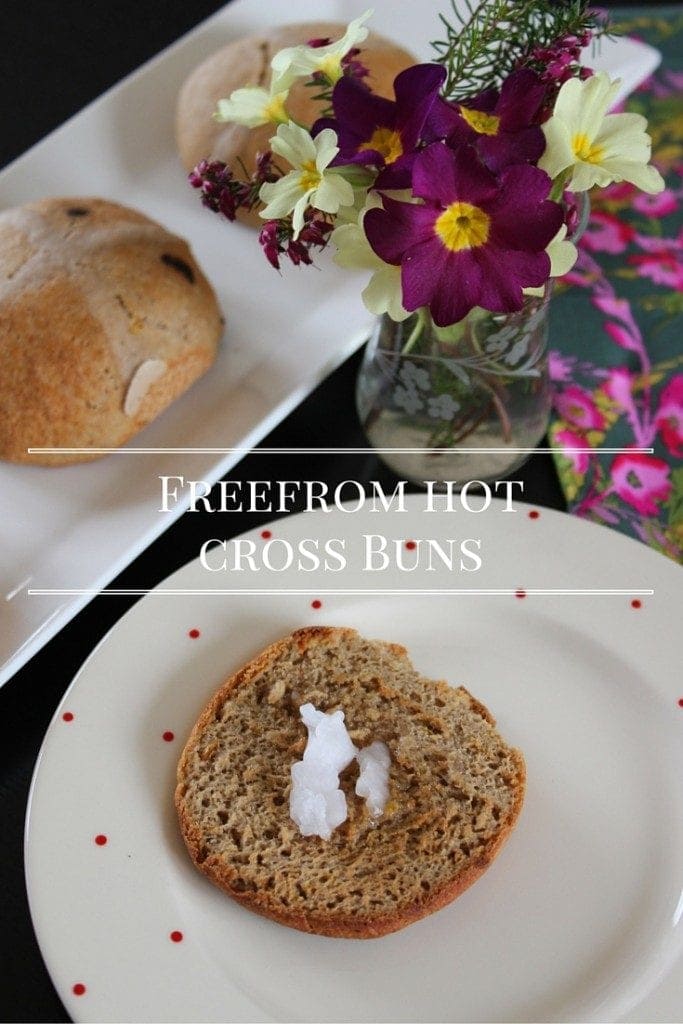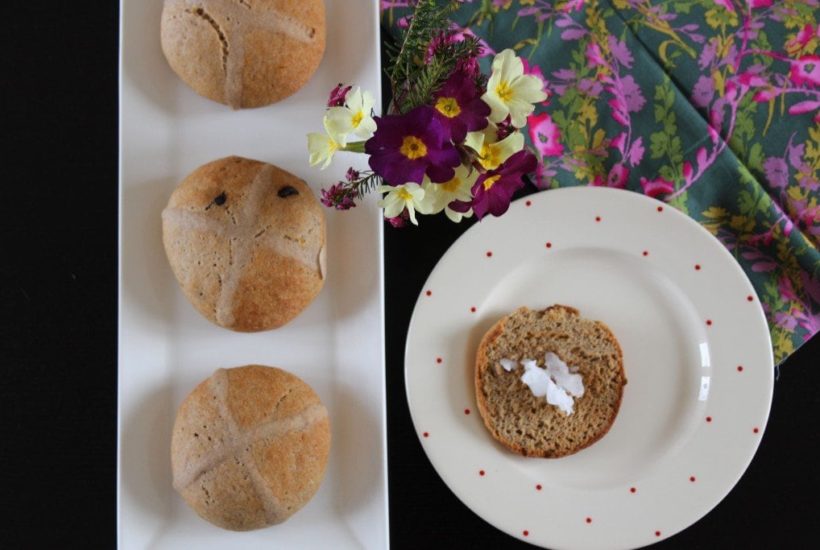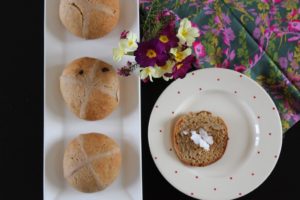 Dairy Free Hot Cross Buns (Gluten Free, Refined Sugar Free)
Gluten-free, Dairy-free, Nut-free, Soya-free, Refined Sugar-free, Fructose-free, low FODMAP
Ingredients
210

g

gluten free potato starch

2

tsp

psyllium powder

7

g

yeast -

I use Allinsons Easy Bake

1

tsp

salt

1½

tsp

mixed spice

1

medium

egg

-

I suggest free range or organic

40

g

rice syrup

250

ml

almond milk -

,unsweetened, or other dairy free milk, plus extra for brushing

30

g

coconut oil -

melted

1

Orange - zested

optional 40g dark chocolate chunks, minimum 70% cacao

2

tbsp

gluten free flour plus 2tbsp water for the crosses
Instructions
Mix together the dry ingredients in a large bowl

Place the milk and syrup into a glass measuring jug and heat in a microwave on high power for 30 seconds until just warm. Stir well

Add the milk and syrup mixture to the dry ingredients along with the egg, melted coconut oil and zest of the orange

Stir well until it comes together into a dough, then, using your hands knead until smooth

If using the chocolate chunks, add them to the dough now and knead evenly through the mixture

Divide the dough into 8 pieces and roll into balls

Place each bun onto a lined baking tray, leaving some space between them to allow them to rise

Boil the kettle and pour boiling water into another baking tray to approx. 1cm deep

Place the tray with the boiling water into the bottom of your oven, then place your buns on the shelf above. Close the oven door and leave for 1 hour

Once the hour is up, remove the buns from the oven and turn it on to 200 degrees/180 degree fan/gas mark 5

Brush the buns with milk then mix 2tbsp of my flour blend with 2 tbsp water to create a paste

Either pipe the flour paste into a cross shape on the buns, or drizzle it over in a cross pattern

Once the oven has got to the correct temperature place the buns in the oven (the tray with water in will still be in the bottom of the oven...leave it there) and bake for 20 minutes
Notes
Nutrition data is for information only and does not include optional extra chocolate or dried fruit.
Nutrition (Approx)
Calories:
255
kcal
|
Carbohydrates:
45
g
|
Protein:
6
g
|
Fat:
6
g
|
Saturated Fat:
3
g
|
Cholesterol:
23
mg
|
Sodium:
345
mg
|
Potassium:
56
mg
|
Fiber:
4
g
|
Sugar:
4
g
|
Vitamin A:
35
IU
|
Calcium:
67
mg
|
Iron:
1.6
mg