This gluten free Oreo recipe was created by 10-year-old 'Roo' last week.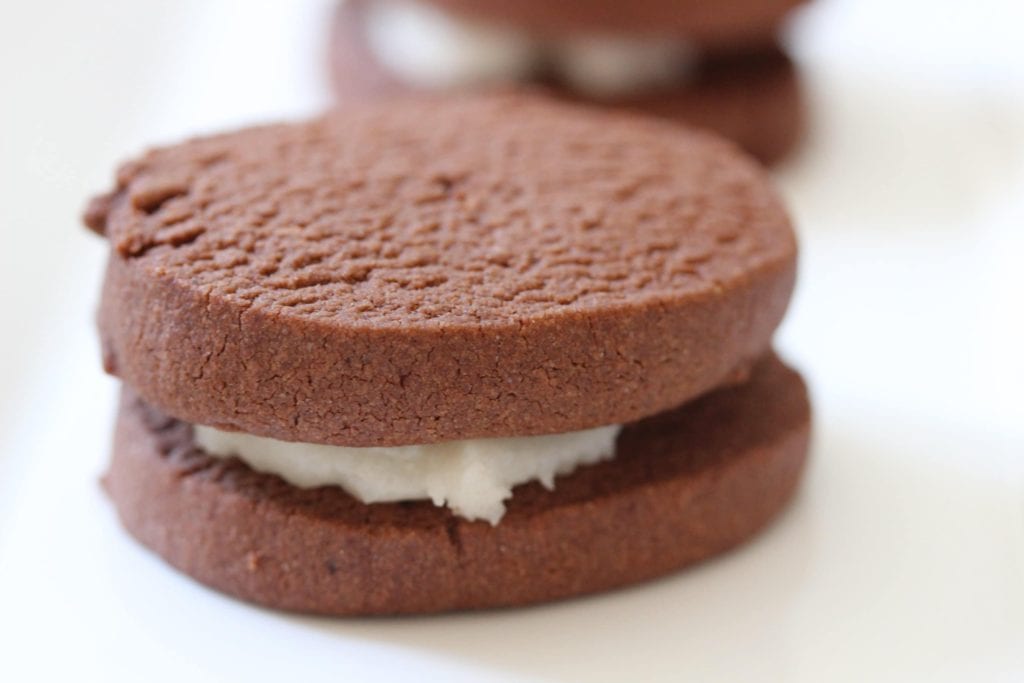 She came home from school in 'need' of a sugar fix.
I generally avoid sugar so there was nothing suitable in the cupboards.
If you ever want to get your kids into baking this is the way forward. "Roo' regularly bakes now because she knows that otherwise there will be no treats in the house!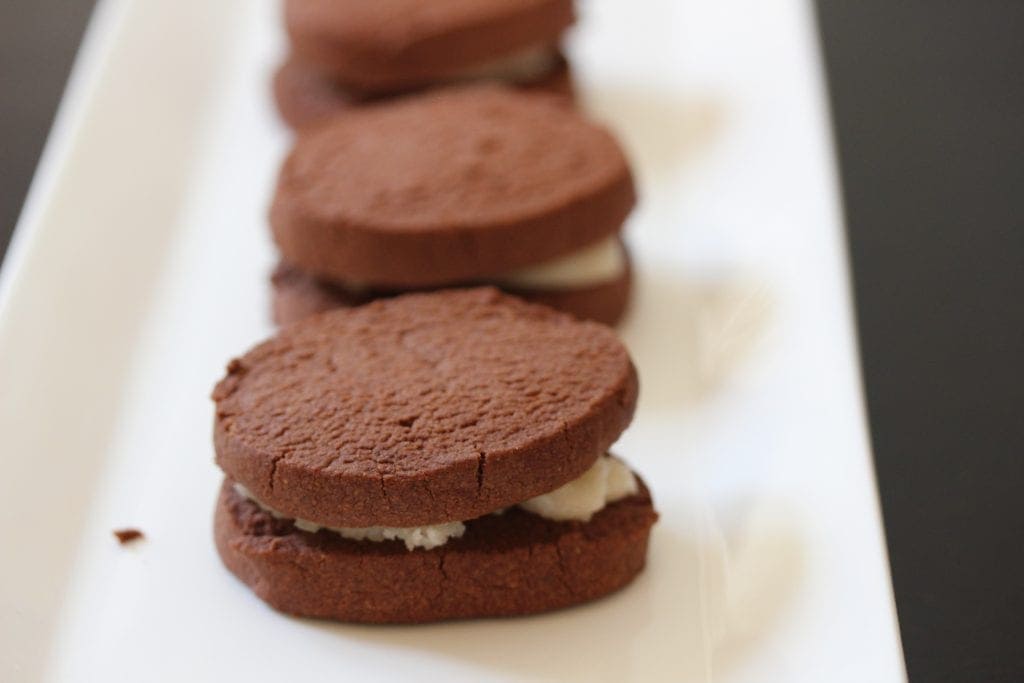 Our 'go to' recipe book for inspiration is Short and Sweet by Dan Lepard. His recipes are incredible and I've never had a problem converting them into a gluten free (and often dairy free too) version. He is one of my baking hero's.
After a quick flick through the book she came across a recipe called Toll house yo-yos. I've no idea why they are called that.
'Roo's' all chocolate, gluten free version reminded me of a huge and more spectacular Oreo. You could cut them thinner for a more Oreo-like biscuit. I personally prefer this chunky satisfying version.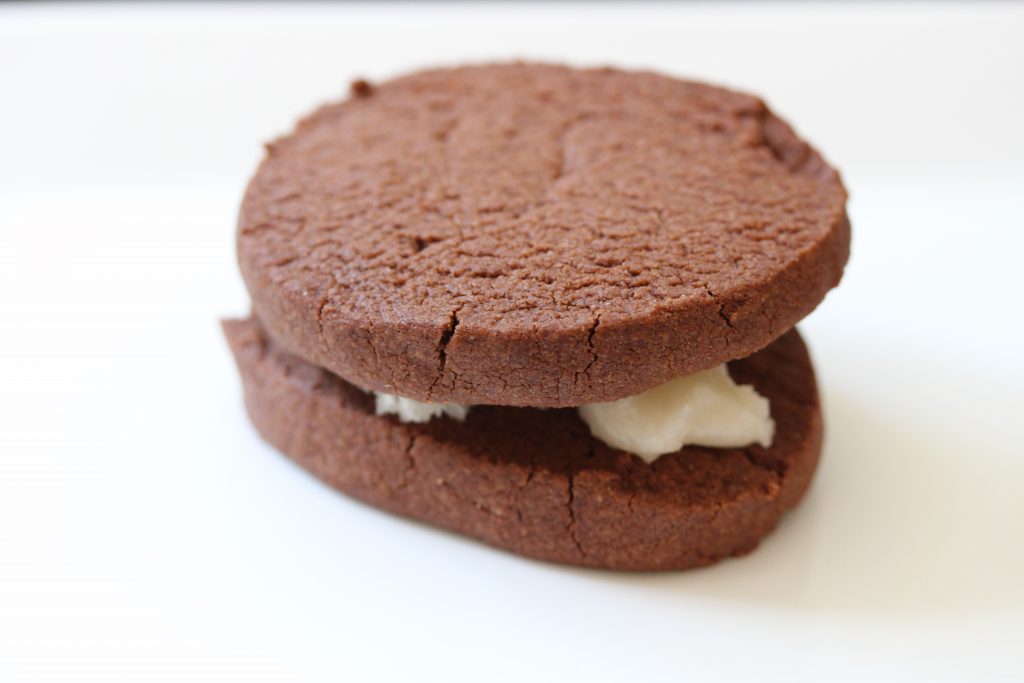 Did I resist the temptation? No of course I didn't, which is how I know they are spectacular. They are light and chocolatey and completely irresistible.
'Roo' exchanged the 'normal' plain flour for my wholegrain gluten free flour blend. It works beautifully in the place of wheat flour in most recipes and is particularly good in biscuits. I'm 100% certain that nobody would know these were gluten free.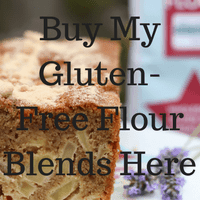 In addition to swapping the flour, 'Roo' (under my guidance) used a lot less sugar in our gluten free Oreo recipe than in the original recipe. In addition to 150g dark chocolate (which we didn't use) we cut the sugar down from a total of 475g to 300g. Still a lot, but a whole lot less than in Dan's recipe!
If you need to avoid dairy too then I suggest using dairy-free margarine in place of the butter. I haven't tried making these with coconut oil but I'm sure it would work if you reduced the amount to 120g and added a little extra milk. Then they would be vegan too.
Anyway, whatever you do, be sure not to the loose the recipe. Pin it now.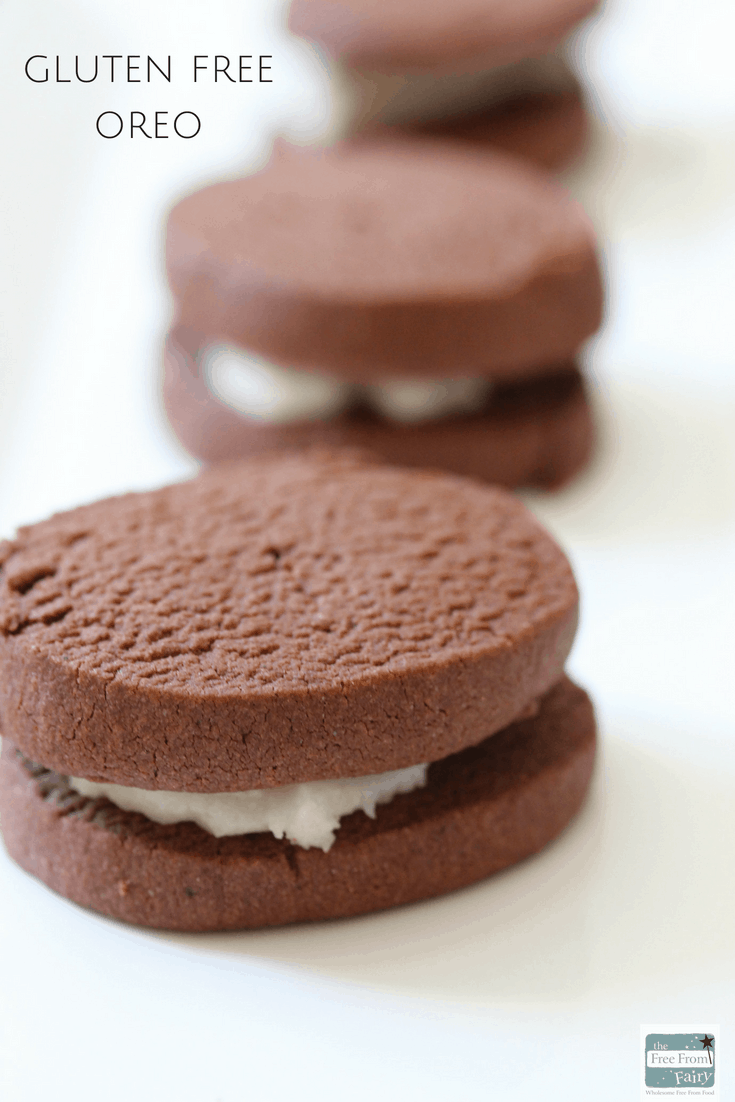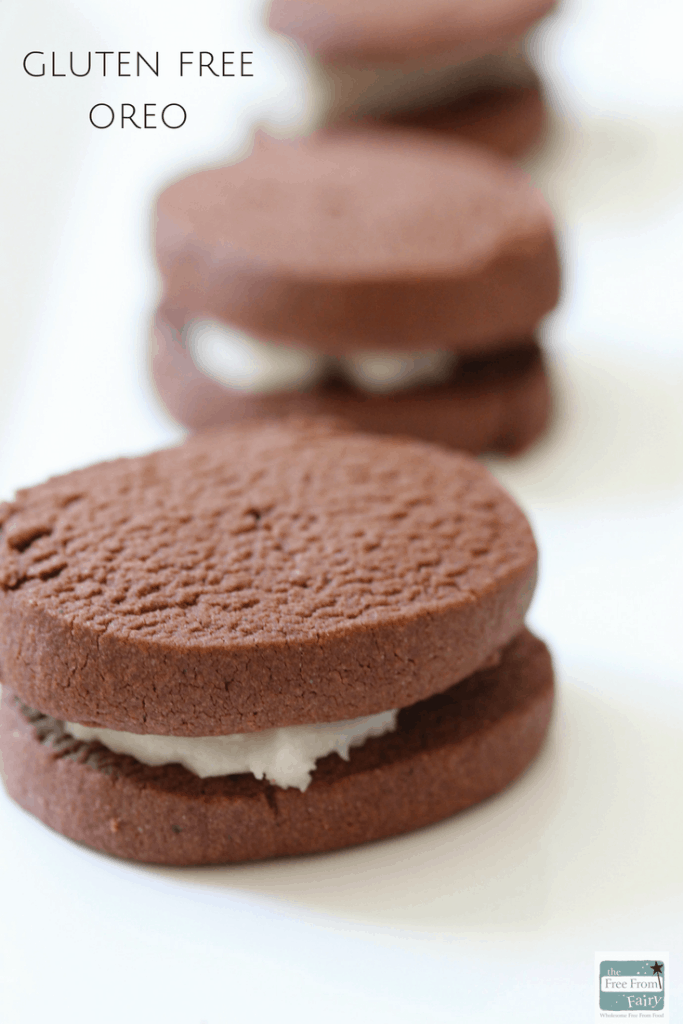 Here's 'Roo's gluten free Oreo recipe…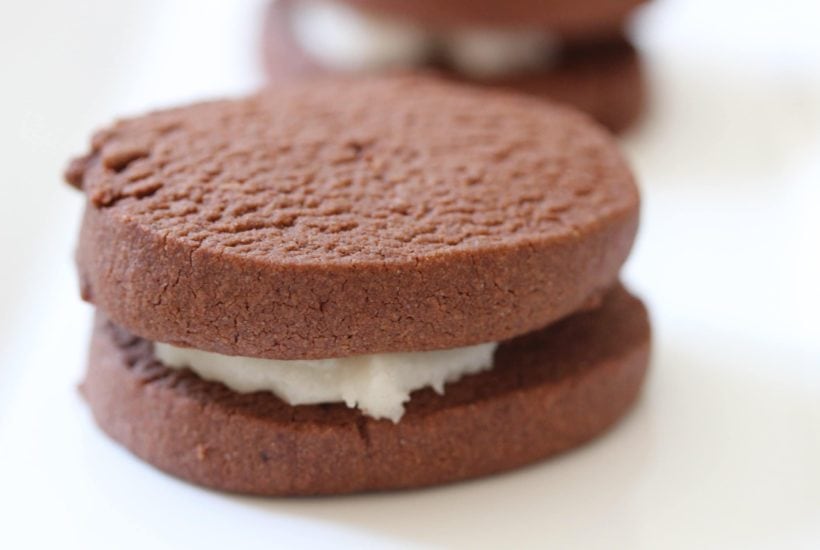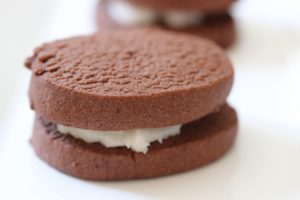 Gluten Free Oreo Copycat Recipe
You'd never know that these copycat chocolate sandwich cookies were gluten free if you didn't see the proof! This low sugar recipe will easily satisfy your need for Gluten Free Oreos!
Ingredients
For the biscuits
75

g

Oat flour (or oats ground in a blender to make a flour)

150

g

Butter

-

Organic, grass fed if possible because it contains vitamin k

100

g

Icing sugar

30

g

Gluten free cocoa

50

g

Gluten free cornflower (or custard powder - Birds in the UK is gluten free)

2

tsp

Vanilla extract

Milk (dairy or dairy free) to form a dough
Instructions
To make the biscuits beat the sugar and butter together in a bowl until light and fluffy. I made my icing sugar by putting granulated sugar into my Optimum Vac 2 blender

Add all the dry ingredients and stir well

Add enough milk and bring together into a soft dough

Using a piece of cling film on a clean surface, roll the dough into a log with a diameter of approx. 5cm, then wrap the dough in the clingfilm

Place the dough carefully into the freezer to cool for 15 minutes (alternatively cool in the fridge for 30 minutes)

Once cooled, heat the oven to 170 degrees C/150 degree fan/Gas mark 3

Line two baking trays with non-stick baking paper or re-usable silicon paper

Unwrap the dough and with a sharp knife slice into disks of approx. 1cm thickness. If the dough crumbles just stick it back together

Place the discs of dough onto the prepared baking trays with 2-3 cm between them

Bake for around 25 minutes until firm

Remove from the oven and allow to cool before filling with icing

To make the icing combine the ingredients together to form a smooth, thick paste
Nutrition (Approx)
Calories:
244
kcal
|
Carbohydrates:
38
g
|
Protein:
2
g
|
Fat:
10
g
|
Saturated Fat:
6
g
|
Trans Fat:
1
g
|
Cholesterol:
23
mg
|
Sodium:
80
mg
|
Potassium:
74
mg
|
Fiber:
2
g
|
Sugar:
21
g
|
Vitamin A:
271
IU
|
Calcium:
11
mg
|
Iron:
2
mg