This simple no churn lemon ice cream is a 'Nan recipe'. It's so easy to make and the result is simply delicious.
This post contains Affiliate links. As an Amazon Associate I earn from qualifying purchases.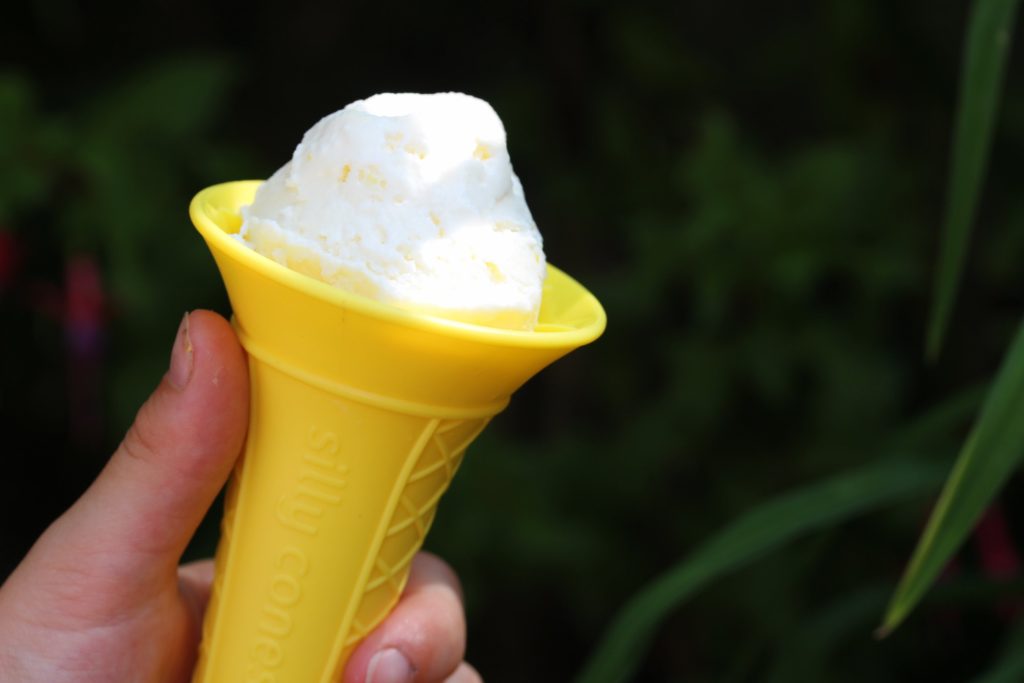 The story behind the recipe
When we visited 'Nan' and 'Dumps' in New Zealand in December we were treated to a second summer.
We were also treated to an array of delicious treats cooked by Nan.
For months before our arrival she tested out the available gluten free flour blends in various cakes and bakes. She visited the super markets to discover what food was available and she dug out recipes that she thought we'd enjoy.
This simple no churn lemon ice cream was a firm favourite. Despite trying to avoid sugar, I couldn't resist a little of this.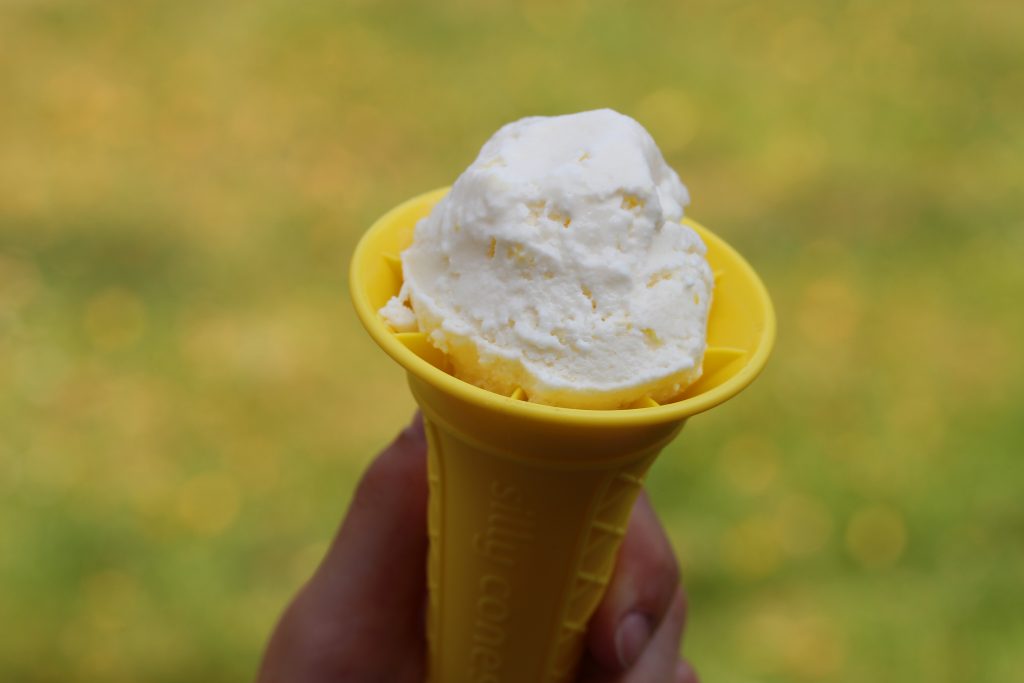 I admit over the last few months to have well and truly fallen off the sugar bandwagon. I've been eating way too much of it and am suffering as a consequence.
For me, eating sugar leads to poor sleep, anxiety, eczema, hair loss and hugely unbalanced hormones. I would never have known any of this if I hadn't removed it from my diet.
It was when I was following the SCD diet for my IBS (Irritable Bowel Syndrome) that I discovered the impact it has on me.
I know I need to remove it completely from my diet again but I just don't want to.
It's like a crutch.
It makes me feel happy even though I know it is actually making me unhappy with the symptoms it delivers. Such a double edged sword.
It's also particularly tricky to avoid when I'm developing recipes for other people.
But I know all of those things are excuses.
How do you make no churn lemon ice cream?
I'm currently working on a dairy free version that uses milk kefir but until that is perfected you have this.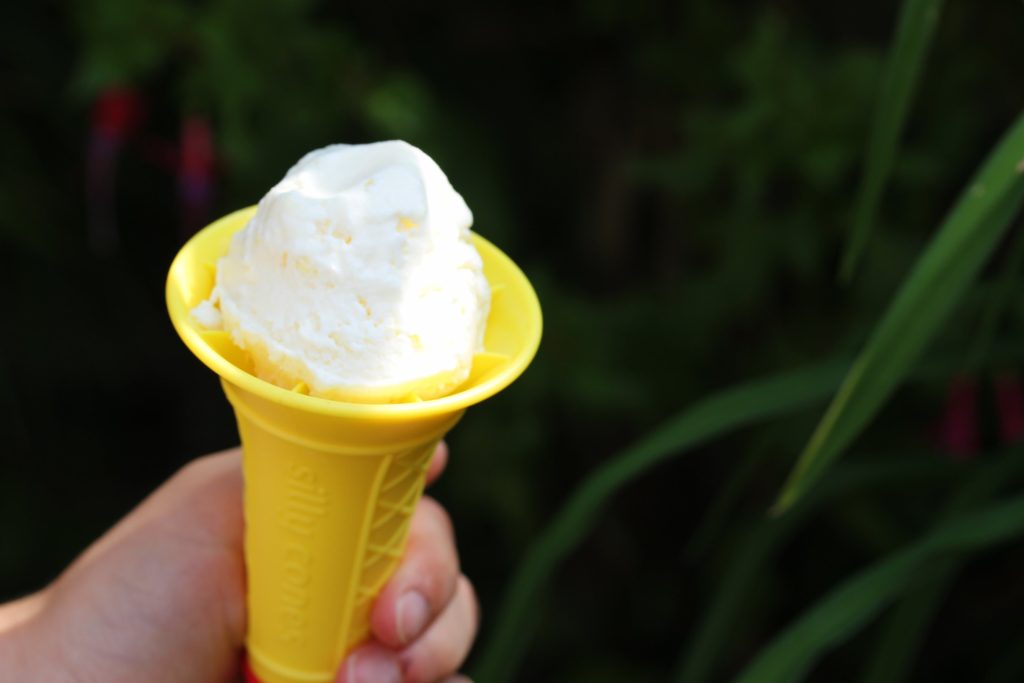 I've tweaked 'Nan's' recipe to include a lot less sugar, but apart from that it's the same creamy, deliciousness.
It makes around one litre of ice cream and is so simple to make.
The first step involves whipping the double cream until it reaches soft peaks. Then the remaining ingredients are whisked into the cream.
The easiest way to do this is to use a stand mixer. I love my Sage Scraper Mixer Pro. It makes jobs like this so easy and I use it for everything from cake making to bread making.
Why is this no churn ice cream better than shop bought?
That's simple. It's lower in sugar but it's also easier to digest too if you make it with goats milk products.
Goats milk has less allergenic proteins than cows milk. It's lower in lactose and has more easily digested proteins and fats than cows milk.
If you experience eczema, asthma, digestive discomfort, bloating and catarrh then it might be worth trying goats milk products rather than cows. If you'd like to find out more about goats milk and why it may be helfpul to you check out this post.
I certainly find that I can eat goats milk products where I react to cows milk.
Re-usable ice cream cones
As my daughter 'Roo' has coeliac disease I serve this ice cream in these re-usable ice cream cones. They are brilliant because the bottom twists off allowing you to suck the ice cream out of the bottom towards the end.
Pin the recipe so you don't lose it: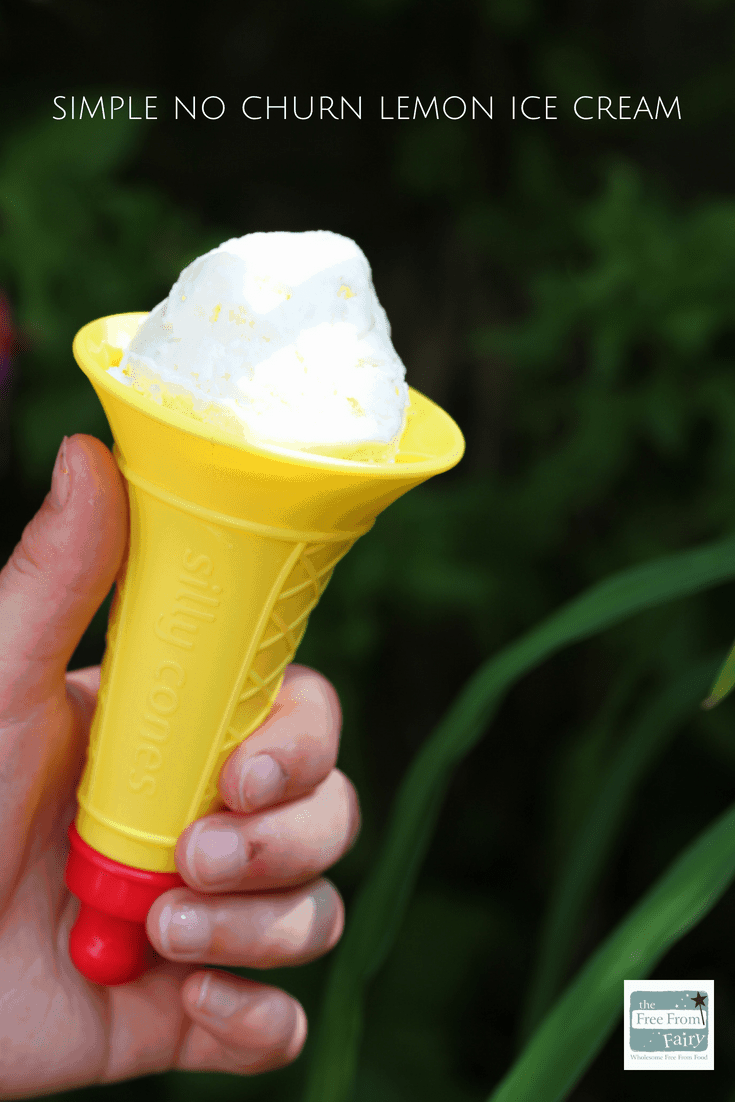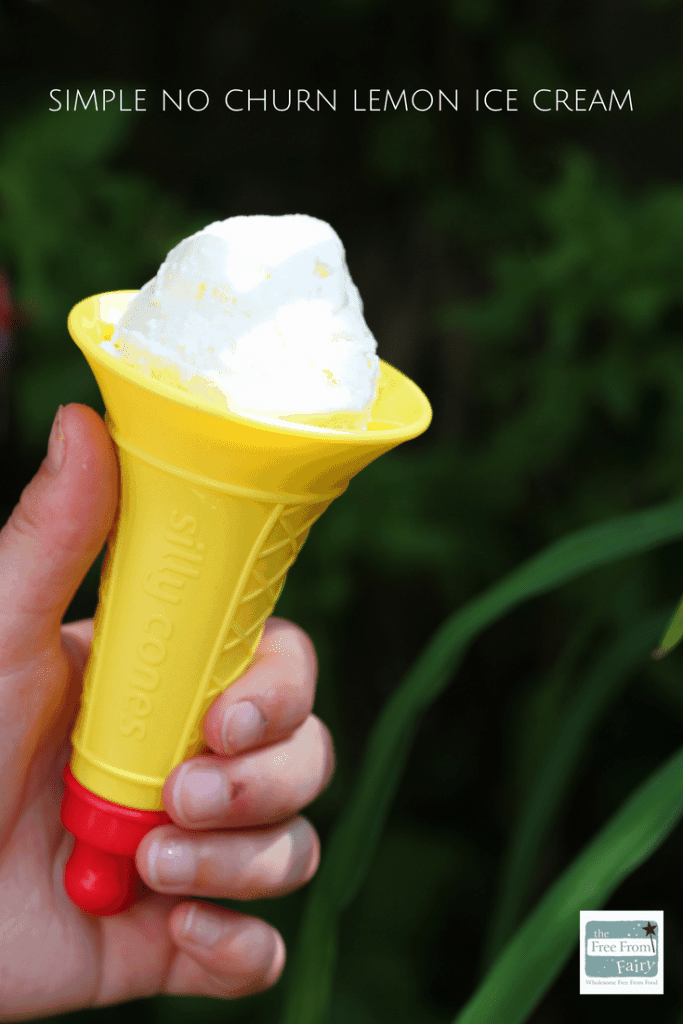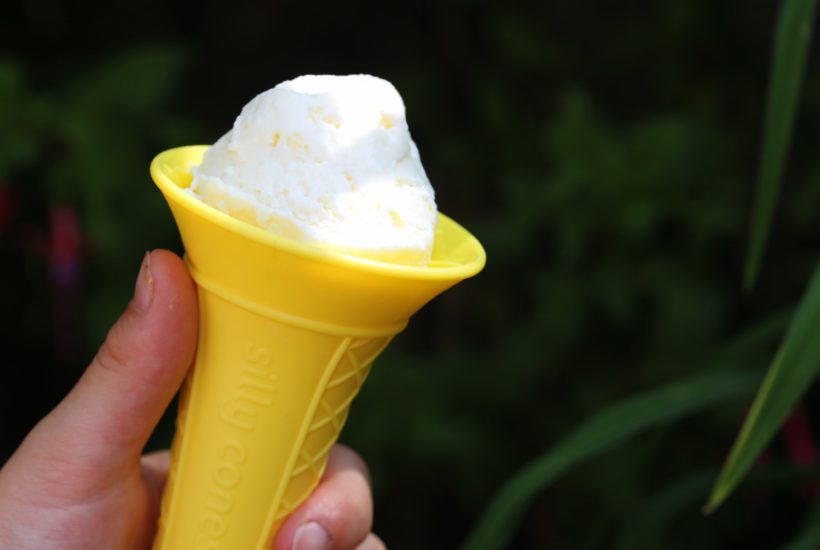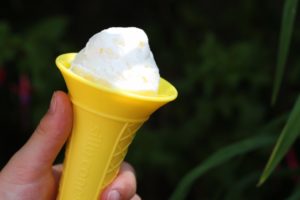 Simple No Churn Lemon Ice Cream
This simple no churn lemon ice cream is a 'Nan recipe'. It's so easy to make and the result is simply delicious.
Ingredients
300

ml

Double cream

300

ml

natural yoghurt

-

(full fat)

2

unwaxed lemons

-

organic - grated zest and juice

150

g

sugar

-

granulated or caster

300

ml

Full fat milk
Instructions
Whip the cream until soft peaks form

Whisk the yoghurt, lemon zest and juice, sugar and milk into the cream until well combined

Pour the mixture into a shallow 1.5 litre dish or box and cover

Freeze for 6 hours or overnight.

Remove from the freezer, cut into chunks and blend until smooth and creamy

Put back in the freezer until ready to use

Remove from the freezer at least 5 minutes before you want to use it to allow it to soften a little
Nutrition (Approx)
Calories:
165
kcal
|
Carbohydrates:
16
g
|
Protein:
2
g
|
Fat:
11
g
|
Saturated Fat:
7
g
|
Cholesterol:
40
mg
|
Sodium:
32
mg
|
Potassium:
91
mg
|
Sugar:
15
g
|
Vitamin A:
435
IU
|
Vitamin C:
0.2
mg
|
Calcium:
75
mg