With a dried fruit-hater in the family my salted caramel hot cross buns, or fruitless hot cross buns, are the only way to include my son in Easter food. This recipe and my double chocolate chip Hot Cross Bun one were made especially for him and anyone else who dislikes dried fruit.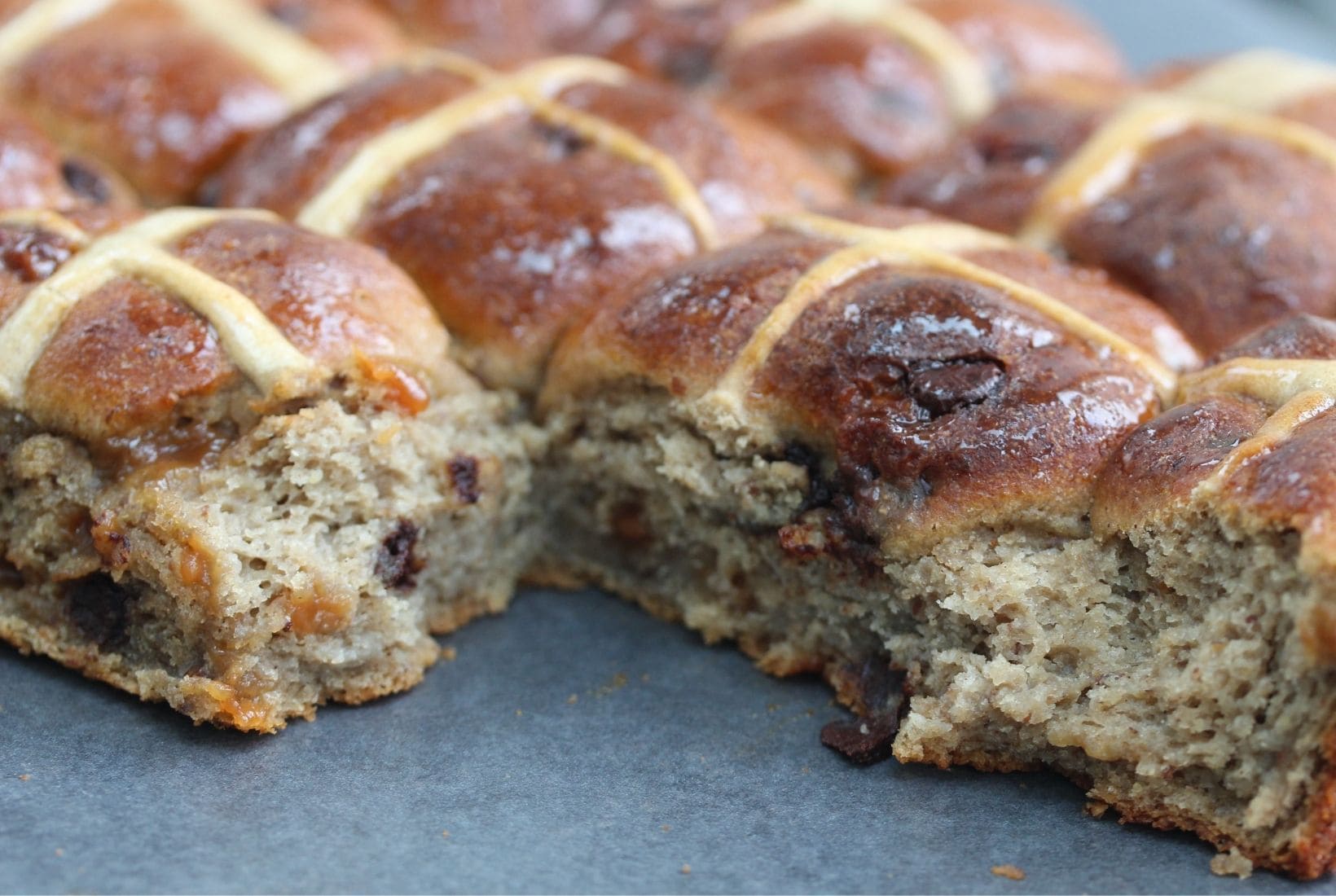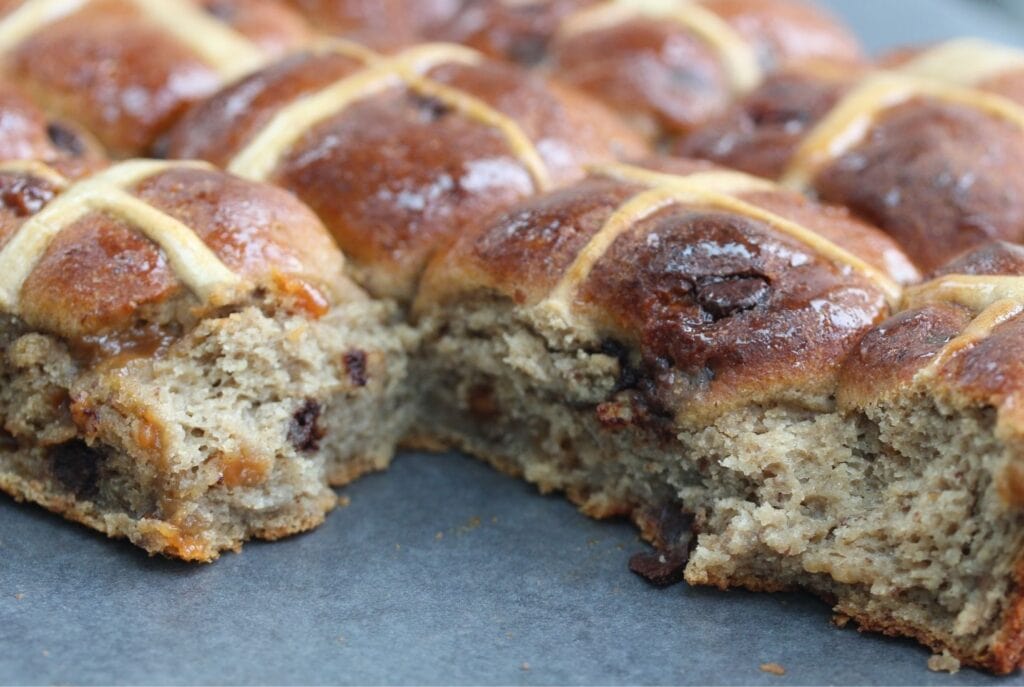 Jump to Recipe
How do you get a salted caramel flavoured bun?
Having seen these sold in several shops I thought it was about time one was created for people with coeliac disease or who followed a gluten free diet.
I looked at the ingredients of such buns and decided it would be possible using small fudge chunks and caramel flavouring.
Some buns contain the traditional mixed spice (pumpkin pie spice) but I felt this wouldn't work with the fudge pieces. I therefore opted to use caramel flavouring which I found in Tesco.
In addition to the fudge pieces, I added some dark chocolate chips. Mainly to provide a different texture and to temper the sweetness of the fudge. If you don't want chocolate chips in yours, leave them out.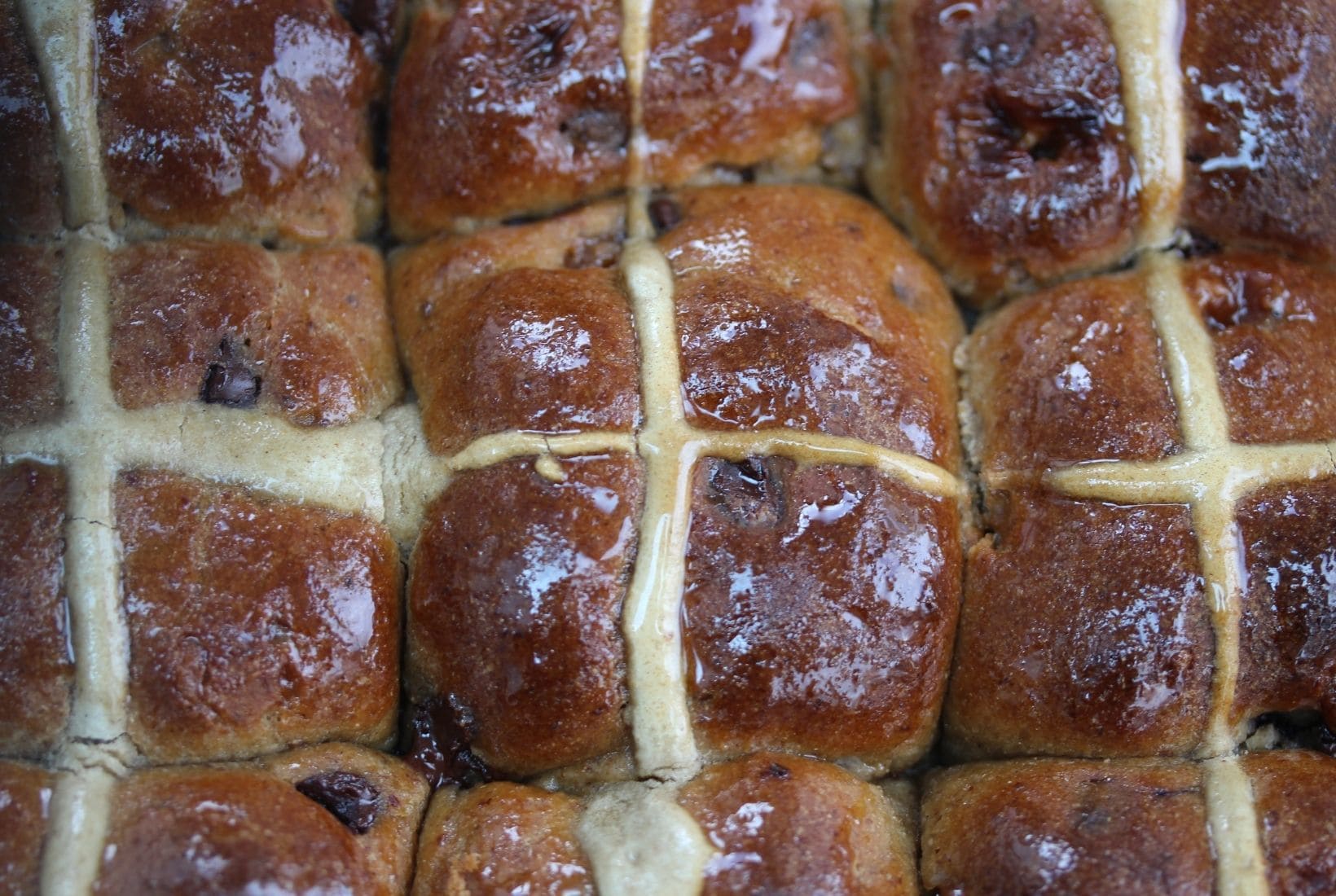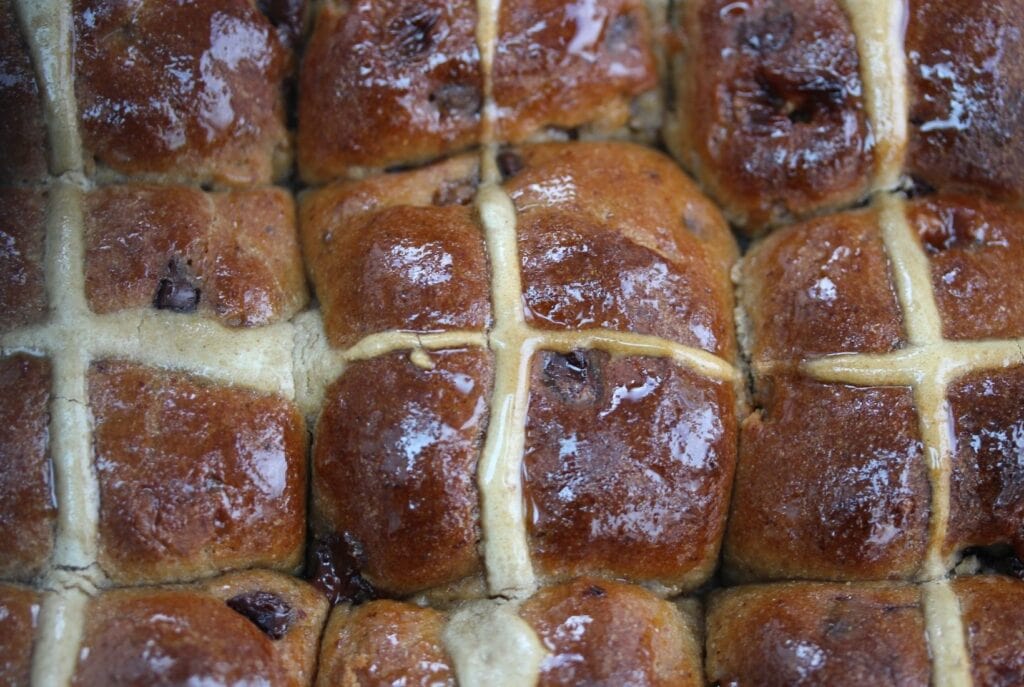 Can these salted caramel Hot Cross Buns be made without dairy and eggs (suitable for vegans)
It is possible to make these salted caramel Hot Cross Buns suitable for vegans. The only thing that doesn't make them suitable is the fudge. Therefore you can either source dairy free fudge or make your own using my 3 ingredient fudge recipe. Make sure to switch the regular milk with a dairy free alternative.
What flour is required to make gluten free Hot Cross Buns?
I've made this recipe very simple for you by creating it with my wholegrain gluten free (and vegan) bread mix.
If you are outside the UK ( and therefore unable to buy it), you can learn how to make it in my How To Make Gluten Free Bread online course. It's a course that you can take in your own time, starting and stopping the videos as necessary to learn how to make a wide variety of gluten free bread.
In addition to learning how to make my unique gluten free bread mix, you'll also learn how to make my gluten free flour blend.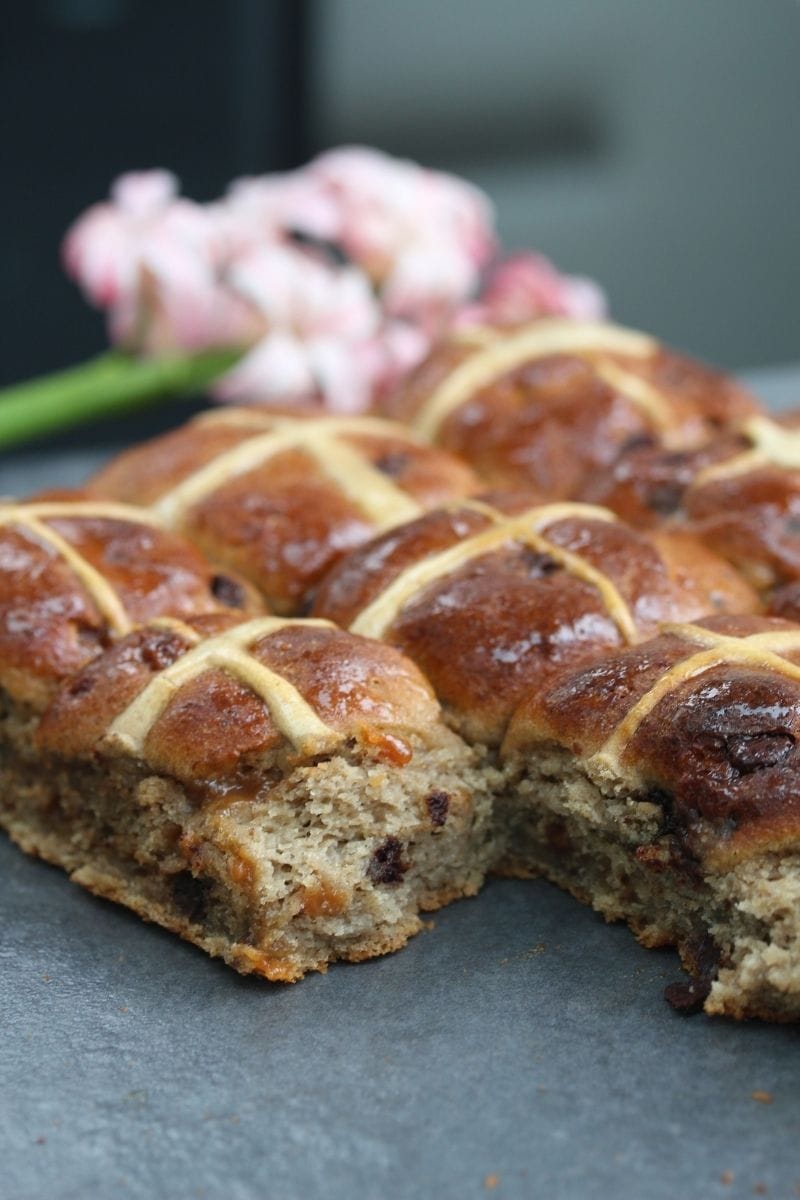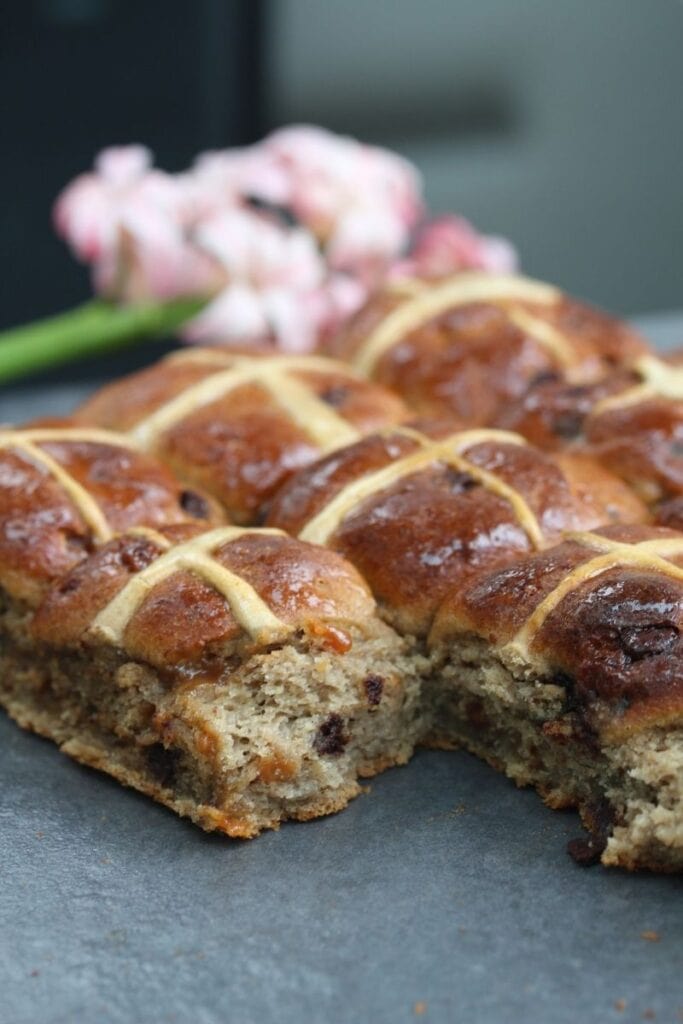 How easy is it to make gluten free Hot Cross Buns?
I've made it incredibly easy to make my salted caramel Hot Cross Buns.
Simply place my gluten free bread mix into a large bowl, add all the remaining dry ingredients and stir well before adding the wet ingredients. It really is that simple!
If you'd like smooth buns without whole flax seeds simple place my bread mix into a blender before using it.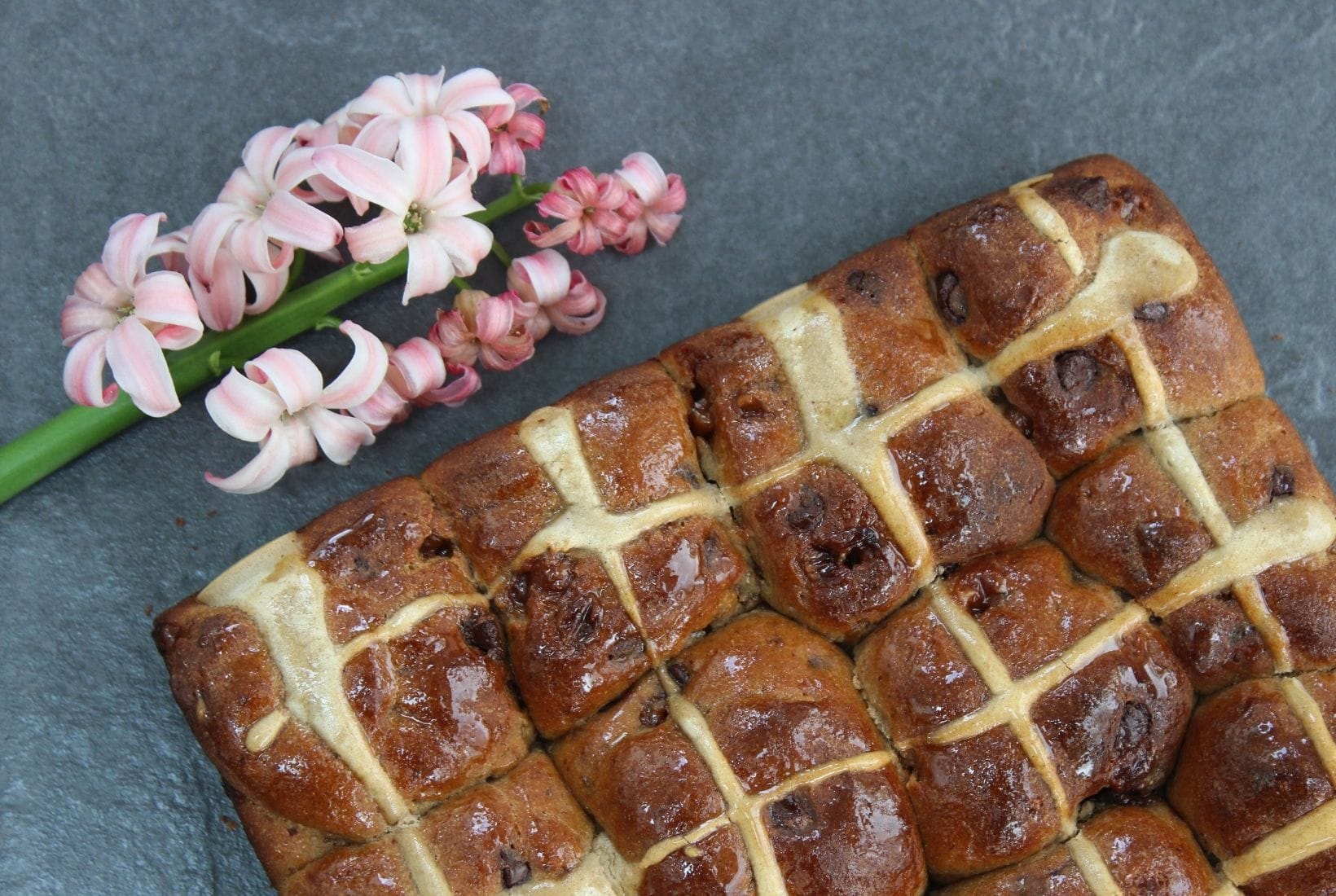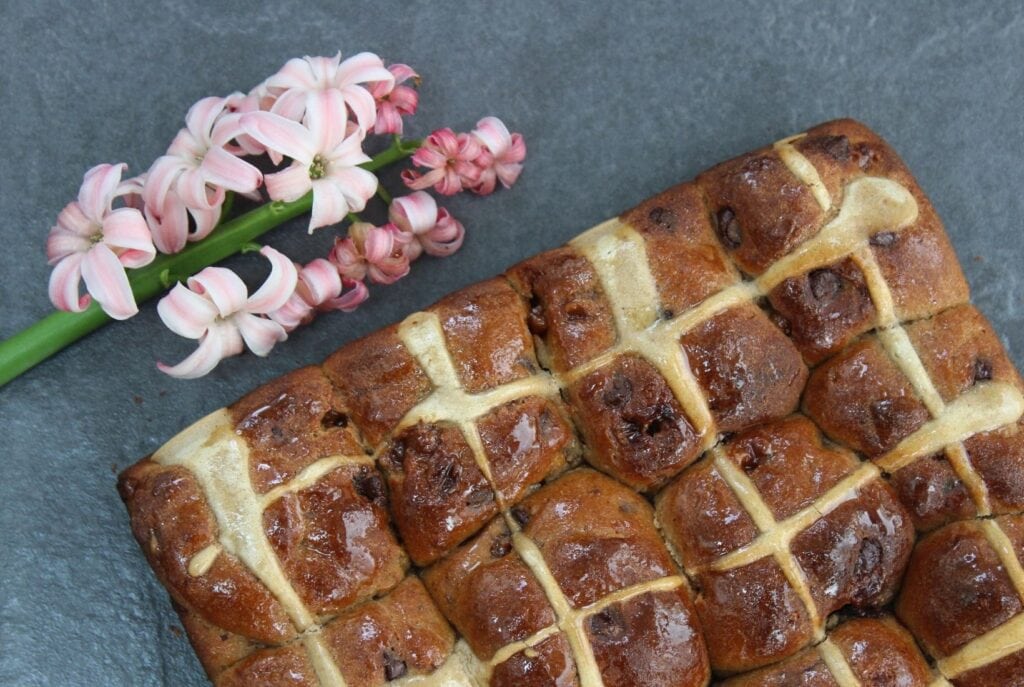 The dough is really sticky, how do I roll it?
The dough is pretty sticky but I have a number of tips on how to handle it.
Firstly, mix the ingredients really well. The mixing process thickens the mixture.
Secondly, once you've added the liquid to the dry ingredients, make sure you leave the mixture for at least 5 minutes. This ensures that the psyllium husk powder and flax seeds (within the bread mix) absorb the liquid.
Once the dough has thickened rub your hands with olive oil and remove a chunk of dough with a desert spoon. Roll the dough in your hands and place in your tin.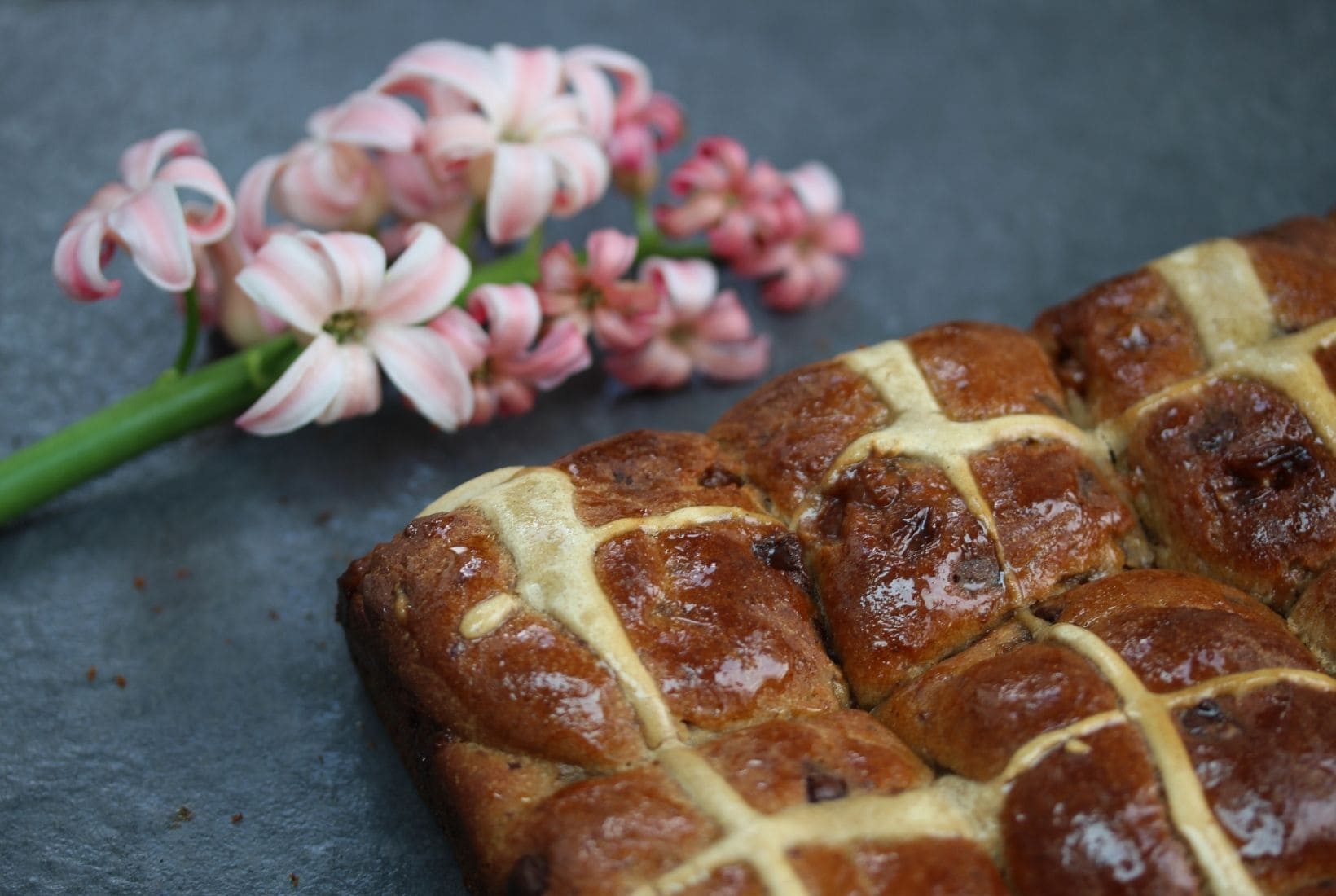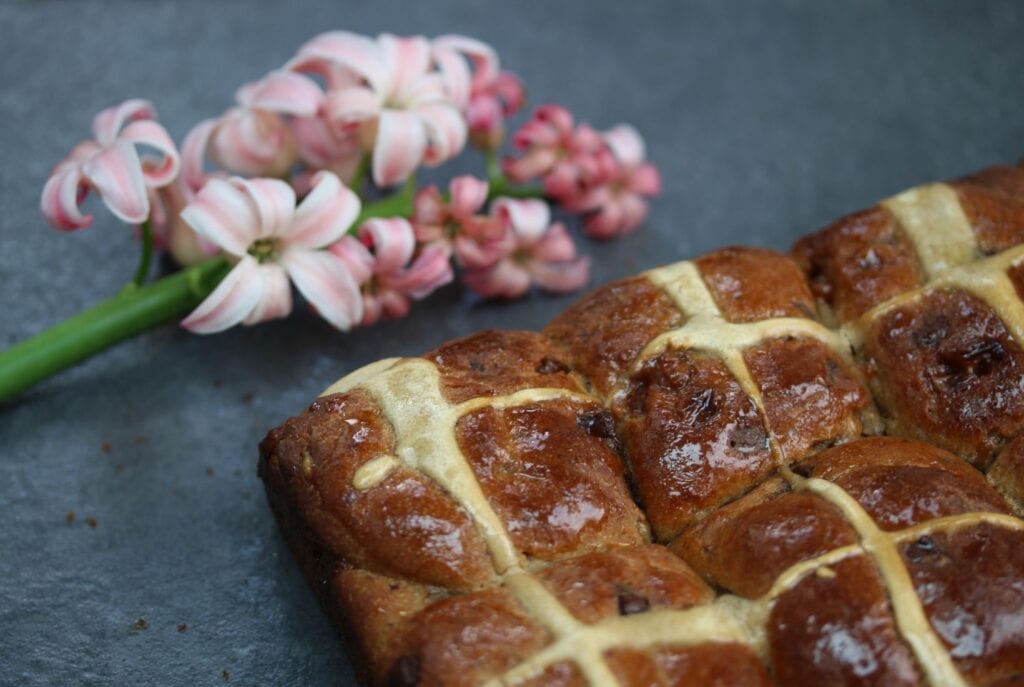 Other Hot Cross Bun & Easter recipes
If this recipe doesn't take your fancy then I've lots of other Hot Cross Bun & Easter recipes that might…
I've also collected together many of my Easter recipes into a downloadable ebook. You can purchase that below:
Gluten Free Easter Recipes (Downloadable Book)
In Gluten Free Easter Made Easy I share some of my favourite gluten free Easter recipes.
This year will mark our tenth gluten free Easter so I have recipes for all your favourite Easter bakes along with recipes that you can make as gifts.
Inside the book you'll find recipes for gluten free hot cross buns, chocolate truffles, chocolate simnel cupcakes and more. You'll also find my recipes for special Easter desserts, delicious gluten free breakfasts and gluten free Easter gifts.
Once you pay for the book you'll receive a link to download a PDF copy of your book. You can print this out or view it on your screen.
Pin the recipe so you don't lose it: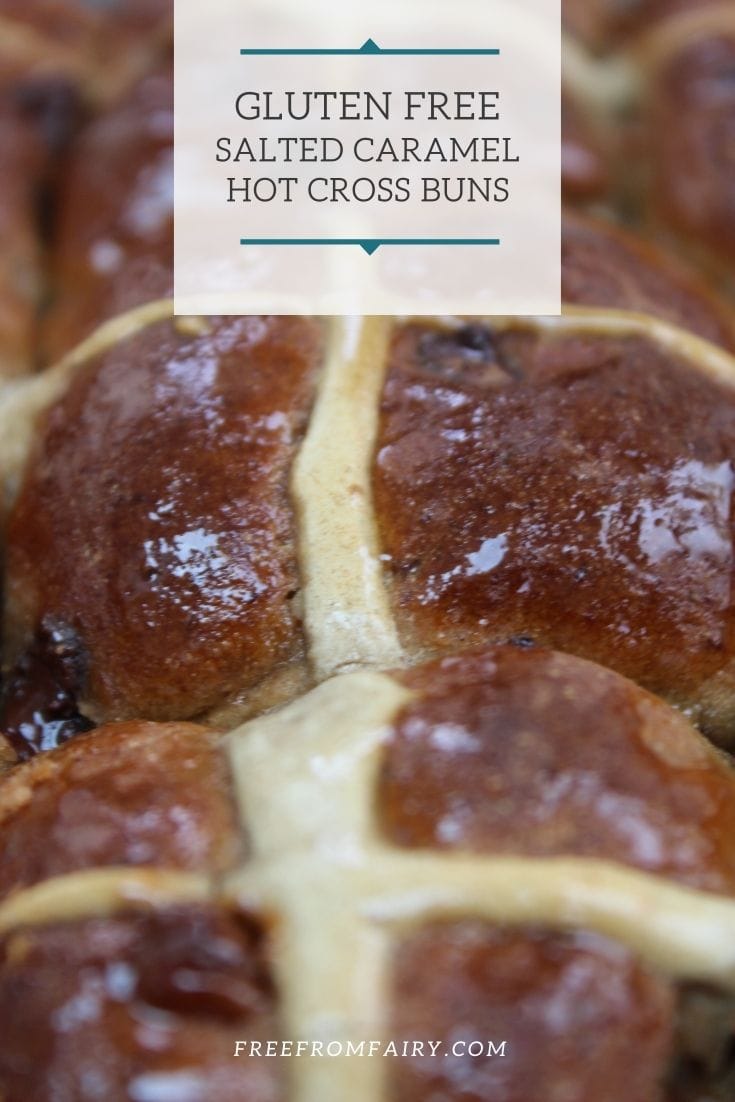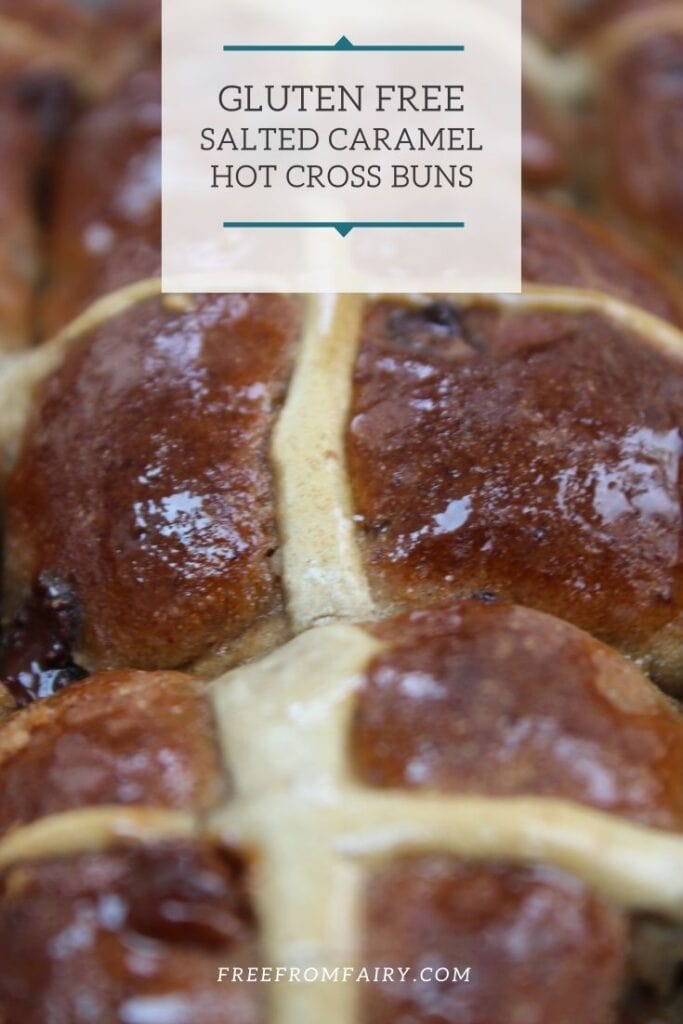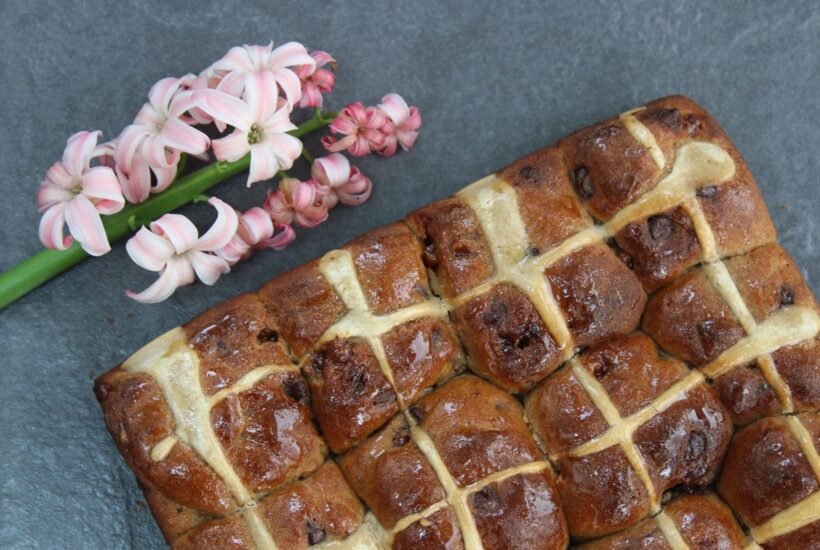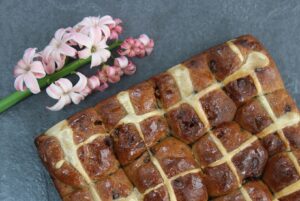 Gluten Free Salted Caramel Hot Cross Buns (Vegan Option)
A soft salted caramel gluten free Hot Cross Bun recipe using the Free From Fairy's wholegrain gluten free bread mix. Suitable for people with coeliac disease or following a vegan diet.
Ingredients
For the buns
40 – 50

g

Light brown sugar

-

or granulated white sugar or coconut sugar

7

g

Dried yeast

-

I recommend the Easy Bake Allinson's brand

340

ml

Dairy free milk -

or cows milk if not dairy free/vegan

130

ml

Boiling water

30

ml

Olive oil

-

or melted butter if not dairy free/vegan

2

tsp

Caramel flavouring

-

I used Dr Oetker's

1

tsp

Balsamic vinegar

-

or cider vinegar

75

g

Fudge chunks (little pieces of fudge)

-

check dairy free if required (I used Tesco own 'fudge chunks'

40

g

Dark chocolate chips

-

check vegan if required
For the crosses and glaze
1.5

tbsp

Water

-

(or enough to make a thick but runny paste)

2

tsp

Runny honey

-

(warmed) – rice syrup if vegan
Instructions
To make the buns:
If you want buns without whole flax seeds the first step is to empty the bread mix into a blender and blend until the flax seeds are no longer whole. Then follow the next step…

If you don't mind whole flax seeds place the bread mix in a large mixing bowl and add the sugar and yeast and stir well to combine.

Using digital weighing scales weigh out your boiling water and milk into a jug and stir to combine

Add the milk/water mixture along with the oil (or melted butter, vinegar and caramel flavouring to the dry ingredients and stir well to make a smooth dough. Add the fudge pieces and chocolate chips. Leave to stand for 5 minutes.

Stir the mix again. With oiled hands divide the mixture into 12 pieces. Roll each piece into a ball and place it into your 23cm square tin. Repeat until the tin is full. Make sure to re-oil your hands if the mixture gets sticky!

Place the buns into an oven set to its lowest temperature (or just on with the light). It should be around 50 degrees C

Leave the buns to rise for 20 minutes before removing them from the oven and turning it up to 230 degrees C/ 210 degrees Fan/ Gas 8/446 F

While the buns rise, mix the cross ingredients together – the flour and water – to make a smooth paste

Drizzle the cross paste across each bun and place back in the oven. There is no need to wait for it to get up to full temperature

Bake the buns for 20 – 25 minutes until golden

While the buns are still warm, heat the honey or rice syrup

Using a pastry brush spread the warm honey over the warm buns

Cool the buns on a wire rack before storing, or eat them while warm
Notes
Nutrition data for information only and may not be completely accurate
Nutrition (Approx)
Calories:
244
kcal
|
Carbohydrates:
43
g
|
Protein:
5
g
|
Fat:
6
g
|
Saturated Fat:
2
g
|
Polyunsaturated Fat:
1
g
|
Monounsaturated Fat:
2
g
|
Trans Fat:
1
g
|
Cholesterol:
1
mg
|
Sodium:
214
mg
|
Potassium:
89
mg
|
Fiber:
4
g
|
Sugar:
15
g
|
Vitamin A:
122
IU
|
Vitamin C:
2
mg
|
Calcium:
60
mg
|
Iron:
1
mg