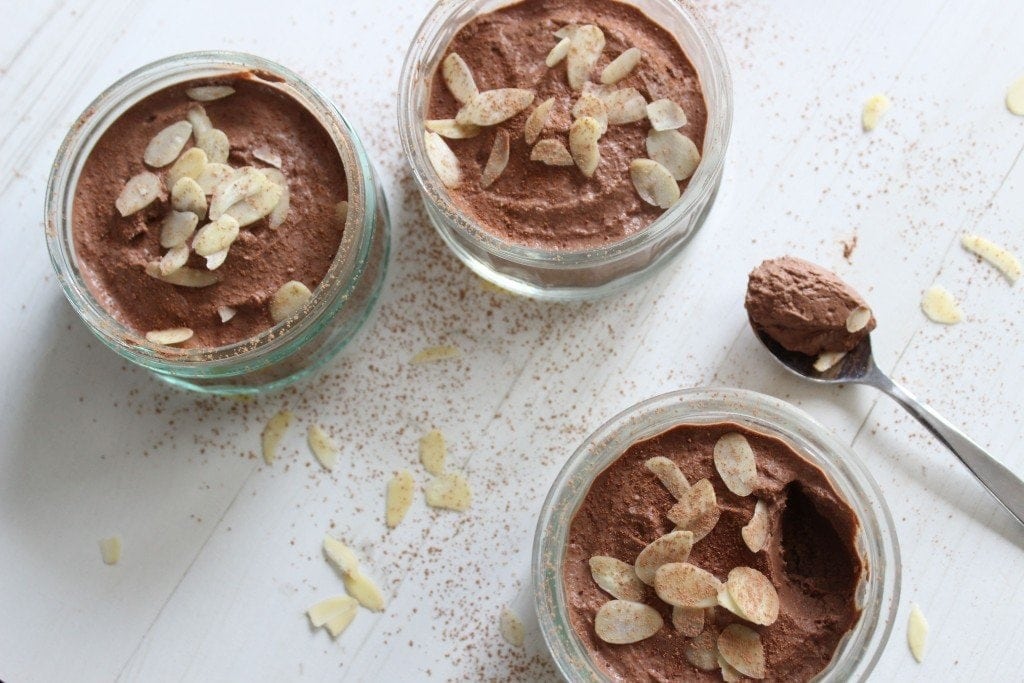 I'm bursting with excitement!
Some of you will have seen on social media today that I had a meeting with the manager of the River Cottage canteen down in Plymouth.  It was to discuss various things, one of them being whether they would use my gluten-free, mutipurpose, wholegrain, rice-free flour blend (AKA FFFflour!).
I was up early so that I could bake some of my fresh cheddar and sundried tomato soda bread to take with me. In addition to that I went armed with some little dairy-free chocolate tarts (only I had run out of Stork so had to make the pastry with butter) and some dairy-free lemon and cardamom shortbread…all in the hopes of showing them just how versatile my flour is!
I am super excited and pleased to tell you that the manager loved it and was equally excited about the flour.  (Don't you just love it when that kind of thing happens…other people get excited about something you have created) Amazing!
The upshot of the meeting is that they are keen to get baking with my flour…so I just need to get it to them in the right quantities!  Wow.
For those of you who really don't get excited about flour then perhaps you will get excited by today's recipe…vegan chocolate almond mousse…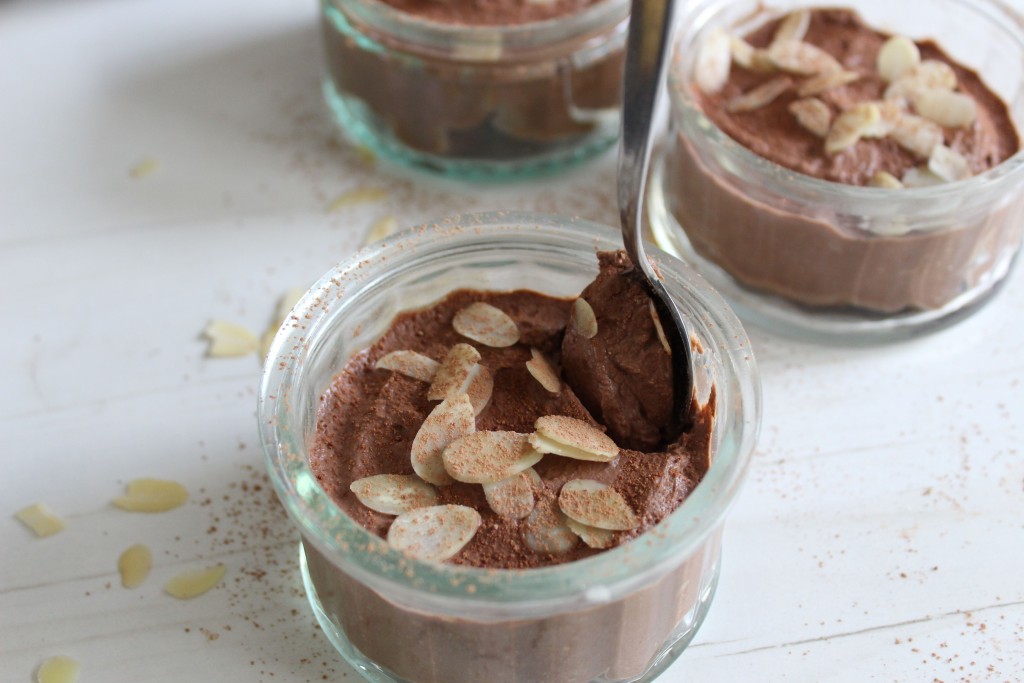 It is one that I have been meaning to share for months but for one reason or other it hasn't happened!  Today seems like the right day because it is quick and simple and should appeal to everyone (even coconut haters…Mr M had no idea it was made from coconut milk!).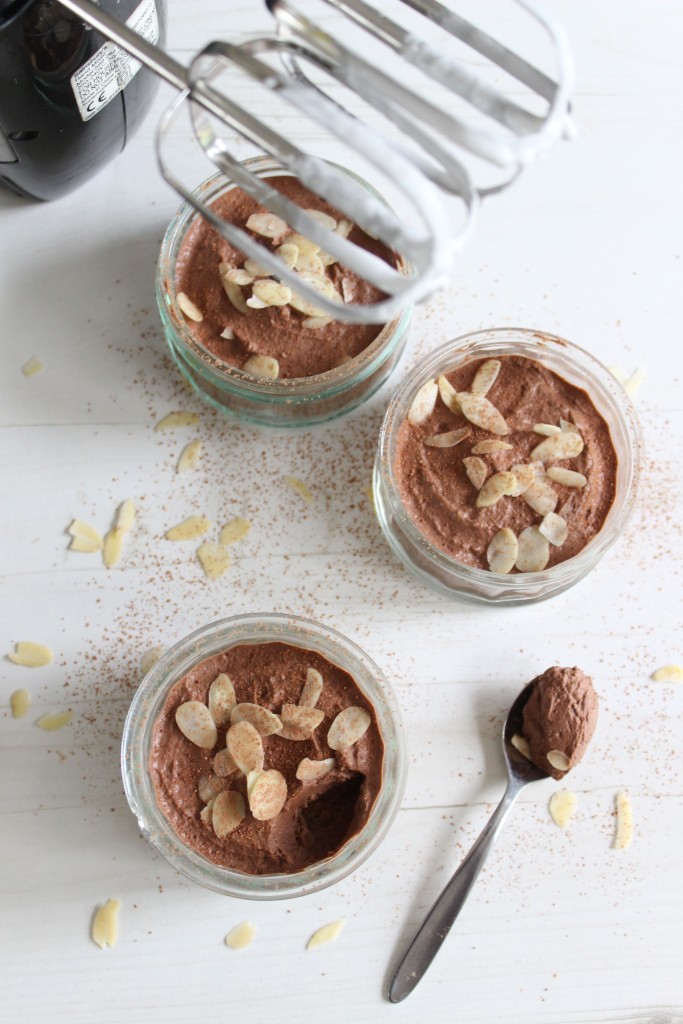 It contains none of the traditional ingredients for mousse but is equally decadent tasting!
It is free from gluten, dairy, eggs and soya and is the perfect healthier alternative to bought dairy-free deserts…plus nobody will know it is freefrom!
I hope you enjoy it!  Do let me know if you try it.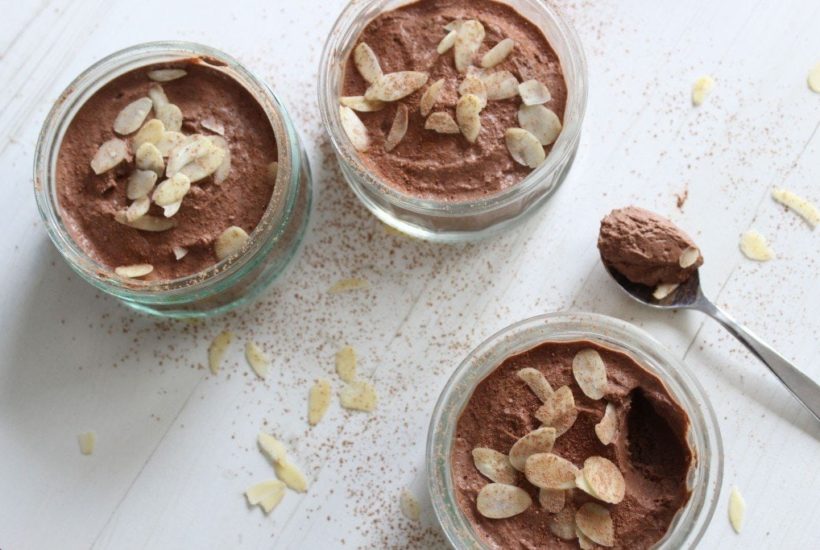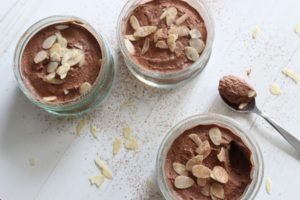 Healthier Vegan Chocolate Almond Mousse (Gluten-free & Low FODMAP)
Gluten-free, Dairy-free, Egg-free, Soya-free, Low FODMAP, can be nut-free
Ingredients
1

tin chilled coconut milk

-

thick bit only

70

g

dairy-free dark chocolate

-

at least 70% cocoa solids

1/4 - 1/2

tsp

good quality almond extract

-

optional

Handful flaked almonds to decorate

-

optional
Instructions
Place the tin of coconut milk in the fridge (I keep mine in there all the time in case I need just the thick part!) - ideally over night

Remove the tin of coconut milk from the fridge, turn gently upside down and open. Pour the liquid into a container (use in a smoothie or a curry another time) and scoop out the thick part into a bowl

Whisk the coconut milk with a hand held electric whisk until light and fluffy

Place the dark chocolate plus 4tbsp of the reserved coconut water into a bowl and melt, either over a pan of boiling water, or by putting in the microwave in 10 second bursts and stirring in between each burst

Gently fold the melted chocolate and optional almond extract, through the whipped coconut cream

Divide between four ramekins, scatter with optional flaked almonds and serve immediately, or chill until required
Pin the recipe so you don't loose it!