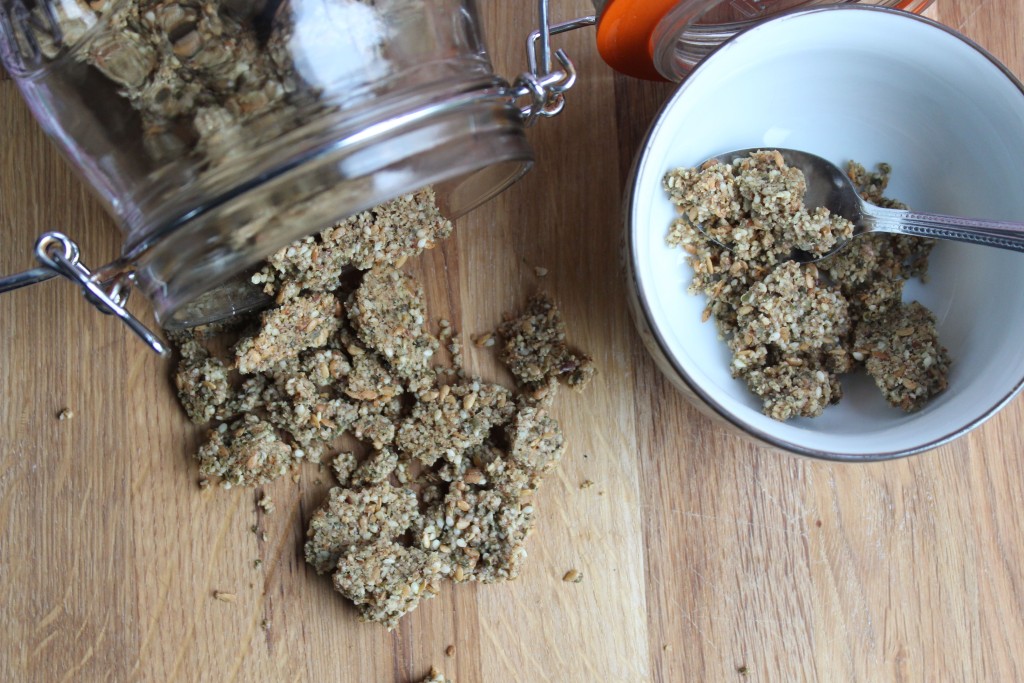 Good afternoon!  I hope this finds you well?
I have a stinking headache so I will keep this post short and sweet!
I also have a mountain of work to do, researching packaging, speaking to designers and speaking to manufacturers to try and get my multipurpose (rice-free – hurrah!) gluten-free wholegrain flour out to you!
So, onto the recipe.  I was inspired to make this by my lovely fellow blogger Vicky over at Gluten-free SCD & Veggie who has a recipe for grain and tree nut free crunchy cereal (not to mention all the other wonderful recipes!).
I wanted to make something healthy that I could spruce up a bit of cooked fruit, or plain dairy-free yoghurt with for healthy mid-week puddings.  I therefore took Vicky's recipe and made it my own (when do I ever follow a recipe?!) so that it was low FODMAP.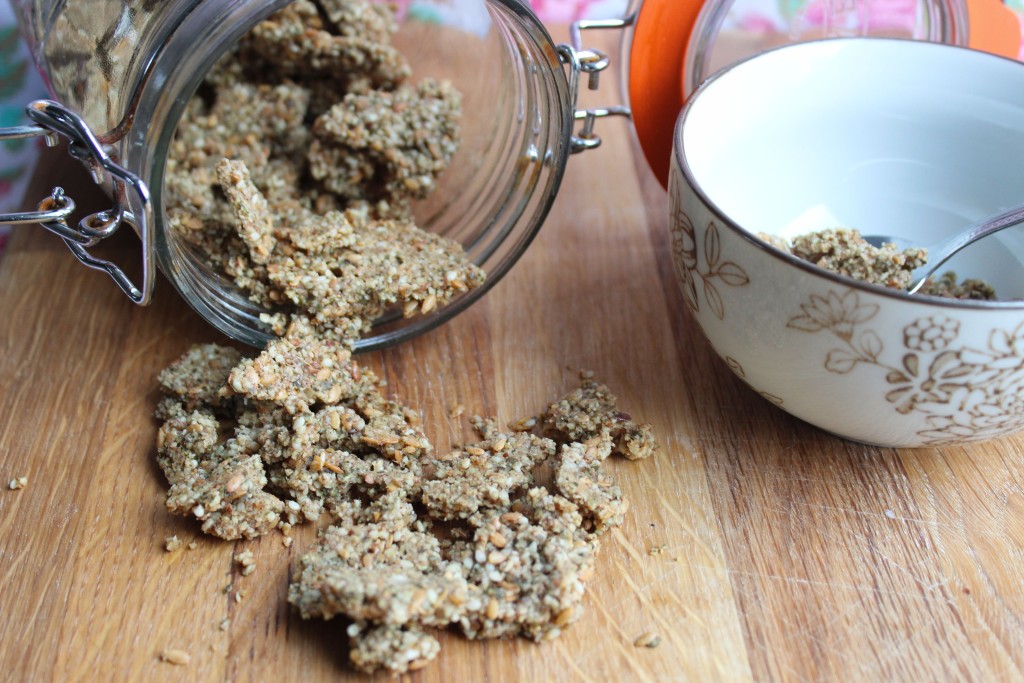 I can safely say, it hasn't yet made it into any puddings because it has been eaten straight from the jar!  The kids went wild for it and I can't seem to leave it alone either!  To make it easily digestable, soak the nuts and seeds in some lightly salted (rock or sea, not table!) water overnight, then drain them before using. You may need to increase the cooking time if you do this to make sure they are properly dried out.
So, if you are looking for a quick snack to satisfy your mid-afternoon dip…or to feed the kids when they get home, then this will fit the bill!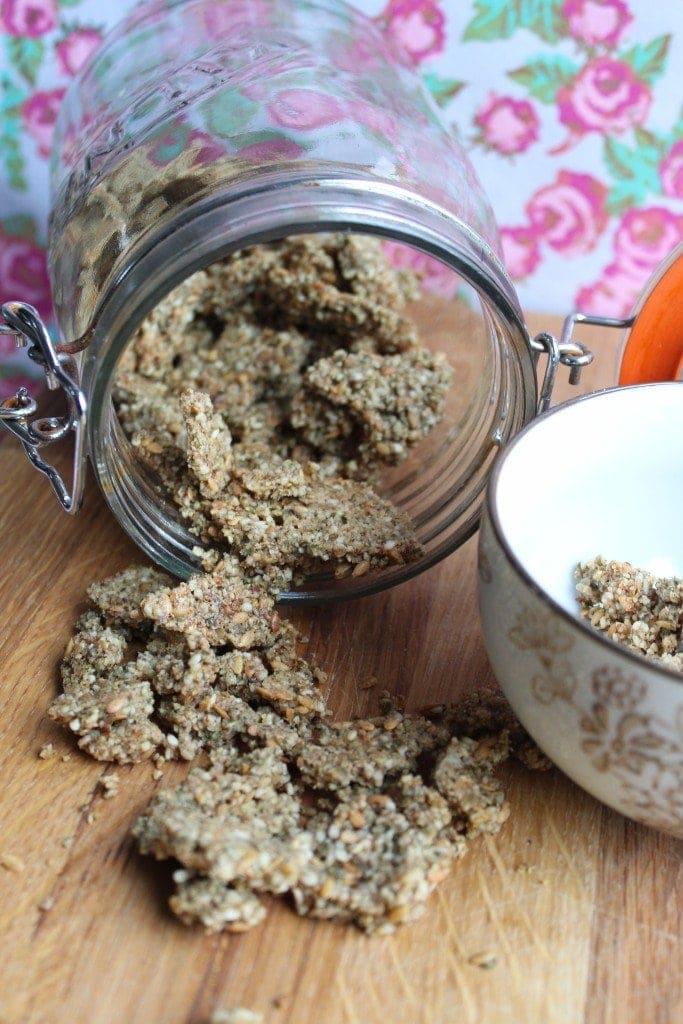 As always, do let me know if you try the recipe out! I love to hear from you.
Don't loose the recipe! Pin it now!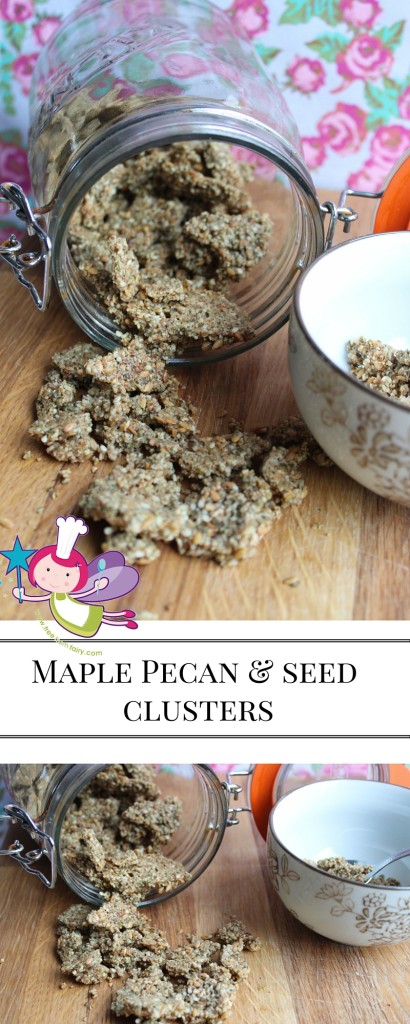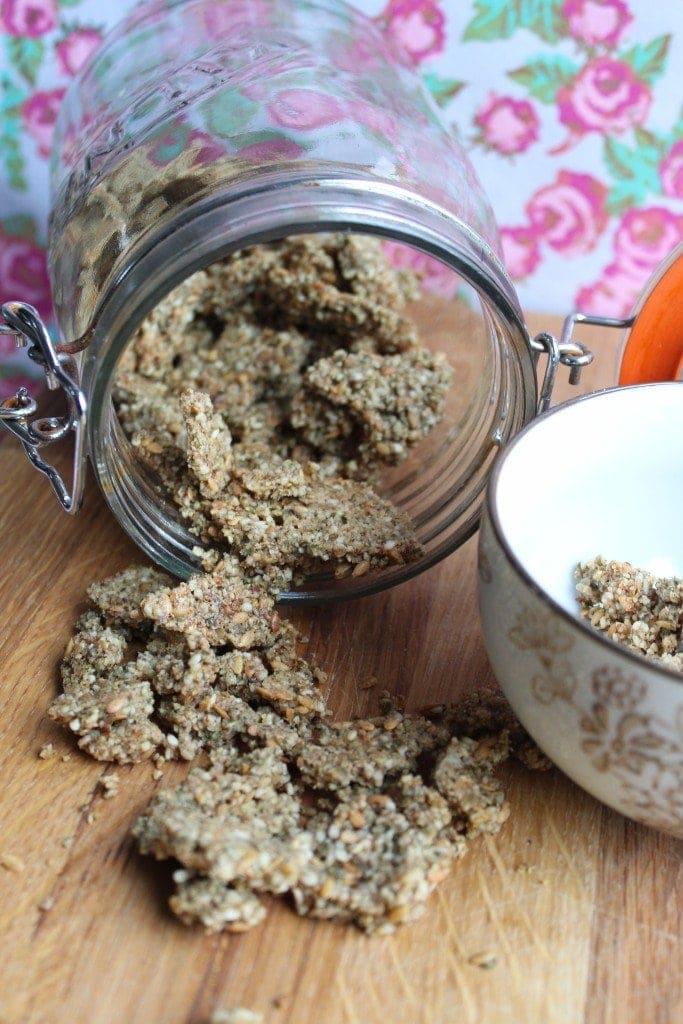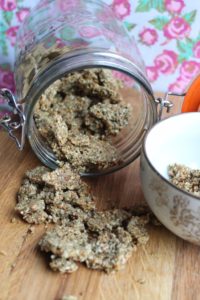 Maple & Pecan Seedy-Nut Clusters: A Glutenfree, Dairyfree, Eggfree, Soyafree, Refined Sugarfree Recipe!
Gluten-free, Dairy-free, Egg-free, Soya-free, Refined Sugar-free
Ingredients
50

g

pumpkin seeds

50

g

pecan halves

25

g

seseme seeds

25

g

linseeds

25

g

sunflower seeds

30

g

coconut oil

10 - 20

g

maple syrup -

or honey

1

tsp

cinnamon
Instructions
Place the nuts and seeds into a hand held chopper or blender and process until fine, but not sticky. I advice you to do this in pulses to make sure you don't end up with a nut and seed butter

Add the coconut oil, sweetener and cinnamon and blend again quickly

Spread the mixture out onto a lined or greased baking tray pushing it down to approx. 5mm thick. It doesn't need to be tidy because once cooked and cooled you will break it up

Bake in a pre-heated oven at 150 degrees (130 degree fan, gas mark 2) for 15-20 minutes until golden

Allow to cool completely before breaking up and storing in an airtight container