I'm a self-confessed gluten-free flour geek.
Anybody who knows me or has been reading this blog for a while will have worked that out.
It came about when developing my own wholegrain gluten free flour blend.
If you aren't sure what a gluten free flour blend is then check out this blog.
In my defence I am a scientist by training. However, I could never entertain the idea of working in a laboratory every day of the week with only test tubes and petri dishes to keep me company.
Instead, after completing my biochemistry and genetics degree, I turned my hand to looking after people (homeless people to be precise). I travelled and I played around with developing government policy.
But something was missing, and I was missing out on my children growing up.
When my daughter was diagnosed with coeliac disease it was the perfect excuse to turn my kitchen into a laboratory and start 'playing' with gluten-free flours. After all, I had been avoiding wheat due to my irritable bowel syndrome for many years before that, but hadn't quite had the motivation to create great gluten-free products when it was just for me.
It had always annoyed me that to make anything half-decent I needed at least 8 different gluten-free flours in my cupboard. They used to fall out on me every time the door opened, and white powder (of the innocent variety) was strewn around the shelves.
Each flour has a unique property, so unlike baking with wheat flour, to get successful gluten-free bakes a combination of gluten-free flours is required.
I hate faffing, so fiddling around weighing out a little bit of this flour and a little bit of another frankly got on my nerves, along with the myriad of recipes that required 10g of one flour, 20g of another and so on…leaving lots of opened bags of flour in my disorganised cupboard awaiting the opportunity to fall out.
As another bag of flour dropped out of the cupboard on me I knew it was time to try to create one blend of gluten free flour that I could use in everything I made.
I'd set the task, and being stubborn, I knew I had to make it succeed.
After almost two years of reading, blending and experimenting with 23 different blends I created my wholegrain multi-purpose gluten free flour blend, followed by a self-raising version made with aluminium-free double-acting raising agents. This means that there are two acids and one alkali (almost all raising agents are made from one acid and one alkali).
So who cares? Well, one acid reacts with the alkali upon contact with liquid while the other reacts upon contact with heat, giving your baked goods two rises, one upon mixing the ingredients and the other during baking. Therefore your bakes are more reliable, rise higher and have more structure to them, which is particularly important in gluten-free baking.
My final gluten free flour blend is made from 70% wholegrain flours – teff, sorghum and buckwheat with a little potato and tapioca starch to help bind and lighten the blend. I carefully chose grains that would provide vital nutrition so often lacking in a gluten-free diet, whilst also being perfect for use in all baking.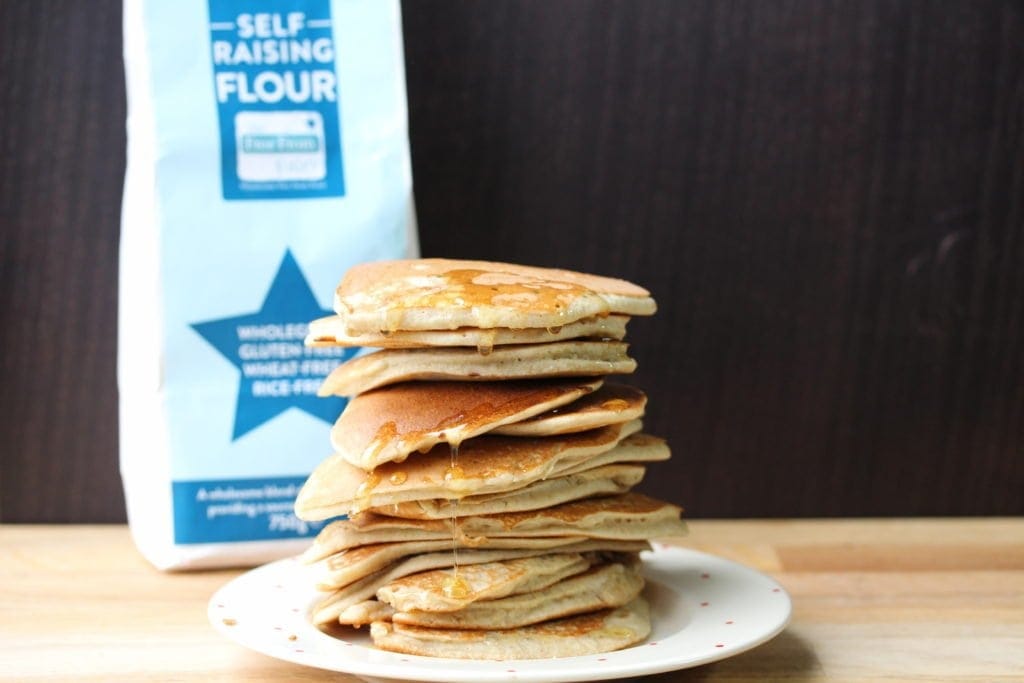 During my experiments I learnt a lot about gluten-free flours.
This in turn taught me to understand that not all gluten-free flour blends are equal and why when baking with some, the results are less than desirable.
When you have a gluten-free baking disaster I suggest you start by looking at what you flour blend contains. Many contain a high quantity of nutritionally devoid starches, gums and even milk. They need the gums to provide structure to the final baked goods but baking with them can be hit and miss. The high protein content of my flour blend provides structure to baked goods meaning you don't have to handle them with kid-gloves and you get great results every time.
Anyway, if you're interested in knowing what I've learnt about each individual gluten-free flour then read on!
Equally, you could attend a gluten-free cookery day at River Cottage where Naomi Devlin will teach you all about them.
Rice flour.
The first thing I learnt was that rice flour was in most flour blends and most gluten-free products, but that it contains a dangerous form of naturally occurring arsenic called inorganic arsenic, as does all rice. Rice, more than most other plants, absorbs arsenic from the water it is grown in and when consumed by humans has the potential to increase risk of illnesses including cancer. I therefore wanted to create a gluten-free flour blend that didn't contain rice flour which is commonly used because it is cheap
Teff flour
Incredibly nutritious although rather strong-tasting on its own. Combined with other flours it increases the nutritional value of the blend being naturally high in protein, fibre, calcium, iron, magnesium, Vitamin B6 and Vitamin C. It is also a source of resistant starch which is not broken down into glucose but instead broken down by the large intestine and converted into fatty acids. This makes it a perfect carbohydrate option for those wishing to control blood sugar levels.
It is a 'heavy' flour so needs to be combined with 'lighter' flours and starches to prevent baked products from being too dense. It can be used on its own to create a traditional fermented Ethiopian flatbread called injera.
Millet flour
Great for lightening baked goods and has a similar protein content to wheat flour. However it has a short shelf-life, a slightly bitter taste and suppresses thyroid activity leading to hypothyroidism. I therefore didn't include it in my final blend, although it did make it into successful blend 22!
Bean flours
Strong in flavour and tend to give you wind! Or at least, being an IBS sufferer, they make it a lot worse. They are, however, very high in protein and also grain-free for those who continue to have symptoms on a gluten-free diet. Chickpea flour is my favourite of these and is perfect used on its own to make socca bread.
Sorghum flour
Another highly nutritious flour that is high in protein and fibre along with being a source of iron, manganese and certain B vitamins. Being a wholegrain it takes longer to digest than refined white flours thereby helping to control blood sugar levels and making you feel full for longer. It has a mild flavour and helps to bind baked products made with it.
Buckwheat flour
Nothing to do with wheat despite its name and is another high fibre, high protein flour. It has a strong earthy flavour that many people find overpowering. It is a seed related to rhubarb and acts as a good binder in baked goods.
Quinoa flour
Provides a source of complete protein and once again helps to maintain blood sugar levels. It is a pseudo-grain and a good source of calcium, manganese and magnesium, B vitamins, vitamin E and fibre. However, it has quite a strong flavour so needs to be combined with other flours to ensure it isn't overpowering in the final bake.
Coconut flour
High in fibre, protein and healthy fats but can be hard to digest. It also has a low score on the glycemic index meaning it helps to stabilise blood sugar levels. Because of it's coconutty taste it is best combined with other, lighter flours to get a good final bake. It absorbs a huge amount of liquid so I suggest using 1 additional egg per 1 tablespoon of coconut flour in recipes.
Chestnut flour
A lovely fine flour with a slightly sweet flavour. It is quite a 'light' flour but should generally be combined with other flours to lessen the flavour. It is high in fat and therefore goes off quickly. I keep mine in the freezer to lengthen the shelf life.
Oat flour
One of my favourite gluten-free flours but I didn't include it in my blend because there are a small proportion of coeliac's who react to it. It creates lovely soft bakes when combined with other gluten-free flours and is wonderful when combined with my flour blend in bread. Oats are a source of beta-glucan, a type of soluble fibre that reduces blood sugar, helps you to feel full and encourages growth of good bacteria in the digestive tract.
Almond flour or ground almonds
Can be used in low carb, grain-free baking. It is high in protein and fibre and creates lovely moist bakes. It can be used on its own in baking but is better combined with other gluten-free flours. Makes delicious moist, rich cakes when combined with my flour blend.
Cassava flour
Made from ground cassava root. It is low in fat, grain-free and easily digested. I've only just started experimenting with it but it is said it can be substituted directly for wheat flour in many recipes.
Tapioca flour
A white refined, nutritionally devoid starch. It is extracted from the cassava root and although it contains no nutrients, it is very helpful in gluten-free baking since it helps to lighten and bind them.
Potato starch
Very similar to tapioca starch and can be used interchangeably in small quantities. Not to be confused with potato flour which is difficult to find and made from the whole potato.
Cornflour
Another white starch but made from maize. It absorbs less liquid that potato and tapioca starch and can help baked products be crispy.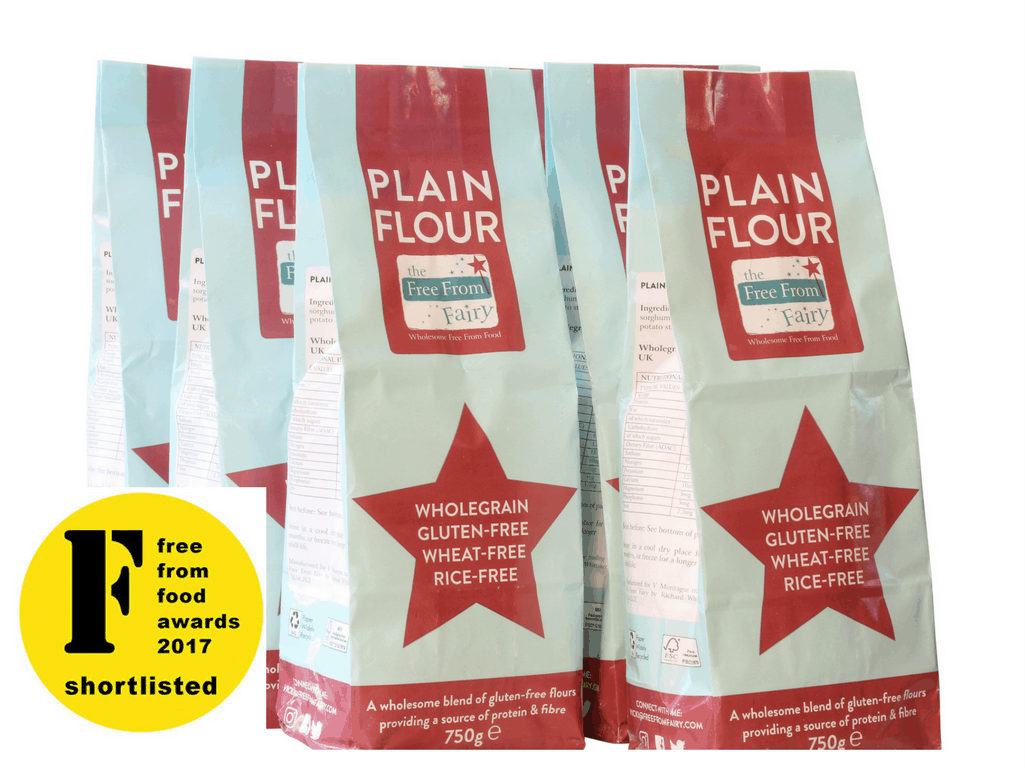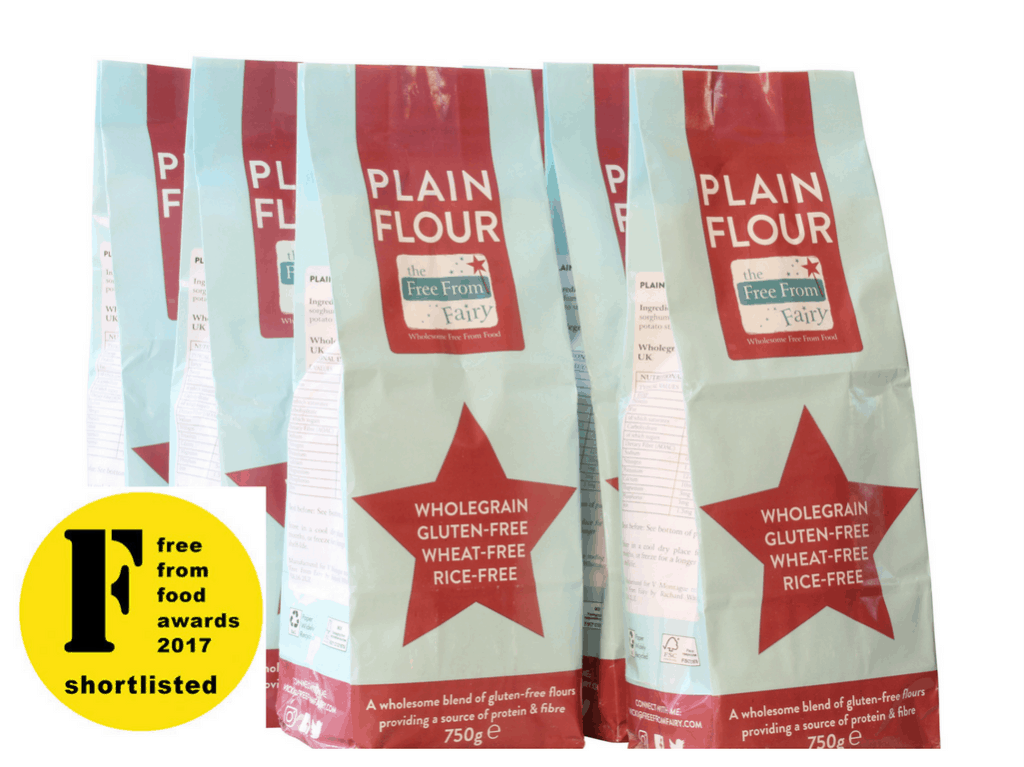 If you don't want to fiddle around trying to find the perfect combination of flours for your baking then buy a bag of my flour. I can guarantee that once you've used it you won't want to go back to you 'normal' blend and it won silver in the 2017 FreeFrom Food Awards.
It has been thoroughly tested by chefs, bloggers and my readers all of whom declare it is the best gluten-free flour blend they've ever used!
But don't take their word for it. Buy some today!
Pin this picture so you don't lose this post: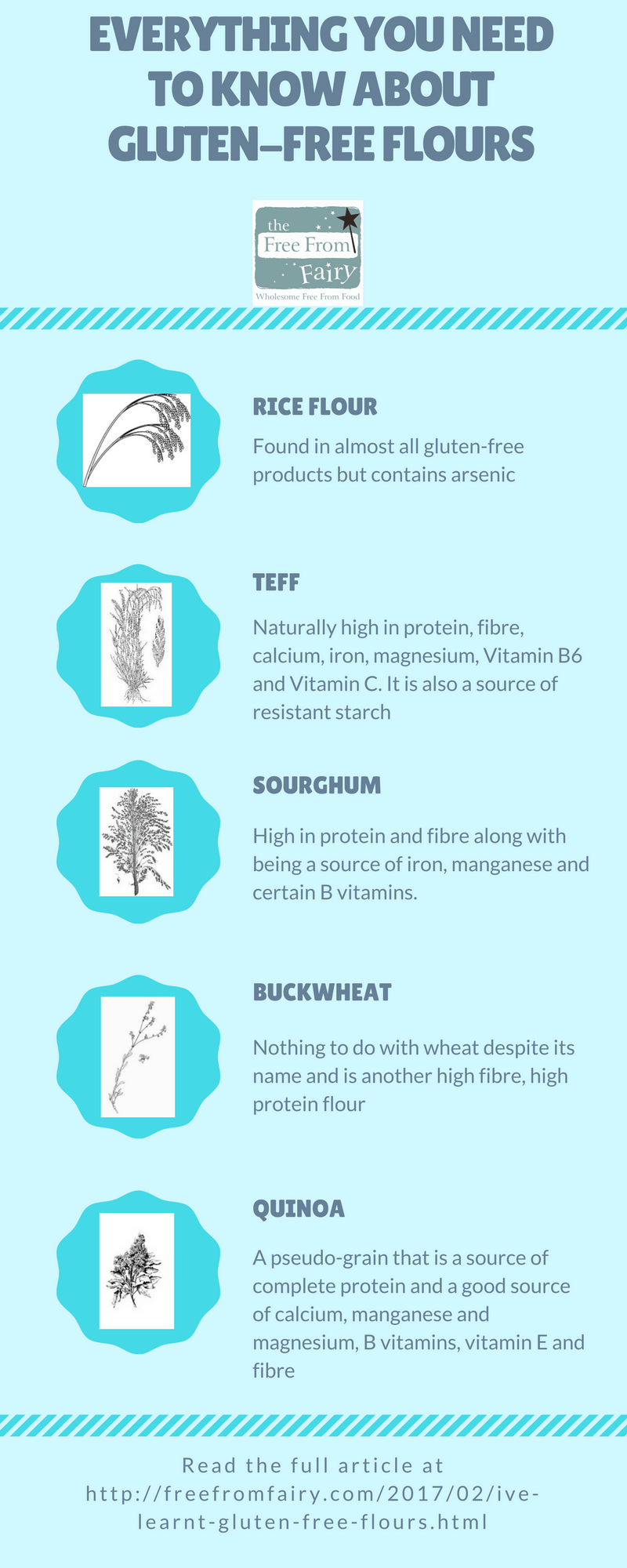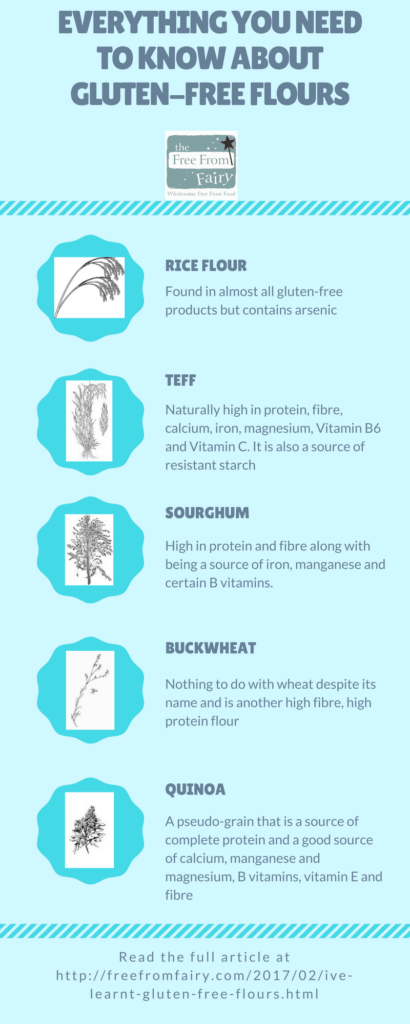 I've shared this with