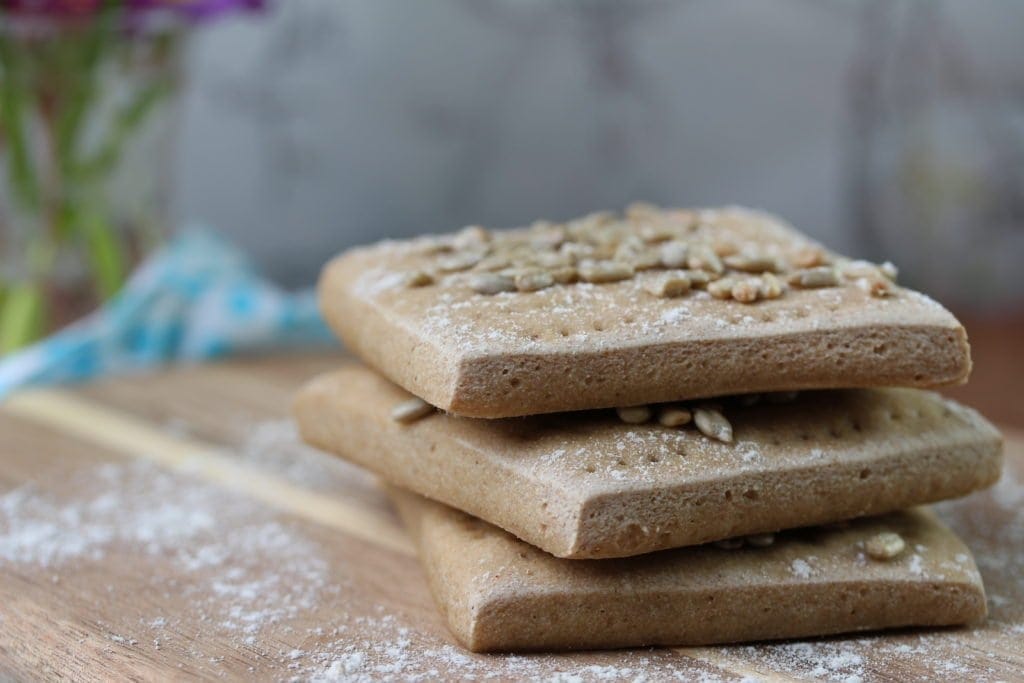 I often get asked by parents if I have a recipe to replicate the very popular sandwich thins you can buy in the shops. I'm not sure why I haven't thought of it myself since both kids love them, but it had never occurred to me.
After the last request I decided it was high time I had a recipe. Of course mine doesn't have any of the added 'nasties' that you often find in the bought versions so they are perfect for those wanting to eat a more natural diet. They also cost a lot less given that the 4 sandwich thins that we buy cost £2 and these will cost you around £3 for 10.
As you know I'm trying very hard to avoid all grains at the moment to deal with my hormone imbalance, but trying to develop recipes and avoid grains is proving tricky. I can therefore attest to the fact that these are rather yummy.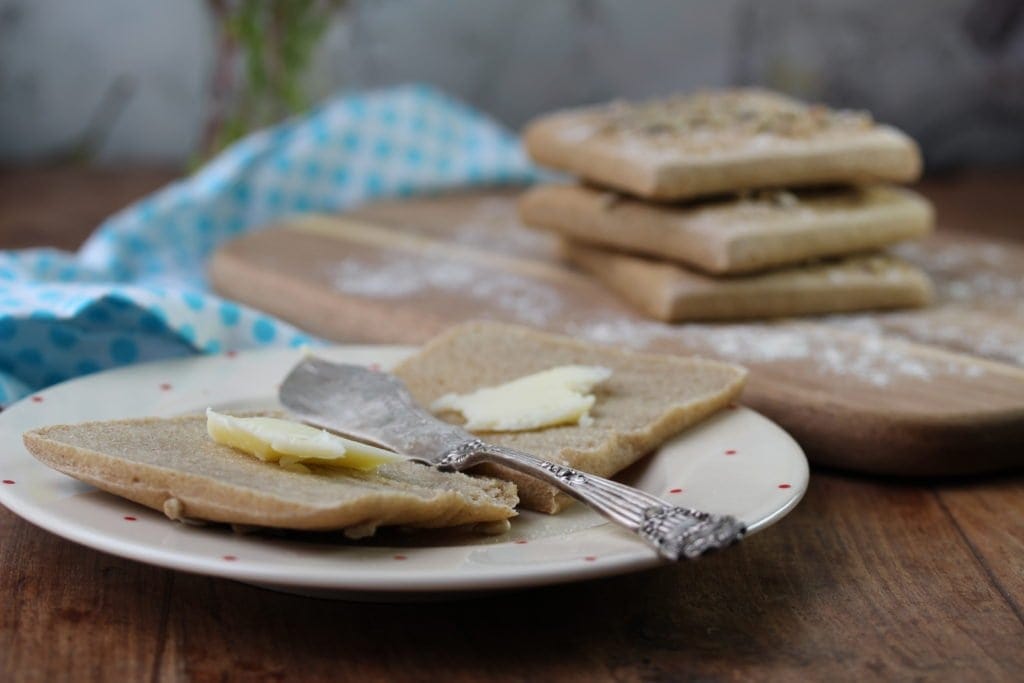 Please be careful when you slice them open. I don't want to be held responsible for any blood or finger loss. I suggest pressing the square into the chopping board with the palm of your hand and then, holding the knife parallel with the square slicing across ways, rather than trying to cut the thin like a piece of bread which is bound to lead to disaster.
Add seeds or grains to the top of your thin if you want to add more protein to the bread. I don't suggest you add it into the dough itself as this may prevent the thin from rising as well.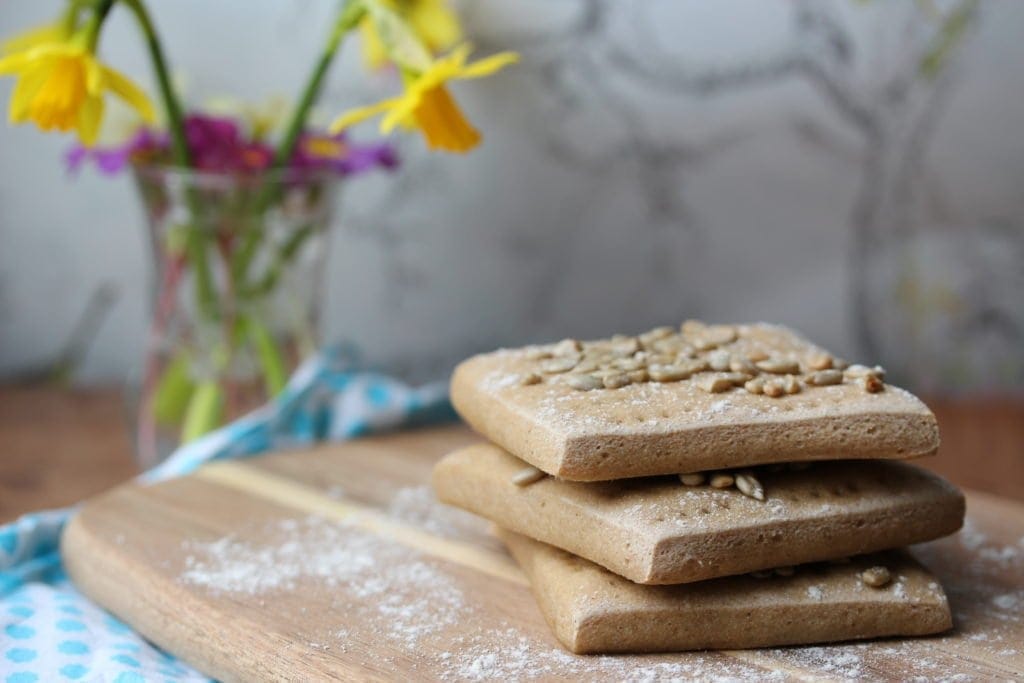 It appears that my bread book recipes will soon all be on my website. Hey ho! If it helps to encourage you to buy my flour and bake more wholesome free from bakes then I'm happy. Just make sure you tell your friends!
In the meantime if you have any special recipe requests then please do let me know. The latest request I've had is for Hot Cross Buns.  You can find my low FODMAP, dried fruit free recipe here. I'll create a more traditional recipe in the coming weeks.
Happy baking.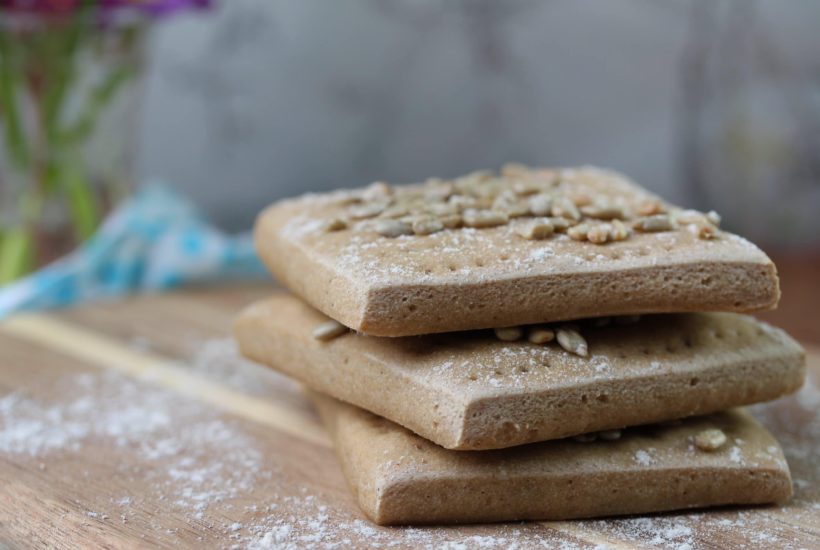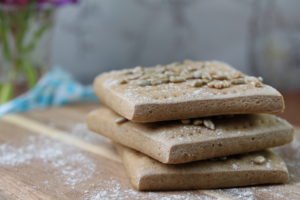 Wholegrain Gluten-Free, Dairy-Free, Egg-Free Sandwich Thins
Gluten-free, Dairy-free, Egg-free, Nut-free, Soya-free, Sugar-free, Low FODMAP
Ingredients
50

g

potato starch

1/4

tsp

sea salt

1 1/2

tsp

psyllium husk powder -

or 2 tsp xanthan gum

1

tsp

easy bake yeast

1

tbsp

olive oil

250

ml

warm water

Optional seeds and grains such as sunflower

-

linseed, millet and poppy for top
Instructions
Place the flours, salt and psyllium into a bowl and mix well to combine

Add the yeast and mix again to combine

Finally add the oil and warm water (this should be around body temperature)

Mix vigorously to combine into a dough

Knead the dough in the bowl until lovely and smooth

Using a piece of non-stick liner, scatter the liner with a little flour and place the dough on top

Roll the dough out into a square measuring around 26cm across and 1/2 cm thick

Using a ruler measure 8cm squares onto the dough and cut them out. You will have some leftover dough from the edges. Knead this and roll into a rough final square

Gently place the squares with gaps between them onto a couple of baking trays lined with more non-stick liner

Scatter a little water on top and place in a cold oven with a tray of boiling water in the bottom

Leave to rise for around 30 minutes

Remove from the cold oven and turn the oven on to 180 degrees c/160 degree fan/gas mark 4, leaving the tray of water in the oven

While the oven is getting up to temperature gently spear the top of each thin with a fork (don't go all the way through, it's just for decoration)

Moisten with a little more water and scatter with seeds and grains if using, gently pressing them into the dough

Bake for around 20 minutes until firm

Freeze any left over and refresh in the microwave before eating
If you are wondering what non-stick liner I use, or what psyllium powder to buy visit my Vicki Recommends page.
Pin the recipe so you don't lose it: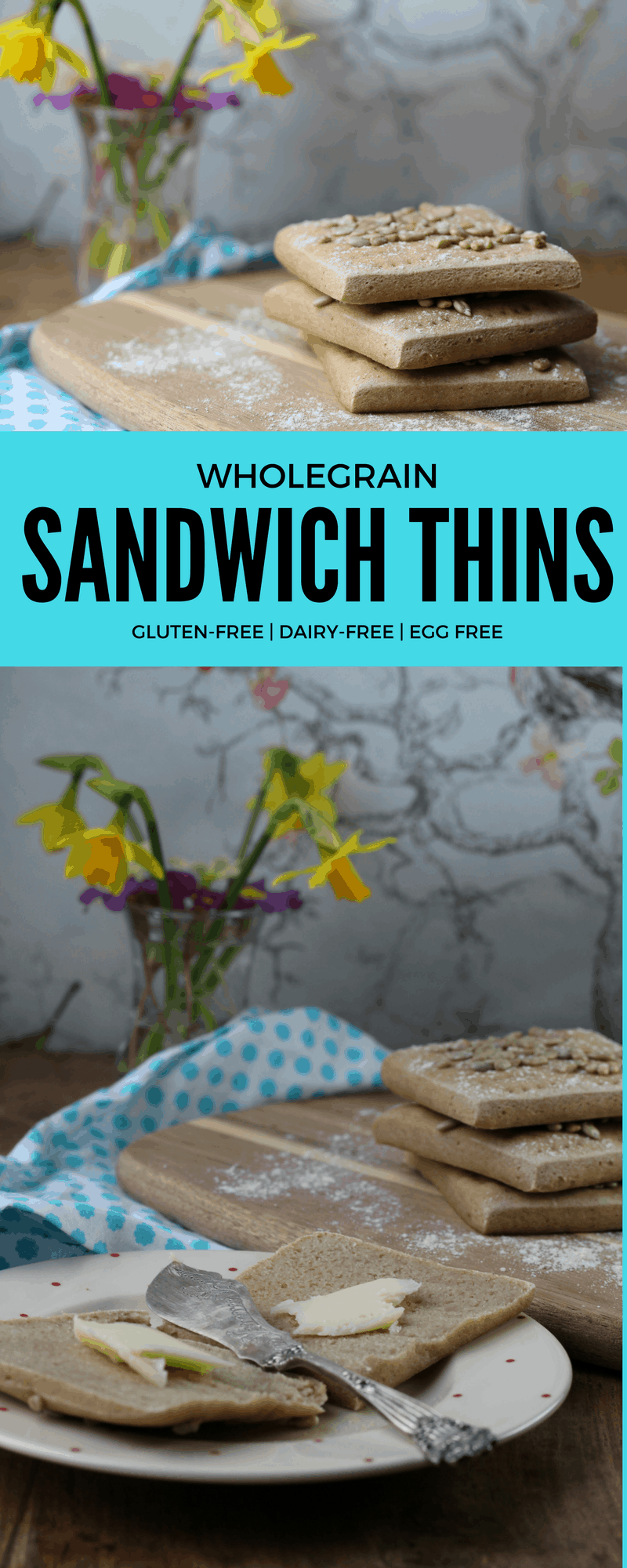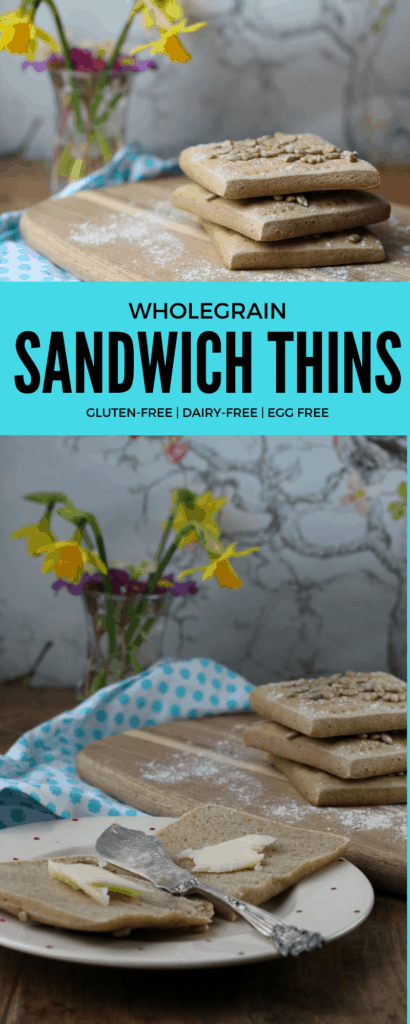 I shared this with: