This gluten free vegan soda bread can be made in minutes with store cupboard ingredients. It's perfect on it's own or dunked into soup or stew.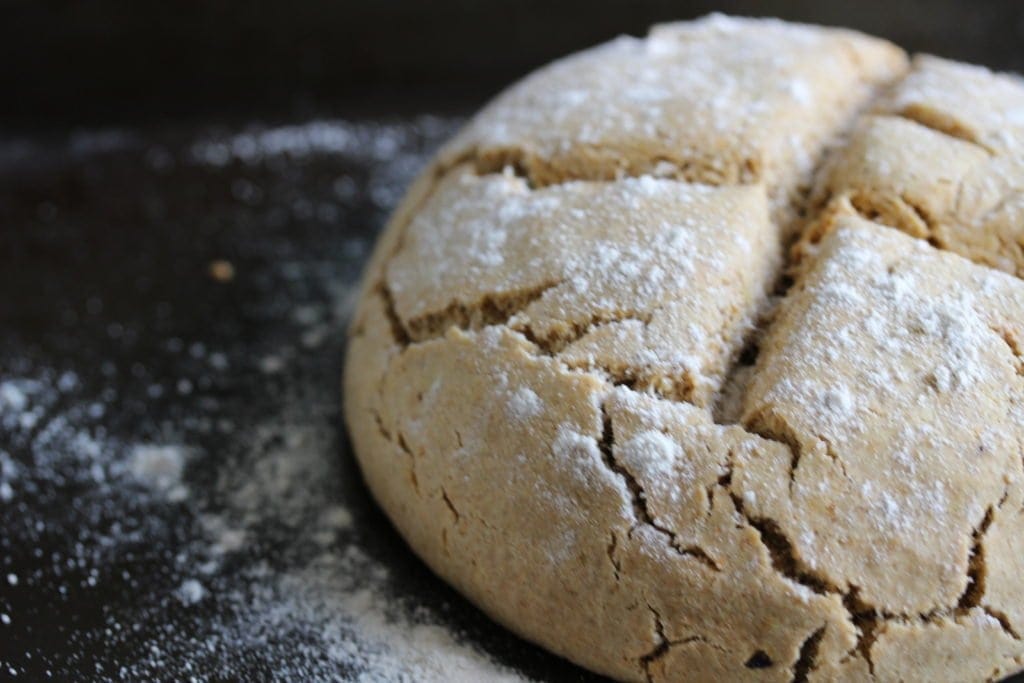 Next Friday is St Patrick's Day and I'm feeling ultra organised having created this rather special Moroccan spiced soda bread a whole week early.
Next week we are having new flooring laid in our whole downstairs, along with some long awaited work in our kitchen.
I've no idea how long it will take, but it means that any cooking is likely to take place in Rosie (our VW van waiting patiently for some better weather).
I might even do a little video out there showing you how to cook up something nice and easy.
At least the light is good there unlike inside this time of year.
I love soda bread but I've always found a gluten-free version to be a little too crumbly, especially without dairy or eggs.
However, with my self-raising gluten free flour blend all of that changes.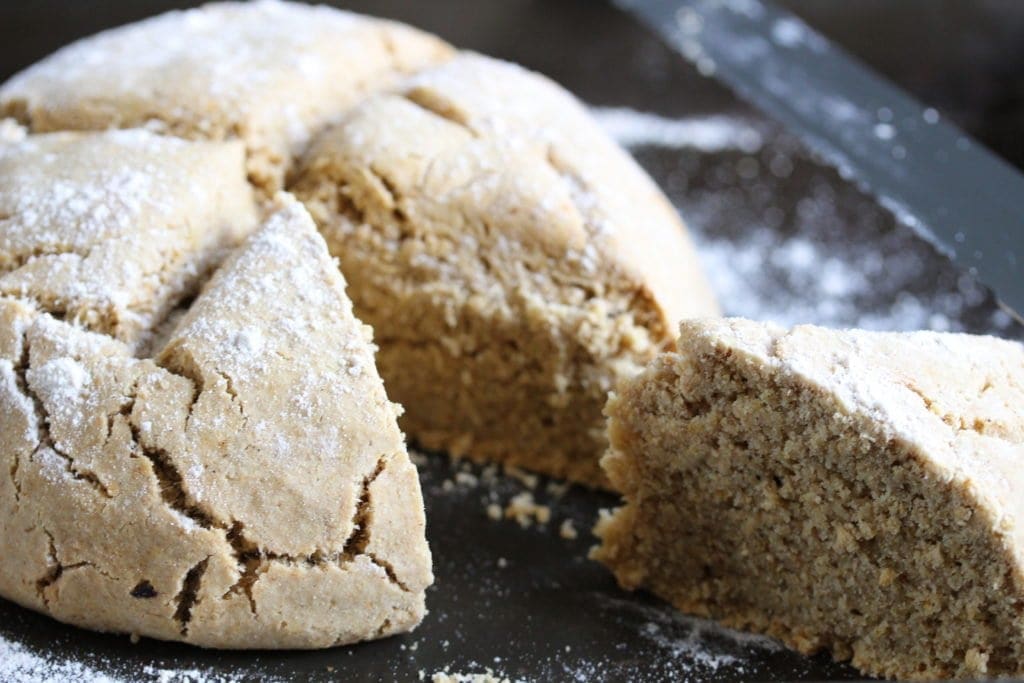 I hate to blow my own trumpet but in this instance I'm going to!
My self-raising flour blend really is quite spectacular.
It is a happy accident that the combination of double acting raising agents that I use actually aids in binding as well as raising, meaning no more crumbly, odd textured bakes with a strange after taste.
I am totally in love with it.
How can you make soda bread vegan?
I've used coconut butter and oil in this recipe to replace butter that is traditionally used in soda bread.
And rather than add buttermilk, I've used dairy free milk with a little vinegar to create the same affect.
That means this vegan gluten free soda bread can be made with store cupboard ingredients.
The first time I made it, I didn't flavour it and the flavour of coconut came through which didn't really rock my boat.
This time, I added some Moroccan spice blend from Fodify Foods (sadly they are no longer trading but I'm sure you could find a similar blend).
Adding a spice blend gave the soda bread incredible flavour. It was just perfect with my spicy butternut squash soup earlier.
You could flavour this any way you like.
Use the recipe as a starting point for your own version. But, please do let me know what you do so I can copy you!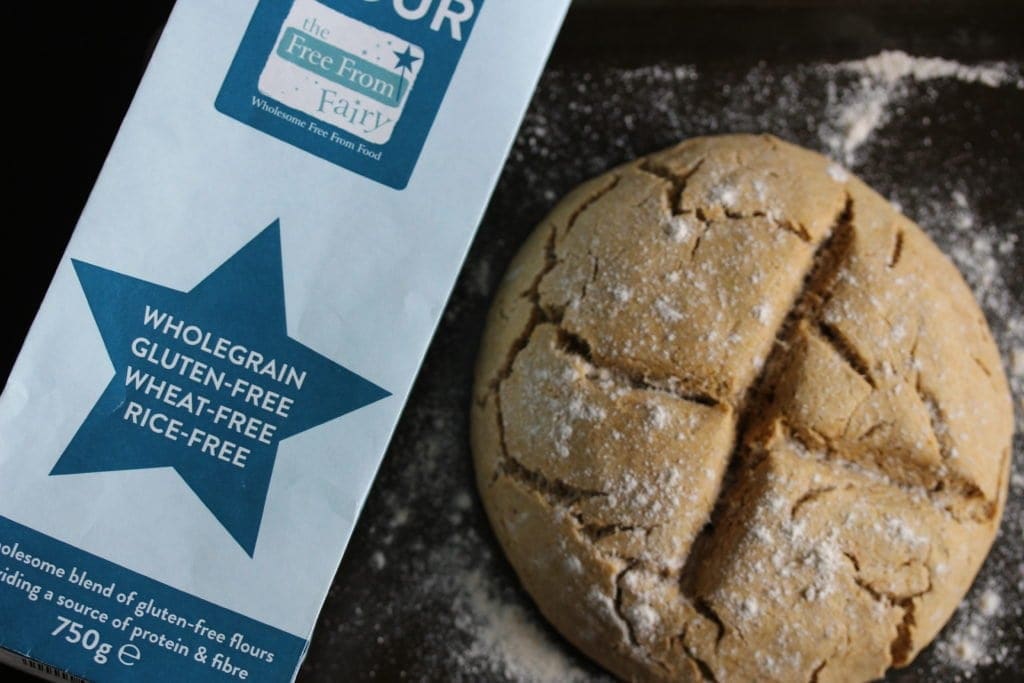 Now Pin the recipe so you don't lose it: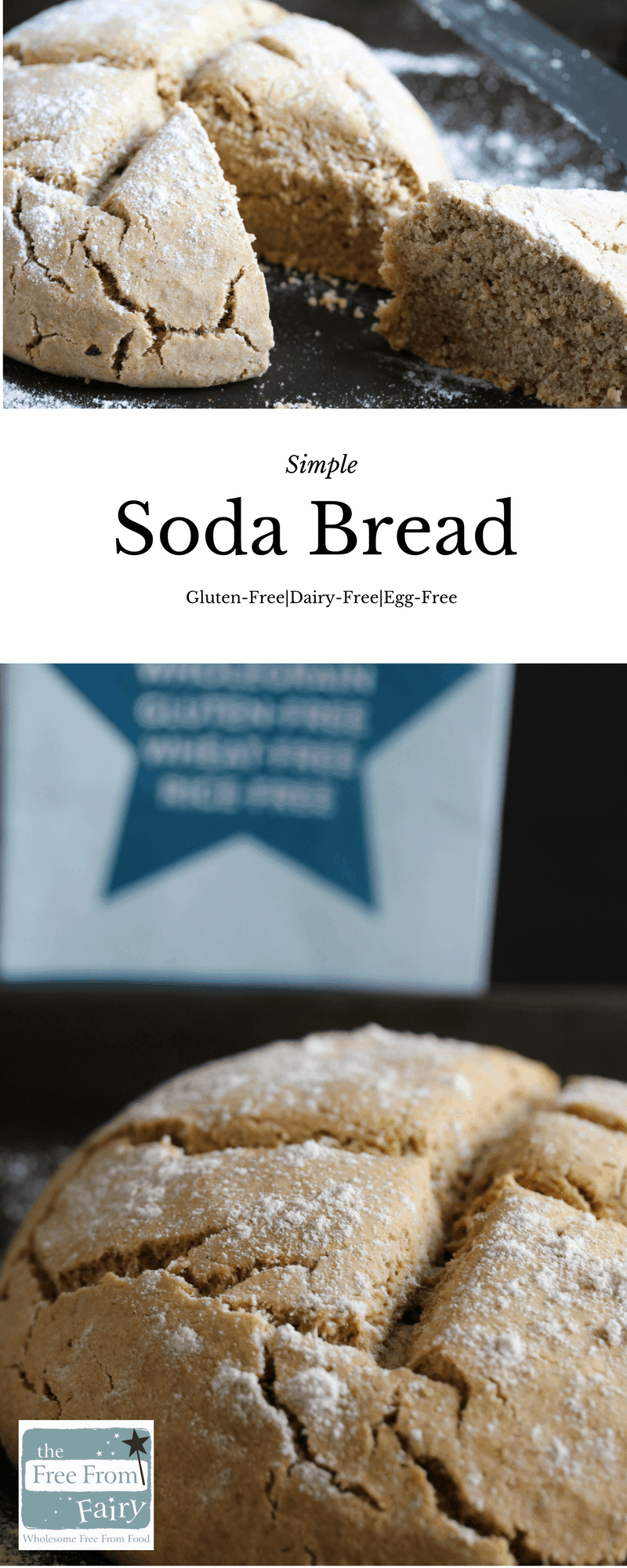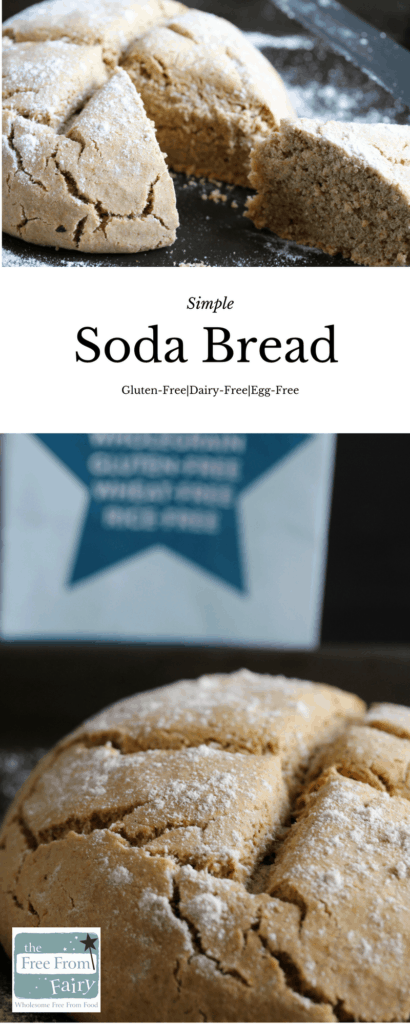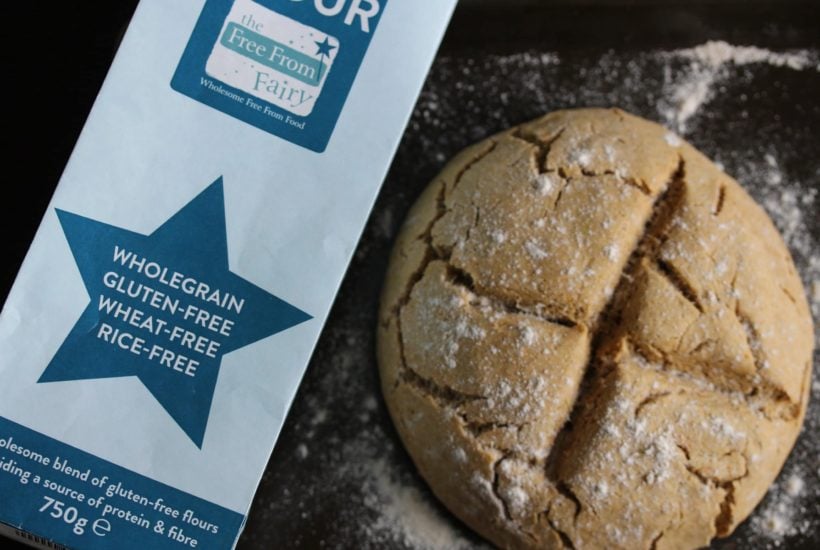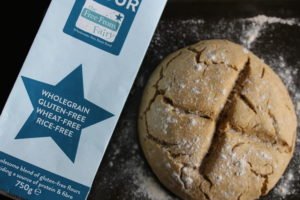 Vegan Gluten Free Soda Bread with Moroccan Spices
Gluten-Free, Dairy-Free, Egg-Free, Nut-Free, Soya-Free
Ingredients
210

g

Free From Fairy self raising gluten-free flour

-

or 210g FFF plain flour plus 2tsp baking powder

56

g

gluten-free oat flour

-

or ground oats

1/2

tsp

psyllium husk powder

60

g

coconut butter

-

I use Coconut Merchant

40

g

coconut oil -

I use Coconut Merchant

180

ml

dairy-free milk

1

tbsp

apple cider vinegar

1

tsp

Moroccan spice mix or other mix of your choice

1/2

tsp

fine sea or rock salt
Instructions
Place all the dry ingredients into a bowl and mix well to combine

Melt the coconut butter and coconut oil and add them to the dry mix along with the milk and vinegar

Stir well to bring into a dough, then get your hands messy and knead until smooth

Turn the dough onto an oiled or lined baking tray and shape into a ball

Score a cross shape on the top with a sharp knife and bake in a pre-heated oven at 180 degrees/ 160 degree fan/ gas mark 4 for around 40 minutes until golden

Scatter with flour and serve

Best eaten on the same day, or freeze if you have leftovers. These can be microwaved and eaten warm another time.
I've shared the recipe with: