This simple recipe for mulligatawny chicken is a real crowd pleaser. Because it is mildly spiced it is also perfect for children.
To make it gluten free I've used gluten free flour as a thickener. If you don't need to be gluten free you can use plain wheat flour.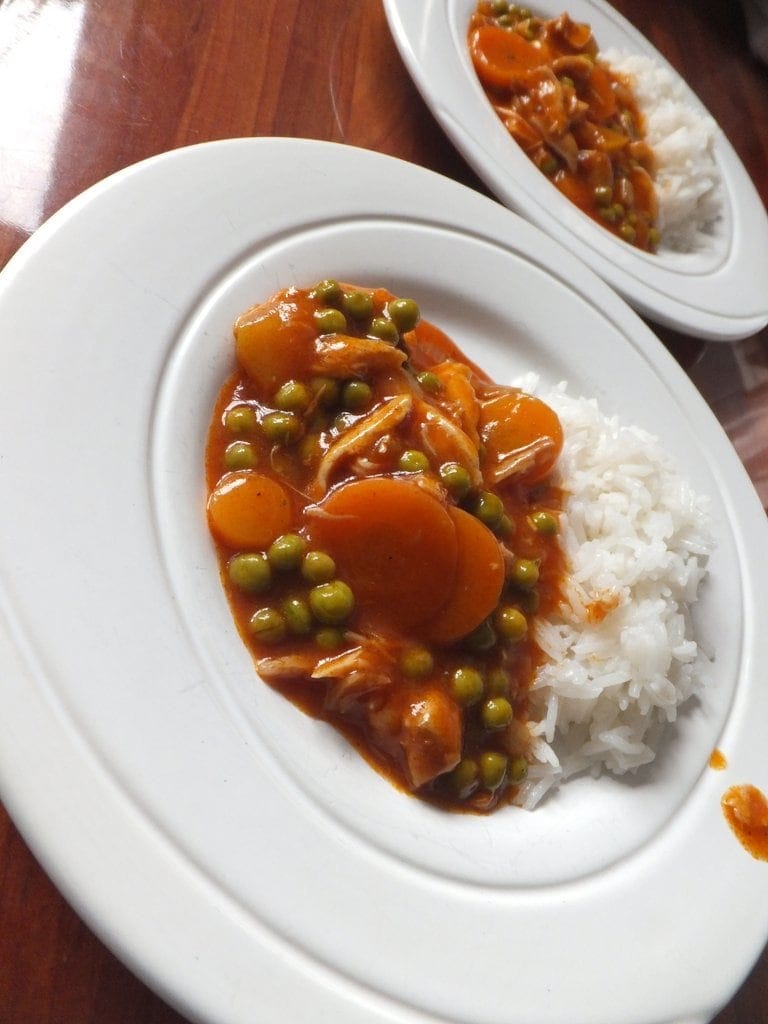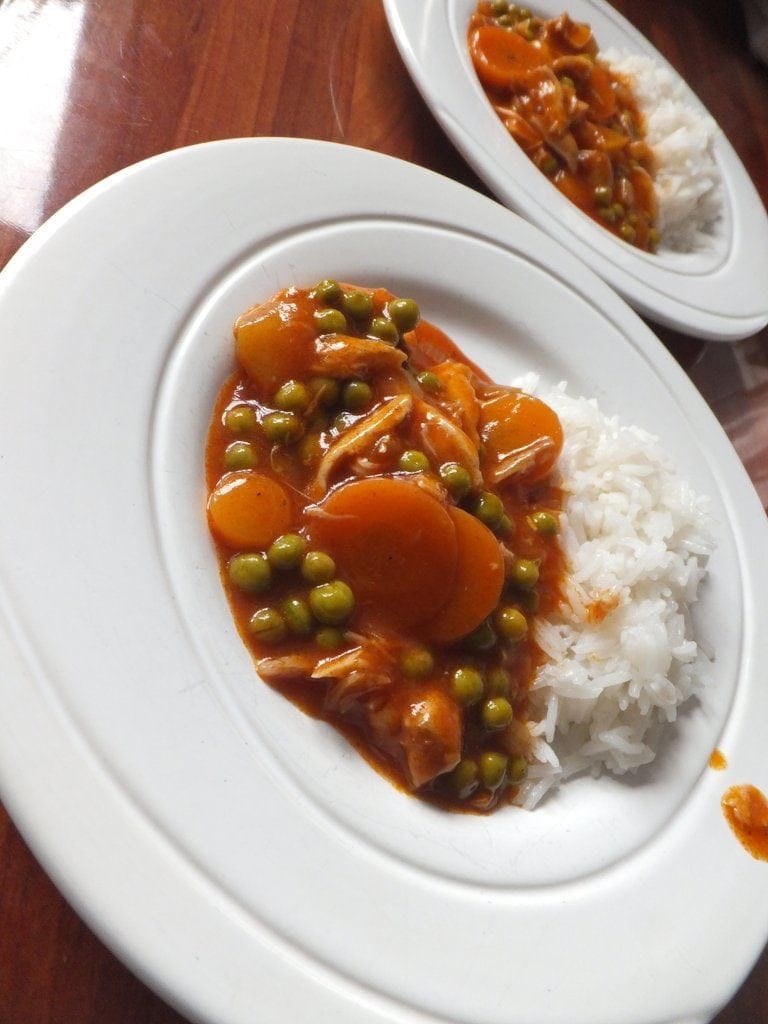 What is mulligatawny chicken?
It's a really family-friendly one pot recipe that takes very little effort to make and is cooked slowly making the chicken lovely and tender.
One of the things I find is that my children are not fans of chewy meat so this recipe is perfect. The chicken literally falls off the bone making it very easy to serve either on the bone or off.
Mulligatawny is traditionally made as a soup with chicken, vegetables, apple and rice.
I've chosen to serve mine more as a main meal like curry with rice on the side.
If you'd like to make it as a soup simply use more stock.
How do you make mulligatawny chicken?
As I hinted at above, it really is very simple to make.
Firstly the chicken drumsticks or thighs (or a mix of both) need to be browned in a frying pan or casserole dish. I find using a casserole dish is easiest because you then only need one pot to make the whole dish in.
Following that the chopped onion and carrot is added and cooked gently before all the other ingredients are added to the dish and left, with the lid on, for around an hour.
If you would rather use your oven to cook the dish you can transfer the casserole dish to the oven to cook at this point.
What equipment do you use?
As I mentioned earlier, I like to make this in a good quality casserole dish.
If you don't have a casserole dish you'll need a frying pan to cook the chicken and a good quality saucepan.
Once the chicken has browned in the frying pan it can be transferred to the saucepan to cook with the lid on. If you choose to use a saucepan you'll need to cook the dish on the hob, not in the oven.
What do you serve with this dish?
I like to serve this mild, fruity chicken curry with wholegrain rice, samosa's, naan bread or chapatis.
Do let me know if you make it and don't forget to share it on social media with the hashtag #freefromfairy.
You can also leave a star rating to let others know what you think of the recipe.
Thanks!
Recipe for mulligatawny chicken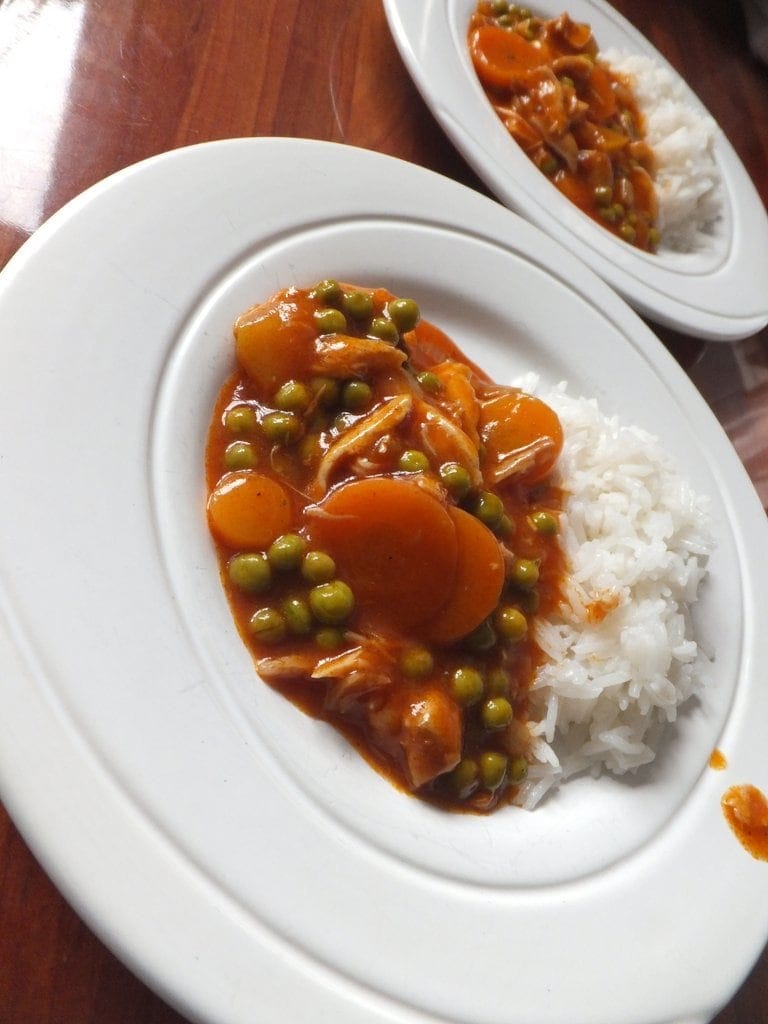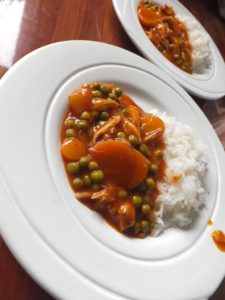 Mulligatawny chicken
Gluten-free, Dairy-free, Egg-free, Nut-free, Soya-free
Ingredients
1

packet organic free-range

-

if possible chicken drumsticks and or thighs

1

tbsp

plain gluten-free flour

1

medium onion finely chopped

3

tbsp

tomato puree

2

tbsp

mild curry powder or 1tbsp medium curry powder

Vegetable stock to cover

-

I use Marigold low salt

1

small apple

-

peeled and thinly sliced

1

small carrot

-

peeled and chopped

100

g

frozen peas

1

slice

of lemon or a squeeze lemon juice

1

bay leaf
Instructions
Fry the chicken in a saucepan or casserole dish with the flour until browned all over.

Add the onion and carrot and continue to fry for a further few minutes stirring to make sure nothing burns

Add the remaining ingredients and leave with the lid on over a very low heat to cook for approx. 1 hour, by which time the meat should fall off the bone.  Alternatively, transfer the casserole dish to the oven at 160 degrees, stirring occasionally

Take the meat from the sauce and remove the bones, placing the meat back into the casserole

Serve with rice or pasta and vegetables of choice!