I'm going to share my gluten free samosa recipe along with two ways to make them and a video to show you just how to fold them.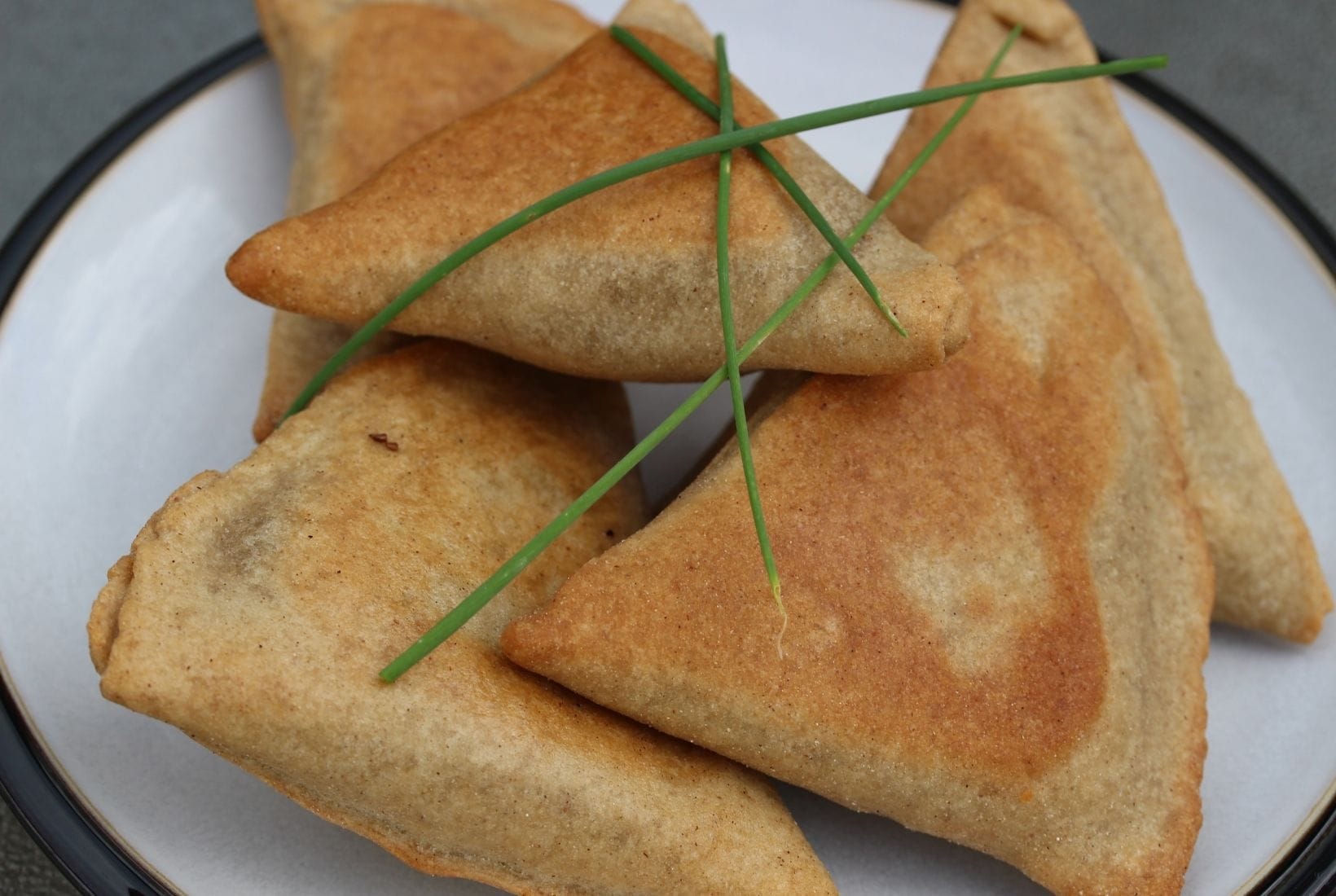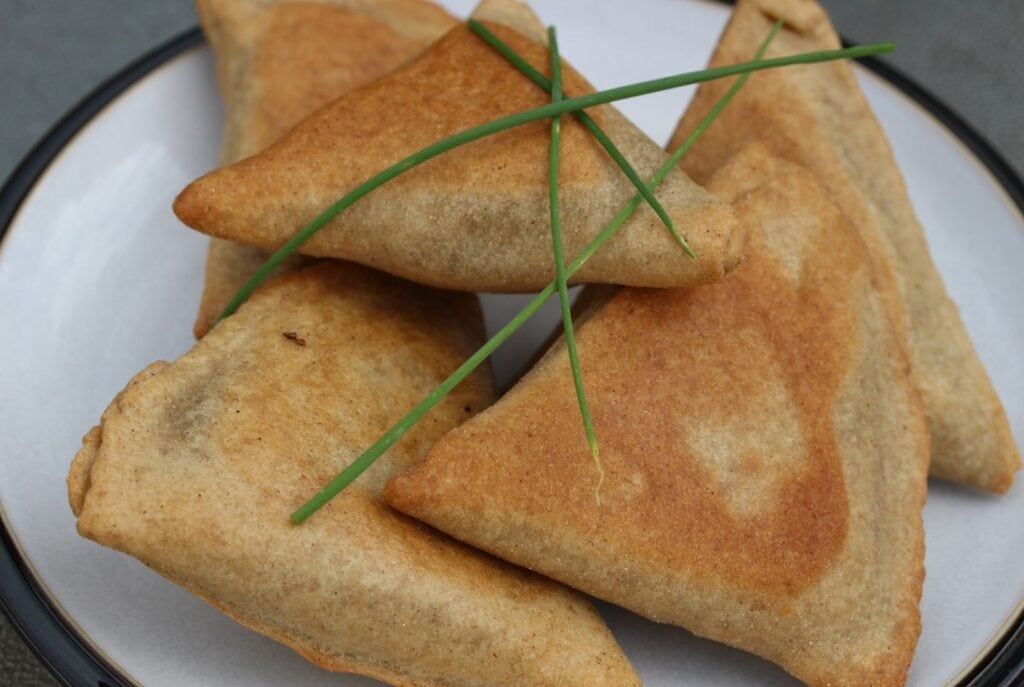 This post contains Affiliate links. As an Amazon Associate I earn from qualifying purchases.
The story behind the recipe
Yesterday I was contacted my a lovely lady who owns The South Indian Kitchen, an Indian takeaway here in Devon. She had bought my flour and wanted to know how to make samosa pastry (samoosa pur) with it.
Well of course me being me couldn't possibly just say I didn't know so I went straight to the kitchen to experiment.
After watching lots of YouTube videos and having a selection of different recipes I came up with these amazing gluten free samosas.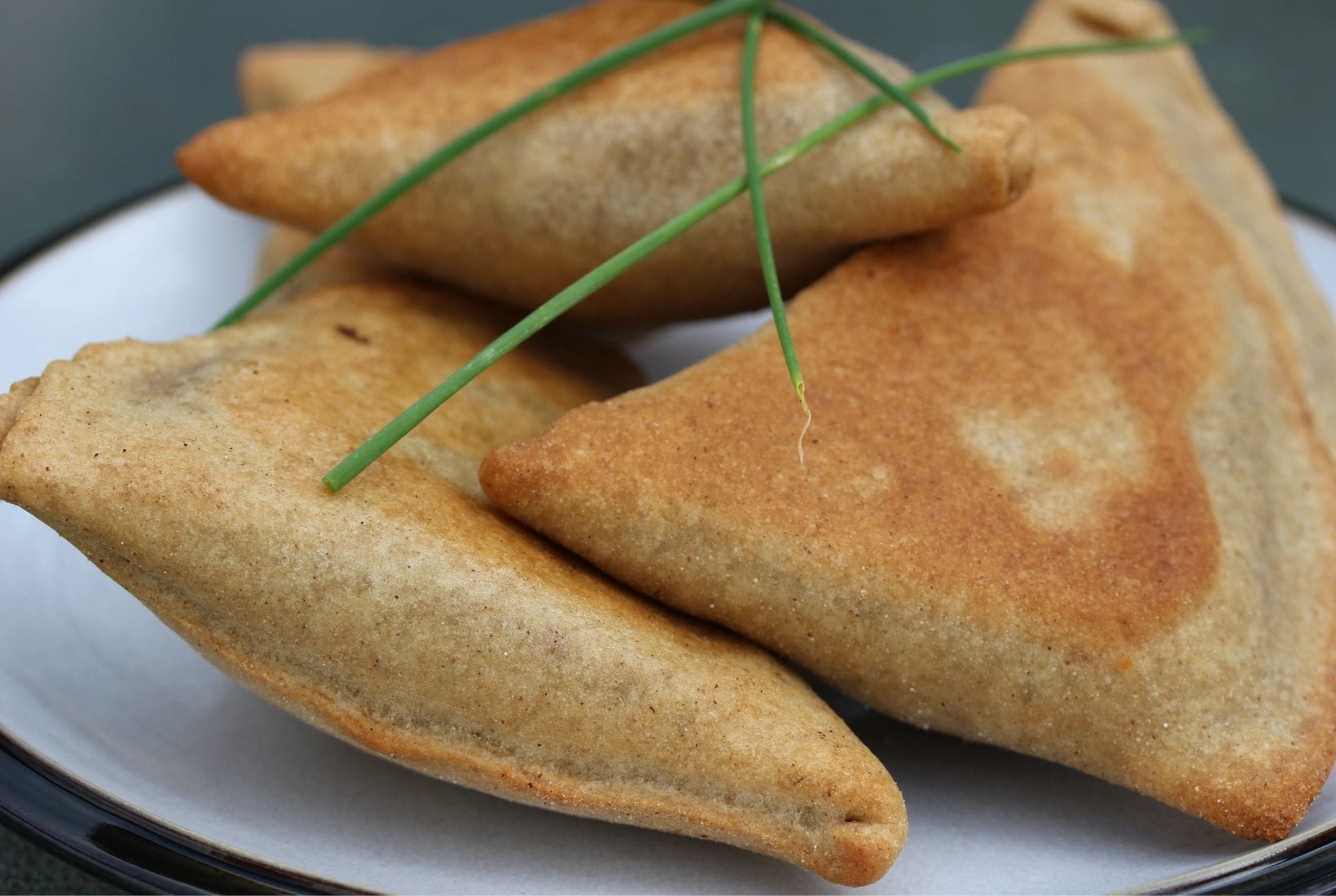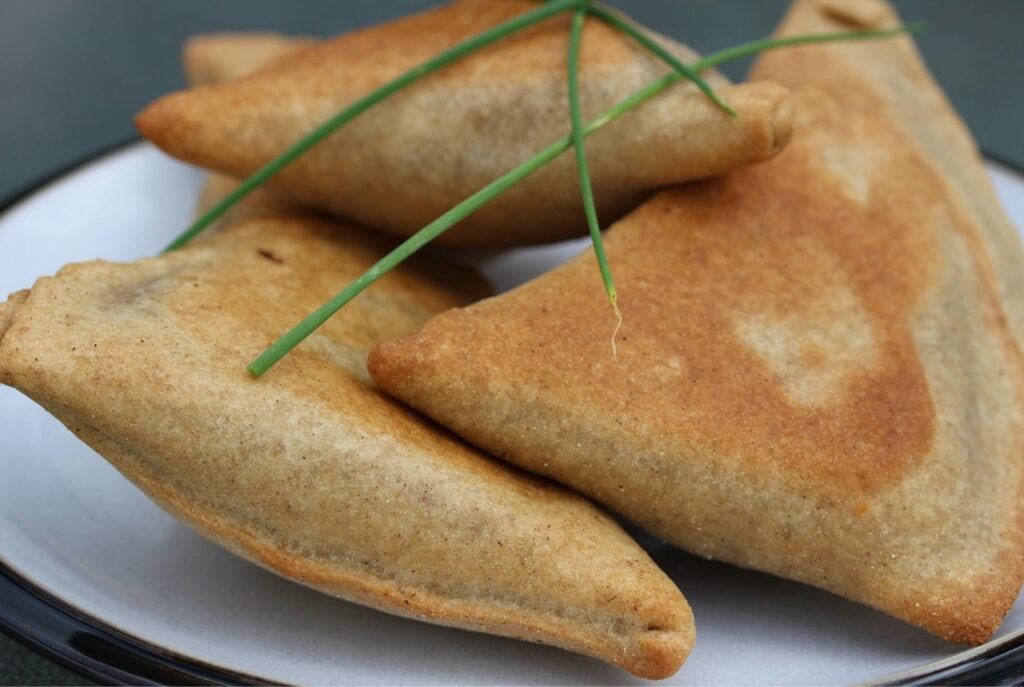 How do you make gluten free samosas?
Well, as I said above, I had no idea until I became rather obsessed with it.
They are actually a lot easier than you might think.
Firstly you'll need some of my wholegrain gluten free flour blend (or gluten free atta).
It is a blend that I created over two years of experimenting that works in all gluten free cooking and baking.
No more need to have multiple bags of flour to make good gluten free food. All you need is this one bag and you can make all the cakes, biscuits, pastry and even pasta you could ever want.
Then you'll need a little bit of time. I've offered two options for cooking these samosas. The first is to fry them and the second is to bake them.
I personally dislike frying foods. It takes a long time and feels like a faff!
I therefore offer the option of baking them or frying them. Baked samosas are a little healthier and, although not quite as crispy, are still equally delicious.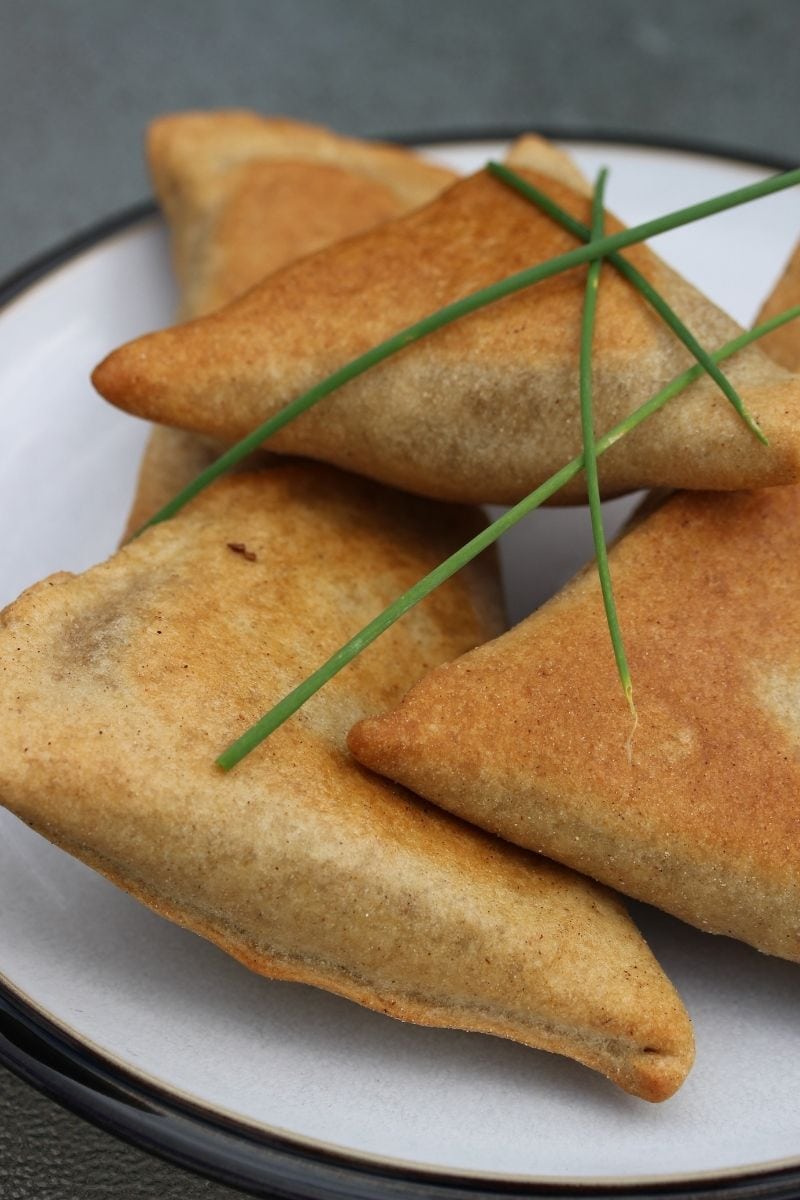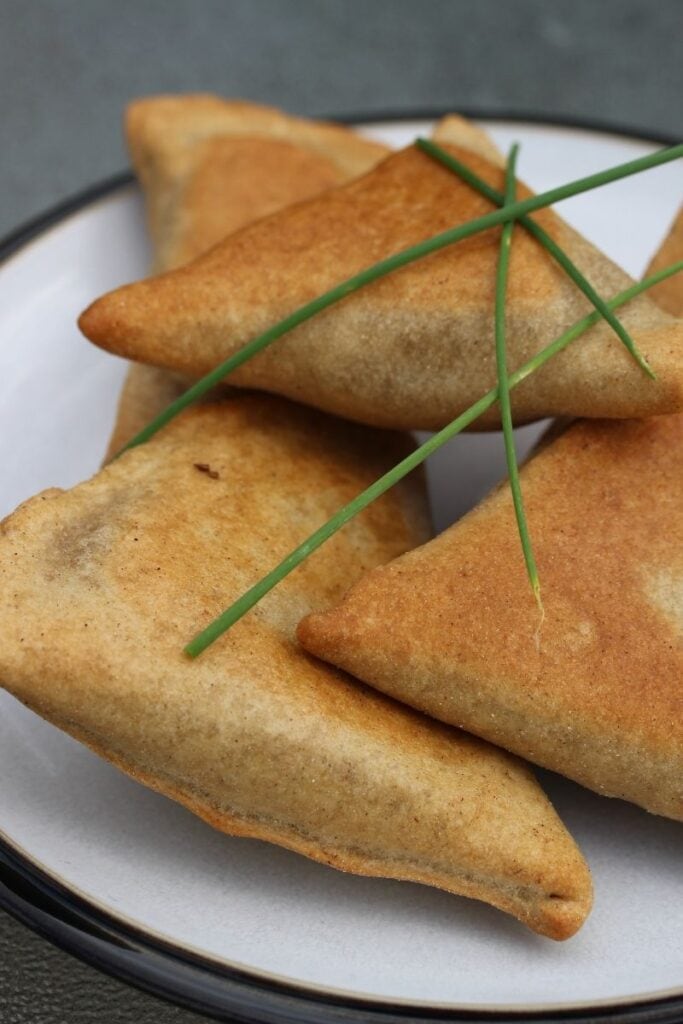 Making the gluten free samosa pastry or samoosa pur
I wasn't sure how easy it would be to make samosa pastry. After all, when I watched the YouTube videos, the gluten looked like it played a pretty critical role in being able to roll the pastry out thinly.
I was pleasantly surprised, therefore, when my gluten free samosa pastry rolled out just as well.
The most important thing about making the dough is to follow the instructions exactly. Please don't try using a different gluten free flour because it most likely won't work.
Once you have your dough and have made your filling the next step is to remove a piece of dough the size of a lime.
Roll that into a smooth ball (keeping the rest of the dough covered with a damp tea towel) and scatter it, and your clean work surface, with a little more flour.
Then roll the ball out into a disk that measures around 6 inches in diameter. Turn the dough as you roll and flip it over if it starts to get sticky on the top.
Once you have a large disk cut it in half and rub the straight side with water.
Next fold one uneven side in and press to seal, followed by the other side, to make a triangle shape. Watch the video above to understand how to do this.
You then have a little pocket that you can fill with your choice of filling.
I have shared a simple potato filling but you can use whatever you like.
Do you need special equipment to make gluten free samosas?
The great thing about this recipe is that you don't need any special equipment except for a bowl, a rolling pin and a frying pan!
You just need a bit of patience for folding the samosas.
I don't think there is anything else you need to know. Enjoy the recipe and don't forget to tag me across social media with pictures of yours #freefromfairy or @freefromfairy.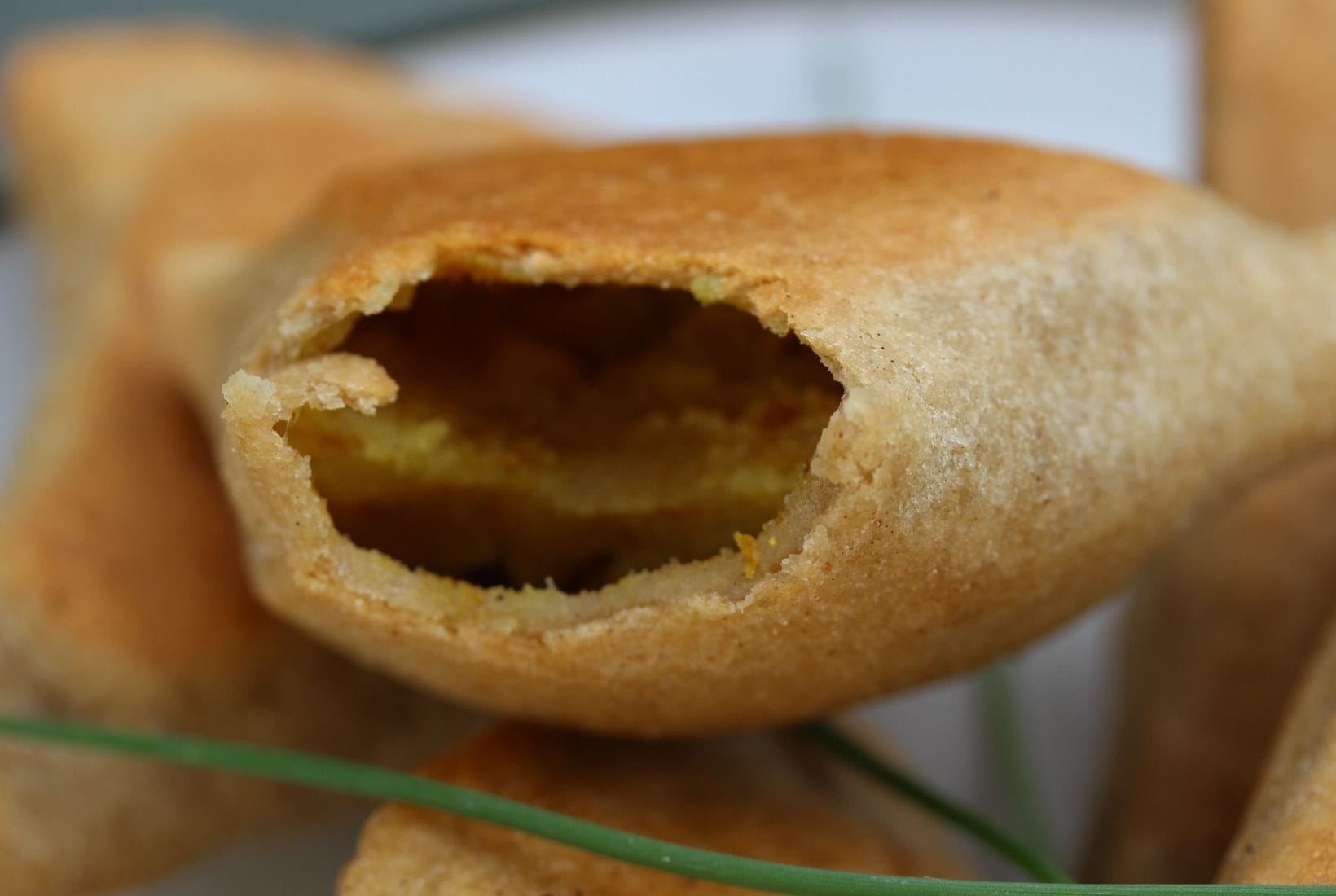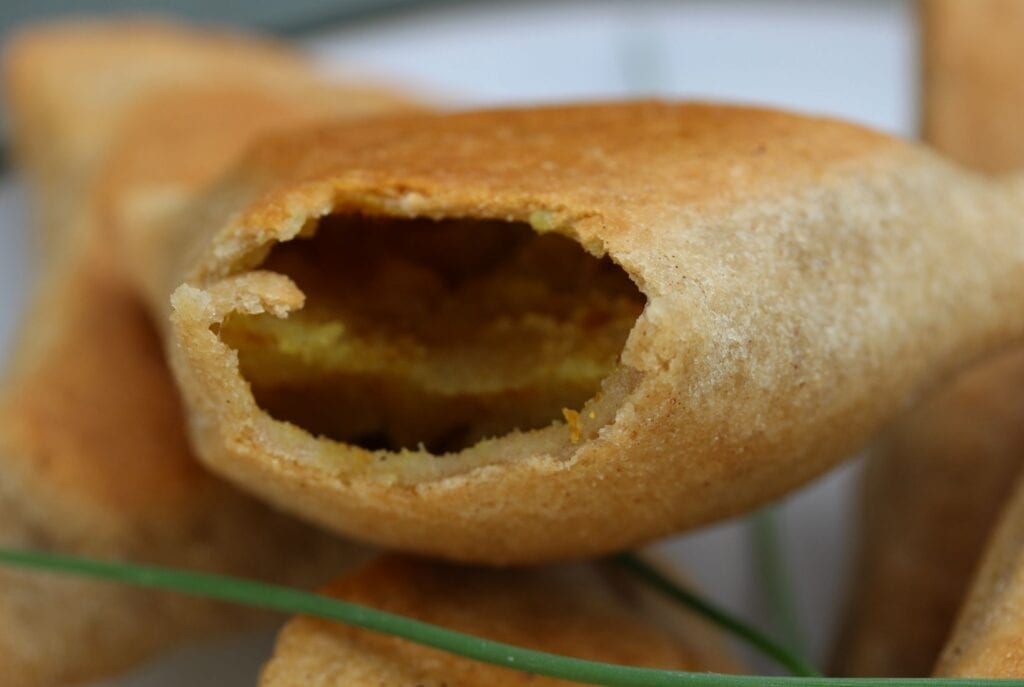 If you like this recipe sign up for my free recipe e-book:
You might also like:
Pin the recipe so you don't lose it: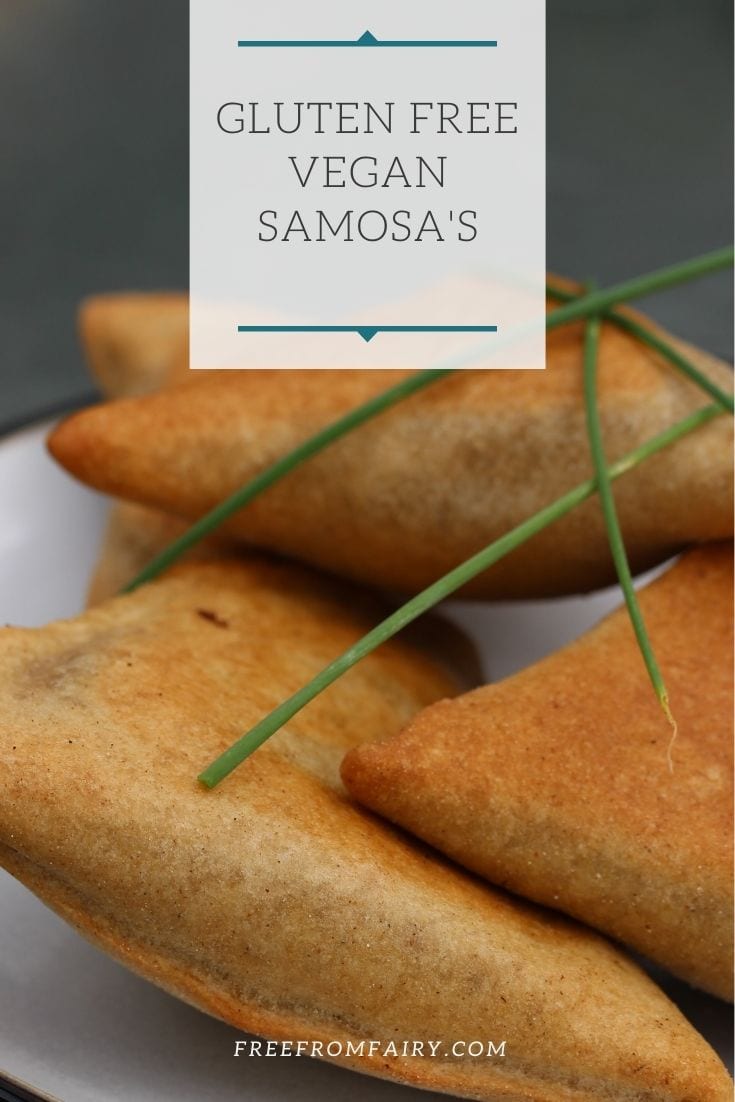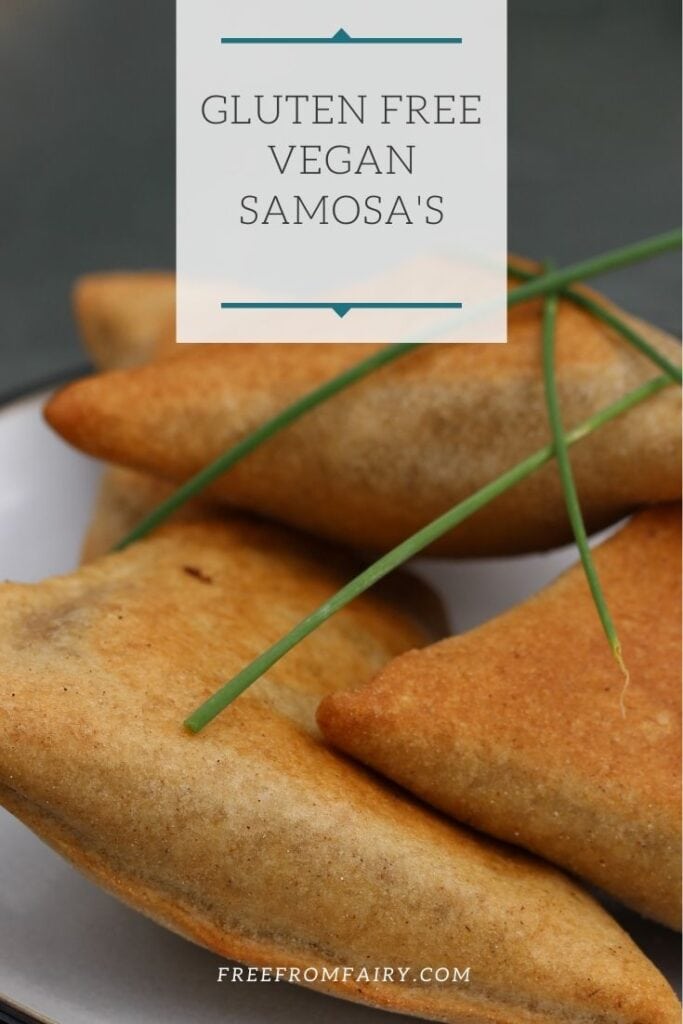 The gluten free samosa recipe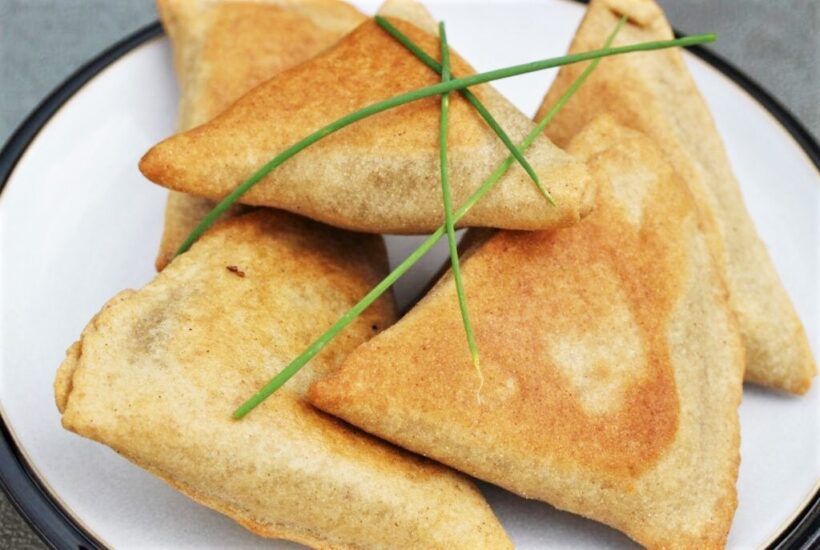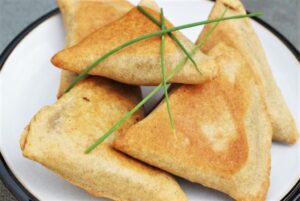 Gluten Free Samosas (Vegan)
A simple recipe for gluten free and vegan potato samosas. The recipe is not only gluten free but dairy free, egg free, nut free and soya free. In fact, it's free from the top 14 allergens.
Ingredients
For the potato filling
2

large

Potatoes

-

(I used baking potatoes)

1

tsp

Coriander seeds

-

lightly crushed

1/2

tsp

Caraway seeds

-

lightly crushed

1

tbsp

Ground coriander

1/2

tsp

Turmeric powder

1/2

tsp

Curry powder

1

thumbnail

Fresh ginger

-

peeled and finely chopped

2

cloves

Garlic

-

Crushed
Instructions
To make the samosa pastry
Sift the flour, psyllium and salt into a large mixing bowl and stir well

Add the oil and mix until you have a breadcrumb-like texture

Mix the vinegar with the water and add that to the dry ingredients. Bring together with your hands into a dough

Leave the dough to rest in a bowl with a damp tea towel over it while you make the filling
To make the filling
Spike both of the potatoes with a fork or sharp knife and place them one at a time in a microwave for 5-6 minutes until soft (alternatively peel and boil the potatoes until soft). Leave them to one side to cool

In a hot frying pan add the lightly crushed coriander seeds and caraway seeds (I bash them in my pestle and mortar) along with all the other dry spices

Cook the spices until you can smell them (about 1 minute), then add a glug of olive oil along with the crushed garlic and finely chopped ginger

Turn the heat down to low and allow to cook, stirring continually for around 2 minutes, then remove from the heat

Scoop the flesh from the cooled jacket potatoes and add it to the frying pan of spices. Mash the potato into the spices with a fork
Rolling and filling the samosas
Remove a piece of samosa dough about the size of a lime from the bowl. Leave the rest in the bowl covered up

Roll it into a ball between your hands then scatter it and your work surface with a little extra flour

Roll the ball out into a disk that measures approx. 6 inches in diameter

Using the video above as a guide cut the disk in half, rub the straight edge with water then fold a rounded edge half-way over followed by the other rounded edge to form a triangle

Seal the folds by pressing the dough gently where the water was rubbed

Open up your triangle pocket and fill with around 1 tbsp of filling

Rub water around the opening and press to seal shut

Gently press the samosa down to evenly spread the filling inside

Place on a baking tray and repeat until all the dough is used up
Cooking option one: Fry
Heat 1-2 inches of oil in a frying pan until a piece of dough bubbles and rises to the top of the oil. Then fry the samosas 2-3 at a time turning them over until they are golden and crisp
Cooking option two: Bake
Brush each samosa on both sides with oil and bake at 240 degrees C, 220 fan for around 15 minutes or until crisp and golden
Notes
Nutrition information is for guidance only and doesn't include the oil for cooking them.
Nutrition (Approx)
Calories:
105
kcal
|
Carbohydrates:
17
g
|
Protein:
2
g
|
Fat:
3
g
|
Saturated Fat:
1
g
|
Sodium:
49
mg
|
Potassium:
32
mg
|
Fiber:
2
g
|
Sugar:
1
g
|
Vitamin C:
1
mg
|
Calcium:
5
mg
|
Iron:
2
mg