This raw chocolate cheesecake with avocado is a decadent and delicious dessert that is healthier than most cheesecakes. It's refined sugar free, gluten free and suitable for those on the paleo or vegan diet.
This post contains Affiliate links. As an Amazon Associate I earn from qualifying purchases.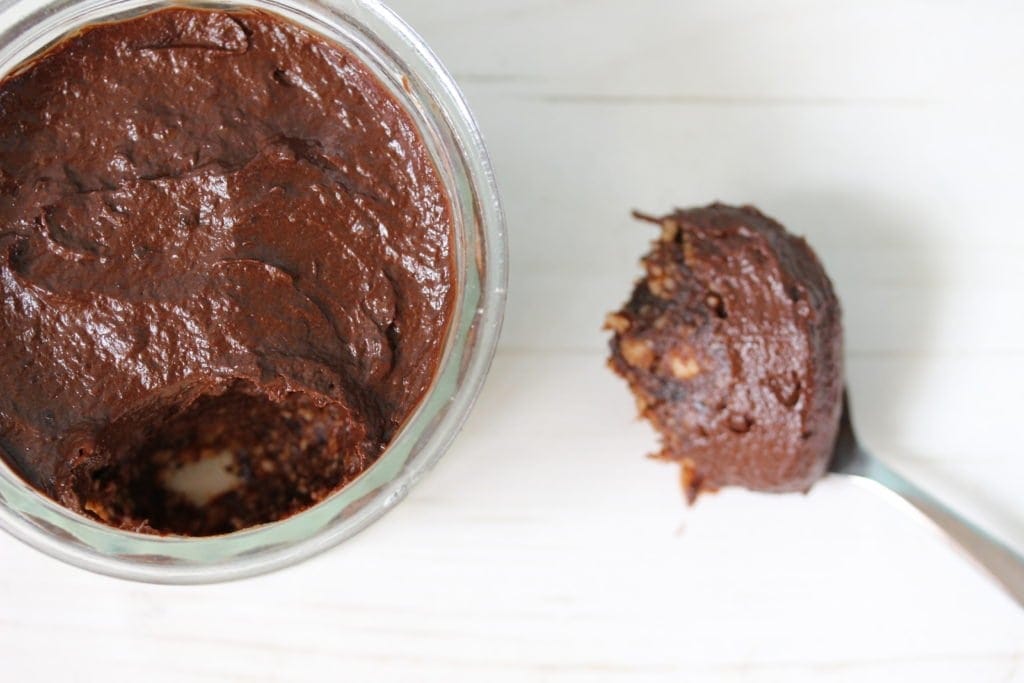 The story behind raw chocolate cheesecake
Last night I shared some pictures of my latest creation on Twitter.  Since it passed the child taste test I felt compelled to let you have the recipe straight away, despite a back-log of things to post!
Since reading Grain Brain, I have been trying to reduce the amount of carbohydrates and sugars that we eat. At the same time I still want to let the kids have sweet treats (of which they are very fond!).
I therefore decided that it was about time I experimented with avocados, having read so much about their health properties and their use in baking.
Of course, once I get a 'bee in my bonnet' I feel the need to set about experimenting immediately, regardless of whether I have all the ingredients that I might need.
Thus was the case last night.
I decided that I wanted to make a desert with avocado and therefore it had to be done.
Ingredients flew around the kitchen, bowls lay everywhere, small children were underfoot…you get the picture.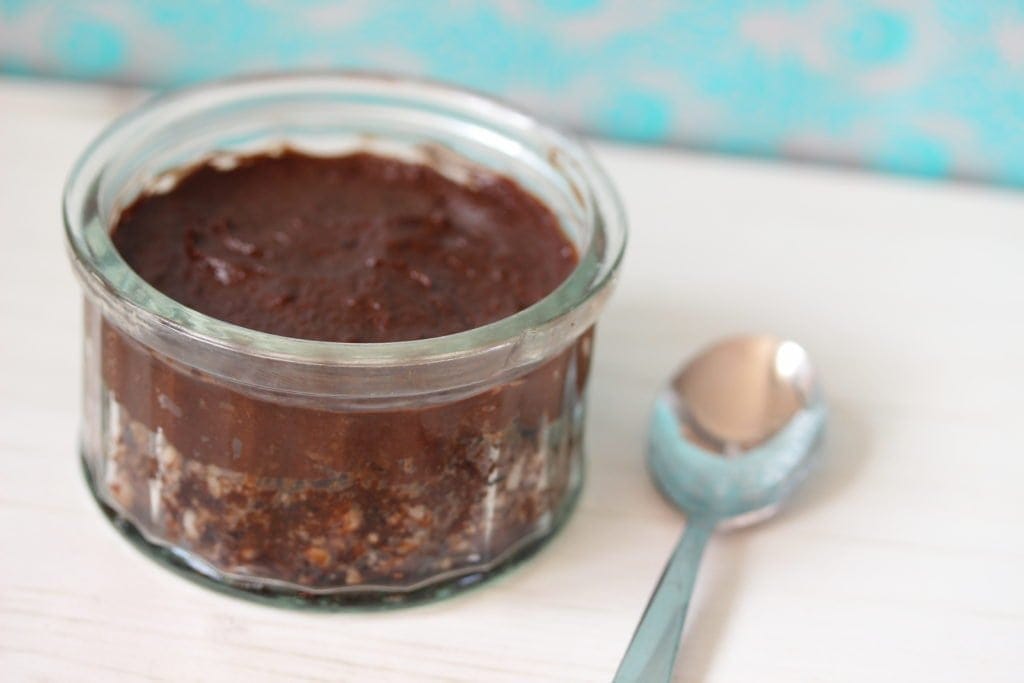 So, this is what I came up with.
Raw chocolate cheesecake that can be whipped up in around 10 minutes (better if you have a bit more time to chill it, but it isn't a deal breaker).
Of course it is gluten-free and dairy-free but is also egg-free, soya-free and refined sugar-free.
However, it tastes lovely and is wonderfully creamy.
I am not suggesting it is super-healthy…after all it is chock full of fruit sugar and would certainly not pass the Grain Brain test. But, it is perhaps a step in the right direction?
Pin my cheesecake recipe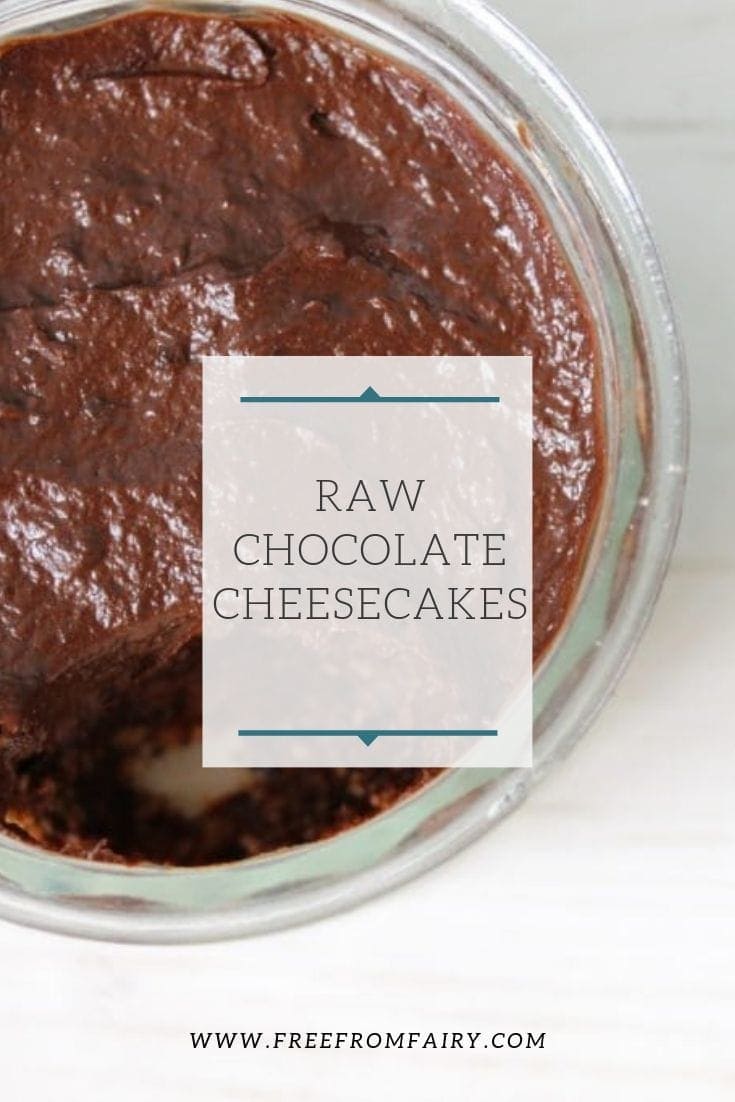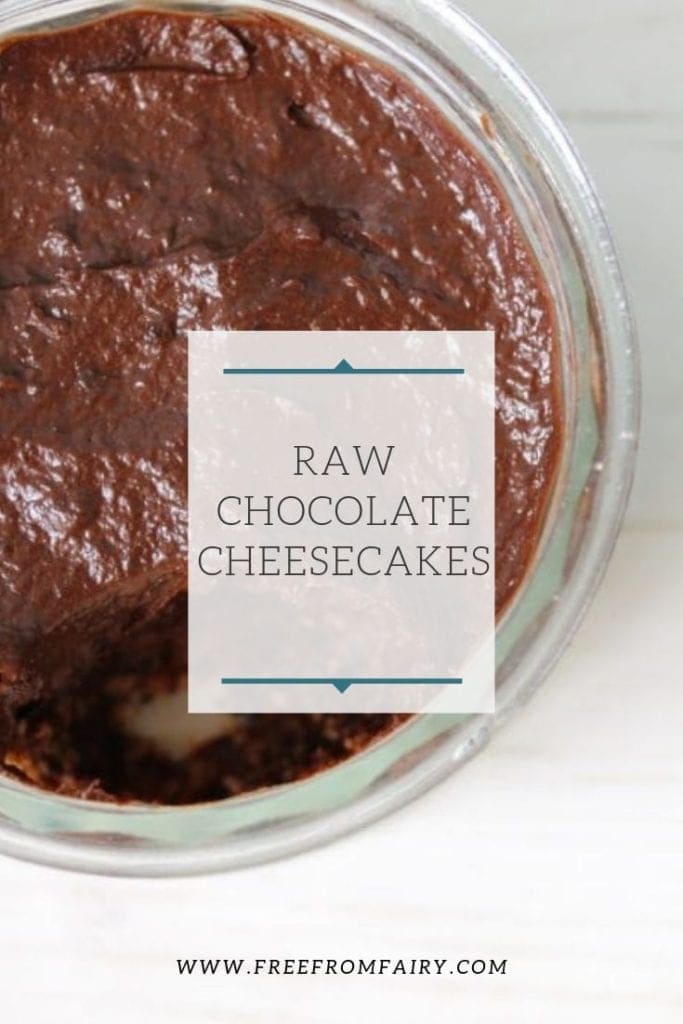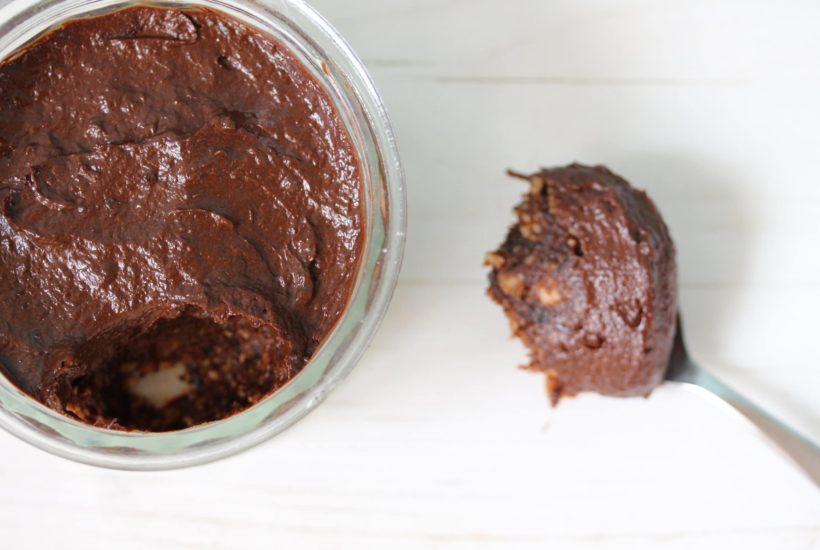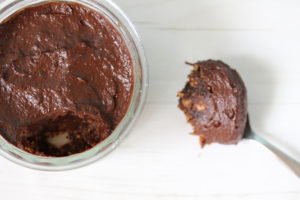 Raw chocolate cheesecake with avocado
A delicious raw chocolate cheesecake with hidden avocado. This recipe is Gluten-free, Dairy-free, Egg-free, Soya-free, Refined Sugar-free
Instructions
Place the dates for the topping and the dates for the base in separate bowls and cover with boiling water. Allow to soak for at least 20 minutes

Once soaked, drain the dates and place them back in their bowls

To make the base place all the ingredients into a hand held chopper or food processor and blend until sticky

Press the mixture into 4 ramekins

To make the topping place the ingredients into the same machine and blend until smooth. You will probably have to scrape the sides down often

Divide the mixture between the four ramekins and place in the fridge until required

Serve scattered with cocoa or chocolate chips/sprinkles
Notes
Nutrition data for information only
Nutrition (Approx)
Calories:
381
kcal
|
Carbohydrates:
51
g
|
Protein:
8
g
|
Fat:
21
g
|
Saturated Fat:
2
g
|
Sodium:
18
mg
|
Potassium:
604
mg
|
Fiber:
11
g
|
Sugar:
33
g
|
Vitamin A:
75
IU
|
Vitamin C:
6.3
mg
|
Calcium:
90
mg
|
Iron:
2.2
mg