This raw chocolate fudge is very simple to make and is sweetened with fruit. The base ingredient is cashew nuts making it suitable for those who are dairy free.  It is also gluten free and suitable for vegans.
This post contains Affiliate links. As an Amazon Associate I earn from qualifying purchases.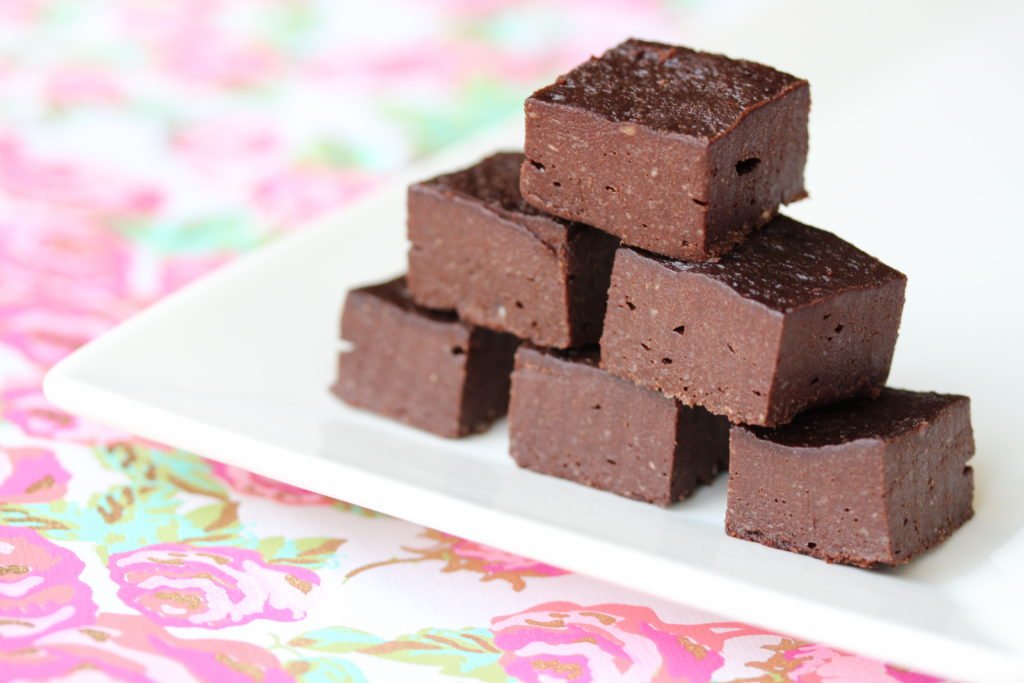 I don't know about you but I am totally in love with chocolate and this raw chocolate fudge recipe lets me eat it with no symptoms.
I am forever looking for ways to include my favourite ingredient in a healthy way because me and sugar don't get on.
Sugar free treats are the way forward.
Yesterday I came up with this genius idea.
There is no sugar – yes really.
No sugar. No sugar alternative or sweetener, just one little old banana.
Or if you prefer, some dried dates or a liquid sweetener of choice.
The result of combining cashew nuts with coconut oil, banana and cacao is a dense fudge-like treat.
And a sugar free treat that you don't need to feel too guilty about eating.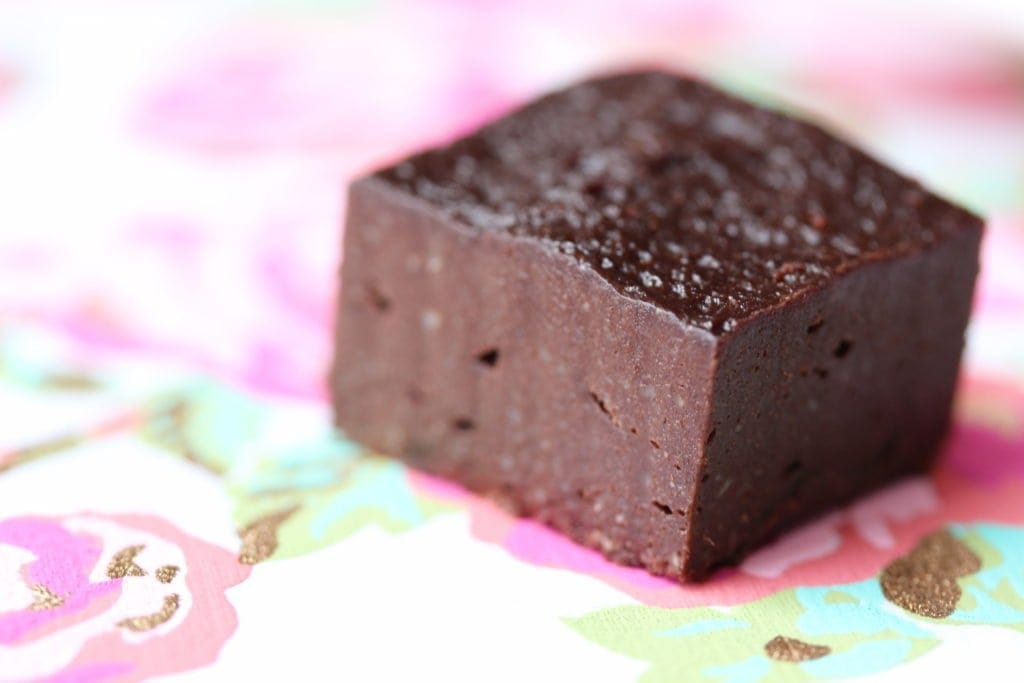 When the kids came home from school with a friend it was with trepidation that I offered my invention to them.
They can be so cruel after all.
Rather than be rude about it they demolished the entire batch in the 2 minutes that my back was turned.
I'll take that as a big thumbs up.
Today I've made these with goats butter instead of coconut oil.
Why use goats milk products?
I choose to use goats products or A2 milk these days.
Both are thought to be far less inflammatory than 'normal' cows milk and you get the natural calcium that they contain with none of the thickeners and other odd ingredients you find in dairy-free milk.
I can control my eczema this way, but if you are allergic to dairy then goats products and A2 milk would not be suitable for you.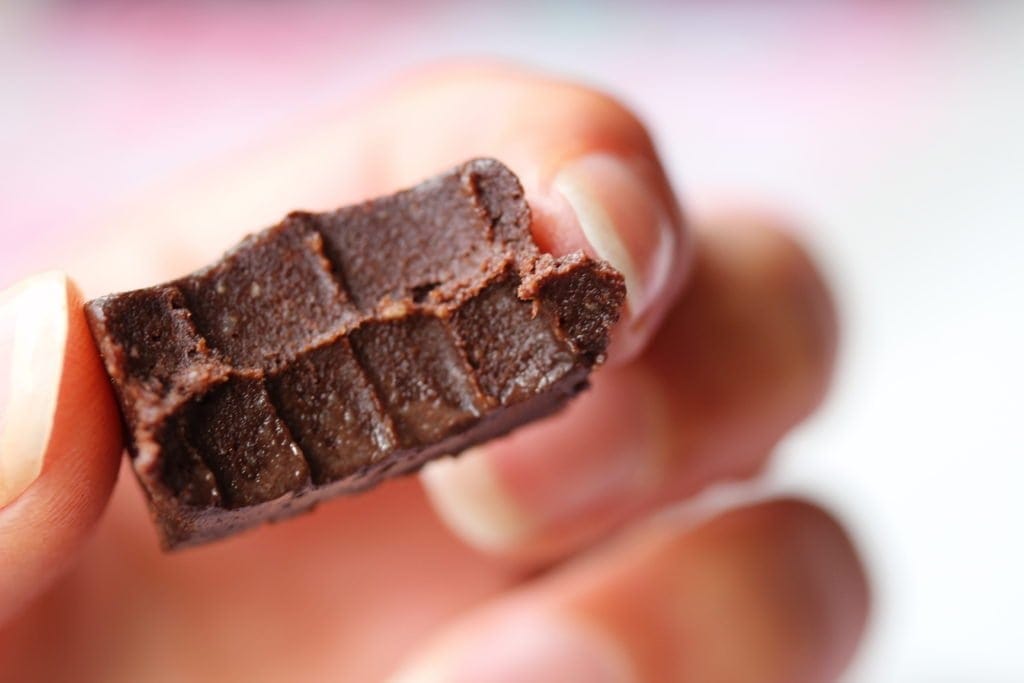 Whichever ingredients you choose to use I'm sure you won't be disappointed with my raw chocolate fudge.
I know some people are allergic to bananas so I've given an alternative sweetener for them.
Using essential oils for flavour
Since discovering doTerra essential oils I use them a lot in my cooking.
To make this fudge chocolate peppermint fudge I add 2 drops of peppermint essential oil.
A delicious alternative would be orange essential oil for chocolate orange fudge.
Doterra oils are the only oils that I would ever suggest taking internally.
That's because they are both sourced carefully and put through multiple third party testing to ensure their purity.
Unfortunately, the essential oils you buy in shops are generally not pure oils.
Most contain contaminants.
It is therefore vitally important that you do some research about the purity of essential oils before you use them.
With every bottle of doTerra single oils you can have access to the mass spectrometry and gas chromatography results.
That way you know what molecules they contain and that they are pure oils.
As well as using the doTerra essential oils for cooking, I use them aromatically and topically to address my family's health issues.
For example, I use peppermint essential oil for headaches and an incredible blend of oils called OnGuard to boost our immune systems.
In fact, since using the oils I haven't been ill once.
Back to the recipe…I've created the recipe with a small number of ingredients.
You could easily double or quadruple the recipe if you wanted to.
Just keep the finished treats in the fridge and try not to eat them all in one sitting.
They do contain a lot of fat, even if the latest science does think that saturated fat is no longer the 'baddie' it once was.
What equipment will I need?
To make this delicious raw chocolate fudge you're going to need a handheld chopper like this one. The advantage of these machines is that you can make smoothies and soup with them along with using them to whip things like cream.
I use mine for making nut butters and my vegan natural frosting or icing.
You'll need a dish to set the fudge in and an airtight container to store it in. I use these containers to store all my bakes in. They help to keep them fresh.
Make sure you pin the recipe for raw chocolate fudge so you don't lose it.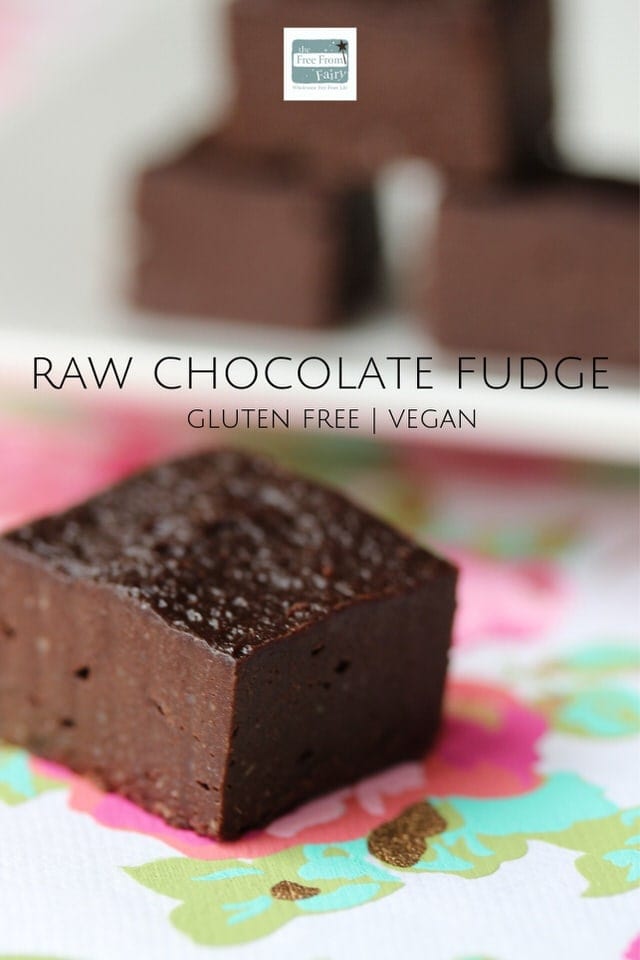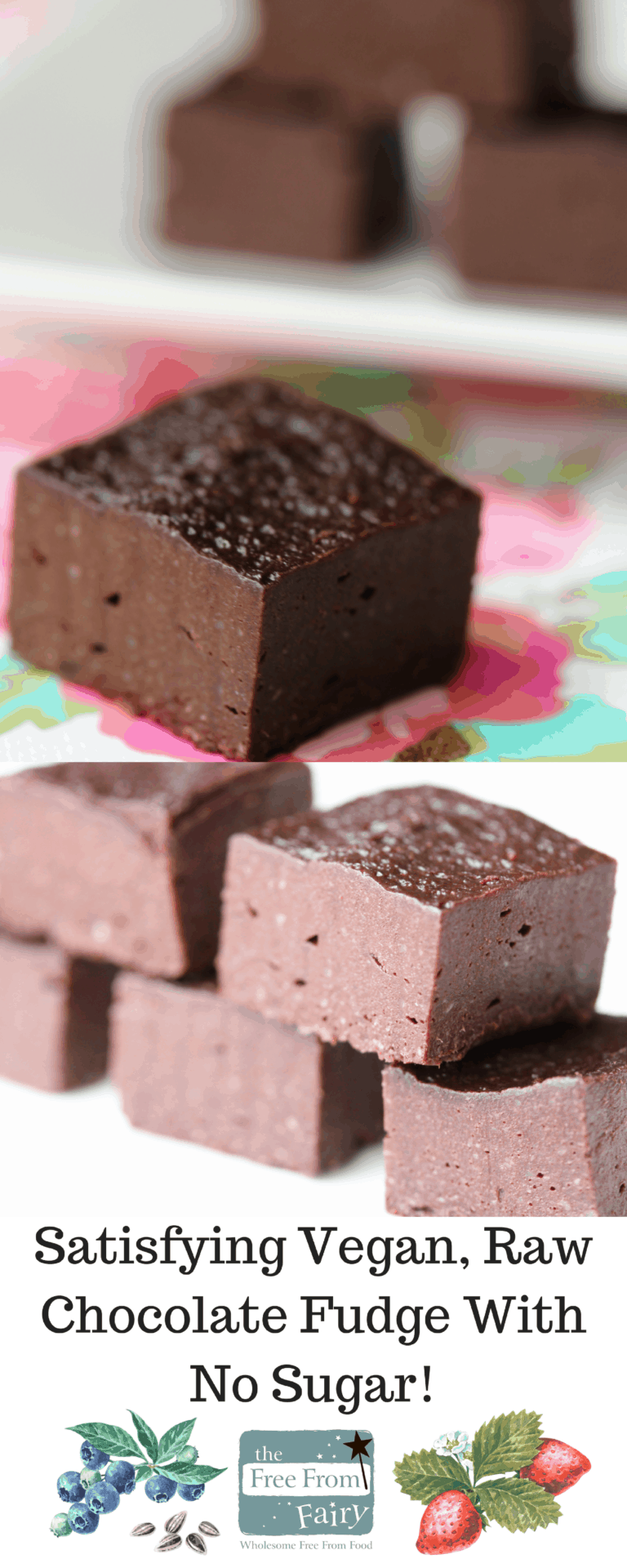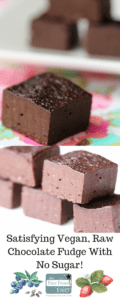 Sugar-Free Raw Chocolate Fudge (Vegan & Gluten-Free)
Gluten-free, Dairy-free, Egg-free, Soya-free, Sugar-free
Ingredients
100

g

cashew nuts

80

g

ripe banana

-

peeled, or 50g dried pitted dates OR 50ml liquid sweetener of choice

25

g

cocoa powder

-

or raw cacao powder if you have it

50

g

coconut oil -

or butter, melted

Pinch

of salt

-

not necessary if using salted butter

1/4

tsp

ground cinnamon or essential oil of choice

-

optional
Instructions
Place the cashews and banana into a small hand held chopper or blender and process until completely smooth (this may take a while but it's worth doing it until smooth)

Add all the other ingredients and blend again, scraping down the sides to make sure everything is mixed well

Spread the mixture into a dish of your choice (depending upon how thick you want the fudge to be) and chill in the fridge for around 1 hour, or freezer for 20 minutes

Once set, cut into pieces and remove from the dish

Store in an air tight container in the fridge
Notes
Nutritional information is for guidance only.
Nutrition (Approx)
Calories:
185
kcal
|
Carbohydrates:
10
g
|
Protein:
3
g
|
Fat:
16
g
|
Saturated Fat:
8
g
|
Sodium:
3
mg
|
Potassium:
221
mg
|
Fiber:
2
g
|
Sugar:
2
g
|
Vitamin A:
10
IU
|
Vitamin C:
1.2
mg
|
Calcium:
12
mg
|
Iron:
1.7
mg
If you like this recipe I think you'll like my vegan chocolate sauce and homemade vegan chocolate.