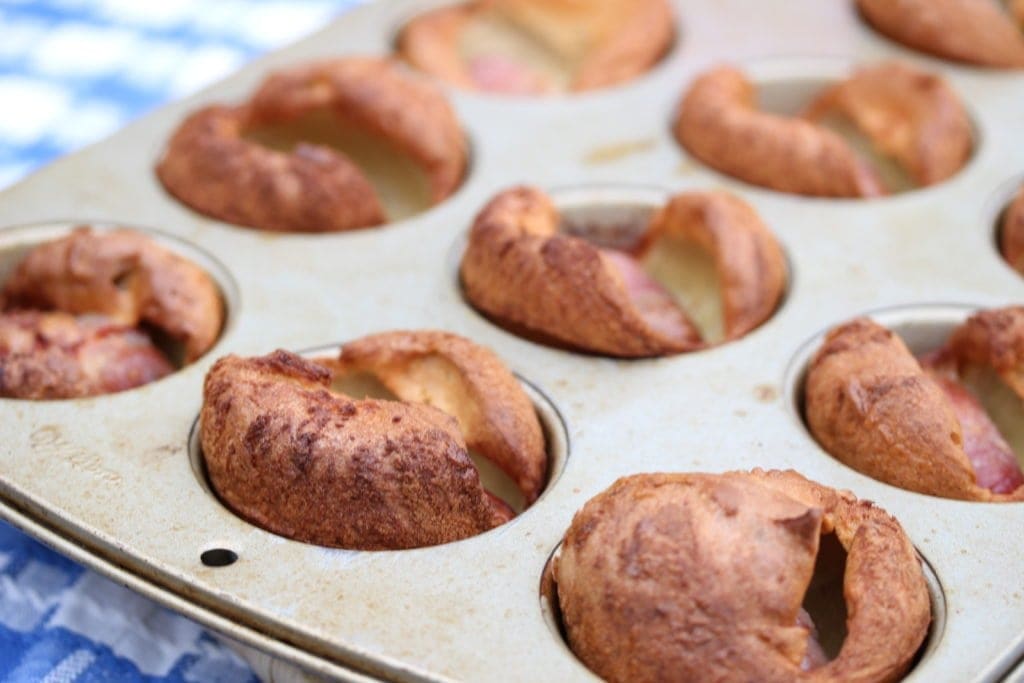 OK. Bring them back! It's only been a morning and I want my kids back.
Mum very kindly offered to have them both for 3 whole days and 2 sleep overs and I gladly accepted being half way through the summer holidays and already feeling like they should be going back to school.
However, the inevitable has happened. Since accepting the offer a few weeks ago I have been very busy. Writing a list longer than my arm of all the things I will be able to get done with no children under my feet.
This morning I have done half a job on the list.
Great!
I have spent the whole morning (following a run I may add), scrubbing our deck with deck cleaner, ready to be oiled over the next few days.
I hadn't appreciated a few things about this.
Just how flipping hard it is to scrub a deck clean with an ancient hard bristled brush and pathetic hose; how long it takes; that you have to wait 2-3 days for the deck to dry before applying said oil; that it is due to rain on Friday and that it takes 8 hours for oil to dry before rain can fall.
With all of those conditions it is a wonder that anyone ever treats their decks in this country and reminds my why it never got done last year!
Anyway, all of that explains why I am actually posting something here after a pretty long break!
I need a sit down before even thinking about the rest of the dreaded list (and yes it does include other knackering tasks like painting the kitchen…).
And before embarking on our next camping holiday next week…which, fingers crossed…no I am not going to say anything about the weather.
So here it is, after lots of experimenting…and an accidental discovery; that self-raising flour is what is required to make decent gluten-free yorkshire puddings…or 'orkshire puddings' if you are my daughter!
I had run out of plain flour so decided to try self-raising instead (sorry Yorkshire folk!) and I am pleased to report that lovely fluffy batter was the result! And the most perfect gluten free toad in the hole.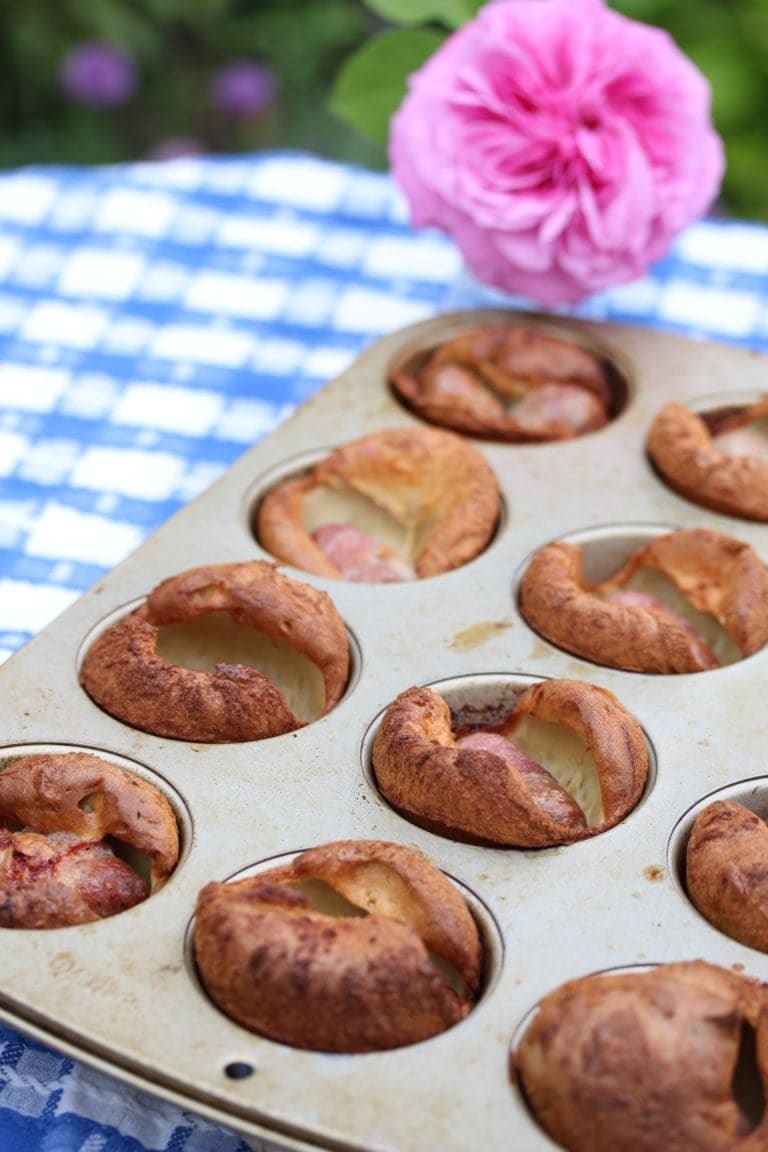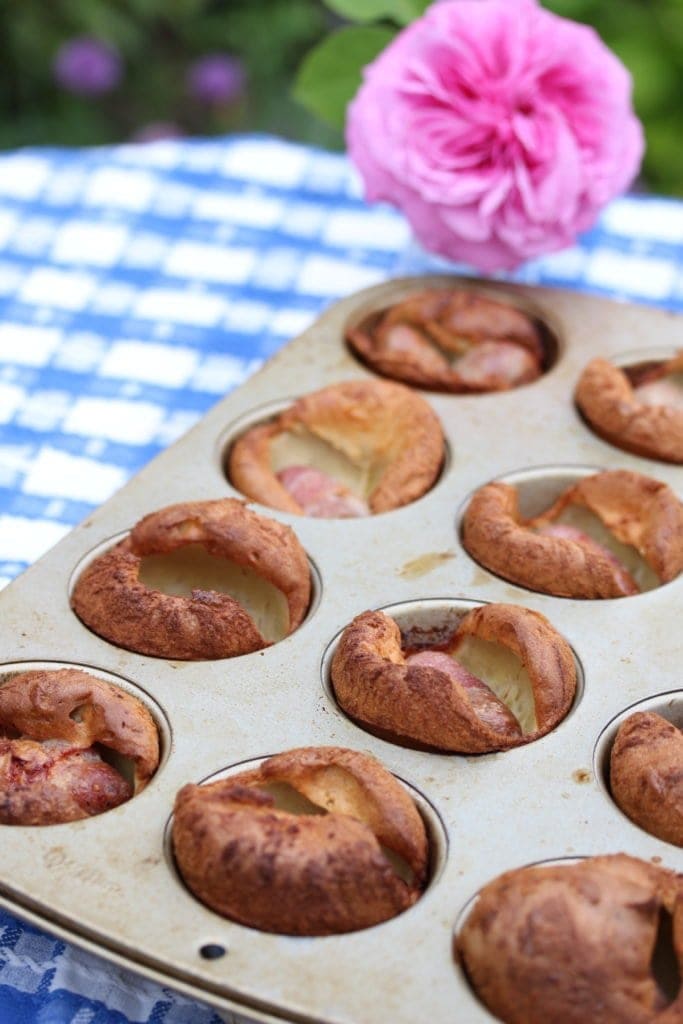 You could include the sausages or just make Yorkshire puddings to go with your Sunday roast.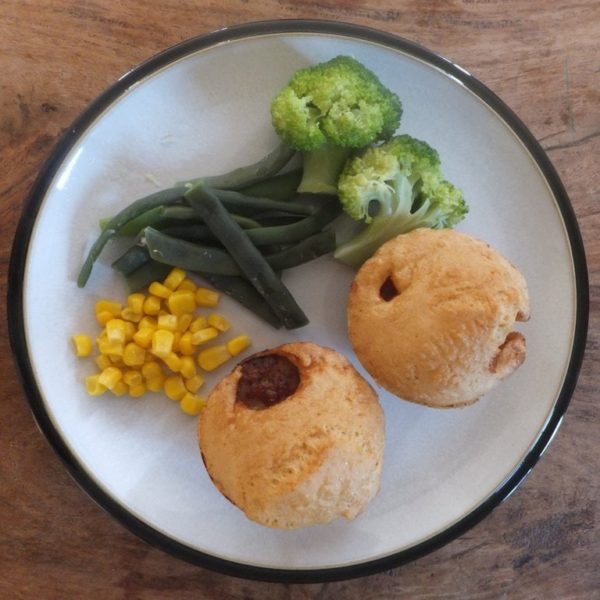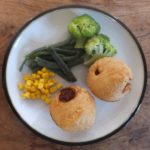 Tiny Toad in the Hole
Gluten-free, Dairy-free, Nut-free, Soya-free
Servings
12
little muffins
Ingredients
Ingredients

40

g

Free From Fairy wholegrain self-raising flour

or 40g FFF plain flour plus 1/2 tsp baking powder

40

g

tapioca starch

80

ml

dairy-free milk

I used unsweetened almond milk or dairy milk if it can be tolerated

3

medium free range eggs

Pepper to season

6

gluten-free

dairy-free sausages, cut into small pieces or 12 cocktail sausages

A little olive oil or better still

duck fat
Method
Place the flour, milk, eggs and a grind of pepper in a bowl and whisk with a balloon whisk (just a normal hand held whisk - nothing fancy!) until smooth. The mixture needs to be the consistancy of double cream.

Pre-heat the oven to 230 degrees (210 fan oven) and cut the sausages into 4 pieces.

Place a small amount of oil into each hole in a deep holed muffin tray and place in the hot oven for 5 minutes

Add 2 pieces of sausage, or a whole cocktail sausage to each hole of the muffin tray and quickly pour over the batter dividing it equally between the 12 holes in the tray

Place back in the oven for 25 minutes until golden.

Serve with a selection of vegetables