A gluten free panettone they said…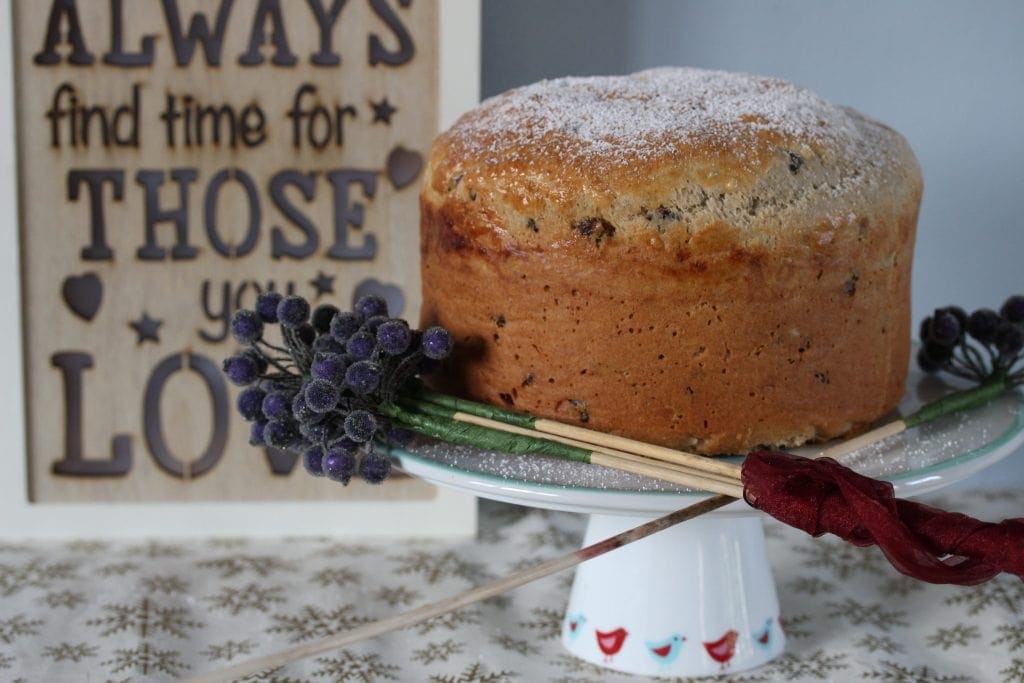 Not too much of a challenge I thought.
Ha! This recipe has caused me plenty of annoyance. It's also given me an opportunity to face a fear.
A few weeks ago I asked my Facebook followers what Christmas recipes they'd like to see me create.
The most popularly requested recipe was for panettone.
Along with stollen…but you'll see that I've already cracked that one. In fact, it's just one of 13 Christmas recipes I'm teaching how to make in two classes in my private Christmas Facebook group (you can join any time up until Christmas for just £20, where the classes will be available to watch in your own time).
So, I decided to crack the panettone recipe.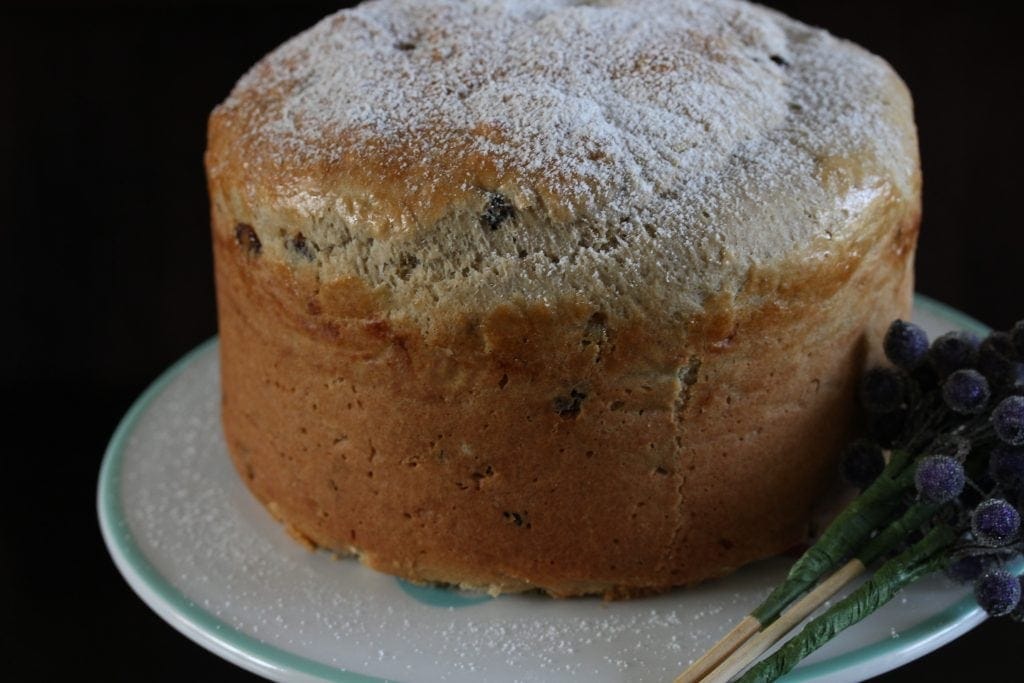 And I did, first time. Except for a little air pocket right in the middle of the bake. It rather reminded me of a shop-bought loaf of bread. I mean, if you don't get an air pocket it's not right, right?
I did hours of research about this pesky air pocket. I also asked my baking friends in my Facebook group.
I've changed the recipe, amended the rise time, altered the method but each time the pesky pocket remains.
But there is one thing that hasn't changed. And that is my oven with a broken seal (still waiting for a new one to be delivered). I've no idea whether that is causing the problem…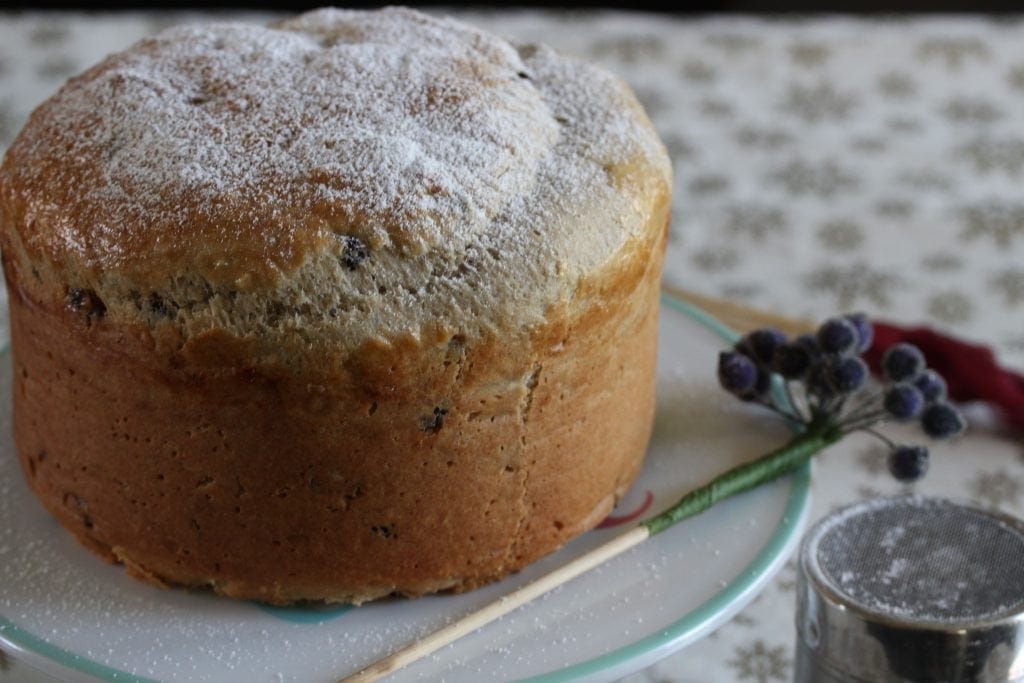 So today I am doing something that I never do when it comes to recipes.
I'm letting go of perfection.
Perfection is something I thought was a good thing until a few years ago. Then I realised that all it does is serve to hold you back from ever doing anything. The fear of something 'not being good enough' basically stops your life in its tracks. It's debilitating and crazy but it's also the perfect excuse to not live life to its full potential and share your gifts.
When I started this blog it served as an opportunity to let go of perfectionism. I didn't believe that anyone read it so it was fine to write something and press publish. Now, I can easily do that, but when it comes to sharing recipes it's totally different.
At that point perfectionism creeps in again. The gremlin in my head tells me that I can't share a recipe if it isn't totally perfect. I can't tell you how many recipes I've created that are amazing, delicious and well received but that don't live up to my high standards.
However, I know there are lots of you waiting for this recipe and it is incredibly delicious.
So although my gluten free panettone recipe isn't perfect, I'm sharing it with you.
If I had the ability to eat any more panettone I would keep going with the experiments. However, I'm not sure it's doing my waistline any good and if it's the oven then the problem isn't going anywhere soon.
So, although it goes against my inner soul, I'm sharing a slightly imperfect recipe. Imperfect but totally delicious.
I will keep experimenting and will get it perfect for next year I promise!
However, if you fancied an experiment I would suggest either baking it in a bundt tin (removing the tricky middle!) or in high muffin cases. Or, perhaps investing in a panettone tin? Although I'm not one for having specific tins for specific (infrequent) bakes!
Anyway, I hand the recipe over to you with love. Do with it what you wish. But if you do make it please let me know what the air pocket situation is.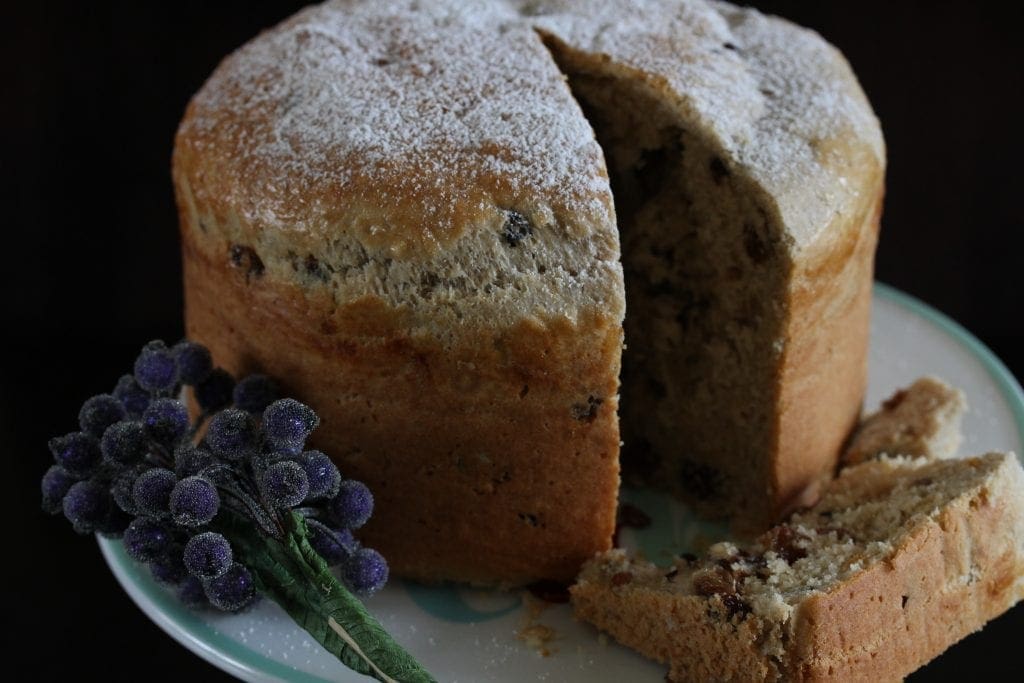 So here it is, my slightly imperfect gluten free panettone recipe. From a recovering perfectionist…
Don't forget the pin the recipe for later.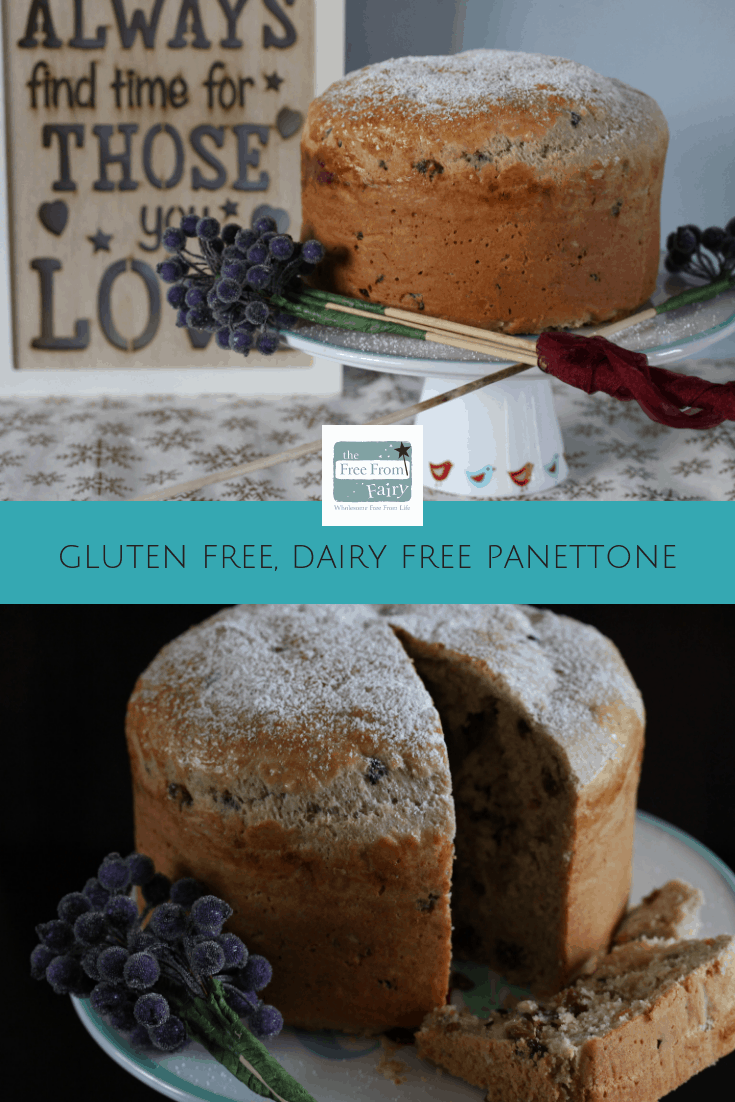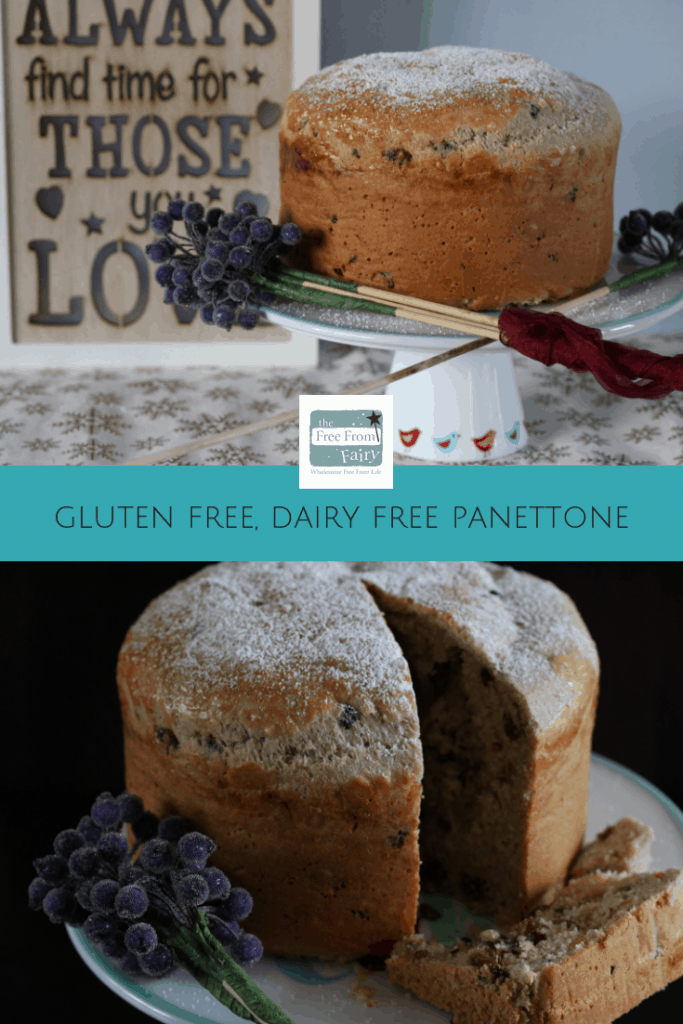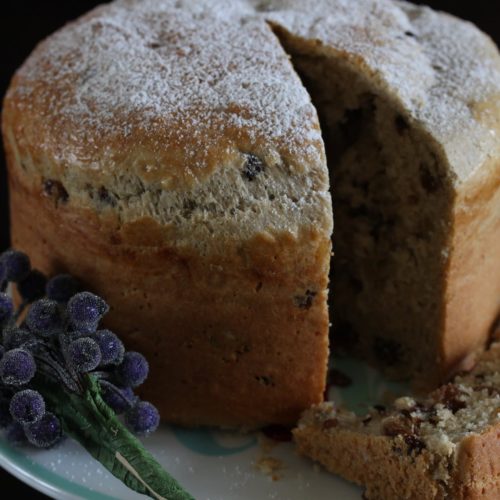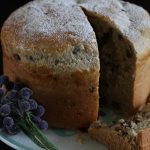 Gluten Free Panettone
Gluten-Free, Nut-Free, Soya-Free; Can Be Dairy-Free
Cook Time
1
hour
10
minutes
Rise Time
1
hour
30
minutes
Total Time
1
hour
20
minutes
Ingredients
300

g

Mixed dried fruit

3

tbsp

Brandy

175

g

Gluten free potato starch

75

g

Gluten free tapioca starch

4

tsp

Psyllium husk powder

7

g

Sea or rock salt

50

g

White sugar

14

g

Easy bake yeast

140

ml

milk (dairy or dairy free)

(warmed for 30 seconds in the microwave or until tepid)

5

medium

Free range, organic eggs

250

g

Softened butter

(Or 200g softened coconut oil plus extra 50ml milk)

1

medium

Free range, organic egg - for brushing on top
Method
Prepare a 18cm diameter round cake tin by lining it with 2 sheets of baking paper (I folded my baking paper in half length-wise). This will give more height to your tin, allowing the bread to rise properly

Add the dried fruit to the brandy, mix well and leave to stand for around an hour if you have the time. This just lets the fruit plump up but isn't essential

Place the dry ingredients into a large bowl or the bowl of a stand mixer and mix until well combined

Add the eggs, milk and butter (or coconut oil and extra milk) and beat until a smooth batter forms (around 1 minute)

Add the mixed fruit into the batter and mix until just combined

Scrape the batter into the prepared tin and smooth the top with wet fingers until even

Cover with a damp t-towel and leave to rise for around 1hr 20 minutes

Turn your oven on to 180 degrees C/160 fan/gas 4. Once up to temperature, remove the t-towel from the top of the panettone, brush with beaten egg and bake for 25 minutes

Turn the oven down to 150 degrees C/130 fan/gas 2 and cook for a further 45 minutes until turning golden on top and until a skewer comes out clean

Leave to cool for 5 minutes before turning out onto a wire rack to cool completely