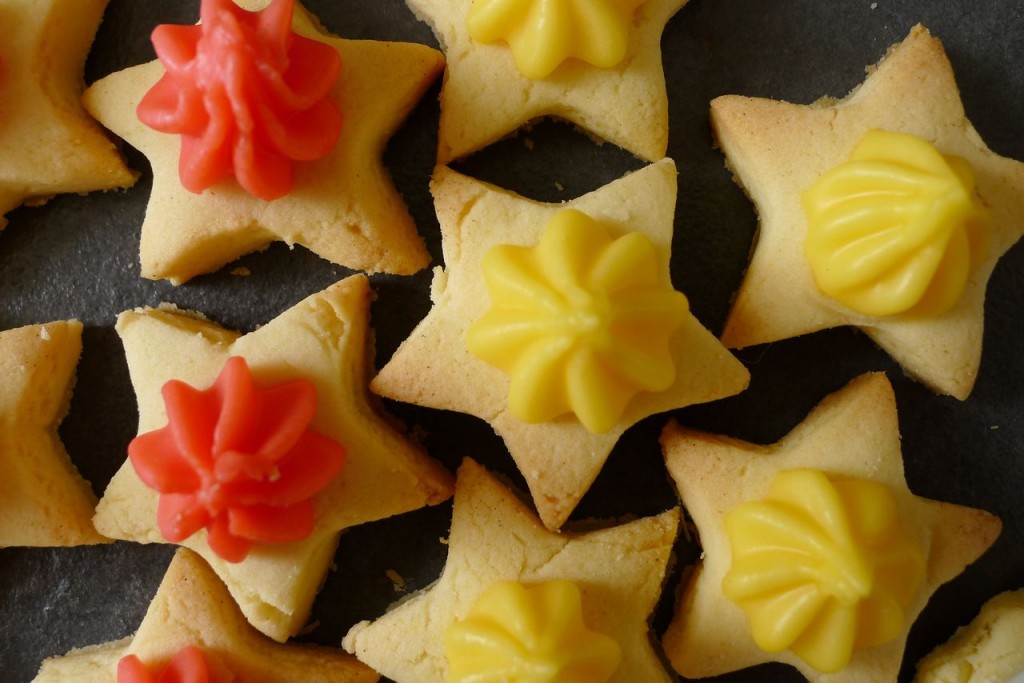 As many of you will know from seeing pictures on Instagram and Twitter, I have been very busy baking this week…trying to get prepared for our kids birthdays that are drawing ever closer!
Each year we chastise ourselves for having managed to have two children whose birthday's are so close together…15 days apart and towards the end of the school term when life is already hectic!
Inevitably, their parties are not on their actual birthdays adding to the amount of baking that has to be done!
This year, our son's birthday is on a Sunday meaning his party can be the same day. His party is going to be 'space-themed' (well loosely so!), so I have been making star-shaped treats to go in the freezer until the day.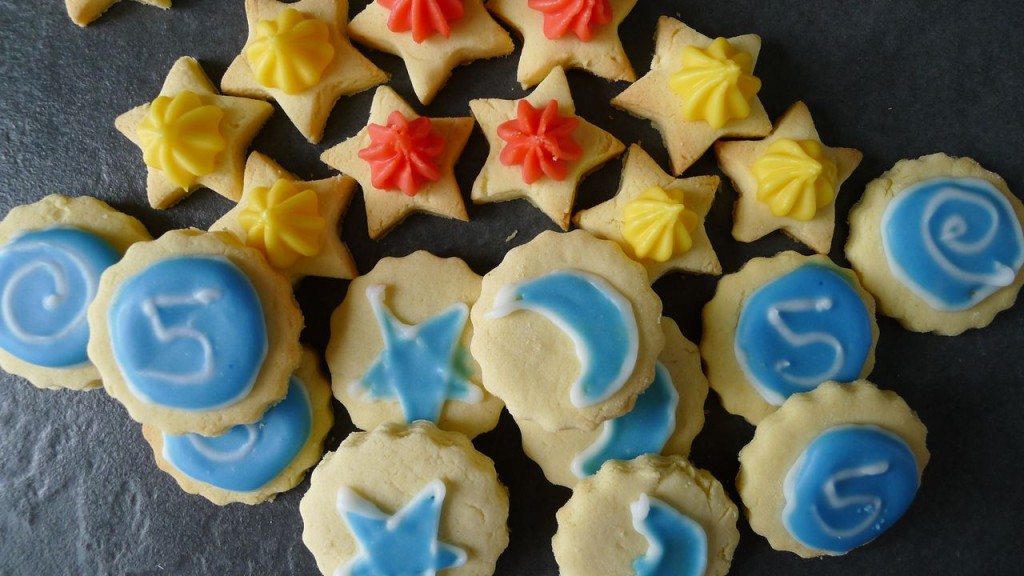 Not only are there star-shaped cheese biscuits (he is a cheese monster!), but star-shaped iced gems (a childhood favourite) and biscuits decorated with space 'things', and his age! I will be making his cake on Saturday so will share the pictures of that when it is done (provided it works out!) and will also write a blog post about the food that we had (in case that helps those of you who have to through parties for those with coeliac disease!).
Anyway, for those of you who like a little bit of 'retro' here is my recipe for iced gems! I used Nia's recipe for the icing (over on the brilliant Carrots and Maple Syrup blog), and my tried and trusty biscuit recipe from my jammie dodgers (tweaked a little now to make it egg-free too). The result is a delicious bite sized treat that I think the kids are going to love!
I used half the biscuit mix for iced gems and the other half for the space-themed and age biscuits. I thinned the icing out with more lemon juice to fill in the centre of the space-themed and age biscuits…there are a LOT of biscuits which should do for both kid's birthdays (I did pink ones for my daughter!).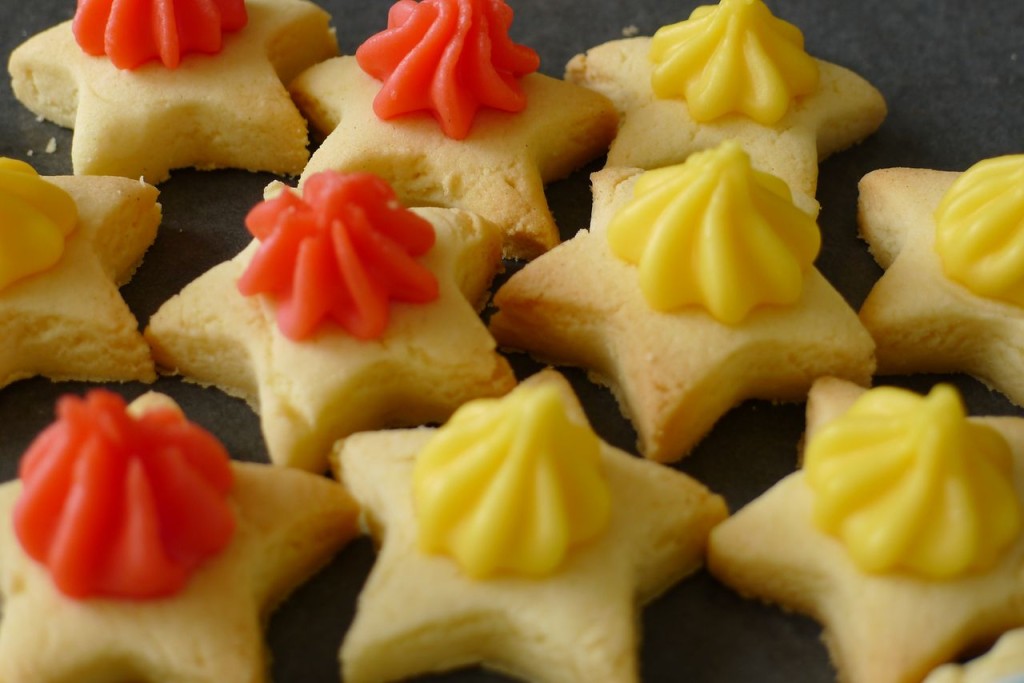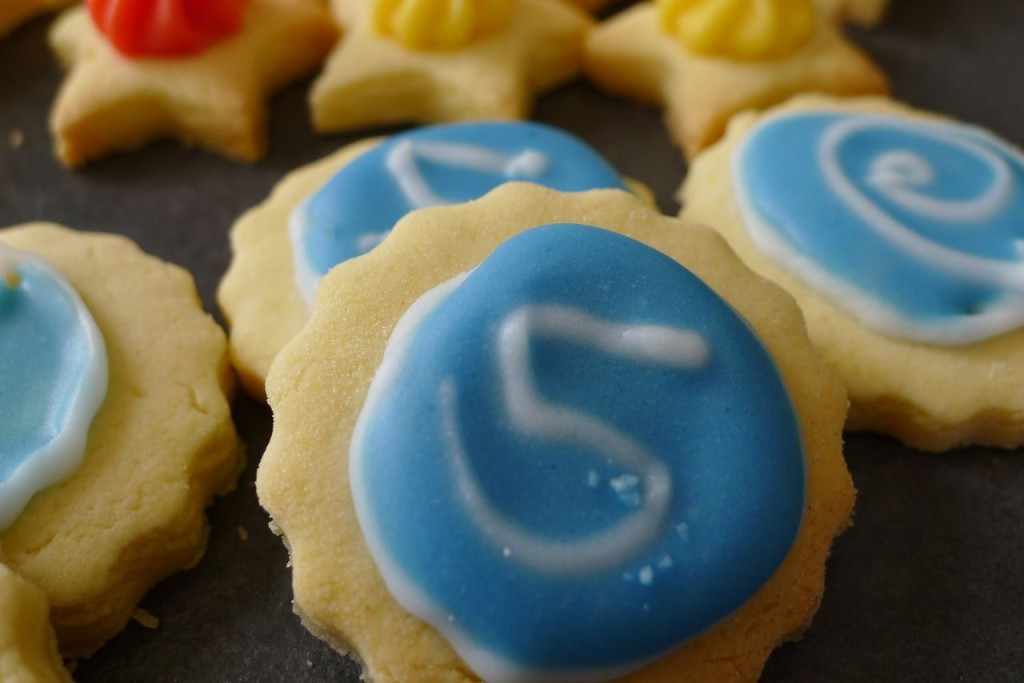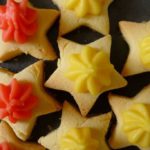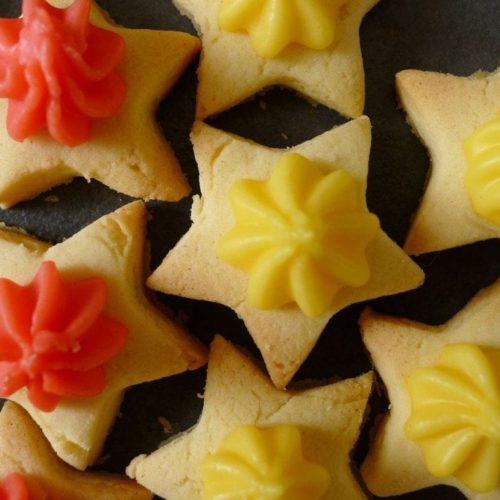 Gluten-free & Dairy-free Iced Gems
Gluten-free, Dairy-free, Nut-free, Soya-free. This will make a huge number of iced-gems! The dough freezes well though so wrap half in clingfilm and make them another day...or make some jammie dodgers with half the dough!
Ingredients
FOR THE BISCUITS:

250

g

dairy-free margarine

140

g

icing sugar

1

tsp

vanilla extract or a few drops of almond extract

440

g

my wholegrain gluten-free plain flour

1

tsp

xanthan gum

FOR THE ICING:

500

g

icing sugar

60-80

ml

fresh lemon or orange juice

what you choose is what your icing will taste of!

4

tsp

glycerine

Food colouring

the gel type is best or reduce the amount of juice you put in if using liquid
Instructions
FOR THE BISCUITS:

Put the margarine and icing sugar in a mixing bowl and beat together with an electric whisk until pale and fluffy (about 1 minute).

Add the vanilla and beat again

Add the xanthan gum and beat to combine.

Finally add in the flour

Work into a dough, kneading it a bit to bring it into a smooth ball, you may need a little more flour

Place in the fridge for around 30 minutes to make it easier and less sticky to use

Flour a clean surface and knead the dough until smooth.

Roll the dough out to a thickness of about 3mm.

Using your chosen cutter (1inch or less if you want them small!) cut out your shapes.

Transfer the biscuits to well greased or lined baking trays. Don't worry about spacing them out because they do not grow!

Bake in a pre-heated oven for approx. 10 minutes at 190 degrees or 170 degrees (fan oven) until firm but not coloured.

Leave to cool in the baking tray for 5 minutes before placing on a wire rack to cool completely.

FOT THE ICING:

Mix the icing sugar, 60ml of juice, and glycerine together in a bowl. If you want different colours, divide the mixture into different bowls and then add the colouring gel. The consistency should be of toothpaste, if it seems too think add more juice.

Place into a piping bag with the star nozzle attached and pipe stars onto the cold biscuits.

Either place the finished biscuits into the oven on its lowest setting for 30 minutes to dry the icing out, or leave to dry for 24 hours at room temperature (I left mine in the cold oven to protect them from flies etc).

I have placed my finished biscuits in the freezer ready for the party on Sunday! They will take about 5 minutes to defrost!
I have linked this up with: