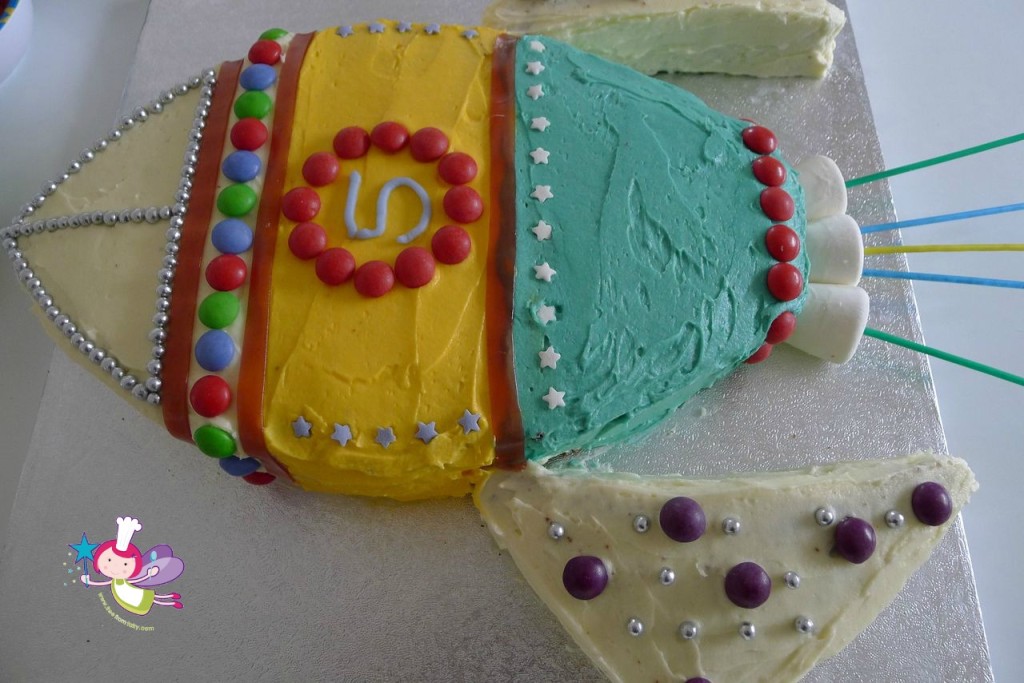 Having just held a birthday party for my son this weekend I thought it might be useful to share what food we had. I did a 'buffet' style meal for fourteen 5 year olds that was gluten-free and mainly dairy-free too. Lots of the things I made ahead and froze.
So here we go! Gluten-free (& dairy-free) party food ideas for kids (and big kids)!
This year I decided that as my son had loved the space topic they had done at school, his party could be loosely space themed.
So, first up a rocket birthday cake!
I made this by combining a few ideas together that I had gathered on the internet. There was a very good template for those who like such things (I like freehand myself), along with decorating instructions on taste's website. I used that idea combined with a few pictures I found on Google to come up with mine. This was a pretty easy cake to make because I made a double quantity of my cake mix that you can find here in a 23cm x 30cm tin. I then cut out the shape and decorated it. Everything you need to know about making the cake and the icing can be found in the above link!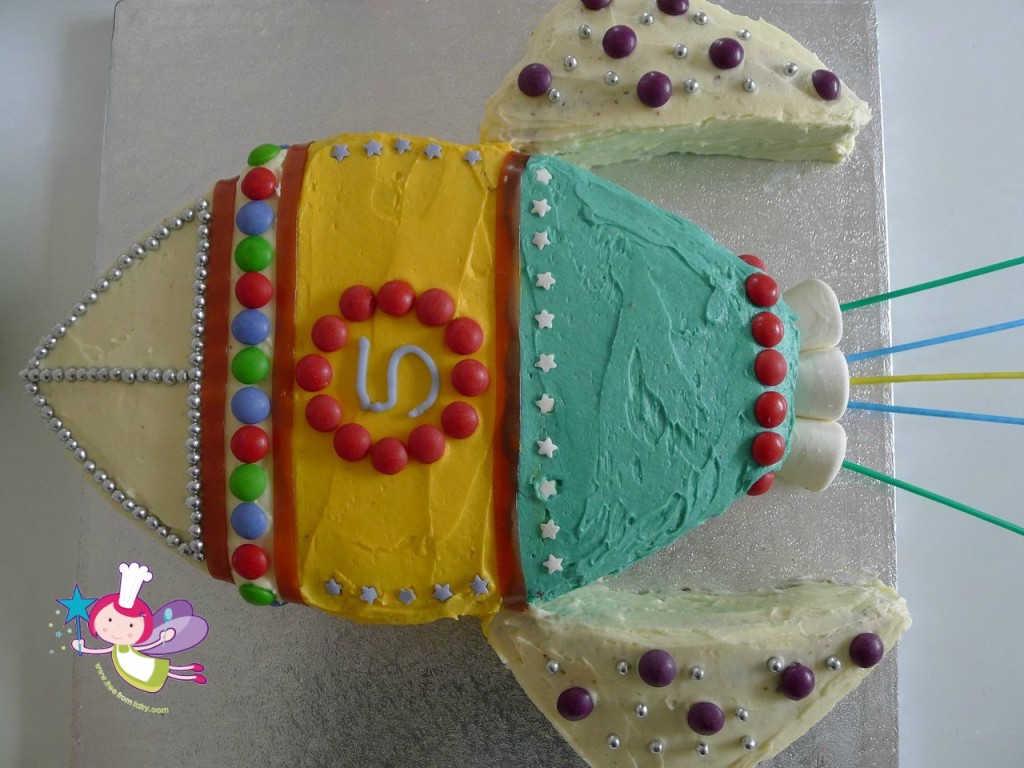 As for the savoury buffet I did the following: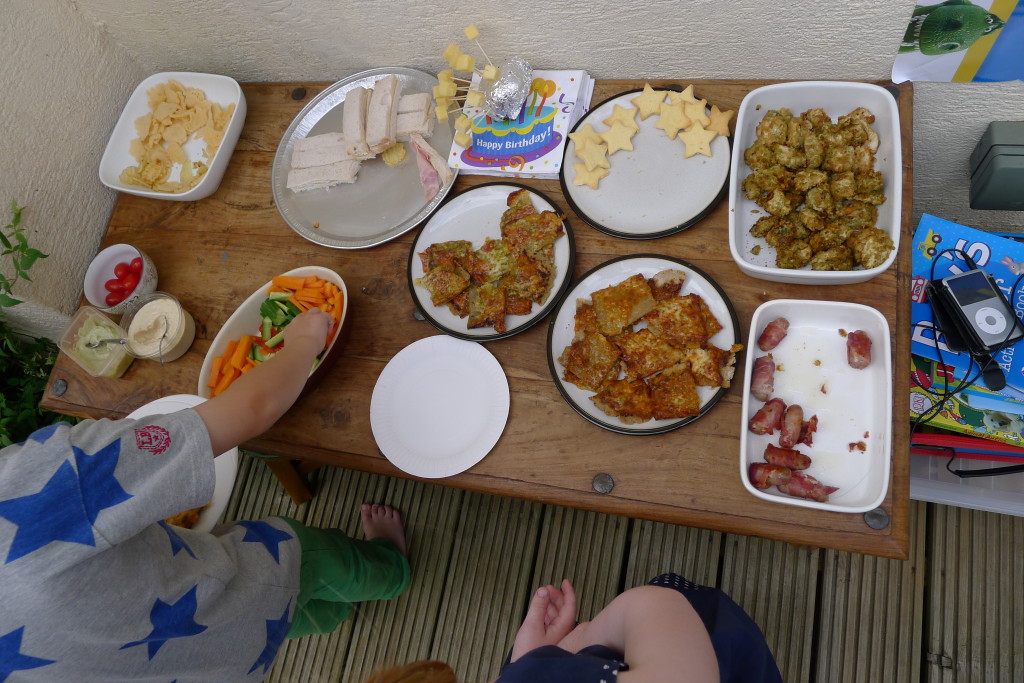 Chicken nuggets – using my recipe and Sacla dairy-free and gluten-free pesto.
Pizza – using my recipe. Leave the cheese off if you want a dairy-free option! I did one cheese and tomato and the other pesto with chorizo and mozzarella.
Sausages – I bought Tesco Finest cocktail sausages wrapped in bacon. If you cannot get these then M&S do cocktail sausages as do Sally's Sizzling Sausage Company. However I have never tried either!
Sandwiches – using Genius white bloomer bread and filled with dairy-free spread, ham, ham and cheese (for those that could have dairy) and peanut butter.
Vegetable sticks – thinly sliced vegetables such as carrots, peppers and cucumber with houmous and pesto mayonnaise dips (made by combining dairy-free gluten-free pesto with mayonnaise!).
Baby tomatoes
Cheese on sticks – for my little cheese monster (obviously not for those with a dairy allergy)!
Cheese biscuits – using my recipe and cut out into star shapes. Again not suitable for those with a dairy allergy unless you have a good dairy-free cheese that you could use instead of the cheese. I have made them dairy-free but using Tesco dairy-free cheese which was awful!
Crisps – I had Seabrooks variety pack that are all gluten-free, some are dairy-free, along with Pom Bear zoo crisps at the request of my son (these are cheese flavoured so no good for those with dairy allergies).
For the sweet buffet I did:
Pineapple on sticks
Strawberries
Marshmallows (Tesco own) dipped in dairy-free chocolate with sprinkles on top: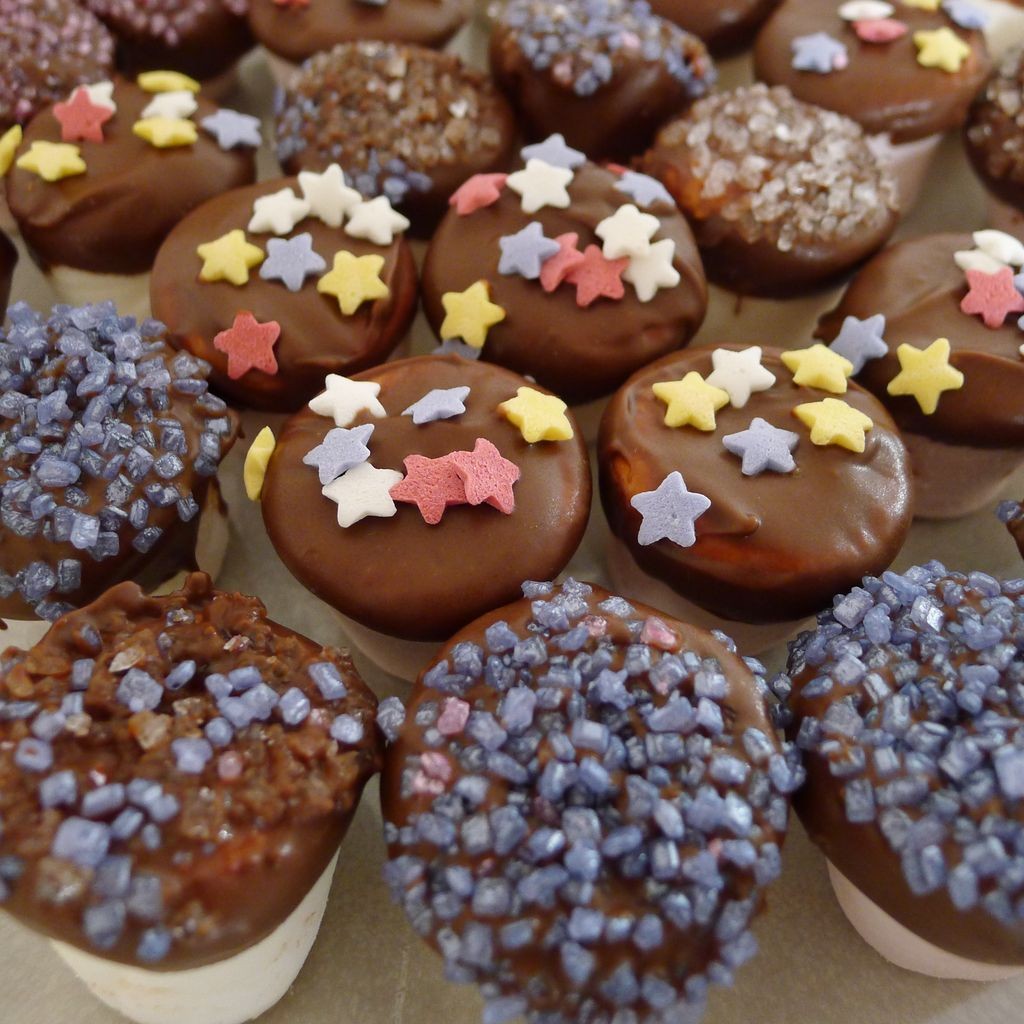 Iced gem biscuits – using my recipe
Decorated '5' biscuits and star and moon biscuits – using the same recipe as above.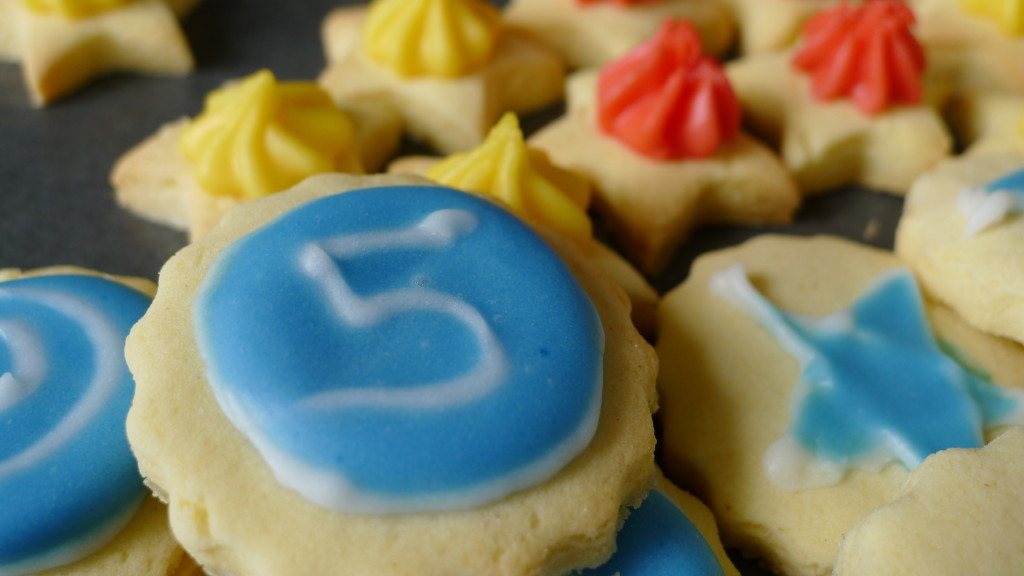 Cupcakes (that my lovely mum made) – using the same recipe as the birthday cake, that you can find here.
Flying saucer sweets that I found in Iceland! A retro favourite!
So there you have it. A few ideas if you are struggling to think of what to make for a kids (or adults) party if there is someone with coeliac disease, an allergy or intolerance to gluten or an allergy or intolerance to dairy…Enjoy!
I shared this with: