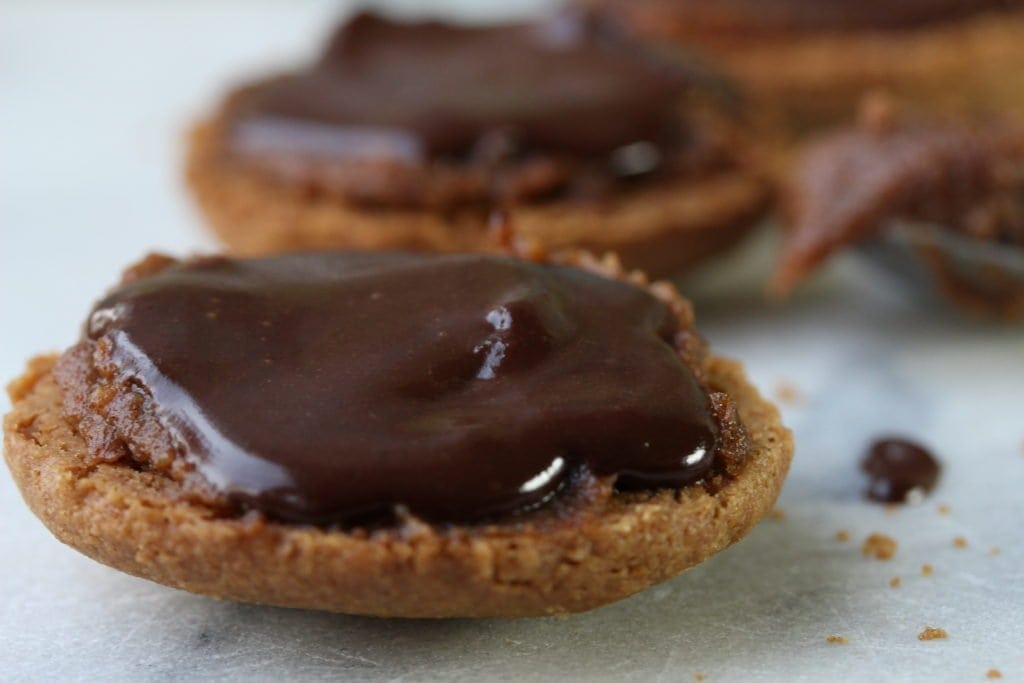 Many of you will have seen the rather delicious looking recipe for Twix cookies that I posted on Facebook last week.
Of course they were chock full of sugar, gluten and dairy so I decided to create my own healthier version that would fit with many of our dietary requirements and that would also sit nicely on the virtual allergen-free Christmas buffet table that myself and other fabulous bloggers are creating. You can read more about that in my post here where I introduced the idea and shared my recipe for roast carrot and cumin dip with free from breadsticks.
This recipe is so simple but there are several elements to it.
If you don't want to bother making all the elements then I suggest sourcing a good gluten and dairy free chocolate like this one from Chocolate and Love (but be aware that it does say it may contain dairy and nuts) and use that for the topping. It will increase the fructose load but will also be sweeter for the kids (although my kids liked my version).
I've attempted to keep the levels of fructose to a minimum in this recipe.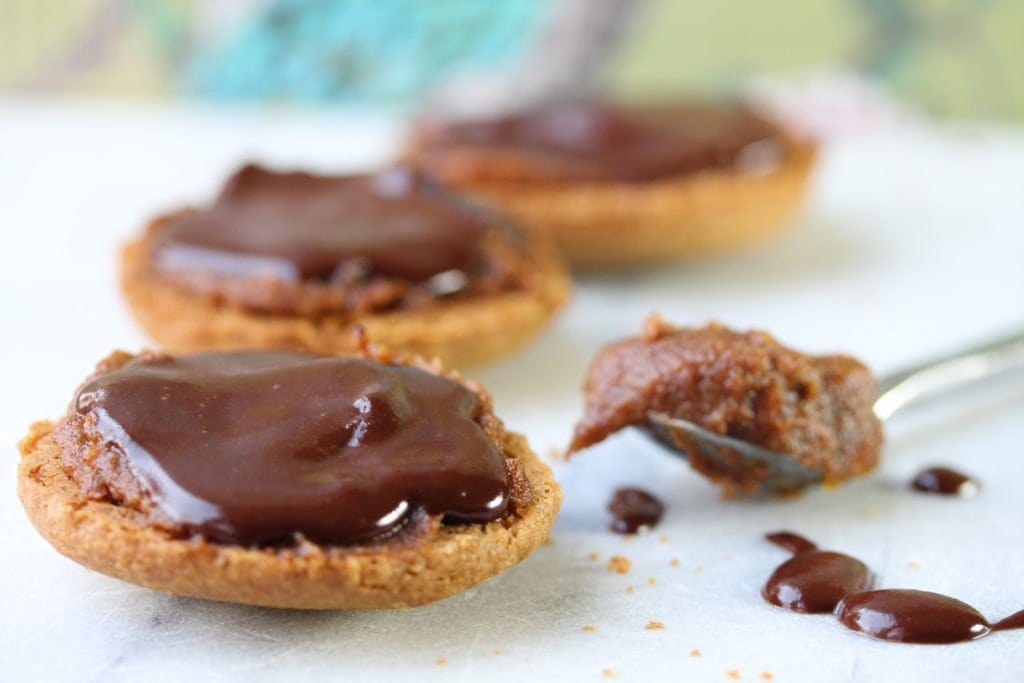 Many of you will know that I followed the I Quit Sugar programme earlier this year when I leant that it was the fructose, rather than the glucose in table sugar that was the culprit for many of our modern day ills (such as obesity, fatty liver and type 2 diabetes).
Although I try to stick to avoiding sugar, it isn't always possible and so my approach is to choose the sweeteners with the lowest amount of fructose and to reduce the amount of sugar in recipes.
For the biscuit I have chosen to use rice syrup as the sweetener. This has minimal levels of fructose but is processed so I don't like to use it too much. You could use maple syrup instead but it has higher levels of fructose, similar to honey (around 40% fructose). Don't use honey or you'll get a soft shortbread as honey attracts moisture.
For the 'caramel' I chose to blend dates with solid coconut cream, water and vanilla. Dates are composed of around 30% fructose.
If you don't want to avoid the fructose you could use the recipe for caramel I created in these chocolate caramel shortbreads. Or you could use this delicious coconut jam from Coconut Merchant or their coconut jam with cacao and do away with the chocolate layer all together.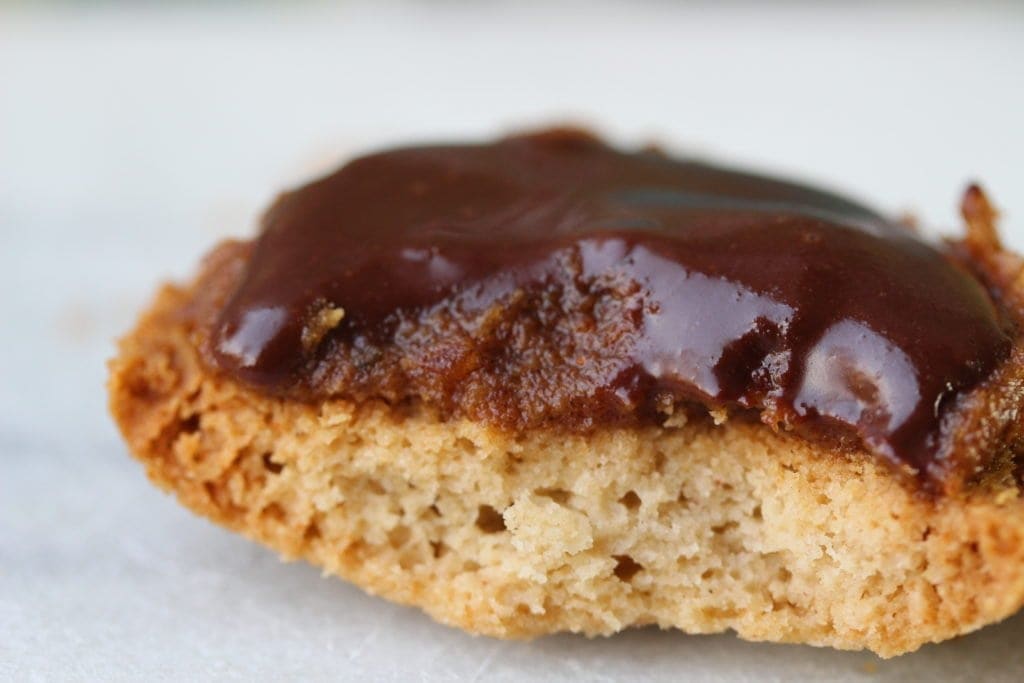 Finally, I made my own chocolate topping with coconut cream, cacao and rice syrup. I admit that it wasn't very sweet but mixed with the date caramel and crispy delicate biscuit I feel it is sweet enough. You can sweeten it as much as you like but remember the more liquid sweetener you use the thinner it will become. You may be better off using a bought chocolate if you think this will be too bitter for you.
Ordinarily I avoid using margarine of any type. It is now known that the vegetable fats in such products are not stable at high temperatures making them less than ideal for our bodies. If you can tolerate butter then use that (I use goats butter which I find I can tolerate) otherwise use margarine until such time as I create the recipe with coconut oil to give you a further option (I've run out of coconut oil so had to use margarine!).
Anyway, without further ado I present my healthier Twix cookies…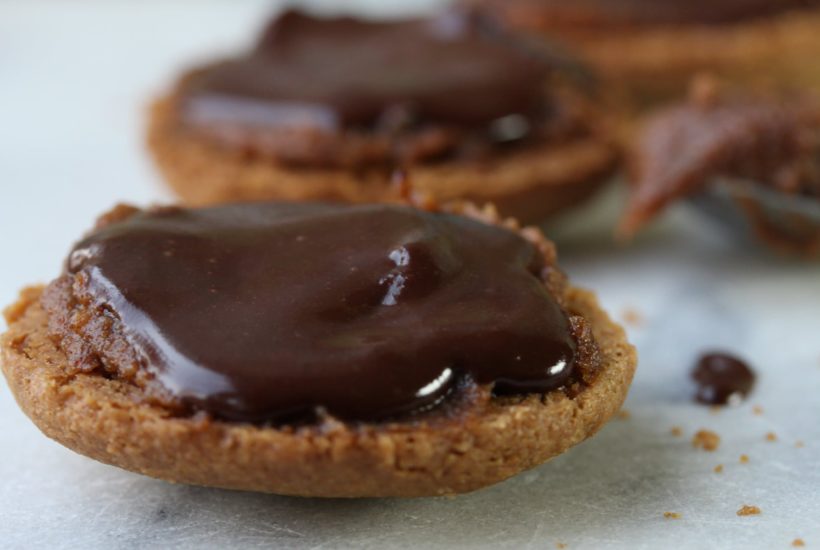 Free From 'Twix' Cookies
Gluten-Free, Dairy-Free, Egg-Free, Nut-Free, Soya-Free, Refined Sugar-Free
Ingredients
FOR THE BISCUIT BASE:

125

g

solid margarine

-

plus pinch of salt or if you can tolerate it salted butter, softened

2

tbsp

rice malt syrup or maple syrup

FOR THE CARAMEL:

130

g

dried dates soaked in boiling water

20

g

solid coconut cream

1

tsp

vanilla extract or powder

70

ml

water

FOR THE CHOCOLATE TOPPING:

50

g

solid coconut cream

60

g

water

20

g

cacao

30

g

rice syrup or maple syrup
Instructions
Start by making the caramel.

Put the dates in a bowl and cover with boiling water. Leave them to soak for at least 15 minutes

While the dates are soaking make the cookies

Beat the softened margarine or butter with the syrup until smooth and fluffy

Add the flour and beat to combine

Remove the sticky dough from the bowl, wrap in clingfilm and chill for around 30 minutes

Once the chilling time is complete remove ping pong sized balls of dough roll into a ball. Place on a lined baking tray and lightly flatten into a disc shape

Repeat with all the dough, leaving small spaces between the cookies

Bake in a pre-heated oven at 190 degrees/170degree fan/ gas mark 5 for 12 - 15 minutes until golden then leave on the tray to cool

While the biscuits are cooling make the caramel by adding the ingredients to a hand held blender or food processor and blending until completely smooth. This may take a while and require lots of scraping down of the sides!

Finally make the chocolate topping by gently heating the ingredients in a bowl above a saucepan of boiling water (or melt some chocolate you bought in the same way, with a little butter margarine to help the melting process)

To assemble, make sure the cookies are cold. Top with a teaspoon of caramel sauce and then a teaspoon of chocolate sauce. Allow to cool before eating
Pin the recipe so you don't lose it: