These gluten free waffles are a healthier alternative to my gluten free Belgian waffles. They are dairy free and sugar free, using coconut oil instead of butter. I use a whole banana and pear to sweeten them, and my rice-free wholegrain flour blend as an alternative to wheat flour.
I was sent a waffle maker in return for creating this recipe.
This post contains Affiliate links. As an Amazon Associate I earn from qualifying purchases.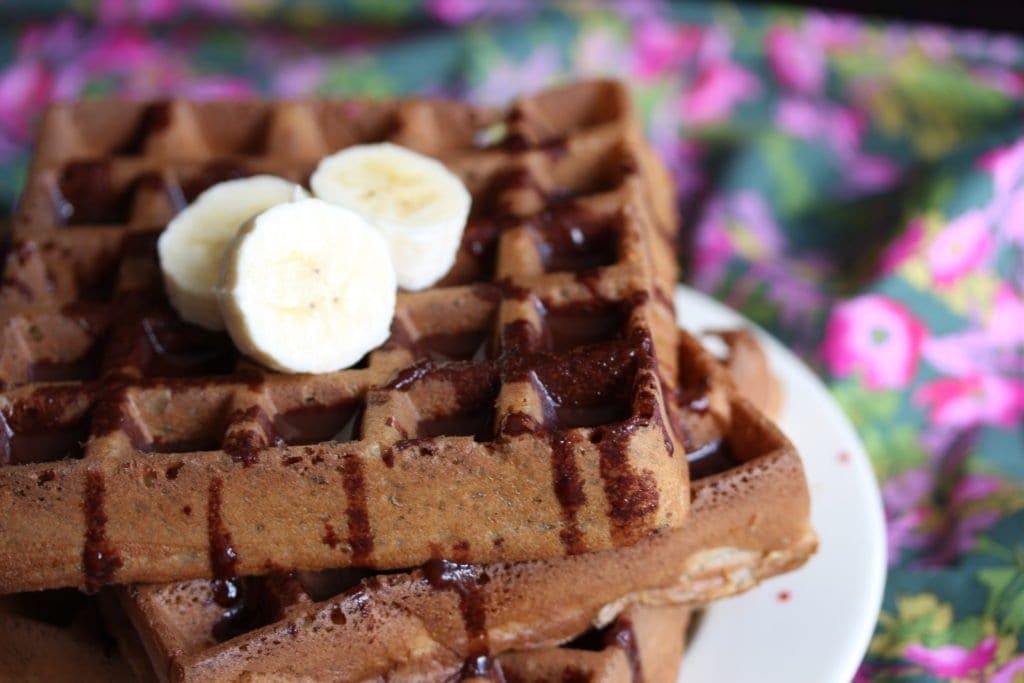 These gluten free waffles are crispy, soft, indulgent and delicious.
They also happen to be free from quite a lot of things including dairy, sugar, nuts, soya and yeast.
When Sage sent my one of their Smart Waffle Makers, I was super excited and keen to try it out.
The first morning I used the recipe that came with the machine and swapped the 'normal' flour for my gluten-free wholegrain flour blend.
I also swapped the butter for coconut oil, the milk for unsweetened almond milk and left out the sugar.
I let the kids drizzle them with a little honey instead.
The result?
Perfect crispy yet fluffy waffles.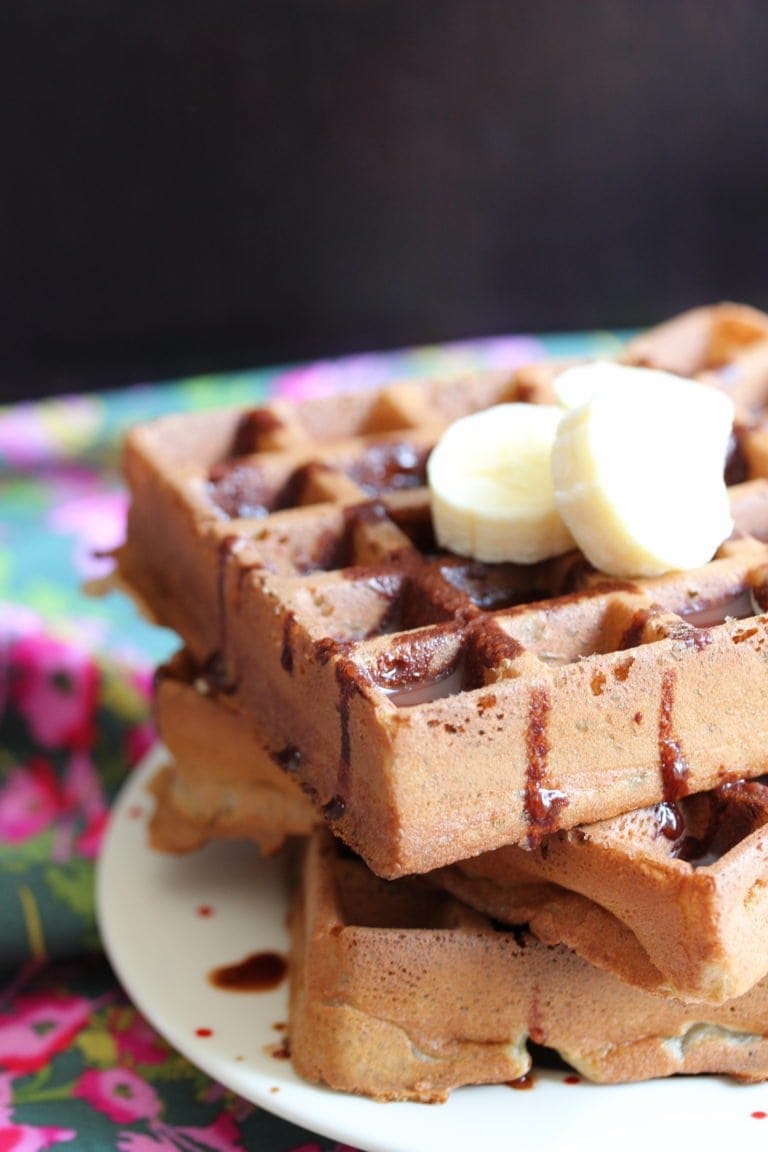 Of course, me being me, couldn't possibly stop there.
For those of you who have read my blog more than once, you will know that the kids have pancakes for breakfast most mornings.
I try to sneak as many 'goodies' in them as I can so that I know they are set up for the day.
What makes these gluten free waffles healthier?
Firstly I use my rice free wholegrain flour blend.
Almost all gluten free flour blends are made from white, highly refined flours.
These provide very few nutrients and don't sustain you for very long.
I'm sure you've found that you're often hungry when eating refined gluten free goods?
That's why I created my flour blend.
It's made from 70% wholegrain flours (teff, sorghum and buckwheat) with a little potato and tapioca starch to ensure products bind.
Not only can it be used in all cooking and baking but it also fills you up!
You can find out more in this article I wrote about gluten free flour.
Along with my flour blend I've used coconut oil rather than margarine.
With both myself and 'Roo' not tolerating dairy most of my recipes are dairy free.
However, where possible these days I try to avoid margarine.
I always try to use natural products in my cooking and baking and margarine is definitely not that.
Finally I've used fruit to sweeten these babies.
'Roo' is not a fruit fan so I have to find cunning ways to get her to eat it.
Waffles are the perfect vehicle for hiding fruit.
What makes a good waffle maker?
Now we have a waffle maker, breakfast is simple.
The batter takes minutes to make and while they cook I make the packed lunches, unload the dishwasher and prepare my own breakfast.
The Smart Waffle maker is definitely smart.
It has different settings according to the type of waffle you are making (who knew there were so many different types?).
Along with that it has a colour setting so you can make them more or less done on the outside.
Finally, once you fill it and close the lid, it calculates the time it needs to make your prefect waffle and lets you know on the display.
Once it is done it gives you three little friendly beeps so that you can stop what you are doing and return your attention to the waffles.
Not only that, but it has a little 'moat' around the outside to catch any inevitable leaks.
Anyway, here is the recipe you have been waiting for.
No sugar, gluten or dairy in sight.
Dust off your waffle maker (or get yourself one) and treat yourself to a healthy waffle…
Pin the recipe so you don't lose it: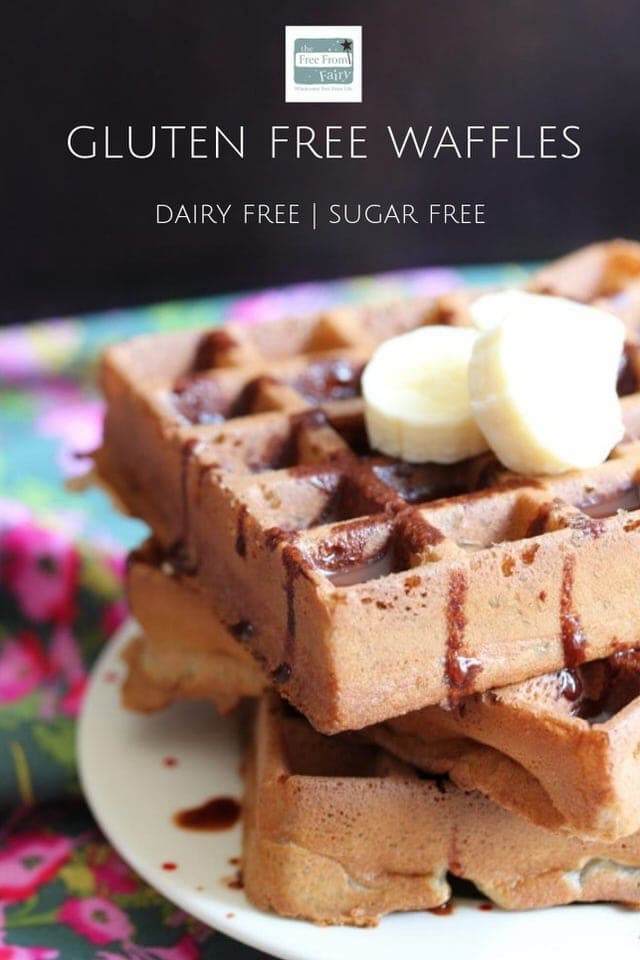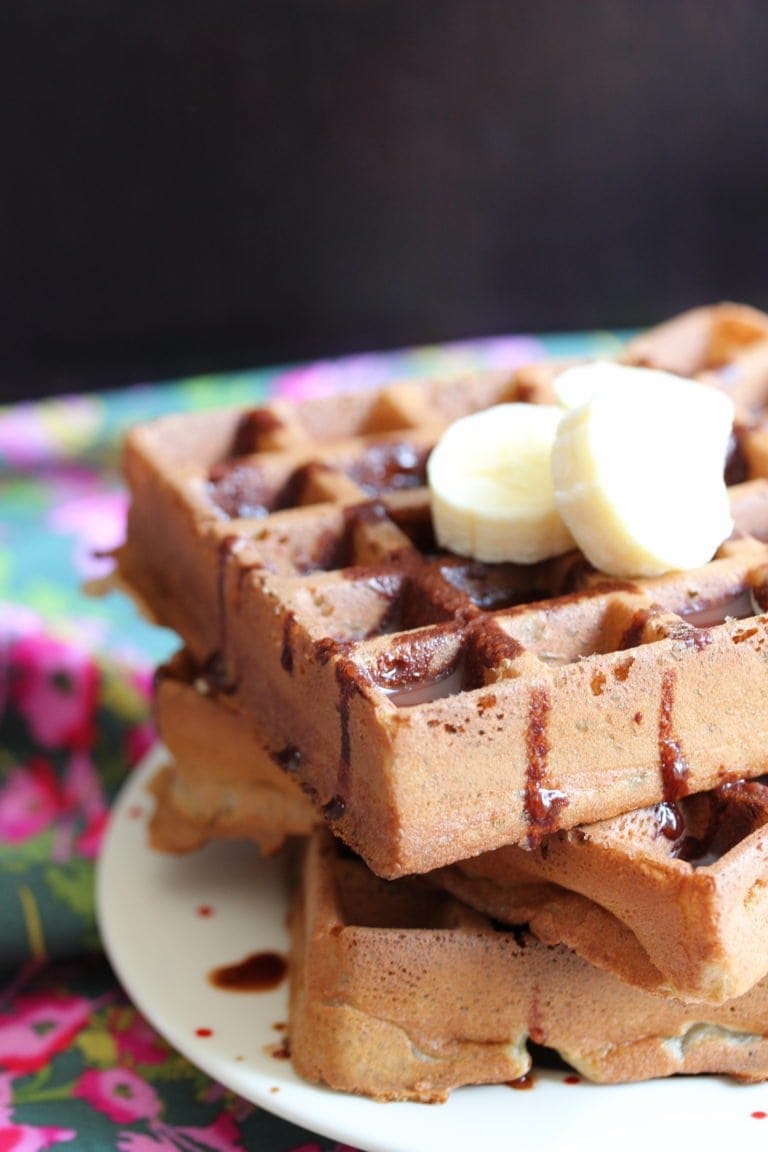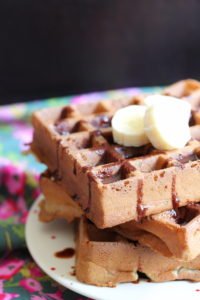 Gluten Free Waffles (Dairy-free, Sugar-free)
Gluten-free, Dairy-free, Nut-free, Soya-free, Sugar-free
Ingredients
220

ml

milk

-

I used unsweetened almond milk

1 1/2

tsp

baking powder

2

medium

eggs

-

free range or organic

1

tsp

vanilla extract -

I make my own with vanilla pods and vodka

30

g

coconut oil -

melted

1

medium

banana

-

peeled and chopped into 4 pieces

1

medium

pear

-

cored and chopped into 4 pieces
Instructions
Switch the waffle maker on. I put mine on the chocolate setting at darkness 7

Add the ingredients to a blender and blend unti completely smooth

Once the waffle maker is ready, pour enough mixture in to just cover the grooves

Close the lid and wait until the waffle maker beeps. If you don't have a waffle makers that tells you when it is done, look at around 4 - 5 minutes, or cook until they reach your desired crispiness

Remove the cooked waffles and repeat with the remaining mixture
Notes
Nutrition facts for guidance only.
Nutrition (Approx)
Calories:
126
kcal
|
Carbohydrates:
11
g
|
Protein:
3
g
|
Fat:
7
g
|
Saturated Fat:
5
g
|
Cholesterol:
65
mg
|
Sodium:
40
mg
|
Potassium:
302
mg
|
Fiber:
1
g
|
Sugar:
7
g
|
Vitamin A:
160
IU
|
Vitamin C:
3
mg
|
Calcium:
108
mg
|
Iron:
0.5
mg
I shared this with: