I created this recipe for gluten free dairy free pancakes to give my children for breakfast. With wholegrain flours, eggs and ground almonds they provide a healthy start to the day that keeps them going until lunchtime.
Now that I've created my own wholegrain gluten free flour blend I use that instead of the individual flours listed in the video.
Jump to Recipe
Why gluten free & dairy free pancakes?
My daughter was diagnosed with coeliac disease in 2010 following a diagnosis of cows milk protein allergy so in order to keep things 'normal' I developed this recipe for her.
When I first created this recipe in 2010 I used a variety of different gluten free flours that I had discovered. Since them I've created my own wholegrain gluten free flour blend that I use in all my cooking and baking.
It is not only a source of wholegrain's but is also a source of resistant starch which means it keeps you feeling full for longer.
In addition to that it tastes delicious and doesn't leave that gritty feel in the mouth that comes with rice flour. I deliberately excluded rice flour from the blend because it contains inorganic arsenic, something that I urge you to read about if you follow a gluten free diet.
You can read more about the flour and can buy it if you're in the UK here. If you're not in the UK you can learn how to create it yourself by buying one of my online cookery courses. You can find details of those here.
How do you make gluten free & dairy free pancakes?
Hopefully the video will show you how easy it is to make these pancakes. As I said before, I now use my flour blend in place of those in the video but the method is just the same.
In the same way as making 'normal' pancakes you whisk the flour with the egg and then slowly add the milk.
I use almond milk to make my pancakes but you can use any dairy free milk that you like. I also add some ground almonds for added protein but if you have an allergy to nuts you can remove these and replace them with more flour.
Equally if you are following a paleo diet you can use ground almonds in place of flour.
It takes little over 5 minutes to get your first batch so don't be put off by lack of time!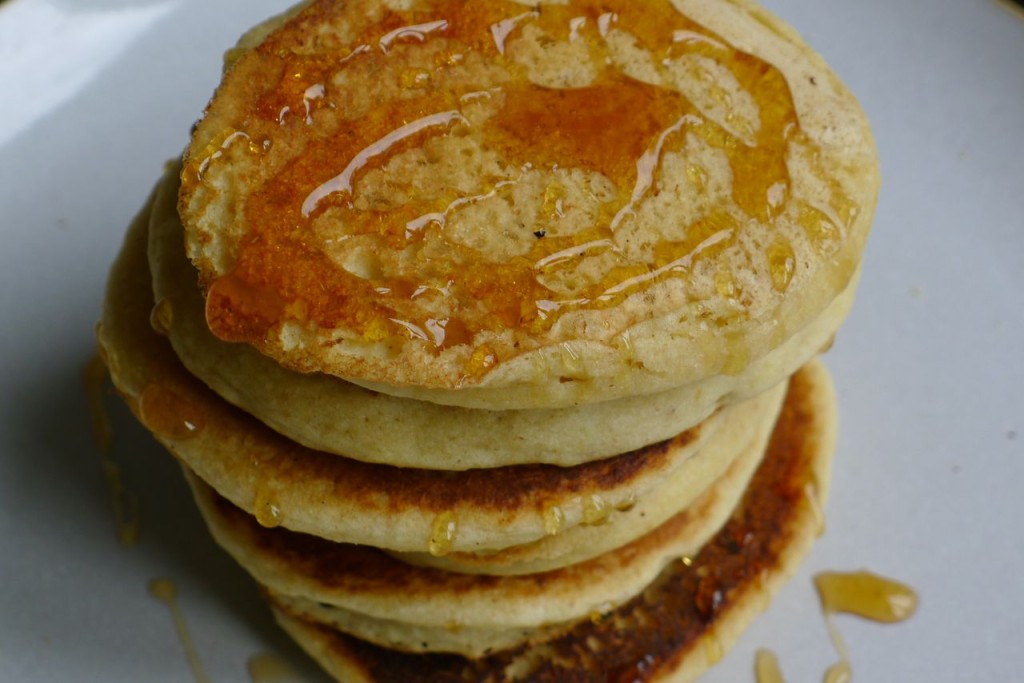 Additions to the basic recipe
You'll see that in addition to the basic recipe I have outlined some other things you can add to your pancakes. These add both flavour and nutrients and can be included or excluded as you like.
For added flavour use ground spices such as cinnamon, ginger or mixed spice.
For added texture you could add dried fruits such as raisins, sultanas or other chopped dried fruits such as dates, prunes, apricots or even dried ginger. You can also add whole berries or mashed banana or even chocolate chips.
For added nutrients try adding milled flax seeds (linseeds) and/or maca powder.
Can you make these suitable for the vegan diet?
By using a vegan 'egg' you can make these egg free too.
In place of one egg I use 1 tablespoon of ground flax seeds mixed with 3 tablespoons of water. This creates a gelatinous liquid that can be added to the dry mix in place of an egg.
Other gluten free pancake recipes
If you'd like to try any of my other gluten free pancakes recipes then you'll find them by clicking on the links below:
Easy gluten free pancakes in a jar
Gluten free gingerbread pancakes
Gluten Free Dairy Free American pancake recipe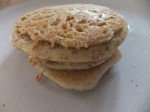 Gluten-free and Dairy-free breakfast pancakes
Gluten, Dairy, Soya and Refined Sugar Free; can be egg free
Ingredients
45

g

ground almonds

1

tsp

baking powder

1

egg or 1tbsp milled flax seeds 'whizzed' with 3tbsp water

Approx. 200ml almond milk Or other dairy free or dairy milk! You will use less if not using flax

Optional:

Half tsp ground ginger or cinnamon

2

tsp

– 1tbsp milled flax seeds

1

tbsp

maca powder

Handful dark chocolate chips

-

check ingredients

Handful of fresh berries

-

a mashed banana or a handful of raisins
Instructions
Mix together the dry ingredients in a bowl. If you decide to use maca for its beneficial properties then adding the ginger or cinnamon seems to counteract its flavour. The flax seeds will provide extra nutrients too.

Meanwhile place a large frying pan on a medium heat.

Add the egg and milk and hand whisk until you have a smooth mixture, rather like thick double cream. The amount of milk you need will depend on whether you use maca, flax or not and what flour you use.

Once the pan is hot place tablespoonfuls of mixture into the pan. I get 5 or 6 in my pan. Leave for approx. 1 minute until bubbles start rising to the surface. Carefully turn over and cook until golden on both sides. The first batch will take longer than the rest unless the pan is really hot before starting.

Serve plain or with honey or (dairy-free in this house) chocolate spread. Alternatively, if you like your pancakes sweet, add a tablespoon or 2 of sugar to the mix or the chocolate chips. I leave it out and the kids don't complain!

Please note that if you are using maca you will need to add the cinnamon or ginger too to disguise the taste!
If you'd like to buy my wholegrain gluten-free flour blends then click on the picture below which will take you to my shop…