Hi! I am still here.
I survived half term and came out the other end pretty much unscathed apart from a few bruises where the kids beat me up.
No, seriously we had a great week helped by the better than expected weather and a few trips to the beach.
On the down side I am still not sleeping having tried various things including some hypnotherapy.
The less said about that the better…suffice to say that I will not be recommending the therapist, Angela Avis any time soon…and that my bank balance is not at all healthy because of it!
Anyway, a few weeks ago, as I think I mentioned in a previous post, I was approached by Chia Bia, a company that sells chia seeds.
At the time I had been aware of the hype around these little seeds but had never tried them.
What are chia seeds?
For those of you who don't know, chia is a tiny seed, harvested from the plant, Salvia hispanica and added to food to boost nutrition.
As it is entirely tasteless it can be added to pretty much anything.
The challenge that Chia Bia set me was to incorporate a teaspoonful of chia seeds to my daily food and record any health benefits.
There are many claims bounding around about chia so I was interested to give the little seeds a go.
How can chia seeds help our bodies?
Chia Bia claim the following:
1. Chia can help keep our heart healthy
Chia is the highest known vegetarian source of OMEGA 3 and there has been much research into the importance of Omega 3 in keeping your heart healthy.
It has been shown to help lower blood pressure, lower cholesterol and reduce your risk of cardiovascular disease.
Many people have been able to lower their cholesterol levels by simply adding Chia to their diets.
2. It can help people with digestive disorders
Chia is hydrophilic, meaning that the seeds can absorb up to 10 times their weight in liquid.
On entering the stomach, the seeds absorb excess stomach acids and can relieve the symptoms of heart-burn or indigestion.
Chia is high in both soluble and insoluble fibre providing a total of 5g Fibre in every serving of chia.
This fibre helps to speed up the excretion of waste and toxins from the body, preventing build-up in the intestine that could lead to several diseases.
Many people who suffer symptoms of IBS (Irritable Bowel Syndrome) find that chia eases symptoms immediately and helps maintain good digestive health.
3. May help people with diabetes or who want to balance blood sugar levels
When chia seeds are mixed with water they form a gel that provides a physical barrier and slows down the conversion of carbohydrates into sugars helping to diminish sugar peaks and troughs.
This is particularly useful to people who suffer type 2 diabetes as it provides a natural way of controlling their blood sugar levels.
4. Increased energy levels
Once referred to as 'Indian running food', chia has long been known to increase energy levels.
As many athletes already know, chia is a great natural performance enhancer and owing to its hydrophillic properties, chia also help keep you hydrated for longer periods of time.
Christopher McDougall wrote about the energy enhancing power of chia in his Book 'Born to Run'
"If you had to pick just one desert island food, you couldn't do much better than chia, at least if you were interested in building muscle, lowering cholesterol, and reducing your risk of heart disease. After a few months on the chia diet, you could probably swim home" excerpt from 'Born to Run'
5. It can help people with joint pain or arthritis
There are so many health benefits of chia but relief of joint pain is one noted by many people.
The high levels of Omega 3 found in chia have been known to ease the pain that arthritis sufferers know all about.
Because chia acts as a natural anti-inflammatory it can help ease the suffering of many people with inflammation problems such as various joint pains or old injuries.
6. Improve memory and concentration
We all know that we need to take more omega 3 as our modern diets lack it so much and one of the main things it is associated with is brain function.
Omega 3 is an essential nutrient for brain health and is often referred to as 'brain food'.
People who add chia to their diets have reported noticing better memory and as rates of alzheimers disease worldwide increases, it has never been more important to make sure you have enough 'brain food' in your diet.
Chia provides the perfect solution to increasing your Omega 3 levels and keeping your brain function healthy.
7. Weight loss
As mentioned, Chia is hydrophilic, meaning that when added to food, it thickens, absorbs moisture and hence, keeps you feeling fuller for longer.
It is also full of fibre and releases energy slowly.
All these factors help in the quest to loose weight as maintaining a health body weight is one of the most important factors in leading a healthy lifestyle.
So are these claims true?
Now, being a scientist and having done lots of research into food and nutrition, I always take these claims with a little pinch of salt.
I felt that it was my duty to do a bit of digging about chia and find out whether they really are as great as all that, in the interests of a balanced article.
One thing that interested me about chia seeds, that Chia Bia don't mention on their website was the vitamins and minerals that they contain.
As you know if you read my blog regularly, I am always looking for things that contain calcium in order to boost the intake for my daughter, who is dairy-free.
However, the more I have read on this, the less convinced I am that the calcium contained within the seeds is all that useful.
Chia seeds are high in phytate (the salt form of phytic acid) which binds to minerals in the body such as calcium, making them unabsorbable to the body.
This probably means that the minerals that they do contain do not actually reach our body to be used.
As for 'healthy fats', some advocates state that these little seeds have 8 times more omega 3 in them than salmon.
On face value this is true, but the type of omega 3 they contain is not one that the body can readily use, it is the type that has to be converted into the 'useful' type, and the conversion rate is pretty low.
Basically, if you are able to eat oily fish you would be much better off doing so.
However, if you are a vegetarian or vegan then it may be worth considering these as you will obtain a little of the 'useful' type of omega 3 from them.
Something I have learnt during the course of writing this blog is that any health claims made against a food should probably be taken with a pinch of salt.
If you like the food then there is no reason not to use it, but all too often foods that are termed 'super' often are very expensive and if you are eating a balanced diet you probably don't need them.
As for chia seeds and how I feel having eaten them for a couple of weeks in everything from pancakes, to cupcakes, to salads and cereal…well, I feel no different.
They don't help with sleep problems that is for sure, luckily nobody claims that they do.
They are, however, incredibly easy to add to your diet because you can pretty much add them to anything.
Milled seeds help to retain the moisture in gluten-free cakes, just like flax seeds do.
Despite some rather grand claims, I do think they are a useful source of fibre for those on a gluten-free diet (where many foods are very 'white' – think about all the rice that are within products such as cakes, bread, cereal etc etc…a whole other issue that I touched on in a previous post that can be found here), along with a useful source of protein.
These little seeds provide us with a complete protein, providing all our essential amino acids, much like quinoa.
I would therefore happily add them to my food, but don't consider that they are going to change mine or my family's lives.
If you would like to include them in your diet, why not make a batch of my delicious orange chia cookies?
They are pretty hard to resist.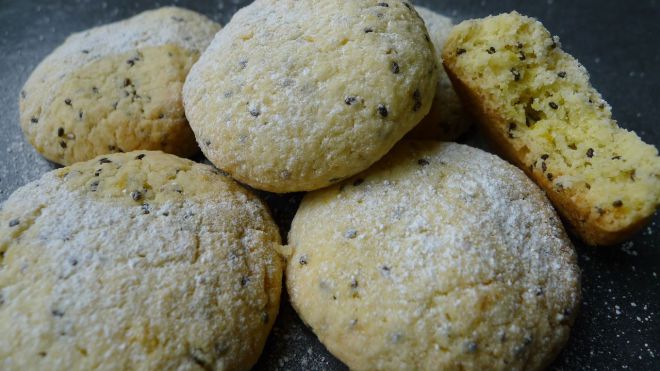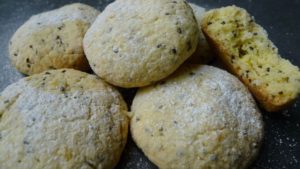 Orange Chia Seed Cookies
Gluten-free, Dairy-free, Nut-free, Soya-free
Ingredients
150

g

solid Stork

150

g

granulated sugar

300

g

plain gluten-free flour

-

I use my wholegrain blend

1

egg

-

whisked

1

tsp

baking powder

1/2

tsp

xantham gum or psyllium husk powder

Zest 1 orange

1

tbsp

orange juice

2

tbsp

chia seeds
Instructions
Cream together the Stork and the sugar, then add the remaining ingredients and mix well.

Roll into walnut sized balls and place on greased or lined baking trays, spaced well apart.

Flatten a little with the palm of your hand.

Bake in a pre-heated oven at 180 degrees or 160 degrees fan oven for 18-20 minutes, or until firm.

Cool on the tray for 5 minutes before transferring to a wire rack.
Thank you to Chia Bia and The Chia Co who both sent me samples to try. They did not pay me for my post and the opinions are my own and not influenced by the free samples.
I shared this recipe with The Gluten-Free Homemaker in their Glutenfree Wednesdays link-up.