If you've ever wondered what to do with sesame seeds then this easy sesame seeds recipe is the answer. With just three (or four) ingredients you can make this healthier version of the sesame snaps you buy in the store. Healthier because they are made with no refined sugar, and instead sweetened with maple syrup or rice syrup depending on your preference.
This post contains Affiliate links. As an Amazon Associate I earn from qualifying purchases.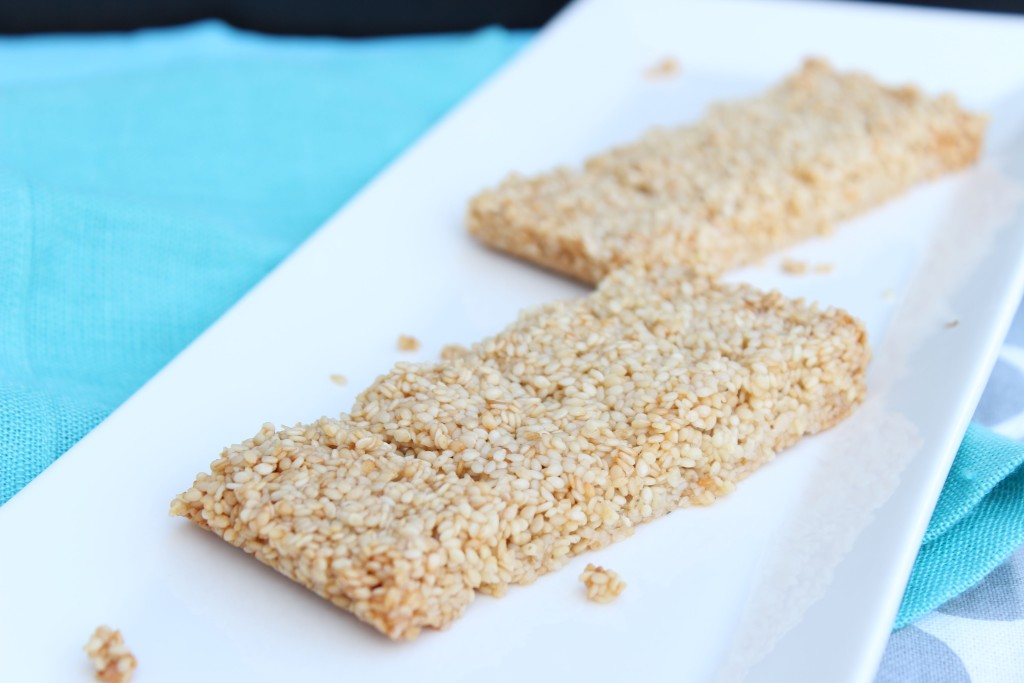 The Story Behind The Recipe
All good recipes have a story and this healthy sesame bar recipe is no different.
When a poorly child demands a specific item of food you know it has to be delivered.  Especially when said child hasn't eaten much for a week having suffered with the flu for nearly three weeks on and off.
However, when you live in a village and your husband has taken your beloved VW van to work because his car decided to get sick too, and you don't have required food item in the house, you have to improvise in the kitchen.
So when Pickle requested more of those 'sesame biscuit things', I knew I was going to have to make some.
In an attempt to get him to eat something earlier in the week, I had rummaged in the cupboards and come across some sesame snaps.  After the first mouthful, he wanted more and I was delighted to see him eating, even if it was bucket loads of refined sugar.
Anyway, within 30 minutes of the demand, poorly child had a plate with sesame snaps on.
And a smile on his face.
I made them with a mixture of maple syrup and rice syrup.  If you wanted to avoid fructose then you could make them with just rice syrup.
If you want to avoid sugar all together then don't make them or you'll be tempted.  Don't say I didn't warn you!
Why Make Sesame Snaps?
The bonus of making your own is that you can use ingredients that are beneficial to your health.
Sesame seeds are a fantastic source of calcium and other nutrients for those who are dairy-free.
Coconut oil provides you with beneficial fats along with all kinds of other properties (read about them here).
And if you make them yourself, you have the choice of what sweetener you use depending upon your thoughts on sugar. I've used a mix of maple syrup and rice syrup.
While I was following the I Quit Sugar programme I favoured rice syrup because it is said to be low in fructose. However, it does contain arsenic (as do all rice products).
These days I'm more in favour of eating small amounts of honey or maple syrup. There are also various reports that suggest rice syrup isn't quite the great alternative sweetener that it's been made out to be.
If you're interested in reading more about arsenic in rice then read this article I wrote… Arsenic in Rice & The Gluten Free Diet.
Free Recipe Booklet
If you like the sound of this recipe then I invite you to download my free gluten free recipe book. In it you'll find recipes for gluten free scones, Victoria sponge, Yorkshire puddings and much more.
You'll also be sent my weekly newsletter of recipe inspiration, tips and news…
How Are Sesame Snaps Made?
It's super easy to make my healthy sesame snaps recipe. Much easier than the 'traditional' sugar-laden recipe. With the traditional recipe you are working with caramel. Consequently you need things like sugar thermometers. Not to mention time and patience.
I rarely have the latter although I do have the former having been sent one some years ago by a company wanting me to promote it.
With my recipe all you require is a small saucepan in which to melt the coconut oil and syrup together. Alternatively you could met the oil in a bowl in a microwave.
Then the sesame seeds are stirred through the mix and spread on a baking tray or trays.
It takes just 15 minutes to bake them.
So next time you fancy a sesame snap, try my sesame snap recipe with no sugar. Or at least no refined sugar. A very different treat from that which you'll find in the store.
Pin The Recipe On A Pinterest Board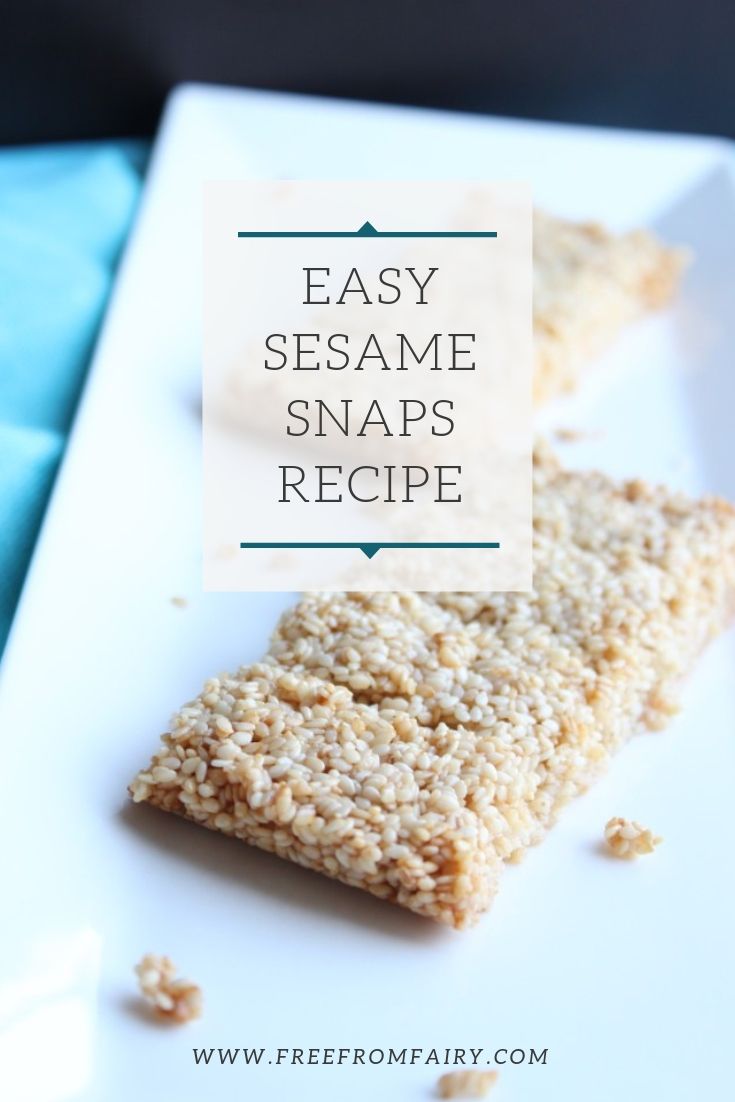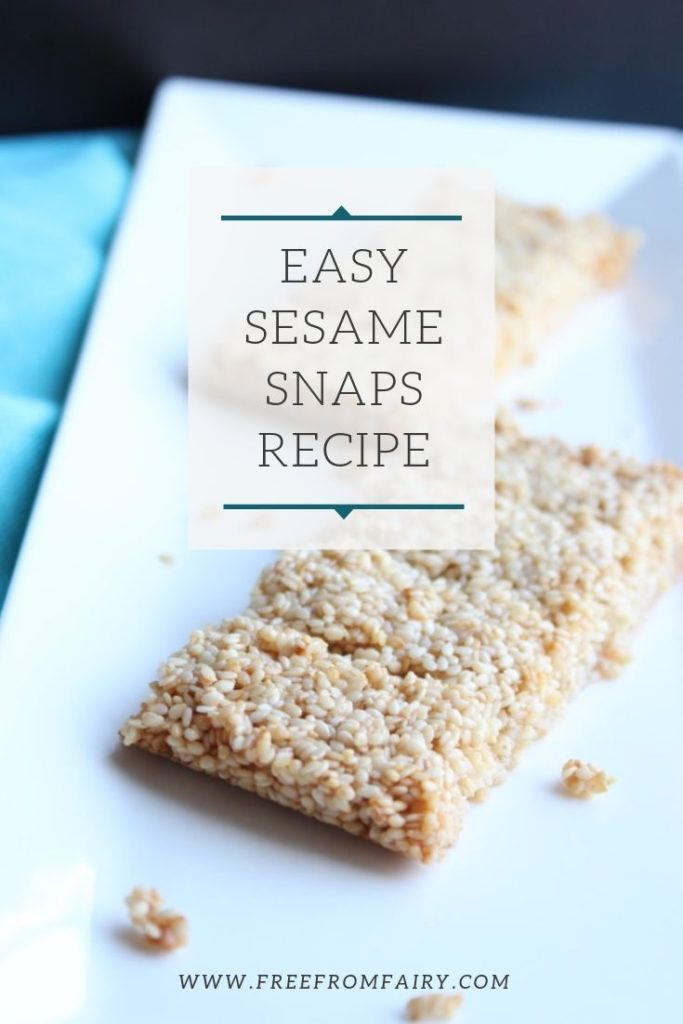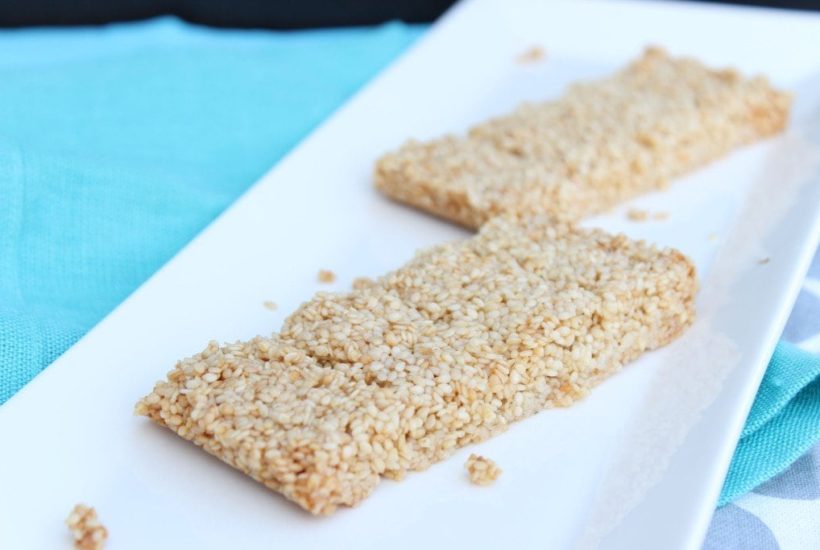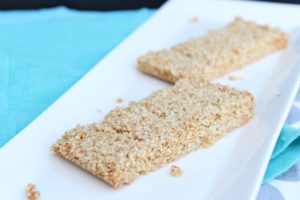 Sesame Snaps Recipe (Gluten Free, Vegan)
Gluten-free, Dairy-free, Egg-free, Nut-free, Soya-free, Refined Sugar-free, Vegan
Instructions
Place the coconut oil and syrup in a small saucepan and melt over a low heat

Remove from the heat and stir in the sesame seeds

Line a baking tray (measuring approx. 30cm x 15cm) with baking paper then tip the mixture into the tin and spread out evenly. If you want them thinner then use a larger tray

Bake in a pre-heated oven at 180 degrees/160 degree fan/gas mark 4 for around 15 minutes until golden

Remove from the oven and leave to cool for a couple of minutes before scoring lines gently in the mixture where you want to break them

Allow to cool completely before removing from the tin and cutting into pieces

Store in an air tight container
Notes
Nutrition facts for information only
Nutrition (Approx)
Calories:
214
kcal
|
Carbohydrates:
10
g
|
Protein:
5
g
|
Fat:
19
g
|
Saturated Fat:
7
g
|
Sodium:
5
mg
|
Potassium:
124
mg
|
Fiber:
3
g
|
Sugar:
4
g
|
Calcium:
249
mg
|
Iron:
3.6
mg