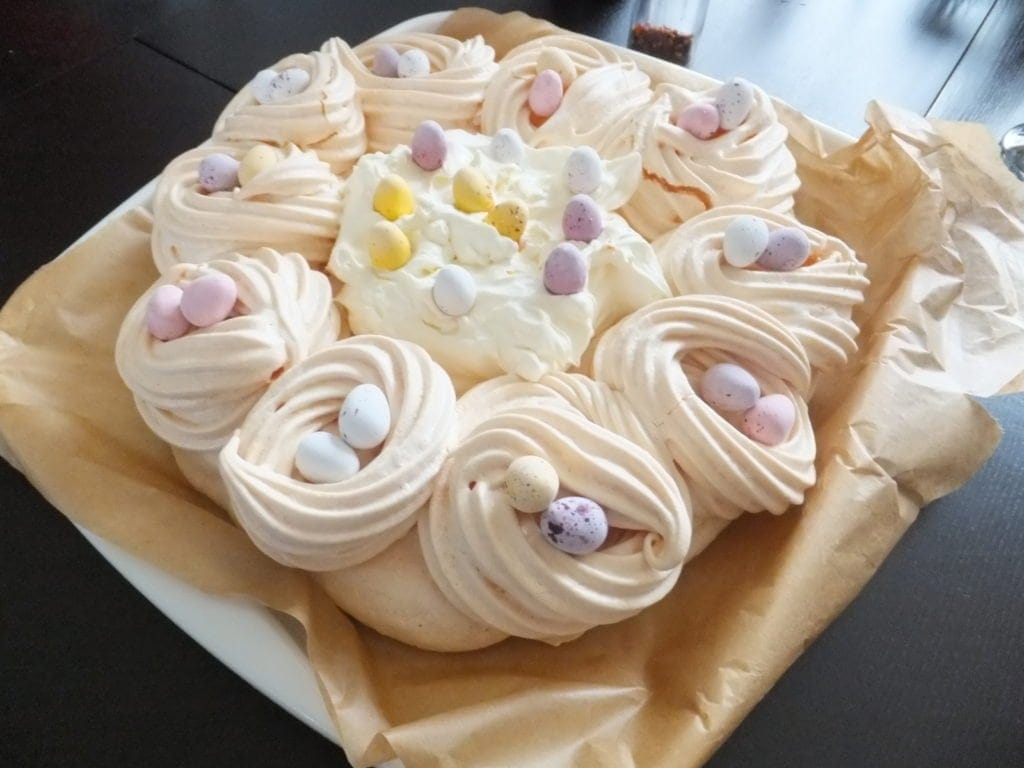 I happened to catch the end of the Easter Great British Bake Off Masterclass and saw Mary Berry make one of my favourite deserts…a pavlova, but a lemon version rather than a fruit version.  Having family coming for lunch over Easter I decided that this looked like a great desert to make given that my Big Fuss Pot loves meringue and it is naturally gluten-free so no 'jiggery pokery' needed!
I was rather pleased when the meringue base turned out well having never actually made a pavlova before.  I was a little less sure about the lemon curd that I made to be mixed with the cream.  Having never made it before I really didn't know how long to cook it for and I obviously didn't cook it for long enough because when it was cold it wasn't really set.  Therefore, when I mixed it with the double cream I had a creamy lemon 'slop' that was clearly not going to look good in a pavlova!  Putting my brain to work quickly (hard after 2 children!), I whipped up the rest of the double cream that I had and placed that in the centre of the pavlova adding little Cadbury's mini eggs…it didn't look too bad and we had a desert!
It is what I did with the lemon 'slop' that was pure genius if I may say so myself!  I put it in the freezer and every hour or so mixed it up as it froze…a total of about 3 mixes…to make the most AMAZING lemon curd ice cream!  Smooth, creamy, sweet yet tangy.  Oh yes!!!  I would make the same mistake again to make that!!  And, it meant that we had not 1, but 2 deserts!  Goes to show that when things go wrong it can often be for the best!
Anyway, enough of my whittering.  Here is the link to the recipe…I am very likely to make this again.  Not as a pavlova but as lemon meringue ice cream!  Oh, and I kept my meringue recipe simple.  Just egg white and sugar…nothing else.