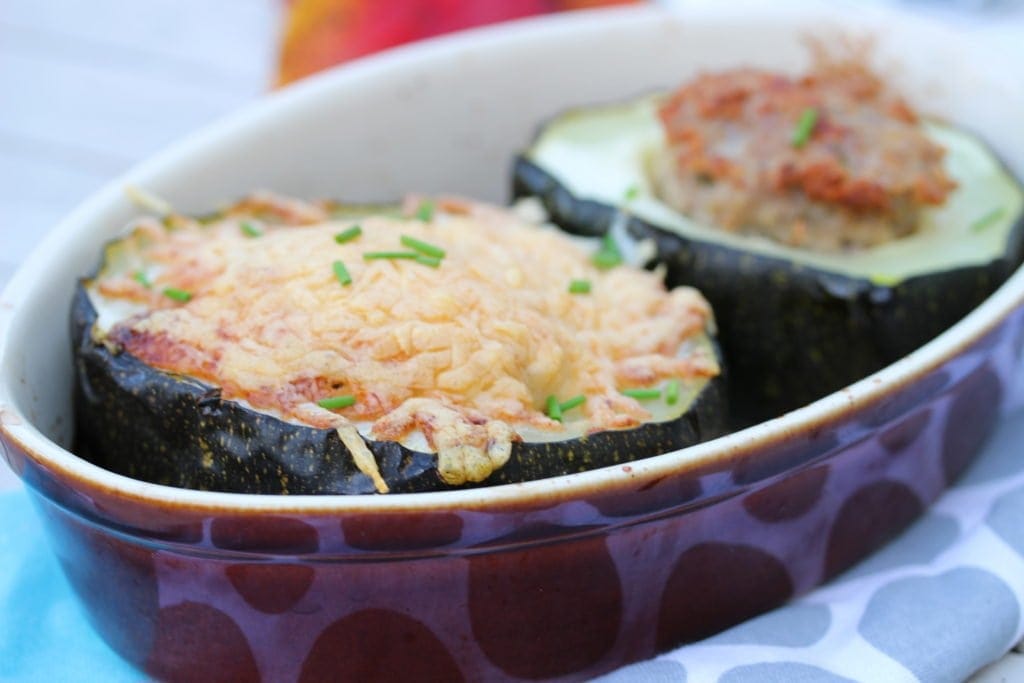 When my friend gave me a marrow the size of a small tree trunk I felt a challenge coming on. Stuffed marrow for breakfast, lunch and dinner.
Mr M, Roo and Sunshine are not fans of courgette let alone marrow. But never one to be defeated I set about dutifully trying to create something that would be acceptable to them.
The first recipe I created was for marrow fritters. Amazingly everyone loved them…except me!
Then one afternoon, after spotting a packet of sausages in the fridge that needed using, I had that eureka moment.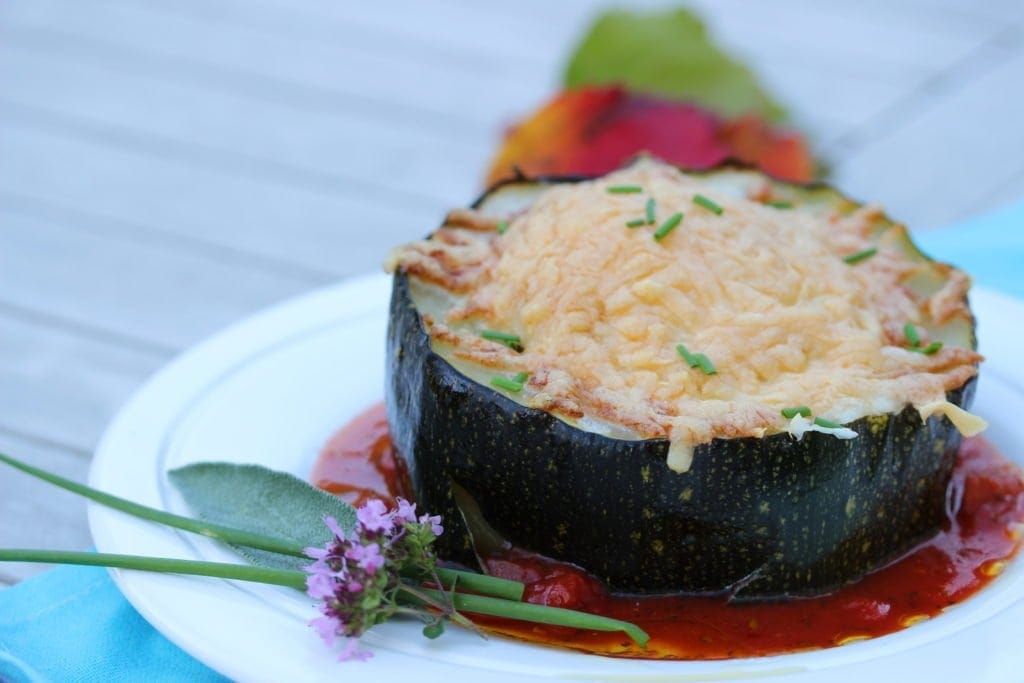 Everyone loves sausage meat stuffing at Christmas right? Well, if you're meat eater anyway. I don't think I'd ever get my mum or step dad to eat it…
So I thought I'd trick the kids into eating a stuffed marrow by filling it with something they love. Of course I expected them to eat the sausage filling and to leave the marrow.
To my enormous surprise they both ate the marrow bit too, Sunshine even scraping the skin clean (I don't suggest you eat the skin…it can be rather tough and bitter).
It passed the kid test so I give it to you, safe in the knowledge that if my fussy eaters will have it, you should like it to.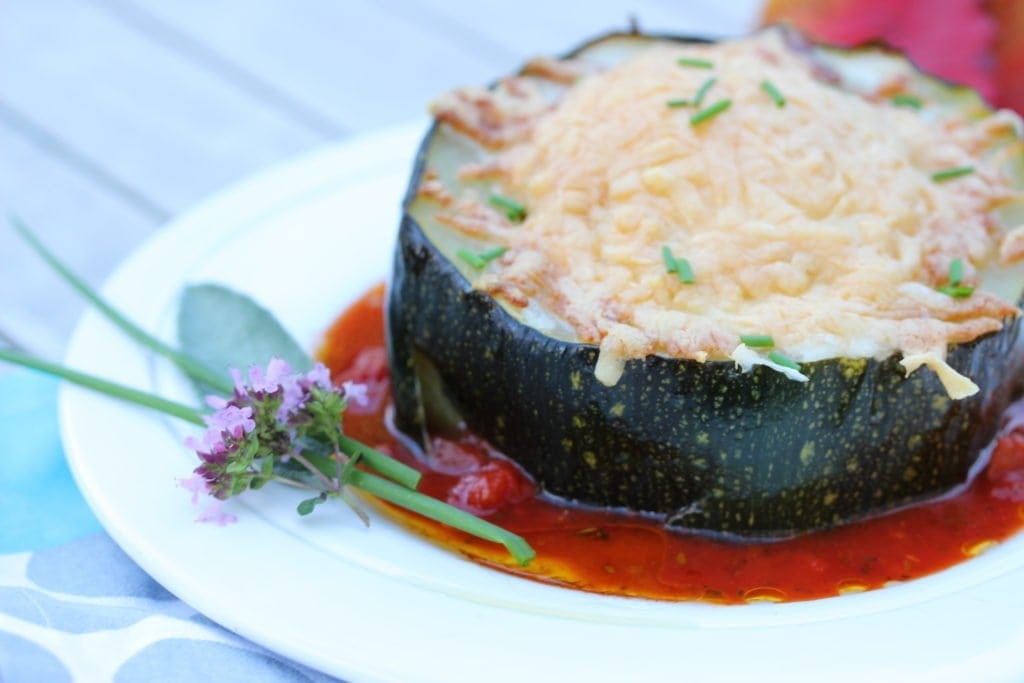 Now, once again I have teamed up with my fabulous food blogging friends to bring you a whole host of recipes for harvest time (#FreeFromHarvest). In the UK everything is ready early this year so hopefully we'll help you out with your abundance of apples or countless courgettes.
You'll find recipes from the following talented people:
Just one note on the paleo version…Roo refused to eat it! She is a bit funny with textures and the filling was too 'crumbly' for her. I thought it was delicious, and everyone else ate it but I just thought I'd let you know for those of you who might be 'funny' about textures!
Here is my delicious stuffed marrow recipe…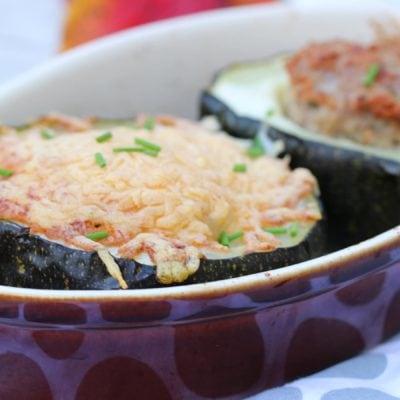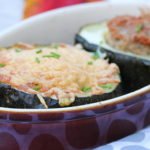 Sausage Stuffed Marrow
Gluten-free, Nut-free, Soya-free, Dairy-free, Low FODMAP, Paleo options
Ingredients
FOR THE MARROW

Marrow

6 gluten-free sausages

around 400g

100g gluten-free breadcrumbs

make your own in a food processor with left over crusts, or ground almonds for the paleo version

1

tbsp

chopped chives

4

sage leaves

finely chopped

1

free range medium egg

beaten

Optional cheese for topping

FOR THE SAUCE

1

tin chopped tomatoes

1

tsp

dried mixed herbs

or fresh, finely chopped

1 clove garlic

finely chopped. Or garlic oil if low FODMAP

A little olive oil for cooking and drizzling
Method
Cut the marrow into approx. 1 inch slices and cut out the inner pips leaving a hole in the middle (alternatively, if you have a large courgette you could cut it in half lengthways, scoop out the middle leaving a channel to stuff)

Place each slice of marrow into a microwavable container with a little water, cover and cook on high power for around 5 minutes until softened. Alternatively steam the slices until slightly softened

While the marrow is cooking score a line down each sausage and squeeze the meat out of the skin into a bowl

Add the breadcrumbs, chives, chopped sage and beaten egg and squidge together with your hands until well mixed

Place the partly cooked slices of marrow into a large dish

Fill the holes with the sausage mixture and press down well

If you want to, add some grated cheese to the top and bake in a pre-heated oven at 200 degrees (180 fan, gas mark 6) for approx. 40 minutes

While the marrow is baking make the sauce

Place a little olive oil in a small pan and add the chopped garlic (or use garlic infused oil). Cook on a low heat for around 1 minute before adding the tomatoes and herbs

Bring to the boil, then reduce the heat and leave to simmer until thickened

Serve the marrow on top of a little sauce with some fresh Autumn vegetables and a drizzle of olive oil
Pin the recipe so you don't lose it: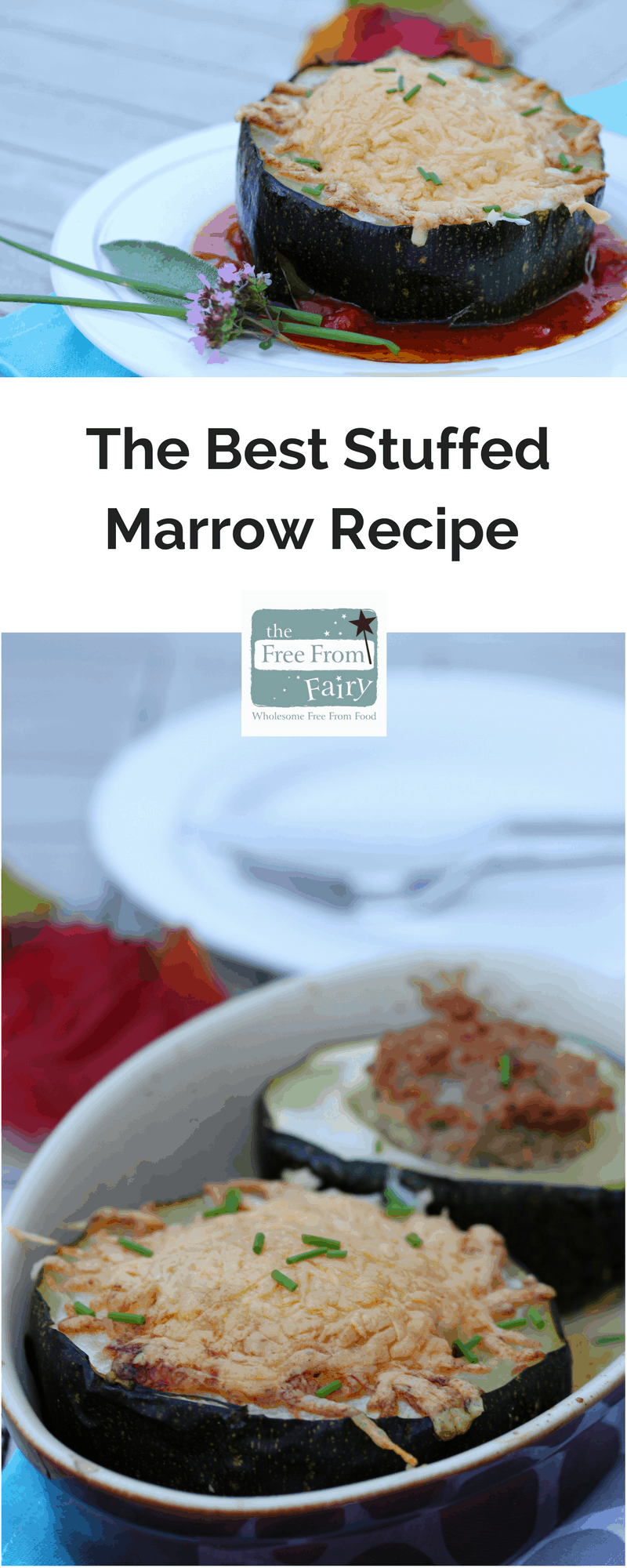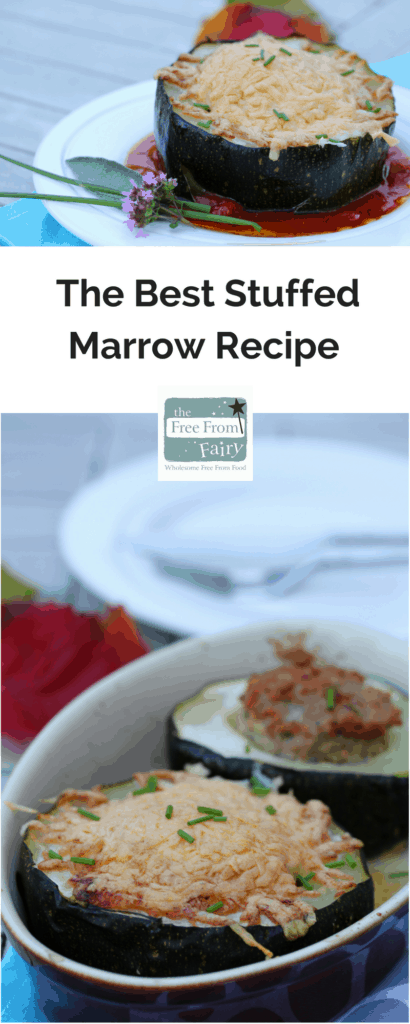 I shared this recipe with: