This easy Moroccan fish recipe is brilliant for using frozen fish. The white fish in spicy sauce is not too spicy and can be enjoyed by the whole family. I like to serve mine with gluten free garlic bread.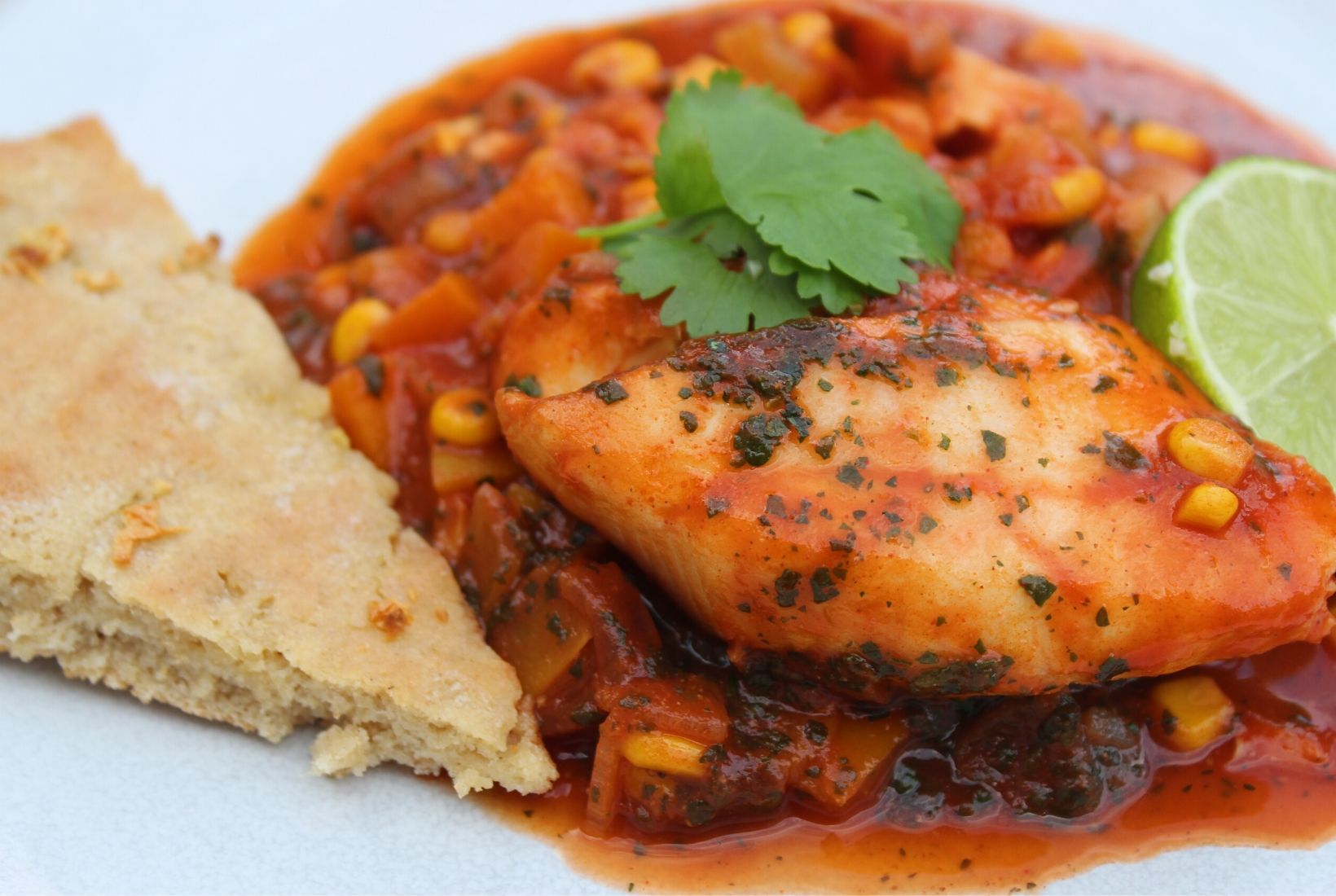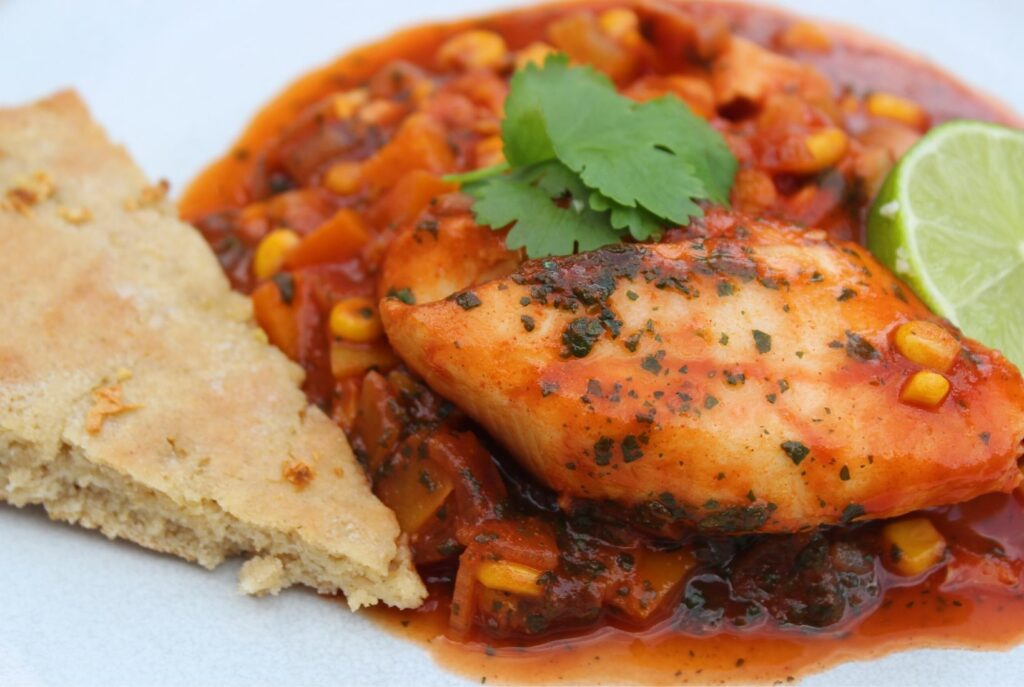 This post contains Affiliate links. As an Amazon Associate I earn from qualifying purchases.
Last night I had a rare success with both kids enjoying a meal. It seems that this Moroccan fish stew, or whatever you want to call it, is a hit with children. I hope you and your family enjoy it too.
It's a great way to make expensive fresh fish go further. It is also a perfect frozen fish recipe if, like me, you never know how to use frozen fish.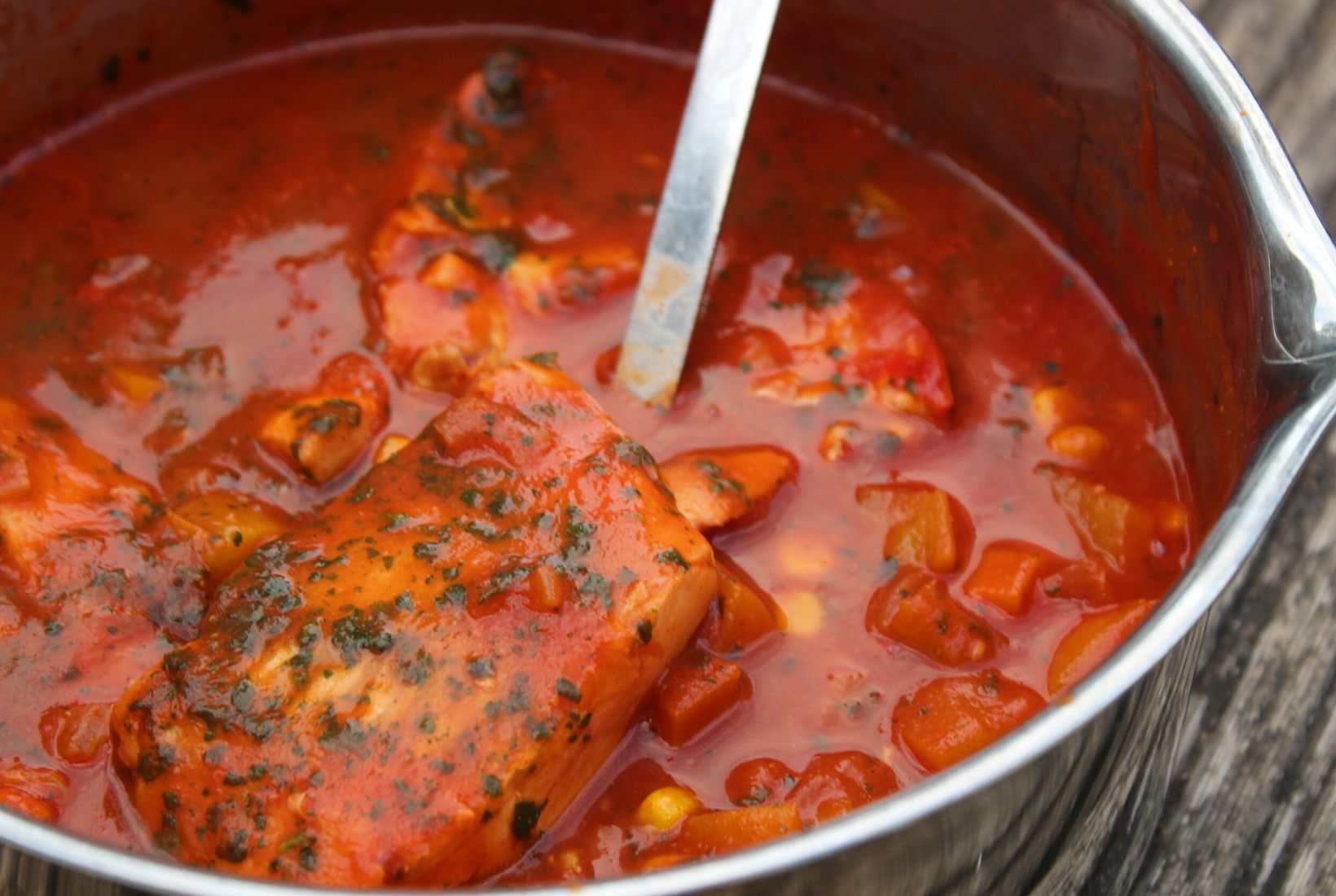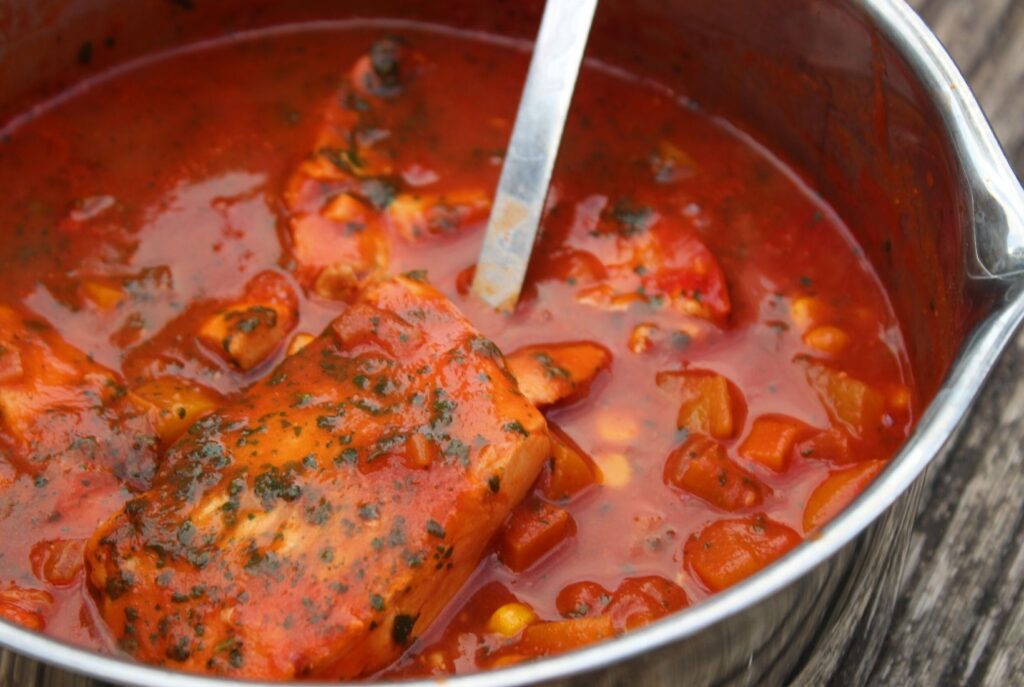 What is a Moroccan fish recipe?
I've called it a Moroccan fish recipe because it contains the spices often found in Moroccan food. Essentially it's a lightly spiced fish recipe, or fish in a spicy tomato sauce.
But don't be put off by the mention of spice. It really is mild and was enjoyed by my very sensitive son, aged 4.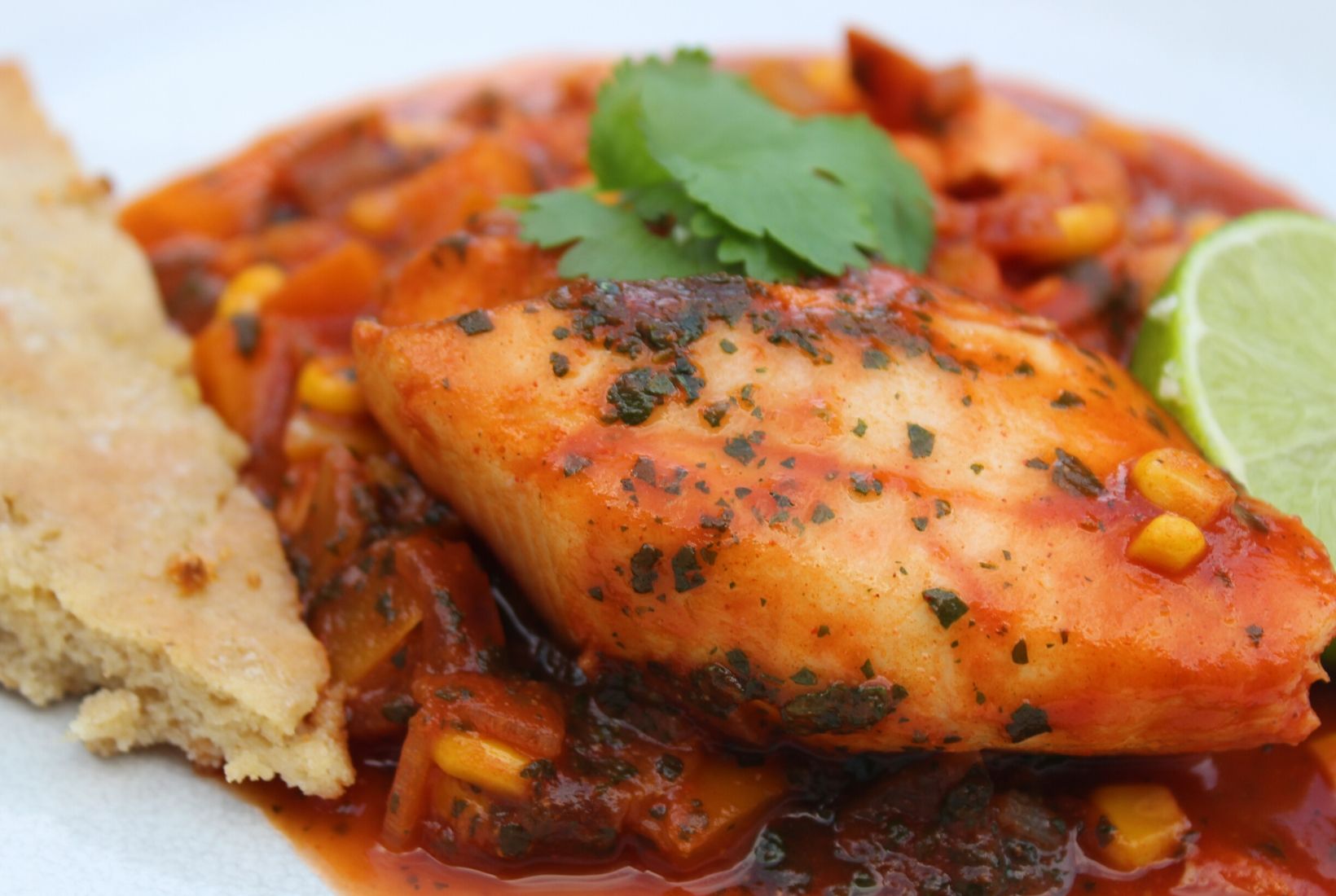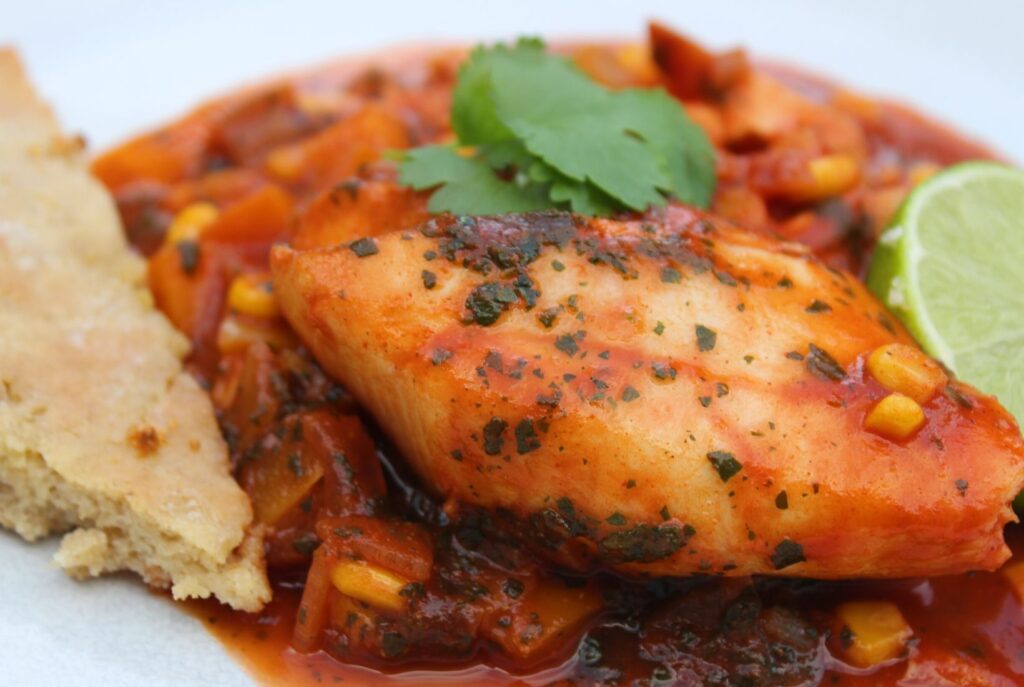 What ingredients do you need?
Red onion
I use red onion in this recipe because it is milder in flavour than white onion. If you don't have a red onion you could use white onion. If you are following the low FODMAP diet then use the green part of spring onions.
Pepper
I use either a red, yellow or orange pepper. I don't recommend using green peppers because they don't have the same lovely sweet flavour. If you don't like peppers then you could substitute this ingredient for two carrots.
Cumin
Cumin is a classic spice used in Moroccan dishes as well as Indian and Mexican ones. It gives the dish a wonderful deep flavour but isn't a 'hot' spice.
Smoked Paprika
Probably my favourite spice that you'll see popping up in lots of my recipes. Another classic Moroccan spice but one that I like to put in Mexican dishes and Mediterranean ones too. Again this spice is not 'hot', but adds a wonderful flavour to the dish.
Tomato Passata
I use tomato passata a lot in my recipes. It's so convenient to have in your cupboard. If you didn't want to use it you could use freshly chopped tomatoes or tinned tomatoes. My preference is for passata because it is smooth.
Sweetcorn
You can use either tinned or frozen sweetcorn in this dish. This adds more vegetables to the dish.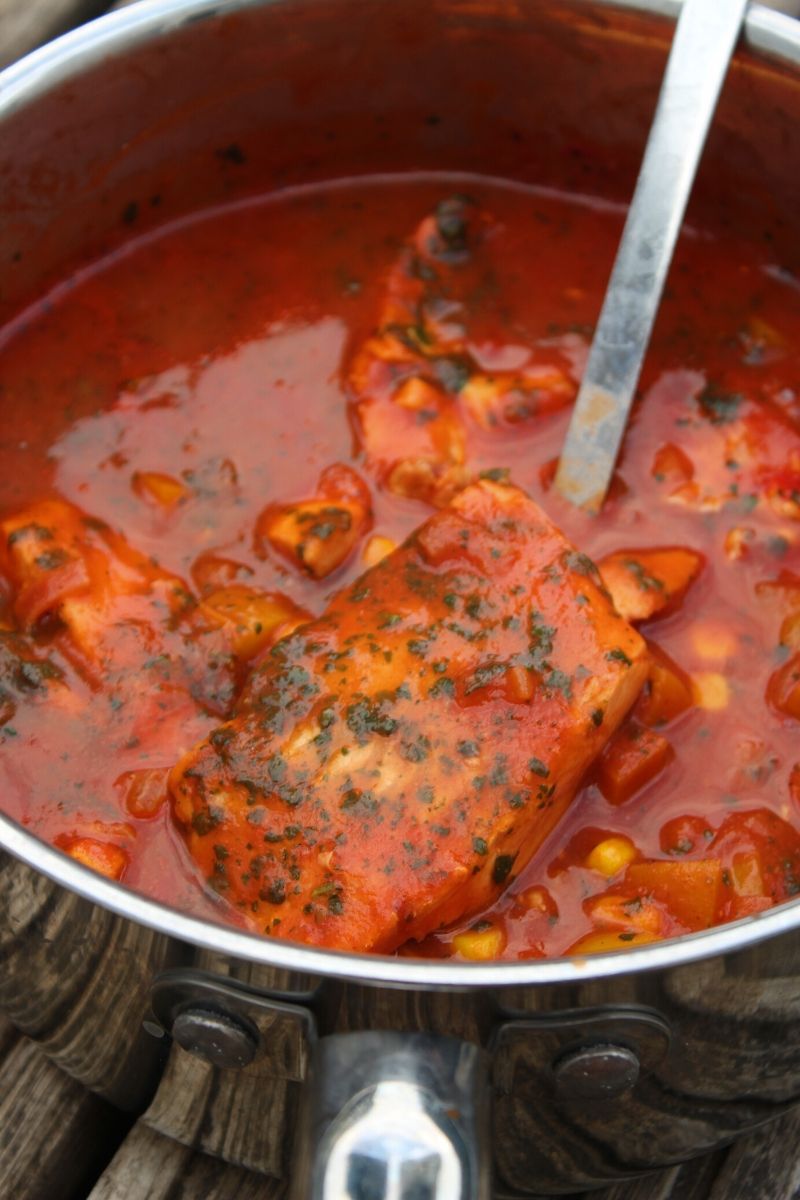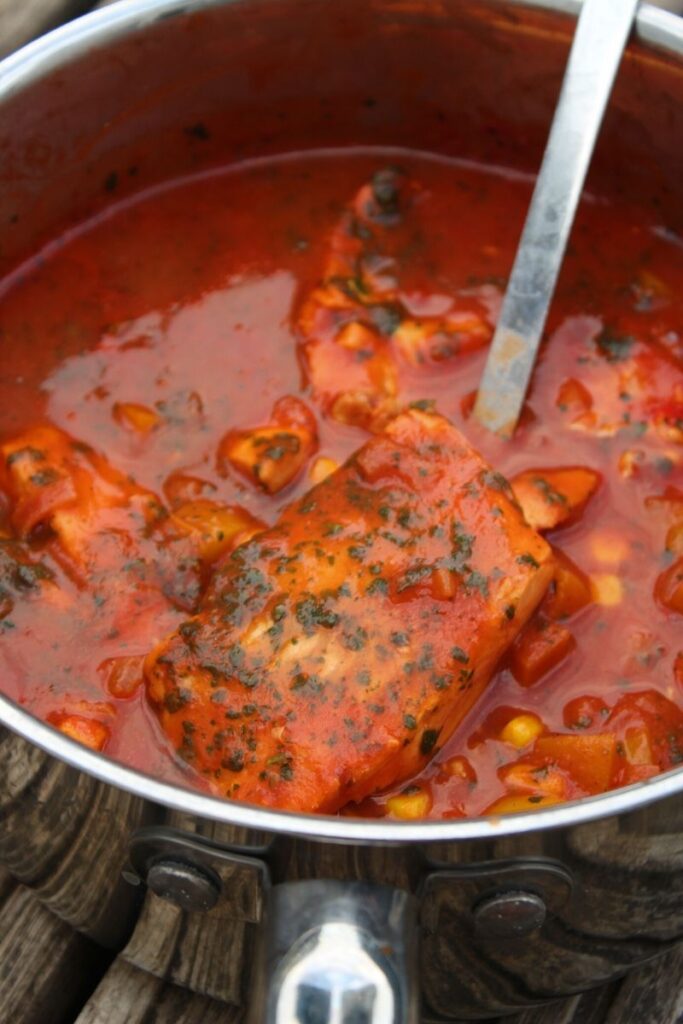 White Fish
You can use fresh or frozen fish in this dish. I prefer to use frozen because it is so much cheaper and it's perfect for this kind of recipe. Cod, haddock or any other white fish will work.
Coriander
Another favourite ingredient of mine; you can use fresh or frozen. I've recently discovered chopped frozen coriander in Tesco which is brilliant to have on standby. It adds a wonderful zestiness to the dish.
Lemon or Lime
I love adding lemon or lime to fish dishes. It brings out the flavours and adds a lovely freshness to the recipe. Always use fresh. The stuff from a bottle just isn't the same. And little kids really enjoy squeezing lemon or lime slices onto their food.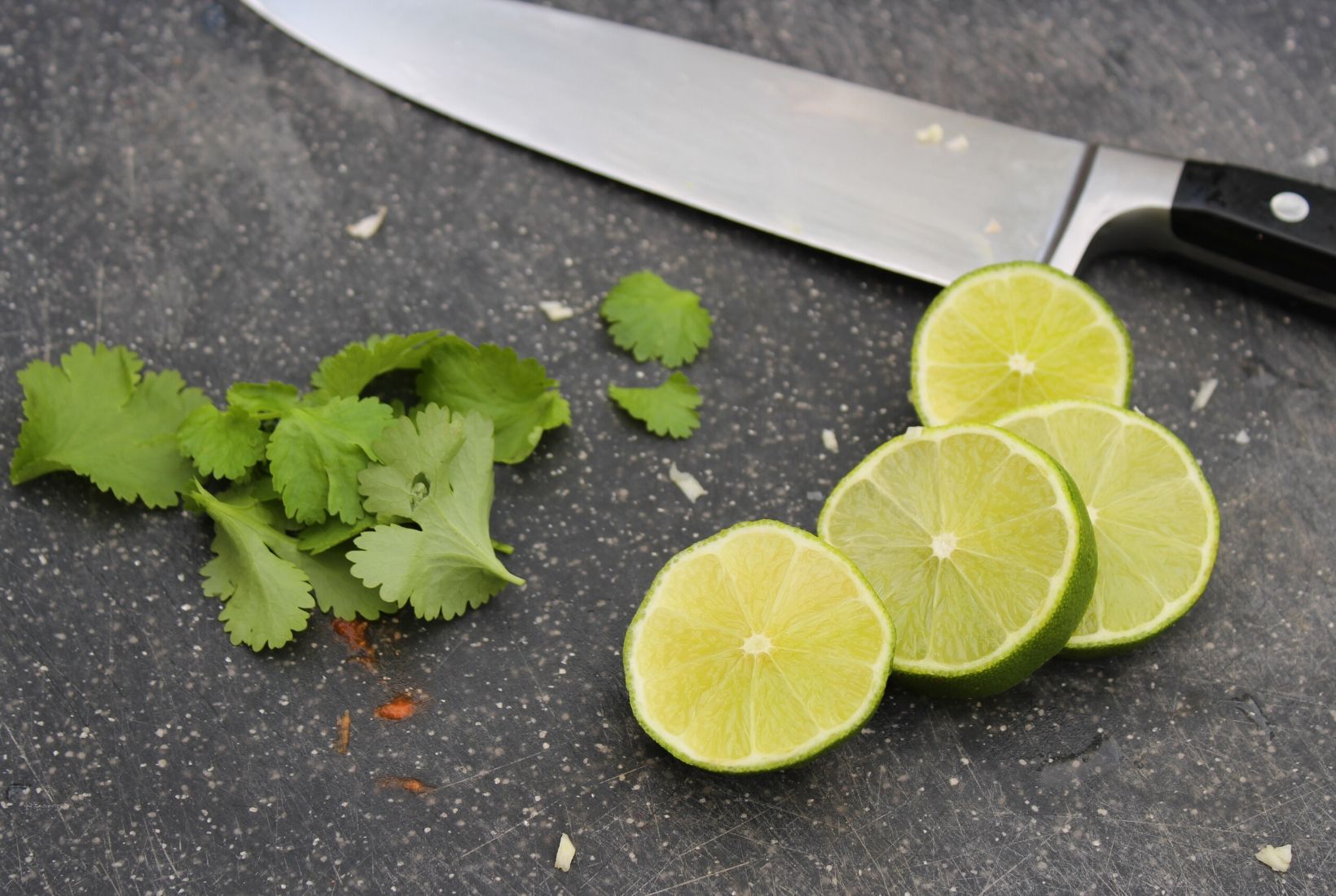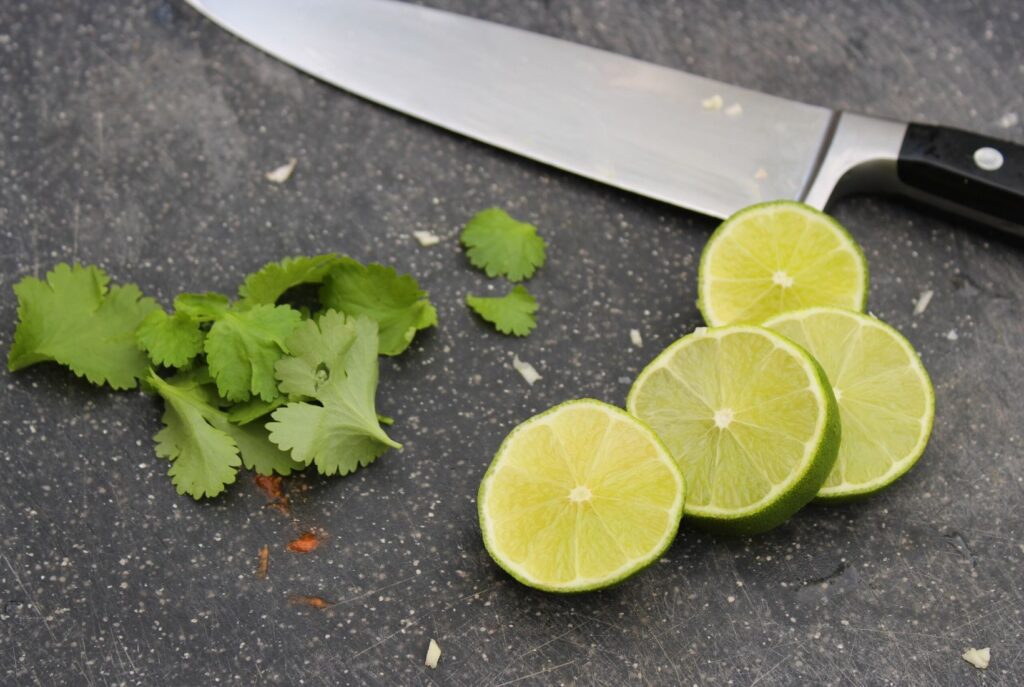 How do you cook fish from frozen?
As I outlined above you can use fresh fish for this recipe but I highly recommend using frozen fish.
If you are using frozen fish then all you need to do is add it, frozen, to the sauce.
There is no need to pre-cook the fish or even defrost it. Which makes it super easy and a one pot dish with less washing up.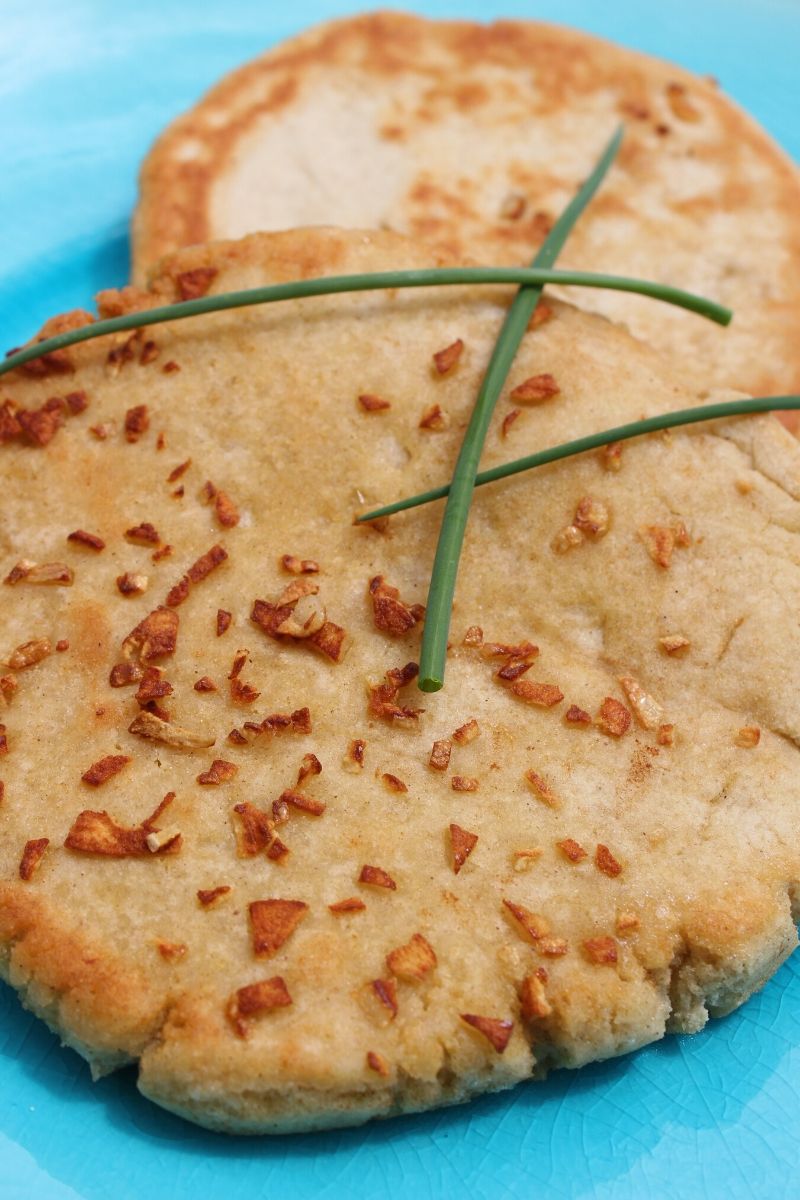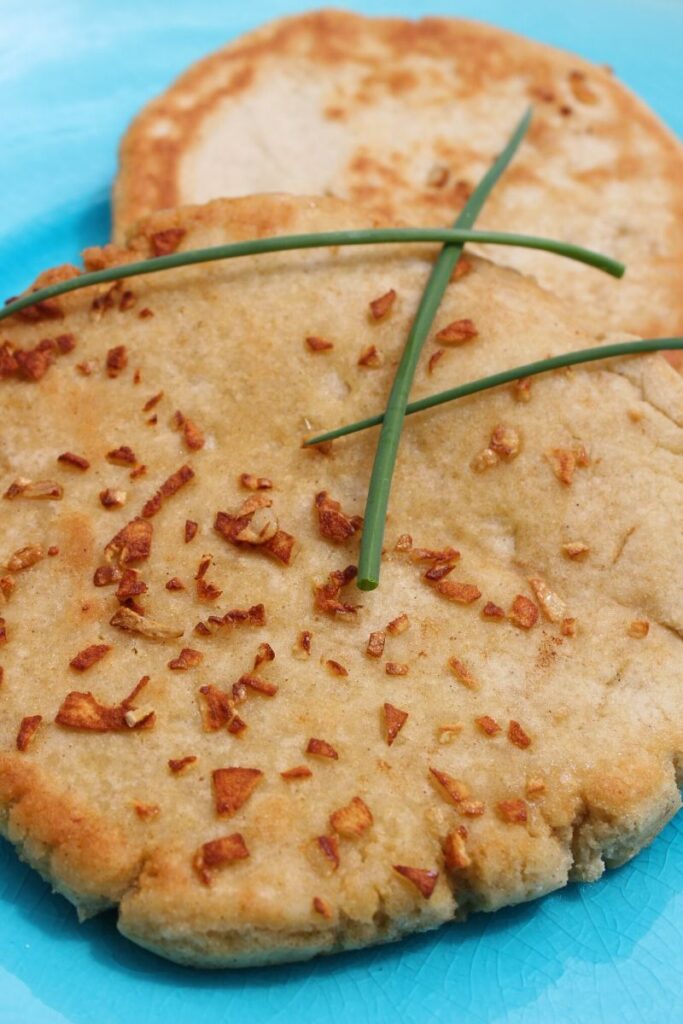 What do you serve with this Moroccan spiced fish?
I personally like to serve this with gluten free garlic bread. While the spicy fish dish is cooking the garlic bread can be made.
Of course you could also serve it with mashed potatoes, chips, rice, quinoa or a slice of bread. I highly recommend trying it with my gluten free bread mix. It makes the most amazing gluten free bread.
Other fish dishes
If you like this fish recipe then you might like some of my other popular fish recipes:
Pin the recipe for another day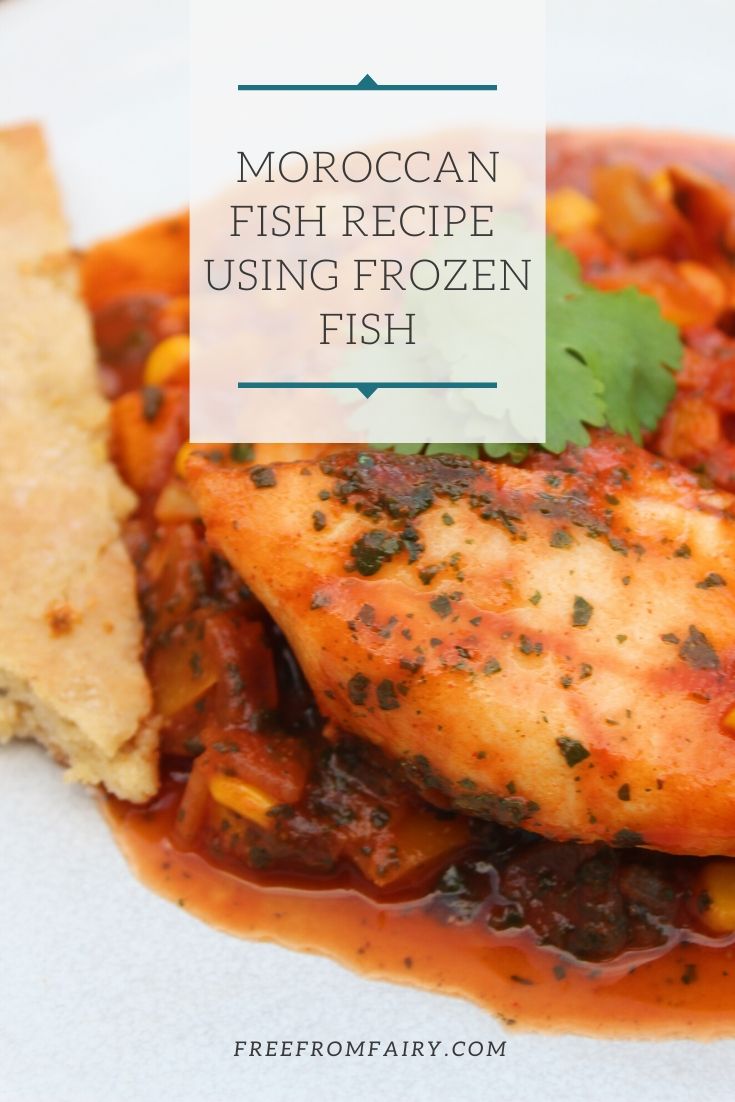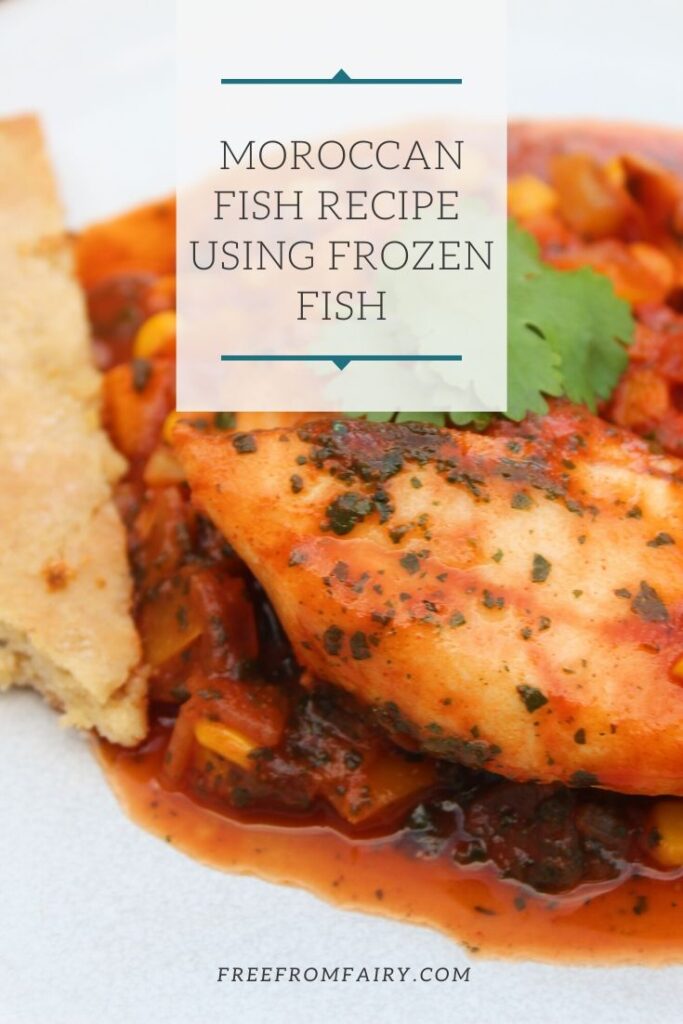 The full Moroccan Fish recipe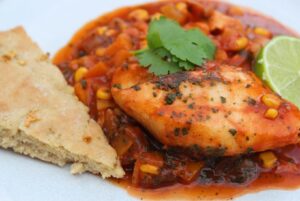 Moroccan Fish Recipe
This simple Moroccan fish stew is a great way to use frozen fish. It's gluten free, dairy free, egg free, nut free and soya free. Perfect quick family meal.
Ingredients
1

red onion

-

finely chopped

1

red pepper

-

(chopped into small pieces)

1

tsp

ground cumin

1/2

tsp

smoked paprika

400

ml

passata

-

(or a tin of tomatoes)

100

g

sweetcorn

-

(frozen or tinned)

400

g

white fish

-

skinned and boned

Handful chopped fresh coriander

-

(or 1 tbsp frozen chopped coriander)

4

slices

lemon

-

(or lime) to serve
Instructions
Place the onion and pepper into a pan and cover with a little water

Place the lid on the pan over a low heat and sweat the vegetables for approx. 10 minutes checking the water doesn't evaporate

Once the vegetables are soft, add a drizzle of olive oil, and allow the water to evaporate

Add the cumin and paprika and cook for a further couple of minutes

Add tomatoes, sweetcorn and whole fish fillets

Cook on a low heat with the lid off for approx. 10 minutes (for fresh fish), or 20 – 25 minutes for frozen fish. When cooked the fish will easy flake apart

At the end of the cooking time, add the chopped coriander and serve in a bowl with a slice of lemon and your chosen accompaniment
Notes
Nutrition data is for information only.
Nutrition (Approx)
Calories:
183
kcal
|
Carbohydrates:
20
g
|
Protein:
23
g
|
Fat:
3
g
|
Saturated Fat:
1
g
|
Cholesterol:
50
mg
|
Sodium:
84
mg
|
Potassium:
917
mg
|
Fiber:
4
g
|
Sugar:
9
g
|
Vitamin A:
1630
IU
|
Vitamin C:
56
mg
|
Calcium:
39
mg
|
Iron:
3
mg