These sugar free carrot cake muffins are sweetened with dried fruit and banana. Because they are made with gluten free flour and ground almonds they are suitable for anyone with coeliac disease or people following a gluten free diet.
I've shared an optional cream cheese frosting. This is sweetened with honey or maple syrup.
Please note that I have called these sugar free but technically they contain sugar from fruit. A true sugar free cake is impossible!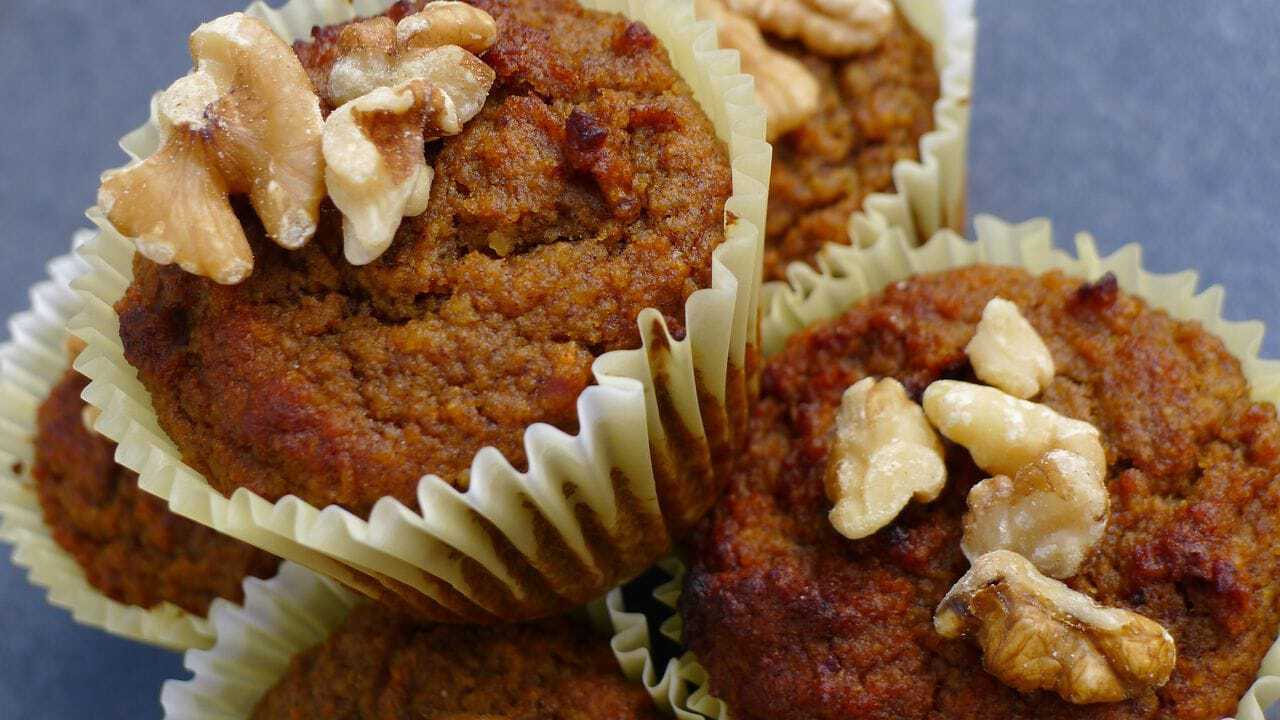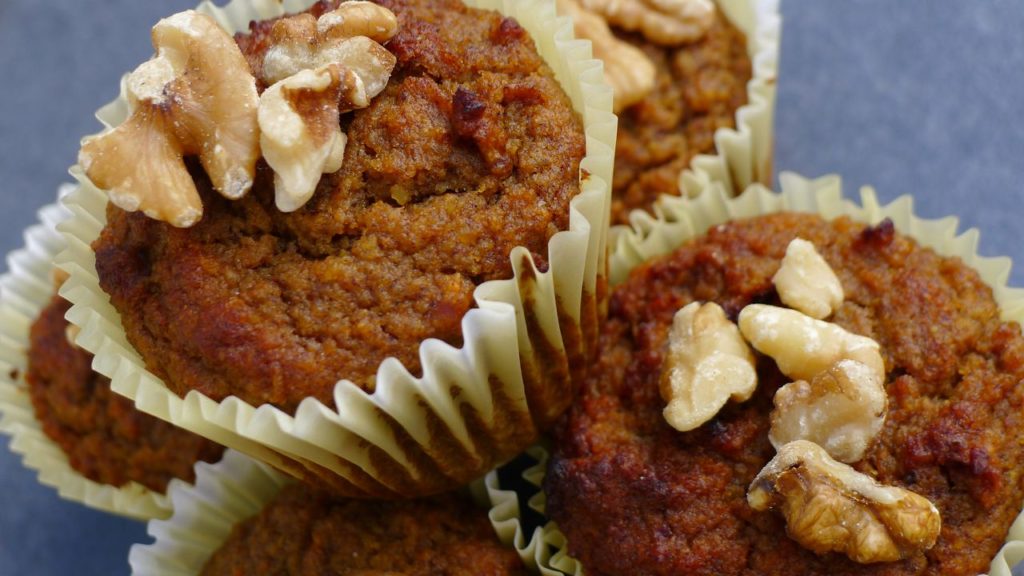 Jump to Recipe
This post contains Affiliate links. As an Amazon Associate I earn from qualifying purchases.
This gluten free, dairy free and sugar free carrot cake is wonderfully moist whilst being relatively healthy. I hope you enjoy it as much as we do!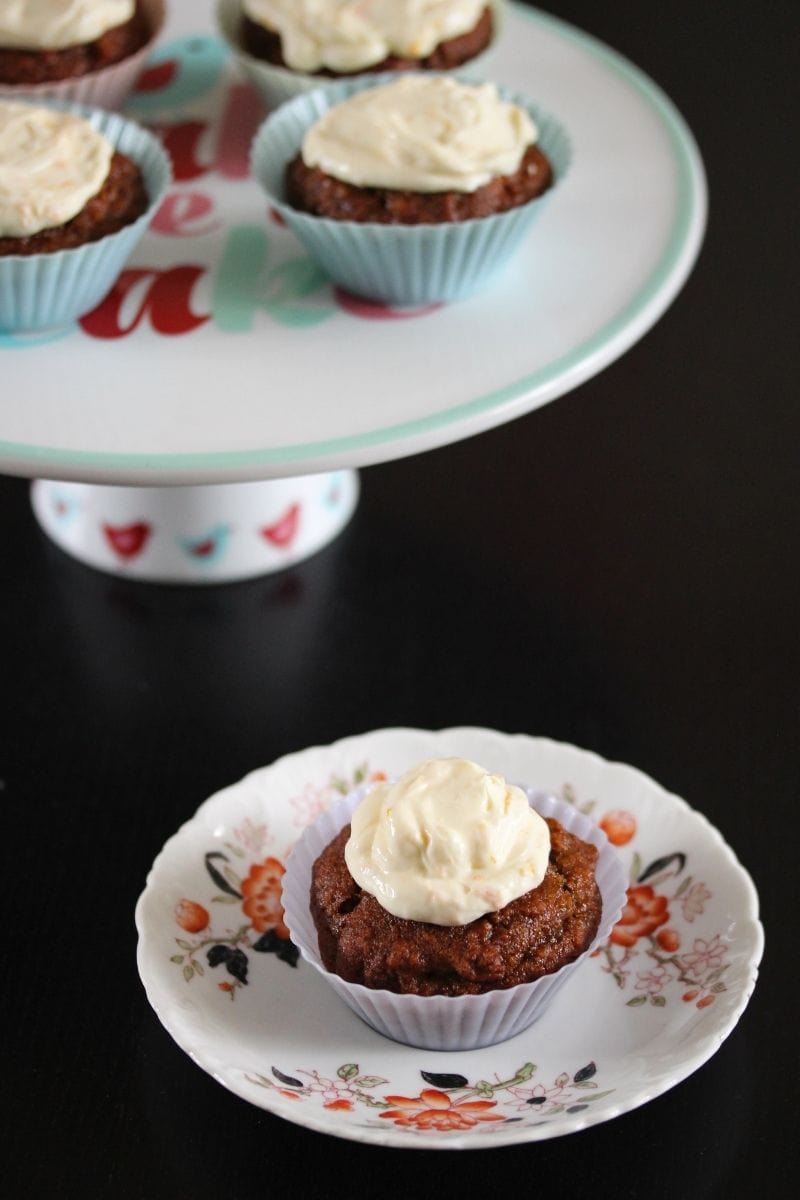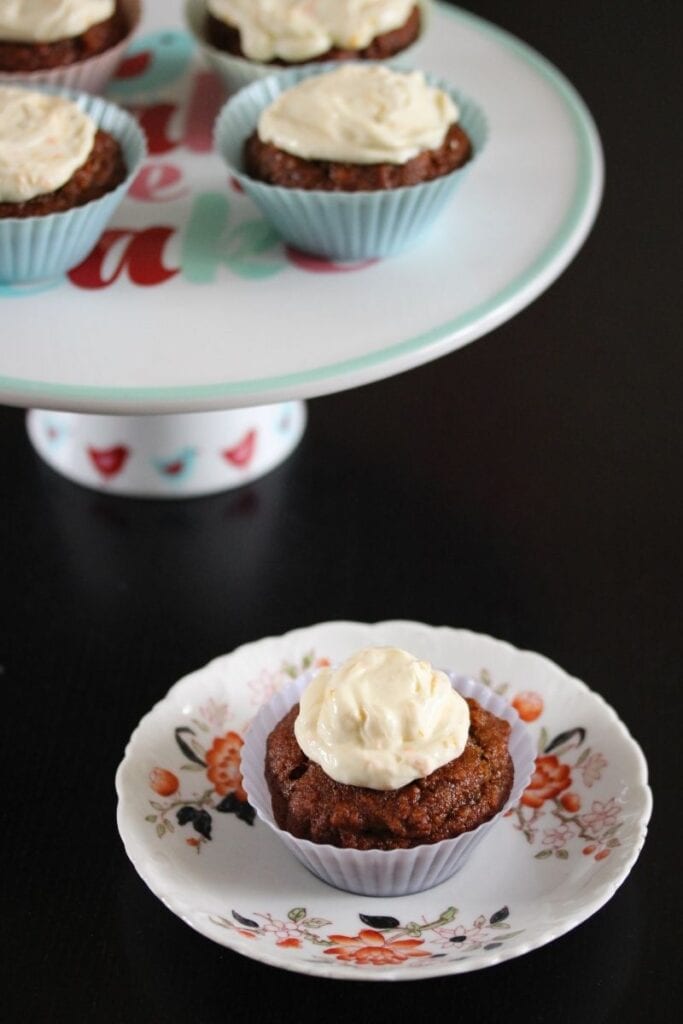 How is a carrot cake sugar free?
Well OK, I have to confess. A sugar free cake is impossible as I outlined above. But this is as close as you can get.
Rather than sweeten the carrot cake muffins with sugar I opted to use banana and dried fruits. This provides the sweetness along with a good dose of fibre. Eating fibre and sugar together (such as whole fruits) slows the digestion of carbohydrates and sugar absorption leading to more steady blood sugar levels.
It's also why I created my wholegrain gluten free flour blend which is used in this recipe.
If you choose to make the frosting be aware that it is sweetened with a liquid sweetener like honey or maple syrup. This will increase the sugar in the recipe but can, if desired, be made just with the orange zest.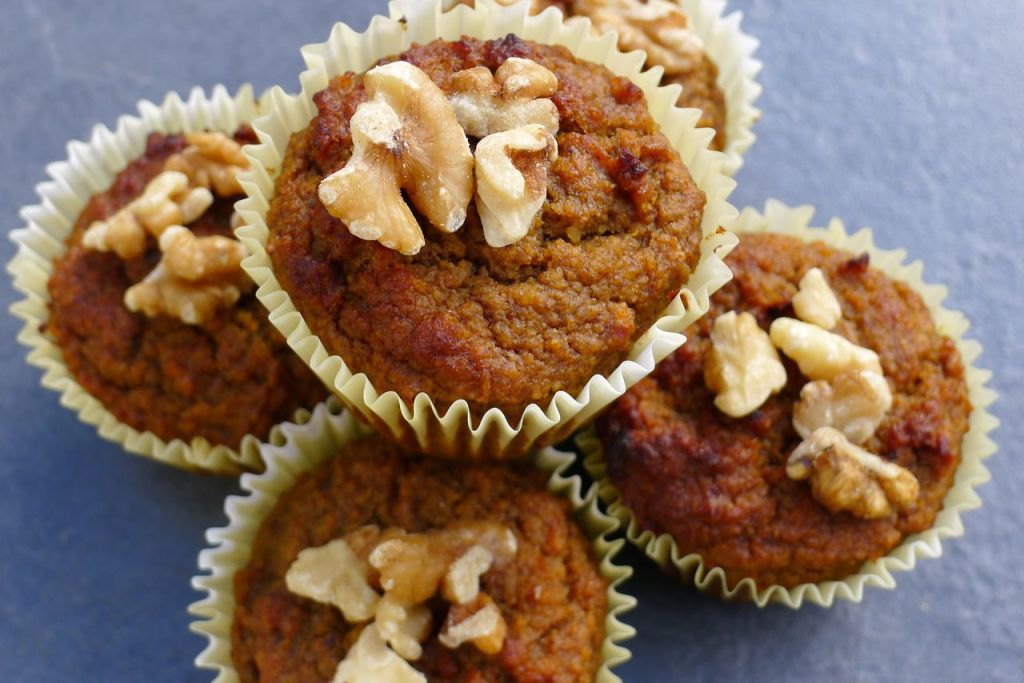 What flour do you use to make gluten free cake?
If you aren't gluten free you can make this cake with standard wheat flour. I suggest using spelt or other equally nutritious flour.
However, for our purposes I made this cake with my wholegrain gluten free flour blend. It's a blend of naturally gluten free wholegrain flours: teff, sorghum and buckwheat. To ensure the blend works in all baking (from bread to pastry, cakes and pasta) I also include a little naturally gluten free starch in the form of potato and tapioca.
If you're outside the UK and can't buy the blend then check out my online gluten free cookery courses where I show how to make it.
In addition to my flour blend I use ground almonds in this recipe for added protein and fibre, and less carbohydrate.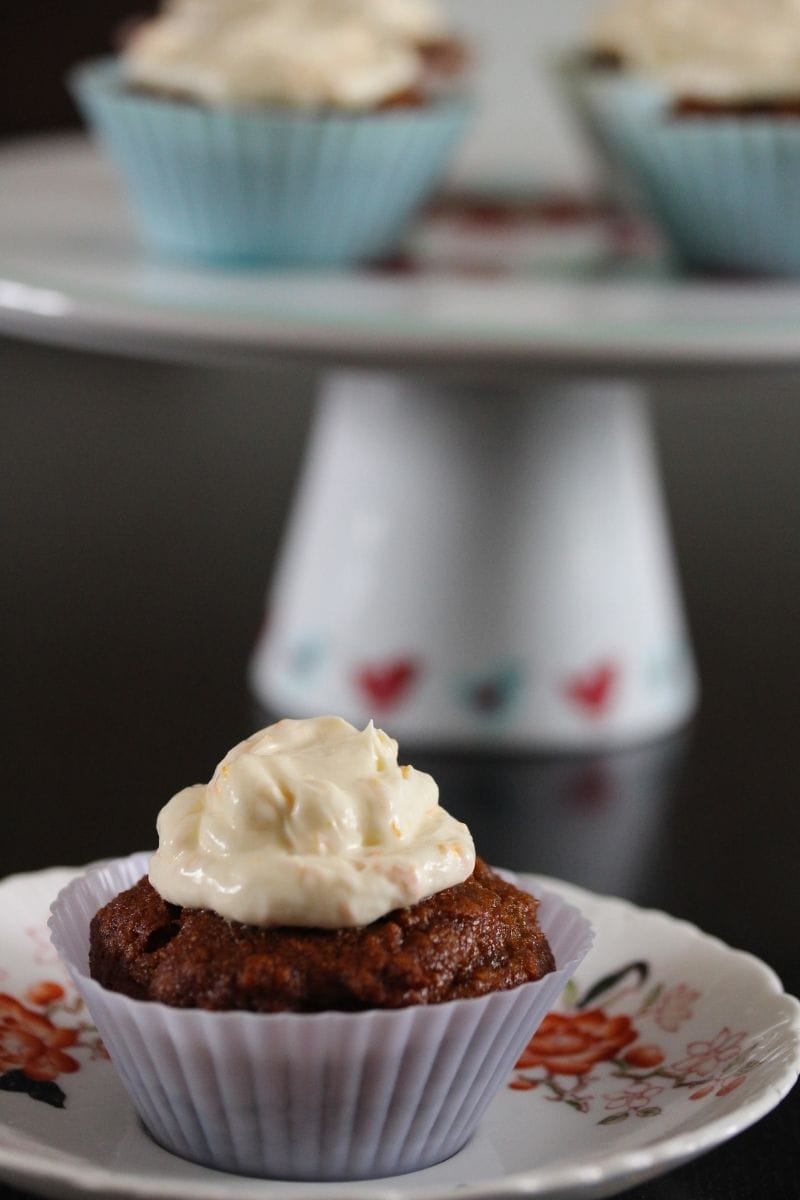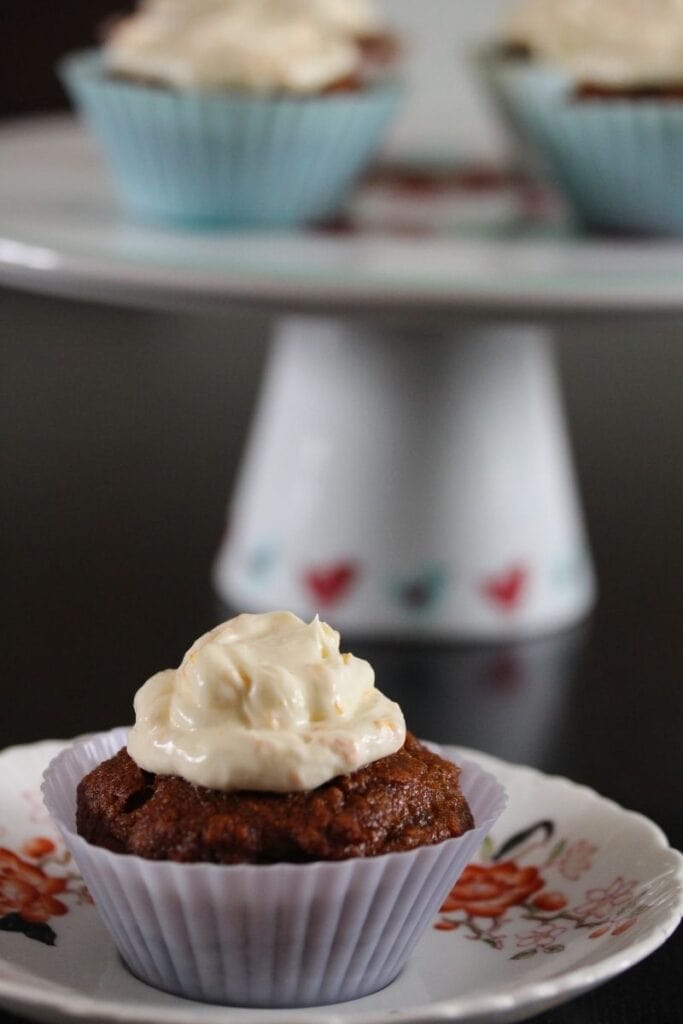 Why do you include flax seeds?
I've tried to make a really healthy carrot cake recipe that is perfect for adults, children and babies. I've included flax seeds because they too are a great source of dietary fibre, not to mention other health benefits.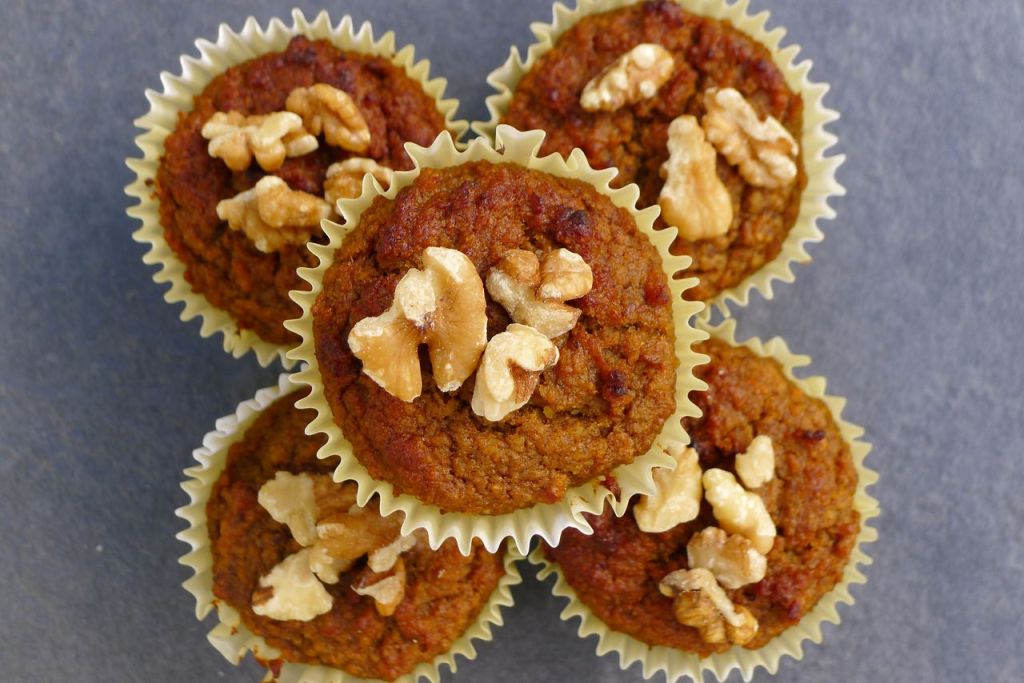 How do you make sugar free carrot cake?
It's a really easy recipe to make but there is one piece of equipment you are going to need; a food processor.
This chops the carrot, dried fruit and banana to make a relatively smooth cake batter. Without a food processor your cake would have whole fruit in it which may not be a problem but I haven't tried it that way.
Frequently asked questions
I can't eat nuts – is there an alternative to make this a nut free carrot cake?
Yes. You can substitute the ground almonds in the recipe for more flour
I am following the GAPS/SCD/Paleo diet. How can I make this carrot cake suitable?
Simply substitute the flour with more ground almonds. Depending on your specific diet you may also need to remove the raising agents (bicarbonate or soda and baking powder).
Can I make this vegan?
I have never tried to make this recipe without eggs but it should be possible. You will need to replace the eggs with 2 additional teaspoons of ground flax seeds mixed with 6 tablespoons of water. I also suggest increasing the amount of baking powder by 1 teaspoon.
I notice the recipe is also dairy free. Can I make it with dairy?
Yes, if you don't have coconut oil or don't want to use it feel free to swap it for butter.
Can I make one big cake rather than carrot cake muffins?
I have never baked this recipe as one cake or as a carrot cake loaf or tray bake but I'm certain it's possible. The baking time will need to increase significantly and will depend on the size and shape tin you use. If you're making it into a tray bake it will need less cooking time than a small round cake.
I can't eat bananas. Can I use something instead?
Yes, if you can't eat bananas, don't like the flavour or simply don't have any then replace them with 50g honey or maple syrup.
How do I store these sugar free carrot cakes?
The cakes without the frosting can be stored in an airtight container for up to 4 days at room temperature.
If you are using the frosting I recommend adding it before eating the cakes because it can go a little brown over time.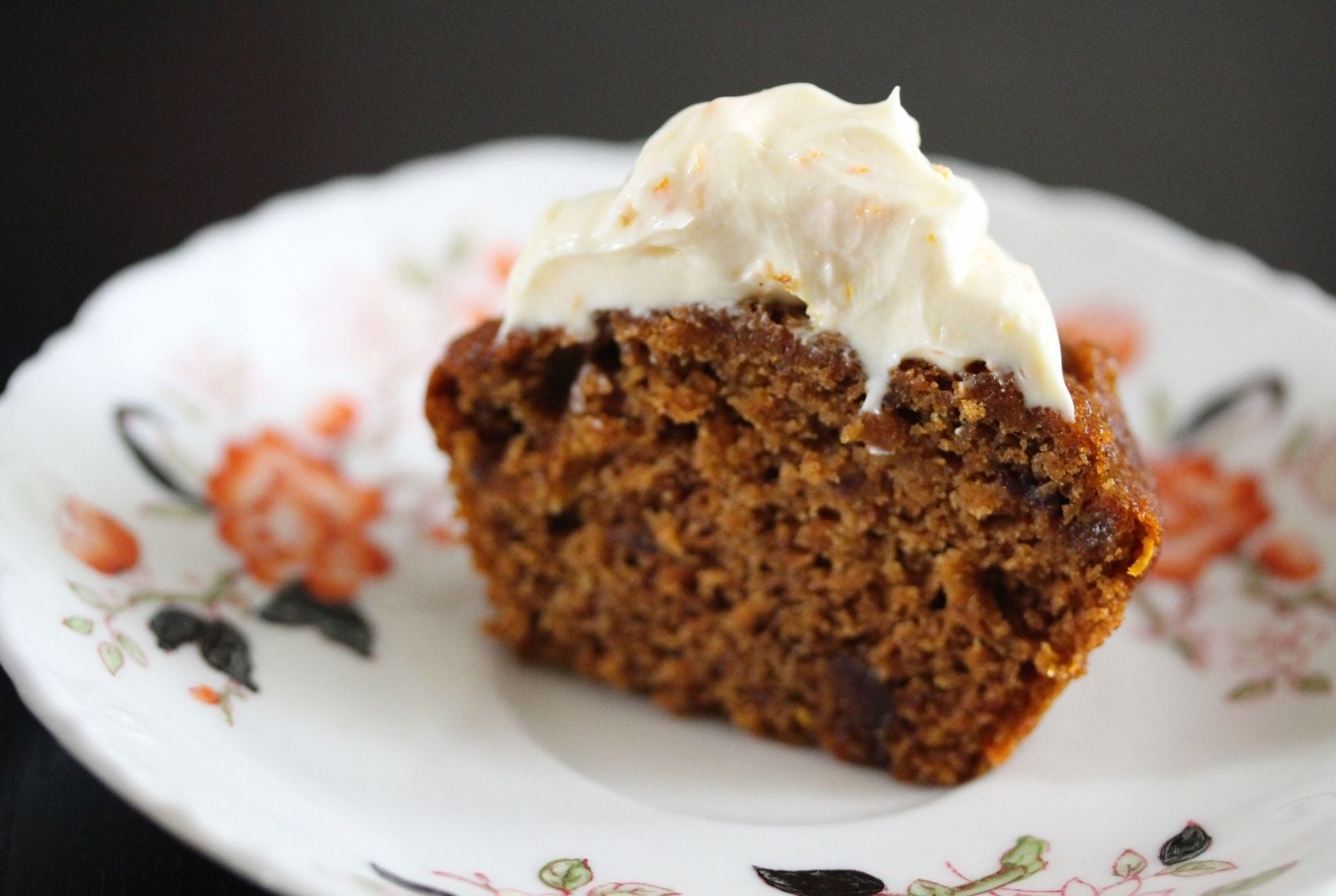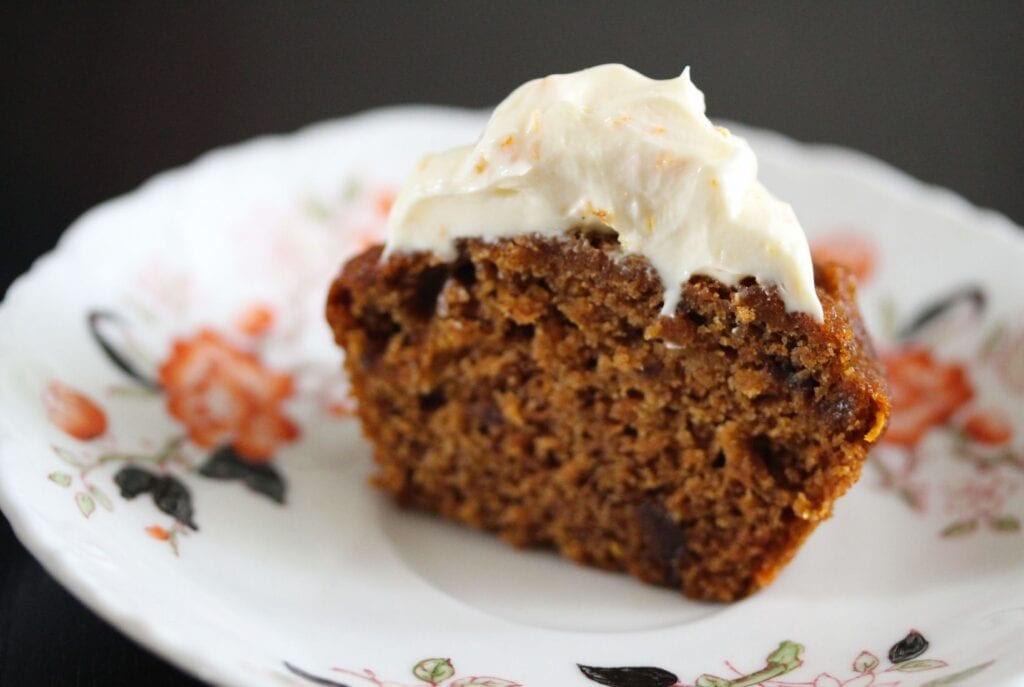 A free recipe e-book
If you like the sound of this recipe then you might like my free gluten free recipe e-book. In it I share all the recipes you might miss in your life. Yorkshire puddings, scones, Victoria sponge cake and more.
If you'd like a copy to download just pop your details in the box below and I'll send it straight to you. Please check your junk mail because emails often end up there.
In addition to the recipes you'll get my weekly newsletter of recipe inspiration and my latest news. You can of course unsubscribe to this if you don't want it!
Pin the recipe so you don't lose it: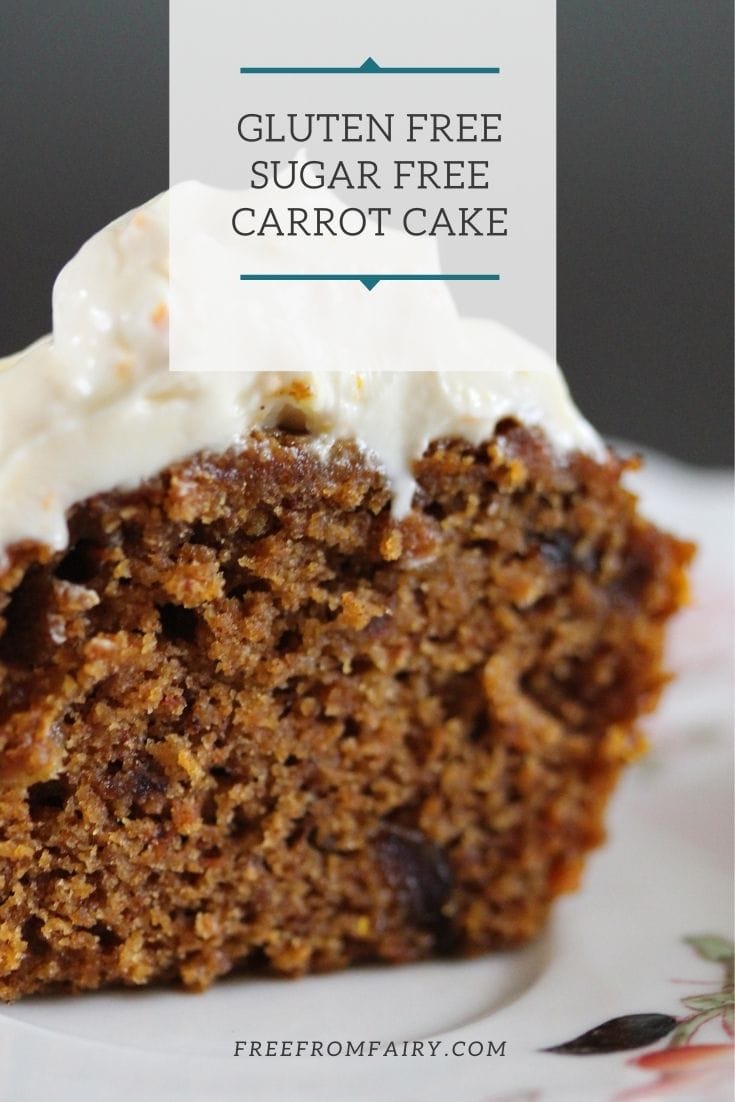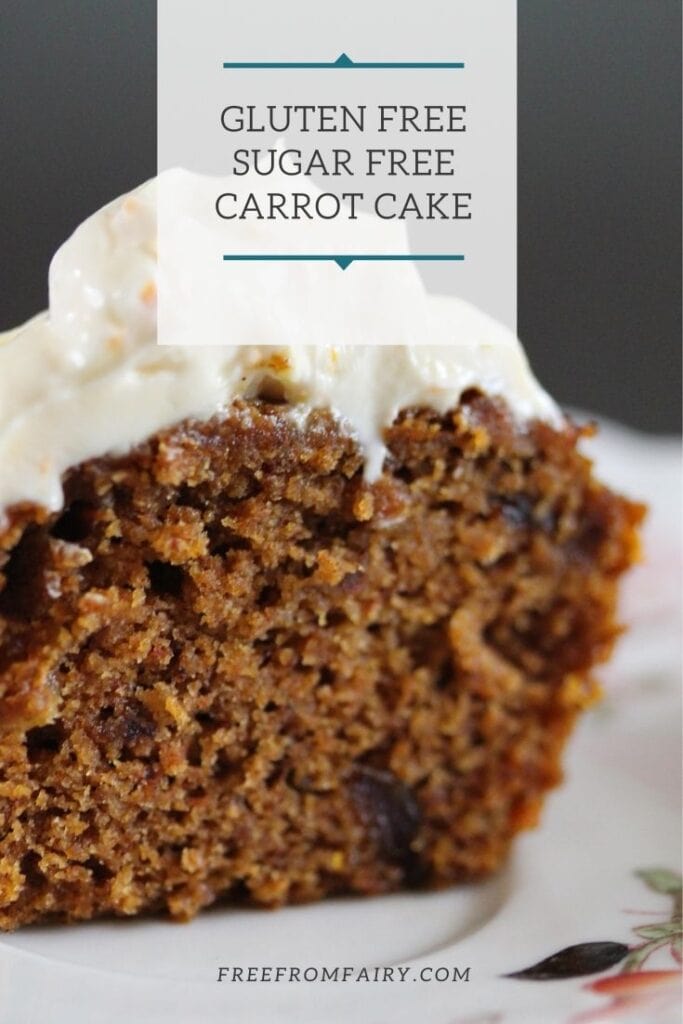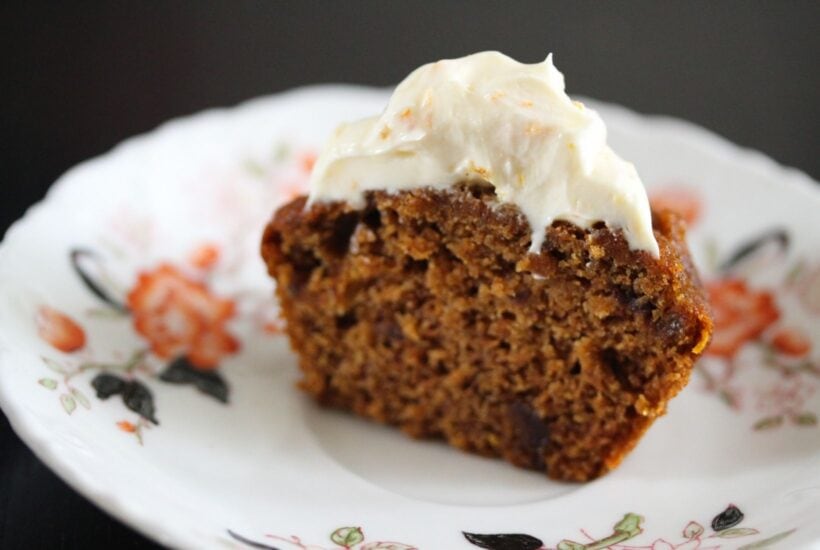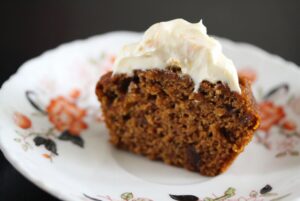 Sugar Free Carrot Cake Muffins (Gluten Free)
Gluten-free, Dairy-free, Soya-free, Sugar-free carrot cake.
Ingredients
2

ripe bananas

60

g

dates

-

pitted

30

g

dried apricots

-

preferably the brown ones without sulphites

30

g

dried mixed fruit

2

medium

carrots

60

g

coconut oil -

I used Biona mild that doesn't have any taste

2

medium

eggs

-

ideally organic

1

tsp

ground flax seeds

75

g

ground almonds

1

tsp

bicarbonate of soda

1

tsp

baking powder

1

tsp

mixed spice

1

tsp

ground cinnamon
For the optional frosting
250

g

cream cheese

-

make sure you use full fat

1

orange

-

zest only

4

tsp

honey

-

or maple syrup
Instructions
Grate the carrots.

Place all the fruit and the grated carrots along with the oil and eggs into a food processor or mini chopper and leave to mix on high for a couple of minutes.

Add all the remaining ingredients and mix for a further minute or so. By this time the carrot will be nicely chopped up and won't be noticed!

Spoon the mixture into cupcake cases in a muffin tray.

Bake in a pre-heated oven at 180 degrees (160 degree fan oven), gas mark 4 for 17 – 20 minutes until springy to the touch.

Leave to cool and add frosting if you want it. To make the frosting combine all the ingredients together in a bowl and divide between the cakes.
Notes
Nutrition facts for information only.
Nutrition (Approx)
Calories:
246
kcal
|
Carbohydrates:
23
g
|
Protein:
5
g
|
Fat:
16
g
|
Saturated Fat:
9
g
|
Trans Fat:
1
g
|
Cholesterol:
50
mg
|
Sodium:
191
mg
|
Potassium:
295
mg
|
Fiber:
3
g
|
Sugar:
13
g
|
Vitamin A:
2147
IU
|
Vitamin C:
8
mg
|
Calcium:
76
mg
|
Iron:
1
mg