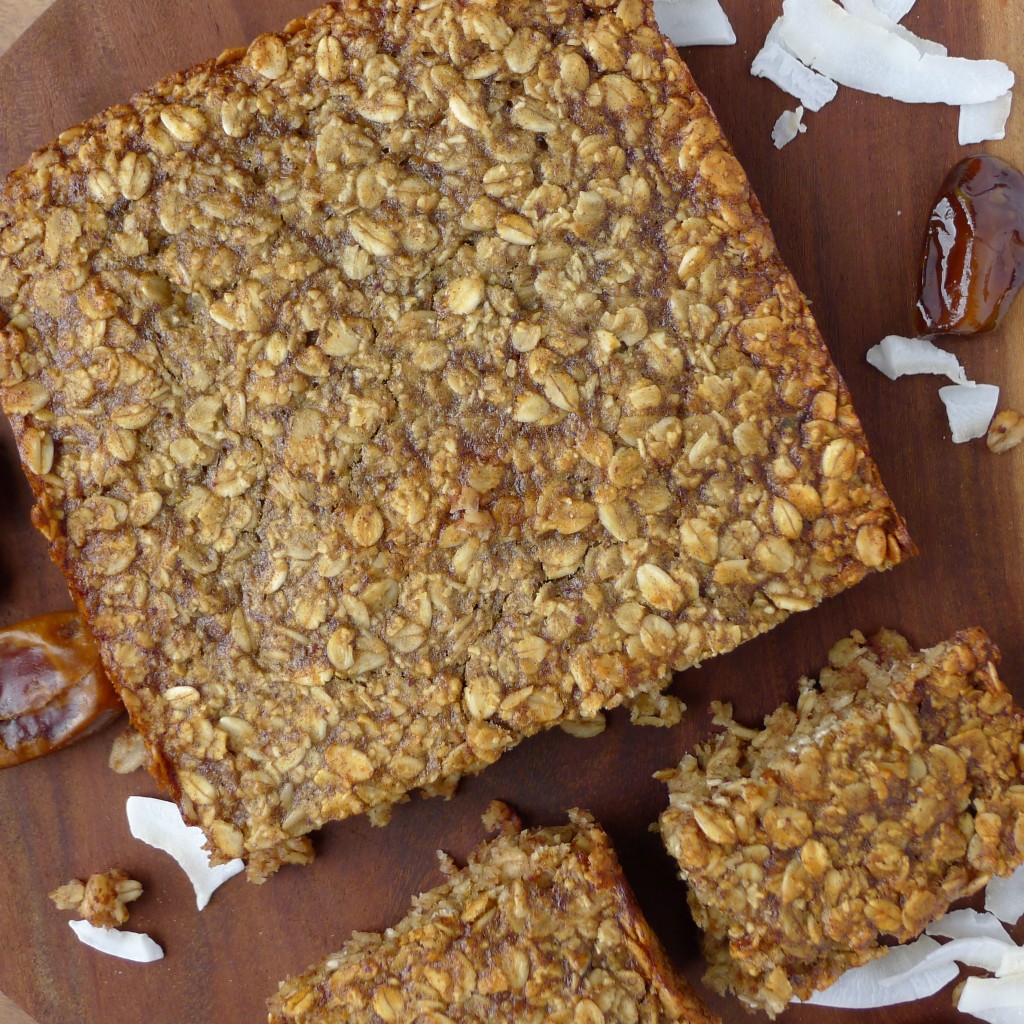 So as part of raising awareness of coeliac disease to the estimated 500,000 people in the UK who are undiagnosed and probably suffering from various ills from depression to mouth ulcers (not all tummy-related issues I hasten to point out)…I want to share a recipe to show you that being gluten-free does not mean missing out.
Before I do, I urge you to check out www.isitcoeliacdisease to take an assessment and find out whether you could be one of those 500,000 people who are putting your health at risk by eating gluten!
And one other thing to note…if you think that gluten is bothering you, do NOT remove it from your diet without going to the GP and getting tested first. If you are not eating gluten a test for coeliac disease will not come back positive (even if you do have it).
I had lots of reaction to the pictures of these flapjacks that I posted on social media earlier in the week so it seemed like the 'right' thing to share with you.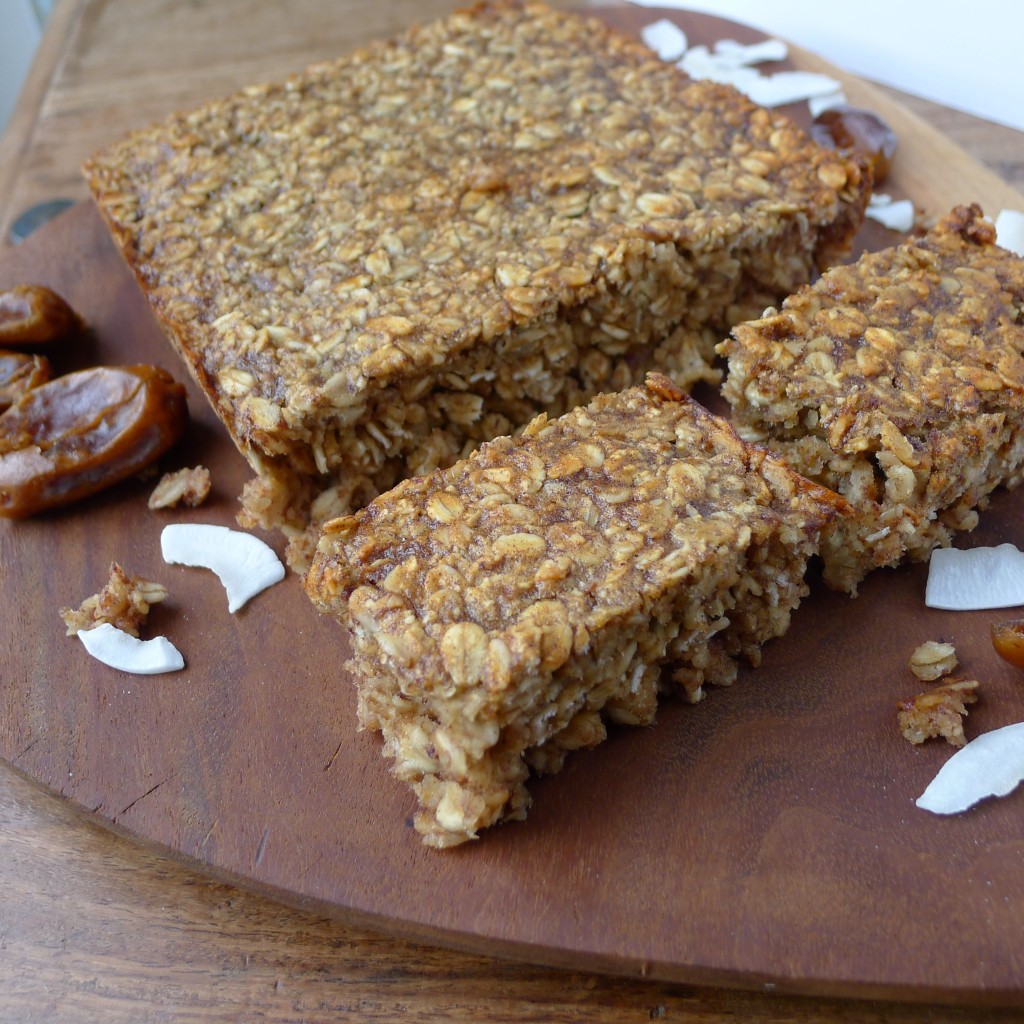 These are not the crunchy-type of flapjack, rather the soft and chewy variety. I used my favourite coconut oil in them from Coconut Merchant for whom I am now a contributing chef.
If you fancy trying their oil or any of their other delicious organic coconut products then head to my Vicki Recommends page where you'll find links to their lovely products.
Back to the flapjacks…upon trying her first bite Roo declared they were "magnificent" while Pickle went rarely silent! High praise from both!
Even Mr M liked them…and he can usually detect and refuse to eat anything that contains coconut! These I am told (because I can't eat them!) do not taste of coconut!
Do let me know what you think if you decide to make them.
And do remember that although they have no sugar in they do contain a lot of fruit so are still very sweet and should be eaten in moderation!!! (do I sound like a mum and a killjoy?! Darn.).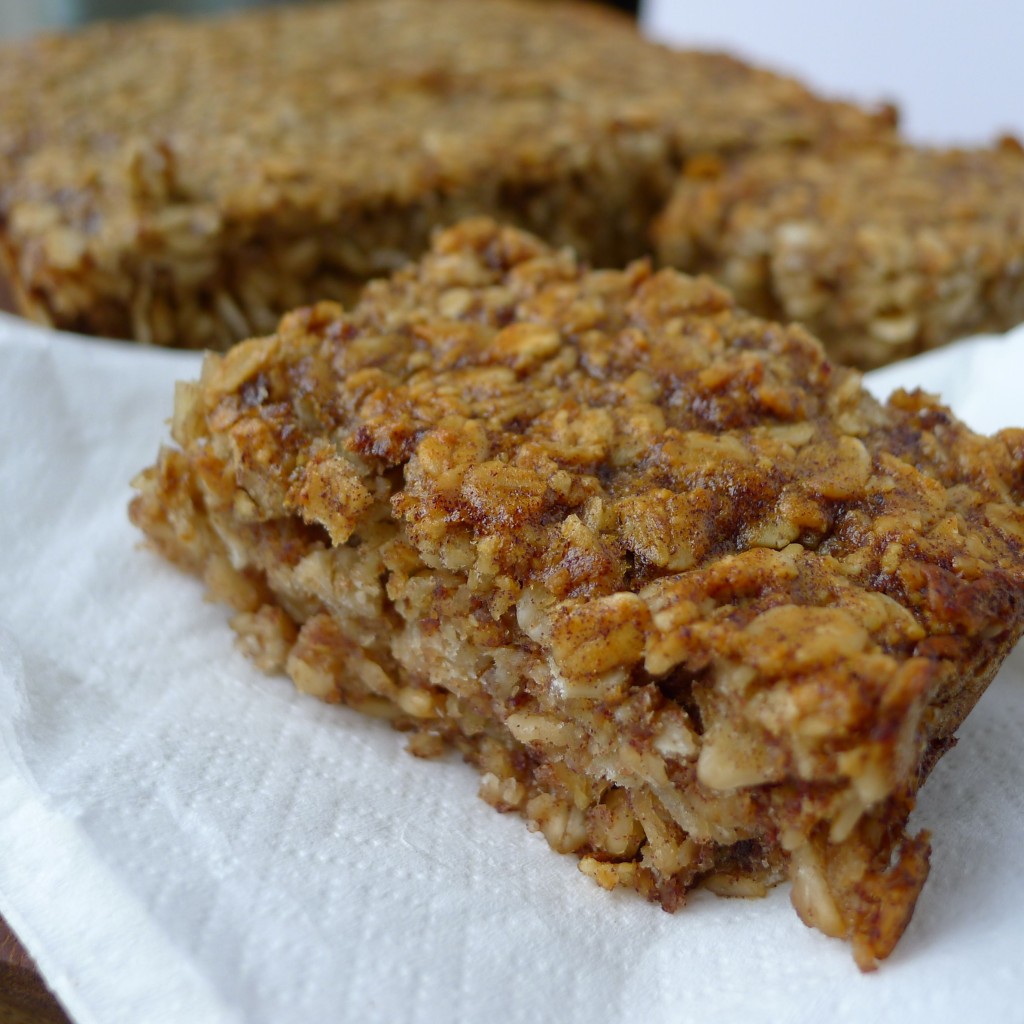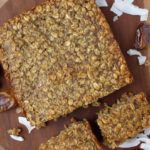 Banana & Date Flapjacks
Gluten-free, Dairy-free, Egg-free, Soya-free, Nut-free, Refined Sugar-free
Ingredients
100

g

dates soaked in 100g boiling water

85

g

ripe banana

when peeled - about one small one

1

tsp

homemade vanilla extract

if avoiding sugar, or 1tsp bought

50

g

virgin

organic coconut oil, melted

1/2

tsp

bicarbonate of soda

250

g

gluten-free oats

or 'normal' oats if you can tolerate gluten
Instructions
Place the dates in a bowl with the boiling water and leave to soak for at least 5 minutes

Once soaked, tip the dates and water into a food processor or blender along with the banana, melted coconut oil, vanilla extract and bicarbonate of soda. Process until smooth and paste-like

Tip the paste into a bowl and add the oats.

Stir to combine, then place the mixture in a greased oven-proof dish measuring approx. 20 x 15cm.

Bake in a pre-heated oven at 180 degrees, 160 degree fan, gas mark 4 for approx. 25 minutes until golden and firm

Once cool cut up and store in an airtight container for up to 4 days
If you're interested in baking your own wholesome food you might be interested in my Free From Fairy wholegrain gluten-free flour blend. It is the only gluten free flour blend on the market that is based on wholegrain flours and the plain and self-raising version work in all baking, from cakes to bread, pastry and even pasta. You can buy it from my online shop.
You can also make sure you never miss another recipe by signing up to my weekly newsletter…

I shared this with: