A dairy free caramel slice that is also gluten free and vegan. If you are making this for children you might want to use dairy free milk chocolate in place of the dark chocolate specified in the recipe.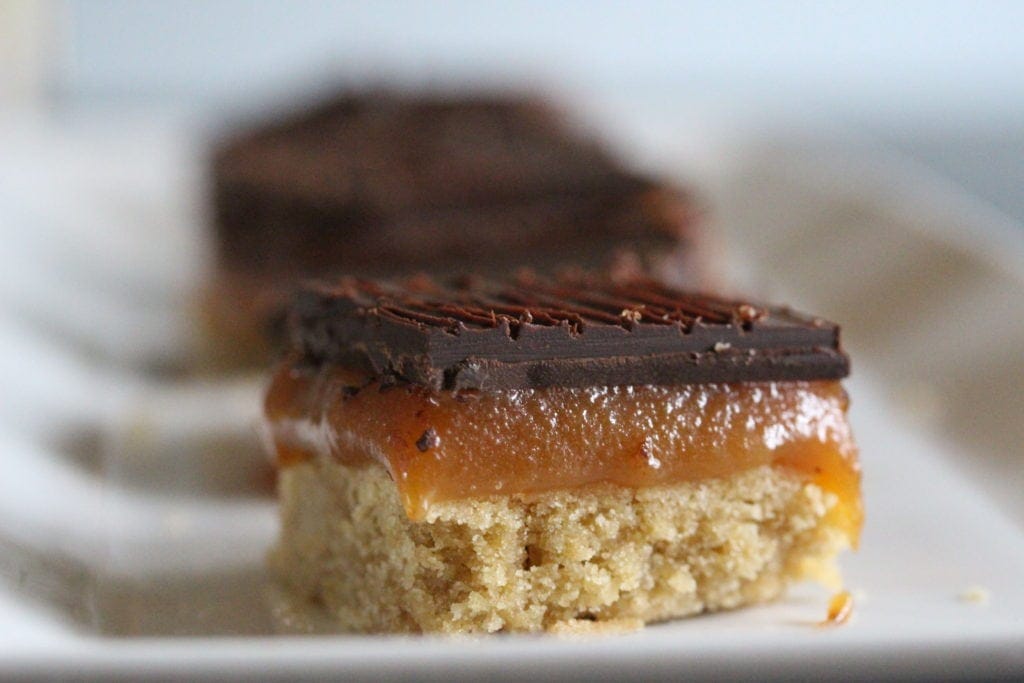 At the weekend we met up with some old school friends and their kids at Westonbirt Arboretum.
The kids had loads of fun climbing trees and running around in the beautiful surroundings.
It was a fabulous day, made even better by the rain staying away and the selection of gluten-free goodies that were on offer in the cafe.
It was the collection of cakes in general that reminded me that I still needed to perfect my gluten and dairy free caramel slice recipe.
This one has been knocking around for a while…waiting for perfection while I tease people on Twitter with the photos.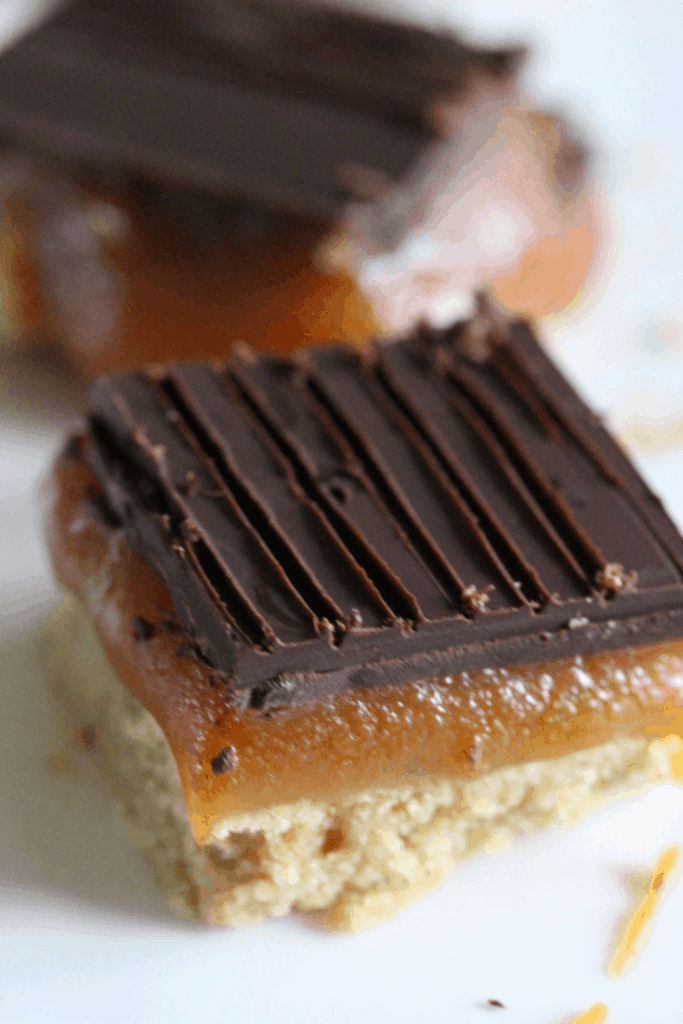 So, as soon as the kids were safely deposited at school on Monday I set about in the kitchen.
And this is what I came up with…near perfect caramel slice.
I say near perfect.
Rather than take the caramel off the heat when it was done I thought I would leave it for a few minutes more.
The result was a rather dentist unfriendly firm caramel, but delicious all the same.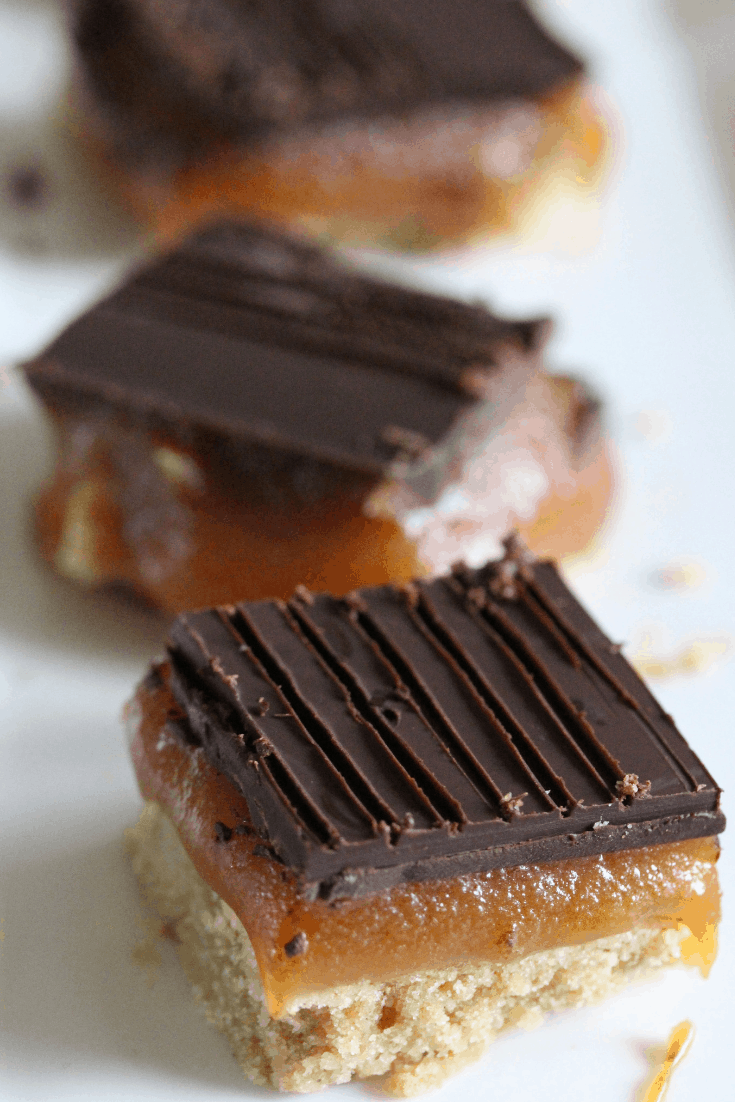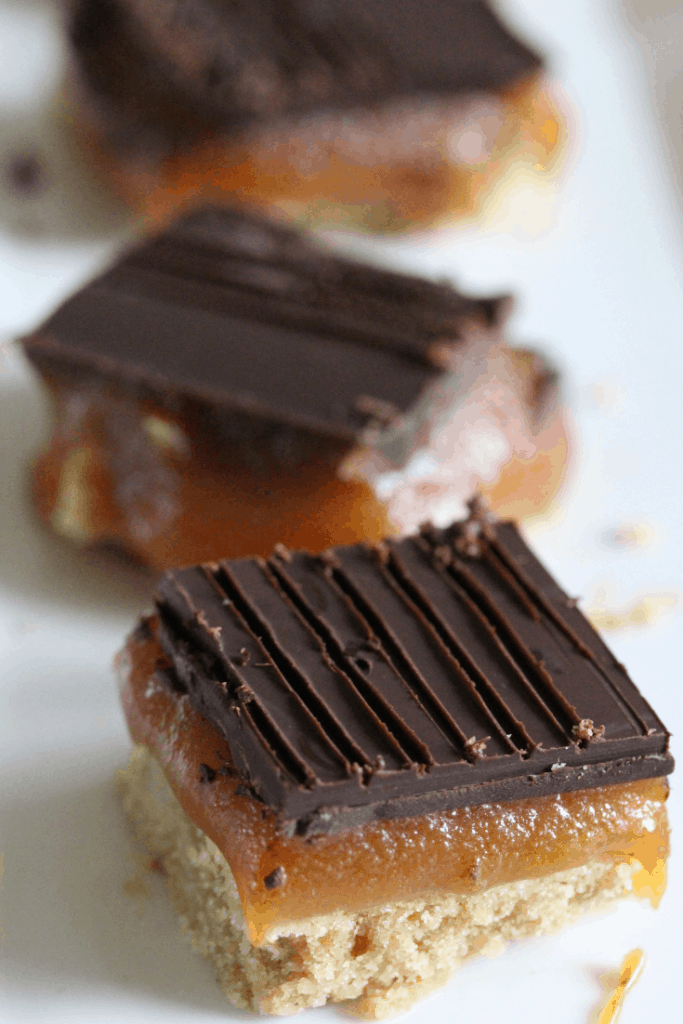 Tips for making dairy free caramel
In my experience dairy free caramel sets more quickly than its dairy equivalent.
Follow my instructions below and you should have no problems.
Just don't think about leaving it to cook for a few more minutes when you know it is done.
And how do you know it's done?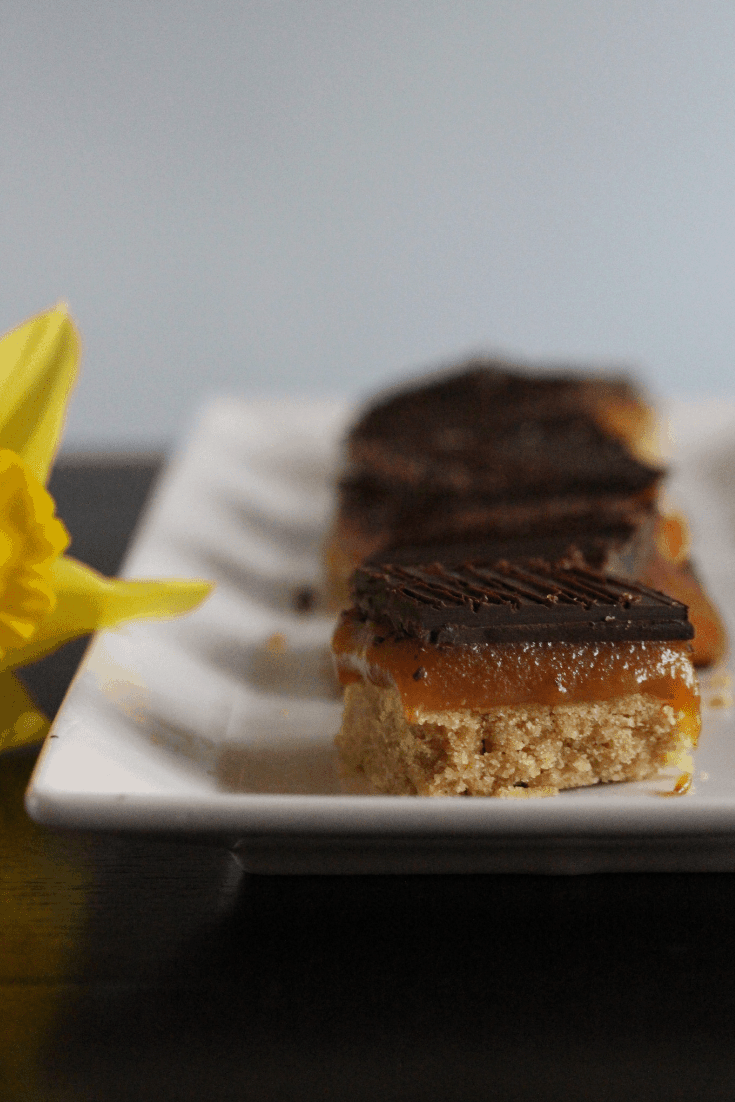 Well, the caramel will stick to your spatula or spoon and gently glide off.
You could use a sugar thermometer but that is WAY too much faff for me.
If you did use a thermometer it would be ready when it reaches 107 degrees C or 225 degrees F.
Take a look at my video to see what the caramel should look like when it is done.
You can also test it by letting a small drop fall into a glass of water. It should form a soft caramel ball.
How do you cut a caramel slice?
Trust me, cutting these slices is not easy. If you're not careful you'll crack the chocolate.
You must wait until they are completely cool.
Remove the bake from the tin by pushing the bottom up.
You're going to need a small, sharp serrated knife and hot water.
Run the knife under the very hot water, dry it, then draw the knife from back to front of the bake.
After each cut wash the knife and get it hot again.
Pin the recipe for dairy free caramel slice: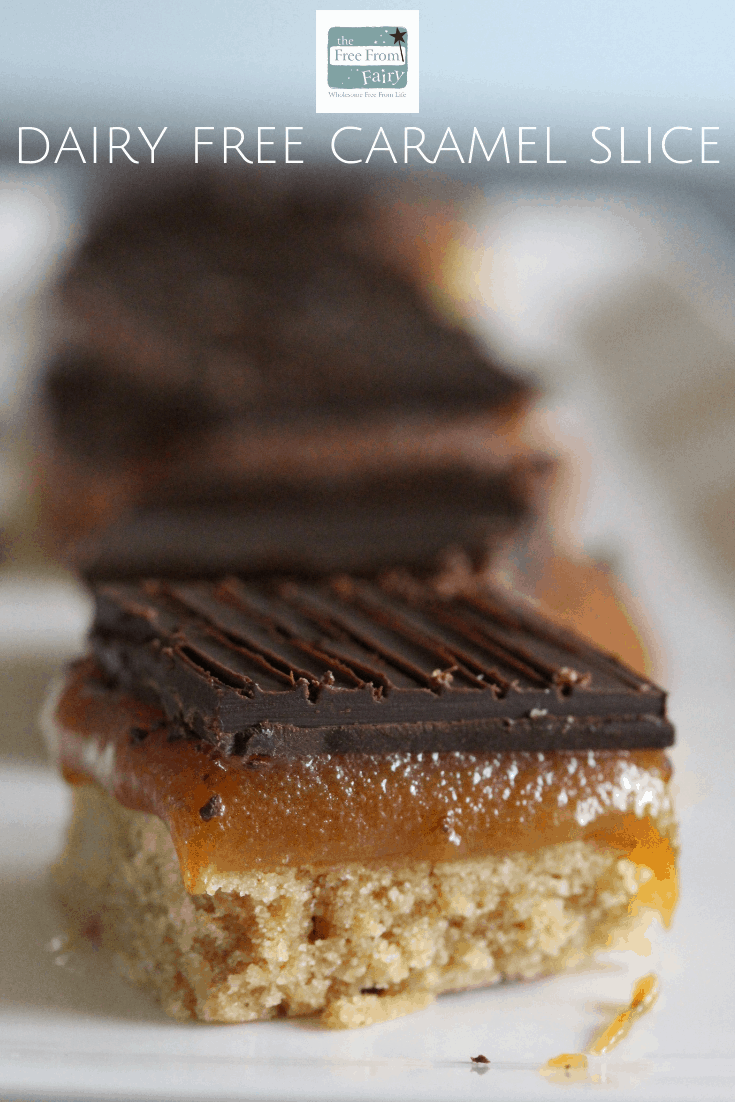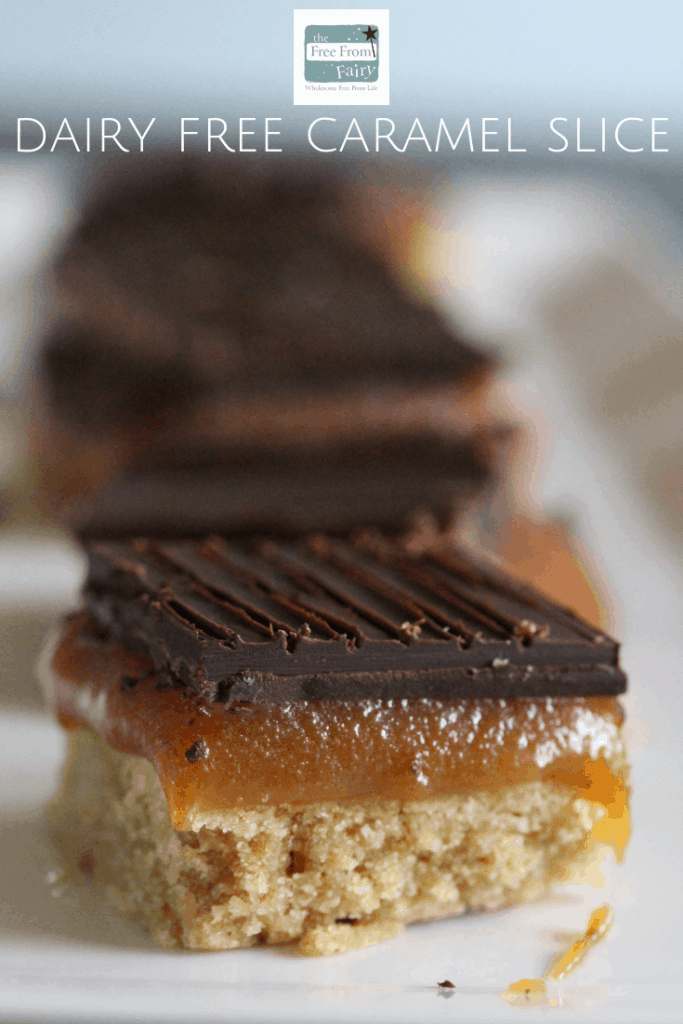 If you like this recipe but want a lower sugar, lower carb version then check out my healthier gluten free caramel slice recipe here.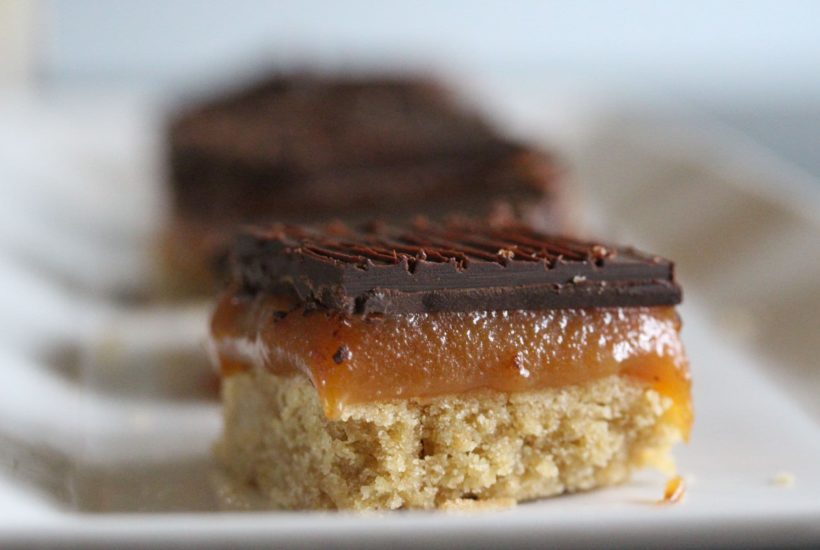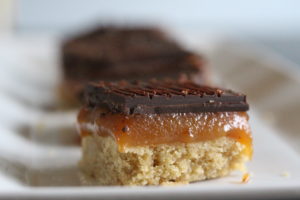 Dairy Free Caramel Slice (Gluten Free & Vegan)
Gluten-free, Dairy-free, Nut-free, Egg-free but always check the ingredients you are using.
Ingredients
FOR THE SHORTBREAD:

175

g

dairy-free margarine

-

or if you like the taste of coconut, 100g dairy-free spread and 75g softened virgin coconut oil

60

g

white sugar

FOR THE CARAMEL:

225

g

white sugar

230

g

golden syrup

100

g

dairy-free margarine

2

tsp

vanilla extract

250

ml

soya cream -

I used 'fresh' but I don't think it would matter if longlife

FOR THE CHOCOLATE

200

g

dairy free, sugar free dark chocolate

-

melted
Instructions
To make the shortbread base place all the ingredients into a food processor and process until a breadcrumb texture. Alternatively, rub the fat into the flour with your fingers and then add the sugar.

Press the mixture firmly into the base of a greased loose bottomed 20cm square tin. Prick with a fork and cook in a pre-heated oven at 160 degrees (140 fan) for 35 - 40 mins until firm to touch and golden.

Remove from the oven to cool while you make the caramel. Make sure the shortbread is cool before adding the caramel or it will seep into the shortbread!

To make the caramel place the sugar, syrup and fat into a large saucepan over a low heat. Stir frequently until the sugar has all dissolved...if you use caster sugar it will take a bit less time than granulated!

Once the sugar has dissolved, turn the heat up to medium and add the soya cream and vanilla extract.

Stir continually once boiling, ensuring it doesn't stick on the bottom of the pan. Catch up with some TV you missed on the iplayer at the same time!!

Boil for about 20 minutes. By this time the caramel should look like it does in my video above.

Remove from the heat and immediately pour onto the shortbread.

Ensure the caramel is completely cool before melting the chocolate, either in a bowl over boiling water, or in the microwave, checking and stirring every 30 seconds until melted.

Pour the chocolate over the caramel and gently shake the pan to get an even covering. You can leave it smooth, or when partly set, run a fork over the surface to give it a 'roughled' look.

Try not to eat all at once!
Notes
Nutrition data is for guidance only.
Nutrition (Approx)
Calories:
288
kcal
|
Carbohydrates:
37
g
|
Protein:
1
g
|
Fat:
14
g
|
Saturated Fat:
4
g
|
Sodium:
91
mg
|
Potassium:
89
mg
|
Fiber:
1
g
|
Sugar:
25
g
|
Vitamin A:
530
IU
|
Calcium:
9
mg
|
Iron:
1.4
mg