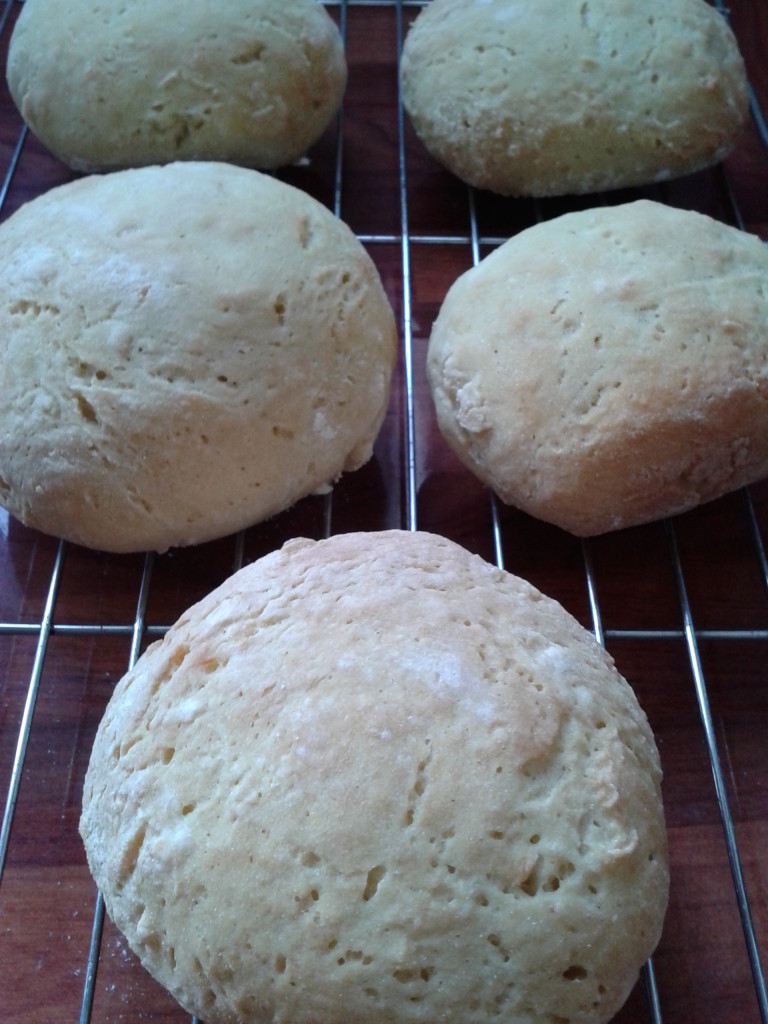 Last week I had four children to feed.  Each of my children had a friend to play after school and the house was filled with peels of girly laughter and muddy boys!
I had decided to make beanburgers for tea using my tried and tested recipe and we had bought some gluten-free rolls to have them in.
However, when I looked at the rolls, they looked rather large for small children and I knew there would be waste (I hate waste!!).  So, as the kids were playing so beautifully, I picked up a cookbook and decided to try a recipe for soft white rolls.  The cookbook was 'The Gluten-free Cookbook – What to eat and what to cook on a gluten-free diet' by Heather Whinney, Jane Lawrie and Fiona Hunter.
I am seriously impressed by this book.  My husband's Aunt found it in Costco some time ago and I 'borrowed' it from her…so far not giving it back!  I can really recommend it as all the recipes I have made in it have been successful, although I have to admit I haven't followed any of the recipes properly!
This particular one just needed a few tweaks to make it dairy-free, gluten-free and refined sugar-free whilst using Doves Farm plain gluten-free flour.  This is what I did: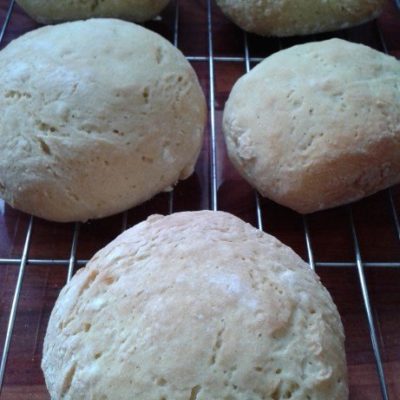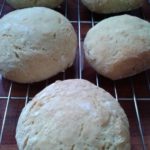 Soft Gluten-free, Dairy-free White Rolls
Gluten, Dairy, Nut, Soya and Refined Sugar-free
Ingredients
450

g

gluten-free plain Doves Farm flour

2

tsp

fast-action dried yeast

2

tsp

xanthan gum

1/2

tsp

salt

250 - 300

ml

dairy-free milk

1

tbsp

runny honey

1

egg

2

tbsp

olive oil plus extra for greasing
Method
Place the dry ingredients in a large bowl and mix well.

Place the 250ml milk, honey and oil in a heatproof bowl and microwave for 1 minute, alternatively heat in a pan until warm.

Add the egg to the liquid mix and beat to combine.

Pour the wet ingredients into the dry ingredients and mix to form a dough. If it is too dry add a drop more warmed milk.

Bring the dough together, kneading in the bowl until smooth

Divide the mixture into the number of rolls you require. I made 9 quite small rolls by rolling the dough into 9 balls.

Place on a floured baking tray, or two and lightly press down on them to make them flatter.

Cover with oiled clingfilm or a clean damp tea towel and place in a warm environment for an hour, or until doubled in size.

Brush the rolls with dairy-free milk and dust with flour before baking them in a pre-heated oven at 200 degrees for 15-20 minutes.