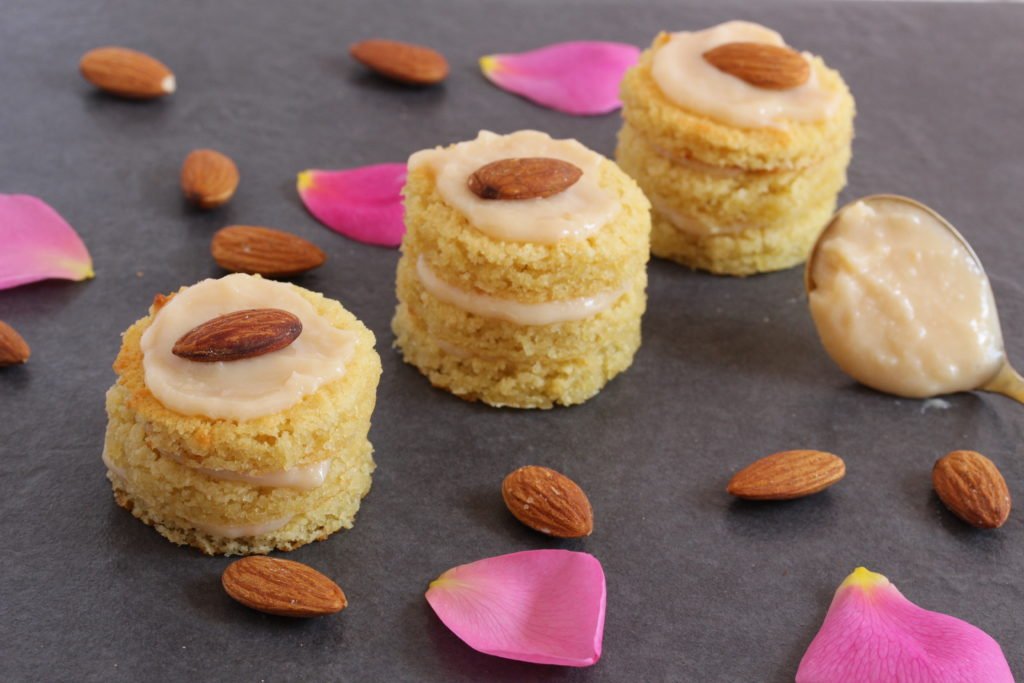 Marlenka is a traditional Armenian honey cake with condensed milk and nuts.
We were introduced to it by my sister's wonderful nanny who is from the Czech Republic where the cake has become very popular.
When they introduced a gluten-free variety she was keen for Roo to try it and the whole family have subsequently fallen in love (bar me who has never tried it because it contains so much sugar).
She very kindly now brings it back for us every time she goes home.
However, there has always been two problems with it.  Firstly, it contains milk, and secondly it contains a lot of sugar!
My solution?
Well to create my own version of course.  I'm sure it is nothing like the 'real' version, but it is delicious none-the-less.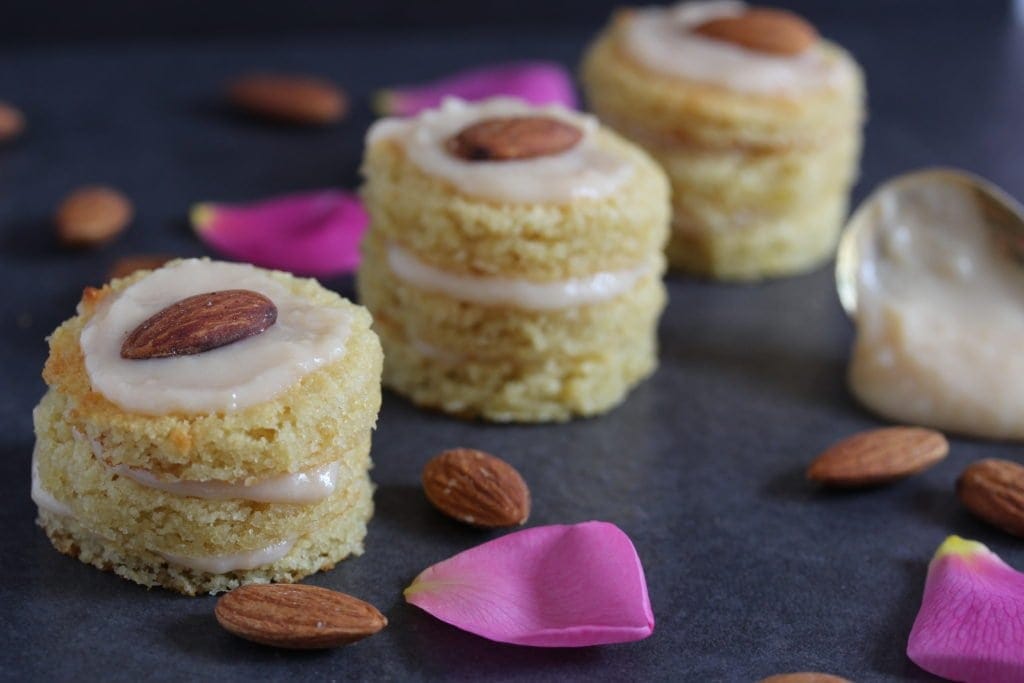 A while ago the A2 milk company approached me to ask if I would try out their milk for them.
Last summer I discovered that consuming milk and milk products was triggering the terrible eczema on my hands; something I had suffered with for around 15 years and had never got to the bottom of.
Removing dairy from my diet was a real revelation; for the first time in a long time my hands healed and were no longer itchy and sore.
I was a little sceptical when the A2 milk company approached me.  I believed that milk was milk and that if I ate it my hands would be sore again.  However, I'm always willing to experiment if it means I can broaden my diet, so I tried it.
To my surprise my hands didn't react.
For those of you who don't know what A2 milk is, it is 'ordinary' cows milk but it comes from cows that only produce the A2 milk protein in their milk.
Most European cows produce milk that contains the A1 and A2 milk proteins.
It is now thought that the A1 protein (which never used to exist in cows milk but has evolved in dairy cows today) can cause inflammation and be more difficult to digest.
Whatever the science is, I know it works for me which means the world opens up in terms of things that I can create that taste like they should (rather than being made from dairy-free milk which doesn't quite give the same results taste-wise).
The first thing I decided to try out with A2 milk was condensed milk; something that features in lots of recipes.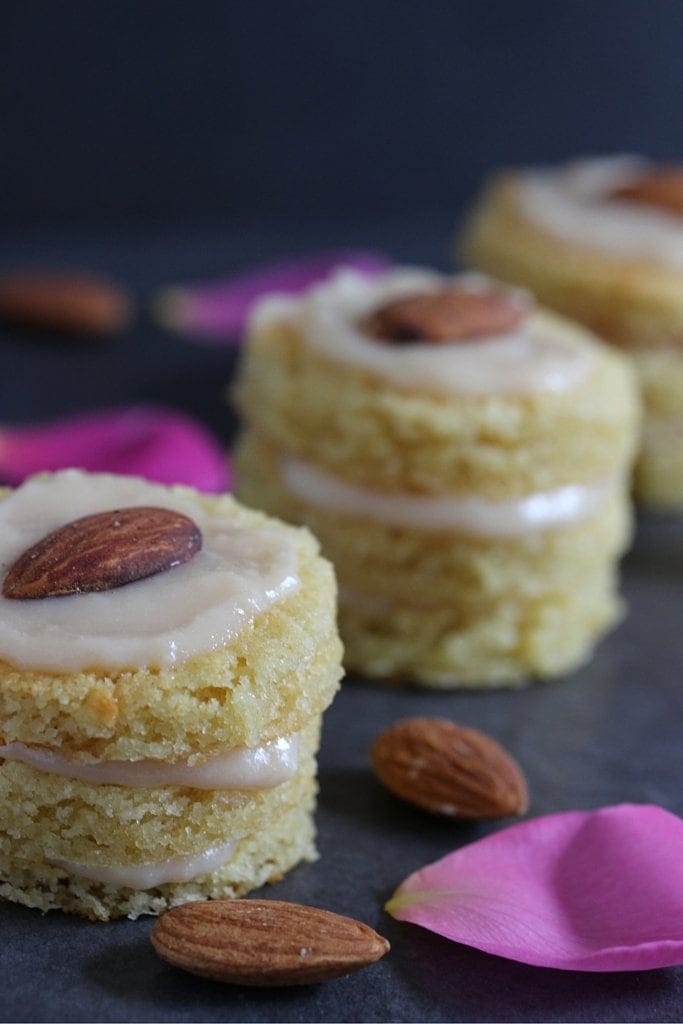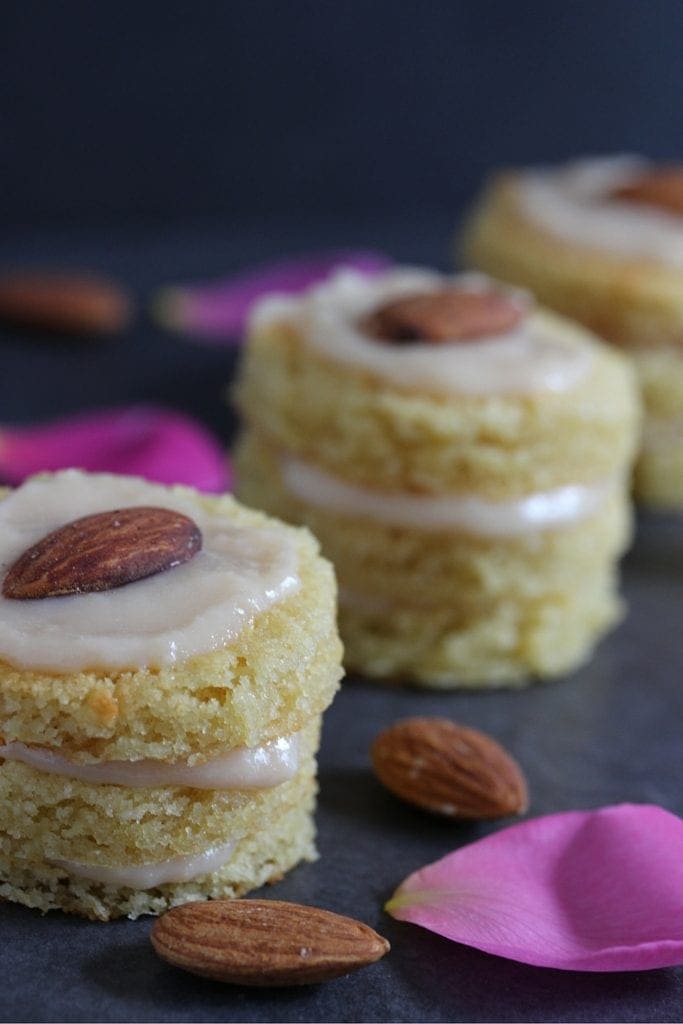 I have made a dairy-free version before. You can find that recipe here, but being made with coconut milk meant it had a distinctive taste that I had to disguise with chocolate.
Although this version has coconut oil in it, you could leave that out, or if you can tolerate goats products (which also only contain the A2 milk protein and that I seem to be able to tolerate) use goats butter instead of the coconut oil.
Of course you could just make the healthier condensed milk. It keeps well in the fridge so you could create your own recipes with just that.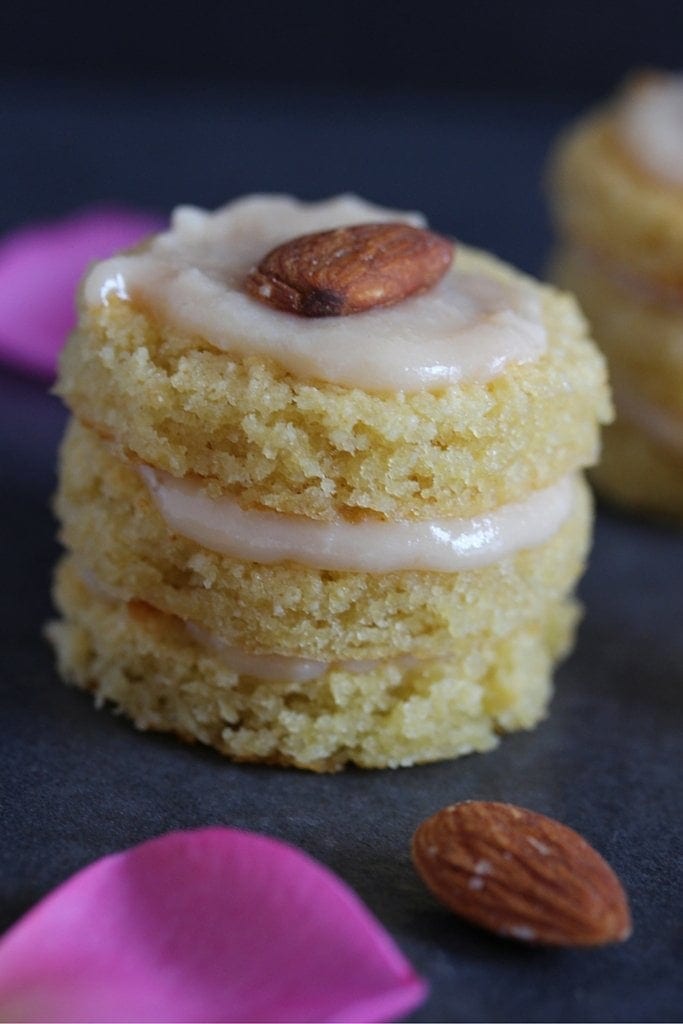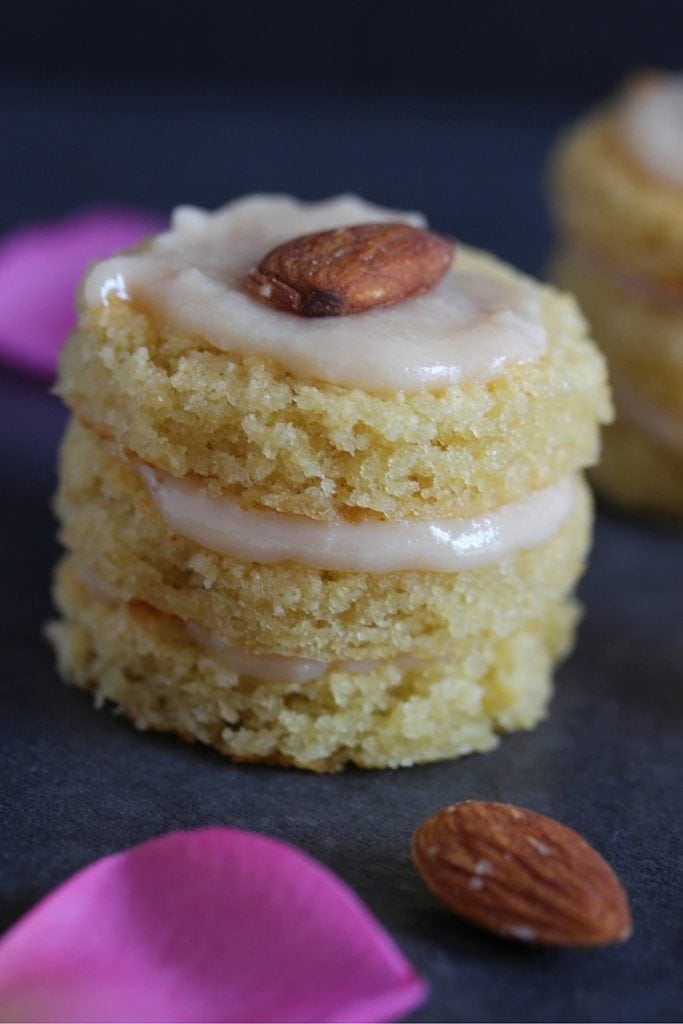 However, I can highly recommend these sticky, honey-sweetened little cakes.
I made my healthier condensed milk with xylitol which is low in fructose. Feel free to make yours with 'normal' sugar.  Equally, I have made the cake with xylitol instead of honey and it was just as delicious but lower in fructose.
I generally make a small amount of sweet recipes these days so that there is not too much temptation. Feel free to double or triple the cake recipe if you want to make more.  There is enough condensed milk in the recipe below to make at least three times the amount of cakes or to use it in another recipe.
I'll leave you to decide how you make them, just let me know what you did and what you thought…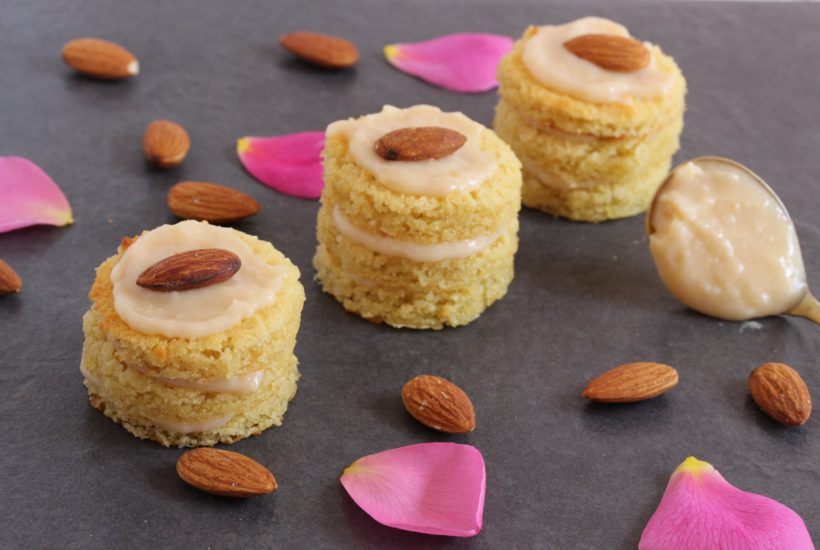 Marlenka & Healthier Condensed Milk
Gluten-free, Soya-free, refined sugar-free, low FODMAP
Ingredients
For the condensed milk:

400

g/ml A2 milk

100

g

xylitol or white sugar

optional 20g virgin coconut oil or goats butter

For the cake:

1

medium free range egg

50

g

xylitol or set honey

20

g

coconut oil -

melted and cooled

1

tsp

baking powder

1/2

tsp

vanilla extract -

I use Ndali

100

g

ground almonds

Nuts for decorating
Instructions
For the condensed milk:

Place the milk and xylitol (or sugar) in a small saucepan and stir continually until the mixture comes to the boil

Turn the heat down to very low and leave the mixture, stirring occasionally, for around 1 1/2 hours until thickened to your desired consistency and darkened in colour

If using, stir through the coconut oil or goats butter and pour into a sterilised jam jar

For the cakes:

Whisk the xylitol or honey with the egg until bubbly

Add the melted and cooled coconut oil along with the baking powder and vanilla extract

Beat again before adding the almonds

Spread the very wet mixture onto a lined baking tray until around 2mm thick. It doesn't need to be neat because you will be cutting the shapes out of it when cooked

Bake in a pre-heated oven at 180 degrees C/160 degree fan for approx. 8 minutes until turning colour at the edges and firm in the middle

Cool in the tin, then cut little circles from the cake

Sandwich three circles of cake together with the condensed milk (you could add crushed nuts in the layers too) then spread the top with a little more condensed milk and decorate with either crushed nuts or whole almonds
Pin the recipe so you don't lose it!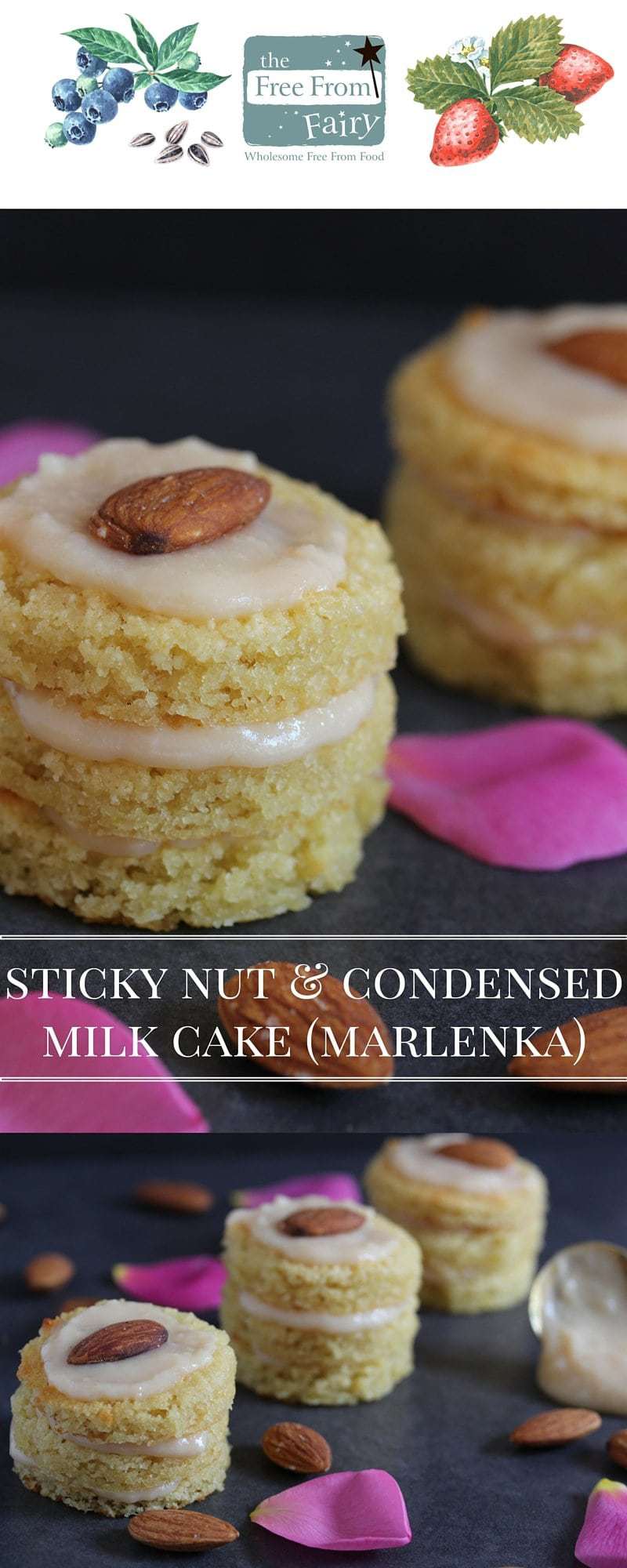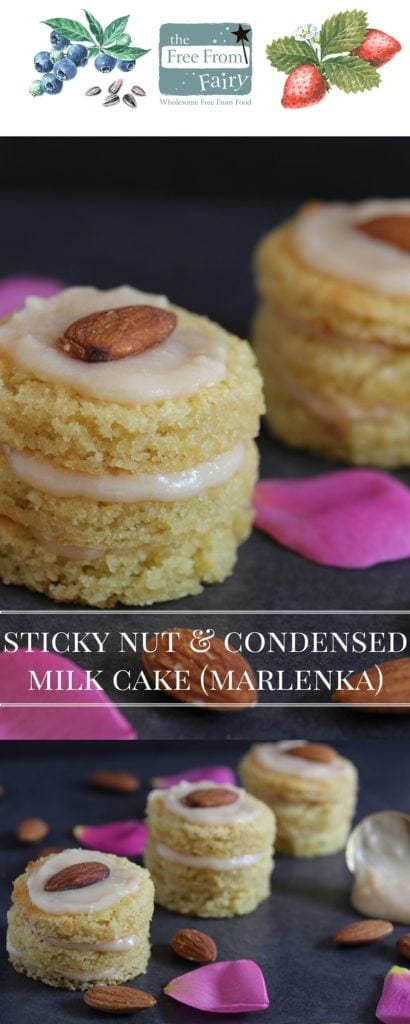 I was paid to create this recipe for the A2 milk company. It is an original recipe and all opinions and writing is my own.
I shared the recipe with: