These gluten free breadsticks are simple to make and go beautifully with my roast carrot and cumin dip. Or any dip for that matter. Perfect for lunchboxes or for a party table at Christmas or any time of the year.
In this post I share how it's possible to have a free from or gluten free buffet with lots of brilliant recipe suggestions.
This post contains Affiliate links. As an Amazon Associate I earn from qualifying purchases.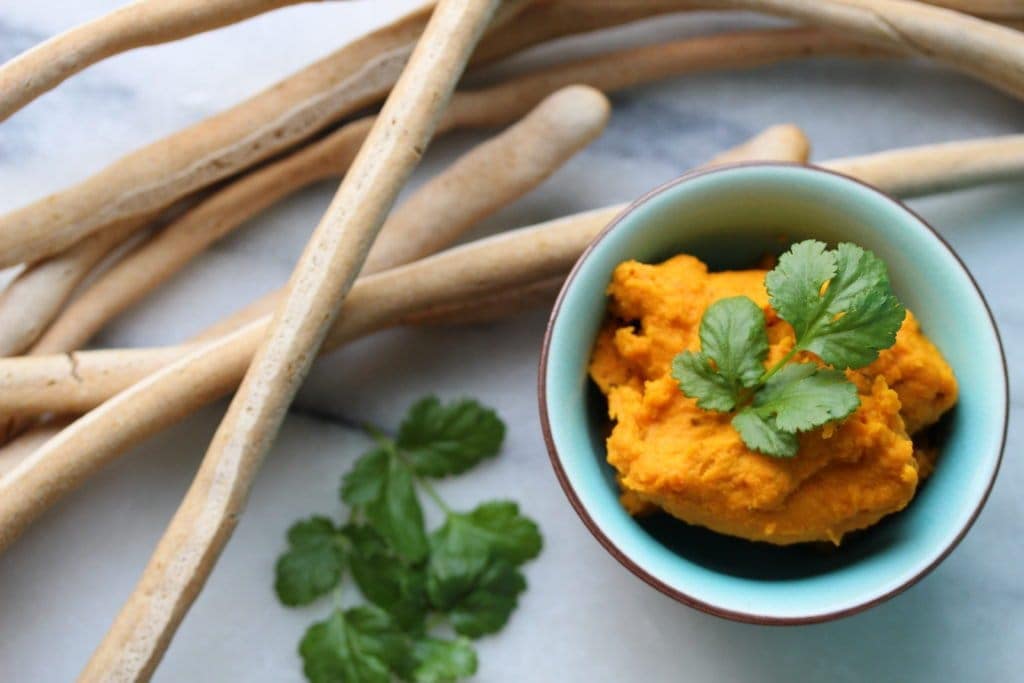 Welcome to a Free From Christmas…
This year, I've teamed up with some incredibly talented bloggers to create a free from Christmas buffet without any of the top 14 allergens.
We want to show that it is possible to cater for everyone at Christmas, removing the stress for those with allergies and for those catering for them.
What are the top 14 allergens?
For those of you who don't know, the EU defines what the top 14 allergens are. They are listed as:
cereals containing gluten: wheat, rye, barley, oats (if not gluten-free),
dairy,
eggs,
soya,
lupin,
sesame,
celery and celeriac,
sulphites,
mustard,
fish,
tree nuts (almonds, hazelnuts, walnuts, cashews, pecans, brazils, pistachios, macadamia nuts),
peanuts,
molluscs,
crustaceans.
So, during the course of the next two weeks you will be given a simple recipe to sit on your Christmas buffet table by each of the bloggers involved in the challenge.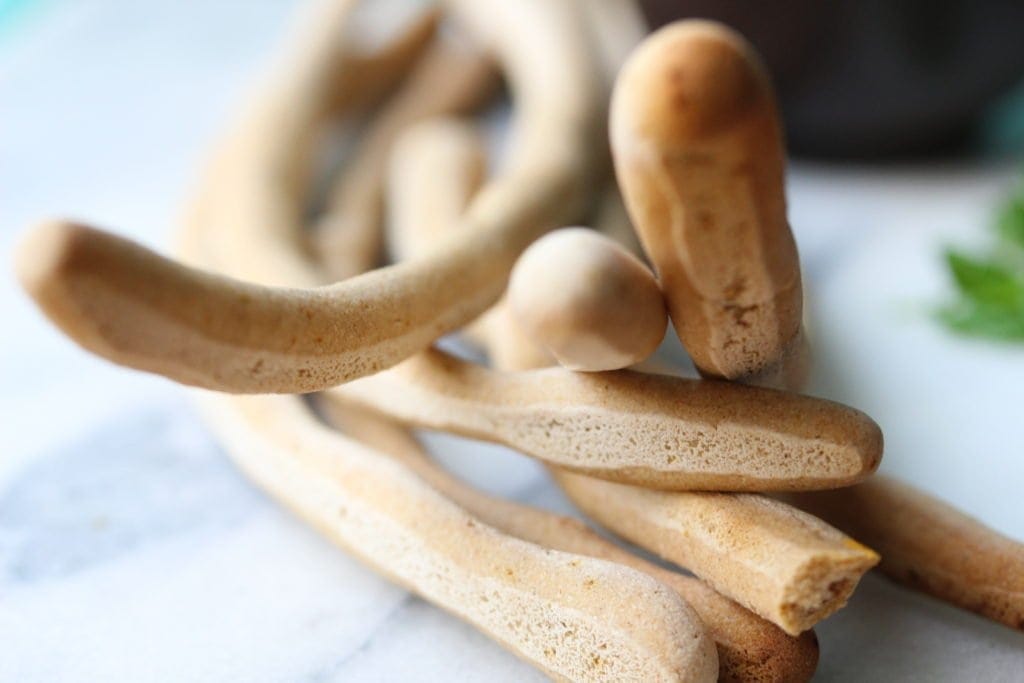 Mel, over at Le Coin De Mel kicked off proceedings yesterday by sharing her recipe for chicken brined in gin (yes you did read that correctly, and having tried this amazing way of preparing chicken at River Cottage recently I can assure you it is divine).
Tomorrow you will find another recipe suitable for a gluten free Christmas buffer over on The Intolerant Gourmand's blog and she will direct you to where you will find the following day's delights.
Within the next two weeks you should have enough dishes to create a feast fit for anyone, without having the worry about the dreaded 'dietary requirements', allowing you to relax and have fun at your Christmas gathering.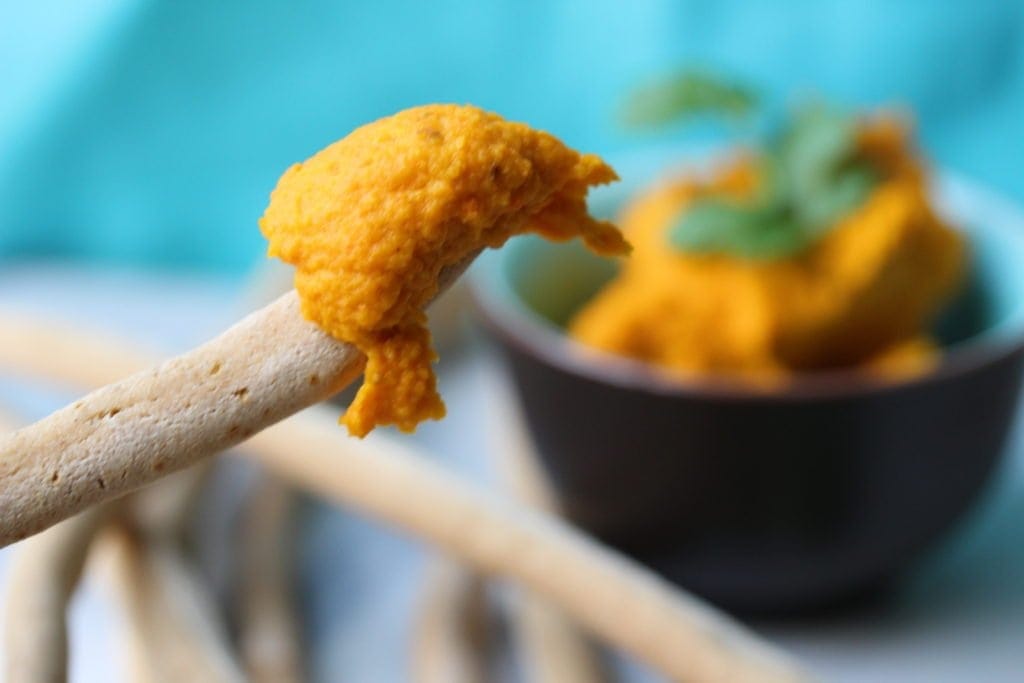 How do you make gluten free breadsticks?
Tip number one…don't over work the dough for the breadsticks.
Once it has come together in a dough, shape it and bake it.
The kids made the last lot and spent quite a lot of time working the dough…the result was a drier dough that subsequently cracked upon baking.
Tip number two…double the gluten free breadstick recipe. Or triple or quadruple it. You can use this recipe to make as many as you need depending upon how many people you are feeding.
As always, I have made a small amount in this recipe (around 10 breadsticks) because they are best eaten fresh.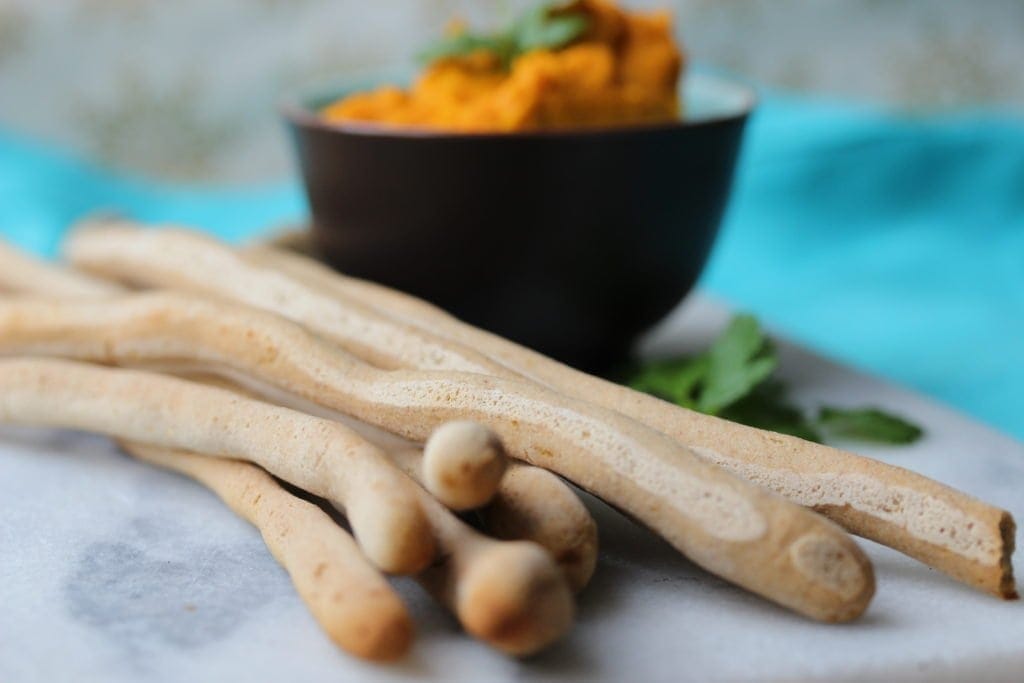 Here you'll find a roundup of all the dishes included in this challenge that are fit for a Christmas buffet table…just in case you missed any.
What else can you serve with the breadsticks?
The breadsticks on their own are both great on a buffer table or as a mid-afternoon snack for when your kids get home from school.
However, they are especially lovely with my roast carrot and cumin dip which is why I include the recipe here too.
As an alternative to that dip you could make your own lemon hummus.
And if you don't fancy breadsticks then why not try out my cheese-less crackers that are equally delicious with the carrot and cumin dip.
Why do you use your gluten free flour rather than other brands?
I created my gluten free flour blend after discovering that rice contains arsenic. Almost all other flour blends on the market (along with most gluten free food) contain rice flour, apart from one that has bean flours (which don't agree with our tummies).
I wanted to avoid feeding my family too much rice hence I started to experiment with different gluten free flours to create one blend I could use in all my baking.
If you don't know what a gluten free flour blend is, then read my article "what on earth is a gluten free flour blend." It will help you to understand why the flour you use is so important in your gluten free baking.
Find out where you can buy my wholegrain, rice-free and gluten free flour blend here.
If you share this recipe be sure to use the #FreeFromChristmas. You'll find all the recipes by searching on that hashtag.
Pin my gluten free breadsticks recipe to Pinterest..
Why not create a board for free from Christmas buffet foods to save all the recipes to?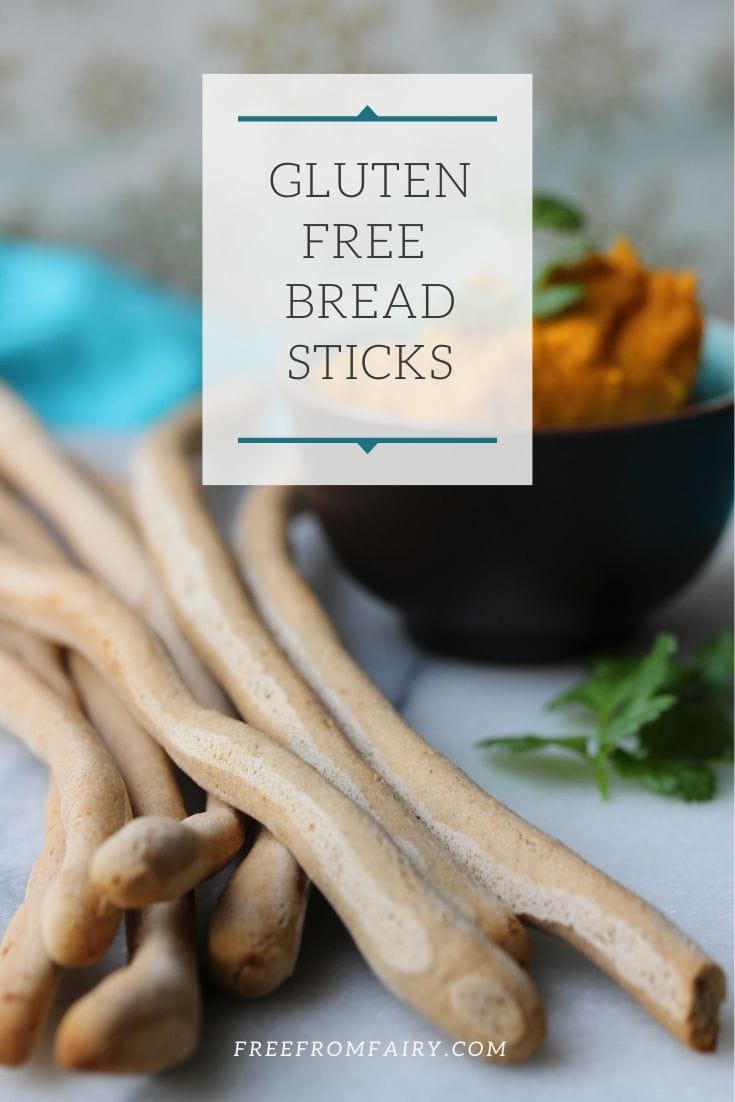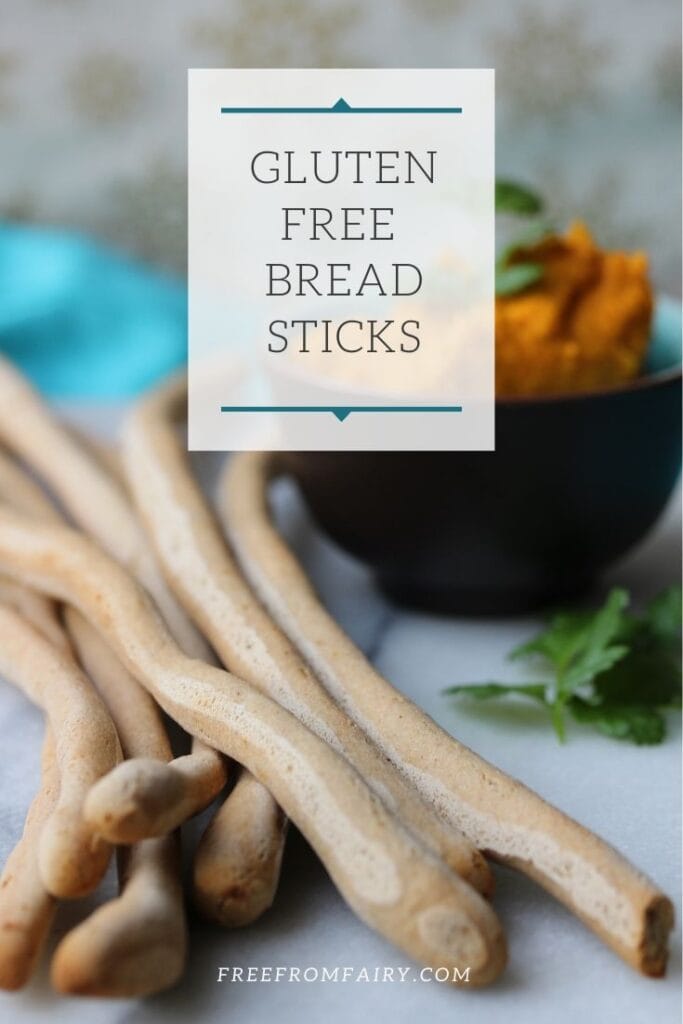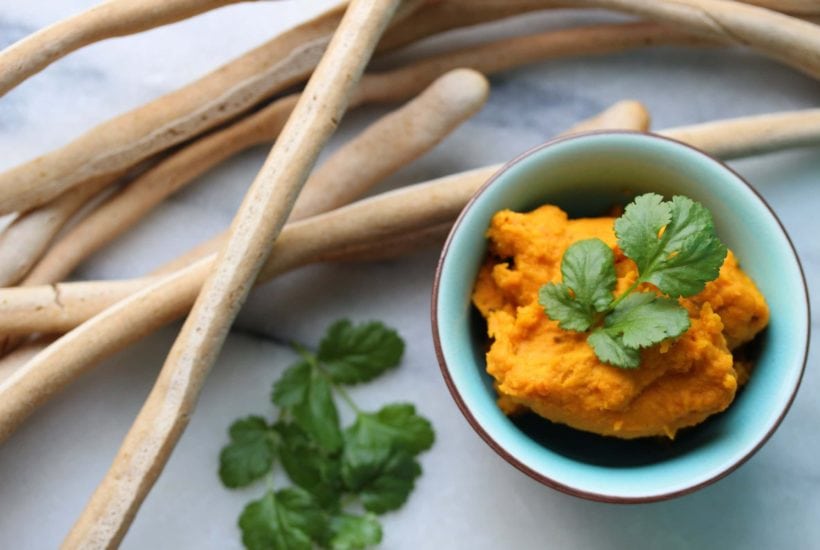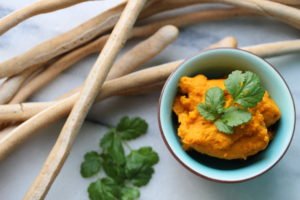 Gluten Free Breadsticks & Roast Carrot & Cumin Dip
These gluten free breadsticks are simple to make and go beautifully with my roast carrot and cumin dip. Or any dip for that matter. Perfect for lunchboxes or for a party table at Christmas or any time of the year.
Ingredients
FOR THE BREADSTICKS:

125

g

Free From Fairy Self-Raising Flour -

(125g FFF plain flour plus 1 1/4 tsp baking powder if self raising isn't available)

Pinch

salt

1/8

tsp

xanthan gum

5

g

olive oil

70

ml

water

FOR THE DIP:

400

g

organic carrots

-

peeled and chopped into thin slices

1

tsp

cumin seeds

2

cloves

garlic - whole with skin on

-

or garlic oil if low FODMAP

30

ml

olive oil

-

plus more for drizzling

200

g

chickpeas

Juice of 1 lemon

Salt and black pepper
Instructions
Turn the oven on at 220 degrees, 200 degree fan, gas mark 7

Add the carrot slices, cumin seeds and whole garlic cloves to a baking tray and drizzle with olive oil, shaking the tray to coat everything in the oil

Place in the heating oven for around 20-25 minutes until soft and golden

Before starting the breadsticks line a large baking tray, or grease it

Put the dry ingredients into a bowl and stir well to combine

Add the liquid ingredients and bring together into a dough using your hands (see tip above)

Remove cherry tomato-sized pieces of dough from the bowl and roll into a ball

Using the palm of your hand roll the ball out into a long thin stick - I make them around 30cm or to fit my baking tray

Gently move them to the prepared tray and continue until all the dough is used up

Sprinkle with seeds (not sesame if you're avoiding all allergens) or herbs if you like

Add to the oven with the carrots (give then a poke to check if they are soft) and bake for around 10 - 15 minutes depending upon how hard you like them (the longer you leave them, the harder they'll get)

Once you are happy that the carrots are soft and the breadsticks are hard, remove everything from the oven

Allow the carrot mix to cool a little before peeling the garlic cloves and discarding the 'skin' leaving the soft inside

Put the carrots, seeds, garlic (minus skin), 30g olive oil, 200g chickpeas and juice of lemon into a small food processor or blender and combine until smooth

Season to taste and serve. Or store in the fridge for up to 3 days in a sealed container
I shared this with: