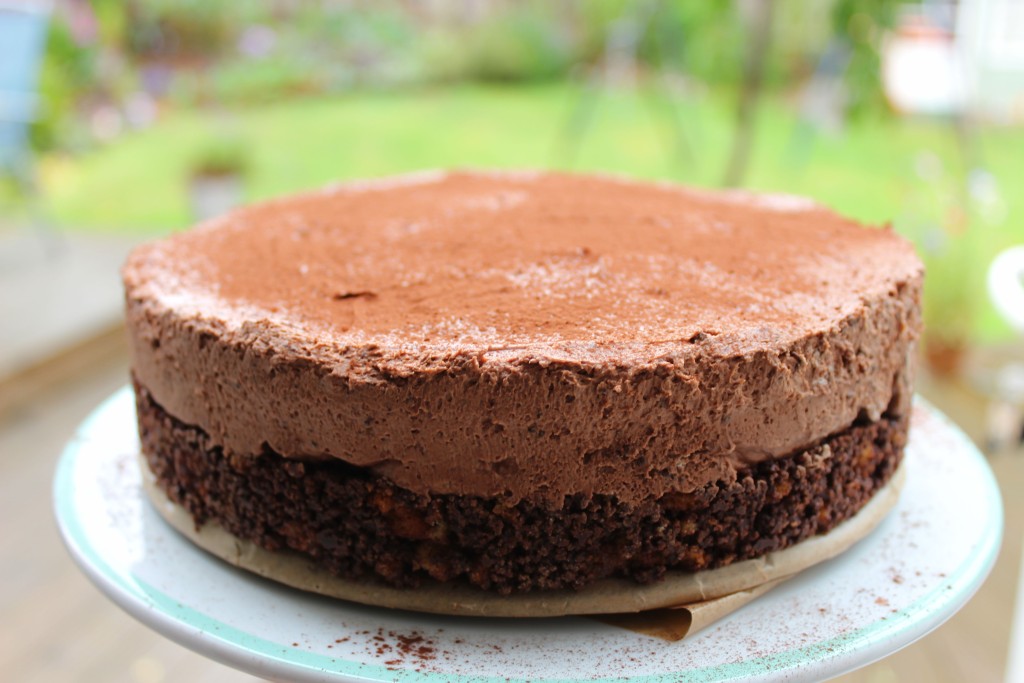 A tub of cream cheese, a lot of cake scraps, mountains of double cream and a BBQ to attend…
At 6.30 this morning my mind got to work on this little challenge and came up with a cake scrap cheesecake. Perfect!
But before I go on to share that recipe I'll tell you why I have cake scraps, cream cheese and mountains of double cream.  Of course if you don't care feel free to skip to end of the post and get to the recipe!
Since starting the GAPS diet back in May I have avoided all dairy except for my homemade creamy yoghurt made with double cream.  This has been a decadent treat that I found that my body seemed to tolerate when it didn't seem to get on that well with homemade yoghurt made from milk (this is explained in the GAPS book…people with predominantly diarrhea do better with high protein dairy products such as milk yoghurt, kefir, whey and cheese while those with constipation do better with high fat dairy products such as butter, ghee and sour cream – aka creamy yoghurt).
However my tummy has never been entirely happy (and for the past month or so, very unhappy) unless I just eat the most basic of foods such as chicken stock and chicken (which I am sick of)!
Feeling fairly desperate I therefore decided to give up my beloved creamy yoghurt earlier this week…just after ordering another two 600ml pots of double cream from Tesco to make some more!  Enter "mountains of double cream"!
The good news (despite going crazy eating scraps of cake as I shaped Roo's birthday cake yesterday) is that my tummy is starting to feel a little happier.  Now, I didn't really want to share that news with you in case I jinxed things…but it's out there now.  No dairy seems to be making my tummy feel a little happier (even after eating cake…dairy-free and gluten-free cake I may add!).
It could be all manner of things.  It could be the fact that I have been on a full dose of Symprove now for a week and a half (Symprove is a water-based probiotic that is proven to deliver the good bacteria directly to the intestines due to it not triggering digestion as other probiotics do.  Find out more here), or that the medicines that Dr Sharma has given me are finally making me feel better (having made me feel worse).  Who knows but I'm happy!
As for the cake scraps…well, I've been making this for Roo.  It's her birthday on Tuesday and we are having a party for her tomorrow…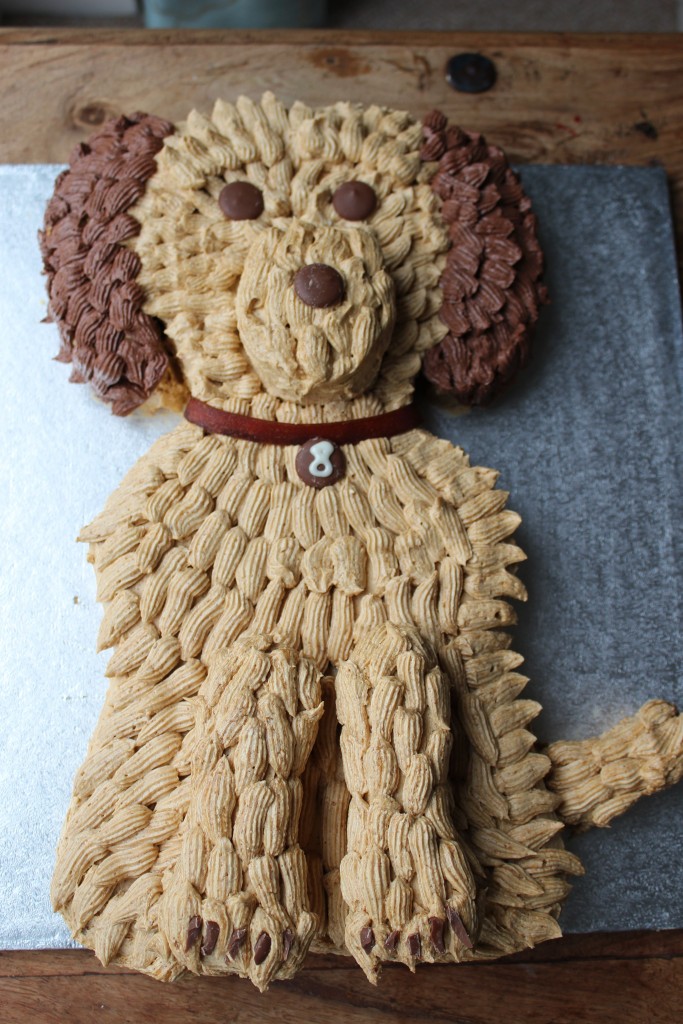 And it has driven me crazy.  Small bits of cake for the feet and tail fell apart, I forgot to cut out the ears from the tray bake (so had to bodge them) and the grass icing nozzle that I bought at great expense to do the fur, blocked! Oh and it's raining so I can't get a good photo!
Anyway as I alluded to earlier, yesterday I went a bit crazy with eating the scraps.  Well OK…not a bit crazy, very crazy to the point that I felt sick.  See, I have said it before. I have an addiction to sugar.  If I start I cannot stop, even when I feel sick!  And that is even after having barely eaten any for the best part of five months! It is evil!
So cake scraps (that needed to disappear before I ate them all), double cream and cream cheese becomes…cheesecake!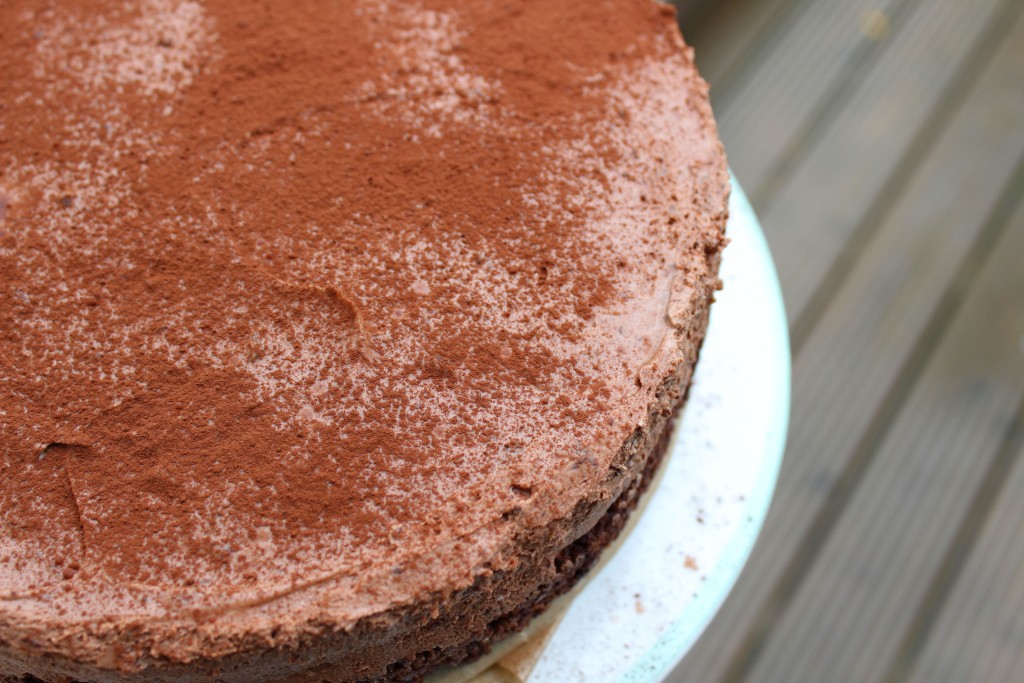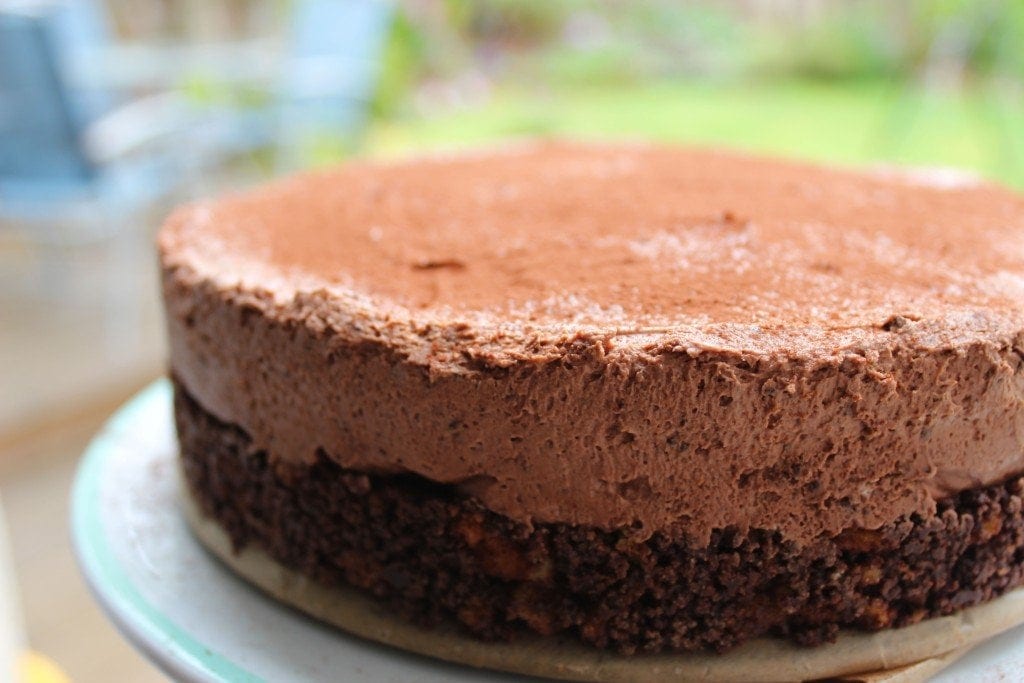 I took inspiration from a classic Good Housekeeping no bake cheesecake but used my special 'cake scrap' base and the ingredients that I had to hand.
I hope you like it.  Let me know if you make it by posting a photo on social media.  Sorry for those of you looking for a gluten and dairy-free recipe.  I hope you understand my need to use up the dairy in the house!!
Since the kids break up from school today, over the next six weeks I will be introducing you to inspiring bloggers and brands that I love.  I will also be giving you lots of opportunities to win some fabulous goodies varying from recipe books to raw chocolates!
I am more than impressed with myself having been organised enough to have an almost complete five week blog schedule for the school holidays!  I hope it will give me a bit more time to spend with my wonderful children…and also to get some more of my first recipe book written!
Whatever you are doing for the summer have a wonderful time and most important of all…find time to breathe and relax…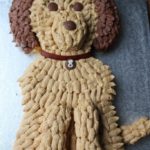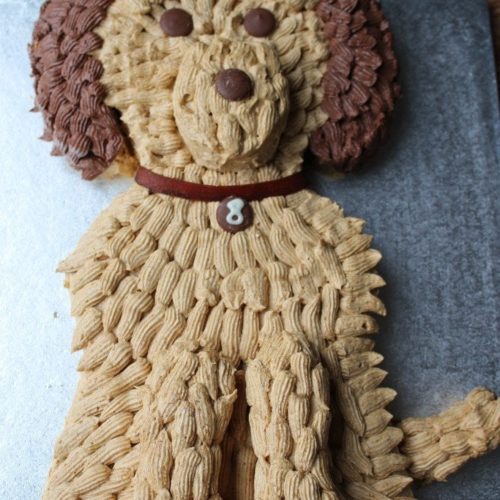 Double Chocolate Cheesecake
Gluten-free, Nut-free
Ingredients
For the base:

300

g

gluten-free cake crumbs

I used vanilla cake

150

g

dark chocolate

20

g

unsalted butter

For the topping:

300

g

double cream

150

g

dark chocolate

2

tbsp

cocoa plus 1tbsp for scattering on top

170

g

white sugar

300

g

full fat cream cheese
Instructions
To make the base, crumble 300g of cake onto a baking tray and place in a pre-heated oven at 180 degrees (160 fan, gas mark 4) for about 20 minutes, stirring it occasionally in that time until the crumbs become 'toasty'

Remove from the oven and allow to cool in the tray

Meanwhile place your chocolate and butter in a microwaveable bowl and microwave on high power for 30 seconds. Stir well. If you need to heat it a bit more place it back in the microwave and carefully heat again until melted. If you don't have a microwave, set your bowl over a saucepan of boiling water and melt that way instead.

Pour the cake crumbs into the melted chocolate mixture and stir well to combine

Press the mixture into the base of a springform round tin measuring approx. 20cm in diameter, then place in the fridge to set

While the base is setting make the topping...

Whip the double cream in a large bowl until it is just holding shape (don't over whip or it will be impossible to stir the chocolate in!) then set aside

Melt the topping chocolate in the same way as above then add 2tbsp cocoa and 2tbsp warm water and stir well

In another bowl whip the cream cheese with the white sugar using an electric whisk

Finally add the chocolate and cream cheese mixtures to the cream and beat until well combined

Place the chocolate mixture on top of your prepared base and refrigerate for at least 2 hours until set

Scatter more cocoa on the top just before serving