These grain free pancakes are suitable for anyone following a paleo, low sugar or GAPS diet. Or who wishes to avoid grains. Rather than using flour in the recipe they are made with butternut squash and nut butter at their base. They taste incredible and are far healthier than your traditional pancake.
This post contains Affiliate links. As an Amazon Associate I earn from qualifying purchases.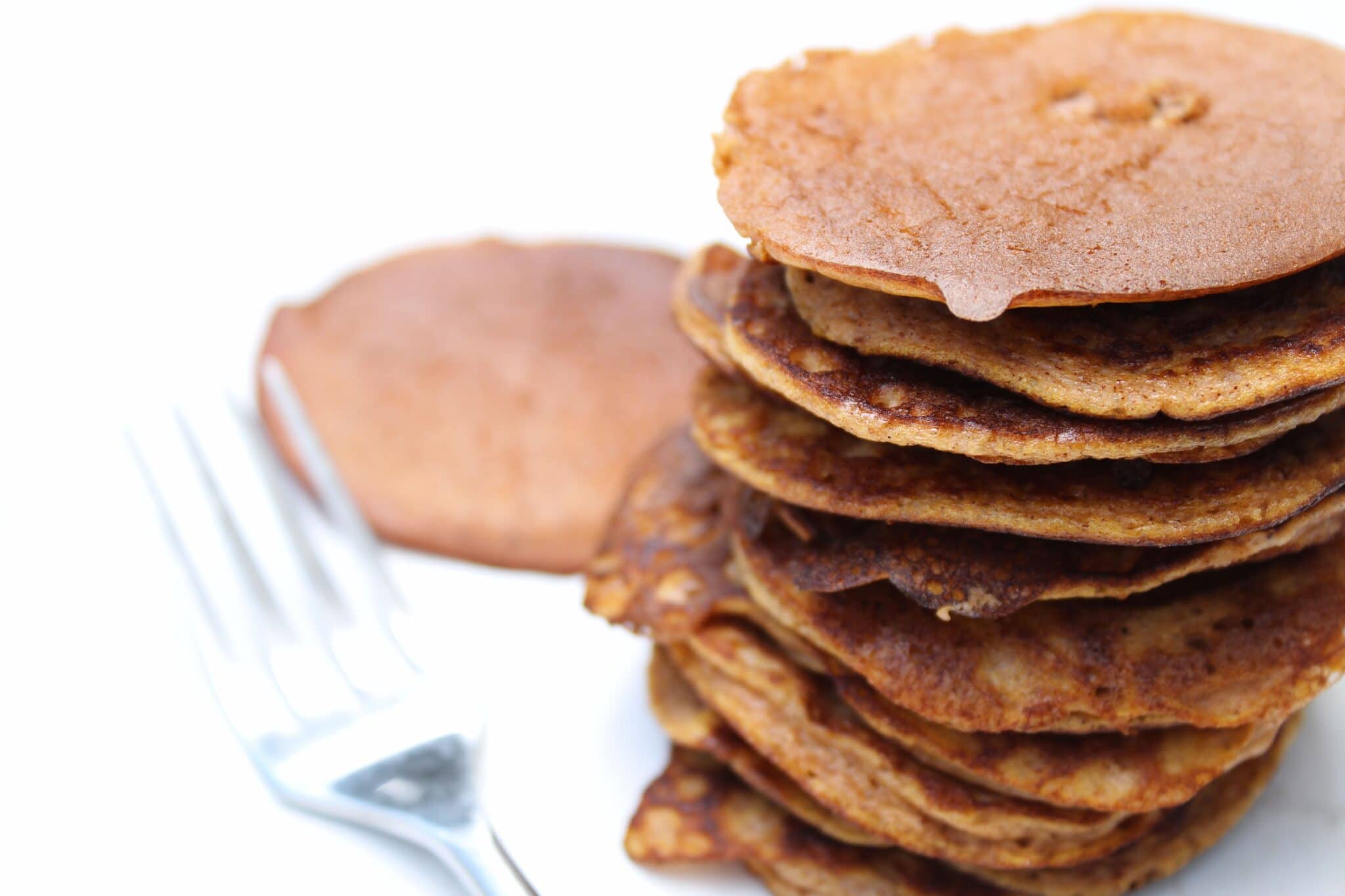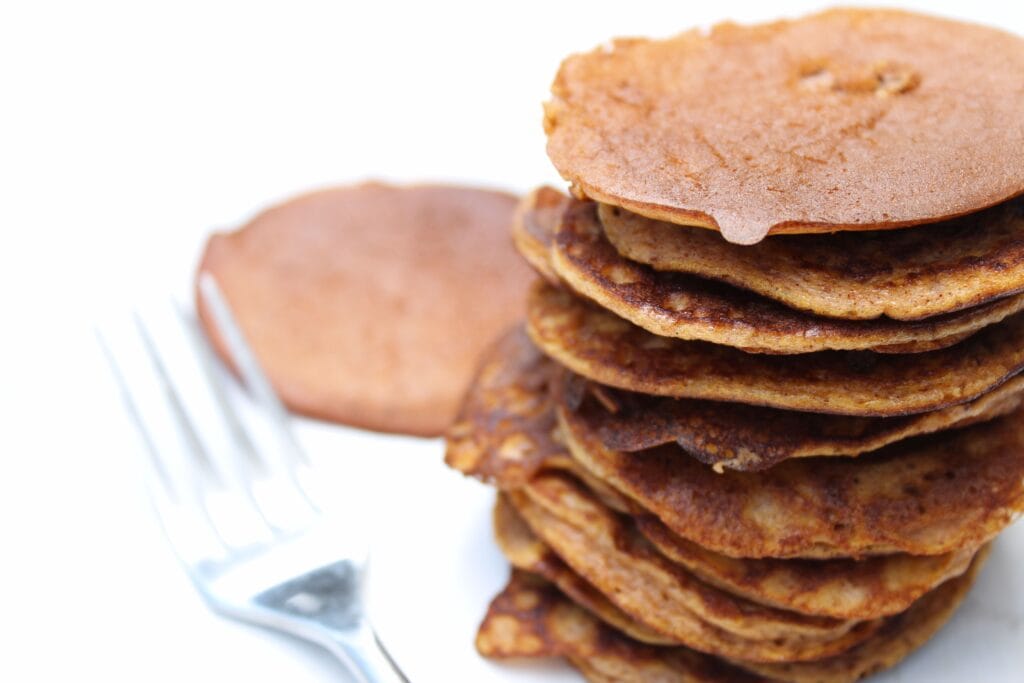 The story behind these grain free pancakes.
This week I visited a doctor.
Nothing much unusual about that, except that this one gave me an hour of his time and cost rather a lot of money!
But, as you will know if you have been following my blog for the past few months, I have been trying to get on top of ongoing health issues, including IBS and candida.
I felt I could do with a little bit of support.
Don't get me wrong, the NHS is a wonderful thing but having visited numerous GP's over the years I felt there was nothing more that they could do to help me in my quest to feel better.
Not that I feel unwell, I might add. More that I have the distinct feeling that I could feel a lot MORE well!
Anyway, last month I was lucky enough to have been invited to the opening of a new clinic in Exeter where Dr Sharma practices from 2 days a week.
Dr Sharma specialises in integrated health whereby conventional medicine is combined with complementary medicine in order to treat typically difficult diagnoses like IBS, allergy and chronic fatigue.
Having read A LOT about gut problems, food intolerances etc I had concluded that I was suffering from leaky gut.
This is a little recognised condition whereby a damaged gut allows larger molecules than normal to pass through the intestine and into the blood stream, triggering an immune response.
Adrenal fatigue
What Dr Sharma actually told me was that he felt my problems stemmed from a hormone imbalance caused by something called adrenal fatigue. This is when the adrenal glands have basically had enough of constantly dealing with stress (be that psychological, physical or emotional).
I have to add here that I don't feel stressed.
My body, however, has set up a pattern of responding to stress that I am not consciously aware of…leading to many of my hormone-related problems.
Dr Sharma explained it all beautifully but I cannot start to explain it to anyone else (please see Free From Limits where I share what I now understand about the role stress has on our physical health).
The way to deal with it? Well, to continue with my restricted diet (which has already really helped to eliminate many of my hormone-related symptoms and relieve my bloating). I will also be trying some homeopathy and herbal remedies.
All I can say is that I really hope for some success because I really don't want to have to be on the GAPS diet for my whole life.  Not that it is that bad, but I do so want some chocolate.
However, on the plus side the diet is incredibly healthy.  I already ate loads of vegetables and freshly prepared foods but now I eat half a tonne of vegetables and laying off the sugar has to be a good thing too (I used to eat a lot!)!
And just to prove that it isn't all bad I thought I would share my recipe for pancakes that I devised for breakfast whilst on stage 3 of the GAPS intro diet.
If you are on a low sugar, low carb or paleo diet then these would be fab for you too, and they are so easy to make.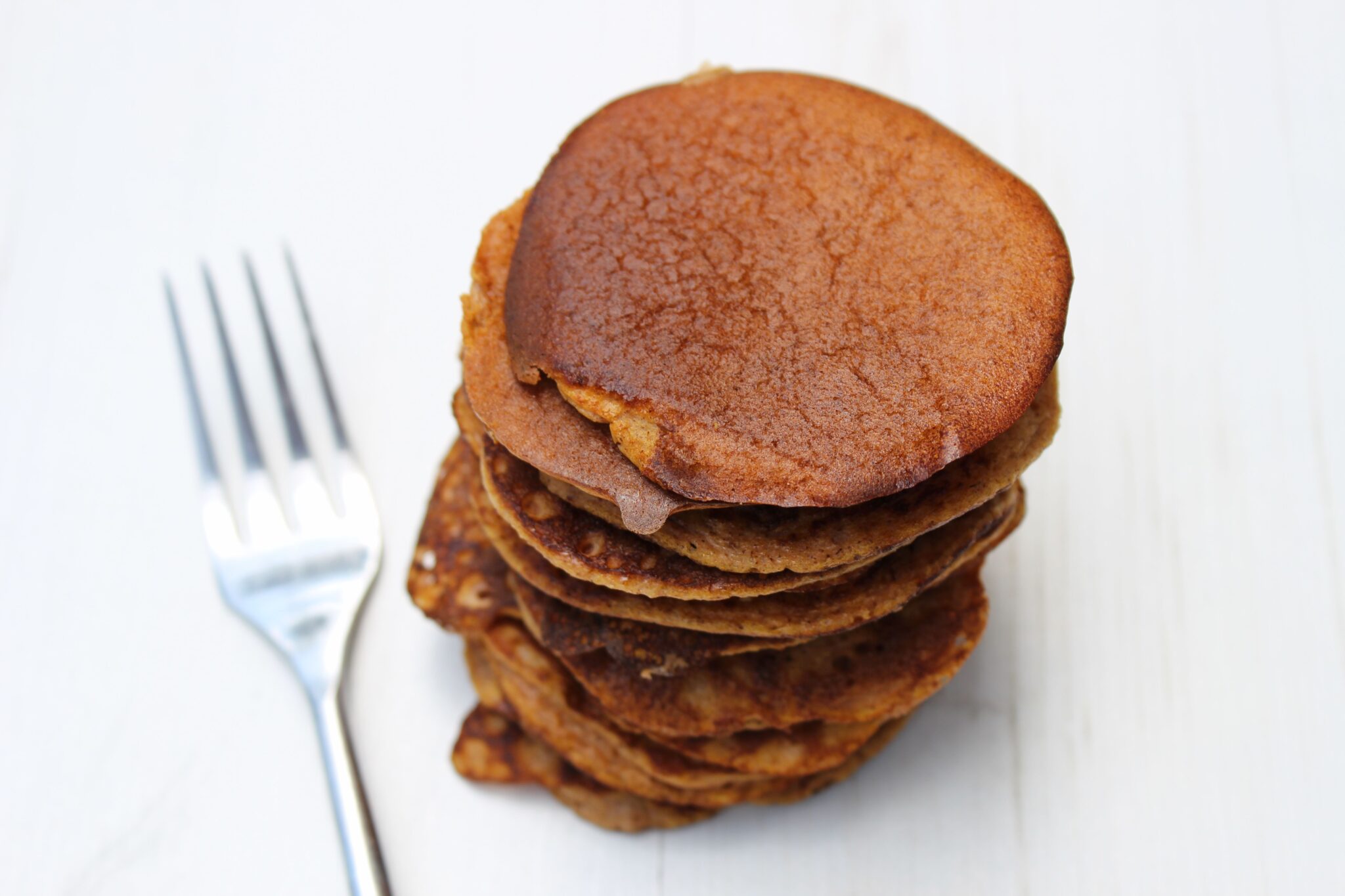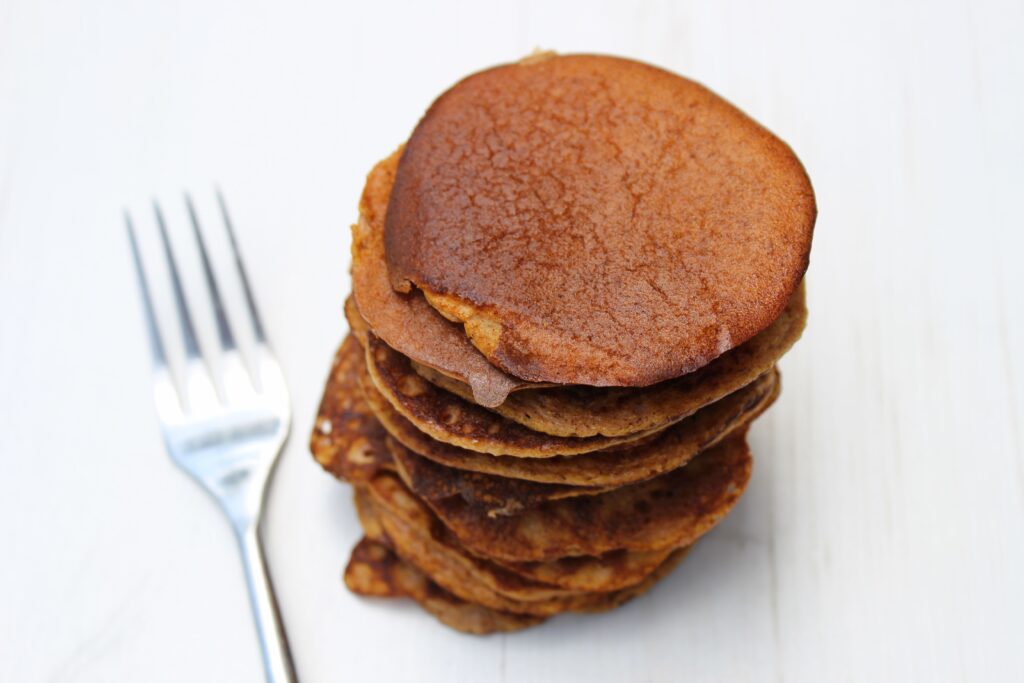 Recipe substitutions
If you want a nut free version of my grain free pancakes then leave the nut butter out.
I did until this week and they were still lovely.
I make my own almond nut butter by activating my nuts (soaking them in lightly salted water for 24 hours, then drying them in a very low oven for about 8 – 12 hours).
Once I have my activated nuts (which makes them easier to process and digest) I whizz them in the blender or food processor.
You can of course buy nut butter too.  However, activated nuts are much easier to digest than those that haven't gone though this process.
Finally, if you have it, serve these with some dreamy creamy yoghurt.
My dreamy creamy yoghurt is fermented for 24 hours so it has very little lactose left in it.  It is also chock full of those lovely beneficial bacteria that I keep banging on about!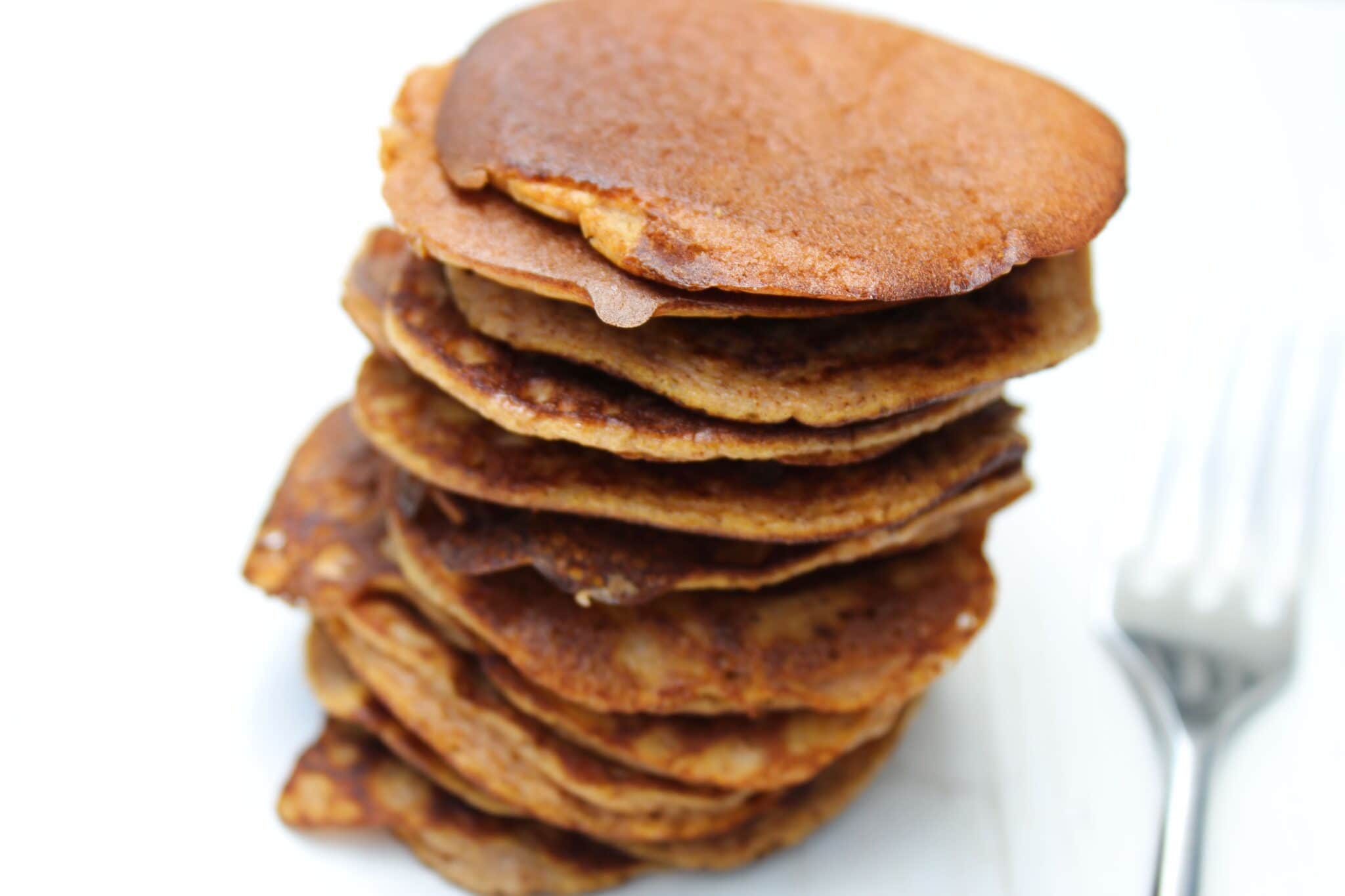 Finally, let me know what you think and if you make some please do post a picture on your favourite social media site and be sure to tag me #freefromfairy.  It makes my day knowing that someone is using my recipes.
Pin my recipe for grain free pancakes so you don't lose it: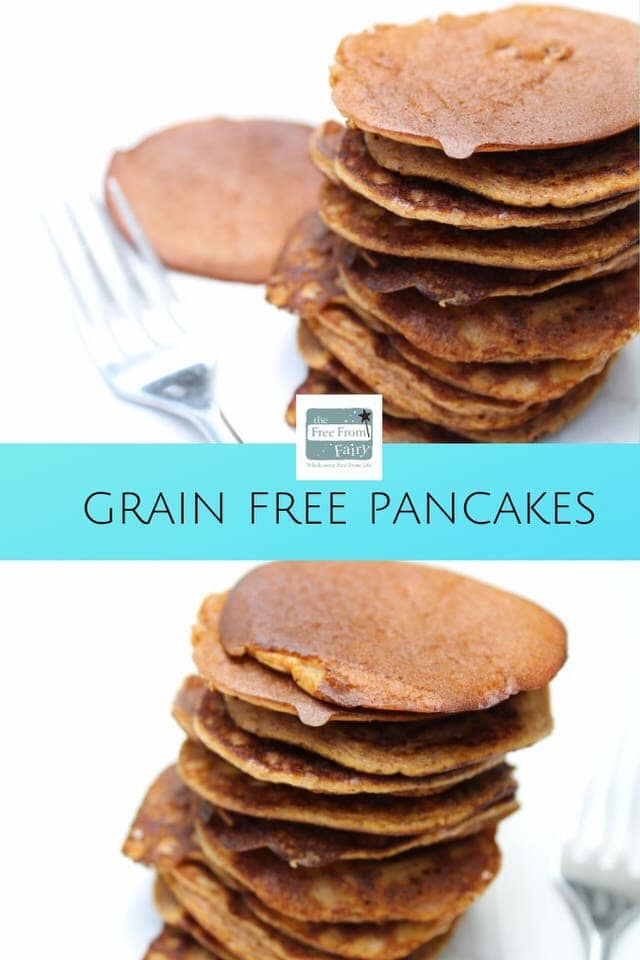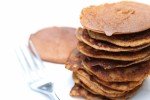 Grain Free Pancakes (Paleo/Gluten Free/GAPS)
These grain free pancakes are also gluten-free, dairy-free, soya-free, refined sugar-free (can be nut-free) and suitable for those on SCD, GAPS, Paleo or low sugar diets.
Ingredients
2

medium free range eggs

2

tbsp

butternut squash puree

1/2

tbsp

coconut oil -

melted

1

tsp

ground cinnamon

1

tsp

honey

-

optional

1

tbsp

nut butter

-

activated nuts are best if you have a sensitive tummy - optional

1/4

tsp

bicarbonate of soda

1/4

tsp

cider vinegar
Instructions
Place all the ingredients in a small blender or food processor and blend until smooth

Spoon tablespoonfuls of the mixture into a pre-heated frying pan over a medium heat

Wait until the top looks like it is setting then flip them over (about 1-2 minutes)

Repeat on the other side until golden
I shared this with:
Tasty Tuesdays being hosted by Le Coin De Mel