These healthy blueberry muffins are gluten free and low in sugar. In fact they contain no refined sugar and only a little coconut sugar along with banana to sweeten them.
I use yoghurt (you can use dairy free) or milk kefir in the recipe to give the muffins a wonderful rise. The result is the most amazing moist gluten free muffins you've ever tasted.
This post contains Affiliate links. As an Amazon Associate I earn from qualifying purchases.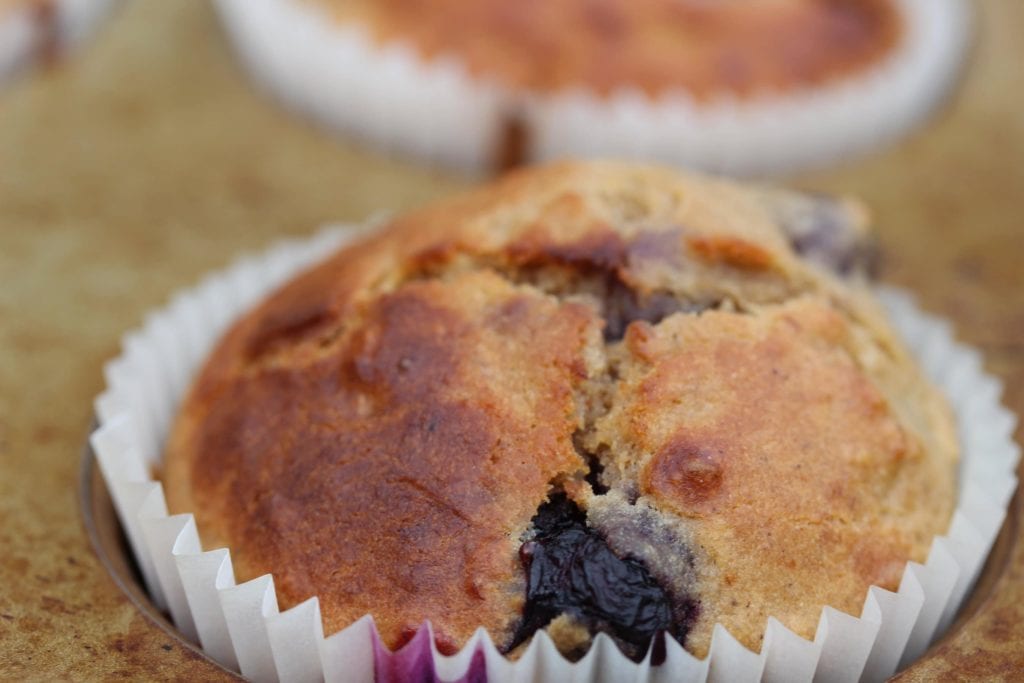 These healthy blueberry muffins don't need much of an introduction. What's not to love about a muffin that's bursting with vibrant blueberries and wholegrain goodness?
Shop bought gluten free blueberry muffins are usually packed full of sugar and other odd ingredients. And indeed, most recipes for gluten free blueberry muffins are very high in sugar too.
Why are these blueberry muffins healthy?
If you follow my blog then you'll know that I try not to eat too much sugar. I also try to restrict what the children eat (which is tough).
Why? Well, because there is so much evidence that sugar causes all manner of health problems mainly, I believe, by disrupting the balance of our gut microbes.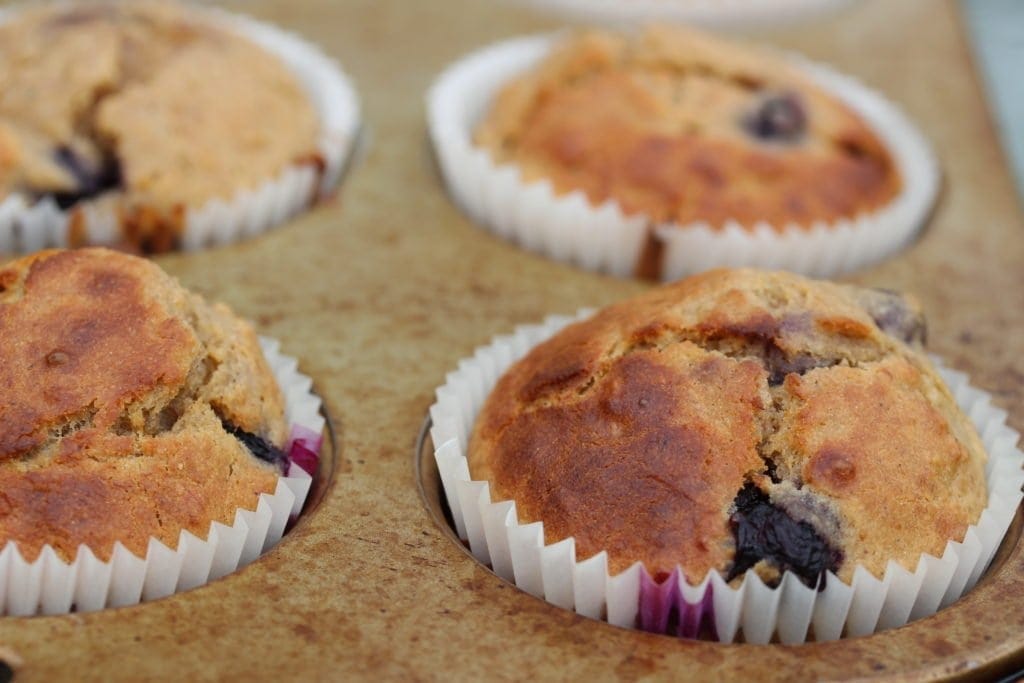 I've therefore reduced the sugar right down in this recipe, along with including banana and my wholegrain gluten free flour blend. If you don't know anything about gluten free flour and blends then read this article: What On Earth Is A Gluten Free Flour Blend?
It will help prevent any more gluten free baking disasters and wasted expensive ingredients.
Each cupcake has just 4g of coconut sugar in. Of course the banana and blueberries also have sugar in, but the added sugar is just 4g. Not bad eh? I reckon I could almost justify having one for breakfast!
The beneficial bacteria in our gut need fibre to survive and thrive. However, recent reports suggest that most of us eat too little fibre. And those on a gluten free diet are at particular risk of eating a diet lower in fibre.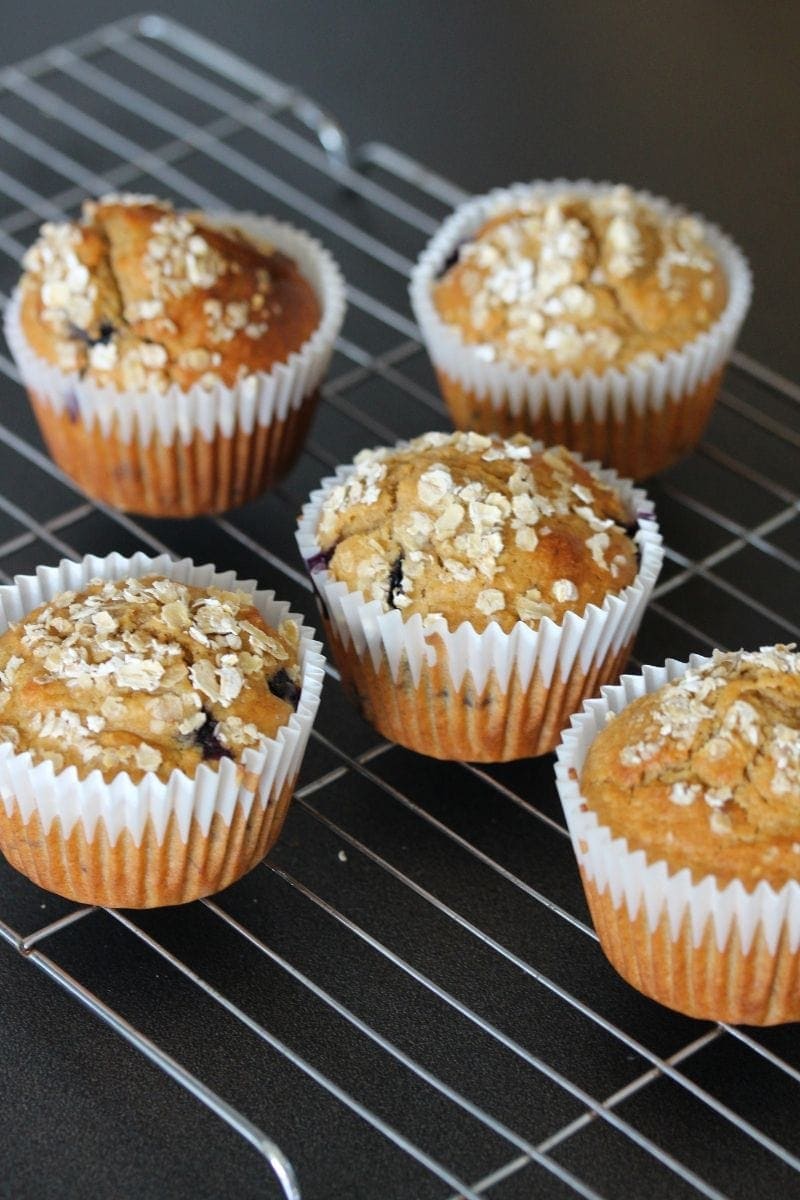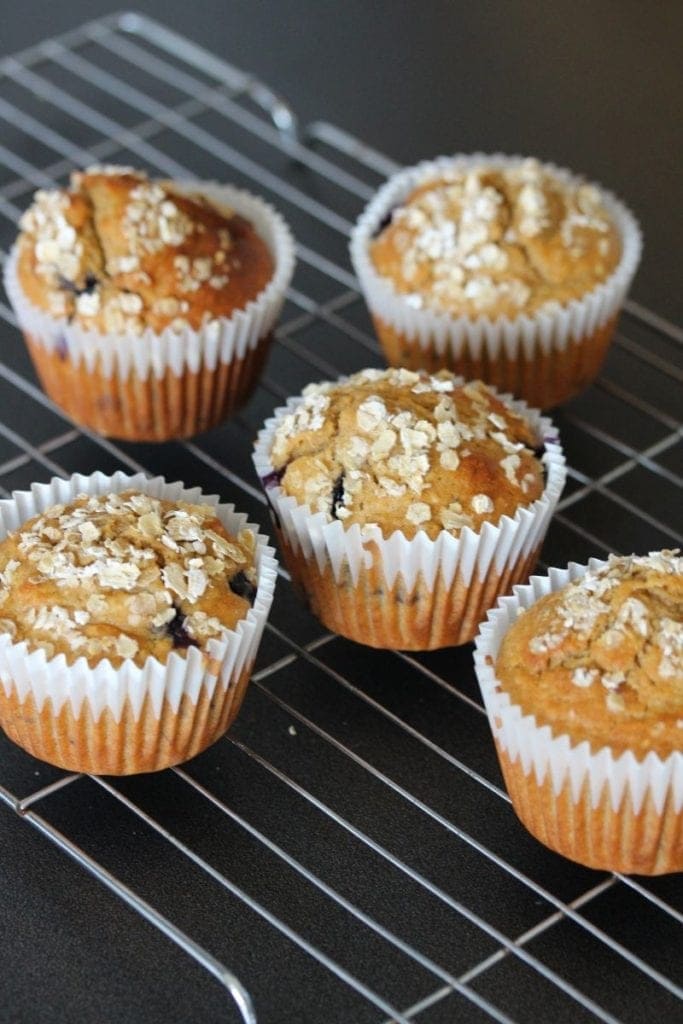 The recommended amount for adults is 30g per day but a recent survey showed that most people were only eating around 18g per day.
People who eat a gluten free diet often eat less wholegrain's because they have to remove wheat, barley and rye from their diet. That's why I created my wholegrain gluten free flour blend so that I could make 'Roo' delicious food with nutrients often lacking in normal 'white' flour blends.
What's more, the teff and sorghum that I chose to include in my blend are both sources of resistant starch. This acts as food for our gut microbiome. It is also known to control blood sugar spikes after meals.
What is the yoghurt or milk kefir for?
I've made these healthy blueberry muffins with yoghurt (both dairy and non dairy) and milk kefir.
The role of both is the same. They activate the baking powder in the recipe.
This creates a wonderful rise to the muffins but also produces moist gluten free muffins. Something that isn't always easy to find.
Making the milk kefir muffins is a brilliant way to use up any kefir you might have. I find that I can't keep up with the amount of kefir that my grains make so using kefir in recipes is a great solution.
Using kefir in recipes
Using kefir in recipes is something that I'm experimenting with more and more. I'm currently working on a sourdough bread recipe that uses milk kefir rather than a sourdough starter.
While I work on that you'll find the following recipes that use kefir:
Sweet lemon & spice kefir buns
If you don't make your own kefir then you can buy it in most supermarkets.
Just make sure that it hasn't been pasteurised before hitting the shelf or the beneficial bacteria will have been destroyed. This is important in the recipes where I'm using the milk kefir instead of yeast.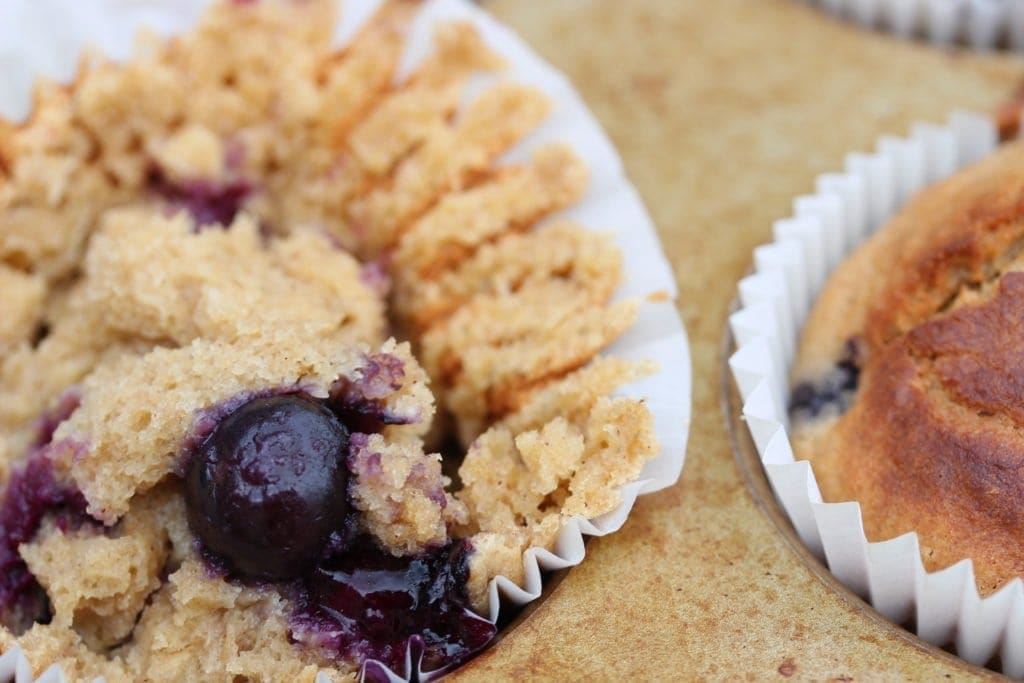 How do you make these healthy blueberry muffins?
I personally use my KitchenAid food processor. It makes it so easy to make this along with lots of my other recipes.
Using a food processor means you can add all the ingredients (minus the blueberries) and mix them all together, making the batter in a matter of minutes. Alternatively you can mash the banana with a fork and then mix the ingredients together as per the recipe.
The important step is to coat the blueberries with flour before stirring them through the batter. This prevents the colour from 'bleeding' into the batter and also stops them sinking to the bottom of the cake.
Once you have the batter, you'll need a muffin tray and muffin cases. Then it's a matter of dividing the mixture equally between the cases before baking them.
Free recipe booklet
If you like this recipe then sign up to receive my free recipe booklet. In it I share recipes for gluten free scones, Yorkshire puddings, Victoria sponge, pizza and more.
You'll also get my weekly newsletter of recipe inspiration, tips and news.
Just enter your details in the box below to get a copy sent to your inbox now. If you don't receive it straight away then check your junk folder…
Pin this recipe to a Pinterest board so you don't lose it: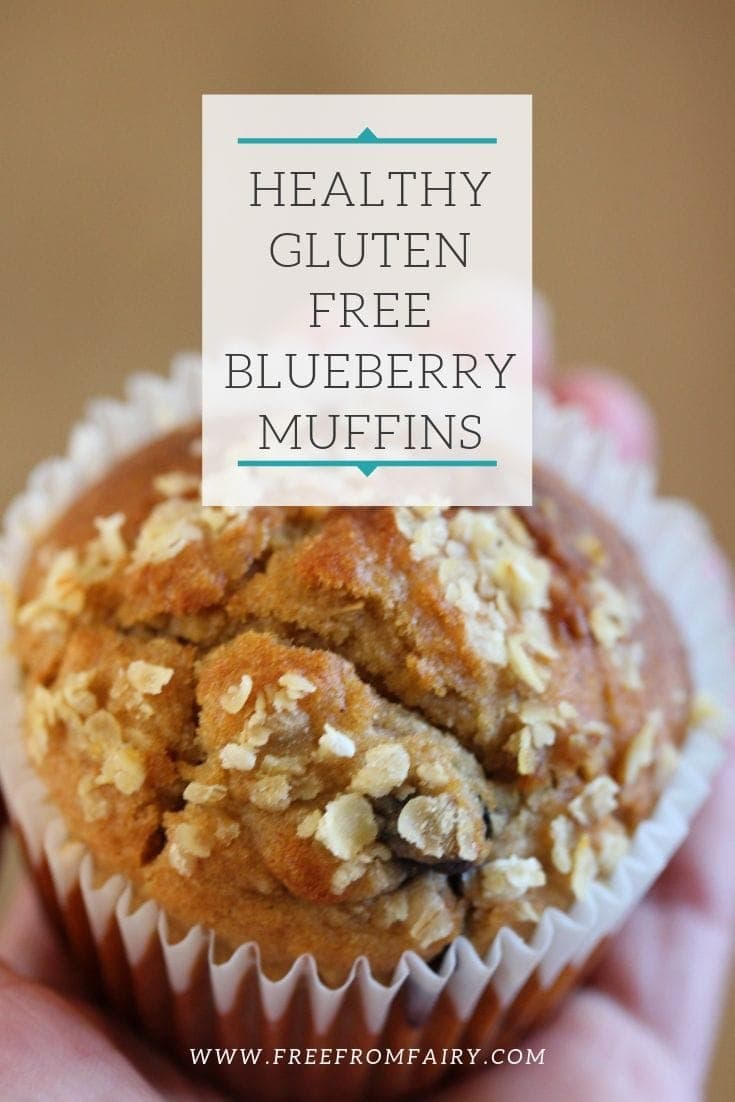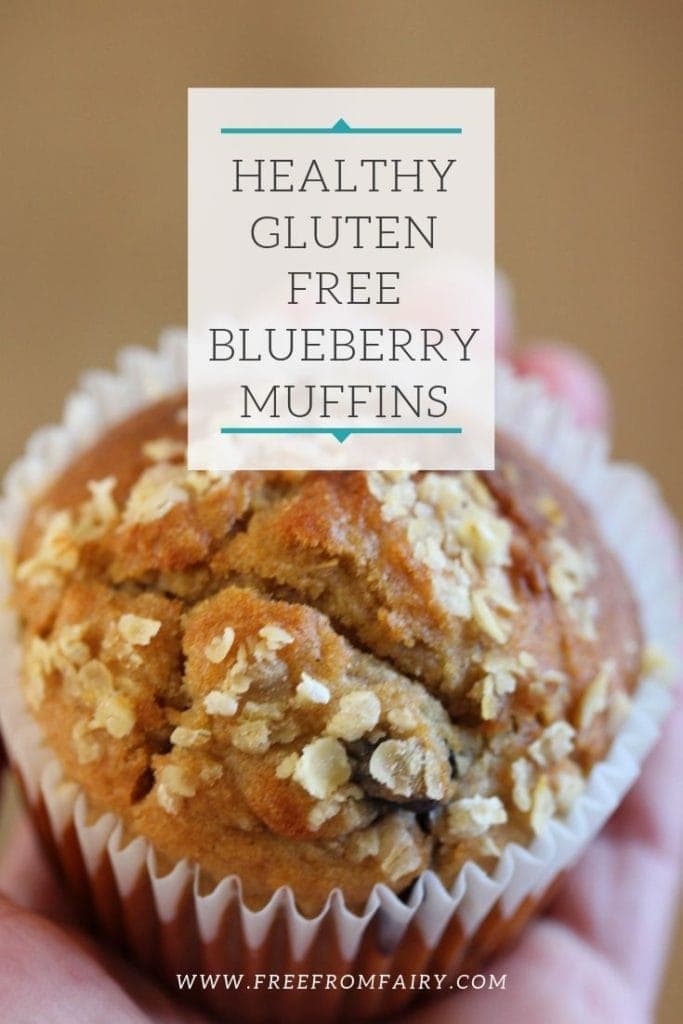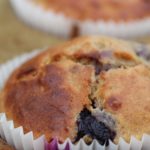 Healthy Blueberry Muffins
Gluten-Free, Nut-Free, Soya-Free, Can Be Dairy-Free, Refined Sugar Free
Ingredients
1

ripe

banana

mashed if you don't have a food processor

2¼

tsp

baking powder

check it's gluten free

100

ml

olive oil

2

medium

eggs

try to use organic as they have a better nutritional profile

50

g

coconut sugar

I use Coconut Merchant

200

g

plain, unflavoured yoghurt

(can be dairy free) OR 130g milk kefir

60

g

oats

make sure they're gluten free. If you don't tolerate them then replace with the same quantity of gluten free flour

3

drops

doTerra lemon essential oil or zest of 1 lemon

125

g

blueberries

fresh or frozen
Method
Mix together the banana, flour, baking powder, oil, eggs and sugar. I use my food processor to do this.

Add the yoghurt, oats and lemon oil or zest and fold together gently or whizz together in the food processor

Finally mix the blueberries with 1 tsp of flour then fold them through the mixture (this stops the colour from bleeding into the cake)

Divide the mixture between 12 muffin cases lining a muffin baking tray. If you'd like to, sprinkle with a little granola at this stage or a few gluten free oats.

Bake in a pre-heated oven at 220 degree C/ 200 degree C fan/ Gas Mark 7 for 15 - 18 minutes
Recipe Notes
Nutrition information is for guidance only
Nutrition Facts
Healthy Blueberry Muffins
Amount Per Serving
Calories 205
Calories from Fat 90
% Daily Value*
Fat 10g15%
Cholesterol 33mg11%
Sodium 29mg1%
Potassium 182mg5%
Carbohydrates 24g8%
Protein 4g8%
Vitamin A 65IU1%
Vitamin C 1.1mg1%
Calcium 70mg7%
Iron 0.9mg5%
* Percent Daily Values are based on a 2000 calorie diet.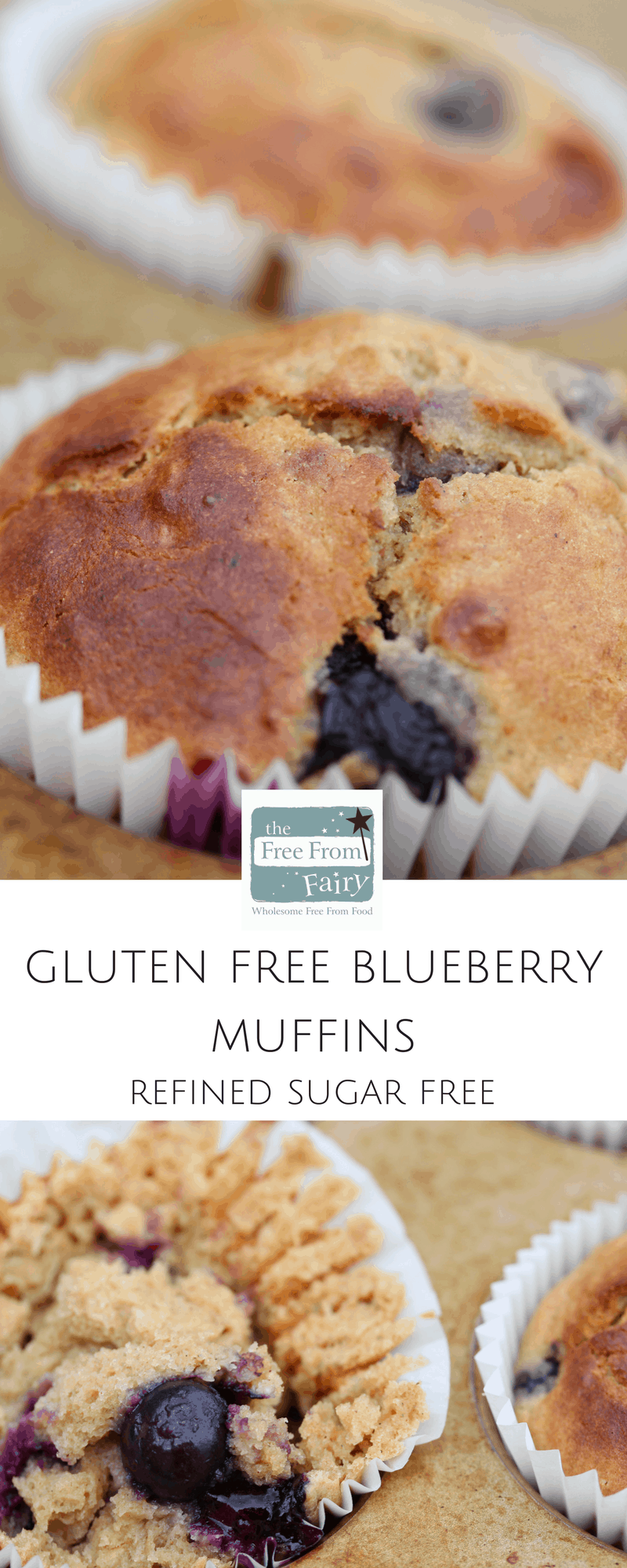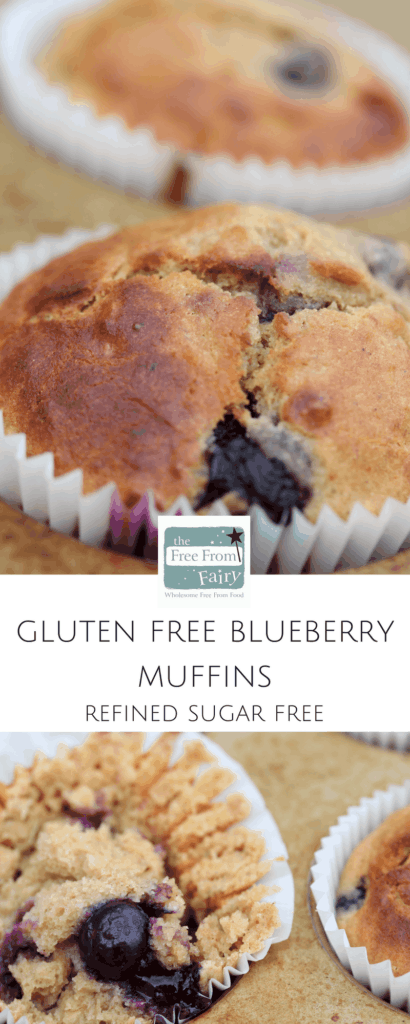 Shared with: