Gluten free pizza is the holy grail. It's something that is never quite as good as the real thing. Until now. My gluten free pizza crust recipe is easy to make and utterly delicious. In fact your family and friends won't even know they're eating a gluten free pizza.
And if you have to avoid xanthan gum then it's perfect. My recipe doesn't contain it, or any other odd ingredients. Just real, whole foods that should belong in our body.
This post contains Affiliate links. As an Amazon Associate I earn from qualifying purchases.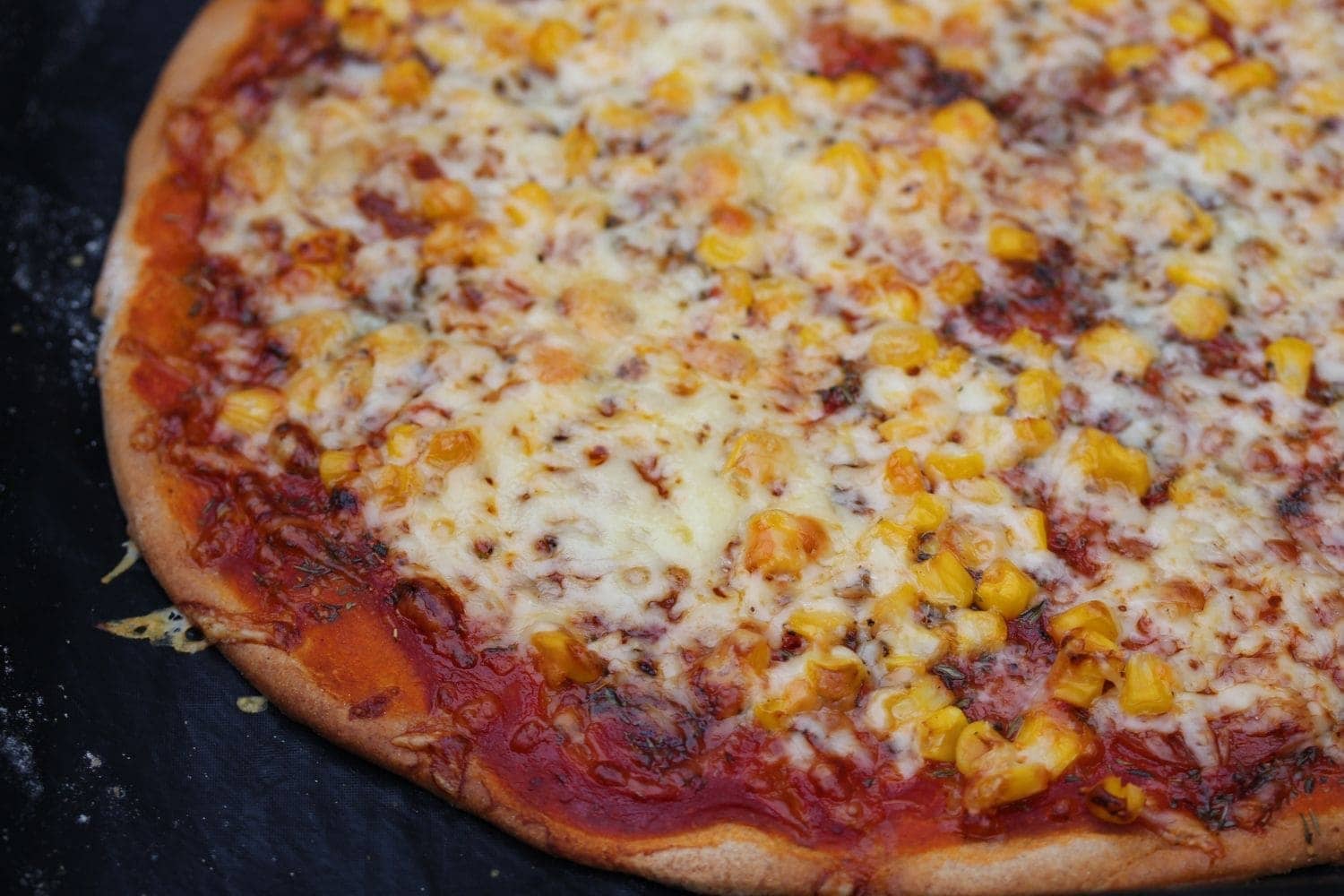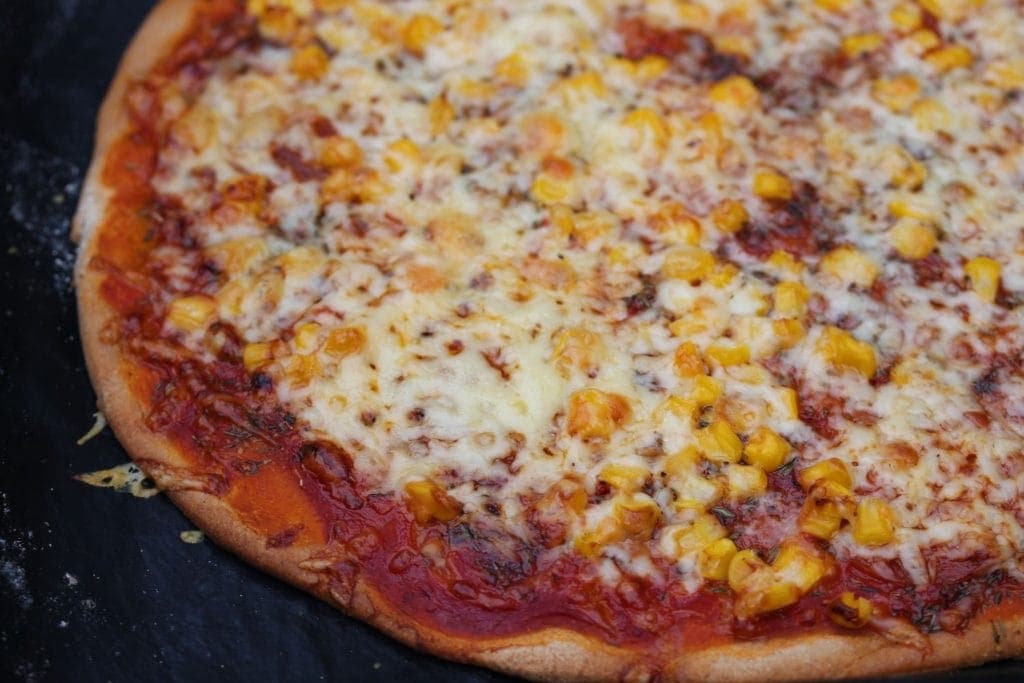 When 'Roo' was first diagnosed with coeliac disease in 2010 gluten free pizza was pretty hard to find.
But that was a long time ago. Now it seems you can get gluten free pizza everywhere. It's just normally pretty horrid.
Crumbly, hard or overly sweet has been my experience which is why I created this recipe.
It's soft, tasty and you can even roll it up and eat it without it breaking.
If you can't or don't eat dairy then you'll want to check out my other gluten free dairy free pizza recipe. Or you could use dairy free cheese on top of this one.
Equally if you can't eat yeast or are in a hurry then my gluten free dairy free pizza is the recipe for you.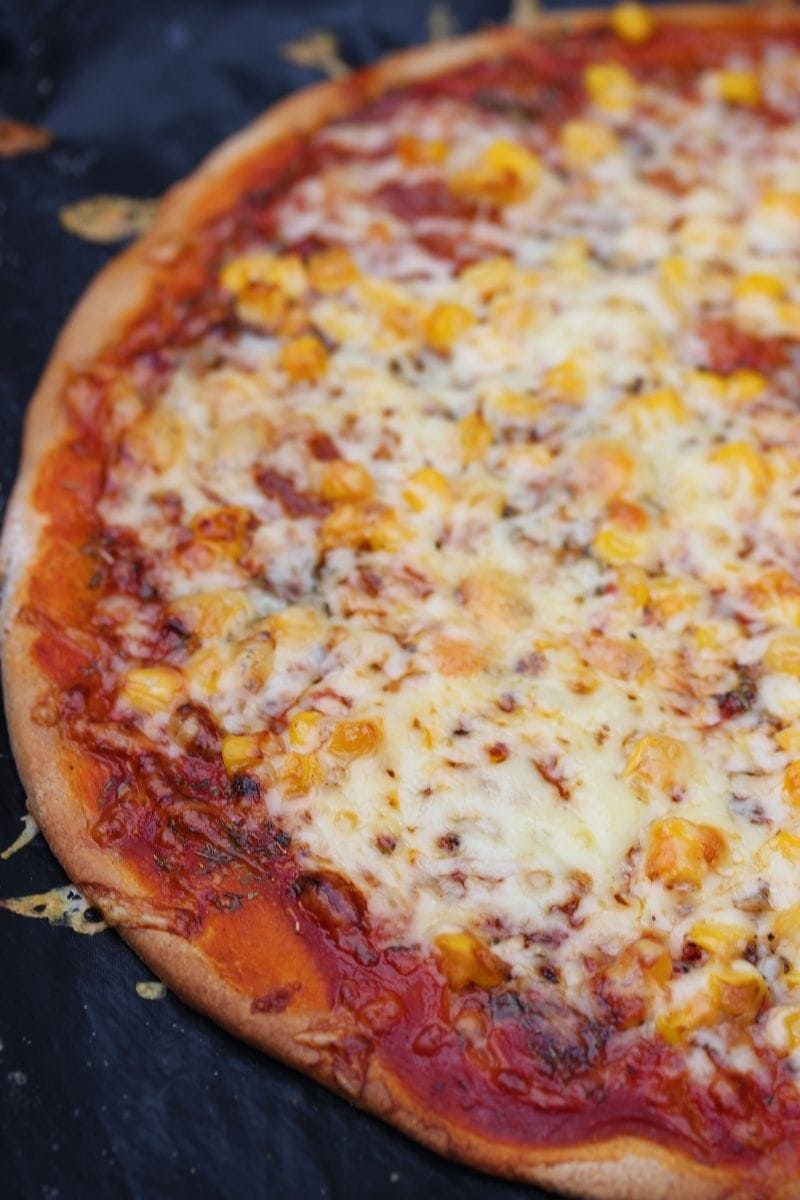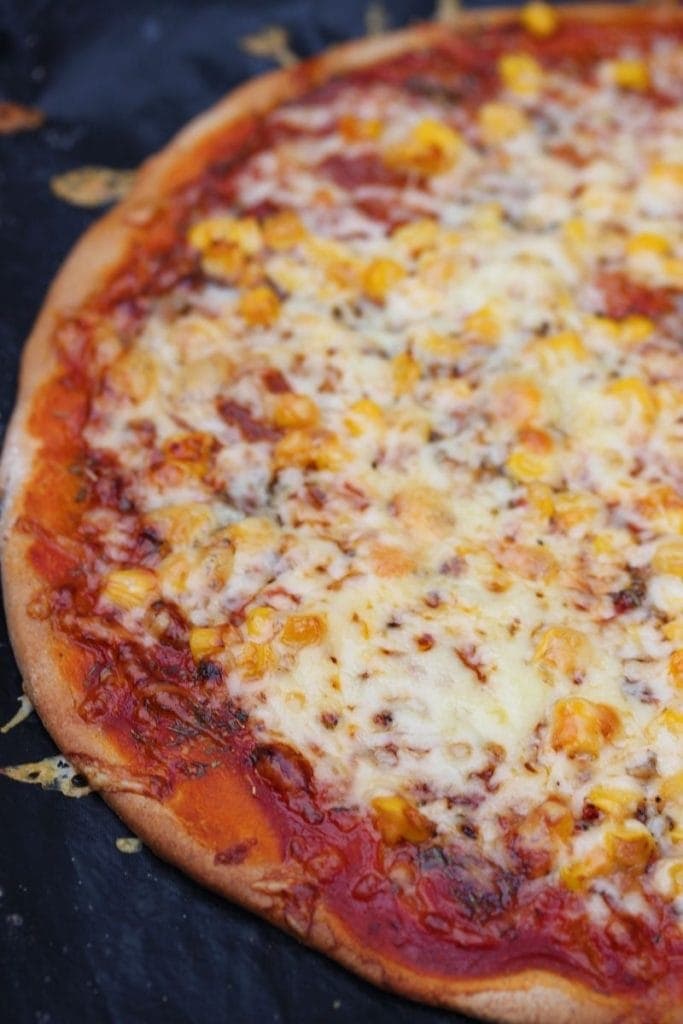 What is the key ingredient to gluten free pizza?
Traditionally pizza crust is made from flour, water and yeast. So the most important ingredient is the flour.
The same is true of gluten free pizza. The most important ingredient is flour. So my advice is to make sure you use a good gluten free flour blend.
There are a lot of gluten free flour blends on the market. That's because using one gluten free flour (such as rice flour) alone won't do anything to replace wheat flour. The result you'll get if you try is a horrid, dry one!
Enter gluten free flour blends. These are a mixture of different gluten free flours that are supposed to replace wheat flour. However, to keep costs down, most companies use cheap, tasteless white starchy flours into which you need to add gums and flavours to get a good result. You can read more about what a gluten free flour blend is, here.
That's why I developed my own gluten free flour blend. It is made from high quality wholegrain flours and can be used in all baking with great results. You can find out more about it here. And you can buy it from my gluten free flour shop.
It's what I use in all my recipes now and it's what makes this gluten free pizza crust taste delicious and function like 'normal' pizza.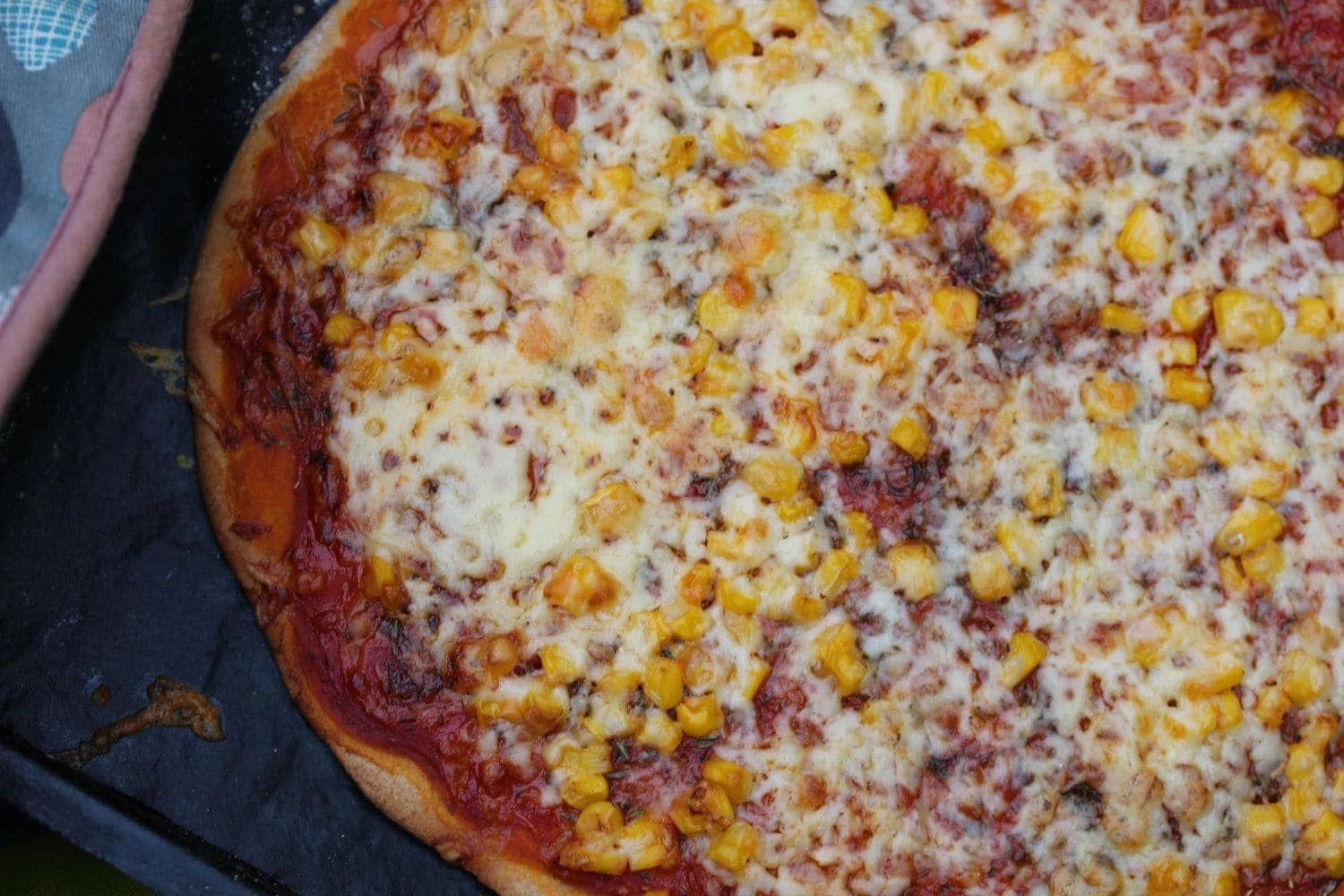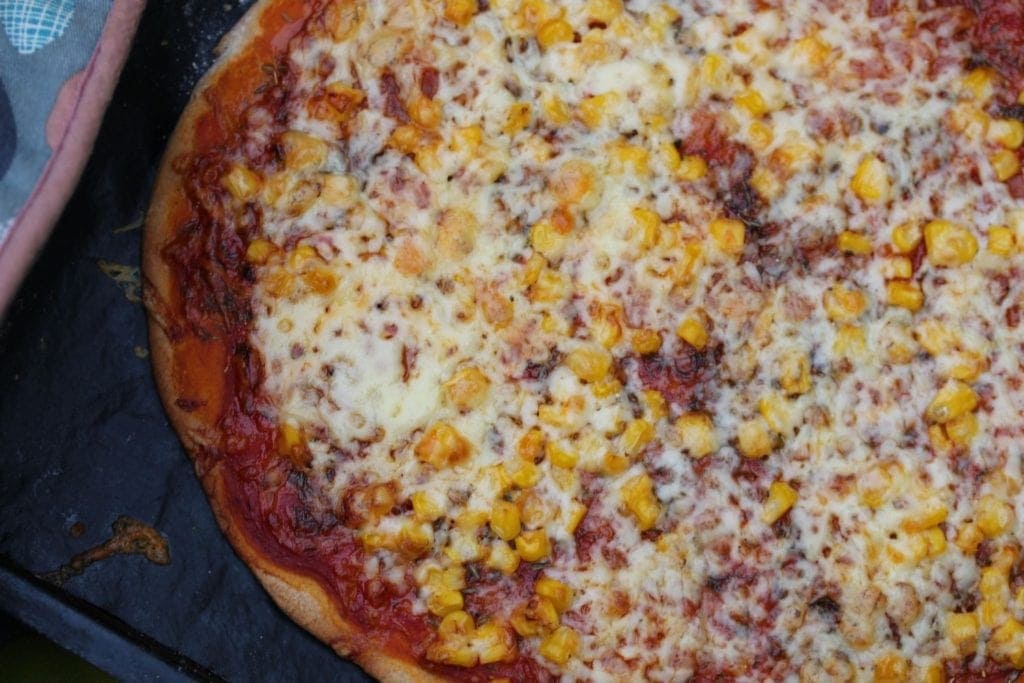 How do you make gluten free pizza?
It is simpler than you might think. In fact you make a gluten free pizza in exactly the same way that you make a 'normal' pizza.
The ingredients for my gluten free pizza crust are not that dissimilar to those of a 'normal' recipe either. The only difference is the addition of something called psyllium husk powder. If you're not familiar with what that is then check out this article: What Is Psyllium.
To make the pizza crust you just combine the dry ingredients, add the wet ingredients and bring them together to make a dough. I use my Sage stand mixer to do this job because it ensures that everything is well mixed together.
However, if you don't have a stand mixer you could use a large bowl and spoon (along with some elbow grease).
Unlike many gluten free pizza crust recipes this one is very easy to roll and work with. Once the dough has been made, it can be divided into the number of pizza's you require before being rolled out.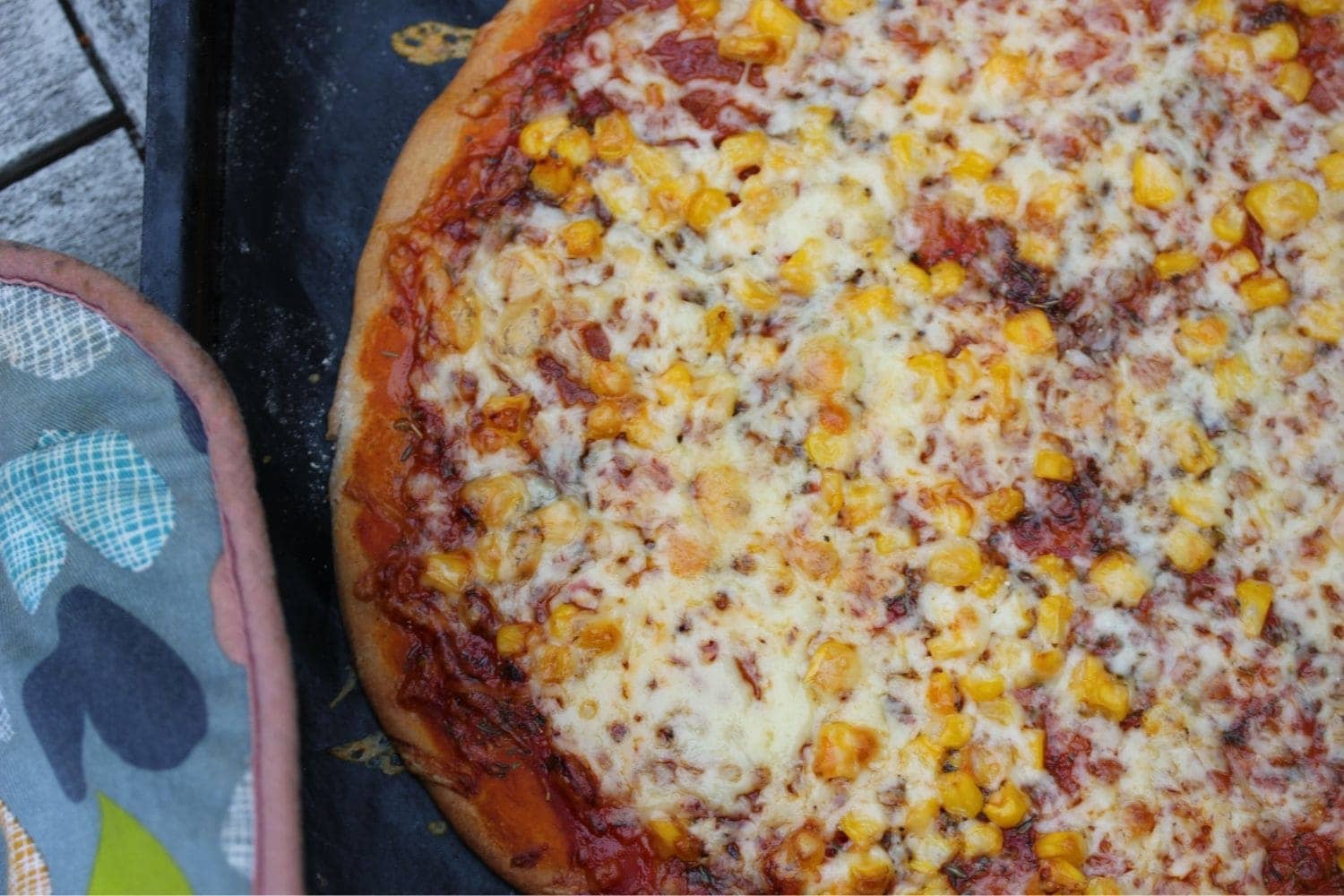 Tips for shaping gluten free pizza crusts
My top tip for shaping your pizza is to do so on a piece of non stick liner. I roll my pizza dough into circles on their own piece of liner and then leave the dough, covered with wet tea towels, to rise for around one hour.
Once I've topped the pizza with my chosen toppings I transfer the non stick liner holding the pizza straight onto the wire rack of my oven.
I'm pretty sure you'd get even better results if you baked the pizza's on a pizza stone but I haven't yet tried this.
This recipe will make two large (30cm diameter) pizza's or four small (approx. 15cm diameter) ones. Of course if you have friends coming over just double or quadruple the recipe.
Pizza topping ideas
There are so many things that you can put on top of your pizza. I'm giving you the recipe for the pizza crust leaving you and your imagination to come up with the toppings you like best.
For me, I like to make a tomato sauce from a carton of tomato passata, a clove of garlic and some mixed dried herbs.
Alternatively I use pesto (or a mixture of both).
My favourite toppings are then and of the following:
Chorizo or pepperoni
Olives
Spinach
Sundried tomatoes
Mushrooms
Sweetcorn (frozen or tinned)
Onions
Ham
Sliced tomatoes
Jalapenos
Cheese – cheddar, mozarella, goats, dairy free or any that you fancy. Or, leave it off all together which is the preference of my daughter.
Free recipes
If you like this recipe then sign up for my free gluten free recipe book. In it you'll find delicious, simple recipes for scones, cakes, Yorkshire puddings and more.
You'll also get my weekly newsletter of recipe inspiration, tips and news.
Just enter your details in the box below to get your copy straight away:
Pin the recipe to a Pinterest board so you don't lose it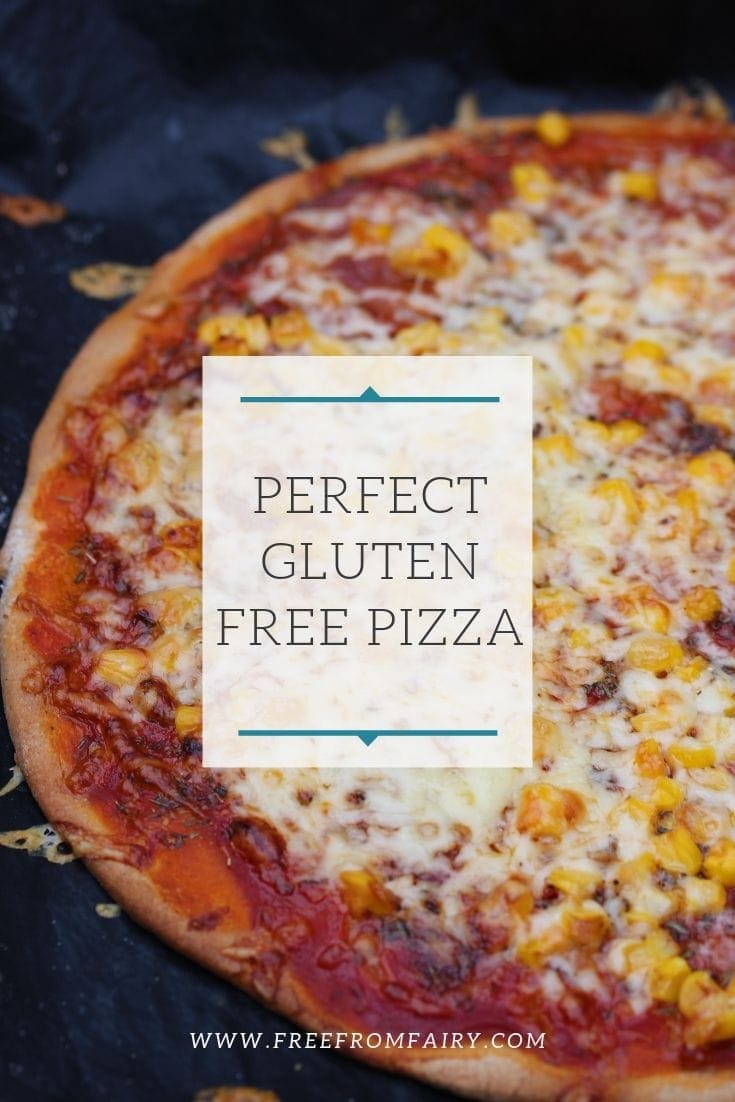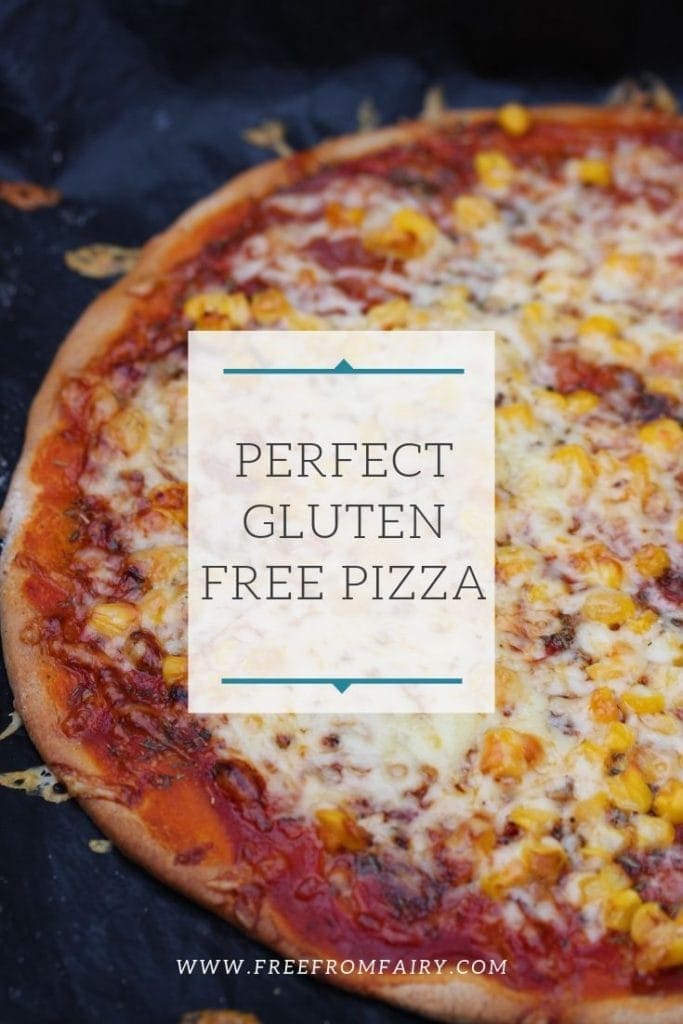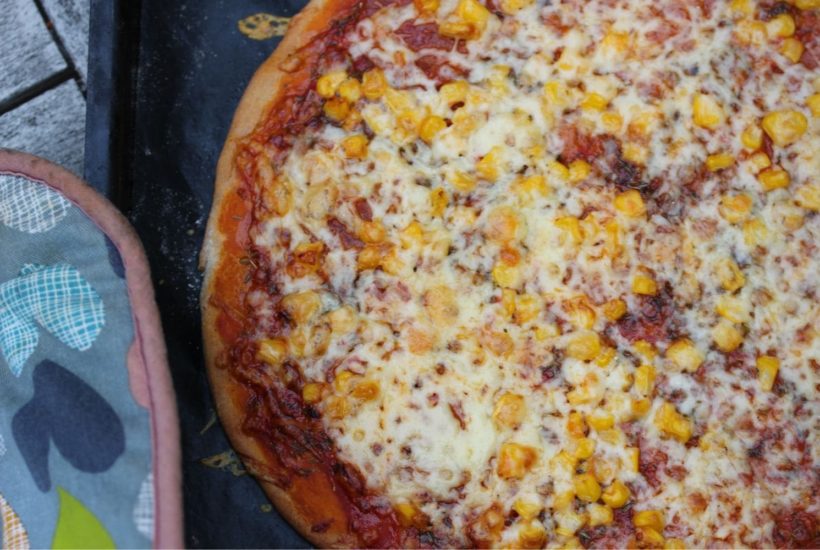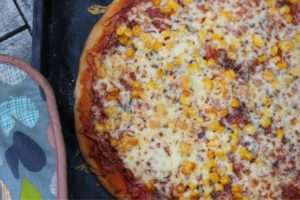 Gluten Free Pizza Crust
This very simple gluten free pizza is not only gluten free but egg-free, nut-free, soya-free, sugar-free and can be Dairy-free (omit the cheese or use dairy free cheese).
Ingredients
1 1/2

tsp

psyllium husk powder -

or 2 tsp xanthan gum

1

tsp

fast acting dried yeast

1/2

tsp

sea salt

1

tbsp

virgin olive oil

270

ml

warm

-

filtered or bottled water
Instructions
Place the dry ingredients into a large bowl or stand mixer and stir to combine

Add the wet ingredients then with clean hands or a spoon or in the mixer bring the ingredients together until a soft dough forms. Keep kneading until smooth and no longer sticky

Cut the dough into four pieces (or 2 if you want 2 big pizza's)

Remove one piece, roll into a ball, then flatten into a circle on a piece of non stick liner until around 15cm (30cm if making large pizza's) in diameter. Repeat with all other pieces of dough

Cover the pizza bases with clean damp tea towels and leave to rise for around 1 hour

Top with your choice of toppings then transfer (on the liner) to the shelf of a pre-heated oven at 240 degrees C (220 degree fan) and cook for 12-15 minutes or until your desired level of crispiness.
Notes
Nutrition data is for the pizza crust only.
Nutrition (Approx)
Calories:
362
kcal
|
Carbohydrates:
68
g
|
Protein:
7
g
|
Fat:
6
g
|
Saturated Fat:
1
g
|
Sodium:
291
mg
|
Potassium:
111
mg
|
Fiber:
5
g
|
Sugar:
1
g
|
Calcium:
1
mg
|
Iron:
9
mg